Best Cheesesteak Sandwich Recipe
As an Amazon Associate, I earn from qualifying purchases. Please read my disclosure policy.
What makes the best Philly Cheesesteak sandwich recipe? Tender, shaved beef, caramelized onions, lots of flavor thanks to Worcestershire Sauce and oodles of gooey, stringy, drippy cheese — piled on top of a buttery, toasted french roll. Best part, it's pretty much a one pan meal, done in 30 minutes!
I adore easy dinners, especially meals that are ready in 30 minutes or less, and this is the Best Cheesesteak Recipe ready in 30 minutes! You might also love my Philly Cheesesteak Sliders recipe.
We adore easy weeknight, fresh and tasty meals in this house, you too? Try these Honey Bourbon Chicken, Healthy Mongolian Beef, and Penne alla Vodka and these delicious Homemade Sloppy Joes.
This has been a year for comfort food for me, probably for many of us; and these sandwiches fill my comfort depleted bucket right now! Even in the heat of summer, I enjoy the warm, tasty, rich and savory sandwich, with juices dripping down my chin, stringy cheese bite after bite. My kinda meal!
What's the difference between a Philly Cheesesteak and a Cheesesteak?
Great question, I'm a Colorado girl via the west coast and while I've visited Philly, I have not eaten many of Philly Cheesesteak Sandwiches. I had to do a little digging and by digging I mean, surfing the internet.
Philly Cheesesteak | A long, crusty Italian roll cradles thinly sliced, sautéed ribeye steak, dripping with meat juices and messy, melted cheese. It's heavy. It's simple. And ooooh, boy, is it savory. Authentic Philly Cheesesteaks cheese of choice is Cheez Whiz, but American and Provolone are common substitutions. (Source)
Cheesesteak | So by definition, anything that changes things up, whether it's cheese, additions, seasonings, makes it a plain (but still savory and delicious) Steak Sandwich Recipe.
I have been corrected by several Philadelphians that all self-respecting Philly residents order order their Philly Cheesesteak Sandwiches with Cheez Whiz. They say, "wiz wit" that's Philadelphian for wiz and fried onions on the sandwich, and that's how we order them.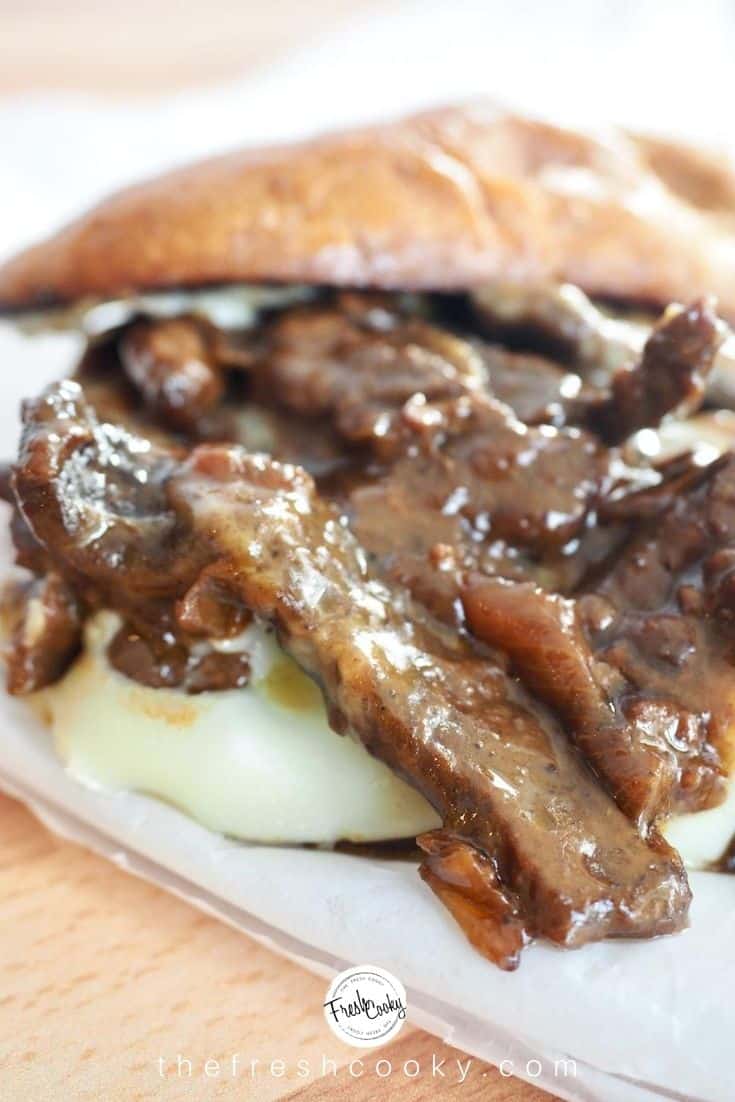 Authentic Philly Cheesesteak?
According to Philadelphians, you simply cannot make an authentic Philadelphia Cheese Steak sandwich without an authentic Philadelphia roll. The rolls must be long and thin, not fluffy or soft, but also not too hard. They also say that if you are more than one hour from South Philly, you cannot make an authentic sandwich.

Source
So, no, this recipe is not authentic, which is why I'm calling it simply, the BEST Cheesesteak recipe!
I've been making this homemade Philly cheesesteak recipe on repeat for years, the original recipe is from my dear, creative friend, Norine from Norine's Nest, who by the way you should follow, because not only is she a fabulous cook, but she's sooo funny!
It's a huge hit in our house, when my family sees shaved beef thawing they KNOW that goodness is happening for dinner!
Best Cheesesteak Recipe
What Goes on a Traditional Philly Cheesesteak Sandwich?
Shaved ribeye steak
White American cheese; tourists ask for Cheez Whiz, but provolone is also a welcome substitution
Salt and pepper, pan juices
With and without sautéd onions
Key Ingredients for Best Cheesesteak Recipe
Beef | Shaved beef, steak or thinly sliced cube, round steak, even flank steak or skirt steak will work.
Butter | Don't knock it, it adds a ton of flavor!
Caramelized onions | Wit or Wit Out? You need these drool worthy onions in your best cheesesteak recipe
Seasoning salt | Adds complex flavor, easily!
Worcestershire sauce (Lea & Perrins is Gluten free)
Hot sauce | Add or keep out, totally optional, but at least serve with hot sauce!
Cheese | (our family is split; 1 no cheese, 2 Pepper Jack and me, Provolone cheese)
Toasted sub rolls | You definitely want to toast your rolls!
What Cut of Meat is the Best for Cheesesteak
Norine uses cube steak, the first time I made this, I wasn't able to find cube steak; so I used round steak and sliced it as thin as possible. However; I've since discovered shaved beef from Trader Joe's! It's paper thin, tender and delicious.
PRO TIP |If using cube or round steak, roll and wrap in plastic wrap and freeze for 20 to 30 minutes, then using a sharp knife, slice very thin, trying to "chip" away at the steak.
How to Make a Steak and Cheese Sandwich
Slice onion in half, then slice thinly
Heat large pan over medium heat (this is my favorite pan!)
Pop in butter, melt until bubbly
Toss in onions and saute until soft and caramel colored
Meanwhile, season shaved beef with seasoning salt
Remove onions once caramelized to plate
Increase heat to medium-high, adding another pat or two of butter
Add beef in single layer, if not possible, do in batches. It's a quick saute to brown, the beef is thin enough it will cook super quickly. Turn after a minute or two.
Once meat is browned, return onions to pan, and stir in Worcestershire sauce, and if desired, hot sauce.
Layer cheese over meat, cover with lid to melt.
Brown rolls on griddle with a little butter, if desired (and by desired, I mean, you should do this part, come on, this is not diet food!)
Serve on top of browned sub or hoagie rolls, I've also used whole wheat to make myself think it was a bit healthier. Can't blame a girl for trying!
Can I Make ahead of time
YES! This is a great meal to serve for a game day, tailgating or a party.
Make ahead as directed above; place in slow cooker and keep on the warm setting or covered in an oven set to 150-200 degrees. Serve with toasted sub or hoagie or slider rolls.
Philly Steak Sandwich Add-Ins
Add sliced red, green, yellow or orange peppers when caramelizing onions, sauteeing until soft and slightly browned
Saute sliced mushrooms
Norine's fave is to serve with Lighthouse Cotija Cilantro dressing
Ranch dressing
We eat our's "naked" so to speak, so juicy, flavorful, filling and savory!
What's the Difference between a Hoagie and a Sub Sandwich?
The difference in this instance is a Hoagie uses a harder, firmer roll, not slicing it all the way through, instead stuffing it with meat, cheese, etc. Whereas a sub sandwich is typically a soft roll, cut all the way through.
Then you have grinders, poor boy's and hero's! Being born and raised on the west coast, these were all foreign names to me when I was first introduced to them while visiting the East coast and the south for the first time.
What I do know? They are all delicious, all a sandwich of some for or another, so why let semantics get in the way of enjoying a scrumptious meal!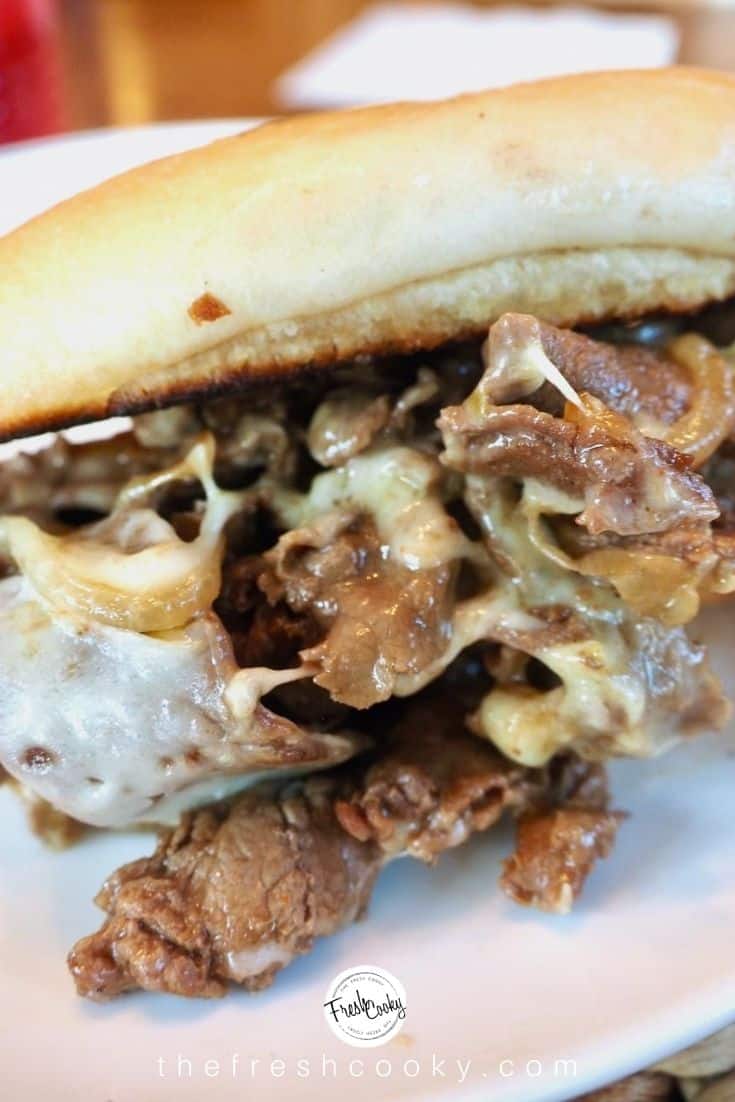 I hope these homemade Philly Cheesesteaks become a family favorite for you as well! Here are a few other comforting family favorites.
Don't forget to PIN to your favorite 30 Minute Meals Board on Pinterest!
I hope you loved this Best Cheesesteak Recipe — if you did, would you share your creation on Instagram, Facebook and Pinterest? And be sure to comment below!
Like this recipe?
Don't forget to give it a ⭐️⭐️⭐️⭐️⭐️ star rating and comment below the recipe!
Best Cheesesteak Sandwiches
Tender, shaved beef steak sandwich recipe with caramelized onions, lots of flavor thanks to Worcestershire Sauce and oodles of gooey, stringy, drippy cheese — piled on top of a buttery, toasted french roll. Best part, it's pretty much a one pan meal, done in 30 minutes!
Ingredients
Sauteed Onions
4

tablespoons

butter

1

medium-large onion

,

cut into thin slices
Cheesesteak Sandwiches
1-2

tablespoons

butter

2

teaspoons

olive oil or avocado oil

2-3

pounds

shaved beef steak

,

see notes for other options

1/2

cup

[Worcestershire sauce,

Lea & Perrin's is gluten free]

1

tsp

[Seasoning Salt,

such as Lawry's], to taste, 1 teaspoon or so

1-2

tablespoons

Hot Sauce

,

optional

6-8

slices

provolone

,

white cheddar, or pepper jack cheese, or go all Philly and use Cheese Whiz (wiz wit)

6

sub sandwich rolls

,

Use Hoagie rolls, Italian or French rolls

2

tablespoons

butter

bell peppers

,

or mushrooms, optional additions
Instructions
Heat large pan to medium heat, melt butter and toss in sliced onions, stirring around until soft and caramel colored, about 6-7 minutes. Remove from pan, set aside.

If steak is not already sliced, slice as thinly as possible (see notes) and season with seasoning salt, not too much, just a light all over sprinkle.

Using the same skillet, increase the heat to medium-high, add butter and oil, then add steak in as much of one layer as possible, if too crowded, do in a couple of batches. Cook for 1-2 minutes, then flip and cook the other side, for 1-2 minutes, won't take long.

Once beef is browned (I slightly undercook, as it will keep cooking), pour in Worcestershire sauce and if desired, a few shakes of hot sauce we like Cholula. Stir around for a minute, then return onions to pan and stir into beef, including all of those delicious juices.

Place desired cheese slices on top of the beef, cover for a minute until super melty, gooey and irresistible.

Meanwhile, heat a griddle or another large skillet to medium-high heat, spread a thin layer of butter on the cut side of the sub rolls, place butter side down on griddle and toast until brown and delish.

Serve cheesesteak on top of rolls and enjoy immediately.
✱ Kathleen's Tips
BEST CUT OF BEEF | I buy shaved fresh beef steak from Trader Joe's, it's sliced paper thin and is perfect for this recipe. If you cannot find shaved beef, purchase cube, round or regular steak, roll and wrap in plastic wrap freezing for 20-30 minutes, then using a sharp knife slice the steak super thin or in chips.
Many of my readers have added mushrooms and sliced bell peppers when sautéing the onions, that would be a fabulous addition!
MAKE AHEAD OPTION | This is a great meal to serve for a game day, tailgating or a party. Make ahead as directed above; place in slow cooker and keep on the warm setting or covered in an oven set to 150-200 degrees. Serve with toasted sub or hoagie or slider rolls.
This recipe was adapted from Norine's Nest Pepper Jack Steak Sandwiches.
Nutrition
Serving:
1
Calories:
710
kcal
Carbohydrates:
39
g
Protein:
41
g
Fat:
43
g
Saturated Fat:
21
g
Polyunsaturated Fat:
2
g
Monounsaturated Fat:
16
g
Trans Fat:
1
g
Cholesterol:
140
mg
Sodium:
1358
mg
Potassium:
649
mg
Fiber:
1
g
Sugar:
8
g
Vitamin A:
620
IU
Vitamin C:
6
mg
Calcium:
194
mg
Iron:
15
mg
Nutrition Disclaimer
The Fresh Cooky is not a dietician or nutritionist, and any nutritional information shared is only an estimate. We recommend running the ingredients through an online nutritional calculator if you need to verify any information.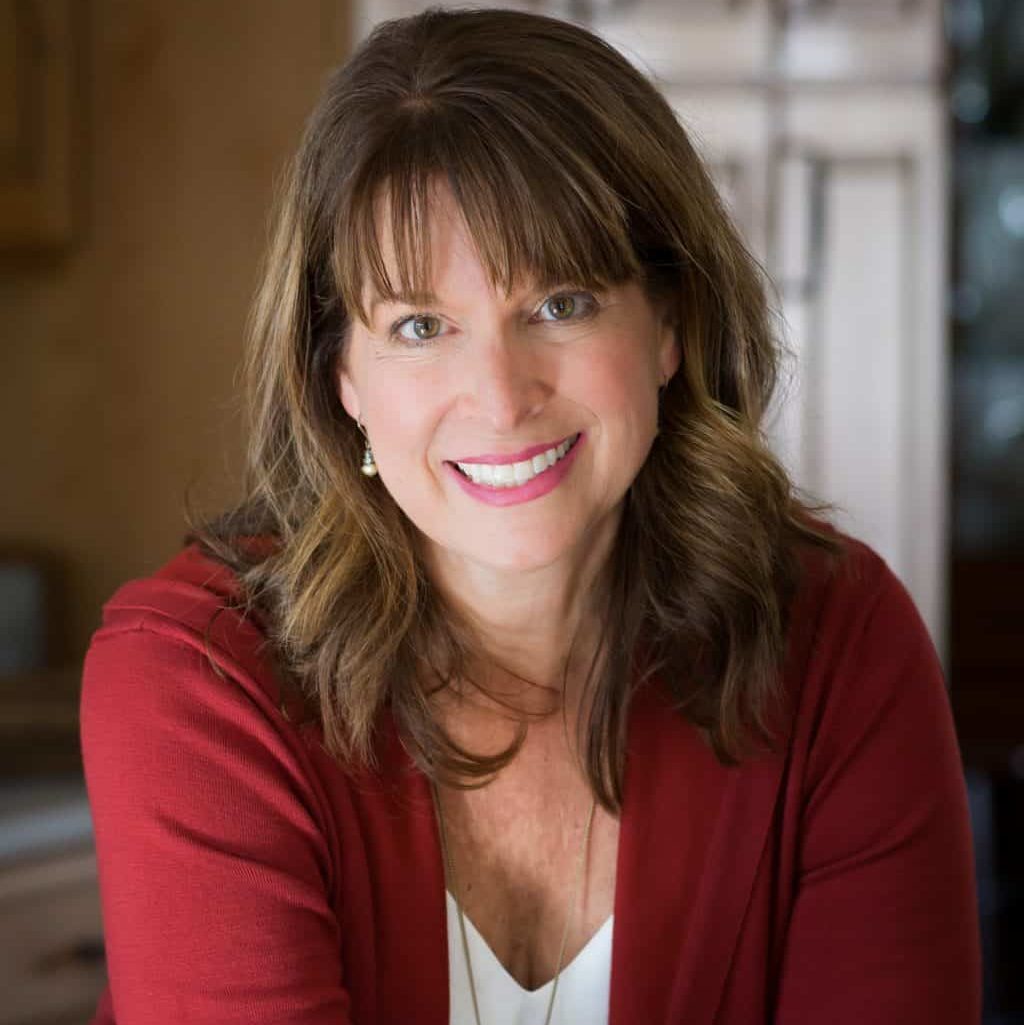 About Kathleen Pope
Recipe Innovator | Food Photographer | Food Writer
Hi, I'm Kathleen Pope. Here at The Fresh Cooky you will find easy, mostly from-scratch, trusted recipes for all occasions. From speedy dinners to tasty desserts, with easy step-by-step instructions. I am here to help teach you how to make mouthwatering recipes without spending hours in the kitchen. Read more about Kathleen here.