Give this Sun-Dried Tomato Pasta Salad a try this spring or summer! It's so colorful, loaded with fresh, all natural flavor and deliciousness that you'll want to make it over and over again.
It's perfect to bring to your next picnic or potluck or make or for your family and enjoy the leftovers all week long. Toss in some shredded chicken you have lunch or a hearty, no-heat-up-your-house dinner! It saves beautifully and you can even make it ahead of time. In fact, it gets better with a little time.
SUN-DRIED TOMATO PASTA SALAD
This past weekend was our Meyer Family Reunion, which is my Dad's side of the family. My grandparents were of hearty German-Prussian stock; married in 1912, they had 7 boys over the course of 19 years. My dad; the youngest was born when my grandmother was 47, this was back in 32! She used to tell the boys, "that's when the bottom dropped out." She had a great sense of humor!
FAMILY REUNION
They raised their family through two World Wars; 2 of their boys serving in WWII; they survived the depression while raising a large family in a small two-bedroom house with an attic converted into a bunk room and watched our world change in ways we'll probably never see again.
In hindsight, I would have given anything to know my grandmother better; I was only 14 when she passed, my grandfather had passed away shortly after my parents married.
The Importance of Knowing Your Family History
Ask questions of your elders; ask about what they remember from growing up, look at pictures together, talk about past world events, heritage, faith, hardships; we can learn so very much from them, it's a lost art. That darned hindsight, always 20-20. In fact, we learned from this and have since been trying to capture video "interviews" if you will of our parents and elders to preserve some of this rich history.
Below are my grandparents circa 1910. I love this picture! A little smile on each of their lips and those hats!
My grandmother "Flo" born in 1885 and grandfather "Harry" born in 1891 (he lied about his age for years). Was it scandalous that she married a younger man and was "older" for that time period marrying at 27? She held several jobs, was she a suffragette?
⭐️ FREE, DELICIOUS RECIPES? YES, PLEASE! ⭐️
They went from horse and buggy to automobiles, from gas powered lighting to electricity, letters to telephones, radio, phonographs, and finally TV. From trains to air travel…all of the amazing inventions experienced in the 20th Century, things we certainly take for granted. What would they think now with cell phones, world travel, social media, electric cars and more.
What a legacy they left their sons, they were not perfect, no, not one of us is, but I am so grateful for this heritage. I'm so glad that a couple of my Aunts decided we needed a family reunion back in 1991, we've been doing them ever since!
WE'RE FAMOUS!
I've always loved heritage, family history, and genealogy and thought I had heard just about everything about our family, but somehow I missed this gem! My great-Uncle Adolph (below) my grandfather's oldest brother; fought in the Spanish-American war with Teddy Roosevelt! That's a fun bit of family history!
We only have 1 of the original brothers left, my Uncle Tom – we were all tickled that my 93 year old Uncle Bill would attend this reunion and very much missed my Uncle Tom.
We were blessed to hear Uncle Bill tell stories, reminisce of times gone by, sing songs, and sit amongst 4 generations of Meyer's. It was a sight to behold. Below singing with a couple of his grandkids, he's the one in the ball cap (wink-wink).
*Uncle Bill passed away peacefully 3/18; we know he rejoices being reunited with his beautiful wife, Vivian, his parents and brothers!
While most of our meals were provided by the Y (beautiful place to have a family reunion if you need one, YMCA of the Rockies Estes Park) we chose to eat our lunch in our meeting room.
JOIN THE FRESH COOKY ON PINTEREST
But, pasta salad (you thought I forgot what I was blogging about didn't you…admit it!) would be perfect for a large family gathering, it makes a lot, and it holds up well in less than ideal conditions. Plus it's delicious!
⭐️ FREE, DELICIOUS RECIPES? YES, PLEASE! ⭐️
LET'S MAKE SUN-DRIED TOMATO PASTA SALAD
Start by cooking your pasta al dente, follow your package instructions and cook on the lower side of recommended time. Rinse with cold water in a colander and toss into large bowl.
Chop your red bell pepper into small chunks, toss into pasta.
Drain your sun-dried tomatoes (chopping if desired into smaller bite size pieces) and toss onto pasta. Or you may use sun-dried tomatoes that are not packed in oil.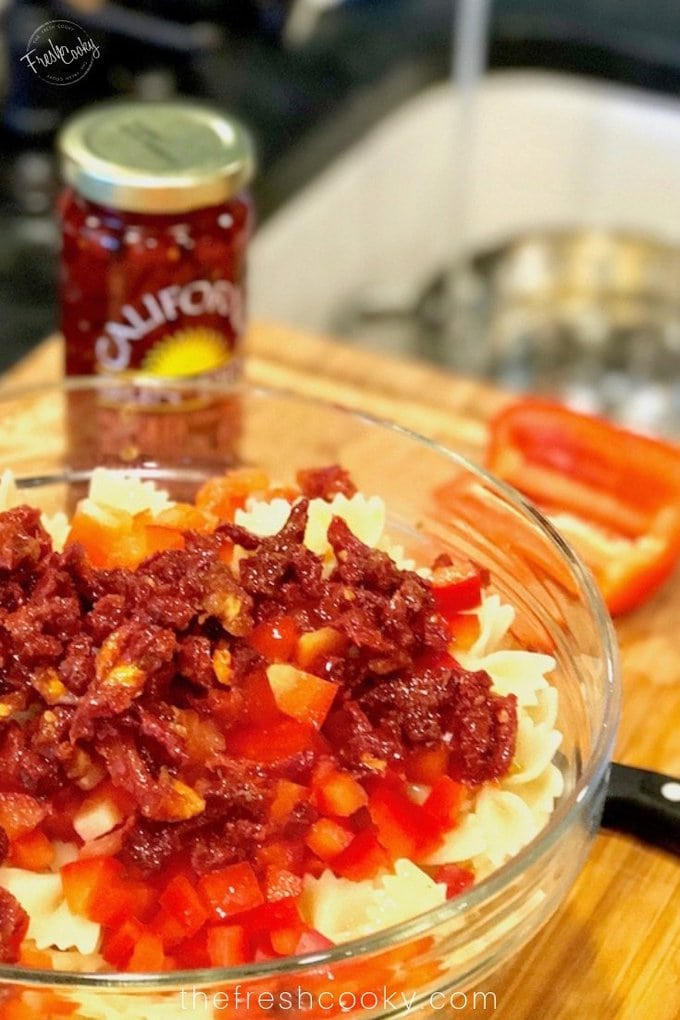 Slice (if desired) your olives (I used black, but Kalamata or any other type would be yummy), toss onto pasta.
For the most outrageous pasta salad, add grated parmesan cheese.
WHITE BALSAMIC VINAIGRETTE
What a delicious dressing or vinaigrette; add your olive oil and white balsamic vinegar (or regular dark balsamic works too, it'll just darken your pasta) to a mason jar with a lid.
Measure sea salt and sugar.
Finally, adding basil and oregano, and fragrant chopped garlic.
Cover with lid (this is why I love making my dressings in a mason jar) and shake like crazy to mix and even emulsify it a bit.
Pour over top of pasta salad and gently toss mixing all ingredients well. Chill until ready to serve, best if it sits for an hour or several, even overnight.
Just prior to serving, chop fresh baby spinach and basil and stir into salad, adding a bright pop of green and nutrients.
Get out there and talk to your elders, be intentional and ask questions, listen and learn.
Please give these other summertime dishes a try:
⭐️ FREE, DELICIOUS RECIPES? YES, PLEASE! ⭐️
Like this recipe?
Don't forget to give it a ⭐️⭐️⭐️⭐️⭐️star rating in the recipe below!
Yield: 8-12 servings
Sun-Dried Tomato Pasta Salad
All the right flavors, bright and colorful, packed into this beautiful pasta salad. Great for a crowd or your family, the leftovers are even better!
Ingredients
SALAD
16 oz of bowtie pasta, cooked and drained in cold water
1-7 oz jar of sundried tomatoes in oil, drained
1 red bell pepper, diced (or other color(s) if desired)
1 6.5 oz can sliced black olives, or try Kalamata or green olives too
½ cup Parmesan cheese, grated
1 cup fresh baby spinach, chopped
¼ cup fresh basil, chopped
DRESSING / VINAIGRETTE
¾ cup olive oil
3 Tablespoons* white balsamic vinegar (I used white, but dark balsamic, or any other vinegar would taste yummy too.) *A little more or less depending on the strength of your olive oil
2 tablespoons water
1 teaspoon salt
1 teaspoon sugar
1 teaspoon dried oregano
1 teaspoon dried basil
1 clove garlic, smashed and chopped fine
Black pepper to taste
Instructions
Cook pasta al dente according to package directions. In a large bowl combine cooked pasta, sun-dried tomatoes, bell pepper, olives and cheese.Toss gently to combine.
To make dressing, put all ingredients into a mason jar with lid, shake vigorously to combine. Pour dressing over pasta salad. Toss to combine. Refrigerate for at least an hour before serving for flavors to mingle.
Just prior to serving, toss in spinach and basil for a beautiful fresh pop of color. cToss salad well again, adjust seasonings if necessary, finish with a final grind of sea salt and if desired ground pepper. Lasts for days! Great as leftovers
Recommended Products
As an Amazon Associate and member of other affiliate programs, I earn from qualifying purchases.
Nutrition Information:
Yield:
12
Serving Size:
1
Amount Per Serving:
Calories:

272
Total Fat:

20g
Saturated Fat:

3g
Trans Fat:

0g
Unsaturated Fat:

16g
Cholesterol:

4mg
Sodium:

434mg
Carbohydrates:

19g
Fiber:

3g
Sugar:

2g
Protein:

5g
The nutritional information is estimated and may not be entirely accurate, at times it pulls information for suggestions and options which may increase calories, etc. Nutritional information will change based on used ingredients, quantities used, etc.
GET FREE RECIPES DELIVERED RIGHT TO YOUR INBOX!
Love Wholesome & Delicious Recipes?
Follow along on Pinterest ★ Instagram ★ Facebook ★