Buttermilk Rhubarb Bread with Cinnamon Streusel Topping
As an Amazon Associate, I earn from qualifying purchases. Please read my disclosure policy.
This Rhubarb bread recipe is a great way to use garden fresh rhubarb, it is a sweet, tangy, tender and tasty quick bread with a light, buttery cinnamon streusel crunch topping. Makes enough to share with a friend too!
Rhubarb is a unique vegetable, typically paired with fruit as its tart nature is complemented by the sweeter nature of berries and other fruit. You might like in these luscious Strawberry Rhubarb Crumb Bars, Rhubarb Dump Cake Recipe or this Old-Fashioned Rhubarb Cake recipe. It provides moisture to baked goods like zucchini does, as in this rich Chocolate Zucchini Cake.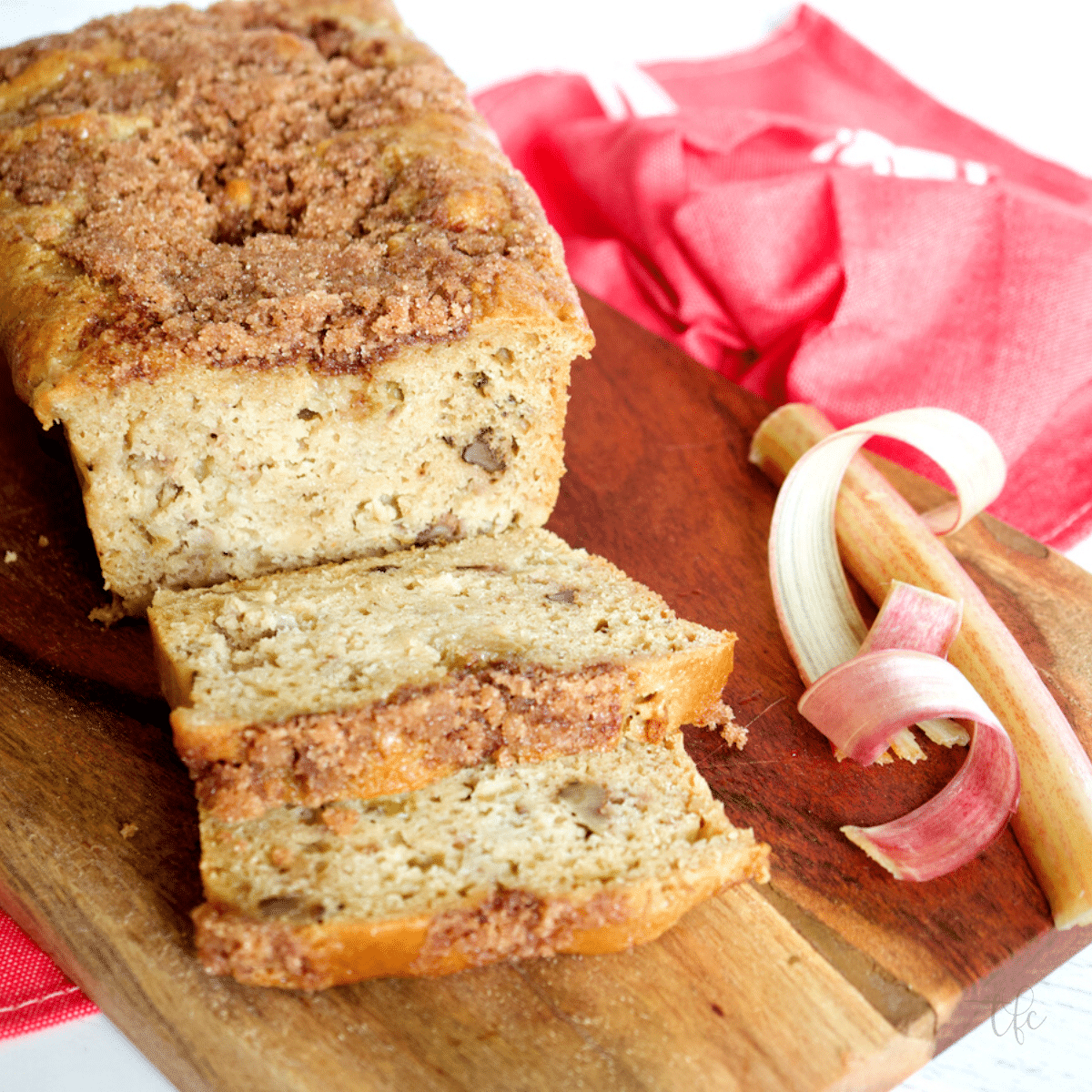 When Is Rhubarb Season?
Rhubarb season begins in late spring through early summer, so it might seem that the rhubarb bread baking season might be short, but rhubarb freezes well and can easily be used in this bread.
This rhubarb loaf cake would be delicious served warm with fresh cream butter for an afternoon tea; try pairing with this Strawberry Rhubarb Salad, Passion Tea, and this light but hearty, Tarragon Chicken Salad.
I typically have a quick bread in the fridge, and all of my family enjoys a thick slice, toasted with some butter. You also might enjoy these other favorite quick breads: Easy Banana Bread Recipe, Banana Nutella Bread, Chocolate Chip Banana Bread and this Healthy Strawberry Bread.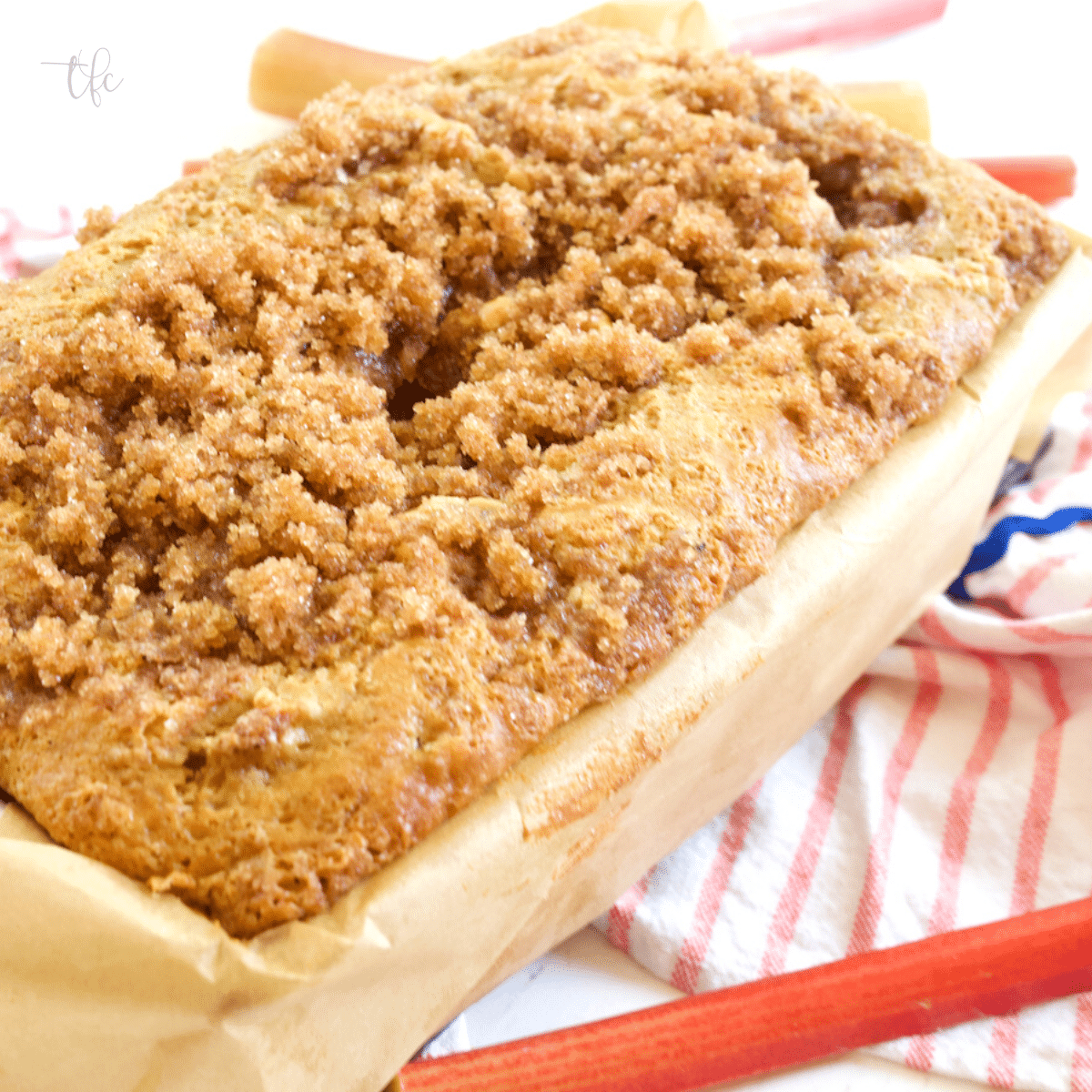 Ingredients
What I love about this quick bread recipe is it naturally makes a little extra, so you can share a mini loaf with a friend! Plus the ingredients are pretty much pantry staples, except maybe the rhubarb!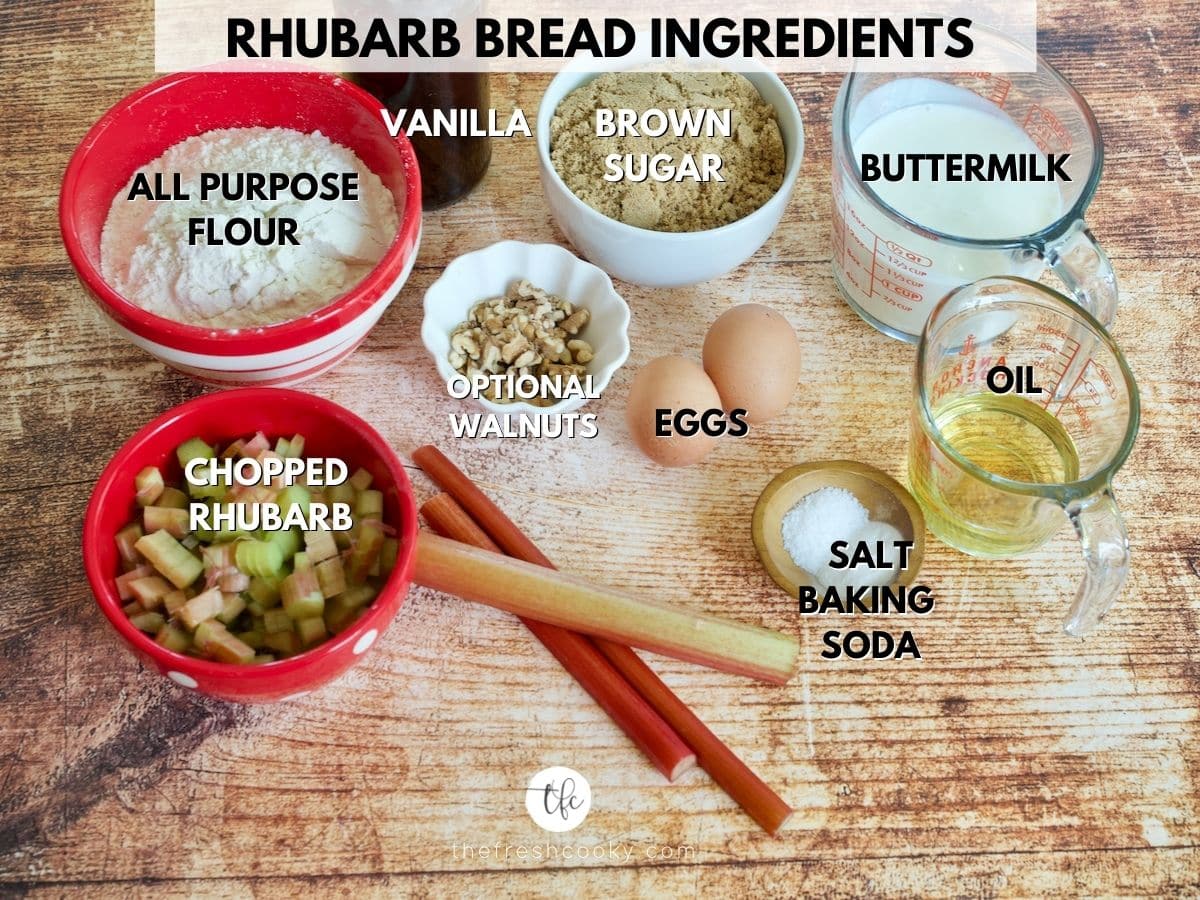 Brown Sugar | I used light, but you could use dark as well, would have a bit more of a molasses taste.
Veggie Oil | I love using heart healthy Avocado oil or Grapeseed Oil for recipes like this quick bread.
Eggs | I always use large eggs in my baking, this provides much fo the lift needed for the bread. If needed, you can omit the egg yolks and just use the egg whites.
Buttermilk | I use whole fat buttermilk, the richness is great, but 2% is fine, if you don't have buttermilk see below for how to make your own.
All Purpose Flour | I use organic unbleached AP flour or substitute with Gluten Free AP flour.
Rhubarb | Fresh is great, but diced frozen rhubarb may be used too, I'll explain more about that in the FAQ below.
Vanilla Extract | If you have never made your own vanilla extract, it's extraordinary and EASY!
Walnuts | completely optional, but if you love nuts in quick bread, then you will love this!
Buttermilk Substitute | In a one cup liquid measuring cup, add 1 tablespoon lemon juice or vinegar and then add milk to the 1 cup line, stir and allow to sit and thicken for 5-10 minutes.
Streusel Cinnamon Crunch Topping Ingredients
Sugar | I use organic cane sugar in my baking, it's a little more coarse than white sugar, you may sub white sugar.
Butter | just the tiniest amount to help bring the streusel topping together.
Cinnamon | Adds great flavor to the cinnamon streusel topping.
Instructions
Preheat the oven to 325 F degrees and spray with non-stick oil a loaf pan or bread pan and a mini loaf pan, or split into 4 mini loaf pans, typically about 4-inch loaf pan sized. I prefer to place a piece of parchment paper into the loaf pan for easier removal of the rhubarb bread.
Step 1 | Prepare the Rhubarb Bread batter
In a large bowl or in the bowl of a stand mixer on low, mix brown sugar, oil, eggs and buttermilk, until smooth.
Add in dry ingredients; all purpose flour, vanilla extract, salt and baking soda, just until combined, scrape the sides of bowl if needed.
Fold in diced rhubarb and chopped walnuts if desired into the wet ingredients
Pour into prepared pan or pans, about ⅔ full.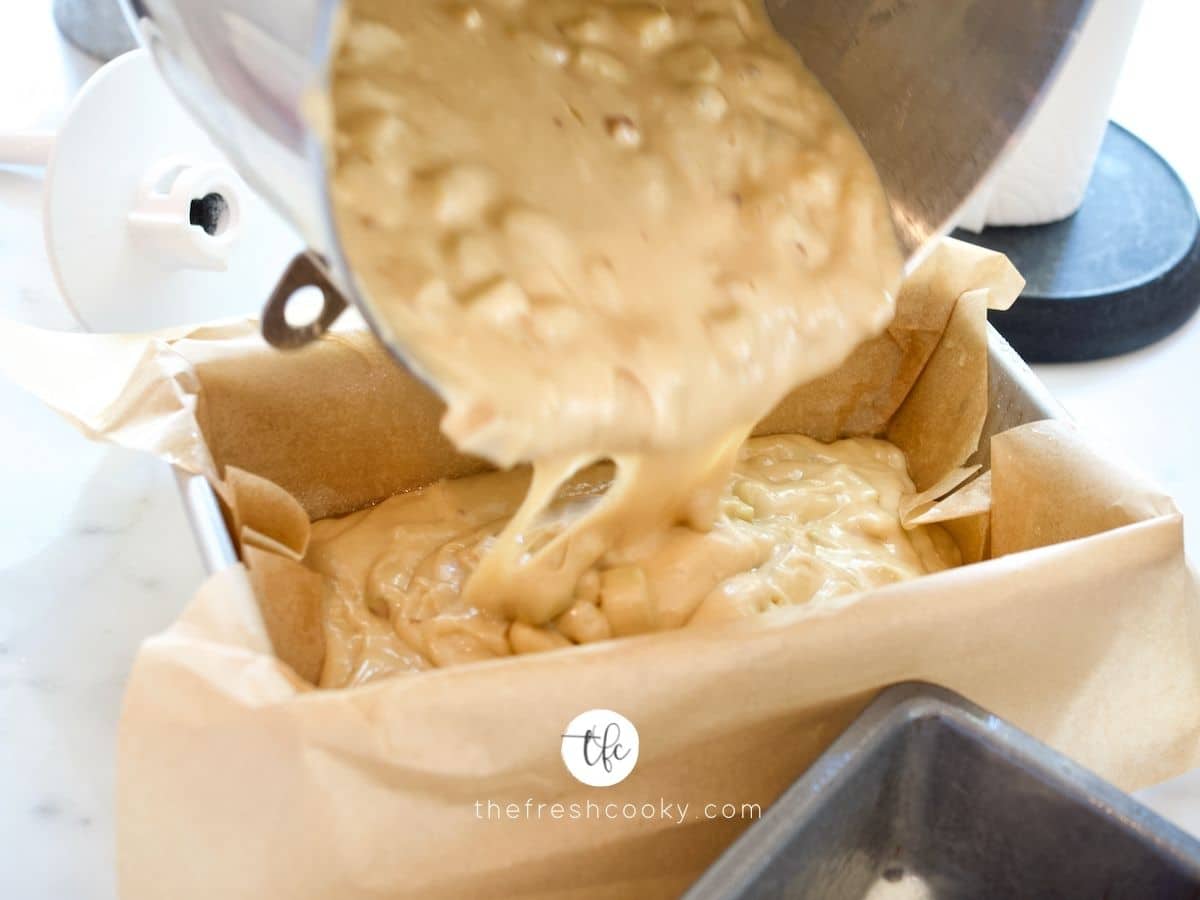 Step 2 | Prepare the cinnamon streusel crumb topping
If I remember, I will prepare the streusel topping ahead of time, before starting the batter and place it in the fridge or freezer, which will slow the melting process when it hits the oven heat.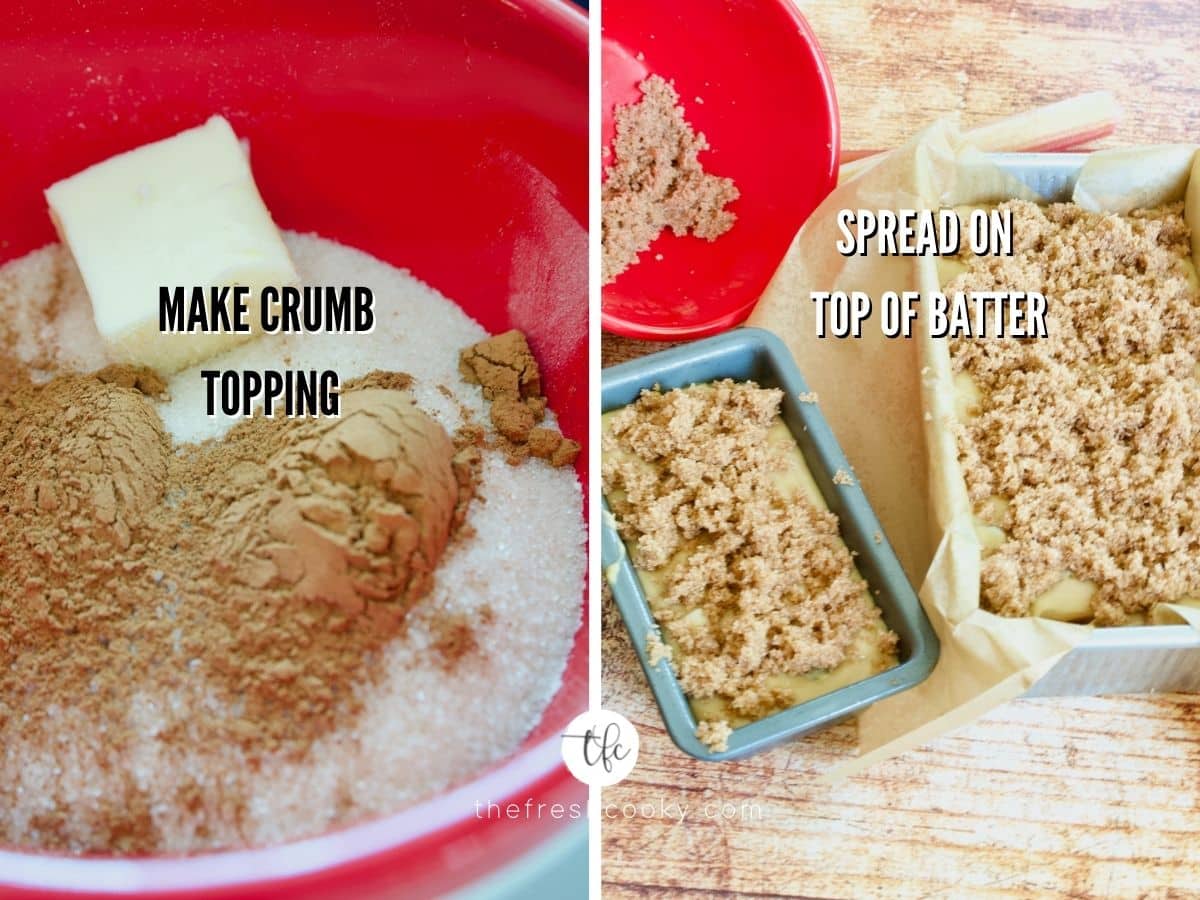 In a separate bowl, a small bowl, combine crumb streusel crunch topping ingredients, sugar, cinnamon and butter and using your fingers, smoosh it together until the butter is incorporated.
Place in freezer until ready to place on the rhubarb batter.
Step 3 | Assemble and Bake
Pour batter into parchment lined or well sprayed 1 lb loaf pan (<= my favorite US made pans!) PLUS into one mini loaf pan, or split the entire batter into 4 mini loaf pans.
Sprinkle evenly with streusel topping.
Bake at 325 degrees for about 60 minutes, until toothpick inserted comes out clean, check mini loaf at about 40 minutes.
Years ago a girlfriend gave me a loaf of this fresh, homemade rhubarb bread, similar to an Amish Rhubarb Bread I have always been a rhubarb lover, but this bread was so moist and tasty and that crunchy crumb topping! I've been making it for years, using rhubarb from my friend's garden! Double Blessings!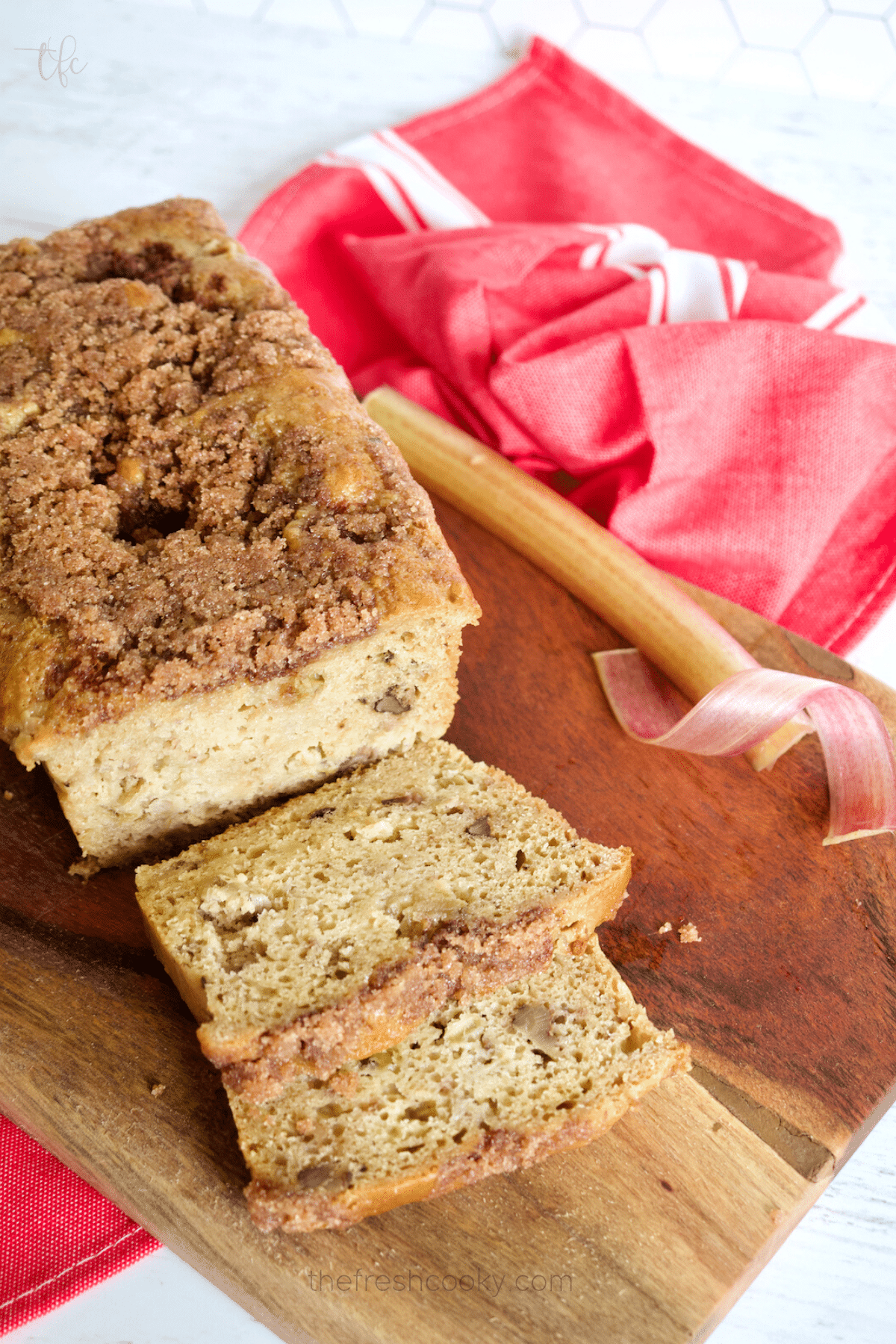 Frequently Asked Questions
Can you freeze rhubarb?
Yes, rhubarb freezes very well. I suggest you wash, pat dry and chop into recipe sized pieces, flash freeze on a small baking sheet for about an hour, then transfer to container or baggie.
How long will rhubarb last?
In the fridge | Do not wash it, keep in plastic ziplock back in fridge crisper drawer, when properly stored it can last 7-10 days in the crisper drawer.
In the freezer | Rhubarb is good up to 12 months, though it sure won't hurt you if used after that date. If kept frozen in an airtight bag and kept at 0 degrees or below, it should last indefinitely.
Can I use the leaves from rhubarb?
No, the leaves to the rhubarb plant are actually poisonous.
Can you freeze Rhubarb Bread?
Yes, as with most quick breads, in my opinion they actually get better after freezing and thawing. Wrap the completely cooled rhubarb bread well with plastic wrap, then place in a ziplock bag. May be frozen from 3-6 months.
Where can you find rhubarb?
Ask a neighbor who grows rhubarb, I bet they wouldn't mind sharing some with you!
The best places to try and find fresh rhubarb is your local grocery store, if they don't have it ask, they might be able to get it for you. Stores like Whole Foods, Trader Joes can be hit and miss but often have it, frozen at least! Be sure to visit your local farmer's market during the earlier spring months!
Can I make Strawberry Rhubarb Muffins with this recipe?
Yes, line a muffin pan with cupcake liners, then spray lightly with a little non-stick spray. Make recipe as described for the rhubarb bread with buttermilk adding up to ½ cup diced strawberries.

Fill muffin cups no more than ⅔ full, top with streusel and bake for 18-20 minutes. Note that I have not tried this recipe as muffins, so watch them and remove from oven once the tops spring back when lightly touched and a toothpick inserted comes out clean.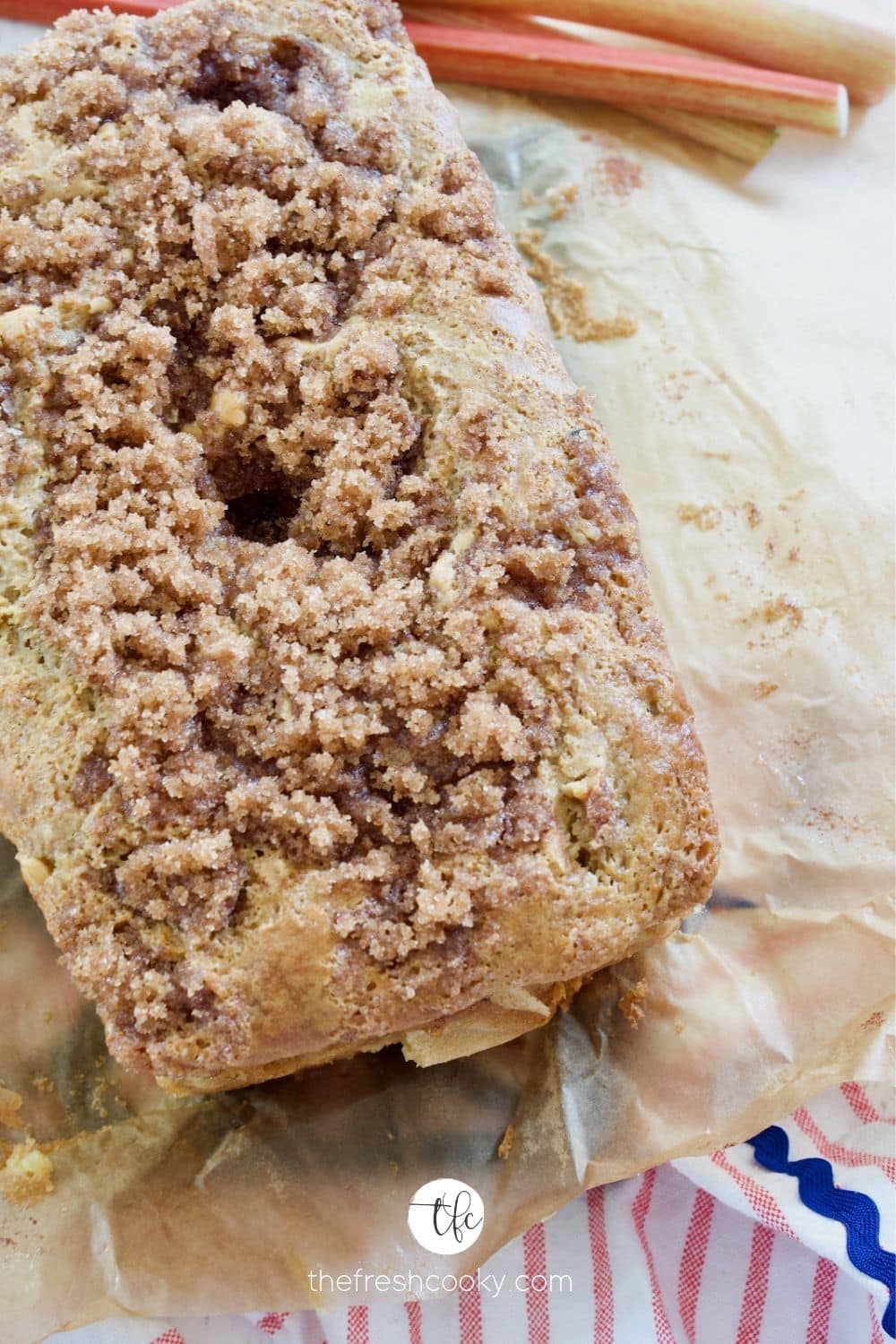 Substitutions & Variations for Buttermilk Rhubarb Bread
GLUTEN FREE RHUBARB BREAD | I have had very good luck doing that in the past with my quick bread recipes, you can either use a good Gluten Free AP Flour (my favorite) or you can try 1 ½ cups Gluten Free AP Flour and 1 cup of either Almond or Oat flour.
Rhubarb | While it wouldn't be rhubarb bread without the rhubarb, feel free to substitute rhubarb (all or partial) with equal amounts of blueberries, blackberries, raspberries, cherry, strawberries (rough chopped), shredded zucchini or even peaches.
Replace buttermilk with any milk, plant-based or regular. You may also replace with equal amounts of sour cream if desired, but then it's not rhubarb bread with buttermilk is it!
Nuts | if you like nuts in your rhubarb loaf cake, you will love walnuts, but also try chopped; hazelnuts, almonds and pecans.
Mini Loaf or Muffins | If desired, you can adjust this recipe to fit into 4 mini loaf pans (not the teensy ones, but a regular sized mini loaf pan), or you can make in muffin tins, I've never made them that way, only fill muffin tin about ⅔ full before adding streusel crumb topping and bake at 325 degrees for 20 minutes until toothpick comes out clean.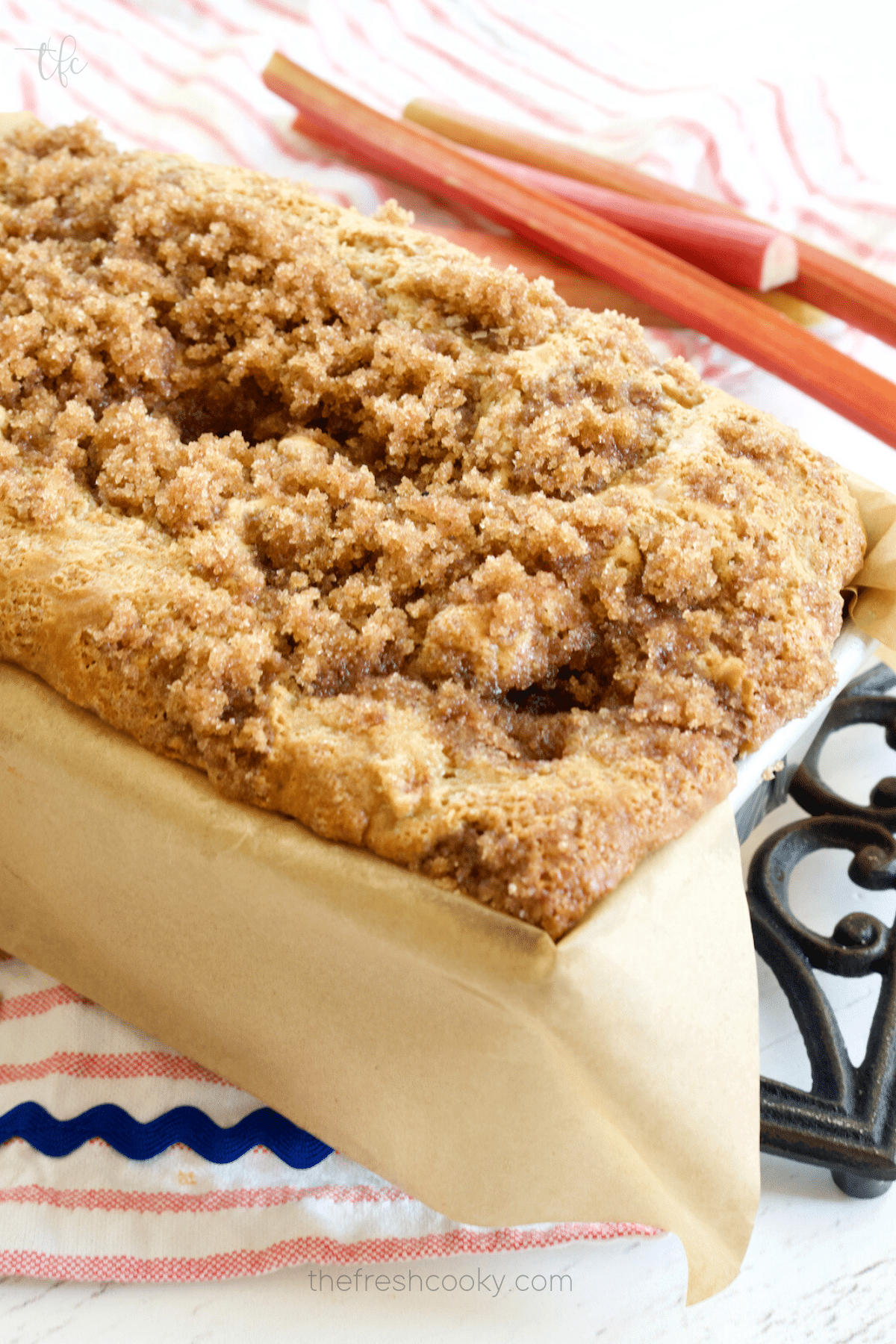 Storage Tips
Cool rhubarb bread completely on a wire rack before storing.
Rhubarb bread is best when room temperature; place in airtight container or baggie, on counter 4-6 days.
Freeze rhubarb loaf cake for up to 3-4 months, wrap well in plastic wrap, then place in freezer baggie.
To thaw, remove quick bread from freezer and place on counter to thaw.
Delicious, toasted and slathered with butter, or try this strawberry rhubarb jam from my friend Lynn!
Recommended Equipment
There are just a few pieces of equipment you must have to make these rhubarb loaf cakes, the rest just makes things easier!
Loaf Pan | As I have mentioned throughout, having a good solid loaf pan is important for a quick bread. Most quick breads are made in a 1 lb loaf pan, this USA Pan is by far my very favorite! Heavy duty, non-stick and washes easily.
Mini Loaf Pans | In making the regular recipe, it makes one large loaf and one mini loaf, but you may also split it up into 4 mini loaf pans, filling about ⅔ of the way full.
Mixing Bowl | If you are using a stand mixer, then your bowl will fit just fine, you might also want to use a hand mixer, or mix with a wooden spoon, these glass batter bowls are my favorite.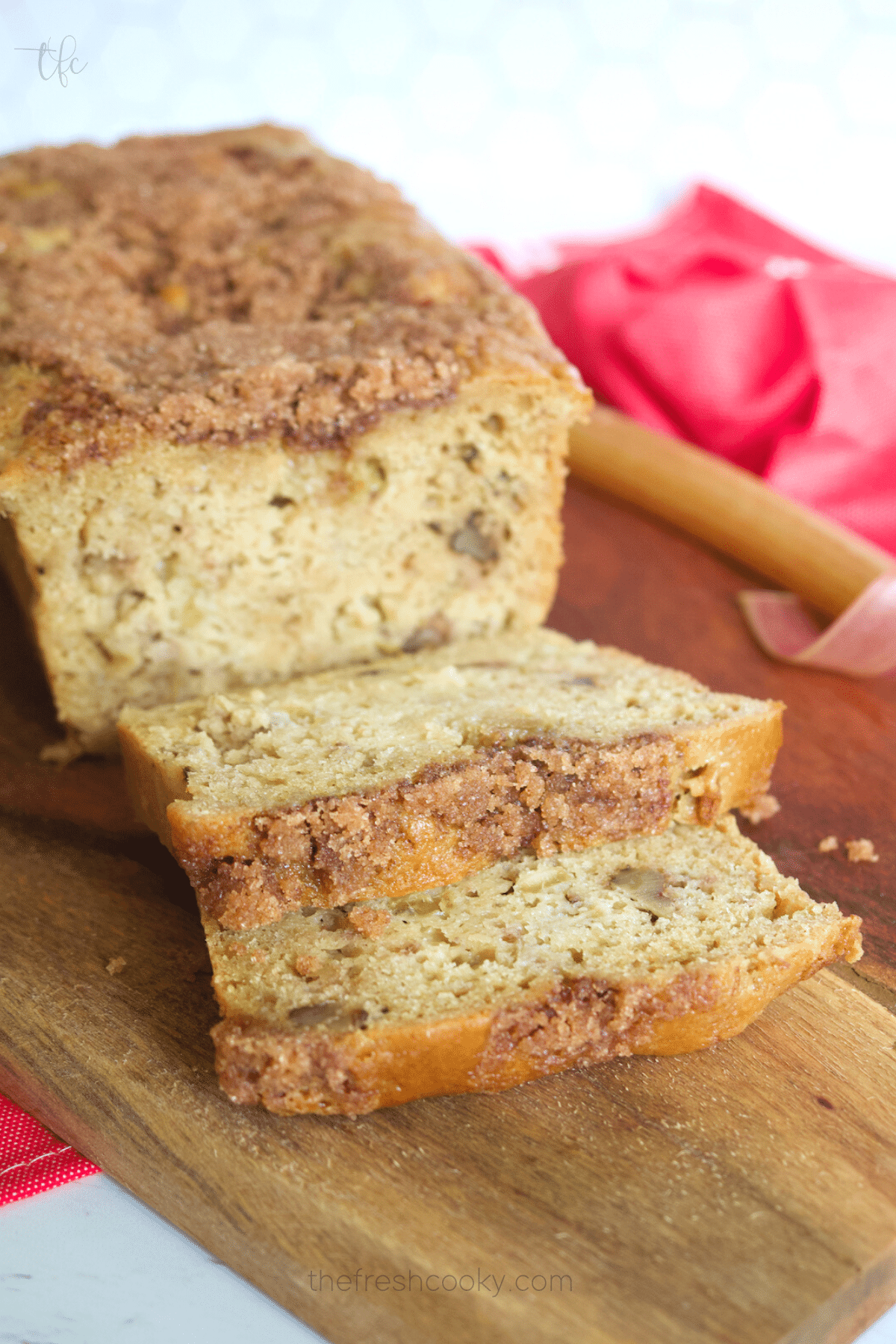 TOP TIP
My TOP TIP about quick bread; is do not over mix the batter, which is why many of them are done by hand. Over mixing quick breads or soda breads can cause tunneling and alter the texture of the quick bread!
Bonus TIP | Make sure your baking soda is fresh! See below for how to test!
How to test baking soda & baking powder
Measure out 1/2 cup of hot tap water.
Baking soda needs an acid to get a reaction, so add 1/4 teaspoon white or apple cider vinegar to the water if you're testing baking soda. If you are testing baking powder, you do not need to add any vinegar.
Add baking soda or baking powder, just ¼ teaspoon — if you get fizzing you are in business, if you get nothing, toss it out and buy a new one!
High Altitude Buttermilk Rhubarb Bread Recipe
The only change necessary when baking up this moist quick bread recipe is to increase the oven temperature to 350 degrees when baking at high altitude.
Enjoy browsing through all of my delicious quick bread recipes!
Love Rhubarb Bread? Try more delicious recipes!
Please follow me and share on Pinterest, Instagram, Facebook and Twitter!
Love it? Pin It!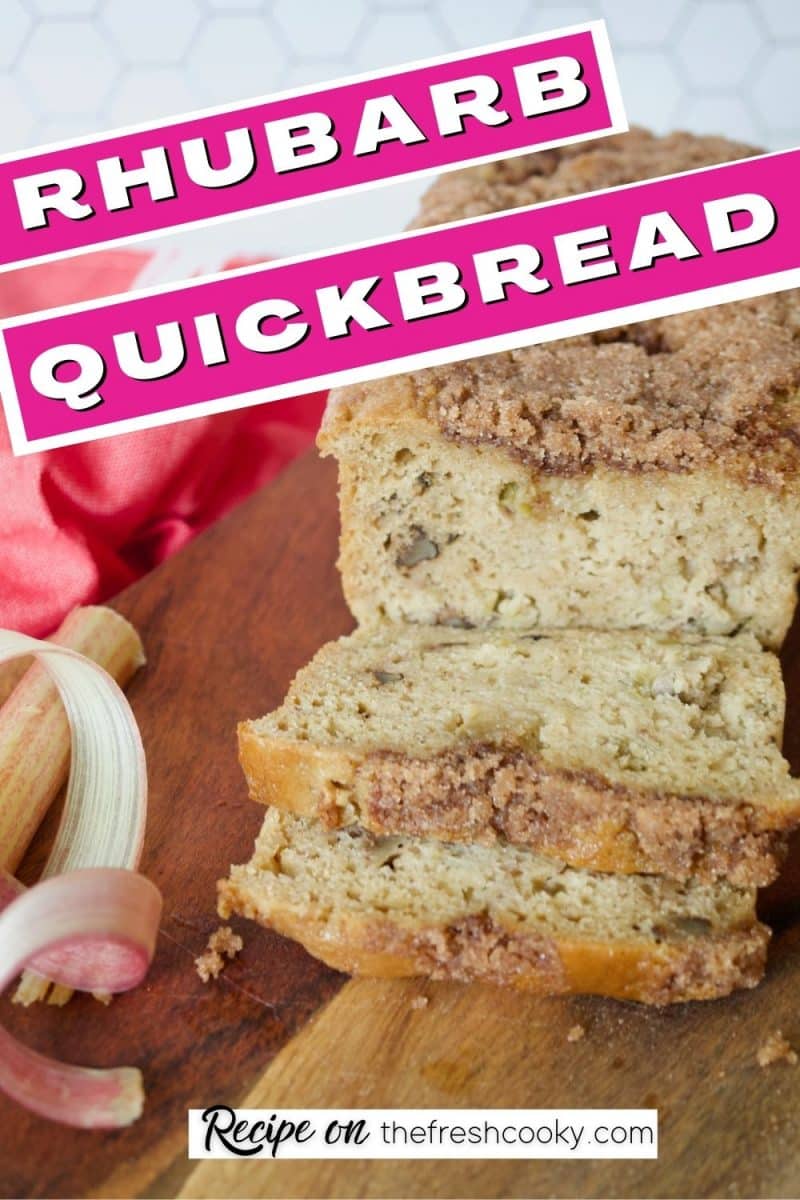 Like this recipe?
Don't forget to give it a ⭐️⭐️⭐️⭐️⭐️ star rating and comment below the recipe!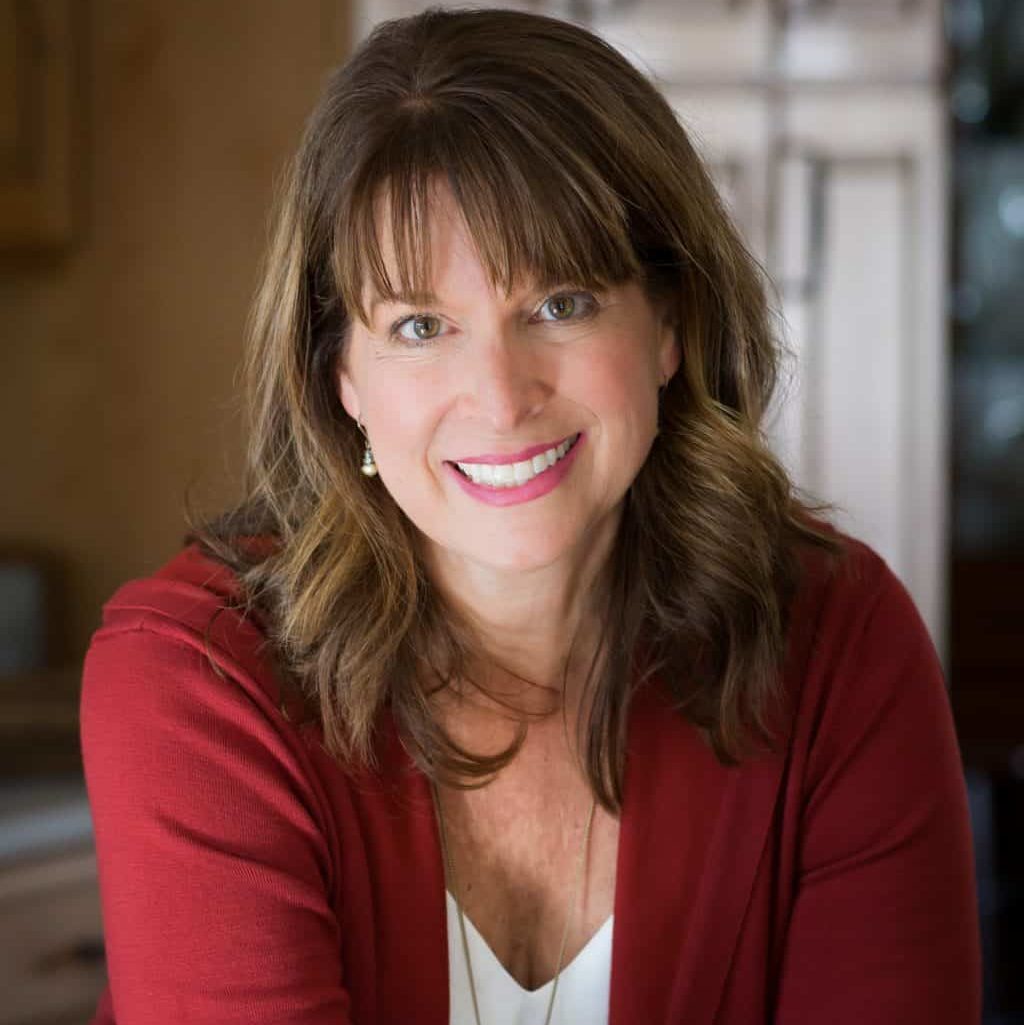 About Kathleen Pope
Recipe Innovator | Food Photographer | Food Writer
Hi, I'm Kathleen Pope. Here at The Fresh Cooky you will find easy, mostly from-scratch, trusted recipes for all occasions. From speedy dinners to tasty desserts, with easy step-by-step instructions. I am here to help teach you how to make mouthwatering recipes without spending hours in the kitchen. Read more about Kathleen here.