Easy Banana Bread Recipe Baking at High Altitude
As an Amazon Associate, I earn from qualifying purchases. Please read my disclosure policy.
One of the best High Altitude Banana Bread Recipes! Using 4 bananas, and a few changes to the original process, this recipe is moister and amazingly delicious! It freezes great too! But have no fear; I give easy instructions to make at any elevation, plus how to make gluten-free banana bread!
Great banana bread should be easy to bake with simple ingredients, moist, subtly flavored with banana, not overly sweet, and baked to a golden brown.
Enjoy these other classic recipes: New England Whoopie Pies, Copycat Crumbl Chocolate Chip Cookie Recipe, Basic Fudge Brownies or Mimi's Copycat Honey Bran Muffins.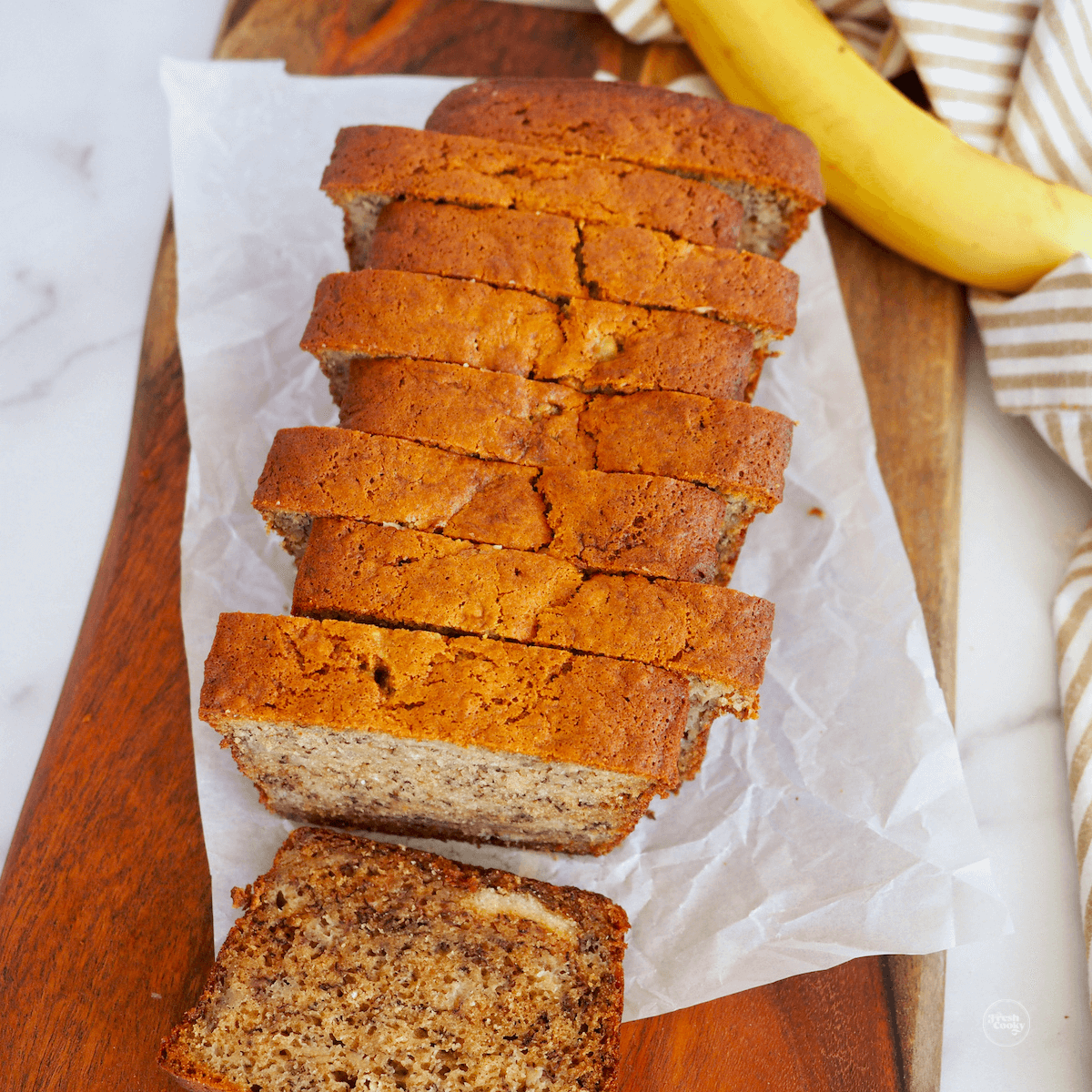 I enjoy giving precise details in my recipe posts to lead my readers through any questions. If you're just here for the printable recipe, feel free to click "Jump to Recipe" right under the title of this post, and you'll head straight there!
Reader Reviews
"This recipe was absolutely fantastic! I followed exactly for high altitude (6300 feet here) AND for gluten-free using the King Arthur blend of GF flour. I think it's my best loaf ever! Thank you for such specific directions for all options." ~ Mary

"I followed this recipe exactly as written. I am at 8,000 feet, and it was DELICIOUS and looked beautiful. My family devoured it. Thank you for sharing such a great recipe!" ~Alison

"Made this wonderful banana bread yesterday. I live in the mountains of Colorado – our altitude is 7700 feet – and it turned out great! Baking at high altitude is a challenge and you made this easy for me! Thanks so much!" ~ Jacynthe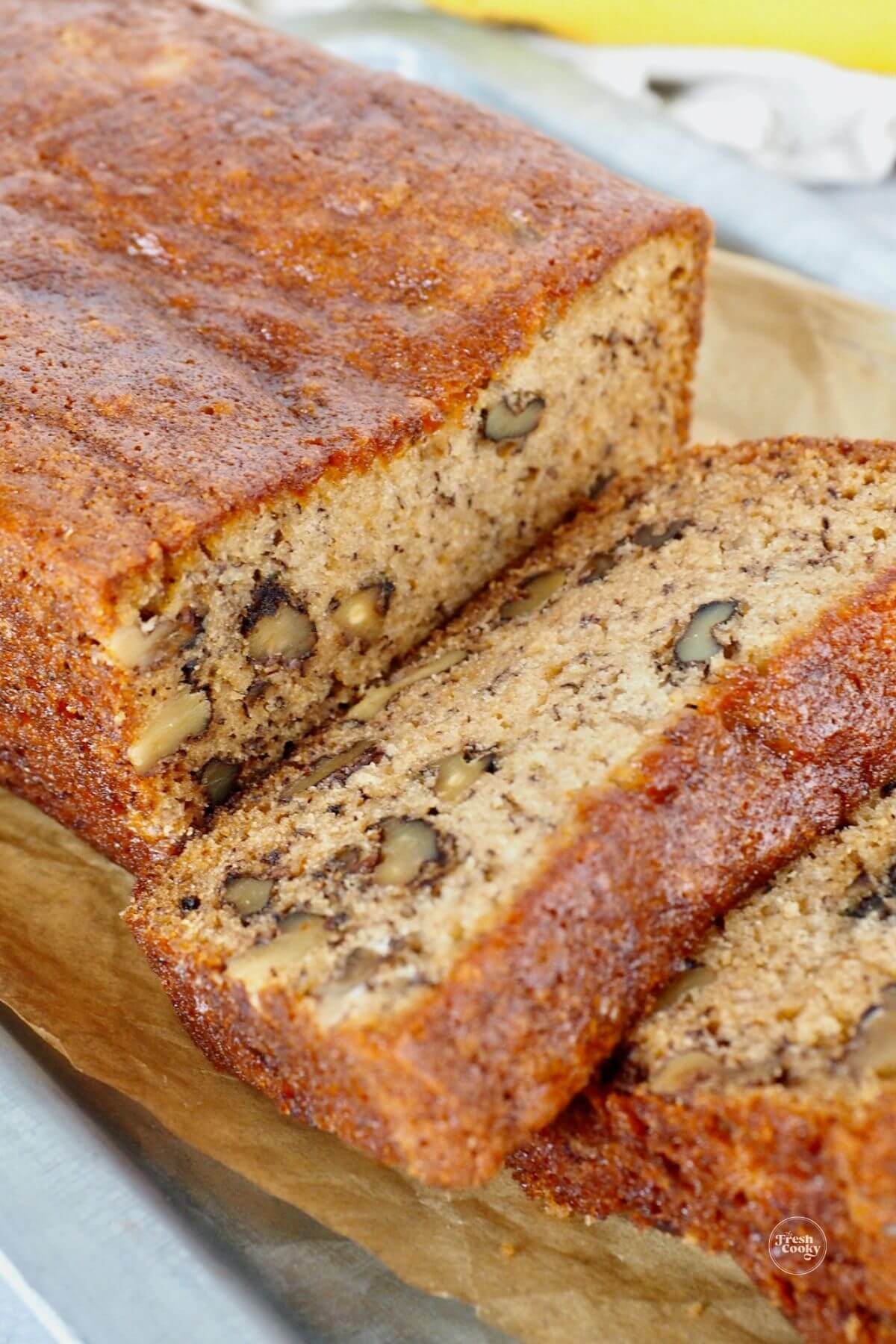 Why You Will Love My High Altitude Banana Bread Recipes
Tested & Approved | When baking at high altitude, you need to make modifications to your flour, sugar, sometimes liquid and temperature, I've done all the testing for you!
Moist | A super moist, lightly crumbed classic banana bread recipe that will become your go-to recipe.
Straight Forward | With a few tweaks to the ingredients, we make this the best high altitude banana bread recipe; ever!
High Altitude Banana Bread
Right now, banana bread is trending everywhere; not fancy, boutique ingredients banana bread like my Banana Nutella Bread or Moist Banana Graham Oat Bread but basic, simple, classic banana bread recipes.
Baking at high altitude, banana bread requires the right recipe; I will give you tips on how to bake at altitude or sea level and adjustments for gluten-free banana bread.
Simple Ingredients
FLOUR | I use organic, unbleached all-purpose flour in my baking; for Gluten Free, use a good GF 1-to-1 flour or try half GF oat flour, half GF AP Flour
SPICES | Cinnamon, Salt, and Baking Soda; we won't use baking powder in this recipe.
GRANULATED SUGAR | I love using organic all-natural cane sugar in my recipes, but I have also successfully used quality cup-for-cup sugar replacements, like Monk fruit.
EGGS | I use large eggs in all my baking, room temperature eggs are best, if you forget, place eggs in a small bowl, fill with warm (not hot) water, and let sit 5-7 minutes.
OIL | Adds simple, healthy moisture; I love using Avocado oil or Grapeseed oil in my baking. You could also try using melted butter; I have never tried it, so let me know how it works.
OVERRIPE BANANAS | This banana bread recipe uses 4 bananas, whereas most other recipes use only 2 or 3 brown bananas.
CREME FRAICHE | You may also substitute sour cream or Greek yogurt, if you prefer.
VANILLA EXTRACT | Try making homemade vanilla or try Rodelle brand vanilla extract, which is so good!
ADD-INS | Keep it naked, or loaded; add chopped walnuts or chocolate chips, or go crazy and add both!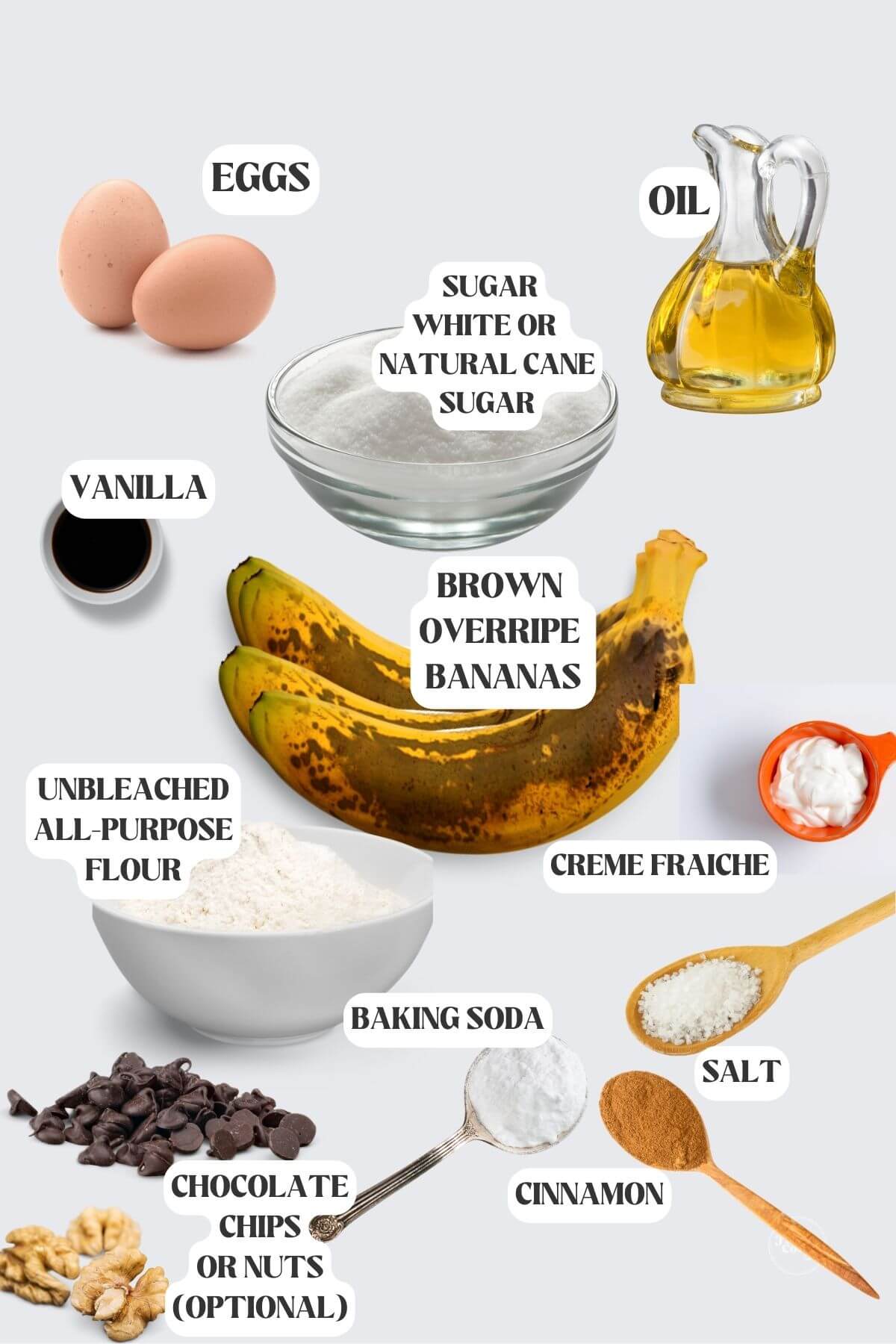 Flour's Famous Banana Bread
A few years ago, while visiting colleges in Boston for our son, I had heard so much about Flour's Famous Banana Bread.
I adore Joanne Chang's cookbook Flour and have made several of her recipes, including her brioche (WOW!) and browned butter rice krispie treats (WOW-WOW!).
The beautiful bakery in the heart of downtown Boston, with all sorts of delectable pastries, and yet I went for their Famous Banana Bread. Simple ingredients, outstanding texture, and flavor!
Chocolate Chip Banana Bread vs. Banana Nut Bread
What do you prefer? For me, there is no contest, it's banana NUT bread all the way or plain without nuts, but my family, they are all about the chocolate chips; you might like this Double Chocolate Banana Bread too!
I will show you how to add your own mix-ins easily.
How to Make the Best Banana Bread Recipe in the World!
I know that is quite a claim, but this banana bread is truly the best…in the world, my world at least! I hope you will give it a try!
It's easier for a recipe to come together when you collect and measure all the ingredients ahead of time.
Step 1 | Preheat the Oven and Prep Pans
Preheat oven to 350°F / 177°C (325°F sea level, 163 °C) unless using a dark or glass pan; position the rack in the middle of the oven. Spray a 9 x 5-inch loaf pan with non-stick spray and dust with flour. Or spray, then line with parchment (at least the bottom of the pan) for easy removal. May also butter pan.
Mash bananas in a small bowl and set aside.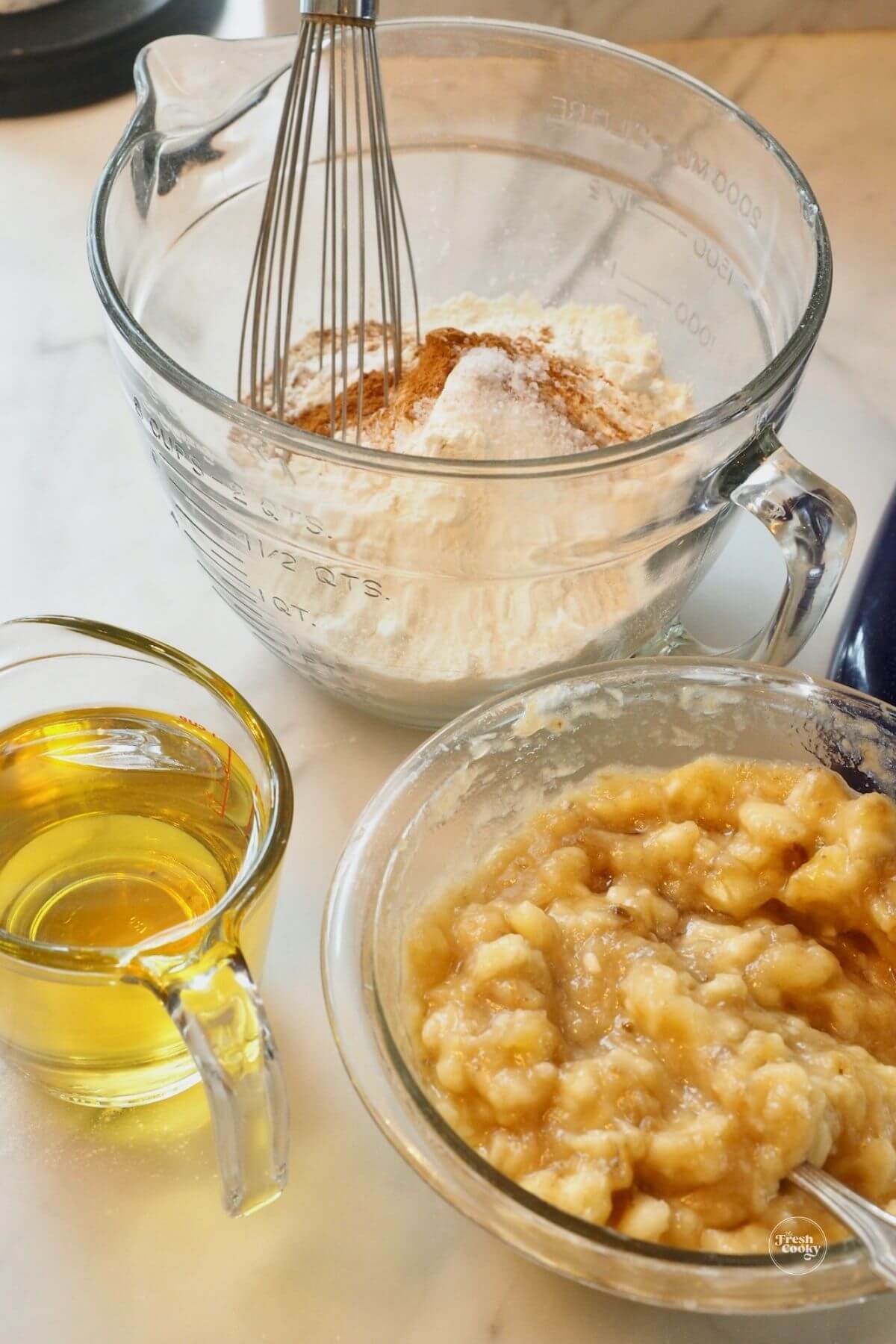 Step 2 | Prepare the Banana Bread Batter
Mix sugar and eggs in the bowl of a stand mixer, beating on medium speed for about 5 minutes, until light and fluffy (8 minutes if using natural cane sugar or a hand mixer). The goal in beating eggs and sugar is to incorporate plenty of air into the mixture for light yet textured banana bread.
While sugar and eggs are creaming, in a separate bowl add flour, baking soda, cinnamon, and salt in a medium or large bowl, whisk to combine, and set aside.
If adding chocolate chips or nuts, keep them from sinking in your banana bread by reserving 1 tablespoon of the flour mixture above and tossing chocolate chips and nuts in the flour before adding.
Step 3 | Finish Banana Bread Batter
On low speed, slowly drizzle in oil. Don't just dump it in, but slowly drizzle while it incorporates, it should take about a minute; you don't want to deflate the egg and sugar batter!
Add mashed bananas, creme fraiche, and vanilla, mixing on low until just combined.
Fold flour mixture into the wet ingredients. I use this spatula for folding, as it grabs more batter at a time. Make sure no flour streaks are visible.
Step 4 | Divide Batter for Mix-Ins (Optional)
Since this recipe makes 2 loaves, divide the batter evenly if you would like one plain or one with chocolate chips and one with nuts.
I scoop half into a medium mixing bowl and add nuts to one, adding the chocolate chips to the other half of the batter. Or if you like all the same mix-ins, gently fold them into the batter before dividing them into loaf pans. Pour batter into prepared loaf pan and smooth top.
Step 5 | How to Bake Banana Bread at Higher Altitudes
Bake starting at 45-50 minutes, but bake up to an hour and 15 minutes if needed or until golden brown and the center springs back when you press it. If your finger takes off the crust or sticks when you press it, it needs a bit longer. It should not be jiggly.
Allow the bread to cool on the wire rack for at least 30 minutes, then flip the banana bread onto the rack to complete the cooling process. Remember to turn the bread back right side up to avoid getting marks from the rack on the top of your bread.
How to keep chocolate chips from sinking
Toss your mix-in (chocolate chips, other chips or nuts) into about a tablespoon of your flour mixture and coat the chocolate chips, or nuts well. The flour coating helps the mix-in "stick" to the batter while baking, preventing the chocolate chips or nuts from sinking to the bottom during baking. You may also use cocoa powder if baking brownies or other chocolate based desserts.
Gently fold nuts or chocolate chips (or other mix in) into flour mixture, then fold flour mixture into wet batter. I use this spatula for folding. Ensure no flour streaks are visible and nuts/chocolate chips should be evenly distributed.
Frequently Asked Questions
How long is banana bread good for?
Personally, I think quickbreads are better the next day, but sometimes I cannot wait that long! Wrapped well or in an airtight container, this moist banana bread lasts 3-5 days on the countertop. Refrigerated, it will last up to 7 days and in the freezer, up to 3 months, if tightly wrapped.
Can I Freeze Banana Bread?
Absolutely! In fact, high-altitude banana bread recipes freeze beautifully. Wrap tightly in plastic wrap, then placed in a freezer baggie up to 3 months (though I have found quick breads in my freezer that have been there longer and they thaw and taste just fine.)
How to Ripen Bananas Fast?
You can speed up the browning process by placing the bananas in a brown paper bag and an apple on the counter for a day or two. The gasses emitted by the apple will speed up the ripening process.
Or, while I have never tried this if you are really impatient, you can place bananas (in their banana peels) on a sheet pan in a 300° F (149° C) oven and bake for about 20 minutes. Cool, peel, mash — makes awesome bread, I am told!
Storage Tips
It is very important to cool your banana bread completely before wrapping, storing, refrigerating or freezing. Store cooled banana bread in an airtight container on the countertop 3-5 days (if it lasts that long).
​Refrigerate well-wrapped banana bread loaf and place in fridge for 7-10 days.
Freeze loaf of banana bread that has been wrapped tightly in plastic wrap then place in a freezer baggie for up to 3-4 months. Sometimes I cut the loaf in half, wrapping separately then I have a quick little something to give to a neighbor in need or when we have a banana nut bread emergency! LOL! Thaw frozen bread overnight at room temperature.
I also like to slice it ahead of time into ¾ – 1″ slices, wrap the slices in plastic wrap, freeze — they toss well into lunch boxes! Check out my post on Creative Lunch Box Ideas for more "pop-in-the-lunch" snack ideas.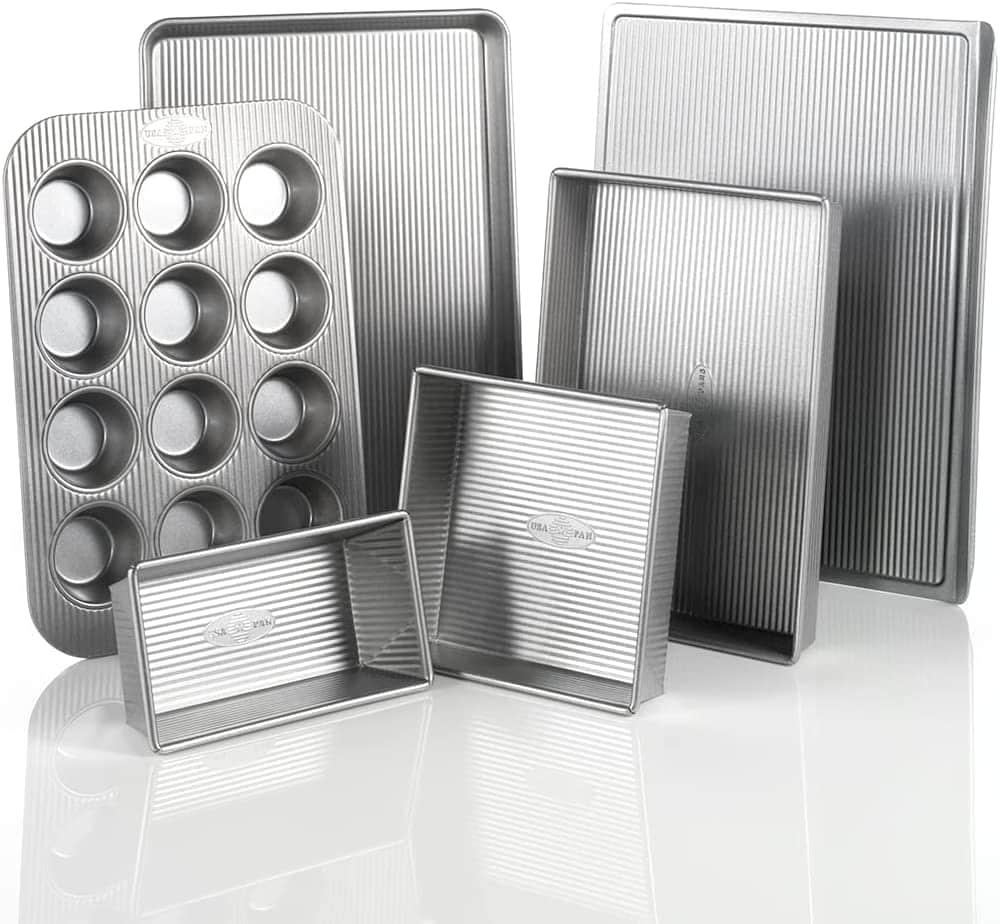 What are the best bananas for high-altitude banana bread recipe
I confess that I buy extra bananas sometimes to have the "excuse" to make banana bread.
The browner the banana, the better; the best bananas are black bananas! That means that the sugars in the banana have done a great job breaking down the flesh, making them even sweeter!
If using frozen bananas, be sure to defrost them on the counter first, draining the liquid that comes out before using it in your recipe. Use 4 large bananas for this banana bread recipe!
How to make high-altitude gluten-free banana bread
This is a great Gluten-Free Banana Bread recipe!
I have had great luck swapping out regular white flour for a good 1-to-1 gluten-free flour (<< my favorite) replacement.
Coconut flour is a great gluten-free option, but it can give banana bread a strong coconut flavor. Not a bad thing if you're a coconut lover though!
Substituting half the flour with GF oat flour or a 50/50 mix of oat flour and gluten-free all-purpose flour is also worth trying.
You might also try substituting half the flour with GF oat flour or a 50/50 split between oat flour and gluten-free all-purpose flour.
My favorite combination is half almond flour, ¼ Gluten-Free cup for cup flour and ¼ cup oat flour.
Bake as directed; watch on the earlier side, my experience is that you do not want to over-bake gluten-free recipes. Remove when a toothpick comes out with a few moist crumbs.
Variations and Substitutions
Banana bread is a versatile and delicious baked good that can be customized with various toppings, mix-ins, and substitutions. Here are some ideas:
Nuts: Walnuts, pecans, almonds, and hazelnuts work well in banana bread. Chopped or crushed nuts can be mixed into the batter or sprinkled on top of the bread before baking.
Chocolate chips: Semi-sweet or dark chocolate chips can be added to the batter or pressed onto the top of the bread before baking for a sweet and decadent touch. Use butterscotch, white chocolate or peanut butter too!
Peanut butter: Add a delicious twist to traditional banana bread by swirling peanut butter into the batter or drizzling it on top before baking.
Fruit: Fresh or frozen berries, diced apples, or chopped peaches can be mixed into the batter to add extra flavor and texture.
Spices: Cinnamon, nutmeg, cardamom, and ginger are all great spices to add to banana bread for a warm and cozy flavor.
Substitutions: For a healthier twist, try using whole wheat flour, melted coconut oil, or Greek yogurt instead of some of the traditional ingredients. You can also substitute mashed sweet potato or pumpkin puree for some or all of the mashed bananas.
Toppings: Once your banana bread is baked and cooled, you can top it with various toppings, such as cream cheese frosting, whipped cream, or a drizzle of honey. Sliced bananas, chopped nuts, or fresh berries also make great toppings.
What to serve with banana bread
Fresh fruit: High-altitude banana bread is already sweet, so serving it with fresh fruit is a great way to balance out the flavors. Try serving it with sliced strawberries, blueberries, or raspberries.
Whipped cream: Lightly sweetened whipped cream can perfectly complement high-altitude banana bread. It adds a creamy texture that complements the dense texture of the bread.
Cheese: Serve cheese slices alongside the banana bread for a savory touch. Cream cheese, brie, or cheddar are all good options. Try it with my pancake charcuterie board.
Jam or jelly: Spread a dollop of jam or jelly onto the banana bread or serve it alongside. Raspberry, apricot, or strawberry jam (try this easy no-cook jam) all pair well with banana bread.
Nut butter: Peanut butter, almond butter, or cashew butter are good options for serving alongside banana bread. They add a nutty flavor and creamy texture that complements the bread.
Coffee or tea: A hot cup of coffee or tea is the perfect beverage to serve alongside high altitude banana bread. It helps balance out the sweetness of the bread and enhances the overall flavor experience.
11 Different Ways to Eat Banana Bread
Looking for the best way to eat banana bread? Craving a healthy snack? Try any or all of these great ways to eat and enjoy banana bread!
Plain and simple: Enjoy a slice of banana bread on its own, for a quick and healthy snack.
Toasted: Toast a slice of banana bread and spread some butter or cream cheese on top for a delicious breakfast or snack.
With a spread: Try topping banana bread with good butter, peanut butter, Nutella, or honey for an extra sweet and flavorful treat.
Grilled: Cut banana bread into thick slices and grill it with a little bit of butter until it's golden brown and crispy. Serve with vanilla ice cream for a delicious dessert.
French Toast: Use slices of banana bread to make French toast for a decadent and flavorful breakfast. Add a drizzle of maple syrup, and you are all set.
Parfait: Layer banana bread with yogurt, fresh fruit, and granola for a healthy and satisfying breakfast or snack.
Bread Pudding: Turn banana bread into a delicious dessert by using it to make bread pudding. Add milk, eggs, sugar, and vanilla and bake until golden brown.
Ice Cream Sandwich: Slice banana bread into thin pieces and use it to make ice cream sandwiches with your favorite flavor of ice cream.
Make a sandwich: Use slices of banana bread to make a sandwich with cream cheese, jam, or sliced fruit for a fun and tasty twist.
Dip it: Cut banana bread into bite-sized pieces and serve it with your favorite dipping sauce, such as caramel, chocolate, or peanut butter, for a fun and indulgent snack.
Toppings: Top banana bread with chocolate chips (for the chocolate lover), nuts, shredded coconut or fresh fruit for an extra flavor and texture.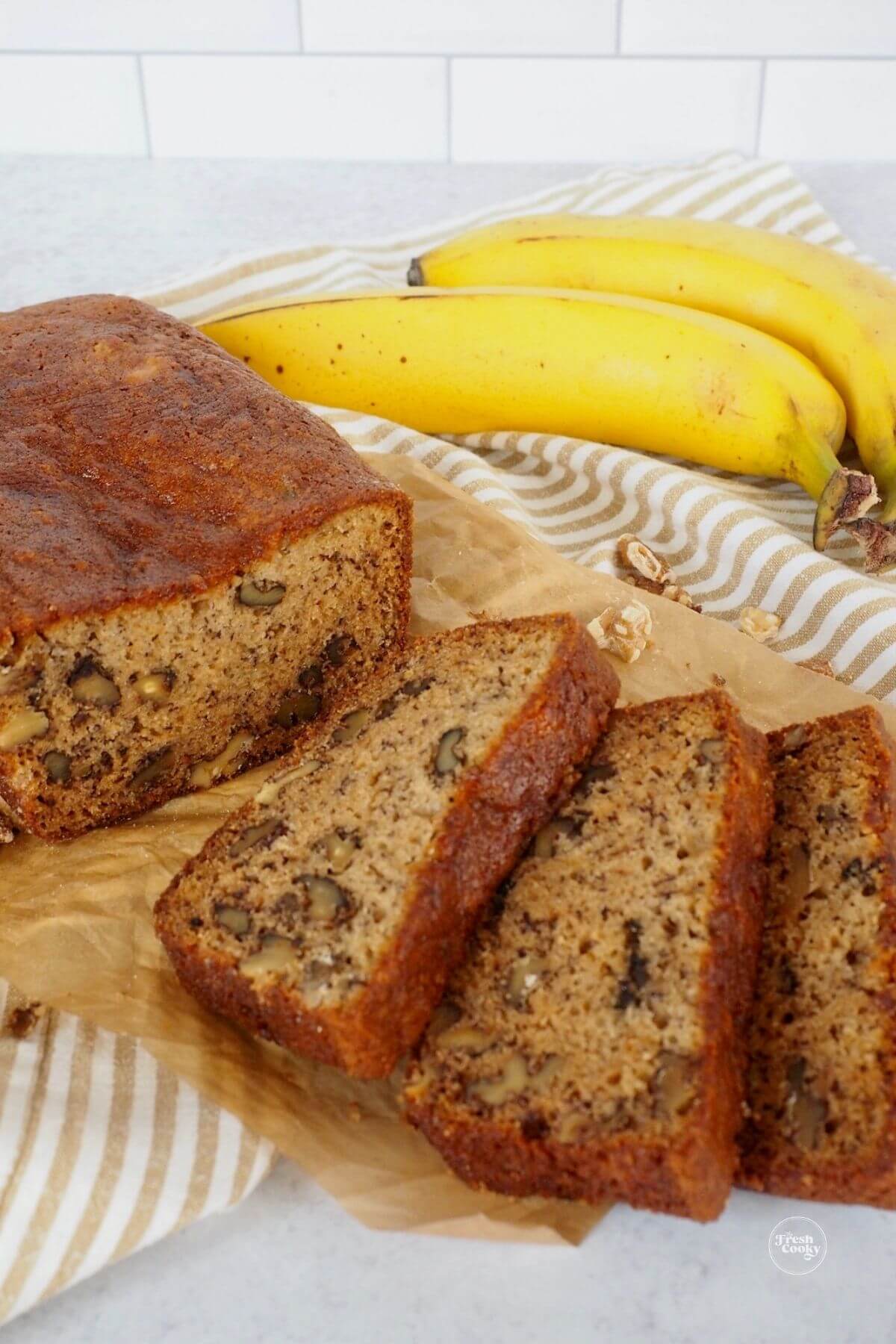 Best side dishes to serve with high altitude banana bread recipes
Banana bread is of course, delicious all by itself, but if you are making a breakfast or brunch out of it, try this easy and refreshing Tropical fruit salad or this Rhubarb and Strawberry fruit salad.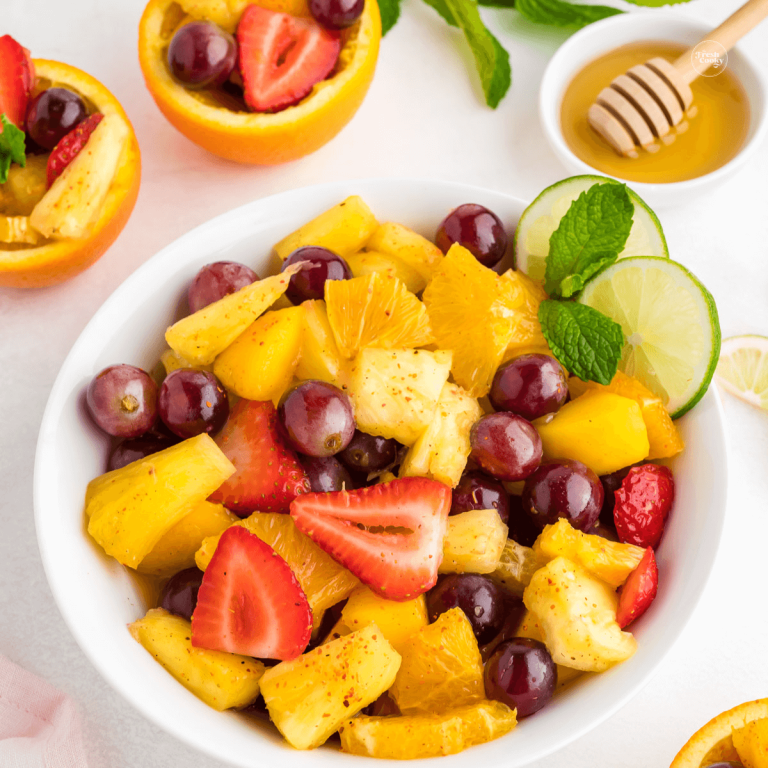 Best Mexican Fruit Salad Recipe
This Mexican fruit salad recipe is refreshing, and bursting with juicy and sweet fruits that will make your taste buds salsa dance! Tropical fruits paired with citrus, strawberries, and grapes in a light honey-lime Tajin dressing.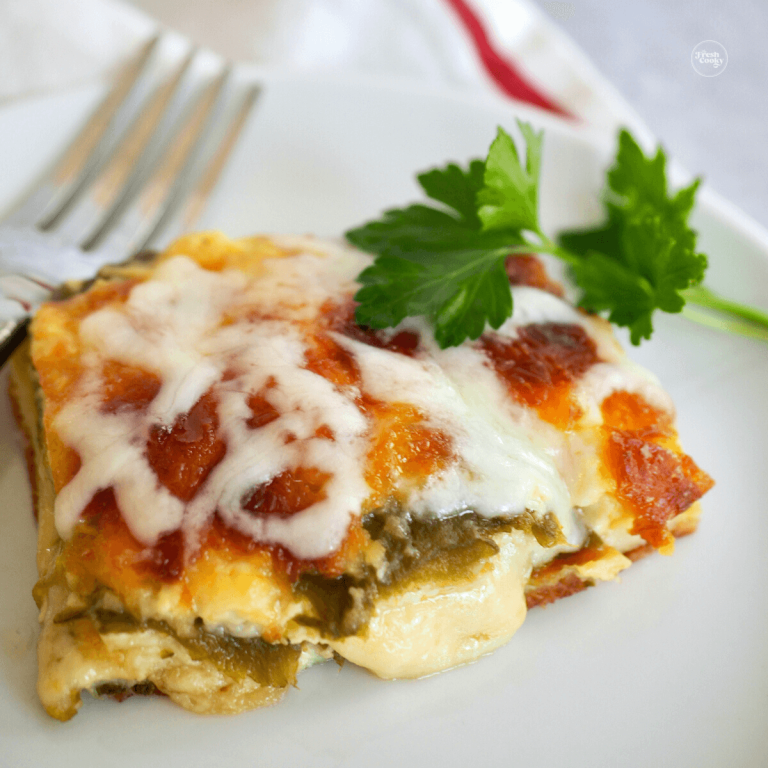 Easy Hatch Green Chile Relleno Casserole Recipe
Best Chile Relleno Casserole is an easy, delicious vegetarian dish made with Monterey Jack cheese stuffed whole roasted chiles, topped with an egg, milk batter, topped with more cheese, then baked to fluffy perfection. Easily adapted to be gluten free.
Best drinks to serve with banana bread
A hot cup of tea or coffee is one of our favorites, serve banana bread in the afternoon with these delicious hot drinks.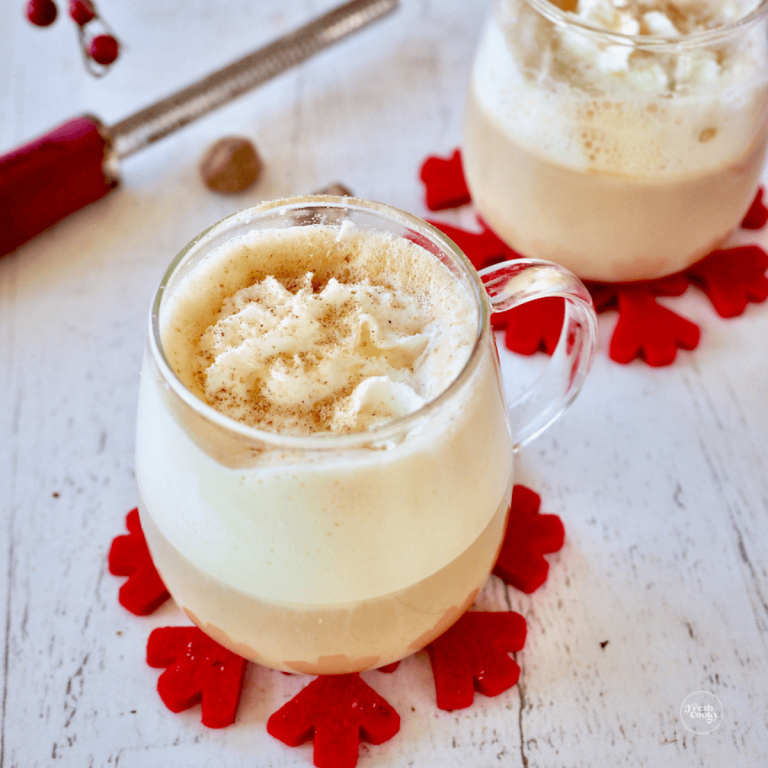 Homemade Eggnog Latte Recipe (Starbucks Copycat)
Celebrate the beginning of the holiday season with my rich, creamy Copycat Starbucks Eggnog Latte recipe. This homemade eggnog latte is so simple to make and so festive to drink! Enjoy this warm eggnog coffee drink before a crisp morning walk, or as a special treat on a chilly afternoon.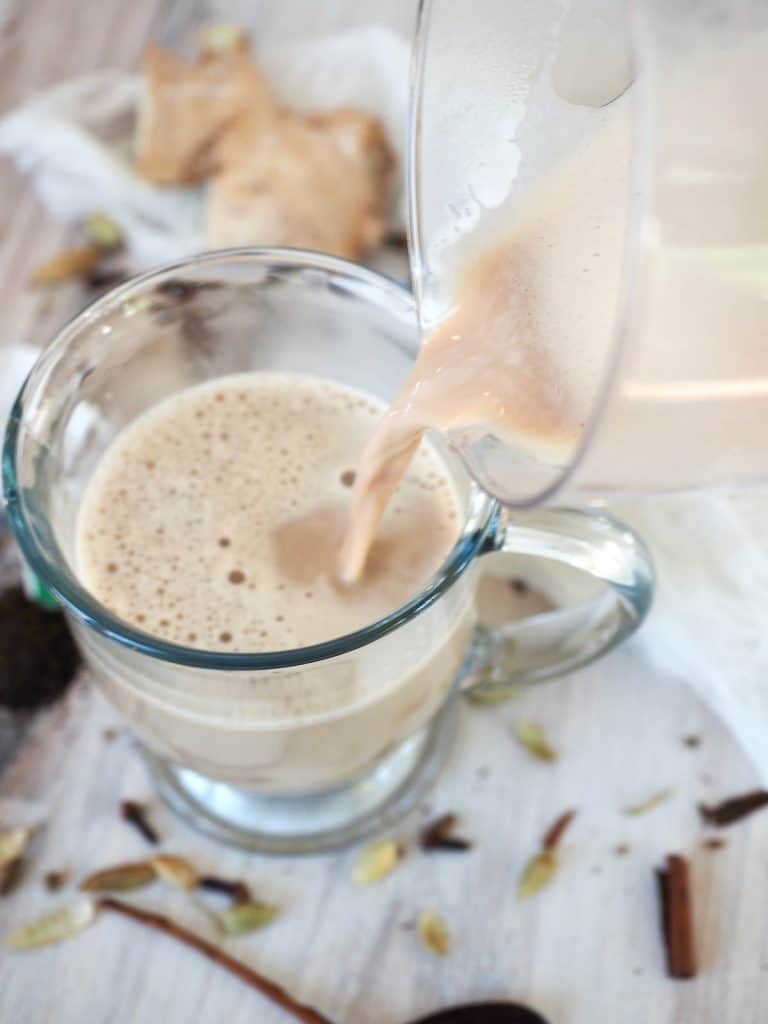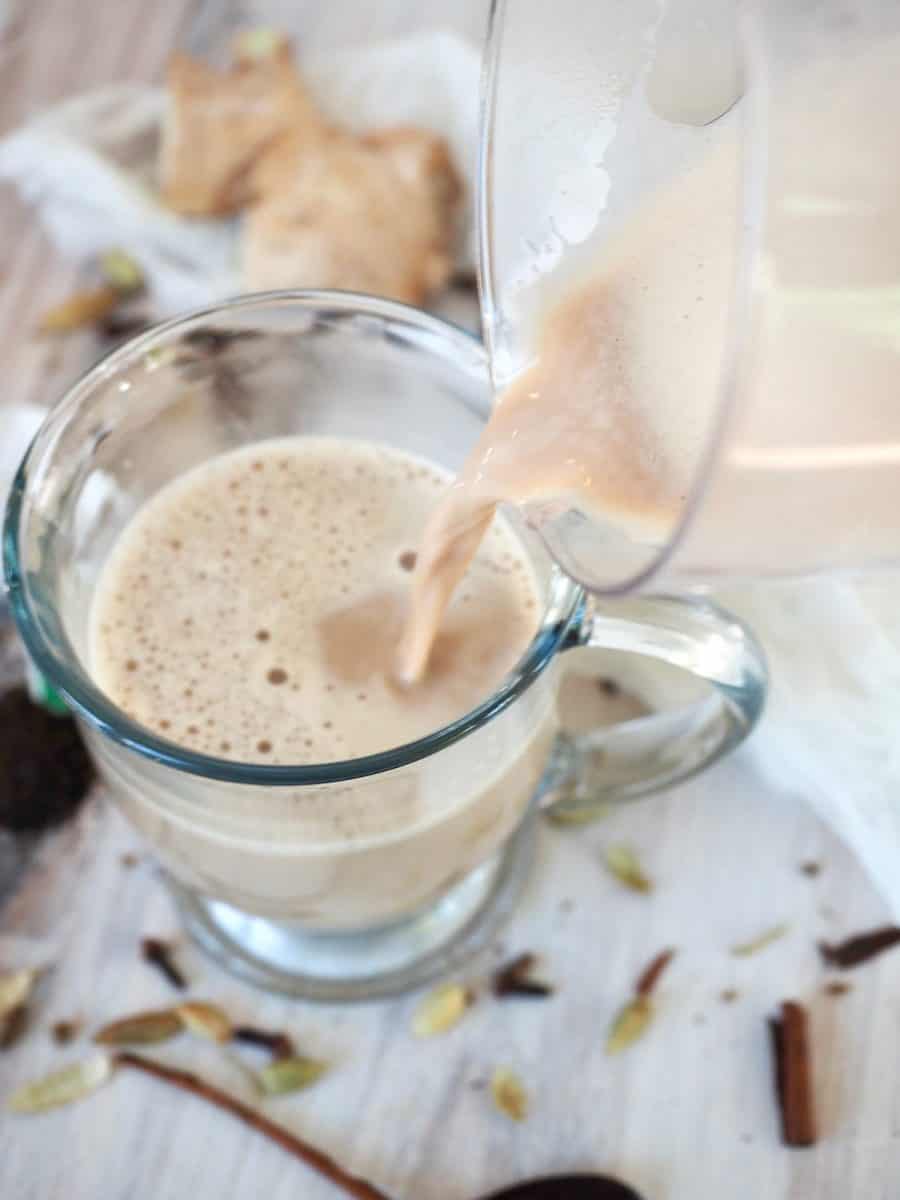 Homemade Chai Tea Latte
Using everyday ingredients, save money by creating your own all natural Chai Tea Latte, superior to a fancy coffee shop.
Easy Classic Irish Coffee Recipe (4 ingredients)
This easy Irish coffee recipe is a classic Irish coffee cocktail that is ideal for chilly nights. It is a delightful blend of coffee, whiskey, sugar, and cream, perfect for warming you up on a cold night or adding a touch of sophistication to your after-dinner drink.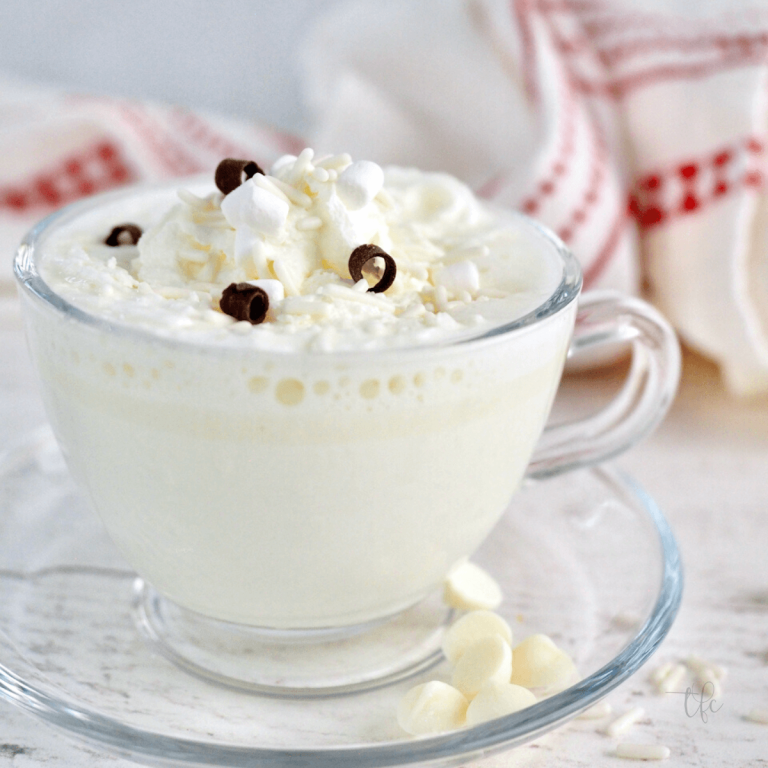 Starbucks White Hot Chocolate Recipe
A quick and easy recipe on how to make a Starbucks White Hot Chocolate recipe at home. Save time and money, by making this fast copycat white hot chocolate recipe in the comfort of your own home.
More Easy Quickbread Recipes
I hope you enjoyed this high altitude banana bread recipe — if you did, would you share your creation on Instagram, Facebook and Pinterest? And be sure to comment below!
Like this recipe?
Don't forget to give it a ⭐️⭐️⭐️⭐️⭐️ star rating and comment below the recipe!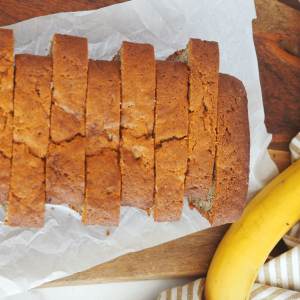 High Altitude Banana Bread Recipe
Looking for a delicious high altitude banana bread recipe? This recipe is tailored to the unique challenges of baking at high altitudes, resulting in a moist and flavorful loaf, with or without mix-ins, plus, gluten-free high altitude instructions.
Equipment
7-Speed Digital Hand Mixer

USA Pan Aluminized Steel Loaf Pan, 1 Pound, Silver
Ingredients
1 1/2

cups

unbleached all-purpose flour

,

may also substitute Gluten Free 1-to-1 flour or try half GF oat flour, half all-purpose or GF all purpose

¾

teaspoon

baking soda

,

sea level increase to 1 teaspoon

½-1

teaspoon

ground cinnamon

1/2

teaspoon

kosher salt

3/4

cup

granulated sugar

,

increase to 1 cup + 2 tablespoons for sea level recipes

2

large

eggs

1/2

cup

vegetable oil

,

I use Avocado, or try Coconut oil

3-4

bananas

,

medium very ripe, mashed (about 1 ⅓ cups)

2

tablespoons

creme fraiche

,

sub sour cream or greek yogurt

1

teaspoon

vanilla extract

2/3

cup

walnuts

,

toasted and chopped (optional)

2/3

cup

chocolate chips

,

tossed in a little flour optional
Instructions
Preheat oven to 350°F (177° C) (325° F sea level or dark pans, unless dark pan, see notes).

Line the bottom and sides of a loaf pan with parchment paper or spray well with baking spray, or spray well with baking spray or rub liberally with butter.

Whisk together together flour, baking soda, cinnamon and salt, set aside.

Beat sugar and eggs on medium-high speed for 6-8 minutes (longer if using natural cane sugar), it should be nice and airy.

Slowly drizzle in oil, should take about a minute. Add mashed bananas, creme fraiche (yogurt or sour cream), and vanilla extract.

Slowly fold flour mixture into wet batter, remember to toss nuts (or, if using or chocolate chips) in dry ingredients before folding into wet batter, this will help distribute them and keep them from sinking.

Pour batter into prepared loaf pan and bake for about 45 minutes to 1 hour 15 minutes. Start checking for doneness around 45-50 minutes.

Loaf should spring back when lightly touched, if loaf is jiggly or sticky to the touch, return to oven for 5-10 minutes at a time.

Remove from oven, allow to cool in pan on wire rack for at least 30 minutes. Remove from pan, let cool completely.

High Altitude Baking Instructions: Start checking bread for doneness around 45 minutes. Loaf top should not jiggle or be sticky to the touch.

Once cooled, wrap tightly in plastic wrap. Stores on counter for 3-5 days (cool house), in fridge up to one week and wrapped well and placed in freezer baggie for up to 2 months.

This recipe easily doubles or triples! If baking in mini loaf pans (split into 4 mini pans), reduce baking time to 20-25 minutes.
✱ Kathleen's Tips
Use the sea level instructions for elevations below 3000 feet and bake as directed.
If using dark or glass pans, reduce the baking temperature by 25°F.
If using a slightly smaller or larger pan, you may need to adjust baking times; start checking at about 50 minutes.
Recipes lasts on counter up to 5 days in airtight container, up to 1 week wrapped in refrigerator and up to 3 months wrapped in freezer.
Recipe adapted from
Flour's Famous Banana Bread
Nutrition
Serving:
1
slice
Calories:
305
kcal
Carbohydrates:
42
g
Protein:
4
g
Fat:
14
g
Saturated Fat:
3
g
Polyunsaturated Fat:
7
g
Monounsaturated Fat:
3
g
Trans Fat:
0.1
g
Cholesterol:
43
mg
Sodium:
238
mg
Potassium:
183
mg
Fiber:
2
g
Sugar:
22
g
Vitamin A:
103
IU
Vitamin C:
3
mg
Calcium:
15
mg
Iron:
1
mg
Nutrition Disclaimer
The Fresh Cooky is not a dietician or nutritionist, and any nutritional information shared is only an estimate. We recommend running the ingredients through an online nutritional calculator if you need to verify any information.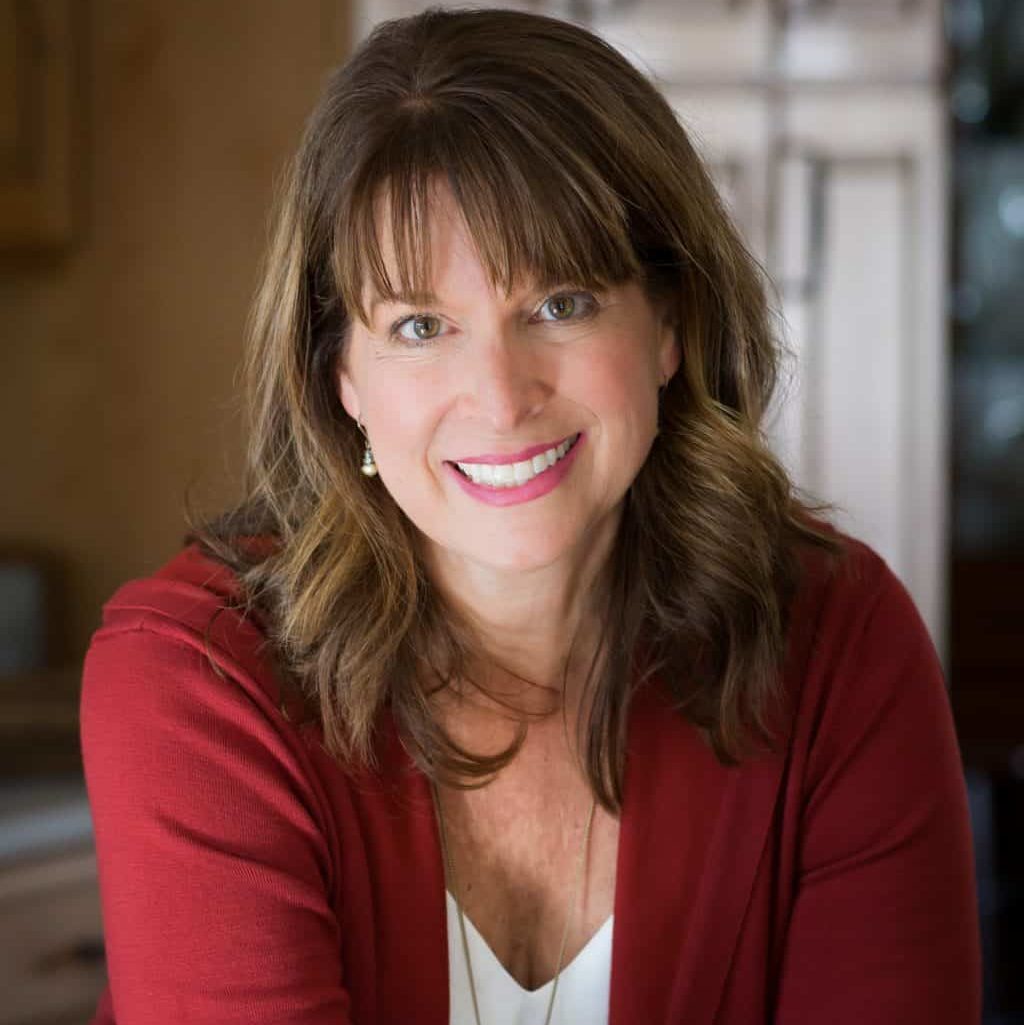 About Kathleen Pope
Recipe Innovator | Food Photographer | Food Writer
Hi, I'm Kathleen Pope. Here at The Fresh Cooky you will find easy, mostly from-scratch, trusted recipes for all occasions. From speedy dinners to tasty desserts, with easy step-by-step instructions. I am here to help teach you how to make mouthwatering recipes without spending hours in the kitchen. Read more about Kathleen here.