Crumbl Sugar Cookie Recipe
As an Amazon Associate, I earn from qualifying purchases. Please read my disclosure policy.
An easy copycat Crumbl Cookie Recipe for the best Crumbl Chilled Sugar Cookie, ever. Using simple pantry ingredients, in 30 minutes you will enjoy, large, soft, buttery cookies, frosted with an amazing almond buttercream frosting.
Are you fortunate enough to live near a Crumbl Cookies? I kept hearing about these amazing cookies and then, we had one open up not far from us! <happy dance> Giant, soft, amazing flavors; some are served warm, others like this Crumbl sugar cookie is served chilled, which I highly recommend.
Obviously, we love cookies at TFC! Try these other reader favorites: Newest recipe are Oreo Crumbl Cookies, Best Chewy Chocolate Chip Cookies, Triple Chocolate Cookies, Classic Shortbread and these Pan Banging Sugar Cookies.
I have purchased many of these chilled Sugar Cookies from Crumbl and we have enjoyed each and every one of them! It was all for research (wink-wink), because while I LOVE supporting local businesses, I cannot afford to buy a dozen of these soft sugar cookies on a regular basis.
So I taste tested, figured out the texture and that creamy, almond buttercream frosting! WOW! Then I went to work deconstructing the Crumbl sugar cookie recipe.
The texture and taste of these cookies was almost exactly like my Frosted Sugar Cookie Bars (which you will love). I modified that recipe to achieve these dense, chewy, super soft and oh so flavorful Crumbl Sugar cookie recipe.
Simple Ingredients
Remember all measurements and instructions are in the recipe card at the end of the post.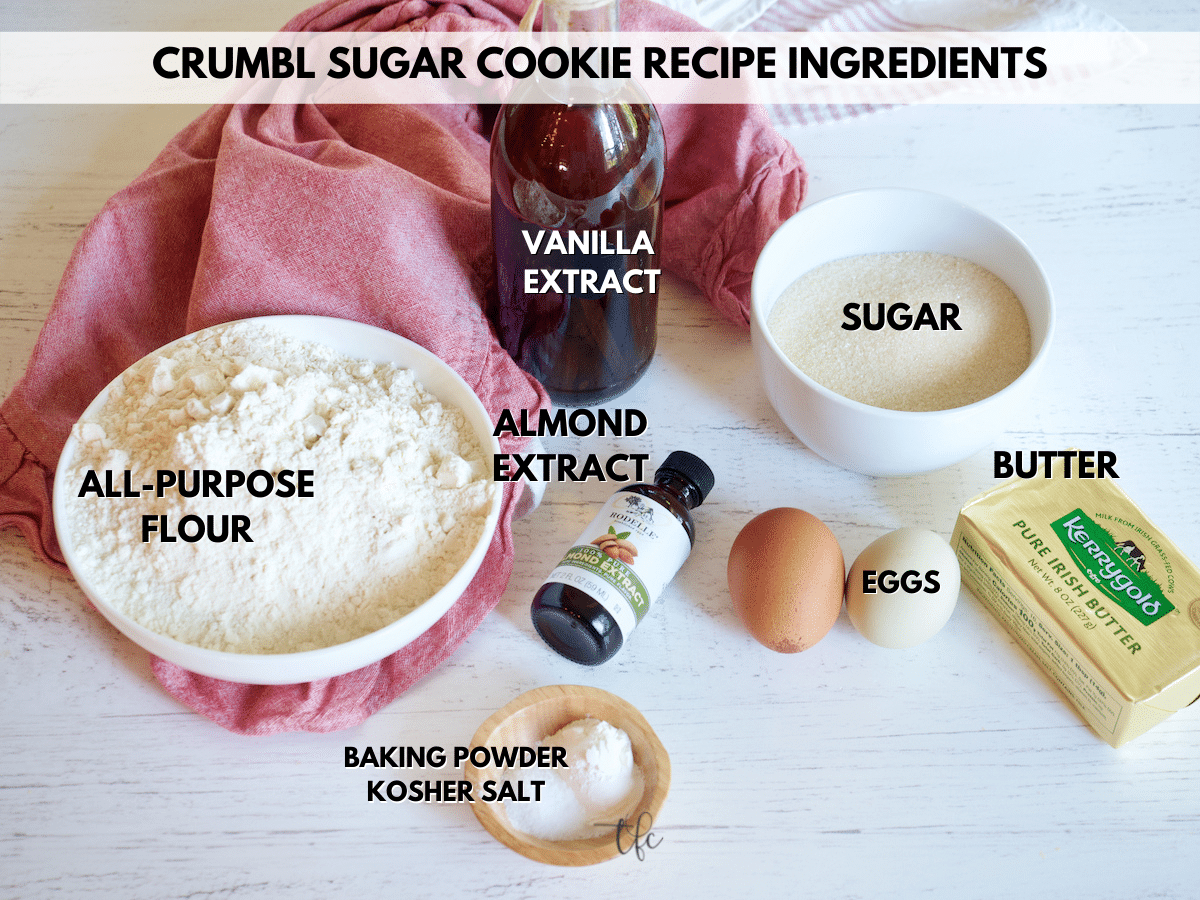 BUTTER | Please use real butter, if it's soft coming out of the fridge, it's a blend and you will not achieve the same results. I chose to use European* butter for this recipe, because it's more "buttery" if you will, has a higher butterfat content and produces a supremely delicious cookie! I used salted because that is what I had, if you use unsalted, then add ½ teaspoon of kosher salt.
GRANULATED SUGAR | I use organic all natural cane sugar, you may substitute refined white granulated sugar. If you use cane sugar, be sure to cream with the butter a minute or two longer; breaking down the more coarse crystals.
EGGS | I use large eggs in my baking, in this recipe I brought them to room temperature. If you forget, submerge the eggs in warm tap water and allow to sit for 5 minutes.
VANILLA EXTRACT | Use the good stuff, by the way, if you have never made your own, try my vanilla extract recipe.
ALMOND EXTRACT | This is what gives these Crumbl cookie copycat sugar cookie recipe their distinctive flavor. I love using Rodelle Pure Almond Extract.
ALL-PURPOSE FLOUR | I use unbleached organic all-purpose flour in my baking, I like the texture it yields.
European butter is richer and just plain butterier than most garden-variety American butter. It's creamier, softer, melts more easily, and usually has a most distinct yellow color. Bake two batches of the same cookie recipe side by side, each with one of the two types of butter, and you'll see and taste the difference.
Instructions for the best Copycat Crumbl Cookies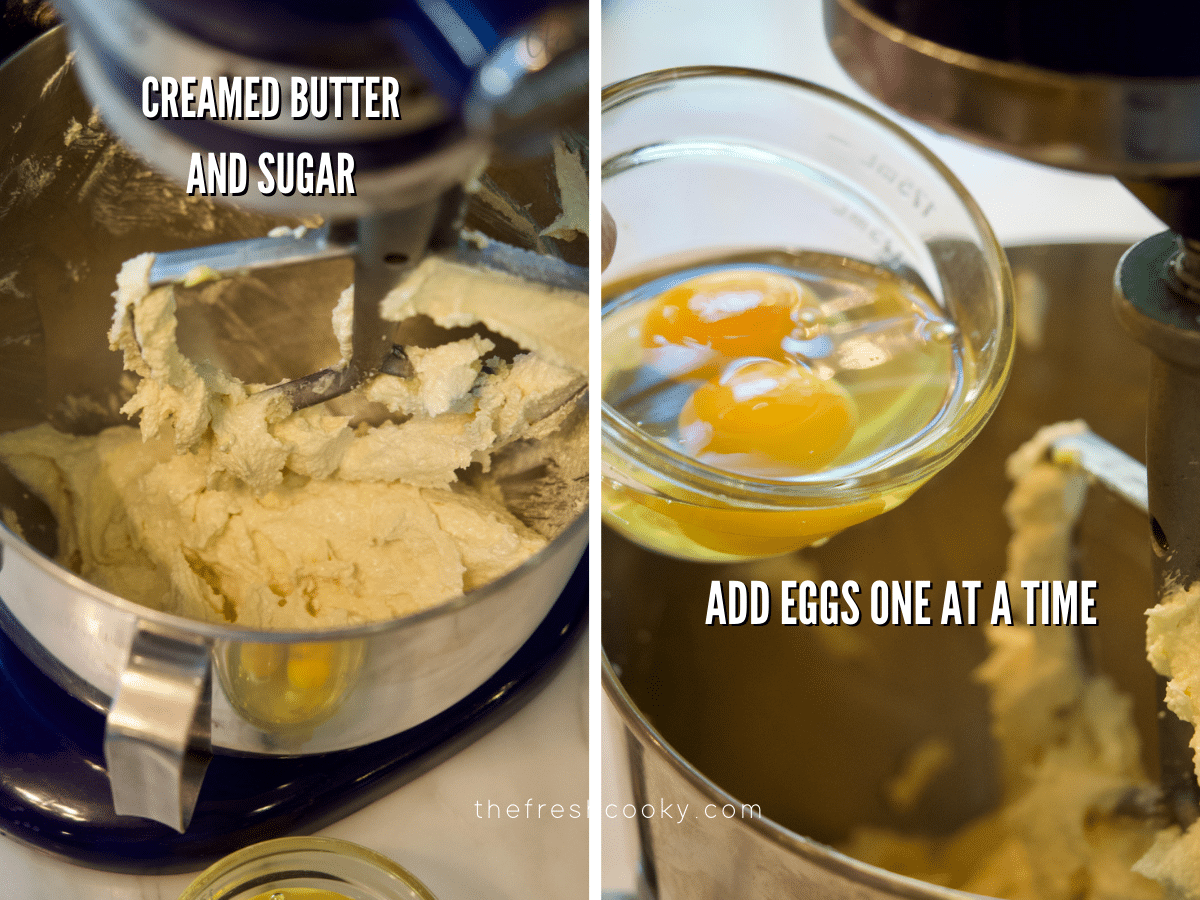 Step 1
Cream together the butter and sugar, until fluffy, light and creamy, on medium-high speed. Scrape the sides down. Add eggs, one at a time, beating about 1 minute between additions.
HINT: If using all-natural cane sugar, beat about 3-4 minutes on medium-high speed.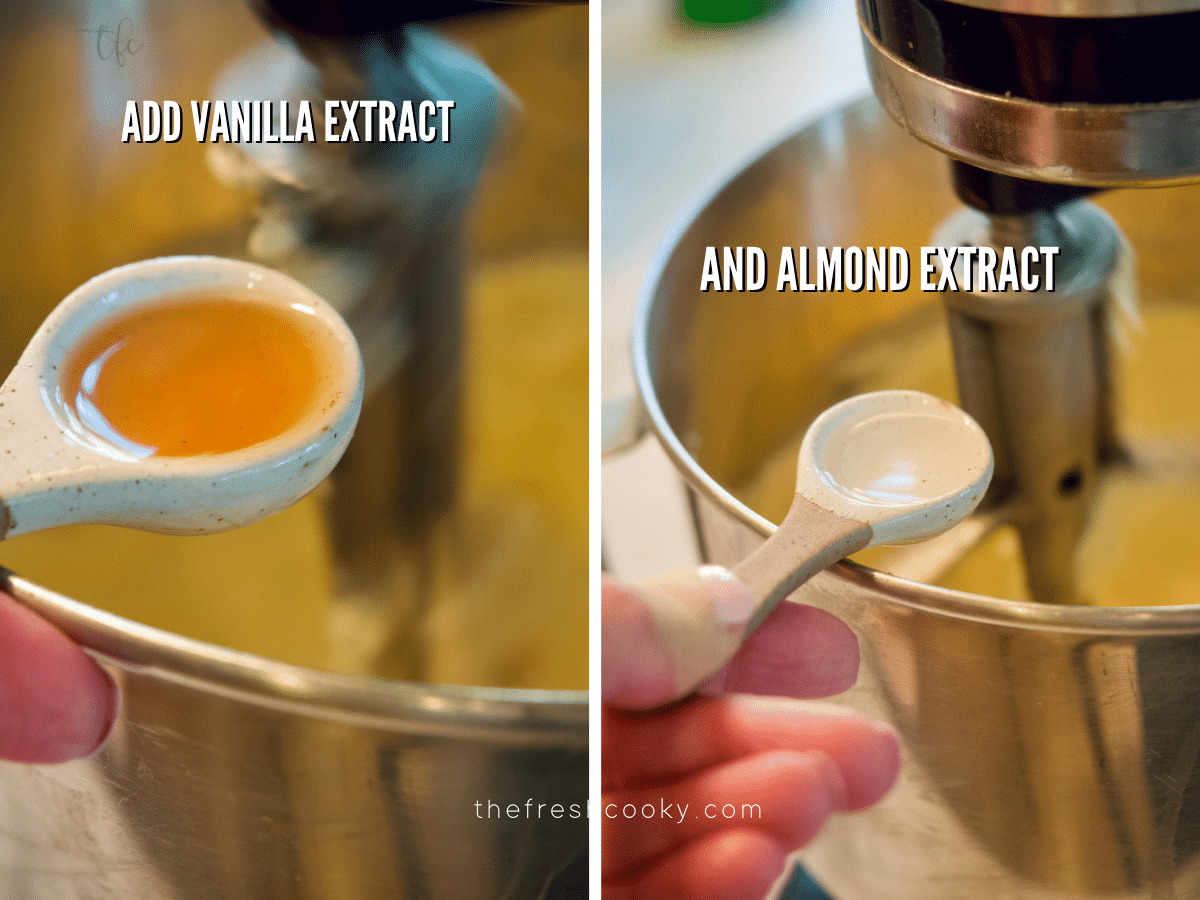 Step 2
Add vanilla extract and almond extract, mix until combined.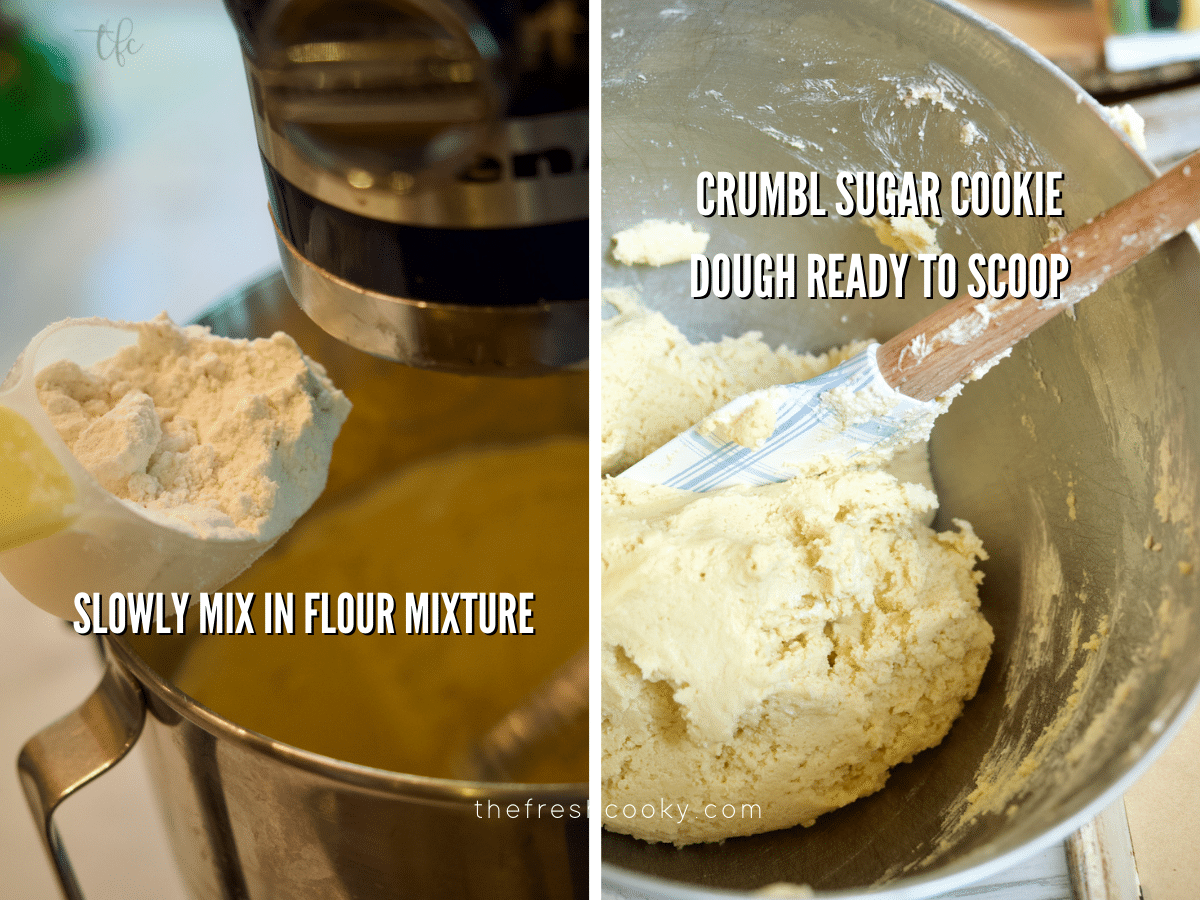 Step 3
Stir the baking powder and salt (if using) into all-purpose flour, then with mixer on low, add slowly until combined. Scraping down sides of bowl to incorporate all flour. Crumbl Sugar cookie dough will be soft and easily scoopable.
Step 4 | Making Crumbl Chilled Sugar Cookies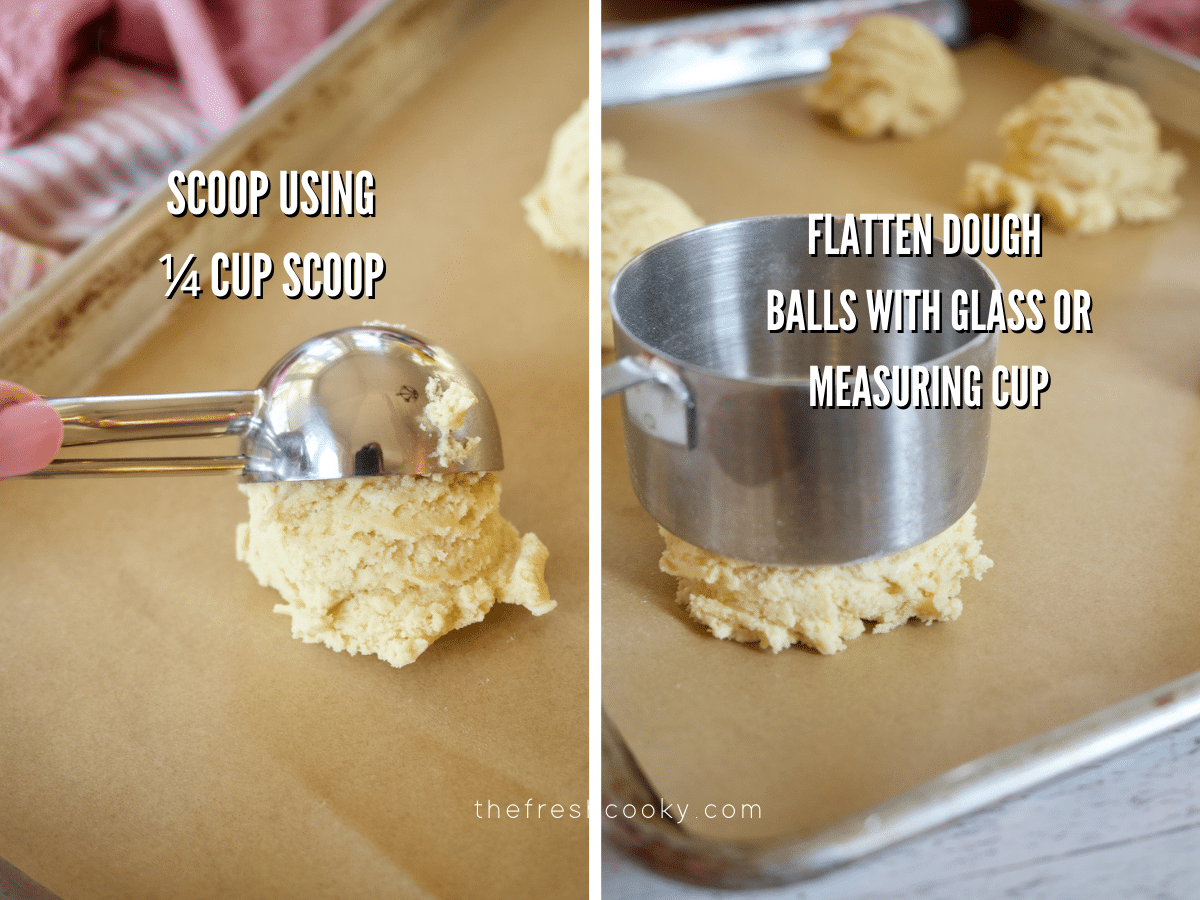 Crumbl cookie dough recipe is so easy to work with, it will be very soft. The best part, no chilling required! Using a ¼ cup cookie scoop or lightly grease a ¼ cup measuring cup, scoop cookie dough and then shape into a ball. You want a little overhang in the scoop, this gives the cookies the "rustic" edges.
Place on silicone or parchment lined baking sheet (<== my favorite!), I put 6 to a half sheet pan. Then using a glass, or bottom of a flat measuring cup (dip in a little flour first) press down on the cookies to flatten slightly, not too thin, you don't want them to spread too far, should be about ½-¾ of an inch.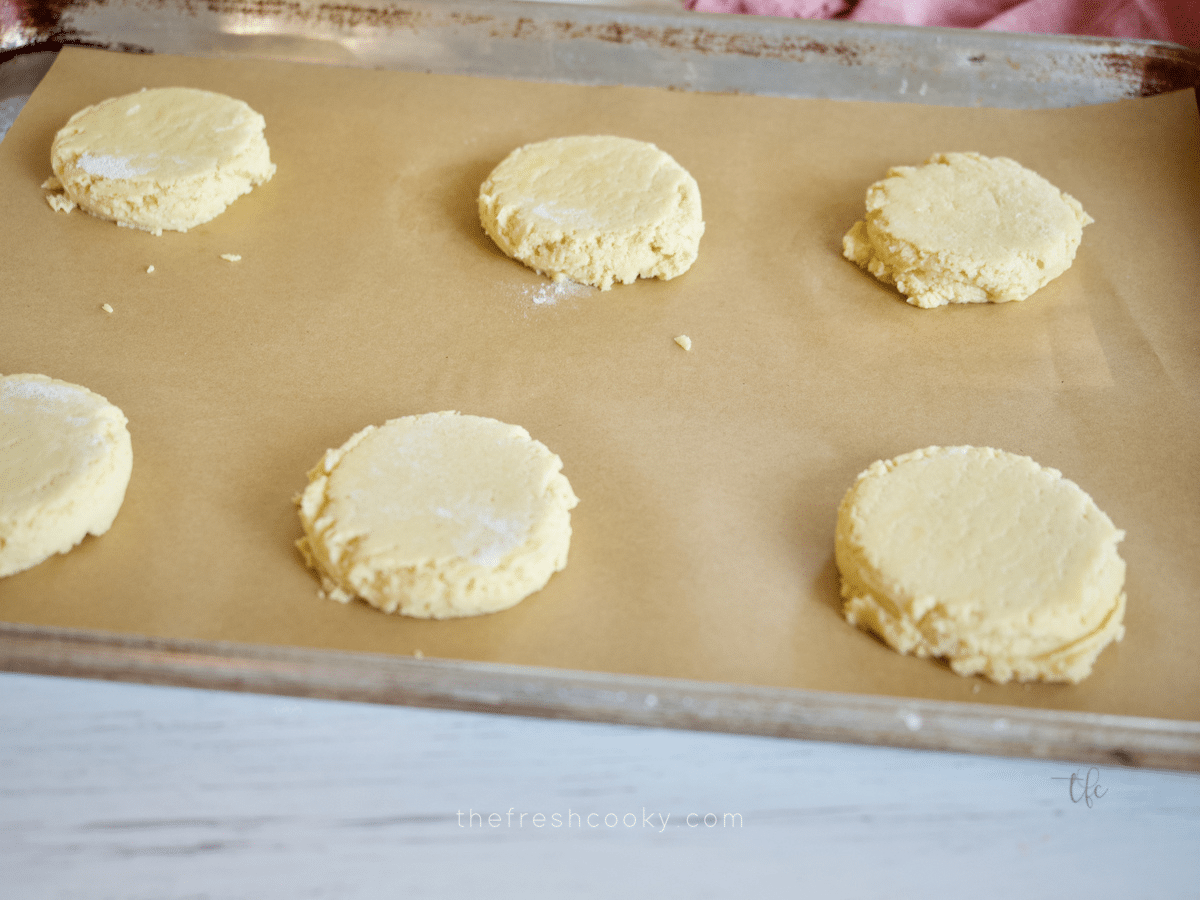 Bake in preheated 350 degree F oven, for 9-11 minutes (less if you made your cookies smaller), remove from oven once cookies are no longer glossy on top and are puffed up, they will set as they cool. Cool on cookie sheet. Then transfer to wire cooling rack.
Almond Buttercream Frosting
Simple ingredients for this amazing and spot on Almond Buttercream Frosting, full details on how to make this creamy, sweet almond icing in the recipe card at bottom of post.
Spread frosting onto cooled cookies (in this instance, it's okay if they are still slightly warm). I used a small cookie scoop and then used an off-set spatula to spread the icing on top of the cookies.
Crumbl Chilled Sugar Cookies
These cookies truly are best when served chilled! It makes them even thicker if possible, more chewy, the flavors burst out of your mouth!
Substitutions
Gluten-Free Crumbl Sugar Cookies? I believe that this recipe would work beautifully made Gluten-Free, just like my Gluten-Free chewy chocolate chip cookies! And I hope to try it soon! I would substitute the flour with half almond flour and half Gluten-Free Cup for Cup All-Purpose Flour (<<==my fave for baking).
Variations
If you don't like or have Almond Extract, increase the Vanilla Extract by ½ a teaspoon.
Same with the almond buttercream frosting, swap out the almond extract for vanilla extract.
Smaller cookies | Use a medium cookie scoop, making mini cookies, just like Crumbl mini cookies! But, only bake for about 6-7 minutes.
Equipment for Crumbl Cookie Recipes
Storage Tips
Here are my best tips for storing this amazing Crumbl cookie copycat recipe.
Not baking the cookies right away? Place the dough (covered) in the fridge until ready to use, up to 48 hours. Remove from fridge, allow dough to come to room temperature (about 30 minutes) scoop, flatten and bake as directed.
Store frosted Crumbl sugar cookies in fridge in an airtight container or baggie, 7-10 days.
Freeze Cookie Dough Balls by scooping/flattening, then flash freezing on a cookie sheet. Transfer to an airtight freezer container or baggie, may be frozen up to 3 months (yeah right!). To bake, remove from freezer and thaw overnight in fridge, then place on cookie sheet while oven is preheating, bake as directed.
How to Freeze Baked/Frosted Cookies | Place frosted chilled sugar cookies on cookie sheet and flash-freeze for one hour, then place frosted cookies between wax paper in airtight container or baggie. Keeps up to 3 months.
Frequently Asked Questions
What is the trick to soft sugar cookies?
Have ingredients (including eggs) at room temperature, whisk the flour, leavening and salt together ahead of time. Don't overmix and remove cookies from oven before they turn brown. Don't overbake.
Why are my Soft Sugar Cookies dry?
The simple answer is you probably overbaked them, they will look slightly undone when you take them out of the oven, they will set and firm up as they cool. You also might have overmixed your batter, just mix until combined.
How do you keep sugar cookies from spreading while baking?
Use parchment paper or a silicone baking mat. Coating your cookie sheet with baking spray will add too much grease to the baking sheet, causing the cookies to spread too quickly.
High Altitude Crumbl Sugar Cookies
If baking at high altitude, make the following simple adjustments.
Increase flour by 2 tablespoons.
Decrease baking powder to 1 ½ teaspoons
Reduce baking time by 1-3 minutes (every oven is different, so keep an eye on them)
Try these other Copycat Recipes
TFC TOP TIP
I have two top tips for this Crumbl cookie copycat recipe:
Do not overmix the dough! Just mix until flour is combined. The dough will be very soft!
Bake just until puffed and glossy on top, DO NOT OVERBAKE! Please! 🙂
Like this recipe?
Don't forget to give it a ⭐️⭐️⭐️⭐️⭐️ star rating and comment below the recipe!