Peach Cobbler Pound Cake Recipe
As an Amazon Associate, I earn from qualifying purchases. Please read my disclosure policy.
Are you a peach lover? Today I will show you how to make a peach cobbler pound cake recipe, in bundt cake form! A comforting classic made with real fresh peaches and cream cheese to produce the rich flavor of this perfectly dense and moist pound cake—YUM!
For more sweet and delicious recipes for my fellow fruit fans, check out this Blueberry Crumb Coffee Cake, this award winning Key Lime Pie, or perhaps Healthy Strawberry Bread.
During the hot summer months, peaches are in peak season! They are beautifully plump and sweet from May into late September. You have to try my 5 ingredient peach cobbler with cake mix and this easy Iced Peach Green Tea Lemonade.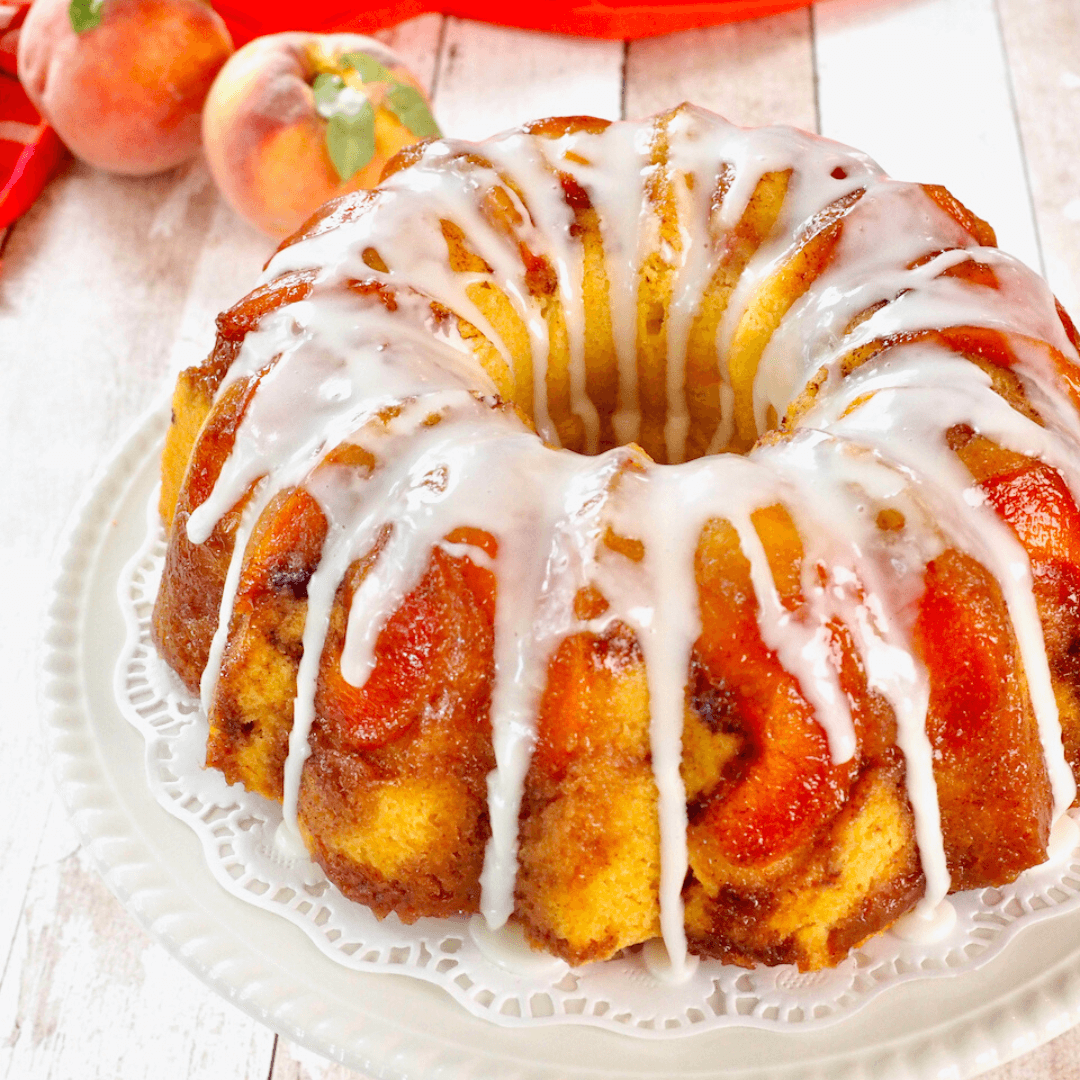 Why You Will Love this Recipe
Crowd-Pleasing Dessert | Even for those who aren't fond of fresh peaches, no one can resist this perfectly moist and sugary-sweet peach cobbler pound cake!
The Best of Both Worlds | Peach cobbler and peach pound cake all in one? Yes, please!
Easy to Make | Just mix, pour, and bake. The only thing that can really go wrong with this recipe is over-mixing the batter. That's it!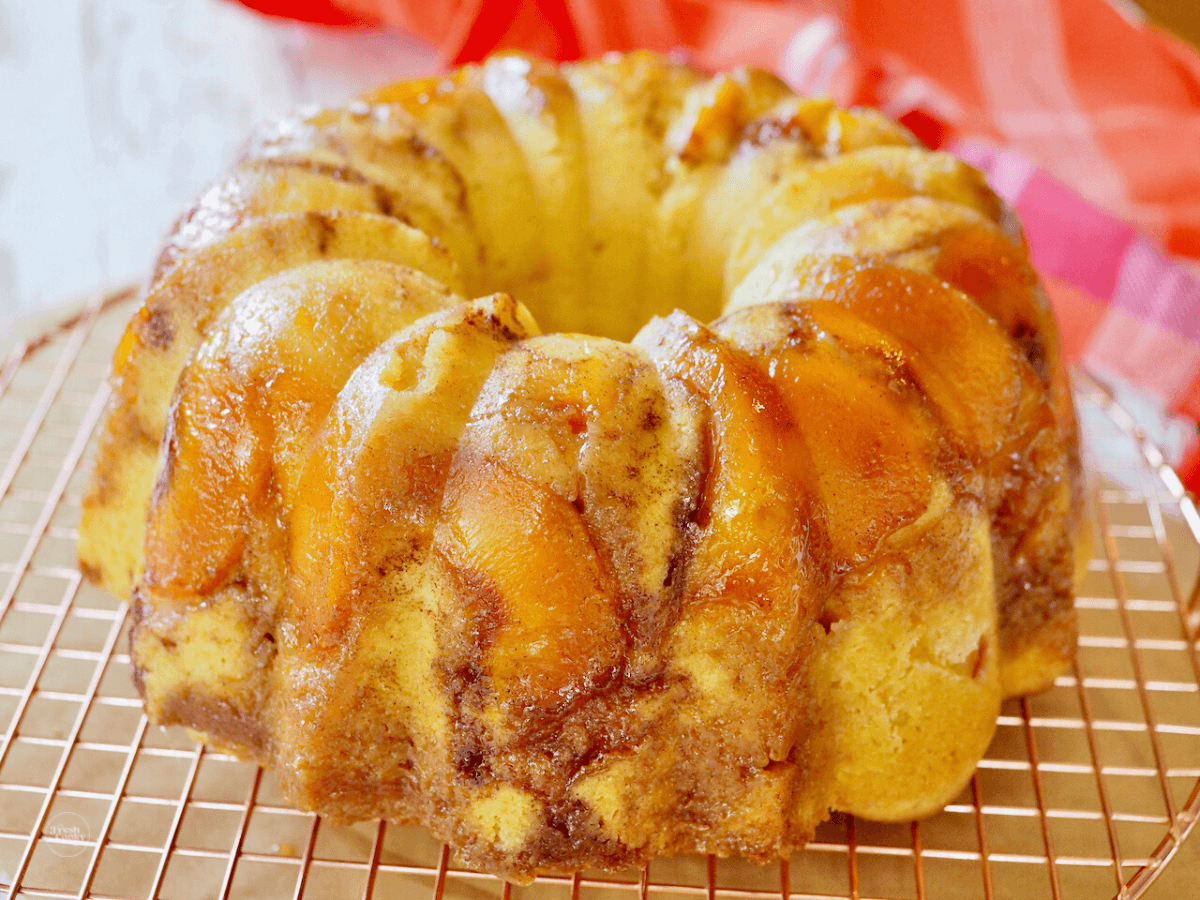 Healthy Twist
I use natural cane sugar rather than white sugar for the pound cake batter. There isn't much of a caloric difference between the two. However, cane sugar is less refined and contains more vitamins and minerals.
Instead of taking a shortcut with canned peaches, stick to the fresh and whole fruit. Most canned peaches, unless otherwise noted, are full of high fructose corn syrup.
Key Ingredients
Ingredients, directions and nutritional information in the printable recipe card at the end of the post.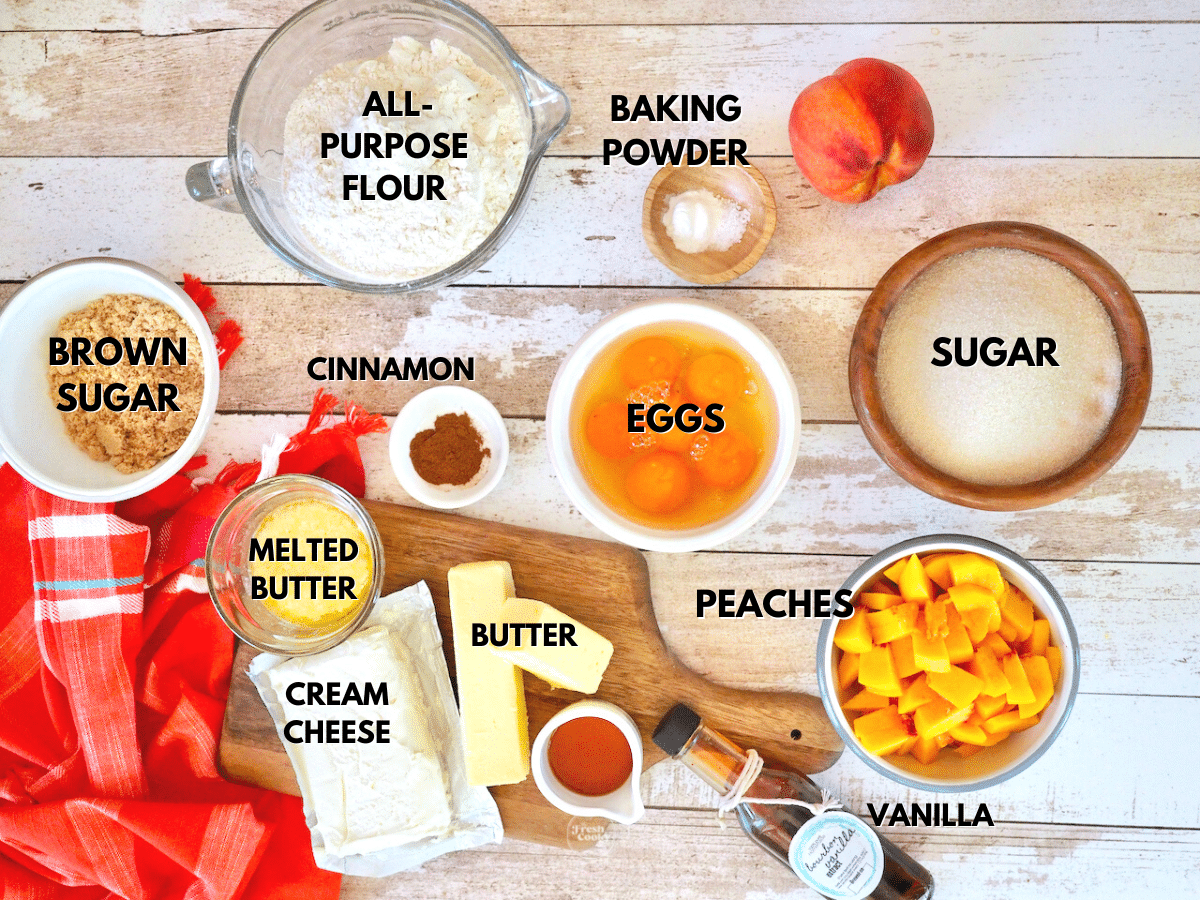 Peach Pound Cake Ingredients
Flour | I use organic unbleached all-purpose flour, we don't need cake flour for this recipe.
Sugar | Besides the natural sugars in the peaches, granulated sugar gives this pound cake the sweetness it needs. I like to use cane sugar.
Eggs | Helps with texture and rise for the pound cake.
Butter | Use salted or unsalted butter (if using unsalted, just add ¼ teaspoon additional salt)
Cream cheese | Softened cream cheese keeps the peach pound cake moist and adds some density to separate the texture from a typical fluffy cake. You can also try sour cream.
Bourbon vanilla extract | Add some smoky and creamy notes using bourbon vanilla extract <- try making your own! You may also use regular vanilla extract or almond extract if you prefer.
Peaches | Of course, you'll need sweet and juicy peaches for this peach bundt cake recipe.
Cobbler Topping
Peach | You'll want a large, beautifully ripe sliced peach for your cobbler topping — the slices look beautiful when the cake is inverted. Almost a peach upside-down cake!
Light brown sugar | Sticky light brown sugar is the sugary ribbon running through the peaches and into the batter.
Cinnamon | Cinnamon is optional. However, I love how it adds a subtle sweet spice.
Butter | Butter is the liquid in the cobbler topping and makes the top of the cake golden brown and scrumptious.
Glaze (optional)
Powdered sugar | Powder sugar is soft and easily dissolves with an added liquid, making it the perfect sugar for a glaze.
Bourbon vanilla extract | Add some drops of vanilla extract for additional flavor.
Milk | Whole milk or cream will make the glaze thin enough to pour over the bundt cake.
How to Make Peach Bundt Cake
Preheat your oven to 325 degrees, 350 degrees for high altitudes. You also want to prepare your bundt pan by greasing it with some vegetable oil or shortening and adding some flour to prevent the cake from sticking.
I love using Bak-Klene as it's an oil and flour in one spray and my cakes come out beautiful each and every time! Or try Baker's Joy.
Use a high-quality bundt pan, makes all the difference in how bundt cakes bake as well as release. I LOVE my Nordic Ware Bundt Pans!
Step 1 | Mix the Dry Ingredients
Using a whisk and a medium bowl, measure and whisk together your dry ingredients—the flour, salt, and baking powder. Then, set it aside for later.
Step 2 | Mix the Wet Ingredients
In the bowl of your stand mixer or a large mixing bowl and your electric hand mixer. Cream together the butter and cream cheese on medium-high speed. Then, scrape the batter from the sides of the bowl and add the sugar. Mix the creamy ingredients together until the batter is light and fluffy.
Add the eggs—just one at a time. Then beat for about 30 seconds after each addition. Now go ahead and mix in your vanilla extract.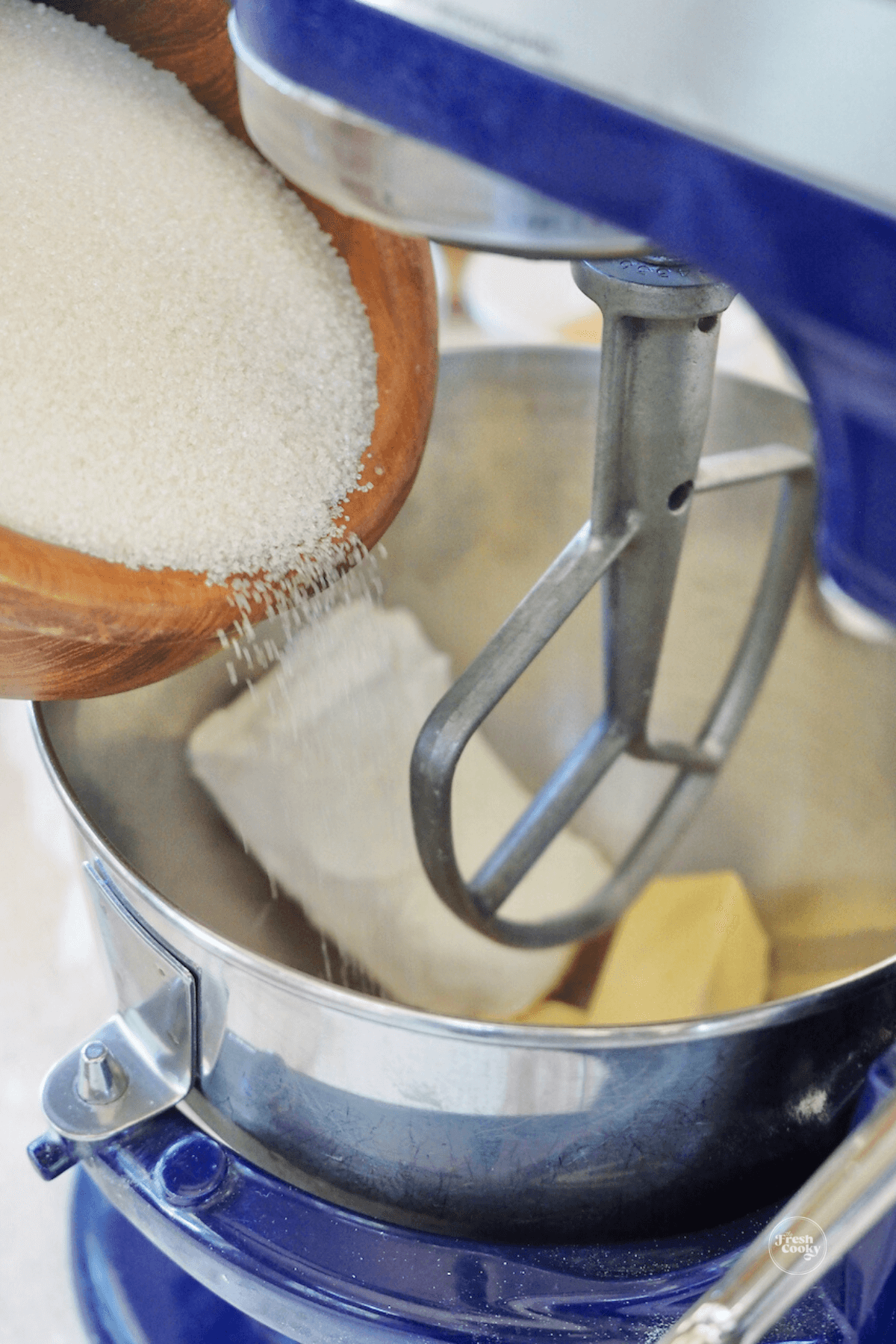 Step 3 | Combine the Wet and Dry Mixtures
Grab the dry ingredients you prepared earlier and reduce the mixer to low speed. Add in the flour mixture only a half cup at a time and scrape the bowl halfway through. Continue mixing until the ingredients are just combined. But be careful not to over-mix!
Next, remove the bowl from the stand mixer and fold your peeled and diced peaches into the cake batter. Then, set it aside.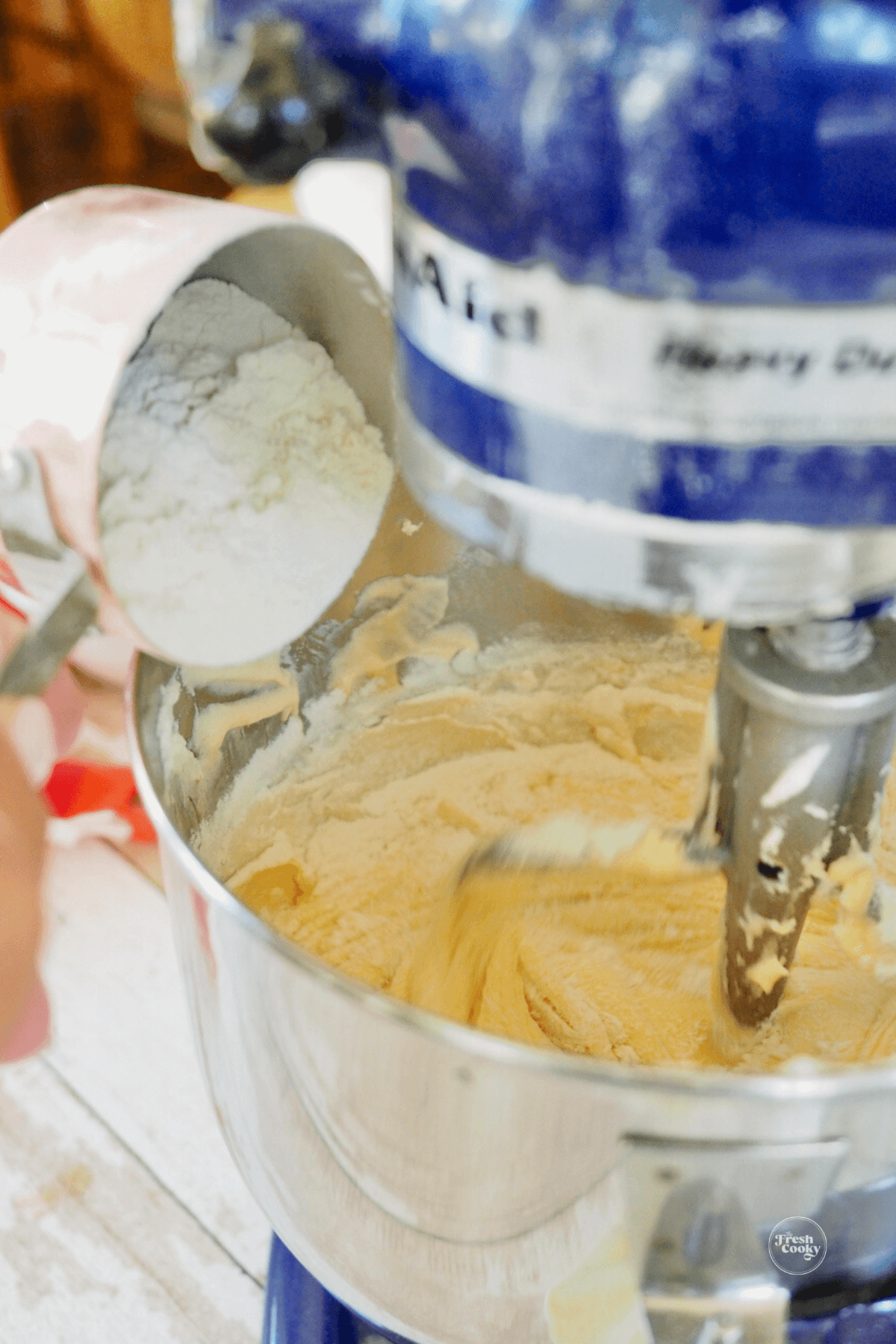 Step 4 | The Cobbler Topping
Now, it's time to create the cobbler topping for the fresh peaches. This topping is different since it goes on top of the peaches rather than on top of the cake. It will seep through the peaches and into the batter a little bit.
Mix the melted butter, brown sugar, and cinnamon in a small bowl until combined and pourable.
Then, lay the peach slices in the grooves of the bottom of the bundt pan.
Top the peaches with your brown sugar and butter mixture. Mmmm!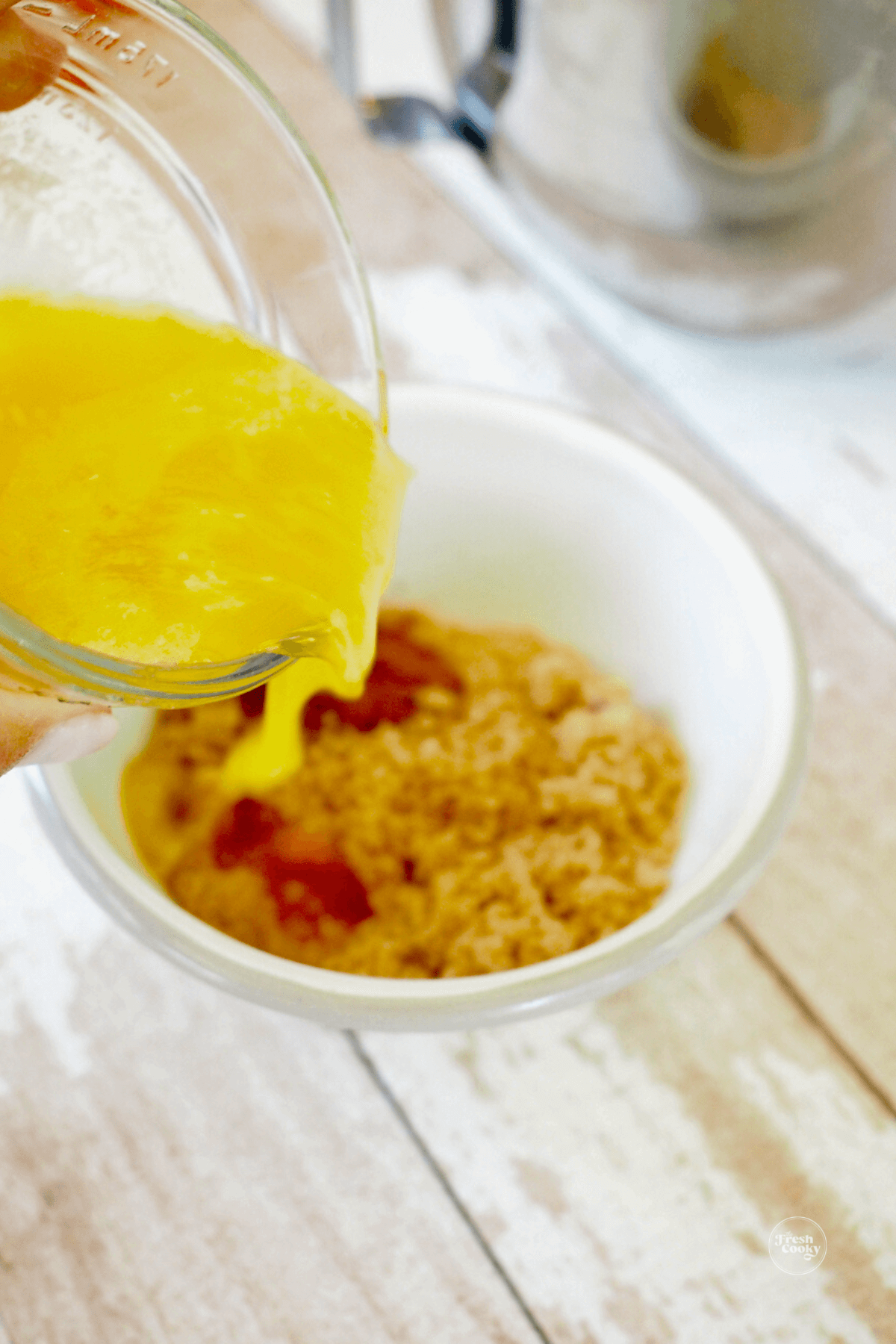 So that you do not move the carefully placed peaches, spoon the prepared pound cake batter into your bundt pan, smoothing it out as you go.
**Remember to tap the bundt pan on the cutting board a few times to settle the batter and get all the air pockets out.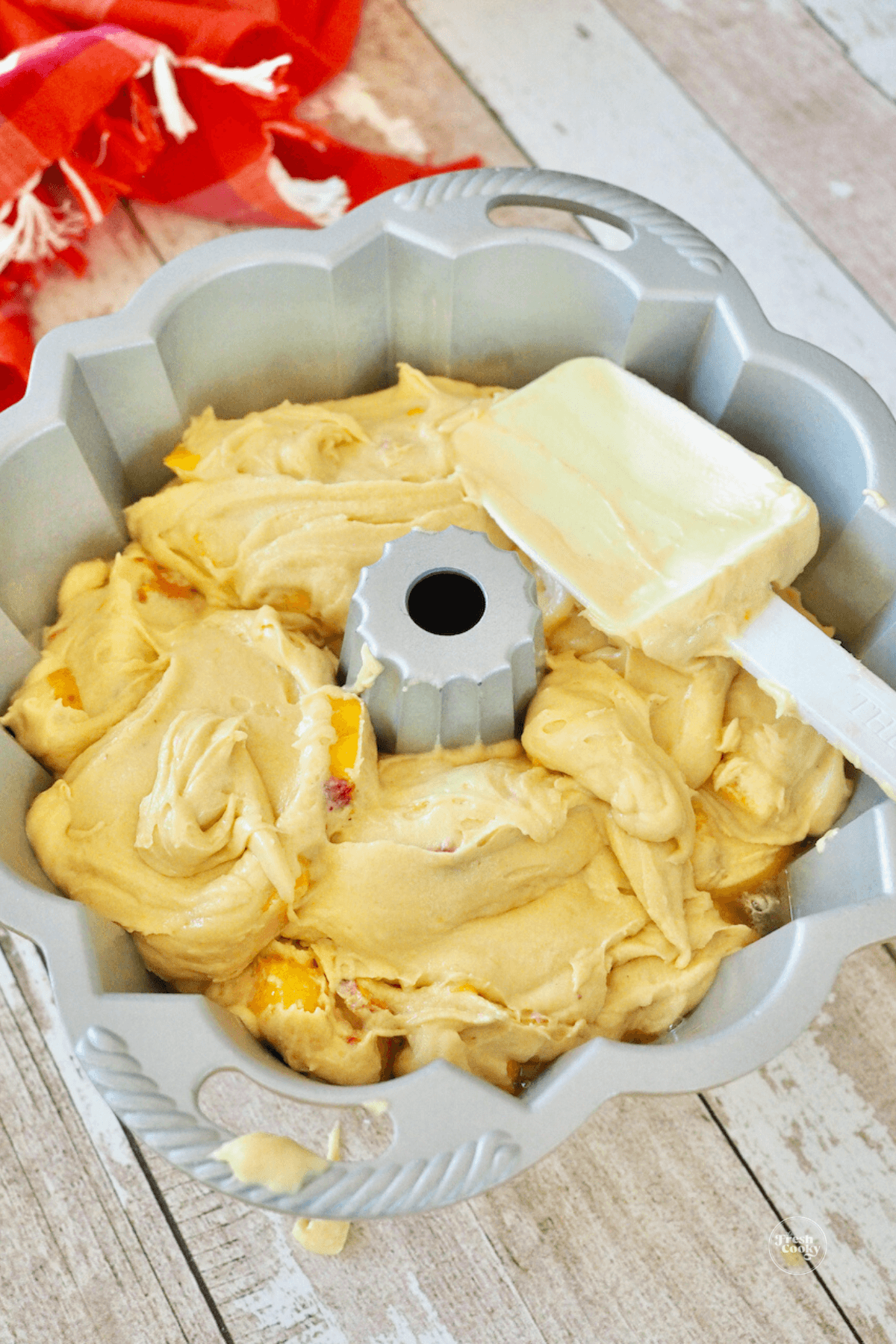 Step 5 | Bake the Cake
Place the pan in the center of a preheated oven to bake until golden brown. You can check if the peach cobbler pound cake is done by inserting a skewer into the center of the cake or try using a cake tester. If it comes out clean or with just a few moist crumbs, your cake is done baking!
Allow the cake to cool for 10 minutes, then invert onto cooling rack, cooling completely before glazing or cutting into it.
Pro Tips
Remember to allow the cake to cool before glazing. Place the cobbler pound cake on a cooling rack for 10 minutes, then invert onto a wire rack to cool completely. Then you're ready to pour on the sweet glaze!
For most of the mixing steps above, it is essential not to over-mix the ingredients. Over mixing will produce a more dense and chewy texture rather than the fluffy and airy desired results. As soon as the ingredients appear well combined, stop mixing and move on to the next step.
Set out your eggs, butter, cream cheese, and peaches an hour or two before baking. Having these ingredients at room temperature will ensure the best results.
Step 6 | Optional Glaze and Serve
While the peachy classic pound cake is cooling, use a small bowl and a whisk to mix the ingredients for the glaze together until smooth.
Now take a spoon and the bowl of sweet glaze and spoon it over the entire cake!
Serve the gorgeous peach cobbler creation (with or without glaze), and top with some fresh whipped cream or perhaps a hearty scoop of vanilla ice cream and fresh ripe peaches sliced nicely. Oh, and be sure not to forget to drizzle with a little caramel sauce for a truly decadent peach dessert!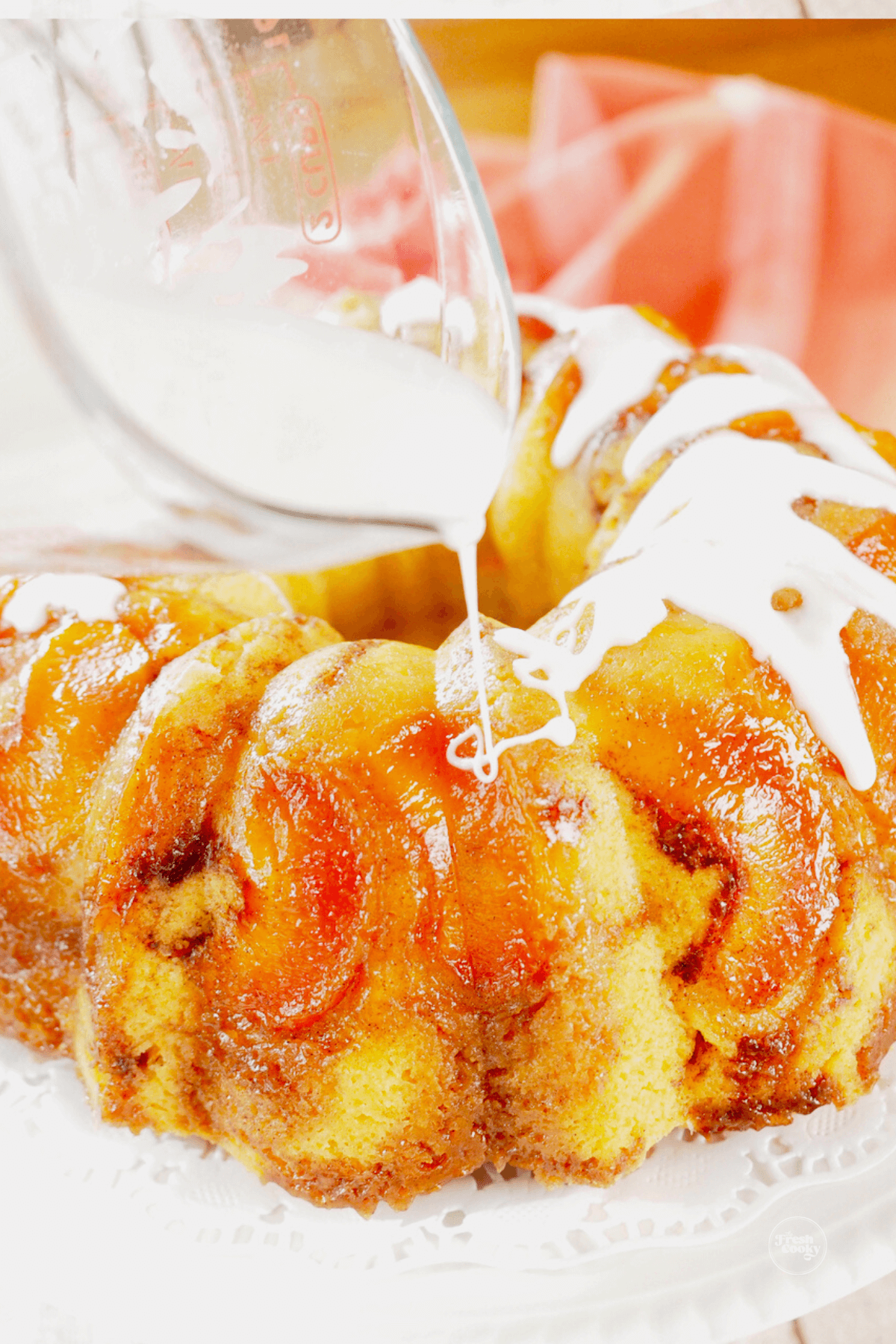 High Altitude Tips
Increase flour to 3 ½ cups
Reduce sugar to 2 cups
Decrease baking powder to ¾ teaspoon
Increase oven temperature to 350 degrees and bake as directed.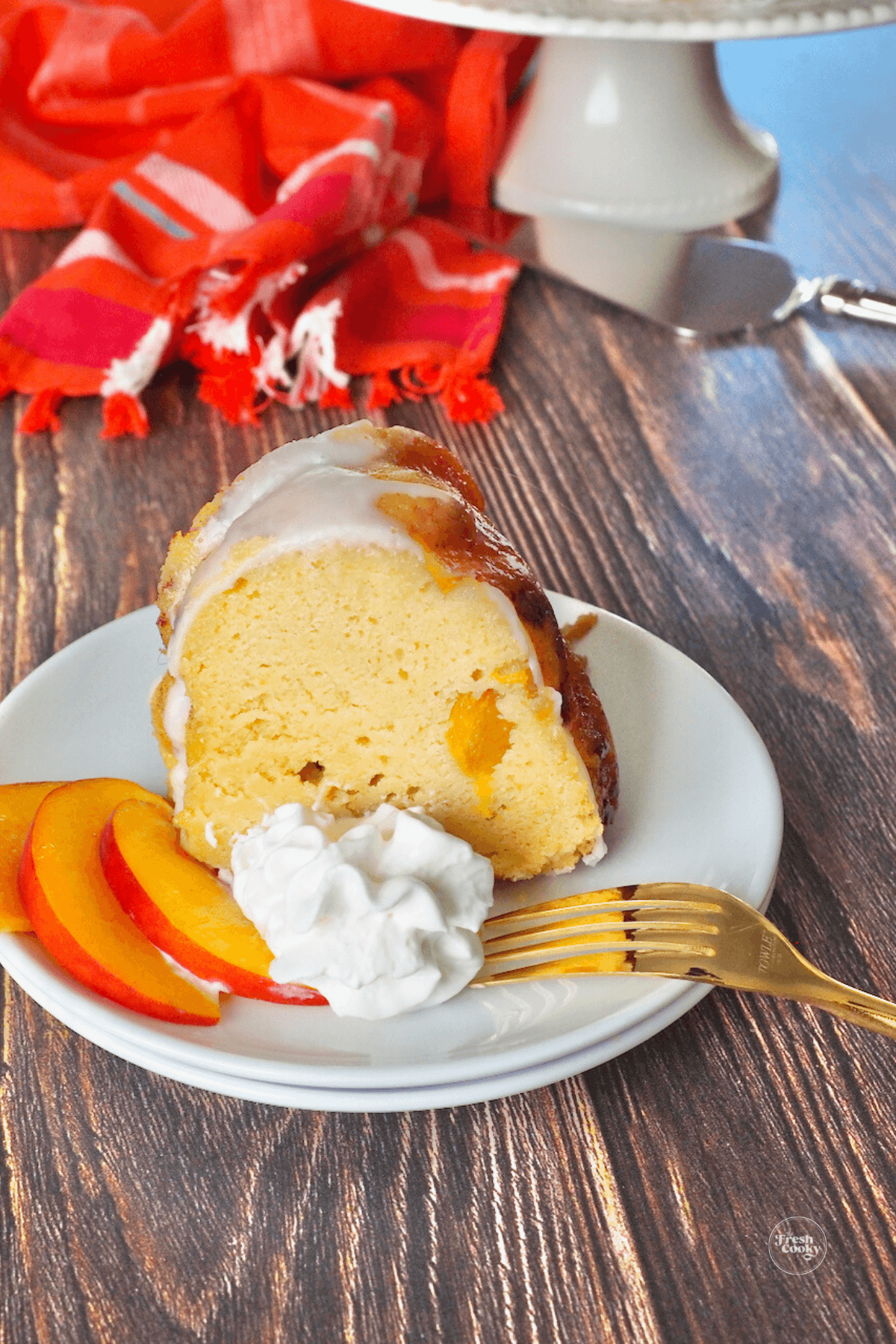 Fresh Toppings
Whether you decide to glaze this peach bundt cake or not, you'll likely want to throw on some additional toppings to complete this recipe. I suggest serving a slice of this heavenly dessert with a dollop of my Homemade Bourbon Whipped Cream ⬇️ ⬇️ ⬇️ and fresh peaches.
Homemade Bourbon Whipped Cream
Here's how to make the perfect whipped cream for this peach cake recipe– in my humble opinion.
Whip 1 cup of heavy whipping cream with 2 tablespoons of maple syrup
Add ½ – 1 teaspoon of bourbon vanilla extract (or regular bourbon) if desired.
Whip until stiff peaks form.
You can also add a drizzle of caramel sauce or my bourbon caramel sauce– if you want to go over the top! YUM!
Recommended Equipment
Bundt Pan | Invest in a sturdy, heavy bundt pan – you won't be sorry! My favorite brand is Nordic Ware, check out all of their beautiful pans!
Stand Mixer | If you have yet to invest in a stand mixer, KitchenAid is my favorite, mine is 29 years old and going strong! Here's a beauty!
Variations & Substitutions
Other Fruits | If you would like to make this recipe after the peach season is over, you can use frozen peaches, just thaw them first! Also try apple slices, fresh blueberries, sliced strawberries – or try nectarines, apricots, plums, figs, you get the idea!
Dairy-free | Is it possible to make a dairy-free version of this delicious cobbler pound cake? Absolutely! Substitute the butter with butter-flavored vegetable shortening or a vegan butter alternative. Also, omit the cream cheese altogether. You can search for a non-dairy cream cheese product, like the Tofutti brand. And for the glaze, you can use almond milk or another milk alternative, rather than typical cow's milk or cream.
Gluten-free Peach Bundt Cake | Replace the all-purpose flour with gluten-free flour. You want a cup for cup Gluten Free flour that contains xanthan gum and the starches other gluten-free flours may lack. I love this King Arthur as well as this Bob's Red Mill 1-to-1 brand. I also prefer to use a half and half method when baking gluten-free, using half all purpose GF flour and half almond flour, this typically gives the best crumb results!
Make Peach Pound Cake in Loaf Pans
If desired, split peaches, brown sugar slurry and batter between two greased and floured loaf pans.
Bake at 350 degrees for 50-70 minutes, until toothpick comes out clean or with wet crumbs.
Storage Tips
Storing leftovers or making ahead- If you happen to have leftovers of this irresistible peach bundt cake or would like to make it ahead of time for an upcoming event, allow the cake to cool first, then cover or store in an airtight container; refrigerate for four or five days.
Storing in the freezer- Freezing this recipe isn't ideal because of the fruit inside. When thawing, the cake may become soggy. But if you'd like to freeze it for later, wrap the cake in plastic wrap, then place it in a freezer bag or container. It will last in the freezer for about three months.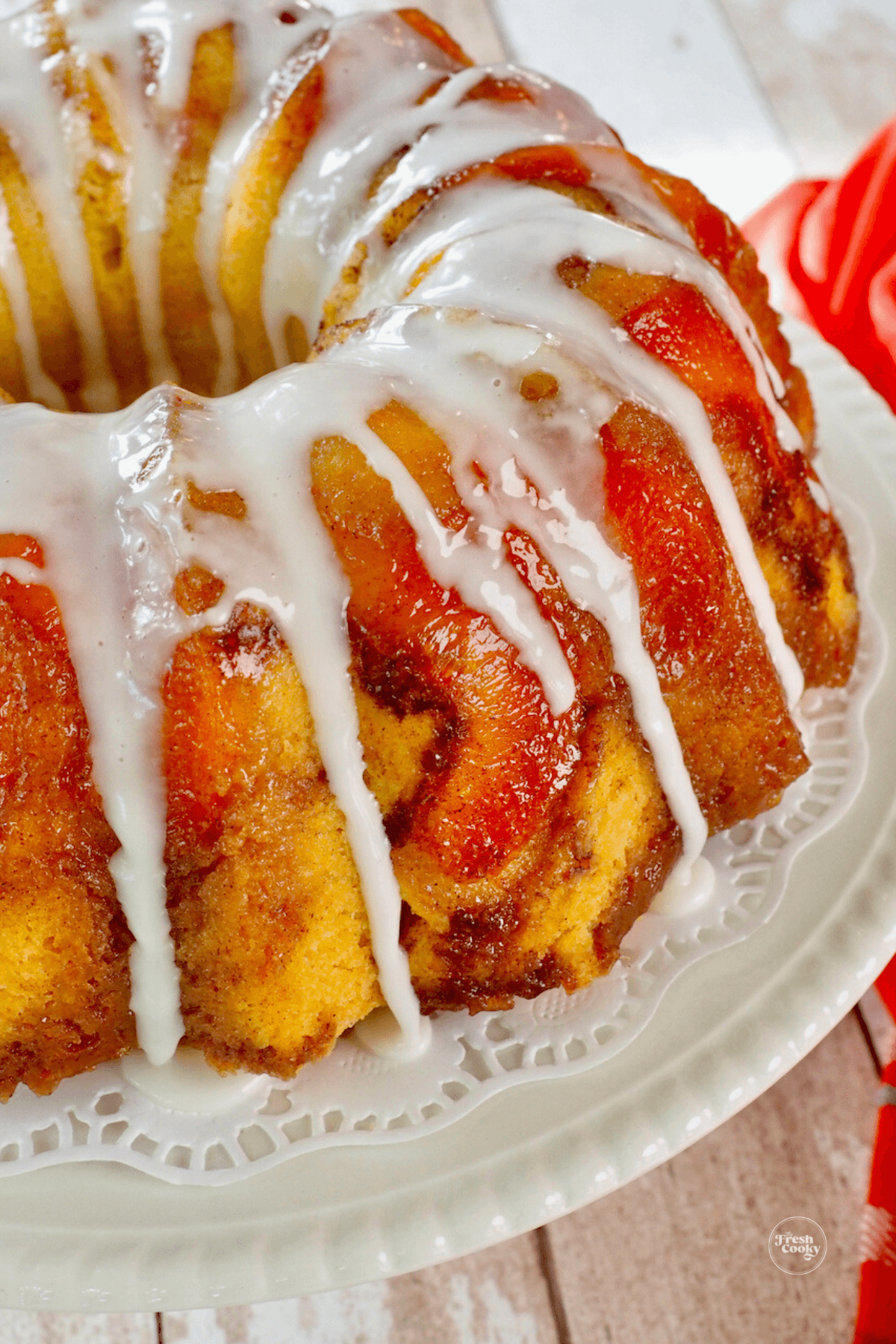 Frequently Asked Questions
Can you use canned peaches for this recipe?
Canned peaches will still produce a tasty and fruity cobbler pound cake. However, I think anyone would agree that fresh and ripe peaches are best. But if that's all you have, use peaches in juice rather than syrup and reserve the syrup to use in the glaze.
Can I use frozen peaches in peach bundt cake?
Yes! They are great, just thaw and pat dry before using.
Do you need a bundt pan to make this peach bundt cake?
Definitely not. If you don't have a bundt cake pan at home, you can make this recipe using two loaf pans or a tube pan. Just be sure to adjust the baking times accordingly.
What makes a cake a bundt cake?
It's not so much the cake as it is the shape of the pan the cake is baked in. Most cake mixes provide instructions for how to make in a bundt pan. Bundt pans have the characteristic ridges or decorations with the unique chimney or flute in the middle which allows for a tall, delicious cake to be baked evenly, resulting in a hole in the center.
How many slices do you get out of a bundt cake?
Most bundt cakes are similar in size (between 10-12 cups), but they do vary, typically you can get 12-16 slices, depending on how thick of a slice you serve.
More Irresistible Bundt Cakes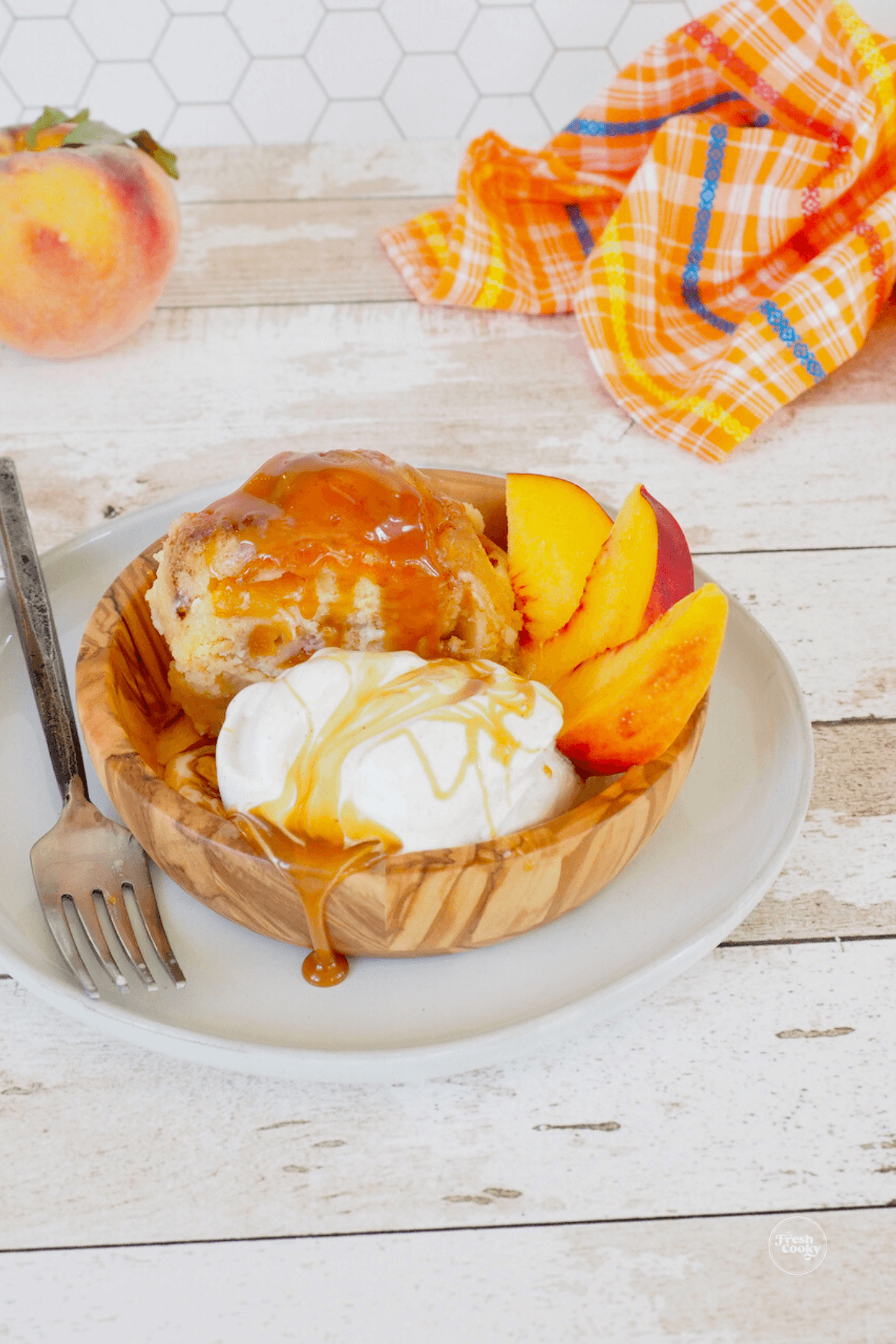 First, ensure the bundt pan is well greased and covered with enough flour to make removing it from the pan easy and effortless.
And second, I'll mention it again, do not overmix!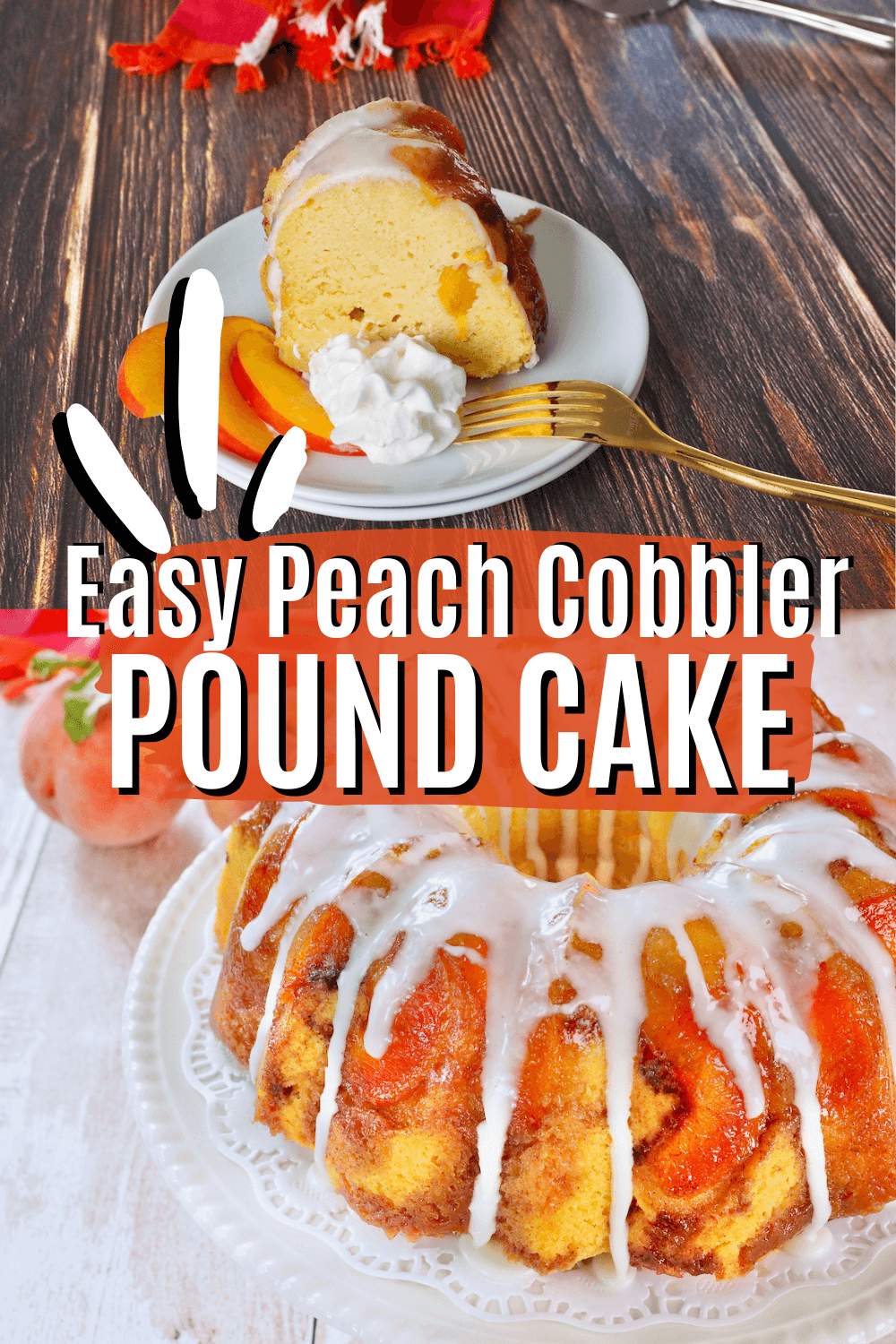 Did you have fun learning how to make a peach cobbler pound cake? If you did, would you share your creation on Instagram, Facebook and Pinterest? And be sure to comment below! It is one of those easy recipes, disguised as a showstopper!
Like this recipe?
Don't forget to give it a ⭐️⭐️⭐️⭐️⭐️ star rating and comment below the recipe!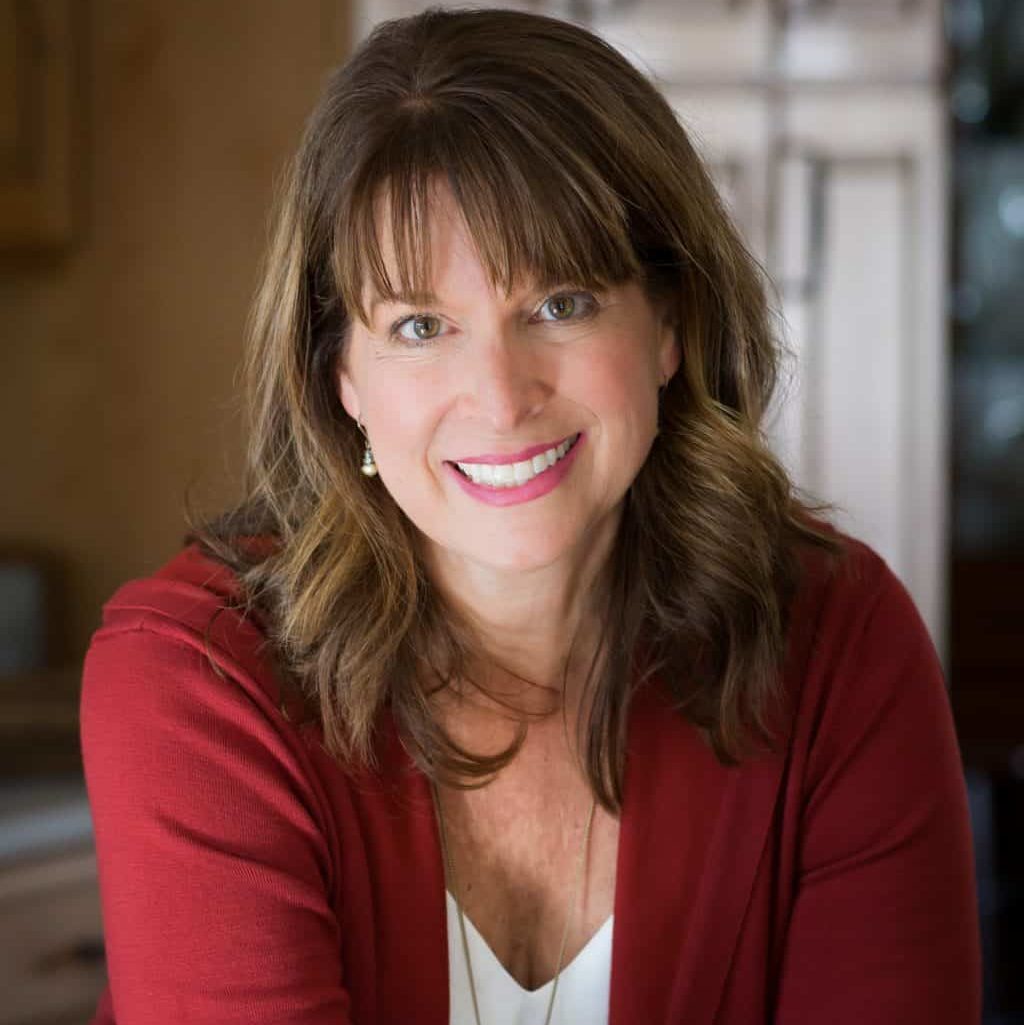 About Kathleen Pope
Recipe Innovator | Food Photographer | Food Writer
Hi, I'm Kathleen Pope. Here at The Fresh Cooky you will find easy, mostly from-scratch, trusted recipes for all occasions. From speedy dinners to tasty desserts, with easy step-by-step instructions. I am here to help teach you how to make mouthwatering recipes without spending hours in the kitchen. Read more about Kathleen here.