Blueberry Pancake Bundt Cake Recipe
As an Amazon Associate, I earn from qualifying purchases. Please read my disclosure policy.
Snuggle up with a steamy cup of coffee and this warm, moist Blueberry Pancake Bundt Cake made with fresh juicy blueberries, pancake mix, creamy buttermilk, zesty lemon, and a touch of cinnamon. Bonus — it's low sugar!
Easy as a fresh blueberry muffin, fluffy as buttermilk pancakes, you will find this is the Best Blueberry Bundt Cake Recipe, also called a blueberry pancake ring – instantly becoming a family favorite for all!
Here are a few more popular coffee cake recipes you can make the next time you need a quick and easy cake. Try Starbucks Copycat Coffee Cake, Amazing Apple Crumb Cake, and the Easy Pumpkin Spice Coffee Cake for the fall season right around the corner.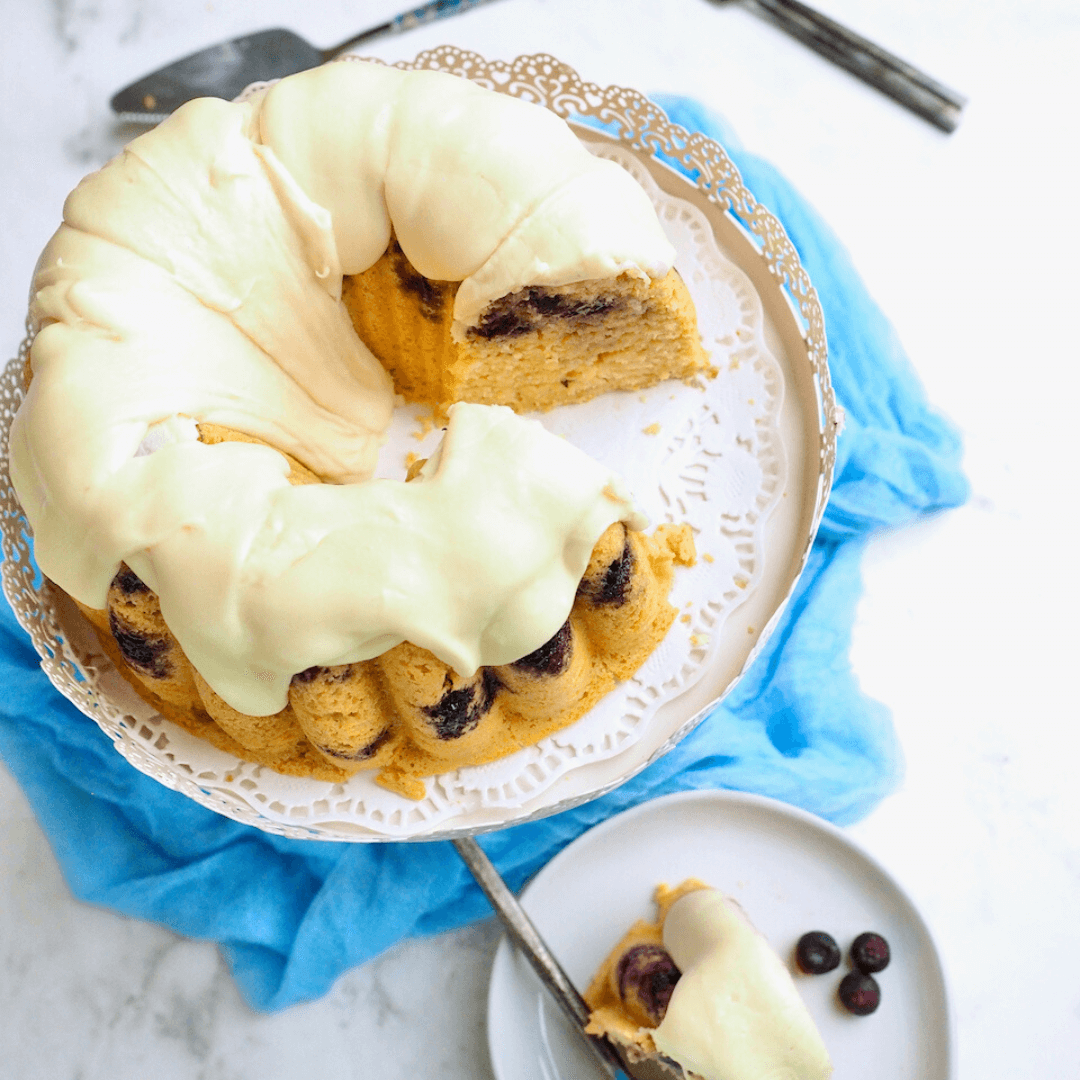 Why You Will Love this Blueberry Bundt Cake Recipe
The perfect delicious recipe for a quick breakfast today and the next morning too!
Perfect quick low sugar bundt cake for Sunday brunch!
This Bundt Cake Pancake Recipe is like eating blueberry pancakes drizzled with maple syrup without having to stand over a hot griddle on Sunday morning flipping multiple pancakes -YES!
A dense blueberry pound cake without using sour cream or butter, but loads of fresh berries makes this moist cake the best sweet treat.
Gluten-Free Blueberry Bundt Cake Recipe
You can make this an entirely gluten-free recipe with all the goodness and tasty satisfaction of indulging. Choose a gluten-free pancake mix and ensure your cinnamon and vanilla extract is a GF brand like Spicely Organic Cinnamon and Rodelle Vanilla Extract.
Healthy Twist
Use a whole-grain pancake mix, I used organic.
Instead of buttermilk, use plant-based milk like almond or oat and add 1 tablespoon of lemon juice and let it sit.
This recipe uses very little sugar, but reduce or omit sugar if preferred!
Simple Ingredients for Blueberry Pancake Bundt Cake Recipe
Full instructions are in the printable recipe card at the end of this post.
Buttermilk | Buttermilk makes cake recipes that much more tender. Don't want to buy it? See image below for how to DIY your own buttermilk.
Eggs | Use large eggs for this recipe and ensure they are at room temperature.
Cooking Oil | An oil like vegetable or canola without too much flavor is best. I used Avocado oil.
Sugar | I use organic cane sugar, but you may use white or even brown sugar if desired
Vanilla Extract | I use Rodelle because it's the best.
Lemon Zest and Juice | Amazing difference this little ingredient makes, brightens all the flavors.
Pancake Mix | I use whole grain, Bob's Red Mill Buttermilk Pancake Mix
Baking Soda and Salt | Make sure the baking soda is fresh.
Cinnamon | Optional or reduced according to taste.
Blueberries | I love fresh blueberries, but frozen is perfect for those months when the berries are not in season. If you use frozen, do not thaw and then toss them a tablespoon of dry mixture before adding to the recipe so they do not all stick together, and water down the recipe.
How to Make your Own Buttermilk (Animal milk or Plant Based)
PIN for Later!
Maple Butter Glaze Ingredients
I modified my Basic Vanilla Buttercream Glaze for this recipe, but it is optional. This blueberry cake is delectable and moist without the glaze – unless you want a sweeter cake.
The glossy glaze makes the presentation, and it tastes great too! All the deliciousness of blueberry pancakes with butter and maple syrup wrapped into this glaze.
You may pour the glaze over the top of the still warm cake, but know that it will soak into the cake and not be as pronounced as it is when it's cooled — tho delish!
This is a dense, pancake-like Bundt cake coffee cake, so it's not overly sweet.
How to Make the Best Breakfast Bundt Cake
Step 1 | Prep the pan
Grease and dust some all purpose flour in a Bundt pan generously, or you can use a good baking spray with flour. I recommend La Tourangelle baking spray or Bak-Klene.
Start by preheating the oven so it is up to temperature and ready for that yummy cake batter.
Step 2 | Wet Ingredients
In a large bowl, add the buttermilk, large egg, oil, sugar, lemon zest, and vanilla extract. In the mixing bowl whisk the milk mixture until it's a silky smooth batter and is totally combined. A few tiny lumps are okay, but not super lumpy.
Step 3 | Mix Dry Ingredients
Measure the dry ingredients in a small bowl, whisking to combine: the pancake mix, baking soda, salt, and cinnamon (if using).
Scoop out about one tablespoon, set it aside if you're using frozen blueberries, and toss your blueberries to coat. (This keeps the blueberries from turning your batter blue and from sinking to the bottom.)
Step 4 | Combine the pancake batter and berries
Now it is time to add the dry ingredients to the wet ingredients. Fold the delicate batter just enough until it's well combined. Be careful not to over-mix. Gently fold in the blueberries, making sure not to break the berries.
Step 5 | Pour and bake
Spoon the thick batter into prepared pan and bake until an inserted skewer comes out clean. Keep an eye on your cake, and if the cake starts browning too quickly, add a sheet of aluminum foil loosely over the top. You're looking for a nice golden brown color.
Step 6 | Set timer and cool
Once the cake is fully cooked to a beautiful golden brown, remove this pancake mix cake from the oven and place it on a cooling rack. For best results, set a timer for 10 minutes and allow cake cool in the pan. (It's best to use a timer, so you don't get busy and forget.)
Now place the cooling rack on top of the Bundt pan and carefully turn the cake, inverting onto the cooling rack. Cool cake entirely before adding your glaze, and get ready to enjoy!
High Altitude Adjustments
Increase pancake mix by 2 tablespoons
Add one additional egg to batter
Increase heat to 375 degrees and bake 45-50 minutes
After the blueberry cake has cooled, firmly tap the sides and bottom of the pan a few times and gently shake. This will help loosen the cake so that it will come right out in one piece when you invert it.
Glaze Blueberry Pancake Bundt Cake Recipe
Add 1 teaspoon of maple extract, and replace one tablespoon of cream with maple syrup instead.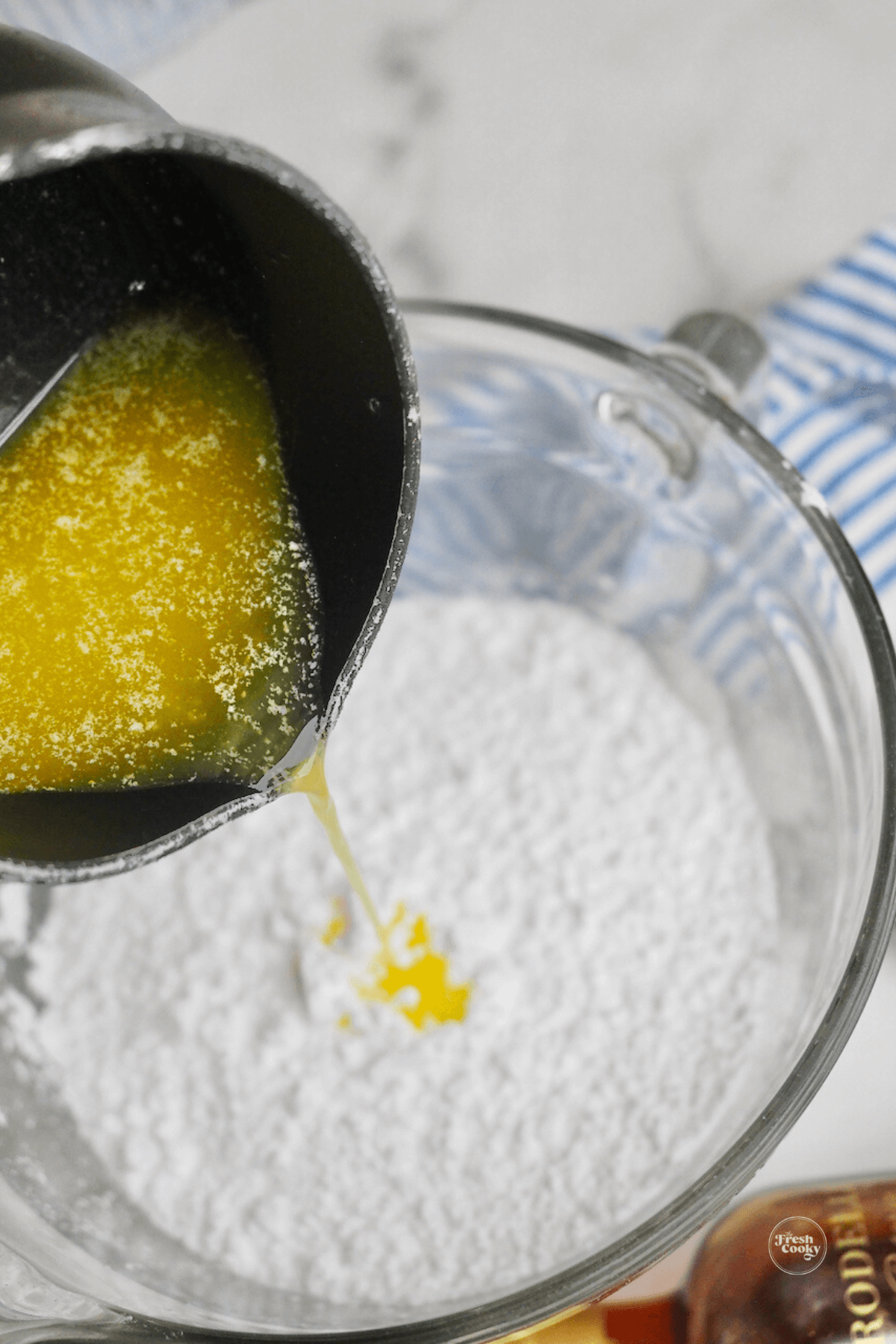 In a medium bowl, whip all ingredients at low speed it until it's light and fluffy. Then microwave in several 30-second bursts, stirring in between until it's liquid enough to pour quickly over the top of the cake. This icing sugar glaze will harden quickly, so rewarm the mixture if needed.
To cool quickly sufficient to glaze, allow the cake to cool as directed in Step 6, then transfer on a wire rack to the refrigerator for 20-30 minutes; if it is not quite cool enough– then glaze.
Variations & Substitutions
Change it up and use other fruits like strawberries, raspberries, or even cherries.
Add chopped pecans or almonds for a little crunch or a few chocolate chips.
It's also delicious with a dusting of powdered sugar instead of the glaze.
Make a lemon glaze instead by combining 1 cup of confectioners' sugar, 2 tablespoons whole milk, and 1 tablespoon lemon juice.
Top with a spoonful of your favorite blueberry jam or serve with this fresh blueberry syrup.
Replace the oil with melted unsalted butter.
Try it with the cream cheese frosting from my cinnamon roll recipe!
I love my Nordic Ware nonstick bundt pan, these pans are strong, heat evenly and the end result is a beautiful cake. Use at least a 9-10 cup bundt pan – this is the one I used in this recipe.
Every kitchen needs a batter bowl, whether you are making pancakes or blueberry muffins.
I love this round cooling rack, great for cakes and bundt cakes!
Storage Tips
Your Easy Blueberry Coffee Cake will store on the counter in an airtight container for up to 2-3 days, or keep longer by transferring it to the fridge for five days.
If you want to make it ahead of time for a quick breakfast cake, freeze it for up to 3 months. Always better if you frost after thawing, but the glaze may be frozen too — thaw overnight in the fridge, slice and serve.
Frequently Asked Questions
What makes a Bundt cake turn out mushy?
It's essential to follow the suggested cooling times. If a cake is left in the pan too long, it will become damp, which can cause it to be mushy.
Why did my Bundt cake fall?
One of the most common reasons is incorrect oven temperature. Ensure your oven has preheated to the correct temp before inserting your cake. Don't open the oven door too early; always use fresh baking soda or baking powder because it will affect your cake.
How high should the batter be when it's poured into the Bundt cake pan?
Typically you want to fill the cake pan between two-thirds to three-quarters full.
More of our Popular Recipes
Recipe heavily adapted from Sunglow Kitchen.
Sometimes an important step can get overlooked because it sounds so simple. The cooling portion is one of the essential tips to make your bundt cake turn out perfectly.
That's why I suggested you set a timer for 10 minutes. Usually, we're multitasking and doing laundry or making beds in between steps. Set the timer! You will thank me later! 🙂
I hope you loved this not to sweet, great cake recipe today, this easy lemon blueberry bundt cake will become a favorite! Be sure to comment and rate the recipe below.
Like this recipe?
Don't forget to give it a ⭐️⭐️⭐️⭐️⭐️ star rating and comment below the recipe!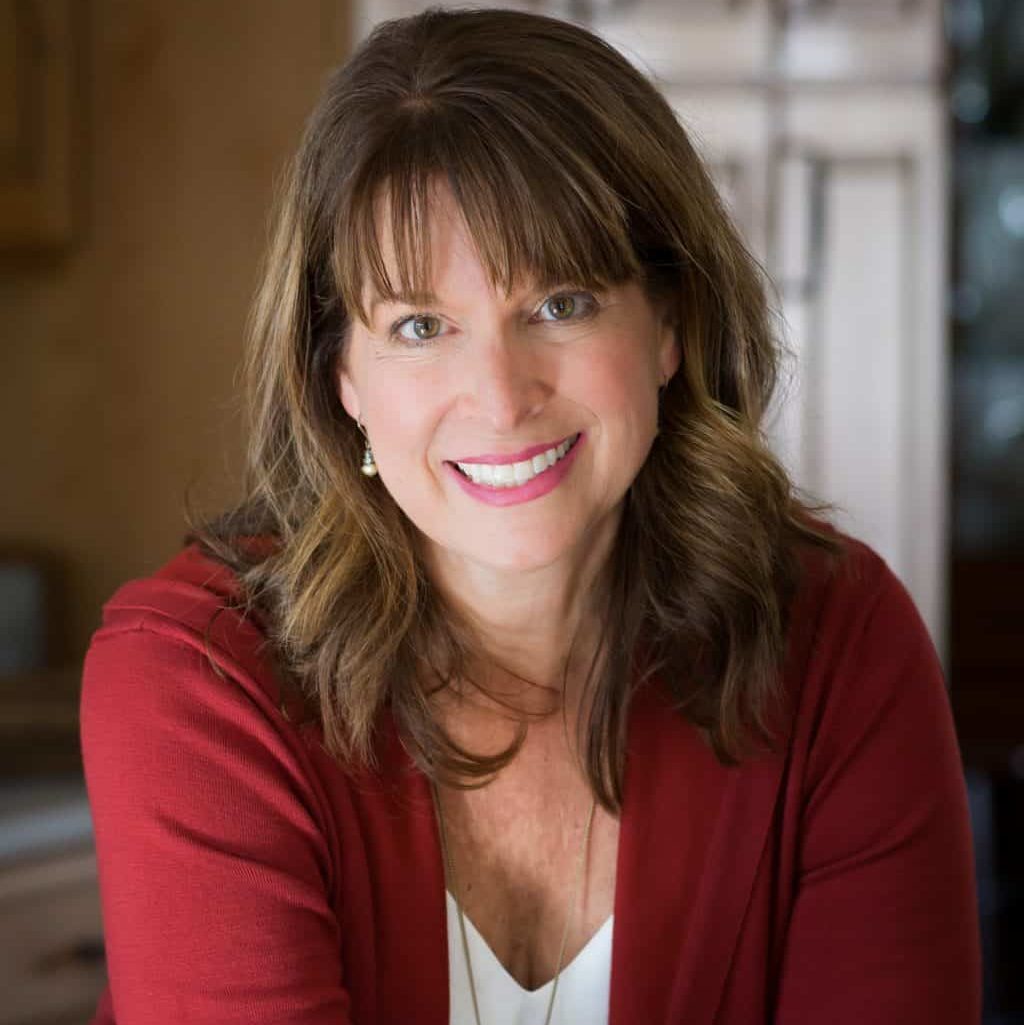 About Kathleen Pope
Recipe Innovator | Food Photographer | Food Writer
Hi, I'm Kathleen Pope. Here at The Fresh Cooky you will find easy, mostly from-scratch, trusted recipes for all occasions. From speedy dinners to tasty desserts, with easy step-by-step instructions. I am here to help teach you how to make mouthwatering recipes without spending hours in the kitchen. Read more about Kathleen here.