Best Strawberry Rhubarb Crumb Bars (+ GF Option)
As an Amazon Associate, I earn from qualifying purchases. Please read my disclosure policy.
The Best Strawberry Rhubarb Crumb Bars have a buttery oatmeal shortbread crust and crumb topping with a sweet-tart ribbon of strawberry rhubarb compote layered between. The ideal springtime treat! Plus I provide a gluten-free option.
Rhubarb is one of those love-hate foods isn't it? For me it's love, love, love! Oh that delicious sweet-tart flavor is dreamy!
If you are also a rhubarb lover, you will adore this Fresh Strawberry Rhubarb Salad recipe, this Easy Old-Fashioned Rhubarb Cake Recipe and you will love our Buttermilk Rhubarb Bread with Cinnamon Streusel Topping.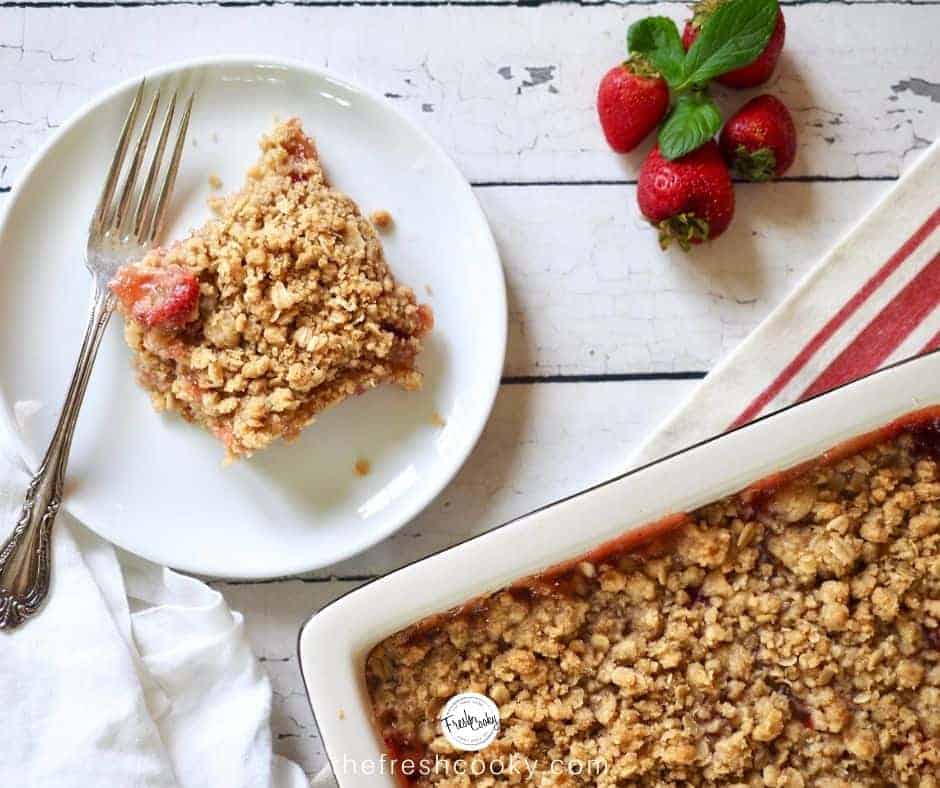 Its tartness is complemented beautifully when paired with strawberries, layered between a buttery oatmeal shortbread crust and crumb topping! Drooling!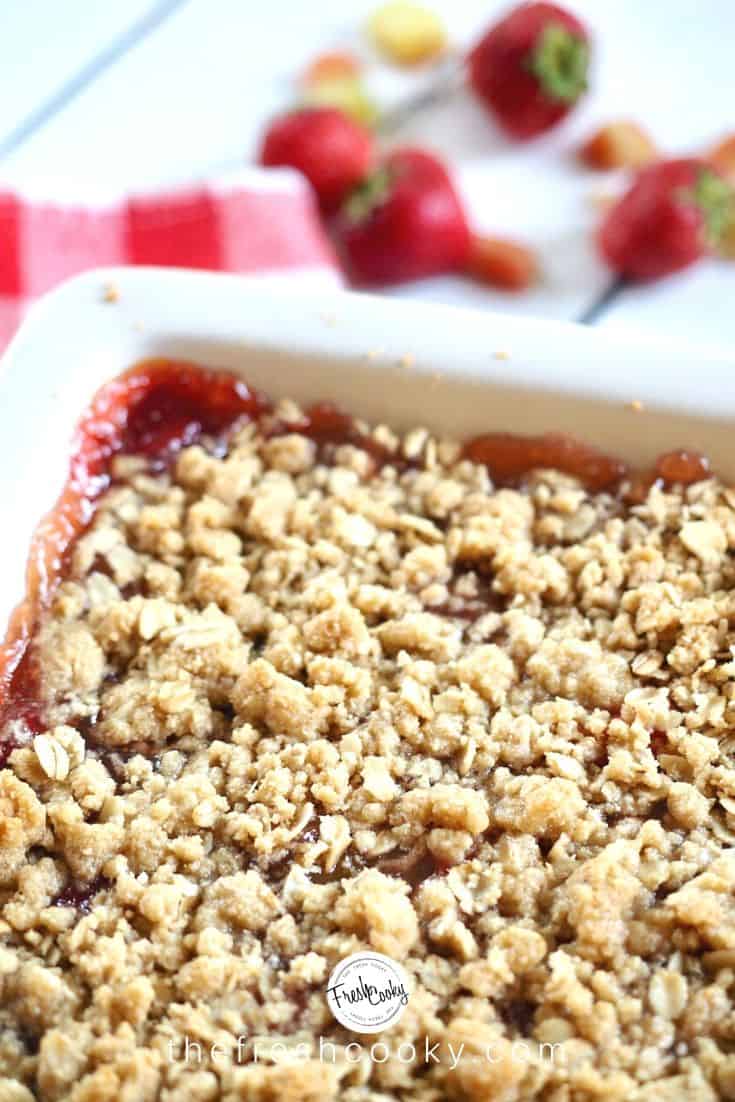 What Exactly is Rhubarb?
I am glad you asked, I did a bit of research, is it a fruit or a vegetable? While technically it's a vegetable, in 1947 a New York court had it declared officially a fruit, mainly because it was used most commonly that way in America, who knew!

Where do you find rhubarb?
I have found it once at my grocery store, but you can also find at farmers' markets and specialty grocery stores. Sold by the stalk, kind of like celery.
Ask around, I bet you might have a neighbor or friend who grows it and they usually have plenty to share. I barter with a friend who grows it, this year I traded her some sourdough starter for a good size batch of rhubarb!
When is rhubarb in season?
Rhubarb is harvested in the spring, with a short growing season that spans from April to June. Which is why your feeds u0026 magazines are flooded with rhubarb recipes in the springtime.
Rhubarb stalks are famous for their bright pink color, but they can also be light pink and even pale green.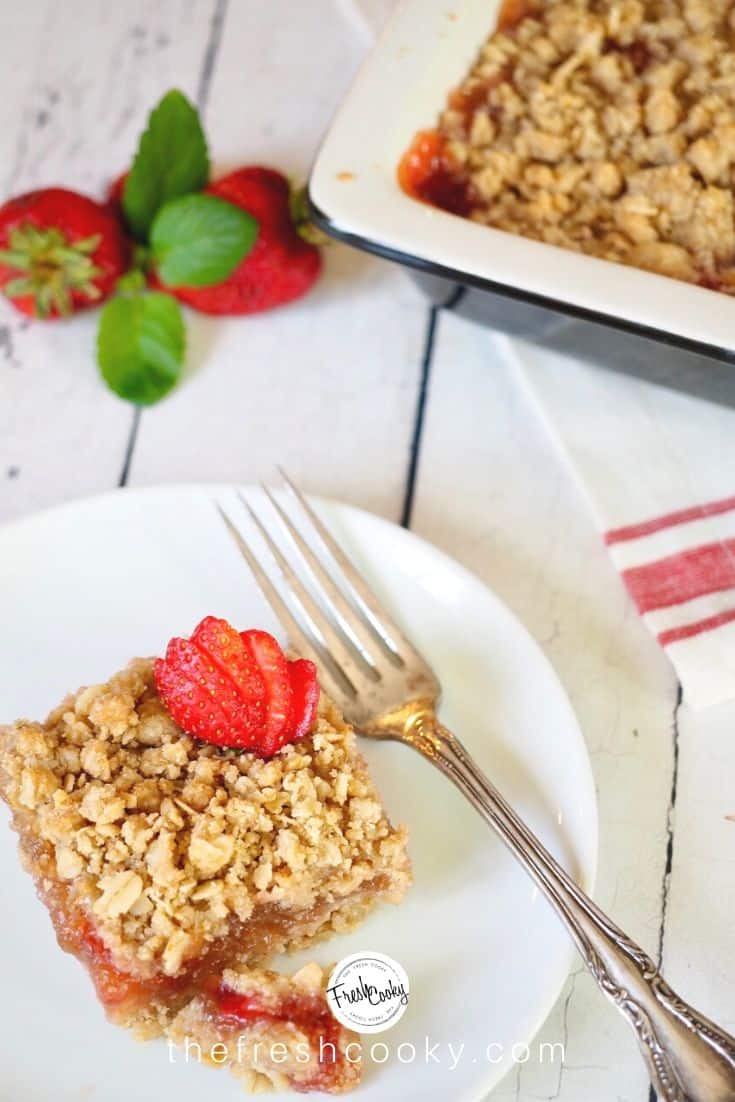 Ingredients for Rhubarb and Strawberry Crumble Bars
3 cups rhubarb, chopped (fresh or frozen – I used frozen)
1-2 cups sliced strawberries (great use for strawberries past their prime, or frozen)
1 cup sugar (I use all natural cane sugar)
3 tablespoons cornstarch (non GMO if you can!)
½ cup cold water
1 teaspoon vanilla
1 ½ cups oatmeal (not quick cooking – GF if making GF)
1 ½ cups all purpose flour (Gluten Free substitute ½ cup oat flour, ½ cup almond flour, ½ cup GF one to one flour)*
1 cup brown sugar, packed (dark or light your preference, I used light)
1 cup butter, softened and cut into chunks
½ teaspoon kosher salt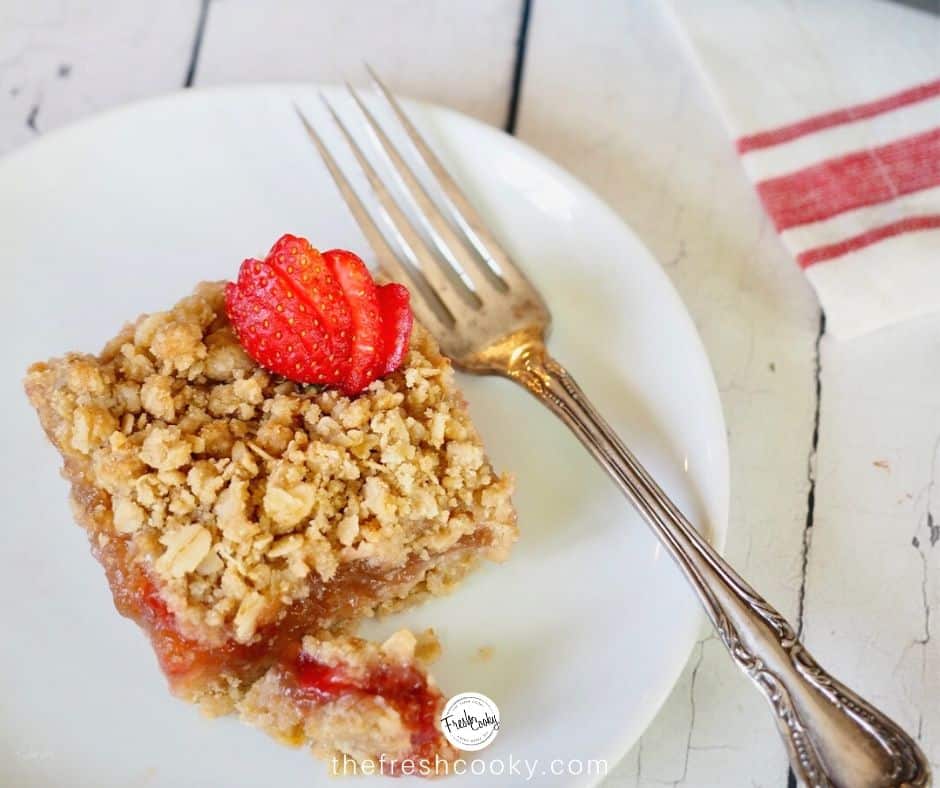 *Crumbs, crisps and crumbles are so easy to make Gluten free. Like my GF Coffee Cake – we call it Ugly cake, but it tastes anything but ugly! Use my suggestions as a guideline; or try your own combination of GF flours, such as coconut flour, or use use all GF All purpose, or all almond flour, you get the idea! Just make sure it equals 1 ½ cups.
Gluten-Free Strawberry Rhubarb Crisp
The first time I made these bars, I made gluten free strawberry rhubarb crisp bars and they were so delicious!
I used a combination of gluten-free oat flour, almond flour and GF all purpose flour and made sure my oats were GF as well. I provide amounts in the recipe at the end of the post.
How to make the best crumb (streusel) topping
I adore anything with a crumb topping and the bigger the crumb the better, so it stands to reason that this is a favorite of mine since the crumb topping does double duty by being used as the crust and the crumb!
Check out the crumb on this coffee cake, wowzers! The best! Or perhaps you enjoy a crumb with a drizzle, like this Blueberry Crumble Coffee Cake or my Double Crumb Apple Cake!
I wanted these Strawberry Rhubarb Bars to have a nice thick crust and crumb on them, so while you can bake in a 9×13 inch pan, I chose to make them in a 9×9 inch pan.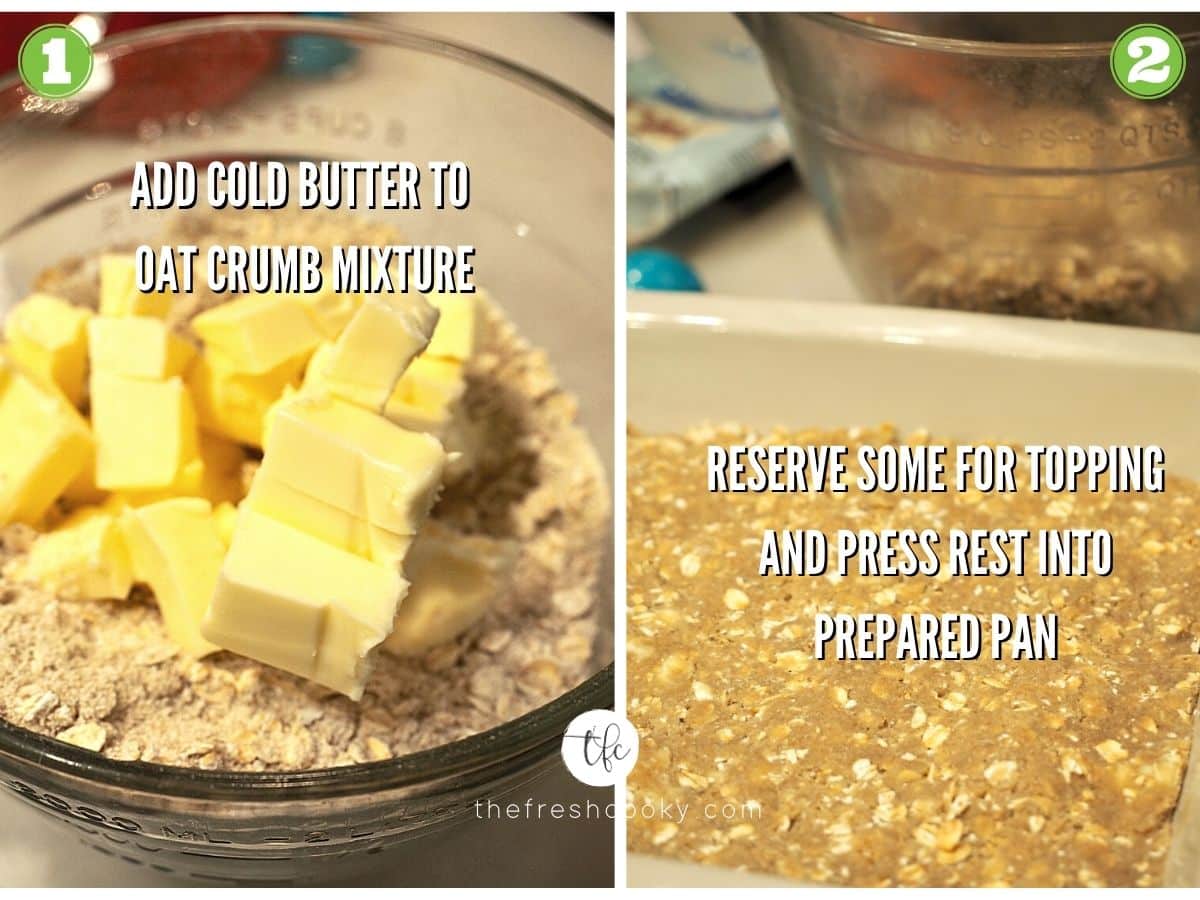 TIPS FOR THE BEST OAT CRUMB CRUST AND TOPPING
I like to get my hands in there when making a crumble, therefore instead of cutting in cold butter with a pastry blender, I use softened butter and use my hands, to thoroughly combine the oat, flour, sugar mixture.
Next, pour ¾ of the crumble mixture into the bottom of a parchment lined or lightly sprayed baking dish (9×13 for thinner bars, 9×9 for thick, decadent bars) and using a piece of parchment paper, wax paper or plastic wrap, press firmly into bottom of dish. Reserve balance of crumbs for topping.
Transfer crust and extra crumbs (for topping) in freezer for 20 minutes to firm the butter back up.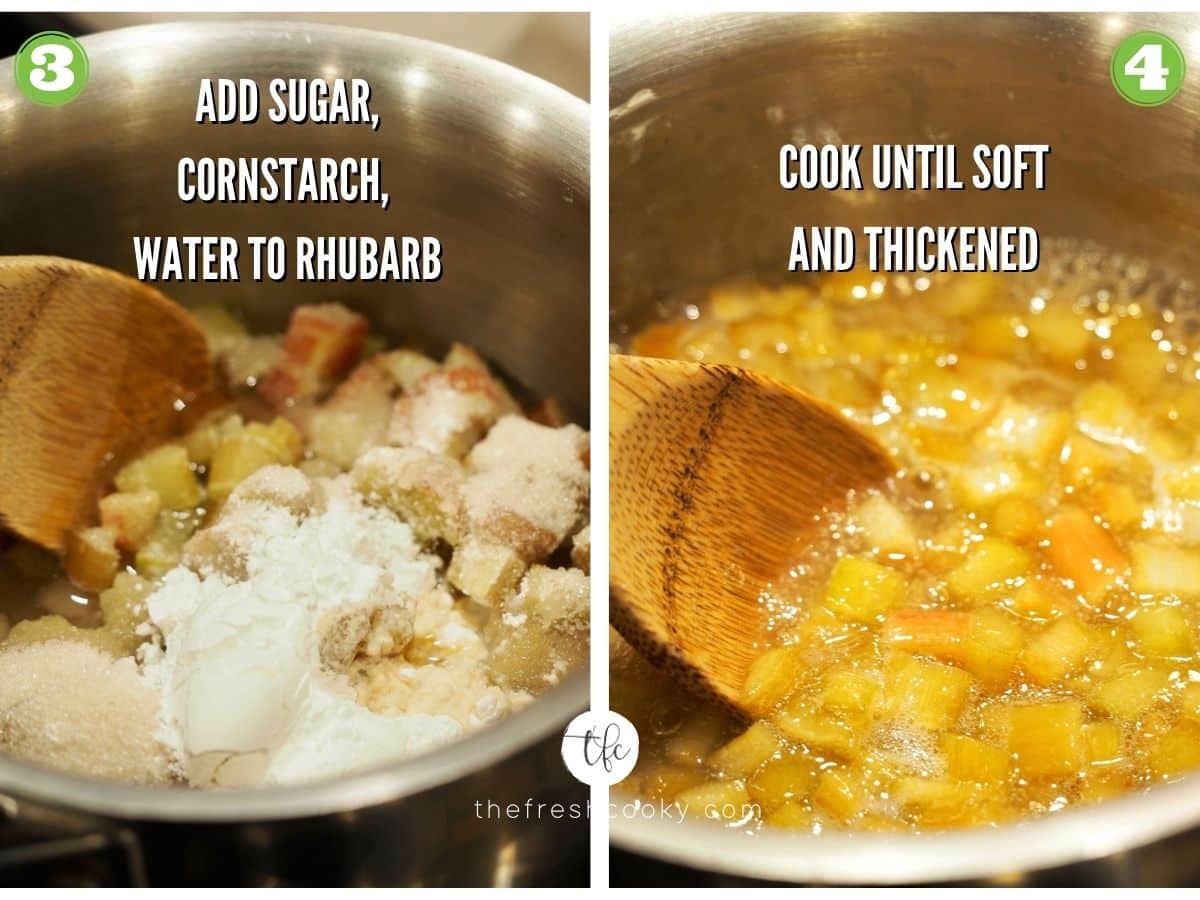 How to make the best strawberry-rhubarb compote
To make the strawberry rhubarb compote; in a medium saucepan combine the rhubarb, strawberries, sugar, cornstarch and vanilla — cook over medium heat, stirring occasionally until thick.
You'll know it's ready when you pull your finger along the backside of a spoon and doesn't immediately fill back in. Set aside to cool slightly.
Once you have chilled the oatmeal shortbread crust, remove from freezer and spread the strawberry rhubarb compote mixture evenly over the top.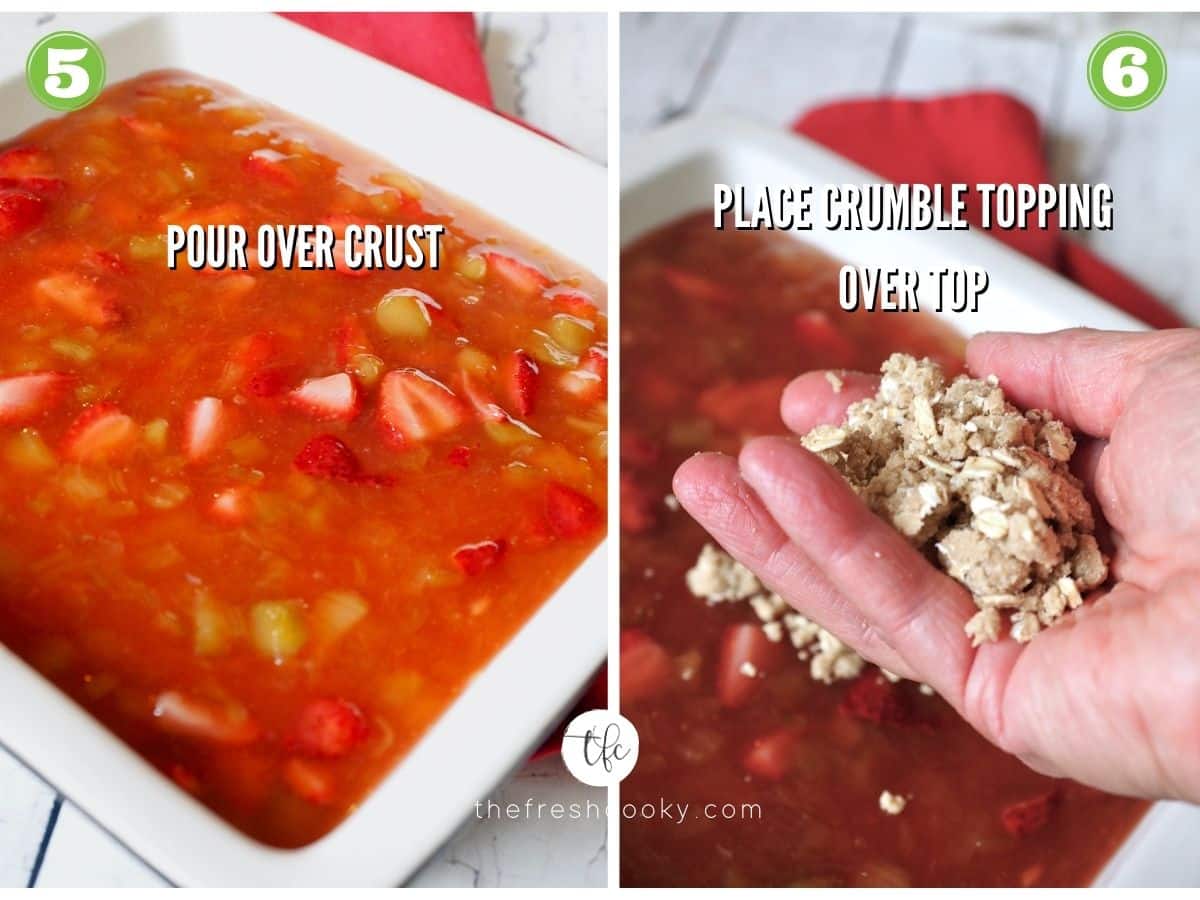 Remove the crumb topping from the freezer and break apart with your hands, crumbling in large and small chunks over the top of the compote. Bake as directed (in recipe).
OPTIONAL STRAWBERRY KICK-UP
If you want a bit more of a strawberry swirl and kick, heat 3 tablespoons of strawberry jam in the microwave for a few seconds until pourable.
Then pour over the rhubarb mixture, running a knife to swirl it throughout. Adds a beautiful red strawberry intensity!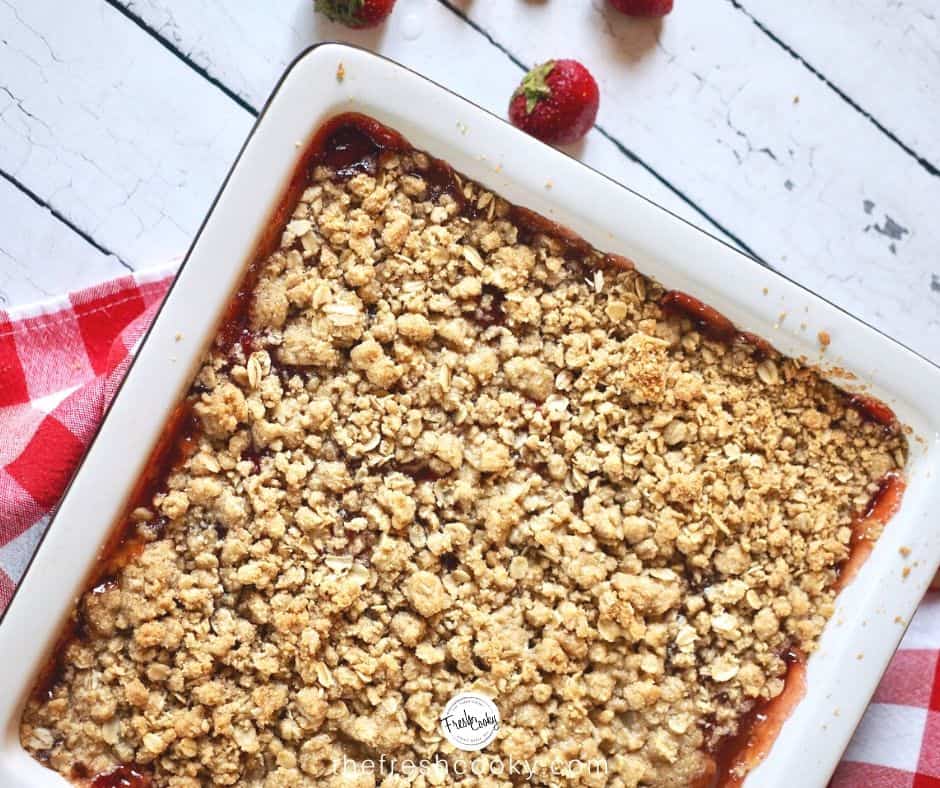 CAN I FREEZE STRAWBERRY RHUBARB CRUMB BARS?
Yes! If you don't gobble them up in the first 30 minutes they are out of the oven that is!
Either cut into individual bars, wrapping tightly in plastic wrap and then place in freezer baggie, or cover entire pan with plastic wrap, then foil.
KATHLEEN'S PRO TIP | IF FREEZING, simply line the pan with parchment paper, before baking. Once bars are completely cooled, freeze for 30 minutes, then carefully remove bars using the parchment paper as handles, wrap the entire crumble in plastic wrap and freeze.
How to Store Gluten Free Strawberry Rhubarb Crumb Bars
Bars will be fresh in an airtight container on the counter 3-4 days, fridge up to 7 days and freezer up to 3 months.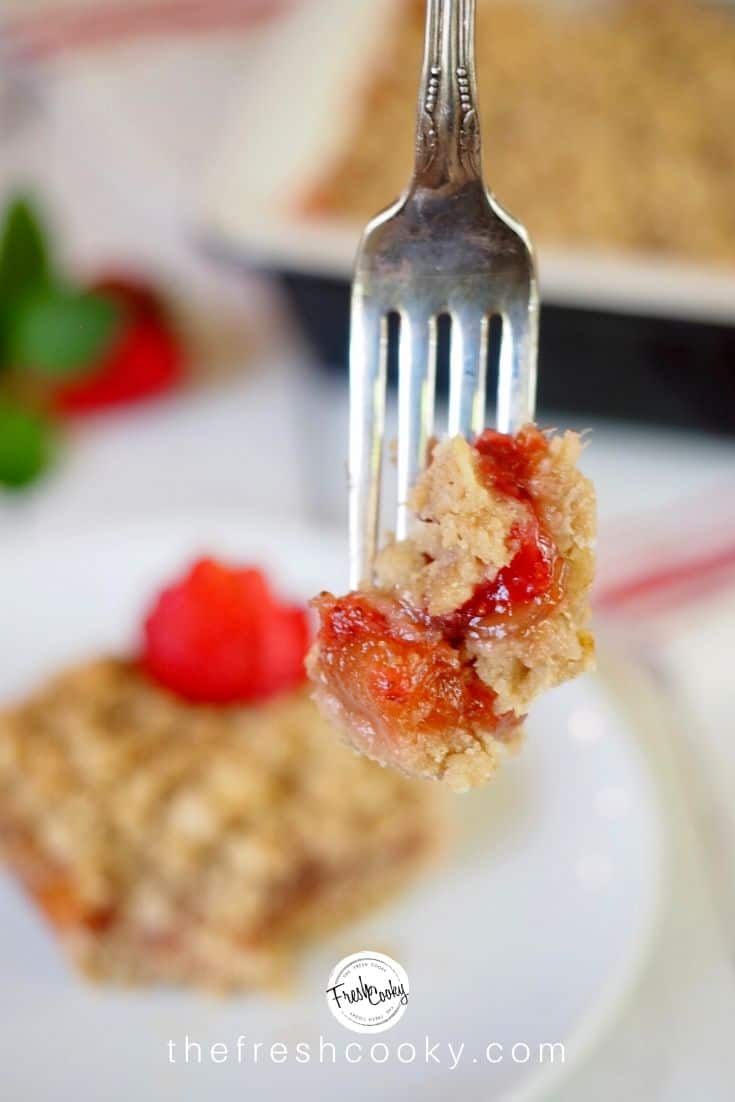 SERVING SUGGESTIONS FOR RHUBARB BARS
Slice into bars and serve with a sliced strawberry on top and a dollop of whipped cream.
Scoop into bowls, serve warm with a scoop of vanilla ice cream.
If frozen, allow to come to room temperature, or place in 250 degree F oven (remove plastic first) for 20-30 minutes for a warm dessert.
Drizzle with a little warmed strawberry or raspberry jam.
MORE FILLING OPTIONS
Use another berry or combination of strawberries, blackberries, blueberries or raspberries for a berry-licious bar.
Try equal amounts of chopped peaches, apples, mangoes or cherries (pitted of course).
Super Speedy Option | Use a good quality pie filling for the compote.
Make a lemon crumb bar using lemon curd!
If you have never tried rhubarb before, this is the perfect way to try it, with a subtle tartness that is complimented and muted with the sweetness of the strawberries. You may also love my Rhubarb Dump Cake recipe!
I'd love to hear what you think! And keep scrolling below, I have a collection of my favorite bloggers rhubarb recipes as well!
Happy Springtime! Don't forget to PIN to your favorite Rhubarb Board!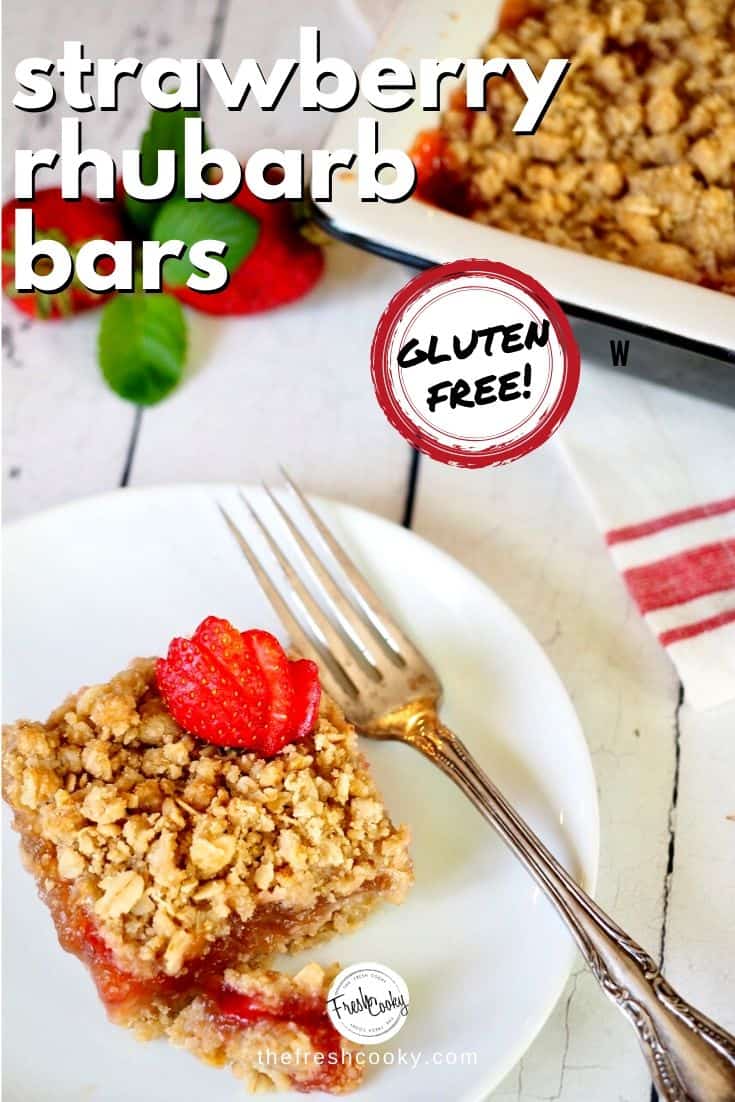 Like this recipe?
Don't forget to give it a ⭐️⭐️⭐️⭐️⭐️ star rating and comment below the recipe!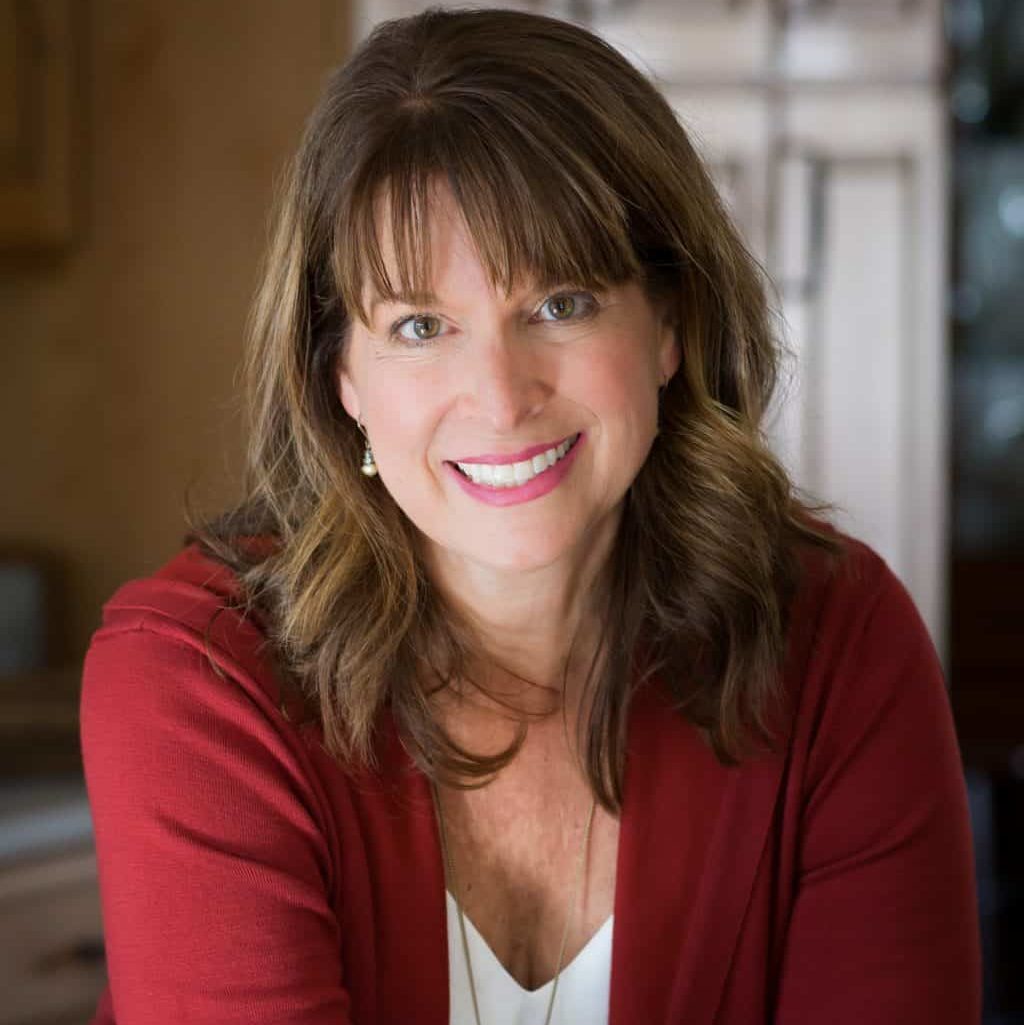 About Kathleen Pope
Recipe Innovator | Food Photographer | Food Writer
Hi, I'm Kathleen Pope. Here at The Fresh Cooky you will find easy, mostly from-scratch, trusted recipes for all occasions. From speedy dinners to tasty desserts, with easy step-by-step instructions. I am here to help teach you how to make mouthwatering recipes without spending hours in the kitchen. Read more about Kathleen here.