Starbucks Copycat Date Scones
As an Amazon Associate, I earn from qualifying purchases. Please read my disclosure policy.
This recipe for Starbucks Copycat Date Scones is moist, dense and full of flavor with a wonderful texture, filled with healthy dates, whole wheat, bran and oat flours, topped with a sweet buttermilk glaze.
Perfect for breakfast, brunch or tea, a lazy weekend, Easter or Mother's day, but you do not need a special day to make these tasty scones!
Breakfast Bread & Pastry lover? Try these reader favorites! Banana Nut Bread, Chocolate Stuffed Monkey Bread, and Gluten Free Coffee Cake (Ugly Cake!)
STARBUCKS DATE SCONES
While at my friend Wendy's house for lunch, she told me about these date scones. In fact, she had some frozen, so she gave me one; I was skeptical, dates? EW!
I was delightfully surprised when I tried them. She shared the newspaper recipe clipping (remember those?) with me, called "Starbucks Date Scones."
I have never seen them in their coffee shops, but they should bring them back, because they are delicious and semi-nutritious!
I'm trying to reduce white flour where I can, so I also added some oat flour for moistness displacing some of the white flour and finished them with a pretty buttermilk glaze.
HOW TO MAKE A WHOLE GRAIN SCONE
Don't let the dates scare you away! While delicious by themselves, I am not a fan of dates or raisins in baked goods.
It's a texture thing, that mushy plumped up texture after baking just grosses me out (sorry mom). But, I don't mind these scones!
In fact the dates are blended in so well you only taste the natural sweetness, requiring only ¼ cup of brown sugar!
Date Scone Ingredients
1 ¼ cups all-purpose unbleached flour
½ cup whole wheat flour
¼ cup oat flour
¼ cup bran (wheat or oat, I used wheat)
2 ½ teaspoons baking powder
1 teaspoon salt
½ teaspoon baking soda
1 ½ – 2 teaspoons cinnamon
¼ cup brown sugar, packed
½ cup butter, chilled, cut into chunks
⅔ cup fresh dates, chopped
1 egg, slightly beaten
⅔ cup buttermilk
Demerara Sugar (for sprinkling – optional)
Buttermilk Glaze
How to Make Scones
Pour in the all-purpose flour, oat flour, whole wheat flour, bran, brown sugar, baking powder, soda, salt and cinnamon to the bowl of a food processor and pulse until blended. No food processor? Working in smaller batches, you can achieve the same results using your blender.
Fresh dates are best, they are soft, sweet and light. Cut the date in half lengthwise, slip out the seed (kinda looks like a pecan)…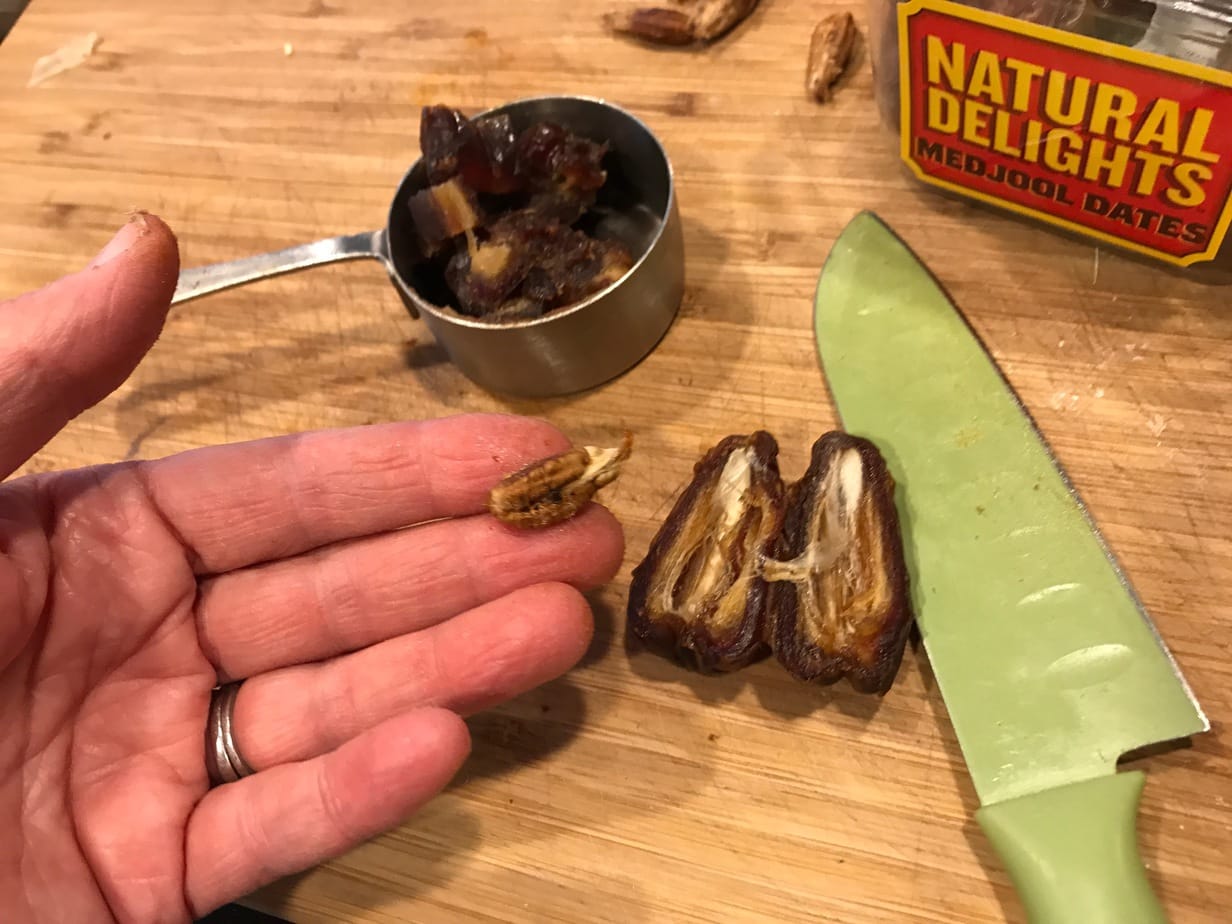 …chopping them into smaller pieces for a total of ⅔ cups.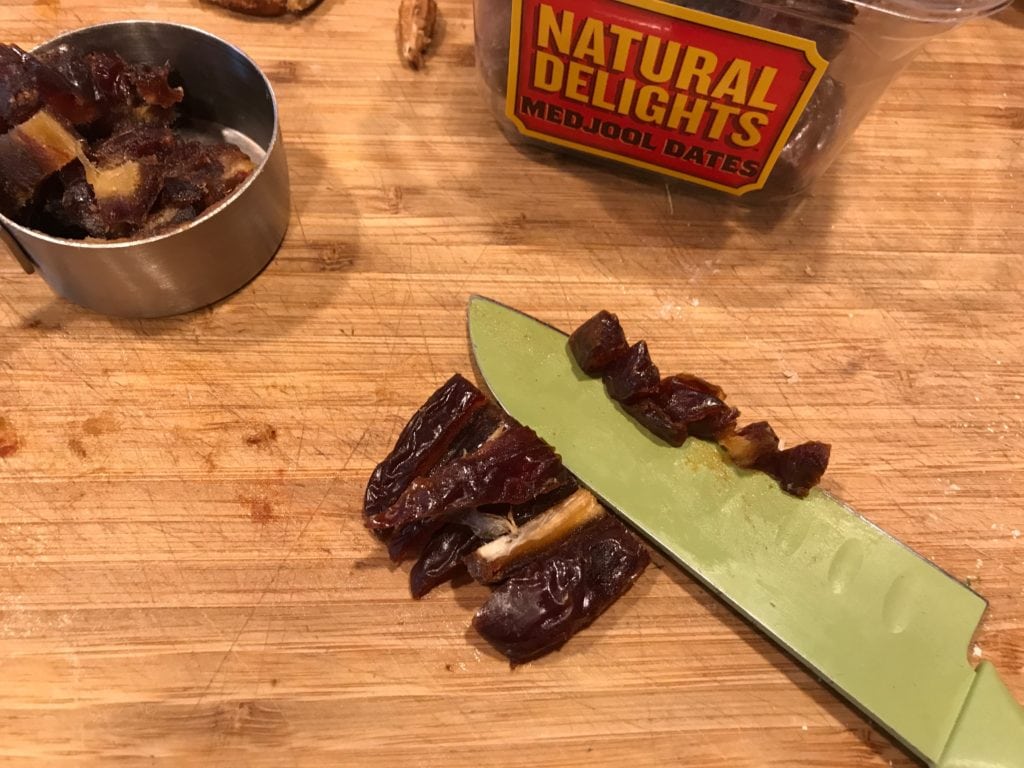 Toss them into the bowl with the dry ingredients and pulse a few times to mix in dates.
Chop cold butter lengthwise and then into tablespoon size chunks, place into food processor and pulse just until crumbly, or you may cut in by hand with a pastry blender or use a regular blender.
Partially beat your egg and pour it into the nozzle of the food processor, while pulsing on low, then add your buttermilk, pulsing on low until combined and mixture holds together, it's okay if you have some dry parts you will work those in later.
How to make buttermilk (buttermilk substitution)
No buttermilk? No problem! Measure 1 cup milk and stir 1 tablespoon vinegar or lemon juice, let sit for about 5-10 minutes. Then use the amount needed.
Remove dough to floured surface and knead 4-5 times (folding and push with the palms of your hands, fold again and push), adding a few tablespoons of flour if too sticky.
SHAPING AND FORMING SCONES
Prep a parchment lined half sheet pan, pat into a 1-inch thick round disc; the original instructions called for a rectangle, either way would work. Or divide into two dough balls and make two smaller discs.
Cut into even triangles, making them as large or small as you wish. Using a spatula, pull them slightly away from each other.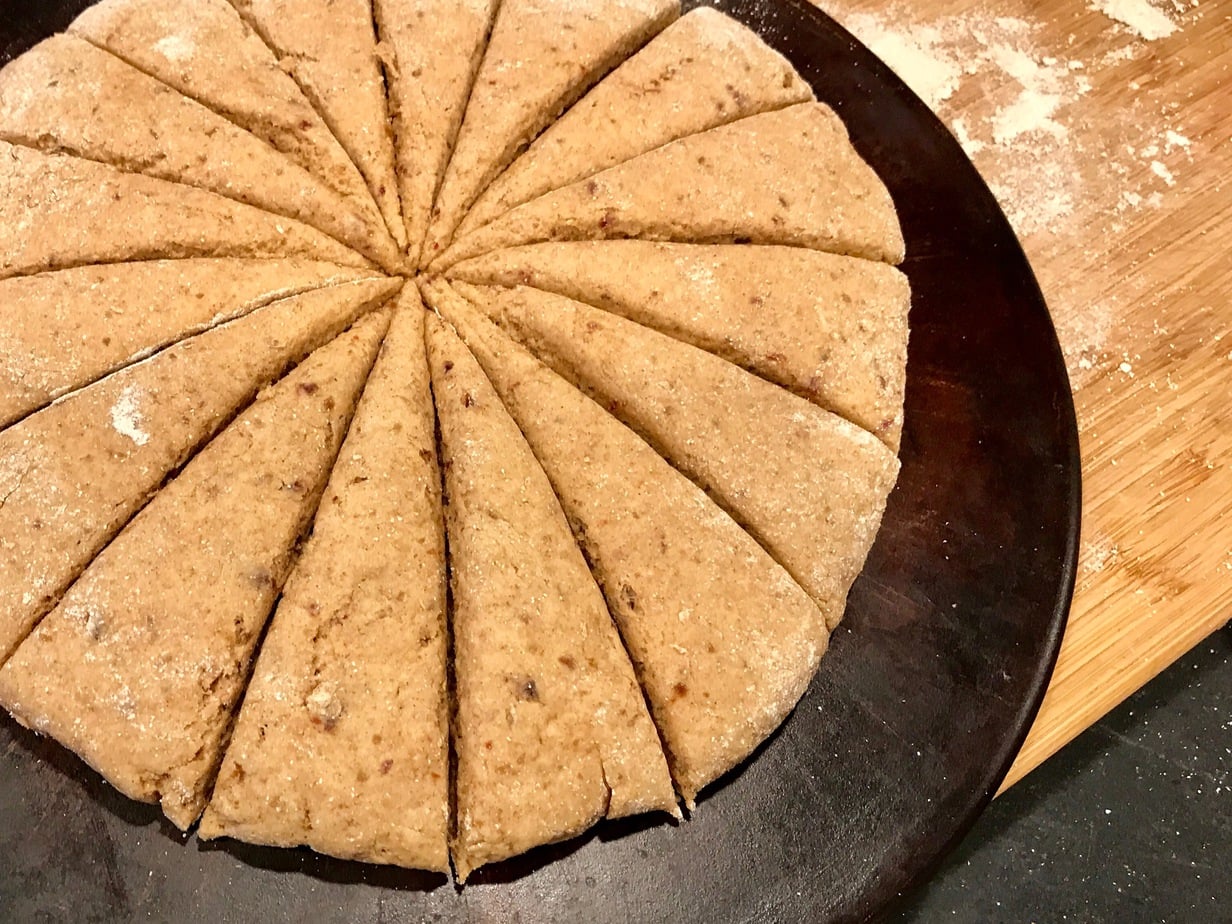 Cover loosely with a clean tea towel and let rest for 10-15 minutes while your oven preheats to 350°.
After resting, you may sprinkle with coarse natural sugar, such as Demerara (pictured below) OR make a delicious buttermilk glaze below.
HOW TO MAKE A BUTTERMILK GLAZE
In a small saucepan add your sugar, buttermilk, butter, vanilla, organic corn syrup (or try date syrup!) and baking soda.
Heat over medium-low heat until melted and combined, stirring constantly, it will start to foam up from the baking soda, reduce the heat and keep stirring, the foam will go down as you stir.
Stir for a few more minutes until the glaze coats the back of a spoon, or until it no longer smells of the baking soda, it will dry into a pretty amber color.
Brush on scones, straight from the oven, the glaze will seep into the nooks of the scones making them oh-so-moist.
Allow to cool 10 minutes on pan, then transfer to cooling rack. Cool completely.
You may have to run a knife through your slices one more time before transferring scones with a spatula to the wire rack.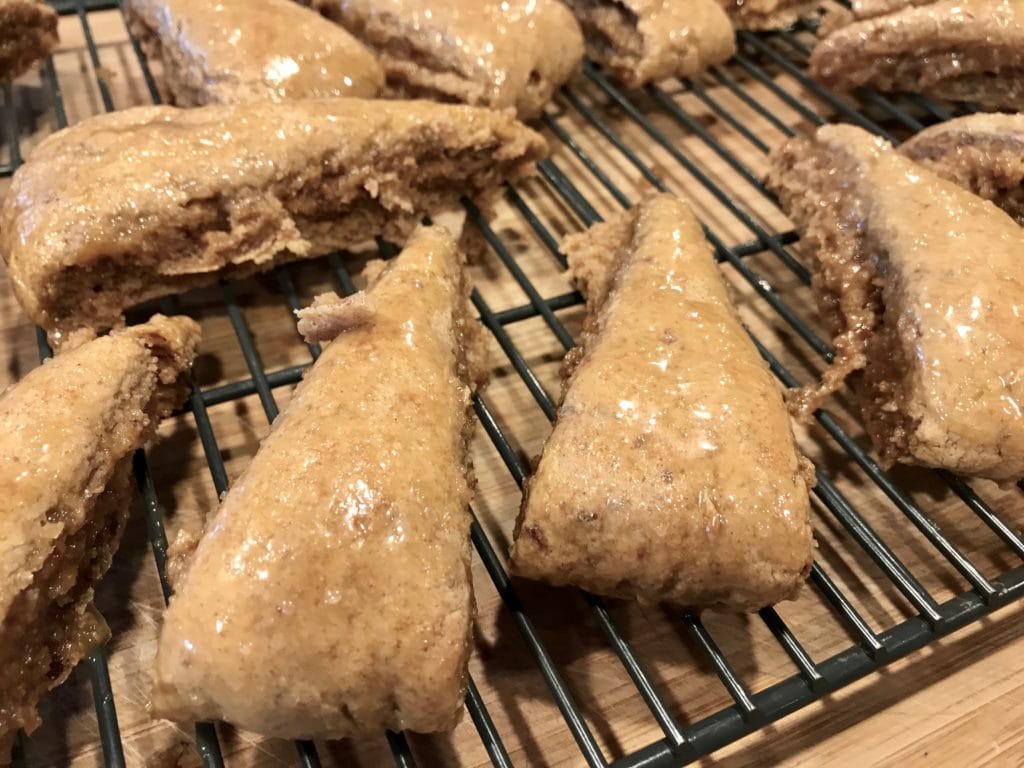 Can you freeze scones?
Yes! I love making a batch of scones, splitting the dough into two separate discs and freezing one disc for another time.
Freeze the Dough
Once the scone dough is made, formed and cut into wedges, wrap the entire thing in wax paper, parchment or plastic wrap, then store in ziplock baggie for up to 3 months in freezer.
When ready to bake, remove from freezer and place on parchment lined pan while oven preheats, bake as directed, adding 1-3 minutes until scones spring back lightly.
Freezing Baked Scones
Cool COMPLETELY! Then wrap in parchment, wax or plastic wrap and place in a ziplock baggie, may be frozen up to 3 months. Thaw at room temperature.
Warm in 250 degree oven for 10 minutes, if the scones do not have a glaze.
Delicious warm or room temperature, serve alongside a fruit salad or with an afternoon cup of tea or coffee as the case may be!
Pin Starbucks Date Scones to a Breakfast Board!
Like this recipe?
Don't forget to give it a ⭐️⭐️⭐️⭐️⭐️ star rating and comment below the recipe!
Delicious Date Scones | A Starbucks Recipe
Delightfully flavorful and moist Date Scones, just the right amount of sweetness, balanced with whole grains, perfect for teas or luncheons. Originally derived from an old Starbucks recipe.
Ingredients
DATE SCONES
1 ¼

cups

all-purpose unbleached flour

,

or sub with Gluten Free Cup for Cup

½

cup

whole wheat flour

,

Or substitute with Gluten-free 1-1 flour

¼

cup

oat flour

¼

cup

bran

,

wheat or oat, I used wheat

2 ½

teaspoons

baking powder

1

teaspoon

salt

½

teaspoon

baking soda

1 ½ – 2

teaspoons

cinnamon

¼

cup

brown sugar

,

packed

½

cup

butter

,

chilled, cut into chunks

⅔

cup

fresh dates

,

chopped

1

egg

,

slightly beaten

⅔

cup

buttermilk

Demerara Sugar

,

for sprinkling – optional
BUTTERMILK GLAZE (Optional)
¼

cup

sugar

,

all natural cane sugar

⅛

cup

buttermilk

⅛

cup

butter

¼

tsp

vanilla extract

¼

tsp

baking soda
Instructions
SCONES
Combine all-purpose flour, whole wheat flour, bran, oat flour, baking powder, baking soda, salt, cinnamon and brown sugar in the bowl of a food processor, pulse to mix. Toss in chopped dates, pulse 2-3 times.

Toss in cold, chopped butter, pulse until crumbly. Or if no food processor, cut in butter with pastry blender. Slightly beat the egg, pour into the spout of the food processor, pulsing on low several times. With food processor on low, add buttermilk until dough ball forms.

Remove from bowl and place on floured surface, kneading several times. If dough is too sticky, add a few tablespoons of oat flour and knead into the scones.Pat into a round disc, about 1 inch thick, or two smaller discs.

Cut into desired sizes, easily makes 12 scones, more if you make smaller triangles. Transfer to a baking sheet (ungreased), if desired you may separate completely and bake as separate scones. I think they are more moist if you keep the disc together for baking. Sprinkle with demerara sugar before baking, if desired.

Cover with clean tea towel and let rest for 15 minutes while you preheat oven to 350°. Bake for 20-25 minutes until toothpick comes out clean. Immediately brush on buttermilk glaze if desired.Let sit for 10 minutes before transferring to wire rack for full cooling.
BUTTERMILK GLAZE INSTRUCTIONS
In small saucepan place buttermilk, sugar, butter, vanilla and baking soda. Bring to slow boil on medium-low heat, while stirring constantly.

It will foam up, stir and lower heat as it begins to foam. Continue stirring, foam will subside. Continue simmering until it reduces back to regular volume and turns a light amber color, a few minutes. The strong smell of the baking soda should also go away. Brush onto hot scones for full penetration.

Allow scones to cool completely, store in airtight container up to 5 days, refrigerate or freeze for longer storage
✱ Kathleen's Tips
Freezer Option | Split dough into two rounds, patting into discs. Slice in wedges, wrap in parchment paper, then plastic wrap and freeze in freezer baggie. Follow baking instructions directly from freezer, baking another few minutes until done.
Nutrition
Serving:
1
Calories:
176
kcal
Carbohydrates:
24
g
Protein:
3
g
Fat:
8
g
Saturated Fat:
5
g
Polyunsaturated Fat:
1
g
Monounsaturated Fat:
2
g
Trans Fat:
1
g
Cholesterol:
31
mg
Sodium:
338
mg
Potassium:
113
mg
Fiber:
2
g
Sugar:
11
g
Vitamin A:
267
IU
Vitamin C:
1
mg
Calcium:
70
mg
Iron:
1
mg
Nutrition Disclaimer
The Fresh Cooky is not a dietician or nutritionist, and any nutritional information shared is only an estimate. We recommend running the ingredients through an online nutritional calculator if you need to verify any information.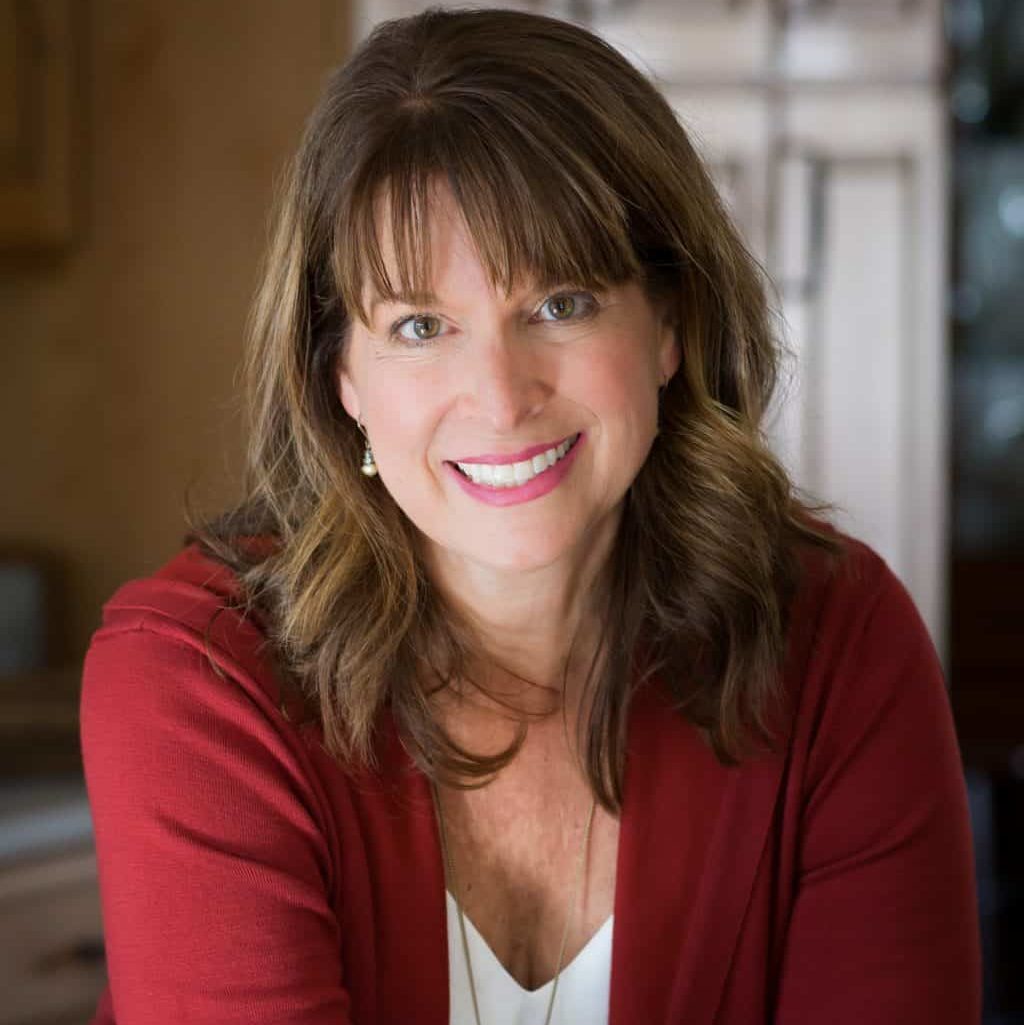 About Kathleen Pope
Recipe Innovator | Food Photographer | Food Writer
Hi, I'm Kathleen Pope. Here at The Fresh Cooky you will find easy, mostly from-scratch, trusted recipes for all occasions. From speedy dinners to tasty desserts, with easy step-by-step instructions. I am here to help teach you how to make mouthwatering recipes without spending hours in the kitchen. Read more about Kathleen here.