Easy Blueberry Limeade Drink
As an Amazon Associate, I earn from qualifying purchases. Please read my disclosure policy.
Ah summertime, the blueberries are plump, juicy and delicious, so why not make a cold, refreshing glass of Blueberry Limeade. This non-alcoholic Blueberry Limeade drink is easily made with blueberry simple syrup and your favorite limeade or lemonade. Making it a delicious and easy summer drink recipe!
Sometimes you just need a fun and special drink in the summertime and this blueberry drink is ideal for hot summer days when you need a light, cool and refreshing drink!
If you like this beverage, you will love these drinks: Strawberry Refresher, Copycat Starbucks Passion Tea Lemonade, this amazing Watermelon Slush or this vibrant and fresh Hibiscus Mojito (mocktail or cocktail!)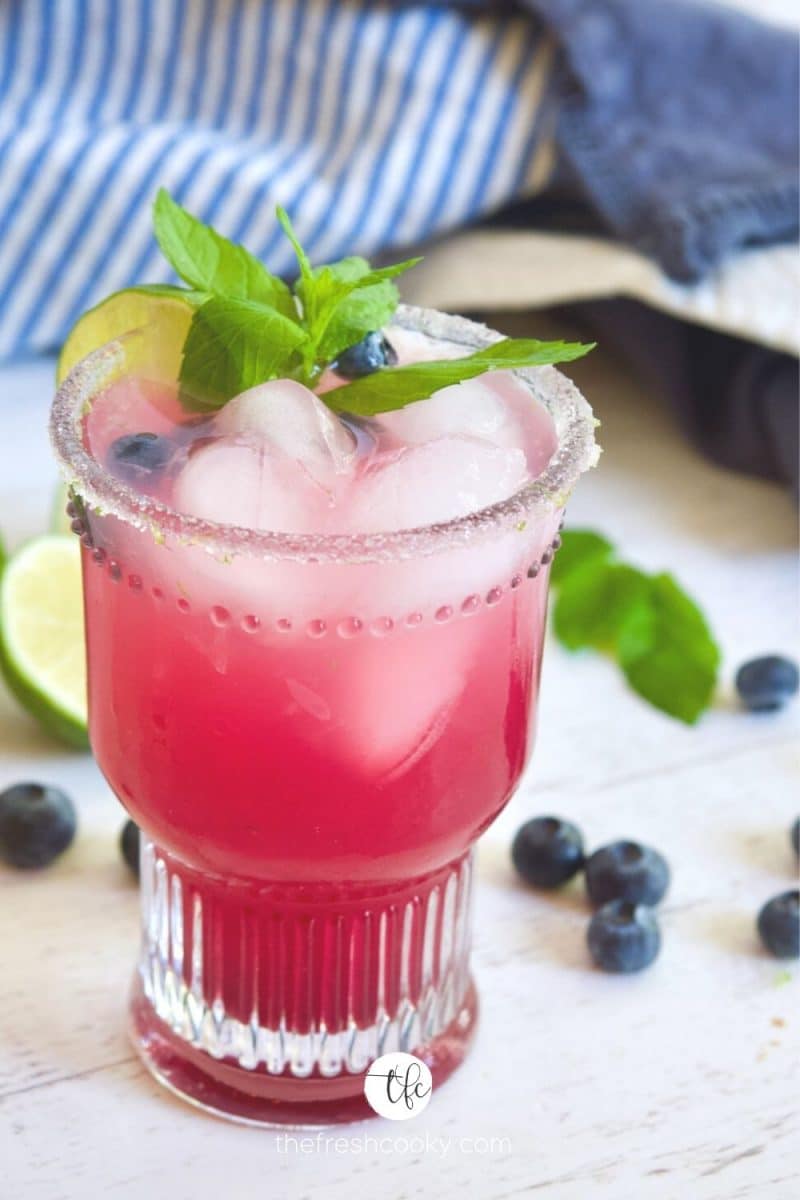 Why You Will Love this Blueberry Drink
What's not to love about a drink made with fresh blueberry simple syrup and mixed with sweet tart limeade!
USE YOUR FAVORITE LIMEADE | I used Simply Limeade for this drink, it's just the right amount of sweet tart ratio to me, but I also love to make this as Blueberry Simply Light Lemonade as well, for a lower calorie drink!
LOOKS FANCY | Using a lime sugared rim, fancies up this drink nicely and adding a few simple garnishes will make someone feel like they are drinking a delicious tropical drink.
EASY | Did I mention that it is really easy, once you have made up the blueberry simple syrup (recipe below) you can make this by the glass or by the pitcher for a fabulous poolside blueberry drink!
Ingredients
The ingredients are really simple, the hardest part is the 20 minutes it might take to make up the blueberry syrup, but I made that ahead of time, it literally will take you less than 2 minutes to make this refreshing lime drink!
Blueberry Simple Syrup | All you need is fresh (or frozen, but fresh is best) blueberries, sugar and water and a few minutes of time to make this super versatile simple syrup.
Limeade | As mentioned above, I used Simply Limeade, found in the chilled juice section of your grocery store. Easily swap this for Simply Lemonade, Simply Light Lemonade or your favorite lemonade or limeade.
Optional | Lime sugar for sugared rim, white or cane sugar, lime wedge and lime zest.
How to Make Drinks with Blueberries
Step 2 | Rim the glass with Lime Sugar
This step is optional, but adds a lovely surprise and makes the blueberry lemonade or limeade a bit fancier.
Place the sugar on a medium sized plate, using your fingers, rub the lime zest into the sugar, flavoring the sugar.
Step 3 | Assemble Blueberry Lemonade or Limeade
Measure (or eyeball) the blueberry simple syrup and pour over ice in glass.
Add desired amount of lemonade or limeade for your blueberry drink! Stir to combine.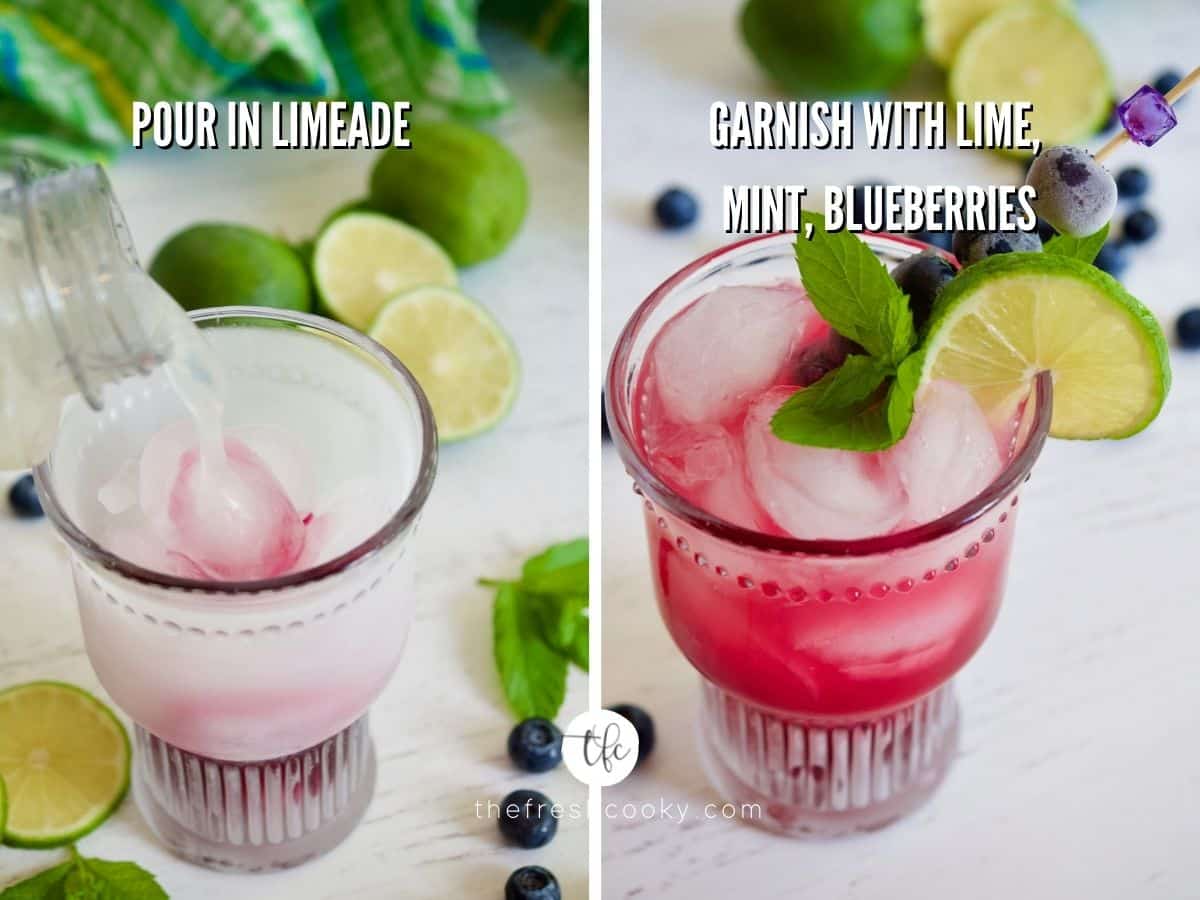 Tips & Substitutions
Don't like limeade? Swap with your favorite lemonade and make a delicious Blueberry Lemonade.
Make a Fizzy Refresher | Here are some fizzy suggestions; Limonata San Pellagrino, Sparkling Lemonade or Limeade, or even Pink Lemonade, Italian Lemon Soda.
Lighter Blueberry Drink | For a lighter drink you might like Limon Cello La Croix or the Key Lime La Croix.
Minty? | Muddle a few mint leaves in the bottom of the glass before pouring the blueberry simple syrup.
Garnish | For the look in the pictures, I placed fresh blueberries on a pretty skewer and froze them, use to stir the blueberry limeade and they will soften, but also get slightly slushy! YUM!
Blueberry Basil Lemonade | In the bottom of the glass before pouring in the syrup, muddle 1-2 basil leaves, then proceed as directed for a sumptuous and fragrant summer drink recipe.
Frequently Asked Questions
Can I make this a cocktail?
Yes! This blueberry drink would be delicious made with vodka and lemonade or limeade, it would also be delicious with tequila, crushed ice and whirring it in the blender for a smooth, blueberry margarita!
Can I use something other than blueberries?
Of course, we encourage you to Make It Yours on TFC, replace it with whatever berries you would like, or you might try using this tropical summer favorite Hibiscus Simple Syrup or this Strawberry Lime Syrup.
Is this drink with blueberries non-alcoholic?
It is! The original recipe is simply 2 ingredients, blueberry simple syrup and your favorite limeade or lemonade, making it a refreshing non-alcoholic beverage.
By the Pitcher Blueberry Limeade or Lemonade
You can easily make this delicious, bright and refreshing blueberry drink by the pitcher, in a punch bowl or beverage server.
Be sure to add plenty of ice to your container (try freezing the limeade or lemonade into ice cubes so it won't dilute it), then add 1/2 – 1 cup blueberry simple syrup and stir in 52-64 oz of your favorite lemonade or limeade.
Tuck plenty of fresh mint, slices of lemon or lime and a handful fresh or frozen blueberries for a gorgeous summer beverage.
More great blueberry recipes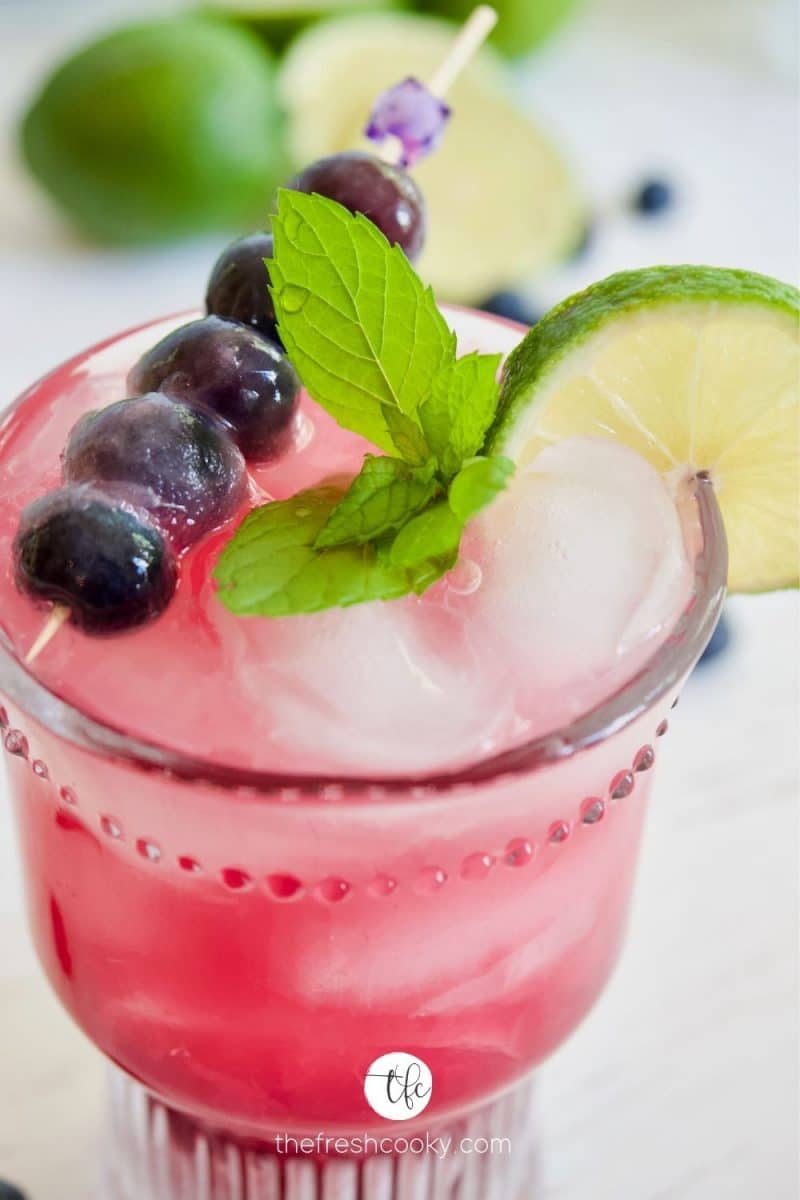 Summer Cocktail and Mocktail Recipes to enjoy
Like this recipe?
Don't forget to give it a ⭐️⭐️⭐️⭐️⭐️ star rating and comment below the recipe!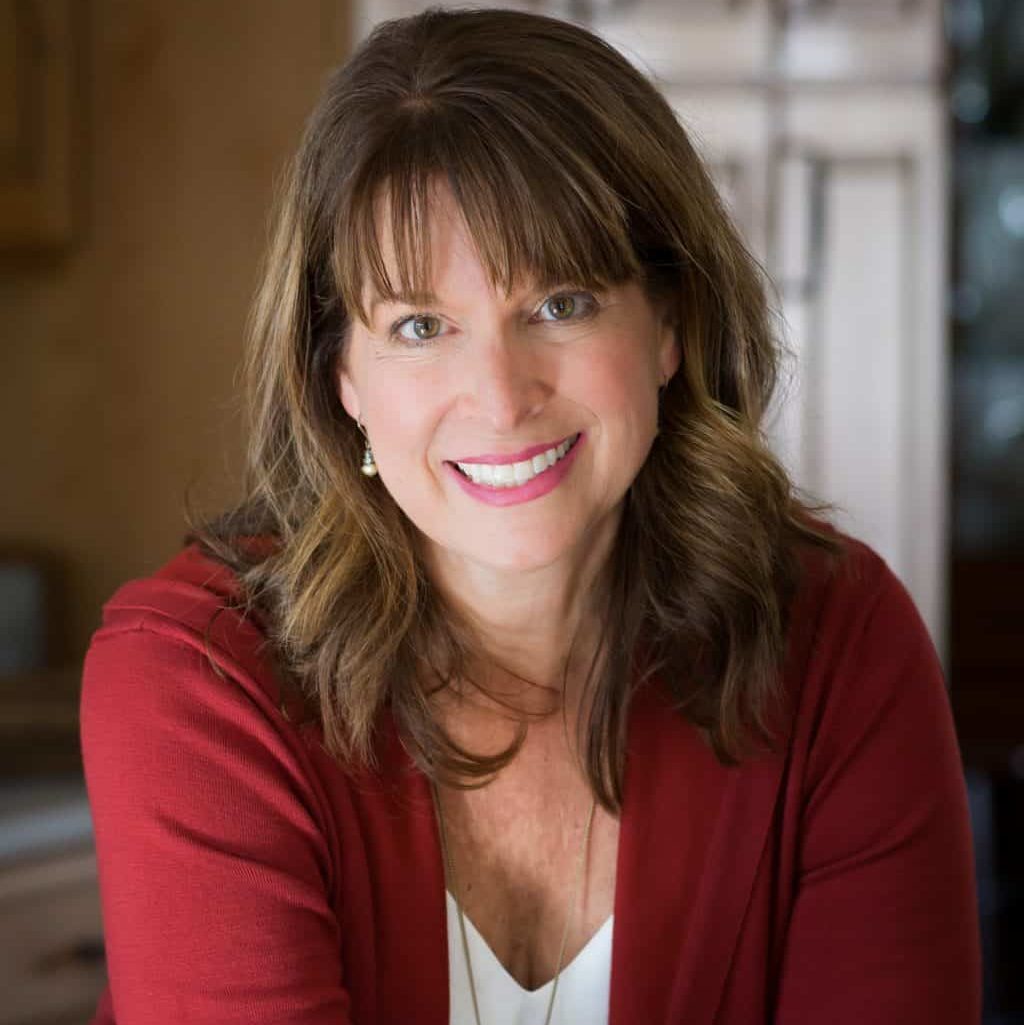 About Kathleen Pope
Recipe Innovator | Food Photographer | Food Writer
Hi, I'm Kathleen Pope. Here at The Fresh Cooky you will find easy, mostly from-scratch, trusted recipes for all occasions. From speedy dinners to tasty desserts, with easy step-by-step instructions. I am here to help teach you how to make mouthwatering recipes without spending hours in the kitchen. Read more about Kathleen here.