Oreo Crumbl Cookie | Crumbl Cookie Recipe
As an Amazon Associate, I earn from qualifying purchases. Please read my disclosure policy.
The number one selling Crumbl cookie recipe is the Chocolate Oreo. Nothing is better than a giant soft, fudgy cookie, with crushed Oreos in the batter, swirled with a creamy vanilla buttercream and sprinkled with more crushed Oreos! Grab an ice cold glass of milk and let's make these warm copycat cookies.
Love desserts made with Oreo crumbs? We do too! Try our favorite Mud Pie Ice Cream Cake, White Chocolate Peppermint Cheesecake, Oreo Cookie Crust and this amazing Lemon Cream Pie!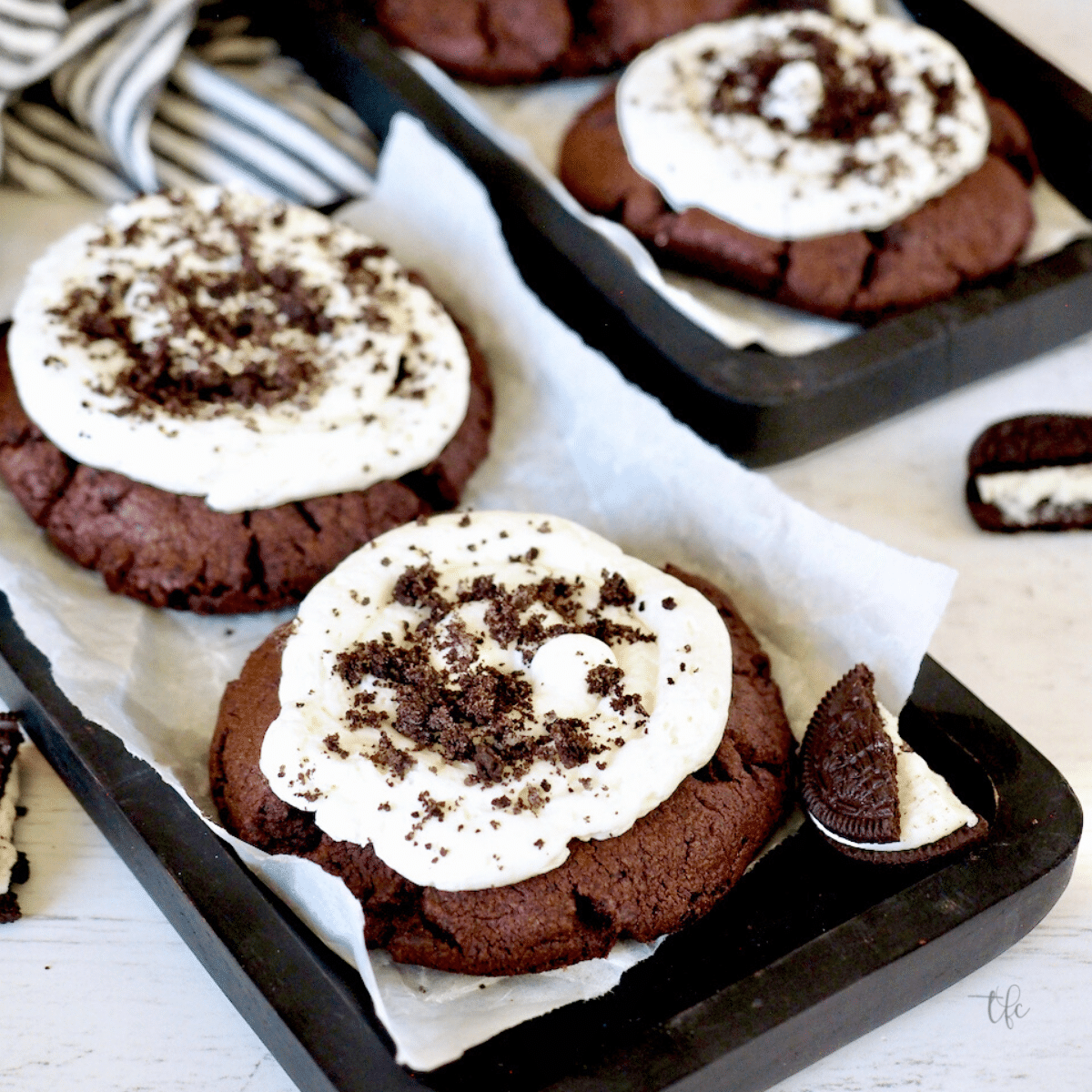 Why you will love Oreo Crumbl Cookies
Who doesn't love sinking their teeth into a soft, warm, chewy, fudgy and thick chocolate Oreo cookie?
The fluffy vanilla buttercream alone is worth making these cookies, in my opinion!
Having an Oreo Crumbl Cookie anytime the craving hits! No standing in line involved.
The Sweetest Season & Cookies for Kids' Cancer
I was inspired to bake these Christmas Oreo Cookies as part of a collaboration with Erin from The Speckled Palate for her annual The Sweetest Season a Christmas Cookie Exchange. This virtual cookie exchange raises awareness (and funds) for the non-profit organization, Cookies for Kids Cancer.
My niece died from a childhood cancer when she was just 5 years old; to say that is heartbreaking is an understatement! Whatever we can do to promote pediatric cancer research, especially less-toxic treatments is a win for me.
About Cookies for Kids' Cancer
Cookies for Kids' Cancer is a recognized 501(c)3 non-profit organization dedicated to funding research for new, innovative and less-toxic treatments for childhood cancer. Since 2008, Cookies for Kids' Cancer has granted nearly $17 million to pediatric cancer research in the form of 100+ research grants to leading pediatric cancer centers across the country. From these grants have stemmed 35+ treatments available to kids battling cancer today.
Cookies for Kids' Cancer is in a matching window with their friends at OXO, who will be matching every dollar raised through the end of 2021, up to $100,000. Whatever money we raise will automatically double on our fundraising page! If you feel so inclined, your gift would be matched!
I have participated once before with these easy Salted Chocolate Graham Bites, still a holiday winner!
Crumbl Cookie Recipe Ingredients
Full measurements and instructions are in the printable recipe card at the end of the post.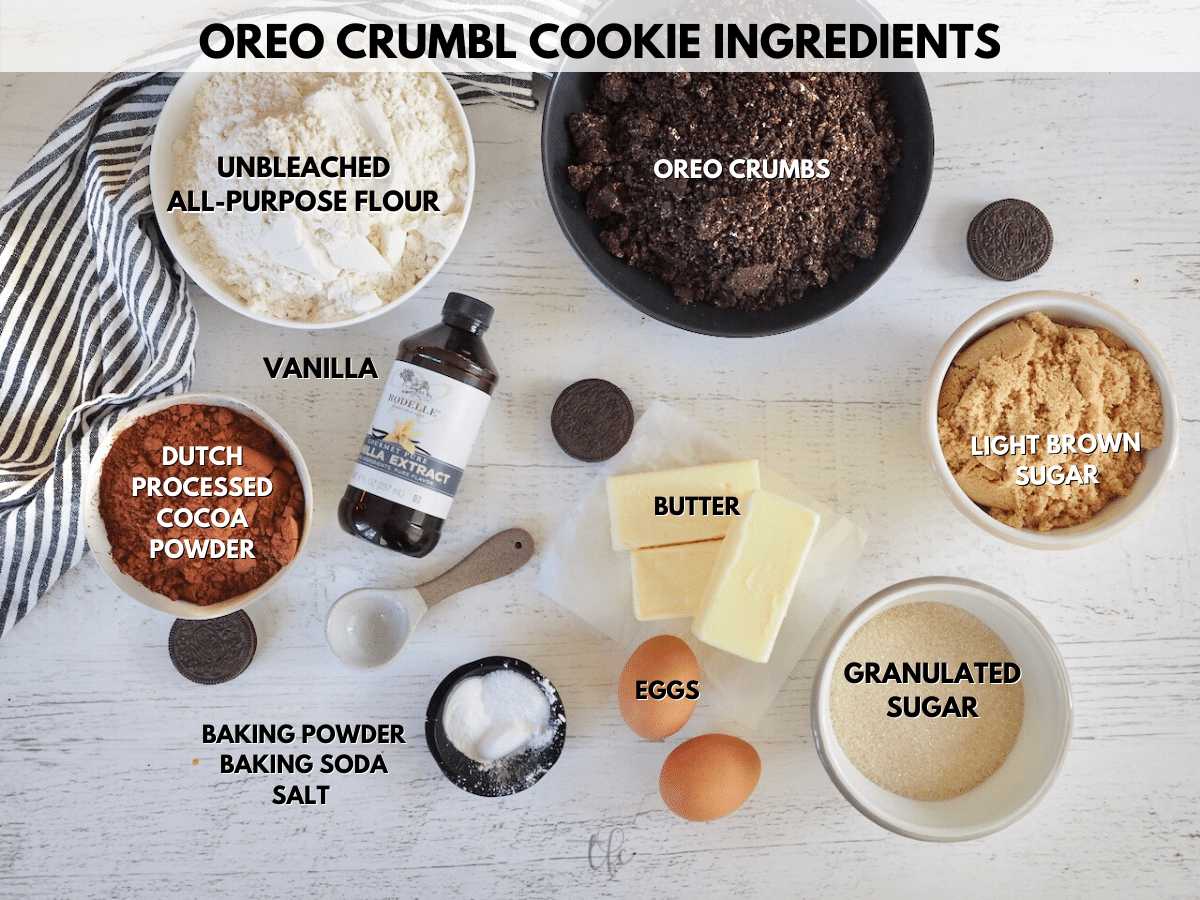 Oreos | I buy Family size Oreos, read below for regular or double stuffed. Other chocolate sandwich cookies may be used.
Cocoa Powder | When testing this recipe, I tried both regular cocoa powder (Dutch Processed) and dark or black cocoa powder, they both worked well, but I honestly preferred Rodelle Cocoa Powder, it is the best!
All-Purpose Flour | I love to use King Arthur's organic unbleached flour in all my baking for its wonderful results.
Sugar | You'll need both granulated and brown sugar for this recipe, giving it the distinctive chewy texture.
Eggs | Bring these to room temperature while you prep your ingredients, we use large eggs.
Butter | Real butter makes all the difference for both flavor and texture in your baking. Remember nothing soft coming out of the fridge!
Vanilla Extract | When I run out of my own vanilla extract, I love using Rodelle Vanilla, so rich and delicious!
Buttercream Ingredients | Additional (real) butter, powdered sugar, vanilla extract and a little cream or milk.
A quick note about trademarks: Crumbl is a national cookie bakery chain, with locations throughout the United States. And Oreo is a brand of creme-filled sandwich cookie, consisting of two (usually chocolate) wafers with a sweet crème filling, owned by Mondelez International. I want to be clear that there is no affiliation or brand relationship between these two companies and The Fresh Cooky, other than we appreciate their product offerings.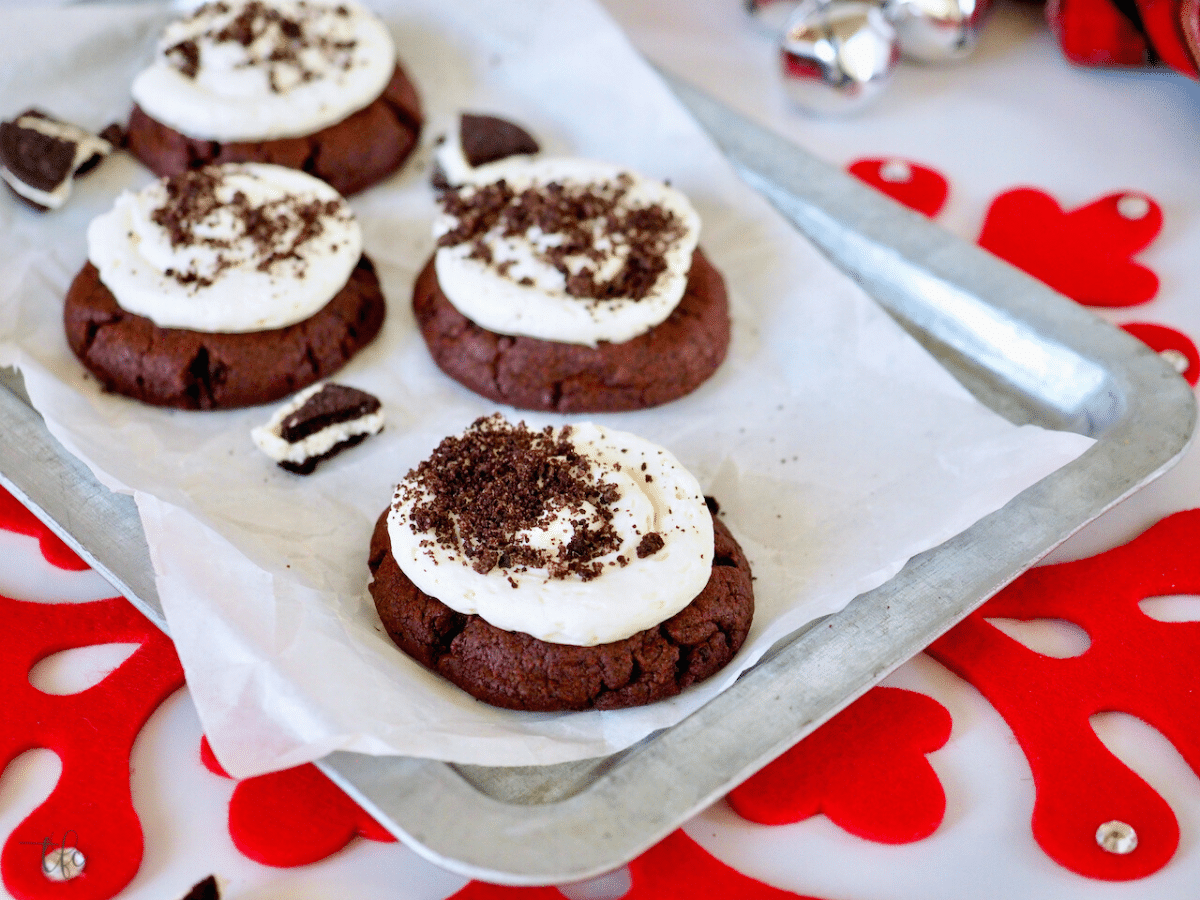 What are Crumbl Cookies?
The fastest-growing cookie company in the nation, that's Crumbl cookies! I was thrilled when Crumbl cookies came to our city. As a born cookie snob, I had heard about these amazing, giant cookies from friends in Utah, where Crumbl Cookies started back in 2017.
My first Crumbl copycat cookie recipe, was with my Crumbl sugar cookie recipe, which tastes just like the Crumbl version! While I love supporting small (or rapidly growing) businesses, I cannot necessarily afford to buy these cookies weekly, plus hello, from scratch cookies!
Equipment we used to make Oreo Crumbl Cookies
Tips for the best Copycat Crumbl Cookies
Use the best quality ingredients you can afford, especially when it comes to your flour and cocoa powder.
Use real butter; in all of our cookie baking we always use real butter, my motto is, "if it is soft and spreadable out of the fridge, it's a blend and not real butter"
Preheat the oven ahead of time and bring ingredients to room temperature, if you forget to take your eggs out, simply submerge them in a bowl of warm (not hot) water for 5-7 minutes.
DO NOT OVERBAKE! The number one reason for dry or cakey cookies is overbaking. Remove them just as they turn a dull color and have spread a bit. Trust the process and do not overbake! Like this tried and true Chewy Chocolate Chip Cookie recipe. The soft oreo cookie will set and firm up as they cool.
Do not overmix! Another big mistake, if your cookies are coming out cakey you are either overbaking or overmixing the dough. Just mix the dry ingredients in until combined and not on high, the longer you beat your dough the more it will release the glutens which can make a cakey cookie.
Regular or Double Stuff Oreos? When I tested my second batch of these cookies, someone (hmmm) had eaten all but 4 of my regular Oreos, so I found a package of double stuff and gave them a try — I kinda liked the CHocolate Oreo cookies even better!
How to Make Crumbl Cookie Copycat Recipe
Step 1 | Prep Ingredients
Remove ingredients from fridge and allow to come to room temperature and measure out dry ingredients.
Crush Oreo cookies in a food processor (my favorite way) or by placing in a thick baggie and using a rolling pin to crush the cookies pretty fine, a few chunks here and there are fine, but you don't want them too chunky.
Fresh Tip
How many Oreos makes a cup of crumbs? 12 Oreos equals 1 cup of crushed Oreo crumbs, so for this recipe you will need approximately 30 cookies. Add a few extra to accommodate the sprinkling on the cookies. Double stuff will yield a greater volume.
Step 2 | Making the Crumbl Cookie Dough
With the paddle attachment, add butter to stand mixer and mix on medium speed until light and fluffy, 1-2 minutes.
Add granulated and light brown sugar and cream for 2-4 minutes on medium speed, scraping down sides once. Until it is light, fluffy and creamy. I use all-natural cane sugar in my baking, which is a bit more coarse, so I always cream on the longer side.
Add eggs one at a time, mixing 1 minute for each addition, add in vanilla extract. Scrape down the sides of the bowl.
Stir together flour, cocoa powder, baking soda, baking powder and salt using a fork or a whisk. Add to creamed mixture (mixer on low/stir) ⅓ cup at a time. Stopping occasionally to scrape the sides of the bowl.
*HIGH ALTITUDE ONLY add 1 tablespoon of water alternately between flour mixture additions, more details below.
Slowly mix in crushed Oreo crumbs, mixing only until combined — do not overmix.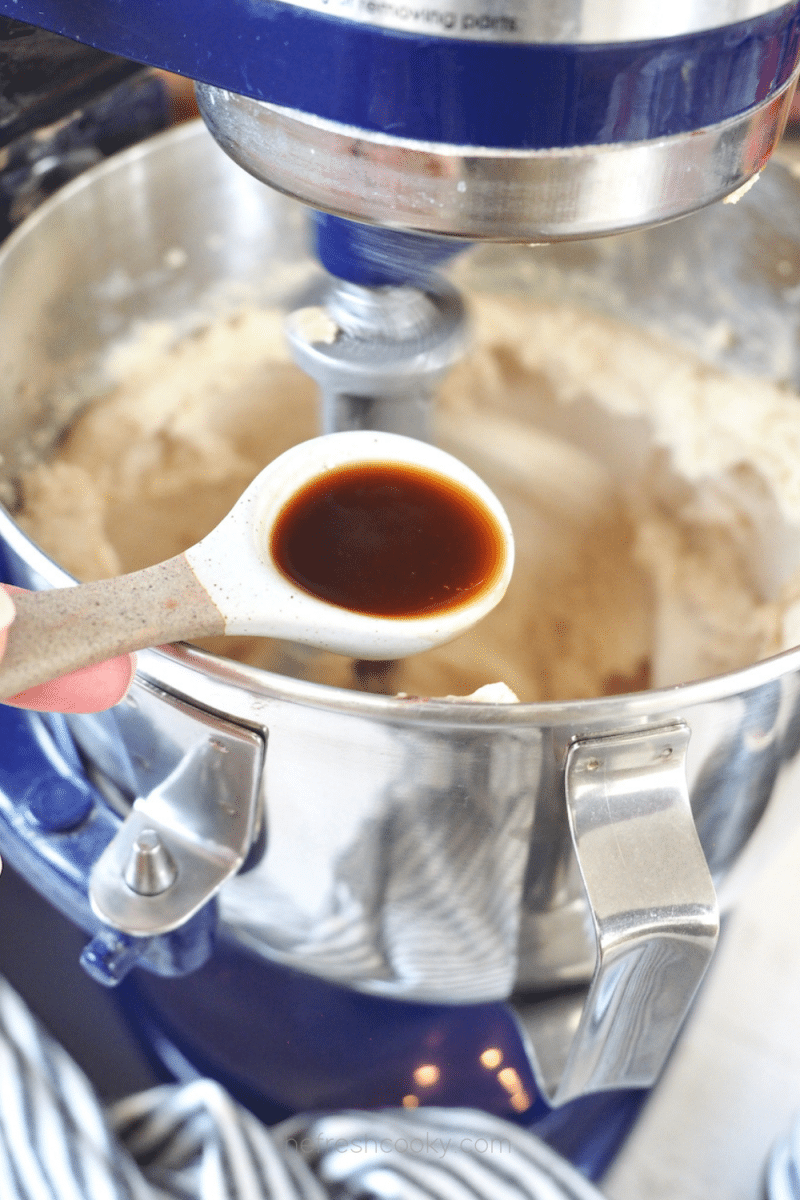 Step 3 | Forming Giant Chocolate Oreo Cookies
You may choose to make giant Crumbl cookie sized Chocolate Oreo cookies, or smaller — just be sure to adjust the scoop size and baking times, notes in recipe card.
Use a large cookie scoop and scoop two generous balls of cookie dough (about ½ a cup), shape with your hands into a large ball and place on parchment lined cookie sheet. Place 6 large cookie dough balls 2 or so inches apart on each pan.

Using the back of a tablespoon gently press down into the center of the cookie dough making a well (I actually watched the bakers at Crumbl cookie doing this step), this allows the cookie to spread correctly and the center to bake. Do not skip this step.
Bake at 350F degrees (375 for high altitude) for 10-12 minutes. I baked for 11 minutes at high altitude, you may need to bake a minute longer at sea level or lower elevations – DO NOT OVERBAKE. Take out of oven once they have spread and look dull.
Remove from oven and allow to cool 20 minutes on the pan, placed on cooling rack (they will continue to bake and firm up); meanwhile make the buttercream frosting.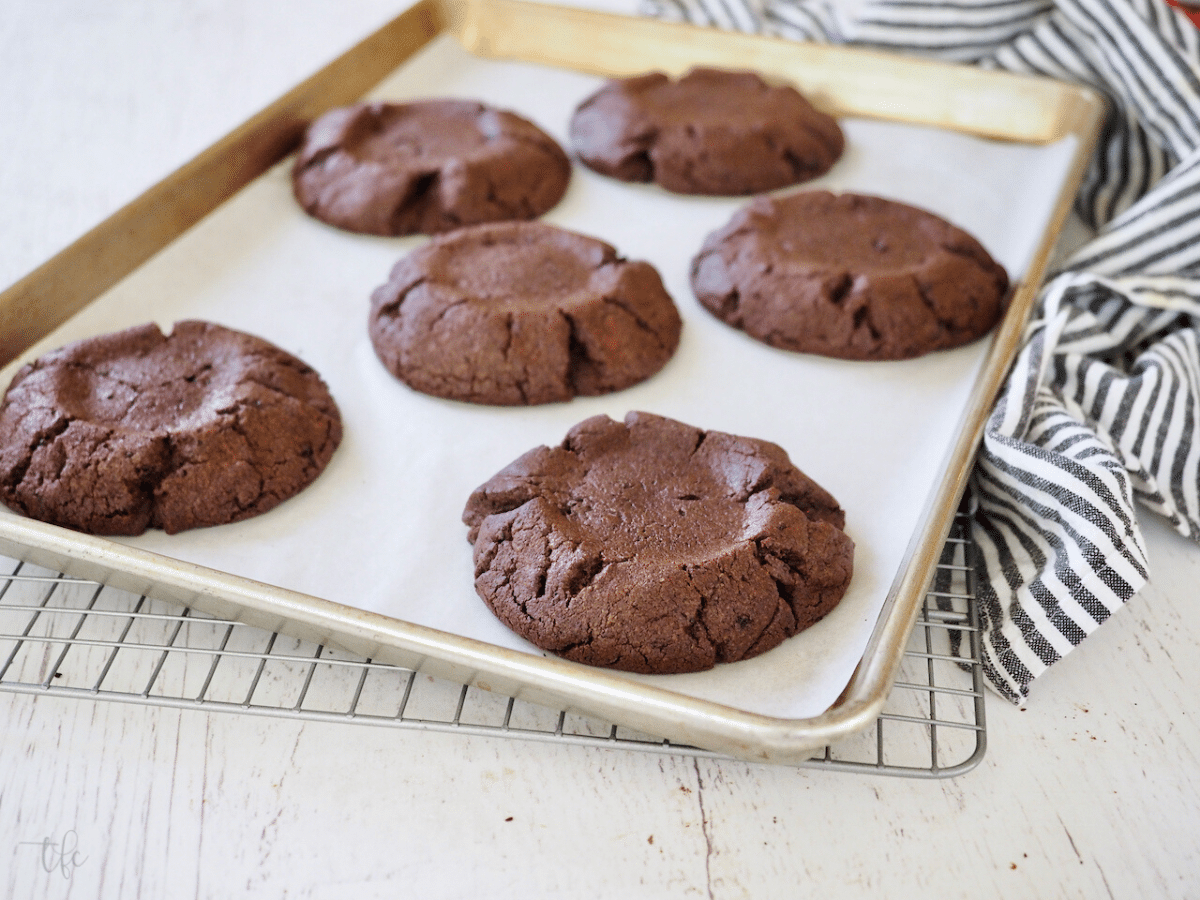 Step 4 | Make Vanilla Buttercream and Frost Cookies
While the cookies are cooling for 20 minutes, beat butter until light and fluffy, then slowly add powdered sugar alternately with cream/milk; add vanilla extract or vanilla bean paste and whip on medium until combined, then increase speed to high and beat for 1-2 minutes.
Scoop buttercream into a gallon sized baggie or large piping bag and snip off ½-¾ inch of the corner or tip or use a piping tip (I like this Wilton Starter Set) and pipe frosting onto slightly cooled cookies in a swirl pattern. Or if preferred you may use a small cookie scoop and spread the frosting on.
Sprinkle a few additional crushed Oreo crumbs on top.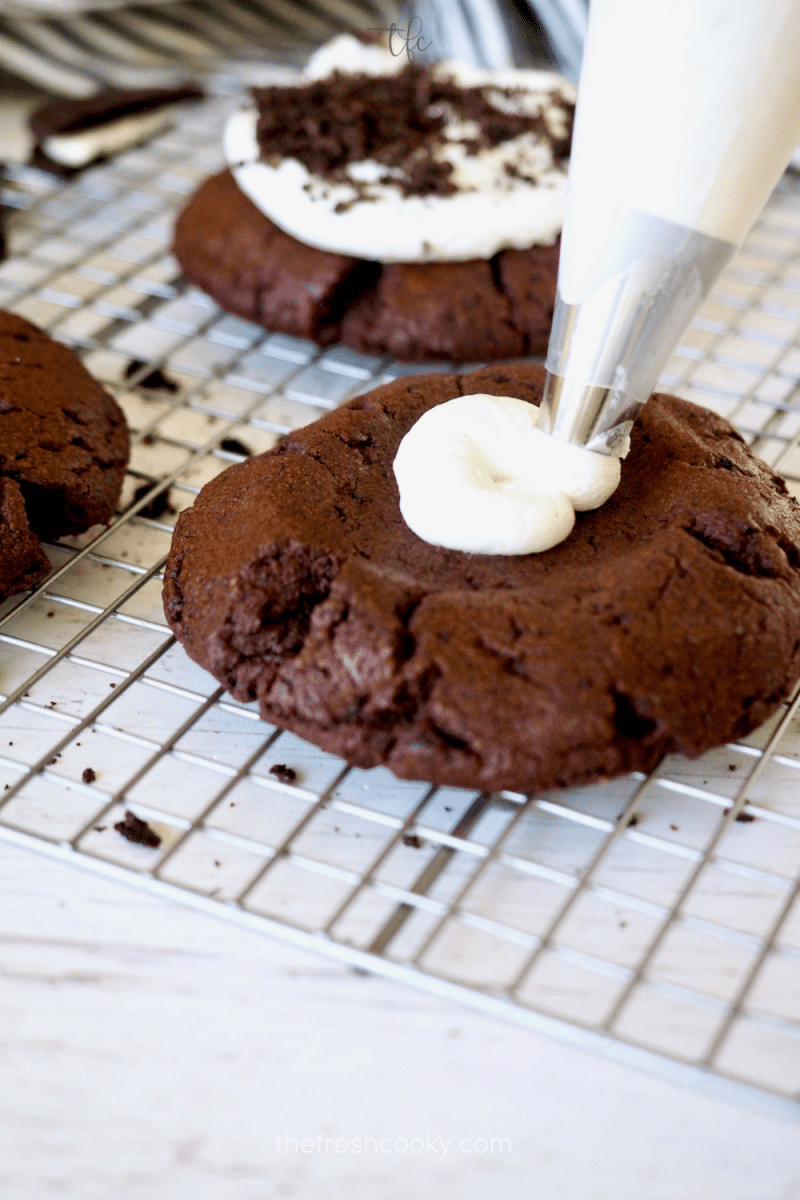 Variations on Crumbl Cookie Recipe
High Altitude Crumbl Cookie Recipe
In the printable recipe card at the end of this post, I provide the high altitude ingredient adjustments.
A slight increase to flour, reduction of sugars, and reduction of baking soda and baking powder and a little addition of water. Combined with an increased oven temperature and reduced baking time, these Oreo cookies came out perfectly!
Gluten-Free Crumbl Cookies
Even Crumbl has not made it's way into gluten-free cookies; however; I think you could be pretty successful by making these adjustments for a soft, chewy gluten-free Crumbl cookie.
Use the new Gluten-Free Oreo cookies in place of regular Oreo cookies, crush and use as directed. Replace the flour with 2 cups of a quality Gluten-Free cup for cup all-purpose flour and the additional cup (or 1 ¼ cups for high altitude) super-fine almond flour.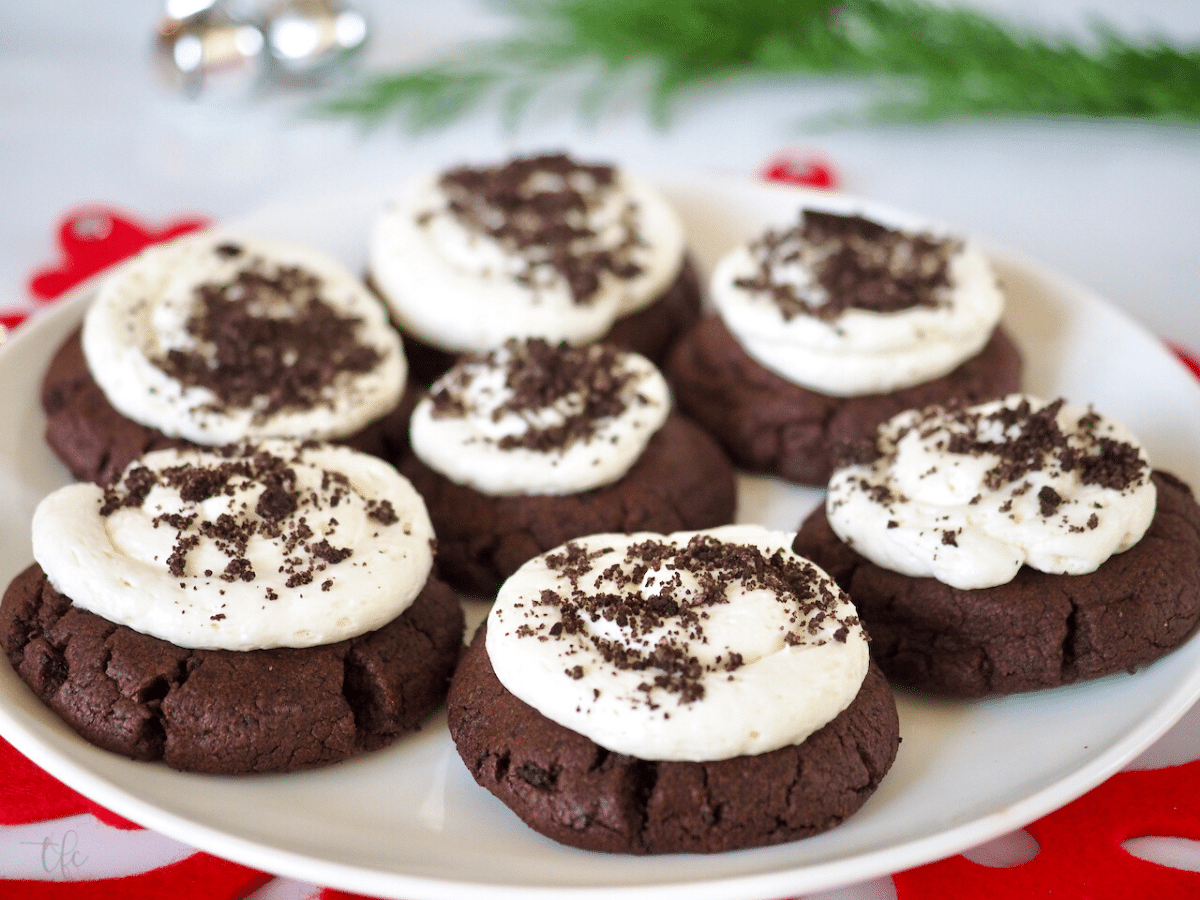 TFC Pro Tips
Cool baking sheets | Not cool like "the Fonz" (dating myself), but temperature cool; if you put cookie dough on hot or warm cookie sheets your cookies will spread too quickly. If you need to quickly cool them (after the Crumbl cookies have cooled on them for 20 minutes), run under cold water, until cool to the touch. Dry and reuse.
Oven Temp | Every oven heats differently, check your oven using an oven thermometer — mine consistently runs 25 degrees hotter.
Frequently Asked Questions
Can I make smaller Oreo Crumbl Cookies?
Yes, in fact, I made one batch (6) ginormous, shareable cookies and the rest I made using a large cookie scoop, still a very generous sized cookie.

Instead of using a tablespoon to press the centers, use your palm and gently press until about the size and thickness of a hockey puck. Bake for about 8 minutes.
What is the best way to store Crumbl cookies?
Don't stack frosted cookies if you don't want them smooshed. Store in large airtight containers (these are my favorites), in a single layer. If unfrosted, store with layers of parchment or waxed paper between cookies. Store on countertop for up to 7 days.
Can I freeze Crumbl Cookies?
Yes, and they will stay fresher longer and out of site, meaning a little safer for the wasteline! Haha!

To freeze unfrosted cookies, layer cookies between parchment or wax paper, freeze in airtight baggies or containers for up to 3 months.
To freeze frosted Oreo cookies | lay on baking sheet and flash freeze for one hour, uncovered. Then place in airtight container, layering with parchment if desired. Keeps frozen up to 3 months. To thaw, remove from freezer, overnight in fridge, bringing to room temperature before serving.
Can I freeze buttercream frosting?
Frostings freeze beautifully, yes, freeze in an airtight container up to 3 months. To thaw, bring to room temperature then whip using a whisk or mixer to bring to the right consistency.
Can this recipe be cut in half?
You may halve this recipe, but honestly, I suggest you make the whole recipe, and freeze the soft Oreo cookie dough. See my post on freezing and gifting cookie dough for more details.
Crumbl Cookie Calories
Remember that these are an indulgence, not an everyday occurrence! A shareable cookie! I usually cut ours in fourths, making for a more calorie acceptable treat.
If you really want to know Oreo Crumbl cookie calories, pop down to the printable recipe card, all of the nutritional information and calories is included there.
Serving Suggestions for Oreo Crumbl Cookies
These copycat Crumbl cookies are best served warm, but will still be delicious eaten at room temperature.
These make fantastic Christmas Oreo Cookies, add to a Christmas cookie gift basket and make someone's week — maybe their month! I would love for these to show up at a Christmas cookie exchange, Valentine's day party or in my lunch box!
And of course, since Oreos are "milk's favorite cookie" you should consider serving these with a healthy glass of ice cold milk!
Ways to Use Crumbl Cookies
Package cookies in individual cello bags, tie with a ribbon and give to your neighbors as a decadent treat.
Christmas cookie gift baskets, these make a fantastic Christmas Oreo cookie surprise for anyone!
Class parties, Valentine's day, and don't forget how great these would be at a wedding dessert bar or bridal or baby shower.
LOVE IT? PIN IT!
Try other cookie recipes
Like this recipe?
Don't forget to give it a ⭐️⭐️⭐️⭐️⭐️ star rating and comment below the recipe!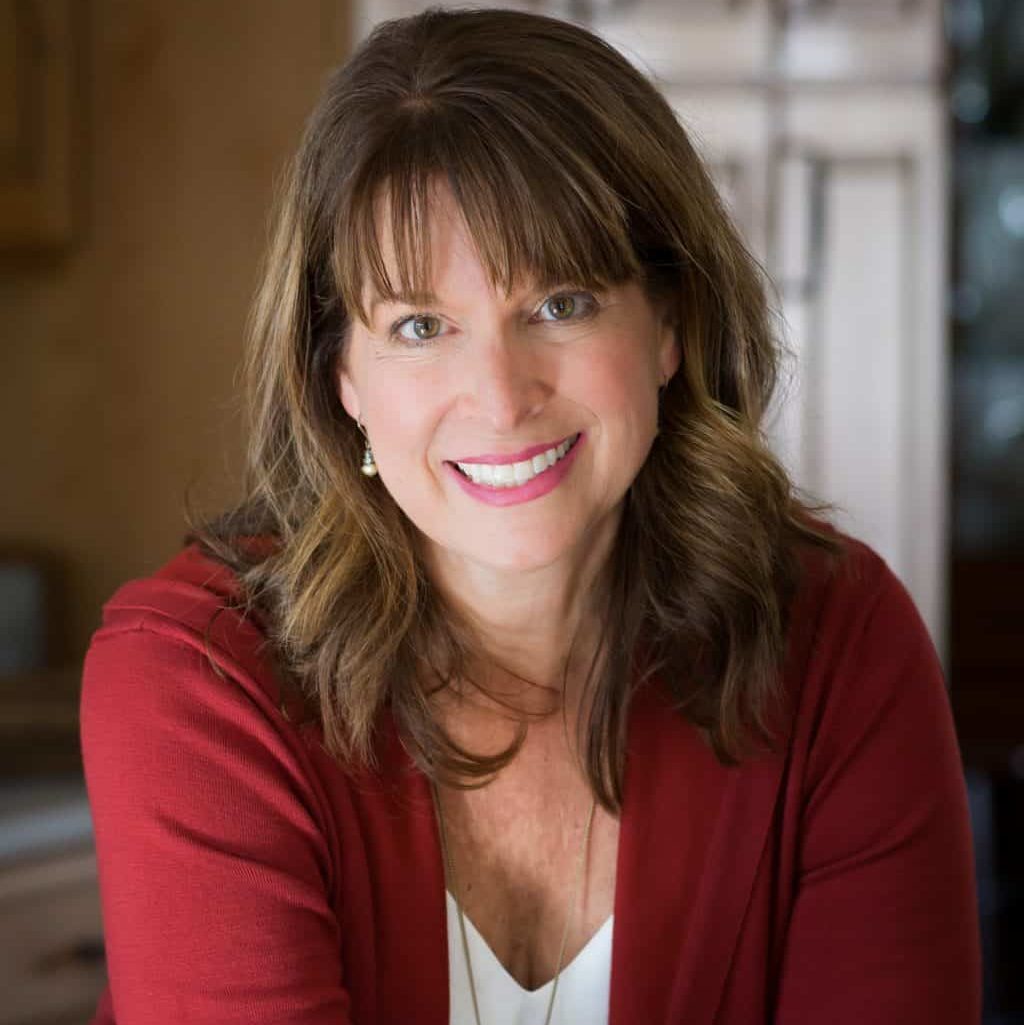 About Kathleen Pope
Recipe Innovator | Food Photographer | Food Writer
Hi, I'm Kathleen Pope. Here at The Fresh Cooky you will find easy, mostly from-scratch, trusted recipes for all occasions. From speedy dinners to tasty desserts, with easy step-by-step instructions. I am here to help teach you how to make mouthwatering recipes without spending hours in the kitchen. Read more about Kathleen here.