Best Oreo Dessert Pudding (Oreo Delight)
As an Amazon Associate, I earn from qualifying purchases. Please read my disclosure policy.
My Oreo dessert pudding recipe features one delicious, indulgent layer after the next. A buttery Oreo cookie crust, a pillowy whipped cream and cream cheese layer, and rich, thick chocolate pudding all come together for an absolutely heavenly dessert! The best part, this is a No Bake Oreo Pudding Pie and there's no Cool Whip! One of our favorite desserts.
Oreo dessert pudding is a classic treat — and a total crowd pleaser at that, it will become your new favorite dessert too! Though this recipe makes enough for 12-20 people, everyone comes back for seconds. It's that good!
We love Oreo desserts in this house, you have to try my Copycat Oreo Crumbl Cookies or Easy Peppermint Chocolate Ice Cream Cake or this Oreo Cheesecake Recipe.
What's different about my Oreo dessert? No Cool Whip! I use homemade Cool Whip that is beyond delicious and takes no time at all. You can always go with store bought instead, but don't! I promise that it's worth the quick extra step and is healthier for you! A heavenly Oreo dessert!
In a chocolate mood and feeling a bit adventurous? You have to try my to-die-for Traditional Tiramisu, also a no bake dessert!
You can also check out my chocolate pudding pie recipe for another super easy no-bake chocolate pie. Give it a try! Or if you are just looking to make your own Oreo crust, check out my recipe for premade Oreo pie crust.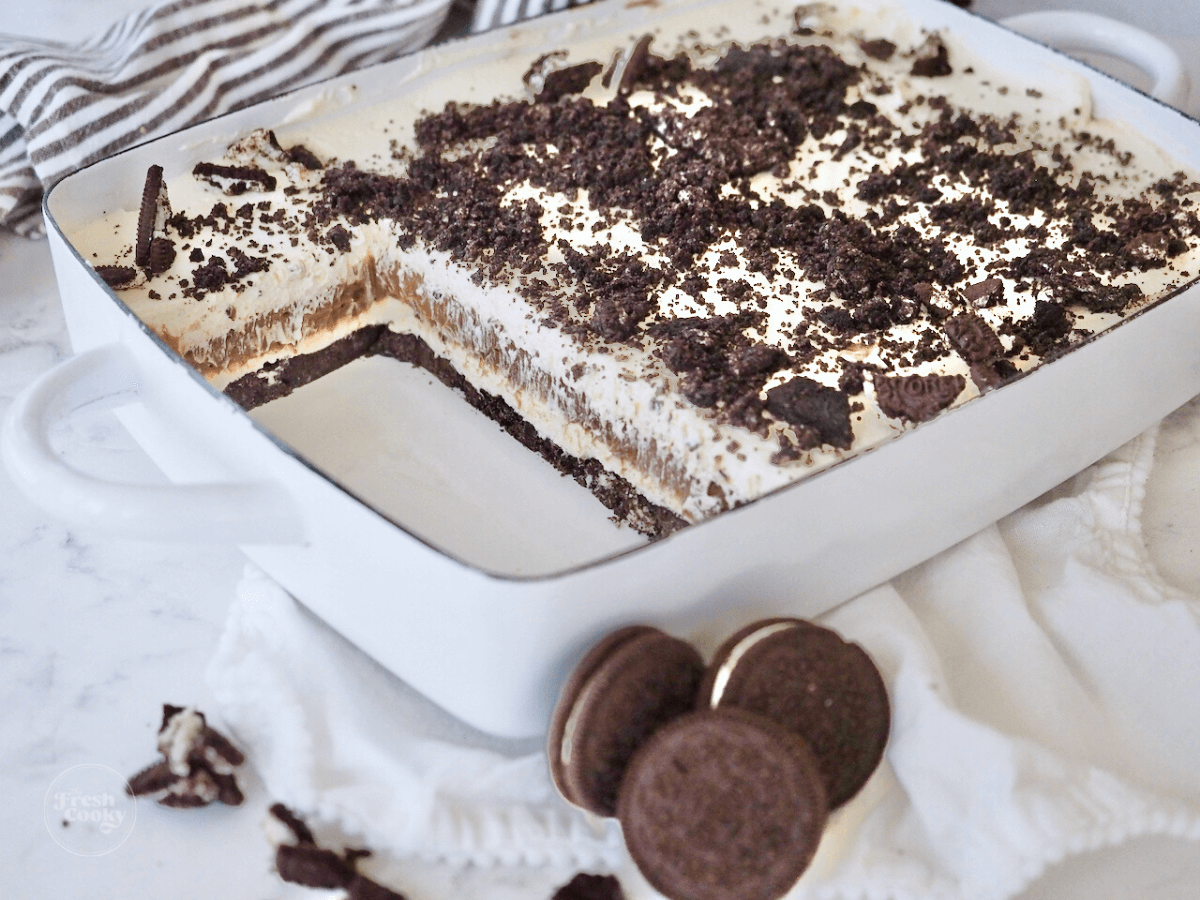 Why You Will Love This Oreo Dessert Pudding!
Simple Ingredients Oreo Pudding Pie Recipe
The full ingredient list and instructions are below in the printable recipe card.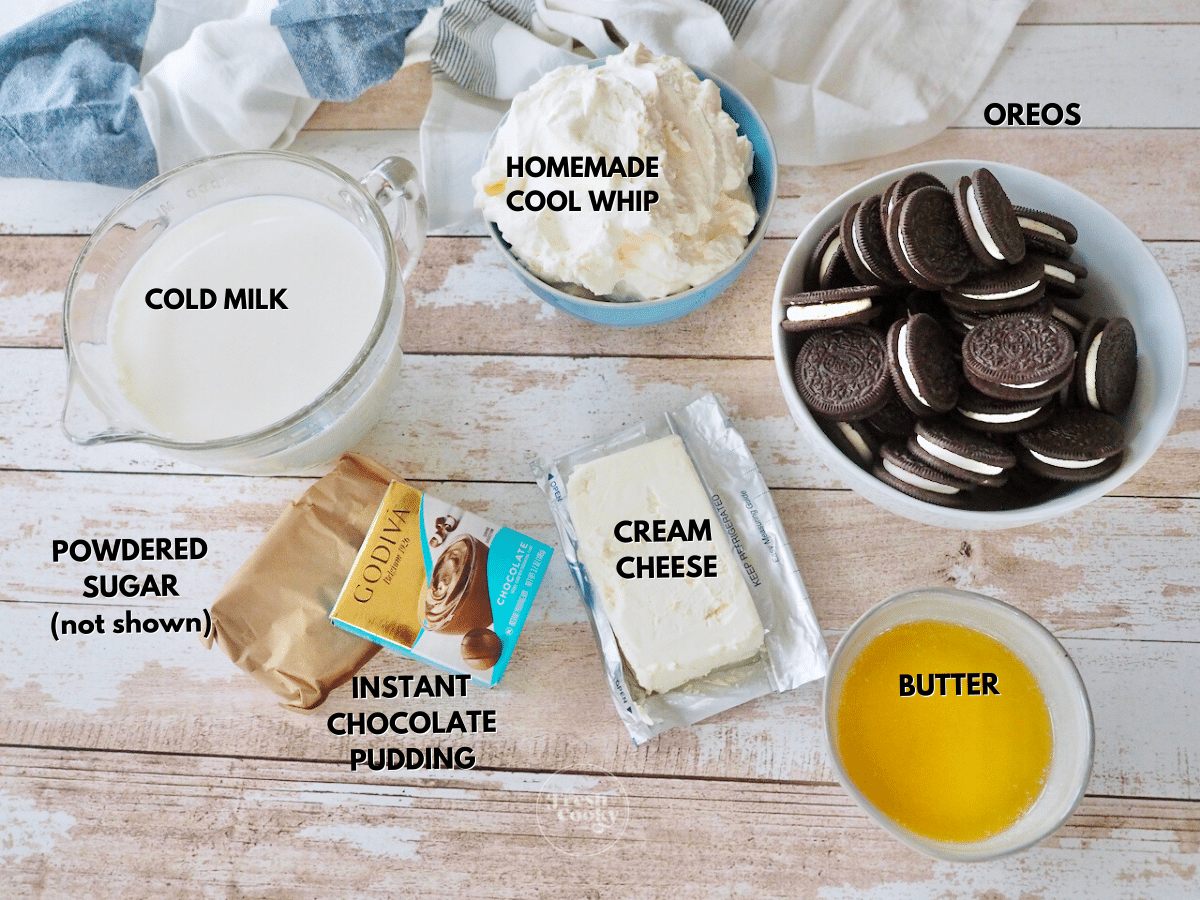 Oreo Cookies (regular or double stuff) | You will need one family size pack
Butter | regular or unsalted, I use regular. I tend to like my baked goods with a bit more salt
Heavy Whipping Cream | I used organic, this is in place of Cool Whip
Cream Cheese | Regular or Neufchatel works fine here, try plant based too!
Powdered Sugar | Also called confectioners sugar and icing sugar
Instant Chocolate Pudding | I love Godiva instant pudding, but use different brands, I also love these Organic pudding mixes
Vanilla Extract | Make your own vanilla extract! Or try this dreamy Rodelle Vanilla Extract.
Cold Milk | I use whole milk, but other percentages may be used
Instructions for Oreo Delight
Step 1 | Prepare the Oreo Cookie Crust
Prepare the crust by crushing Oreos in a food processor, with mostly fine crumbs, leaving a few big chunks for some texture.
You can also simply put the cookies in a baggie and use a rolling pin to turn into a crumble. Also, reserve some of the crushed cookies to use as a topping.
Fresh Tip
Reduce the butter to 1/4 cup, the crust may not stick together as well, but it will still be delish!
Combine the crushed Oreos with melted butter, then press the crust into the bottom of your baking dish. Refrigerate for later.
Step 2 | Make Homemade Cool Whip
Using a wire whisk, or whisk attachment whip the heavy cream, either with a stand or hand mixer, until you see soft peaks begin to form. Turn the mixer to low and incorporate small amounts of powdered sugar* at a time.
Add the vanilla extract and continue whisking until the stiff peaks form. Transfer to the fridge until it is needed during the next step.
Fresh Tip
*You don't need much sugar, as this dish is rather sweet. In fact, I've drastically reduced the sugar normally found in Oreo desserts! Win-win without compromise!
Step 3 | Make the Cream Cheese Layer
In a separate mixing bowl, beat your room temperature cream cheese. Once it becomes light and fluffy, add up to ¼ – ½ cup of powdered sugar and continue beating until it has a smooth, pillowy texture. Gently fold in half of the whipped cream with a rubber spatula until well combined.
Using an offset spatula, spread the cream cheese mixture over the chilled Oreo crust, then return it to the refrigerator.
Step 4 | Chocolate Pudding Layer
Now prepare the creamy chocolate pudding. Pour milk and instant pudding into a large bowl and whisk — I like to use my mixer for this step as well.
Once combined, let it sit for 5 minutes to thicken, then spread it over the whipped cream (aka homemade Cool Whip) layer.
Step 5 | Final layer and finishing touches
Finally, spread the remaining homemade Cool Whip on top and sprinkle with leftover cookie crumbs. Cover with plastic wrap and refrigerate for at least 4 hours before serving.
If desired, break up a few more Oreo cookies to spread along with the leftover crumbs, or try adding some white and or dark chocolate shavings to the top as well.
Ta-da! A gorgeous, feed a crowd, make-ahead, no-bake Oreo dessert pudding you and your guests will love!
Gluten-Free Oreo Dessert
Use the new Gluten-Free Oreo Cookies and the rest is history! Everything else is already gluten-free, so dig in if you are gluten free and enjoy this gluten-free dessert!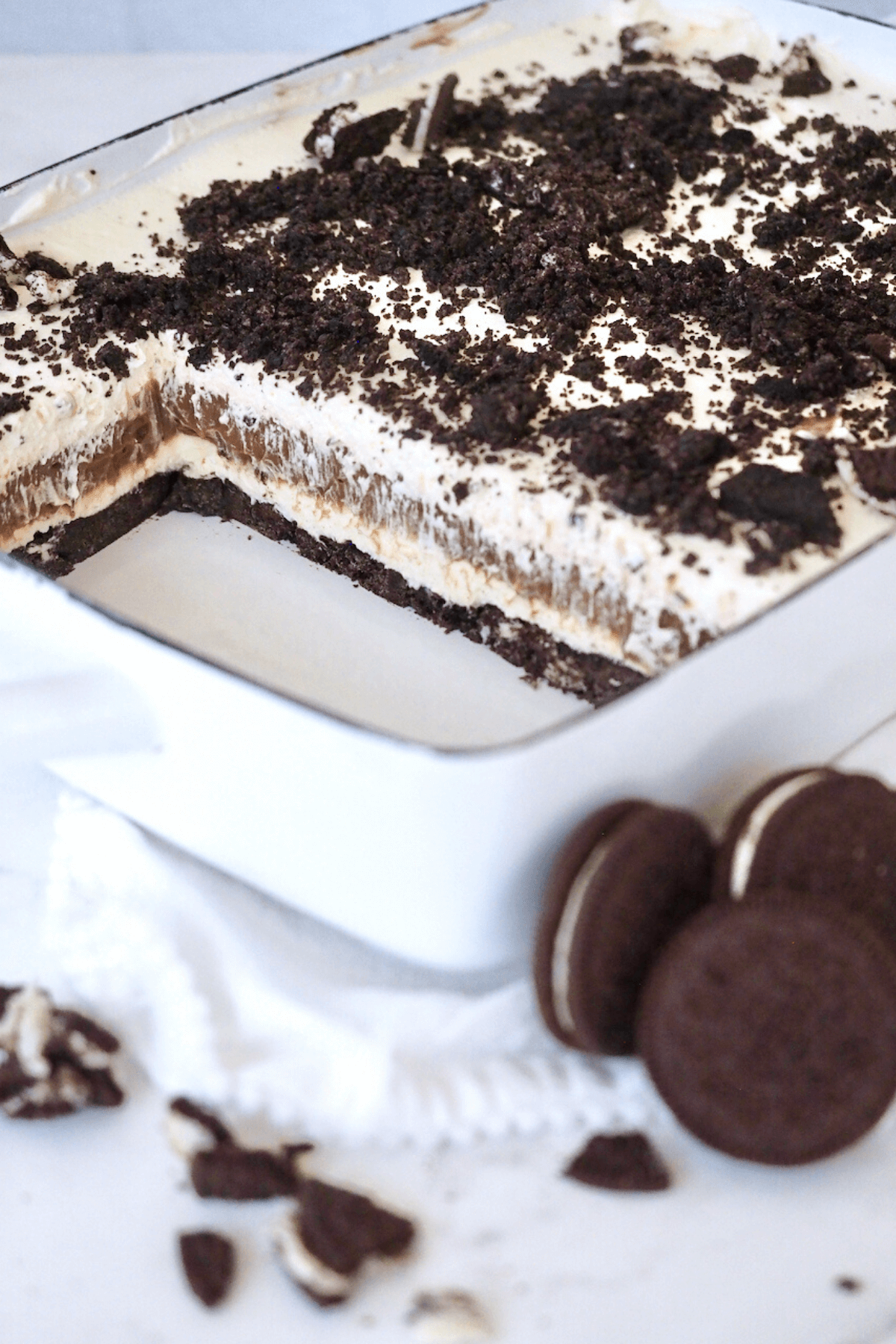 Variations & Substitutions
Fresh Tips
This recipe takes 4 hours to set up in the refrigerator before serving, so give yourself plenty of time when making it! It's best to prepare this the night before.
Replace the Oreo cookies with the new gluten-free Oreo's.
Make the homemade whipped cream within 30-60 minutes before preparing so that it's nice and fresh. And take care not to over-mix, or else you'll end up with butter!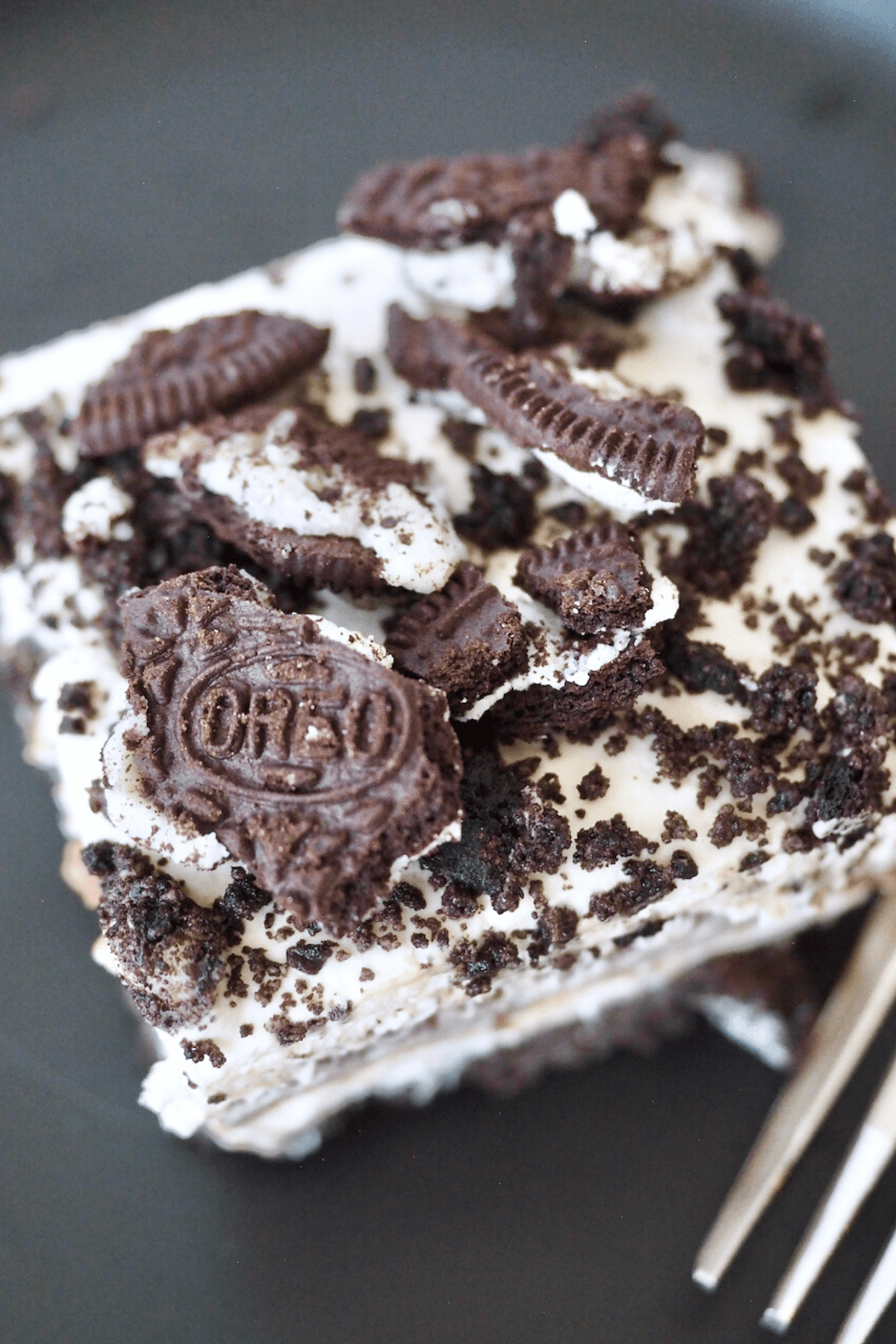 Frequently Asked Questions
Can I use store bought Cool Whip in Oreo dessert pudding?
You can, but I really recommend making homemade whipped cream! It's absolutely delicious and takes very little time to whip up — no pun intended. Plus no yucky ingredients!

If you go with store bought whipped cream, be sure to use Cool Whip or Whipped topping that comes in a tub and not a spray can.
How many packs of Oreos do I need to make Oreo pudding pie recipe?
You need at least 40 cookies, so one family size pack would be perfect. The regular packs don't have enough, so you would need at least two.
Can I freeze this Oreo dessert pudding?
Absolutely! This dish actually stays well for weeks in the freezer, making it great to prepare in advance. Enjoy frozen or may thaw in fridge if desired, though consistency may change.
Are Oreo Cookies Vegan?
From my research, yes, Oreo cookies are now and always have been vegan!

Want to make this Oreo dessert dairy free? Use coconut based whipped cream, plant based cream cheese, use a plant based milk to make your pudding and you are all set! Let me know if you try it!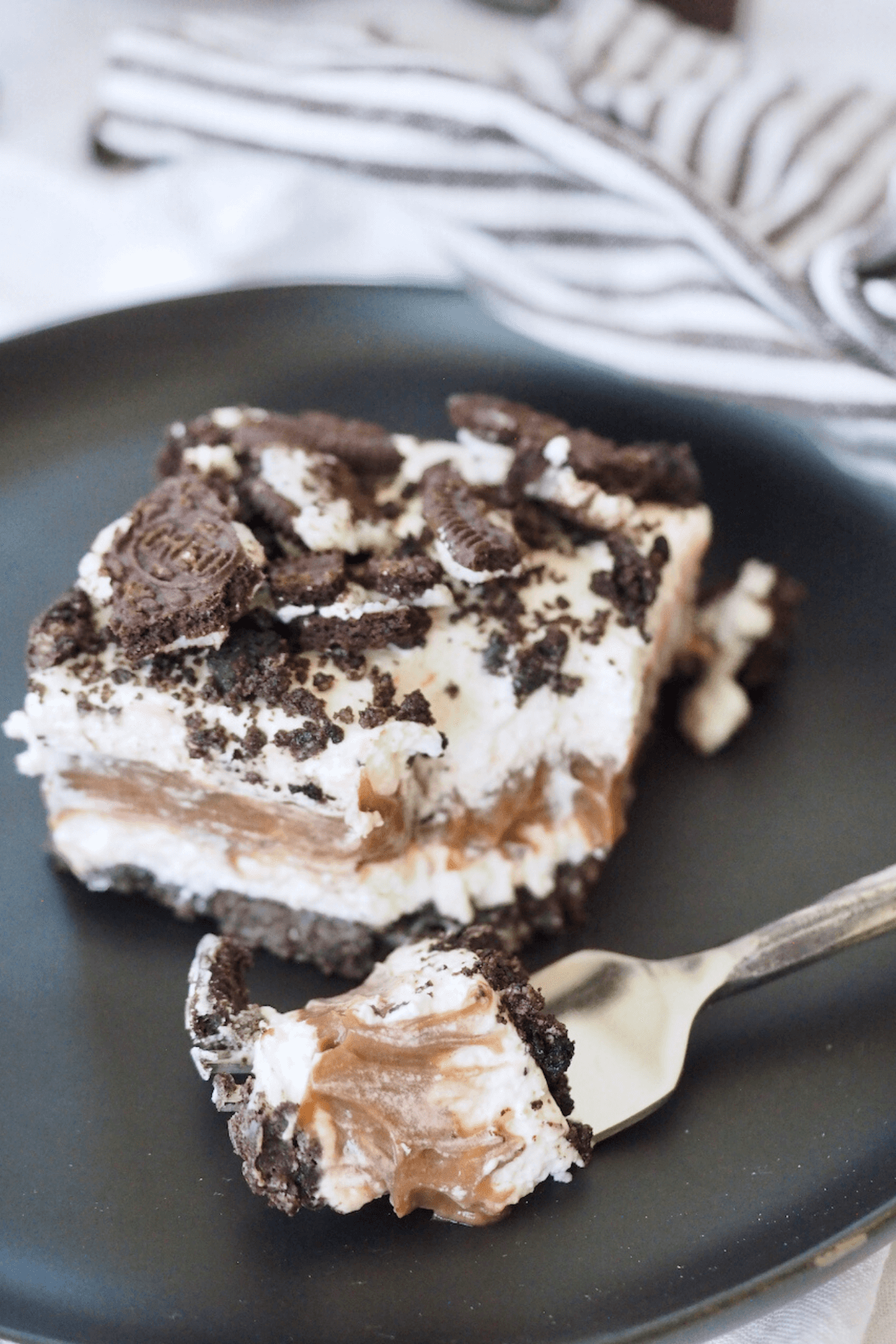 How to Store Oreo Dessert Pudding
Stored in the refrigerator this easy recipe will last up to 5 days, it is the perfect dessert for times when you need a make ahead dessert for your next family event. Though my family has personally dug into this Oreo pudding pie recipe a week after it was made, as long as it's been well chilled it should stay just fine.
You may also freeze this no-bake Oreo dessert and serve frozen.
More Great Pie Recipes
Our favorite No Bake Recipes
Love it? Pin It!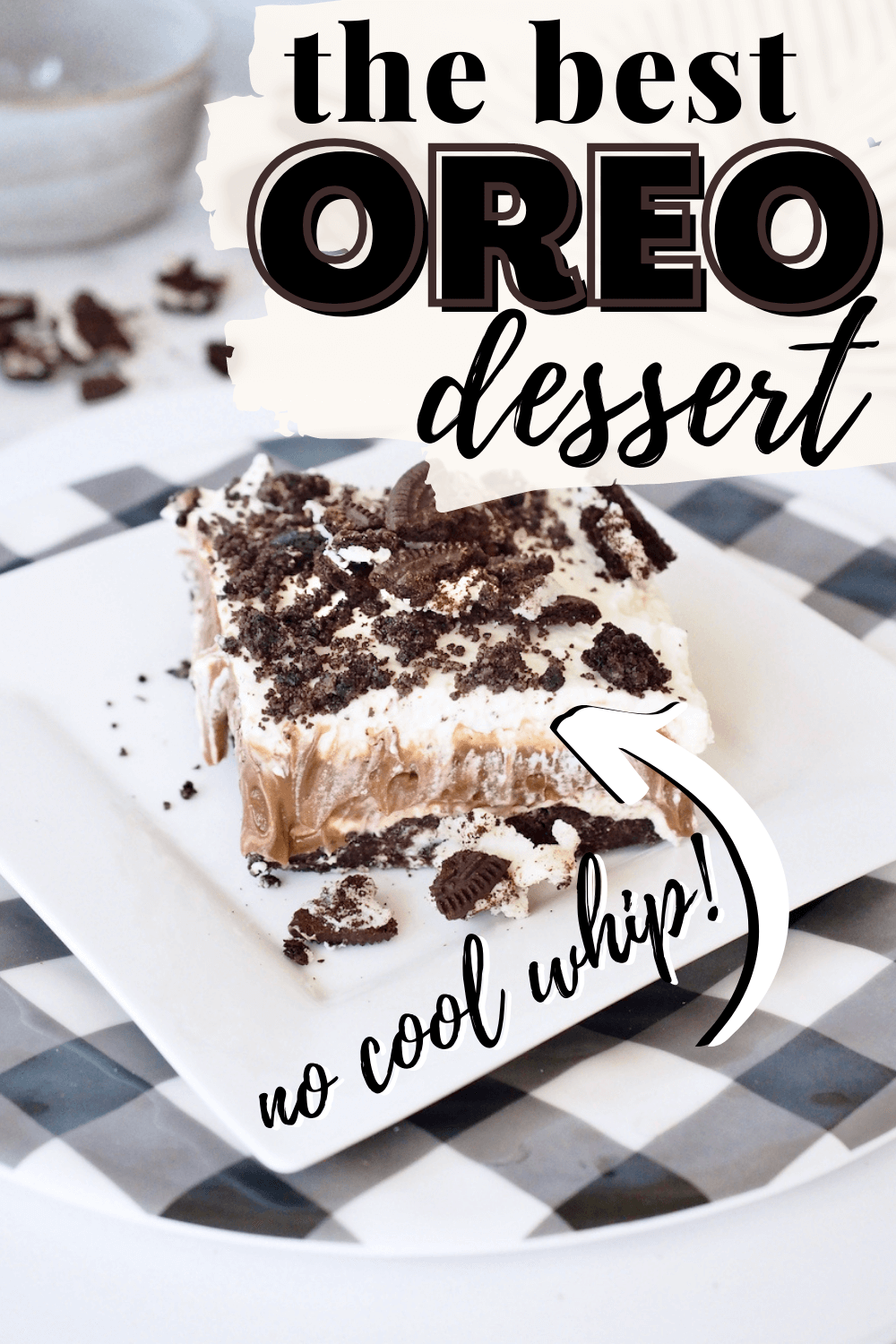 I hope you loved this Oreo dessert pudding, making it a little healthier and more unique than other Oreo desserts by making your own Cool Whip and by reducing sugar! Be sure to leave a comment below the recipe.
Like this recipe?
Don't forget to give it a ⭐️⭐️⭐️⭐️⭐️ star rating and comment below the recipe!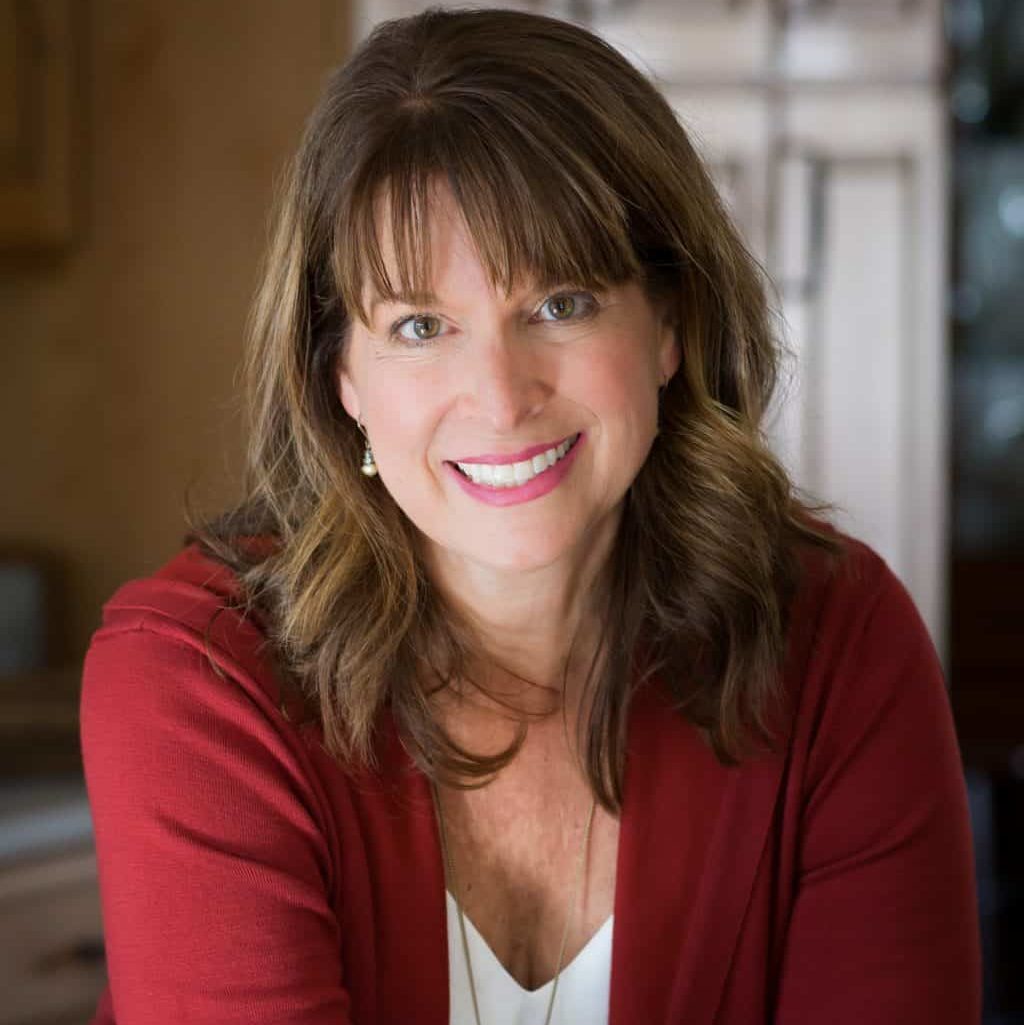 About Kathleen Pope
Recipe Innovator | Food Photographer | Food Writer
Hi, I'm Kathleen Pope. Here at The Fresh Cooky you will find easy, mostly from-scratch, trusted recipes for all occasions. From speedy dinners to tasty desserts, with easy step-by-step instructions. I am here to help teach you how to make mouthwatering recipes without spending hours in the kitchen. Read more about Kathleen here.