Make your own Nothing Bundt Cake Recipe with this moist, easy and delicious Chocolate Chocolate Chip Bundtlet and Bundt cake recipe. The best and easiest part, this Chocolate Chip Bundt Cake recipe uses cake mix and pudding!
The ideal recipe for the holidays, Valentine's Mother's day, baby and bridal showers or just because! Make this scrumptious chocolate bundt cake, bundtlets, mini bundts or cupcakes today!
Bundt cake recipes are some of my favorites, they always seem to come out more moist, and are certainly easier! Try these favorite bundt cake recipes; Cinnamon Swirl Bundt Cake, Chocolate Bundt Cake, Chocolate Monkey Bread.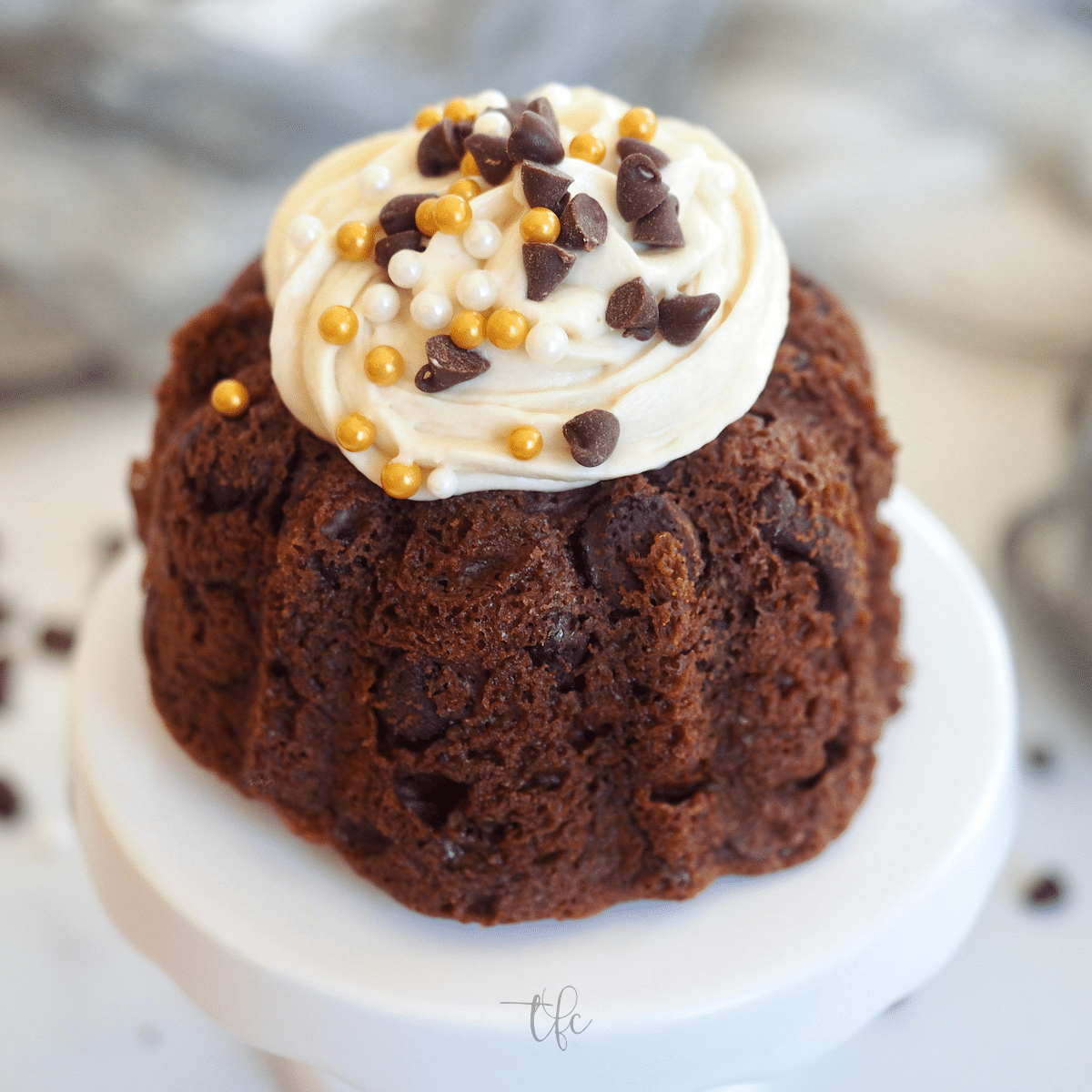 Normally I would say cakes are always better from scratch, but this bundt cake recipe is so moist, dense, chocolate-y, delicious and easy; only takes about 7 minutes to whip up the batter!
Before long you will be drooling over this scrumptious bundt cake or bundtlets! If you really want to make a from scratch chocolate cake, give my Zucchini Chocolate Cake or Texas Sheet Cake, they are both amazing!
I started testing this recipe to make bundlets for my PTO team and it did not disappoint, my family devoured the first test batch and I had to guard my second batch ferociously — haha! But as you can see, they turned out fabulous.
Ingredients for Copycat Nothing Bundt Cake Recipe
For the full list of ingredients and measurements please see the recipe card at the end of the post.
Devils food or dark chocolate fudge cake mix* | I do not recommend using an all natural or the Ghirardelli cake mixes for this recipe, as the volume is different and will yield a very dense cake.
Instant chocolate pudding mix | used Godiva Dark or Milk Chocolate, available with regular pudding mixes
Sour Cream | I use full fat sour cream, and have also substituted with whole milk Greek yogurt
Vanilla Extract | Love using my homemade vanilla extract.
Eggs | I use large eggs in all of my baking, room temperature is best
Milk | Whole milk is what I used, but may substitute plant based milk, water, or buttermilk
Vegetable Oil | I love using heart healthy Avocado oil
Chocolate chips | try mini chocolate chips, chocolate chunks, semi-sweet, milk chocolate, white chocolate, dark chocolate
How Do you Make Box Cake Mix Taste Like a Bakery Cake?
By changing out a few ingredients in a box cake mix; you have a richer, more moist and dense, delicious cake!
Ditch the Water
Try substituting whole milk, your favorite plant based milk (coconut would be divine) or even better, buttermilk, but due to the thickness of buttermilk add a few tablespoons more.
Flavor in the Fat
Normally, I'd swap out cup for cup; melted butter for oil, bu many times I stick with heart healthy avocado oil, then I could call it "healthier" right? 🙂 Give it a go and let me know if you do, but in general you can swap out melted butter for the oil in a recipe.
Add an Extra Egg (or two)
Being at high altitude, I have always added an extra egg to my cake mixes, why? The egg white contributes strength and the yolk contains a natural emulsifier that allows batter to hold extra sugar without weakening the overall structure. (source) However; in general, if you want a boxed cake mix to taste like a bakery cake or homemade then add an extra egg!
Amp Up the Flavor
Chances are the vanilla might be a little blah in the cake mix, so for all cake mixes add a teaspoon of your favorite vanilla extract, vanilla bean paste or other extract; or try homemade bourbon vanilla!
In chocolate cake mix, add a teaspoon of espresso powder.
Lemon cake mix, add the zest from one lemon, za-zing!
White or Vanilla Cake mix, add pure vanilla extract or a teaspoon of vanilla bean paste or even the seeds from a vanilla bean. Or try a little rum, maple or almond extract!
Spice or Carrot Cake Mix, use fresh grated nutmeg (this microplane is the best), an extra teaspoon of cinnamon, definitely a teaspoon of vanilla or tablespoon of rum, brandy or whisky.
Add Moisture
Add up to a cup of sour cream, plain greek yogurt or ¼ – ½ cup of creme fraiche. The richness, moisture it lends to a cake is amazing! You could even try a few tablespoons of mayonnaise, after all it's just eggs and oil!
High Altitude Chocolate Chip Bundt Cake Instructions
Increase oven heat by 25 degrees F for light colored pans; for darker pans keep heat at 350 degrees F.
Bake less time than called for on the original recipe, typically start checking cake for doneness about 10-15 minutes before original time.
Brown Sugar Cream Cheese Frosting
We devoured the bundt cake before dinner! I hope you have the recipe on your blog – all those chocolate chunks and that icing – yum!

~Kristin
Now, Nothing Bundt Cakes is known for their AMAZING Cream Cheese frosting, but honestly everyone who has tried this Brown Sugar Cream Cheese Frosting RAVES about this it!
A delicious, better version with rich, caramel tones that come from using brown sugar. And if you like it on this cake, then you have got to try it on these Carrot Cupcakes!
Can You Freeze Nothing Bundt Cakes?
You betcha! Even frosted you can freeze these cakes or bundtlets. If freezing before frosting, simple cool completely (very important so you don't form ice crystals, then wrap well in plastic wrap and then in foil.
Much like this Banana Bread, I think it's better then second day, allowing the flavors to mingle and meld.
If freezing after icing, simply place in the freezer for 30-50 minutes to harden the icing, then cover with plastic wrap well; then again in foil. Keeps frozen for up to 3 months, if you can keep yourself from digging in.
How Do I Store My Bundt Cake
Since this cake has a cream cheese frosting, I recommend you refrigerate, if making longer than 4-6 hours before serving. Remove from fridge about 20-30 minutes prior to slicing. Bundt cakes will last from 5-7 days in the fridge, if you can hide it from your family!
Don't forget to PIN this recipe to your favorite Cake Board!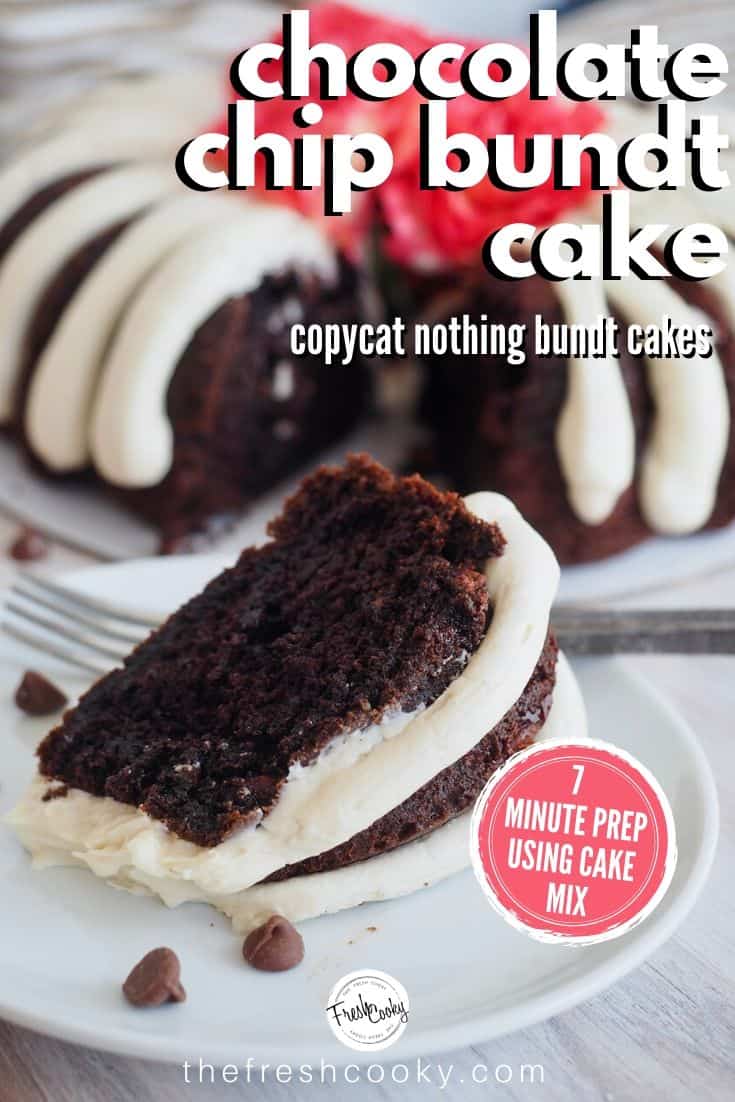 I hope you enjoy this dreamy, easy recipe for this Copycat Nothing Bundt Cakes Chocolate Chocolate Chip Bundtlets and Bundt Cake. My family are chocolate cake connoisseurs and they went ga-ga over this cake!
Recipe adapted from Tastes Better from Scratch.
More recipes using cake mix!
Like this recipe?
Don't forget to give it a ⭐️⭐️⭐️⭐️⭐️star rating in the recipe below!
Yield:

16 servings
Nothing Bundt Cakes Recipe | Chocolate Chocolate Chip Cake & Bundtlets
A copycat recipe for Nothing Bundt Cakes for moist and amazing Chocolate Chocolate Chip Bundt cake! The best and easiest part, this Chocolate Chip Bundt Cake recipe uses cake mix and pudding! The ideal recipe for Mother's day, baby and bridal showers or just because! Make bundtlets, mini bundts or cupcakes too!
Ingredients
1 package (15.25 oz) devils food or dark chocolate fudge cake mix*
1 (3.9 oz) box instant chocolate pudding (I used Godiva Dark or Milk Chocolate)
1 cup sour cream (or try plain greek yogurt)
1-2 teaspoons vanilla extract
4 large eggs
½ cup milk (substitute plant based milk or water, or ⅔ cup buttermilk)
½ cup avocado oil (or other vegetable oil)
1 ½ cups chocolate chips (try mini chocolate chips, chocolate chunks, semi-sweet, milk chocolate)
Brown Sugar Cream Cheese Frosting
8 oz cream cheese, softened (can use Neufatchel)
½ cup butter, softened
⅔ cup light brown sugar, packed
1-2 teaspoons vanilla
pinch of salt
3 cups powdered sugar
Instructions
Preheat oven to 350° F (375° for high altitude light bundt pans, keep at 350 for dark bundt pans) At regular altitude 350 for light pans, 325° F for dark pans). Butter and flour bundt pan well! I used Baker's Joy baking spray it has the flour built in. I use soft butter and a paper towel or pastry brush to get in all of the crevices, then splash in a tablespoon or two of flour and toss around pan to coat (over sink or trash).
Mix on low speed the first 7 ingredients to combine, scrap sides, then increase speed to medium-high for 2-3 minutes. Stir in chocolate chips.
Pour batter evenly into prepared bundt pan and smooth top. Bake at 350 (or above described temperature based on altitude and type of pan coating) for 40-55 minutes until cake tester comes out mostly clean (if looks done and seems gooey, retest in another location, you might be hitting chocolate chips. If it springs back lightly when touched and is starting to look dry at edges and is not wobbly at all, those are good signs, remove from oven.
BUNDTLETS or cupcakes | scoop batter into prepared pans (not quite 2/3 full, makes about 14 bundtlets, probably closer to 18 cupcakes. Bake as directed above; 20-25 minutes bundtlets, 18-22 minutes cupcakes. Done when cake springs back when lightly touched and no longer jiggly, don't over bake. Cool 10 minutes, then invert onto cooling rack.
Remove to cooling rack and allow to cool for 10 minutes, then invert cake onto wire rack and cool completely. Once completely cooled, frost as desired with below frosting.

Frosting
Using a paddle or whisk attachment, beat together cream cheese and butter until light and fluffy, about 1-2 minutes. Add brown sugar and mix on medium high speed for 2-3 minutes. IMPORTANT allow to sit for 10-15 minutes for the brown sugar to "melt" into the ingredients, thereby avoiding gritty frosting.
After 10-15 minutes, scrape sides down and mix on low speed, adding vanilla, salt and powdered sugar. Mix until combined on low, then increase speed to medium-high for 3-4 minutes until creamy.
Scoop into piping bag with or without tip and frost as desired. Frosting may also just be spread on top, you may have some frosting leftover, it freezes great and is delicious on top of cinnamon rolls, between graham crackers with strawberries and more!

Notes
*I do not recommend for this cake using an all natural cake mix, or something like Ghirardelli cake mix as they are much less volume than a standard cake mix.
Recipe adapted from Tastes Better from Scratch.
Recommended Products
As an Amazon Associate and member of other affiliate programs, I earn from qualifying purchases.
Nutrition Information:
Yield:
16
Serving Size:
1
Amount Per Serving:
Calories:

436
Total Fat:

28g
Saturated Fat:

13g
Trans Fat:

0g
Unsaturated Fat:

13g
Cholesterol:

87mg
Sodium:

178mg
Carbohydrates:

46g
Fiber:

1g
Sugar:

40g
Protein:

4g
The nutritional information is estimated and may not be entirely accurate, at times it pulls information for suggestions and options which may increase calories, etc. Nutritional information will change based on used ingredients, quantities used, etc.