As an Amazon Associate, I earn from qualifying purchases. Please read my disclosure policy.
Easter Dirt Cake recipe s a fun twist on an old-fashioned recipe! Make this into a delicious Easter dessert with some Oreo cookies chocolate eggs, bunnies, chicks, peeps and a little colored coconut. With a creamy, pudding layer and a cream cheese layer between two luscious crumby layers of "dirt" cookie crumbs.
Roll up your sleeves and invite the kids (big and little) to help you decorate this simple, make ahead, no-bake dessert.
And if you love no-bake desserts, you have to try my Oreo Pudding Dessert, Magnolia Banana Pudding and this dreamy Lemon Cream Pie.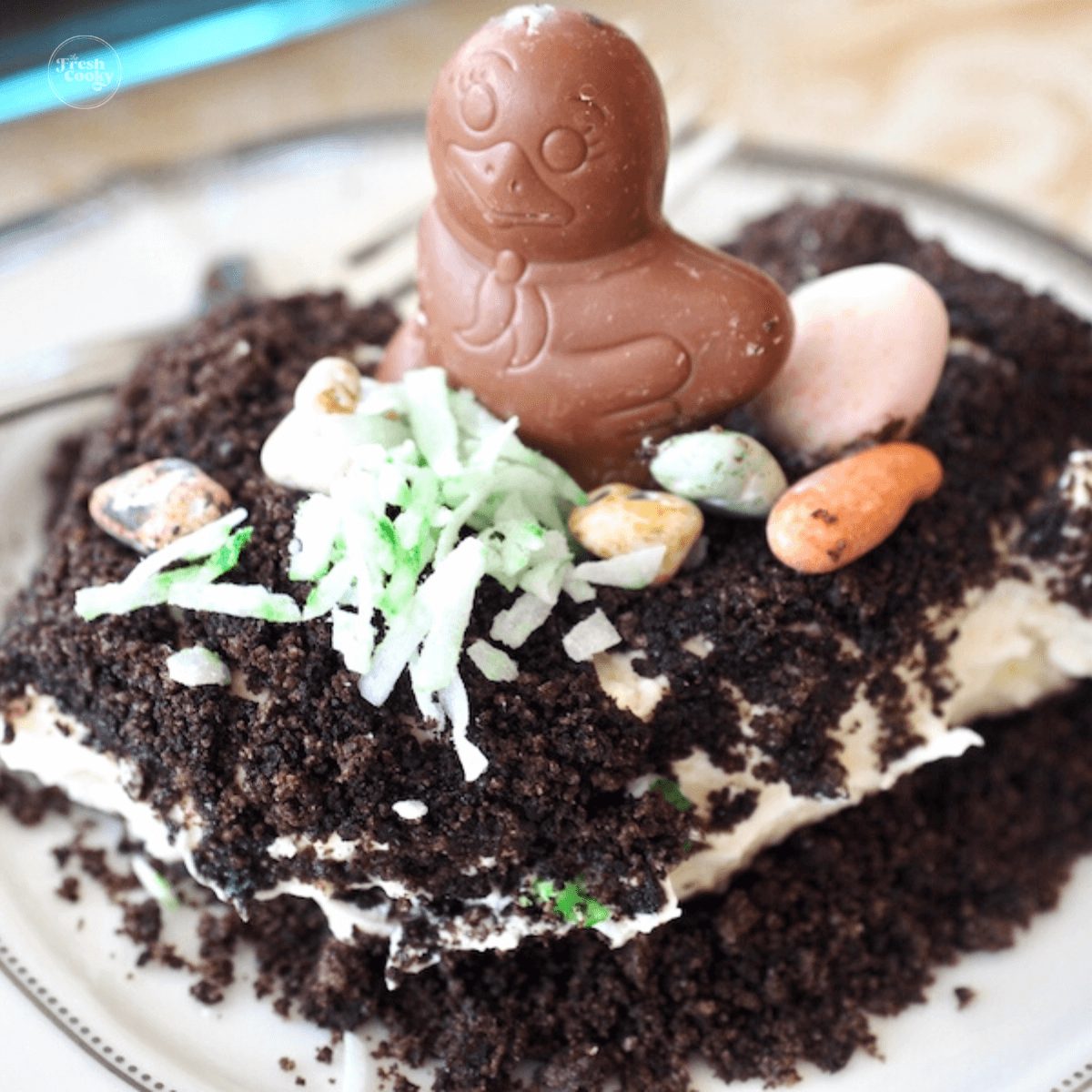 Why You Will Love this Easter Dirt Cake Recipe
Easy peasy | This dessert doesn't require any special equipment or skill, just pure fun!
Make Ahead | Free up your Easter meal planning, make this a day head!
Kids in the Kitchen | Get the kids involved in making and customizing this dessert, guaranteed fun!
So whip up this easy dessert ahead of time and tuck it in the fridge, pulling it out at the last minute like you slaved on it all day long! The longer it sits, the more delicious it is, so let it hang out.
Easter Dirt Cake Simple Ingredients
Full list of ingredients in the printable recipe card at the end of the post.
Oreos or chocolate sandwich cookies (natural like Newman-O's), one family size package of Oreos
Butter | Use the real stuff here, if it's soft coming out of the fridge, it's a blend.
Whipped Topping | Use TruWhip (no hydrogenated oils) or make my homemade Cool Whip, or use Cool Whip.
Cream cheese | Use regular or Neufchatel cream cheese, softened
Powdered Sugar | You could also use a powdered sugar sugar-free replacement
Instant Pudding | Use white chocolate or vanilla instant pudding, I like using all natural pudding mixes
Whole Milk | I just like using whole milk in recipes, but try other % as well.
Favorite Edible Decorations | Tinted coconut for grass, chocolate bunnies and chicks, jelly beans, chocolate rocks, marshmallow peeps — whatever suits your fancy!
Decoration Ideas for the Cake
Green edible grass or shredded coconut tinted green
Chocolate eggs, these Cadbury mini eggs hold up well
Jelly beans or my personal favorite chocolate rocks
Chocolate eggs or carrots, leave covered in foil or remove
Use Gummy Worms for a true dirt cake experience
Use Easter Peeps too!
Whatever you want to put on, be creative, you can even put on plastic eggs with goodies inside!
HOW TO MAKE EASTER DIRT CAKE
Step 1 | Make Oreo Cookie Crust
Place cookies (whole) in a food processor, crush your cookies – cream filling and all until fine Oreo crumbs.
No food processor? Simply place your cookies (might need to do in batches) into a gallon size ziploc bag and crush with rolling pin, then roll until fine crumbs. Reserve about 1/3 of the cookies, about 1 1/2 cups, enough to cover the top of the Easter cake.
For the Oreo crust, mix melted butter into cookie crumbs then press 2/3 of crumbs into the bottom of a 13×9 inch glass pan. This dirt cake recipe 9×13 pan, works really well, see tips for how to make dirt cake cups.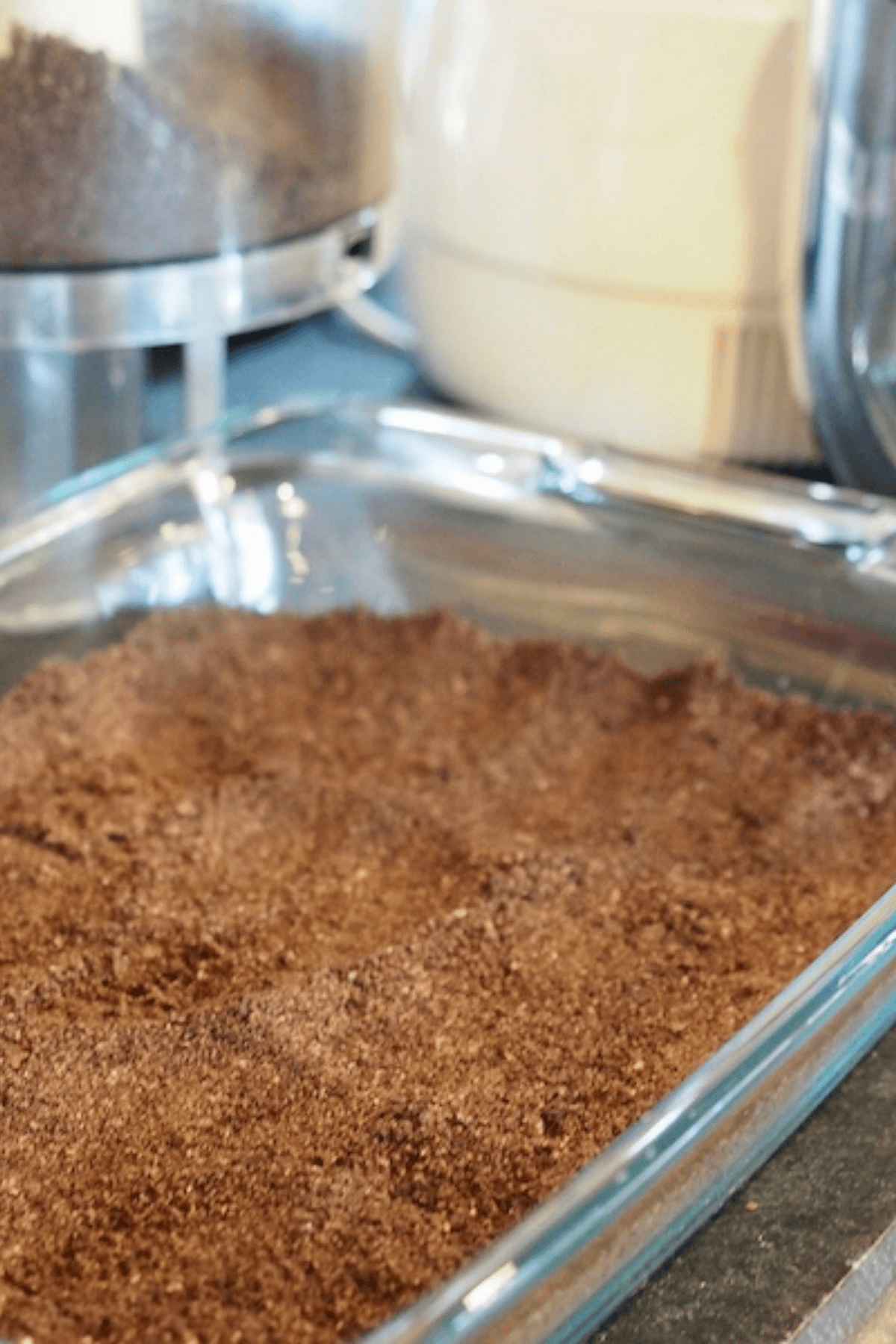 Step 2 | Make Pudding and Cream Cheese Layer
Mix cream cheese in a large bowl, until light and fluffy, about 3 minutes on medium-high.
Slowly add in powdered sugar on low until combined, about a minute. Scrape down sides of bowl as needed, fold in whipped topping.
Using a microplane, grate between 1-2 oz of white chocolate bar into the cream cheese mixture and set aside.
In a large mixing bowl, pour the instant vanilla pudding into milk whisking for 1-2 minutes until smooth and thick.
Step 3 | Layer Dessert and Chill
Gently fold pudding mixture into cream cheese mixture until evenly incorporated. Spread pudding mixture on top of cookie crumbs, using an offset spatula to spread evenly over the top of the dirt cake. Top evenly with remaining crushed cookies. Cover and refrigerate for 3 hours or overnight.
Step 4 | Decorate Dirt Cake
When ready to serve, decorate as desired, creating your own little scene, or let your littles (or bigs) go a little crazy and decorate the entire cake or just their piece!
Our good friend, being silly as I was snapping pictures of the cake! Go ahead, this is an Easter dirt cake that inspires silliness!
HOW TO TINT COCONUT
If tinting your coconut, place desired amount of coconut in a baggie, add a little green food coloring (I used natural green food coloring) seal and shake until desire color is achieved. Spread on top of cake in piles or cover the entire cake. My family doesn't care for coconut, so I just did little tufts of "grass."
Variations & Substitutions
Add a splash of vanilla extract to the cream cheese mixture, up to 1 teaspoon.
Easter Dirt Cups | Instead of making this in a 9×13 inch pan, make this fun dessert into individual desserts, by following the layering process in individual cups.
Use your favorite toppings, if you love marshmallow peeps, then by all means use them!
Replace Vanilla and White Chocolate pudding with your favorite pudding mixes.
Dairy Free Dirt Cake Recipe
It will be easy to adapt this recipe to be dairy free! Just follow my tips below:
Replace cream cheese with plant based cream cheese — or omit altogether
Use plant based whipped topping or whipping cream
Oreo's are naturally vegan!
Use your favorite plant based milk when making the pudding, noting that it might not set up as thickly, but should firm up as you chill it.
This is one of my favorite Easter desserts and I know it will become yours too!
Frequently Asked Questions
What is Dirt Cake made of?
A great question! There is no actual dirt in dirt cake. Instead you make a dirt substitute by using Oreo cookie crumbs for the crust and the topping. This is best make-ahead, no bake dessert too!
Why is it called Dirt Cake?
Since it is a dessert that has cookie crumbs resembling the rough, messy, and dirty look of dirt, it was long ago called dirt cake. Ask your kids, they will know what dirt cake is!
Can I make Dirt Cake Recipe without Cream Cheese?
Yes! If you prefer without cream cheese, then simply omit the cream cheese — I suggest you double up on the amount of whipped topping if you decide to omit the cream cheese.
Can I make Gluten-Free Dirt Cake?
You bet you can! Now with the new Gluten-free Oreos, this Easter dirt cake recipe is easier than ever to make Gluten-free! Make sure all of your other ingredients are GF and you are all set!
LOVE IT? PIN IT!
Like this recipe?
Don't forget to give it a ⭐️⭐️⭐️⭐️⭐️ star rating and comment below the recipe!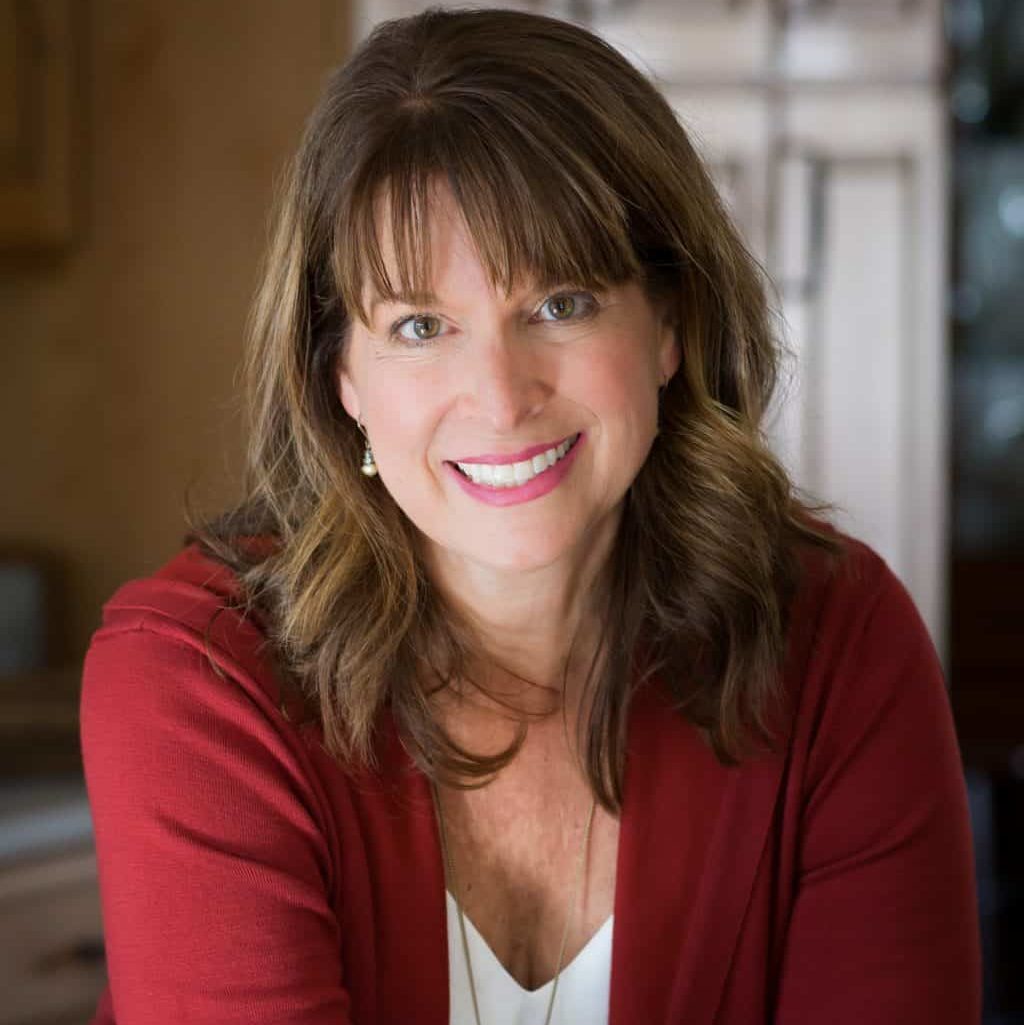 About Kathleen Pope
Recipe Innovator | Food Photographer | Food Writer
Hi, I'm Kathleen Pope. Here at The Fresh Cooky you will find easy, mostly from-scratch, trusted recipes for all occasions. From speedy dinners to tasty desserts, with easy step-by-step instructions. I am here to help teach you how to make mouthwatering recipes without spending hours in the kitchen. Read more about Kathleen here.