Cowboy Crack Dip Recipe (Hot or Cold)
As an Amazon Associate, I earn from qualifying purchases. Please read my disclosure policy.
Not your average Philadelphia cream cheese dip recipe. Cowboy Crack Dip is cheesy, creamy, savory, and fresh — the perfect appetizer. This Crack Dip recipe is a classic appetizer ideal for your next party; like the big game, holiday get-togethers, a clear party favorite!
This easy cream cheese dip takes less than 20 minutes to prepare? And you can serve it hot or cold!
Looking for more cream cheese recipes? Check out this Crockpot Ranch Chicken, this buffalo chicken dip or this festive cranberry cream cheese dip.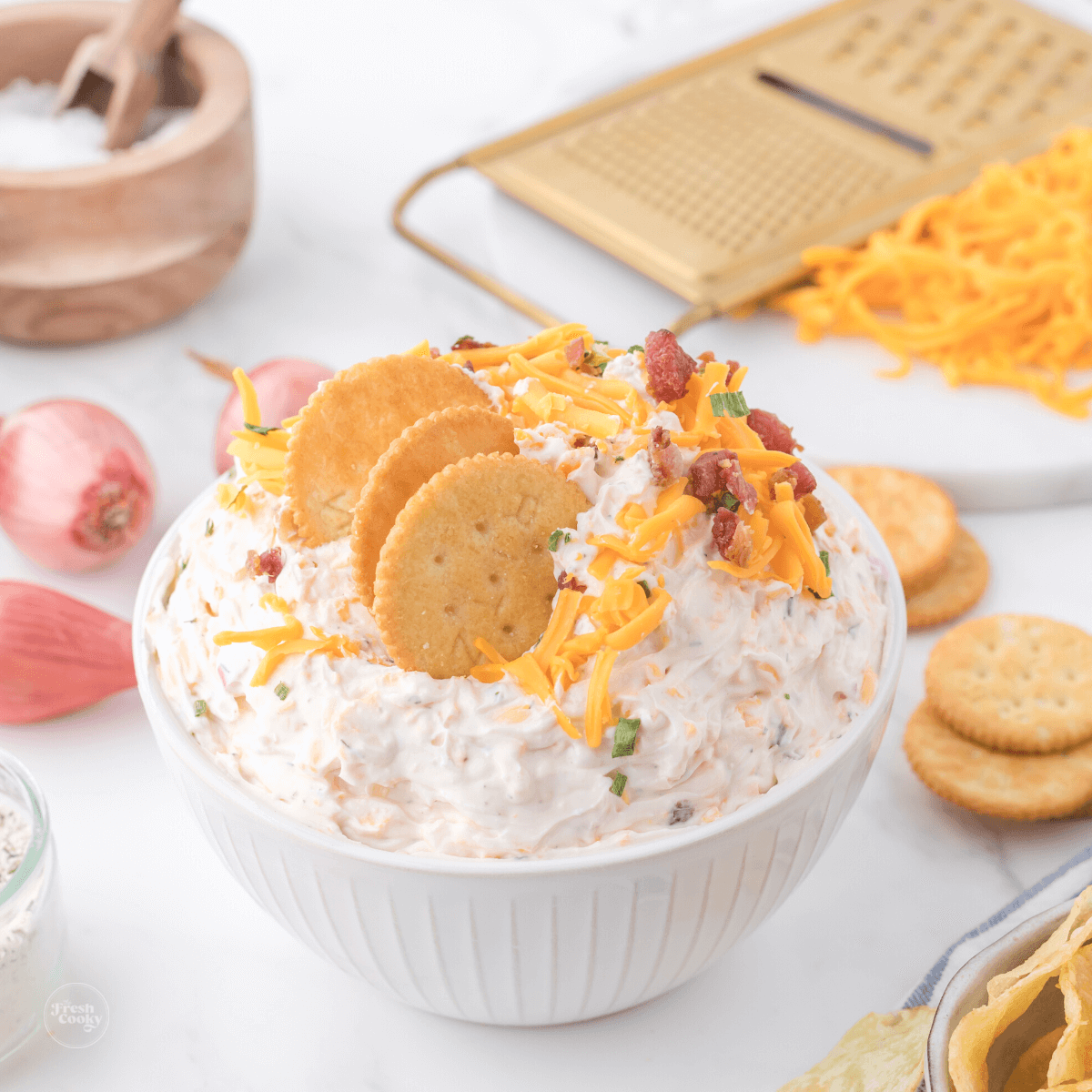 Why You Will Love this Recipe
Quick & Easy | Takes less than 20 minutes, easy recipe. Can be made last-minute for to a family dinner or office potluck.
Party Staple | This Texas crack dip is sure to be devoured! Because bacon and cheese, a favorite recipe!
Customizable | With a simple ingredient list my cowboy crack dip recipe will become one of your favorite dips, plus it's easy to customize it to your tastes.
This Cowboy Crack Dip is a must for any Thanksgiving, Christmas, or game day menu. Trust me when I say the crowd won't be able to stop dipping the crackers, chips, or veggies into this thick and creamy recipe! Plus it is crazy versatile! Add these individual Charcuterie Cups to your appetizer mix!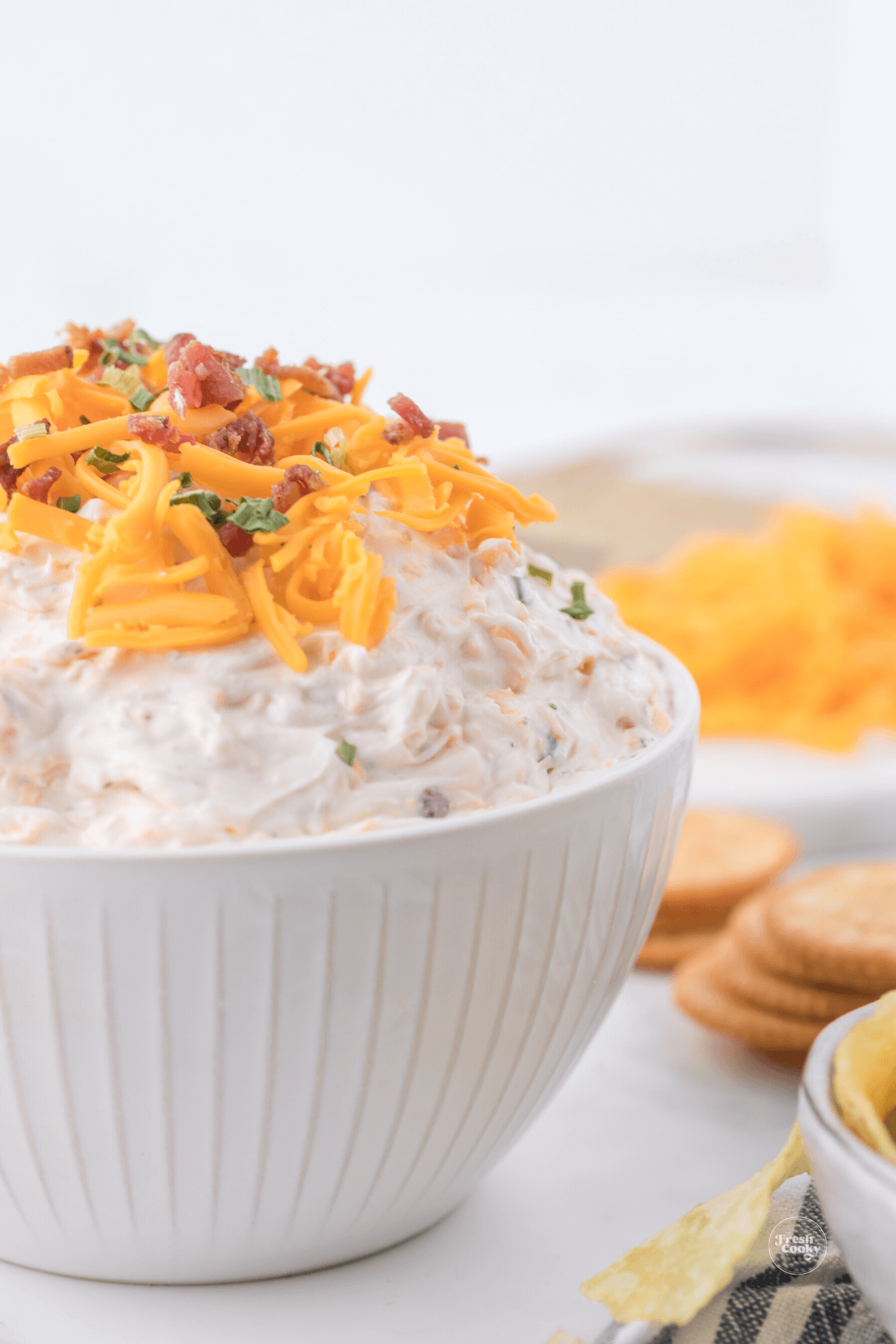 Healthy Twist
No-Mayo Recipe | Many crack dip recipes are made with mayonnaise, mine is not, making it lower in calories and a low carb dip.
Gluten-free | This recipe is entirely gluten-free! Read all your ingredient labels!
Easily Made Healthier | For a healthier version of this dip, substitute low-fat or fat-free sour cream and cream cheese. You can also use turkey bacon.
Basic Ingredients
Ingredients, directions and nutritional information in the printable recipe card at the end of the post.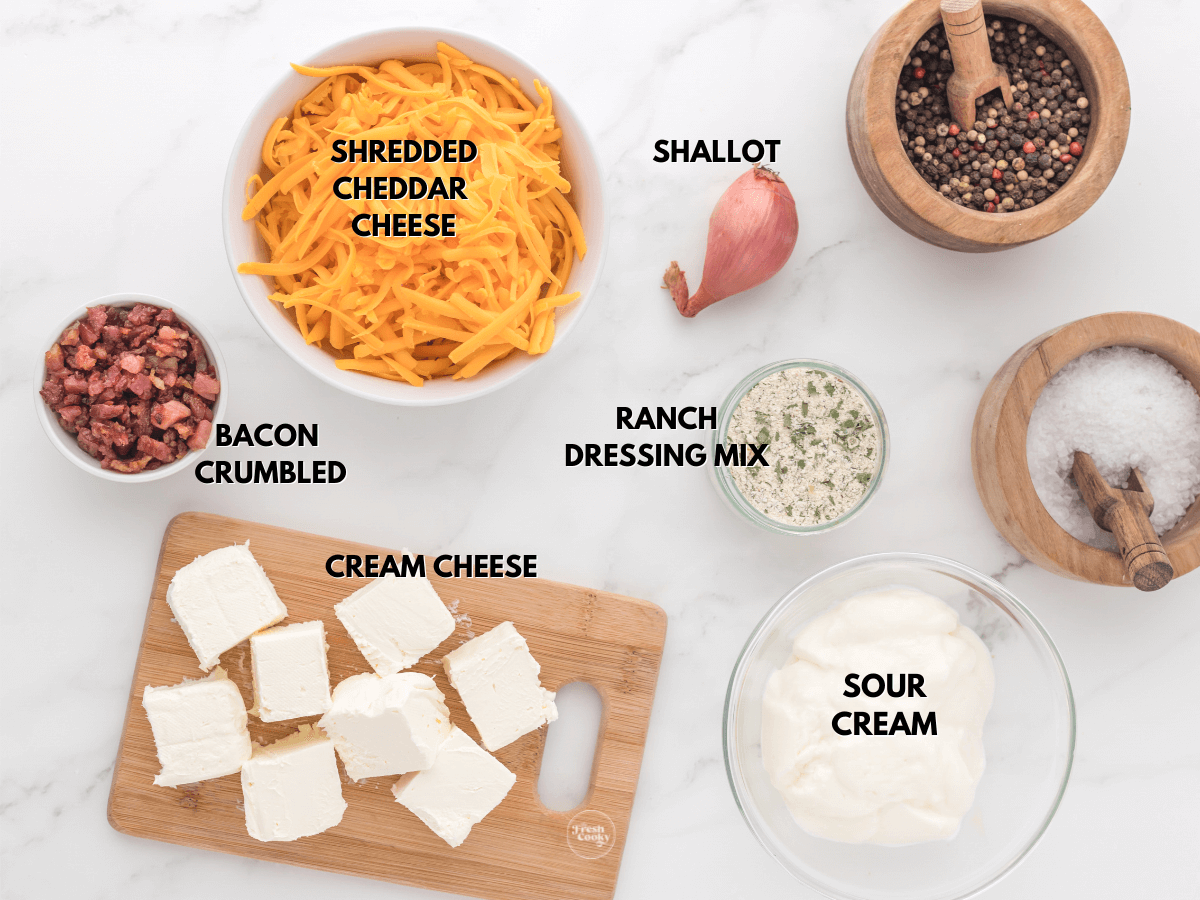 Crack Dip
Cream cheese and sour cream | Cream cheese and sour cream create the creamy and tangy base for this irresistible creamy dip recipe.
Ranch dressing mix spices | Ranch dressing seasoning brings incredible flavor to the cowboy crack dip. Personally I like to make my own since it doesn't have MSG in it, but you may buy the packets from your local grocery store or create your own homemade spice mix using the ingredients and directions below.
Shallot | Diced shallot adds sweetness and subtle heat to the creamy and cheesy dip.
Cheddar cheese | Shredded cheddar cheese is the perfect flavorful ingredient to add to this cowboy crack. Or your fave Mexican cheese blend.
Bacon | I recommend frying up some fresh bacon slices for the most authentic and tasty flavor. But you can also use a pack of real bacon bits instead. For a healthier alternative, you can use turkey bacon.
Homemade Ranch Mix Spices
Avoid the packet and make your own! In a small bowl, mix all the tasty ingredients together. Place it in an airtight container, so you can use it whenever needed. You'll need the following ingredients in the portions listed on the recipe card below.
Garlic powder, Onion powder, Dried parsley, Dried dill weed, Dried chives, Dried tarragon, Sea salt, Ground black pepper
How to Make Ranch Crack Dip
First, you'll need to gather a couple of pieces of equipment — a medium bowl and a hand mixer. You may use a stand mixer if you have one. Mix cream cheese and sour cream until you have a smooth texture.
Next, add the crisp bacon, ranch seasoning, diced shallot, and shredded cheddar cheese and mix with a wooden spoon until everything is well combined.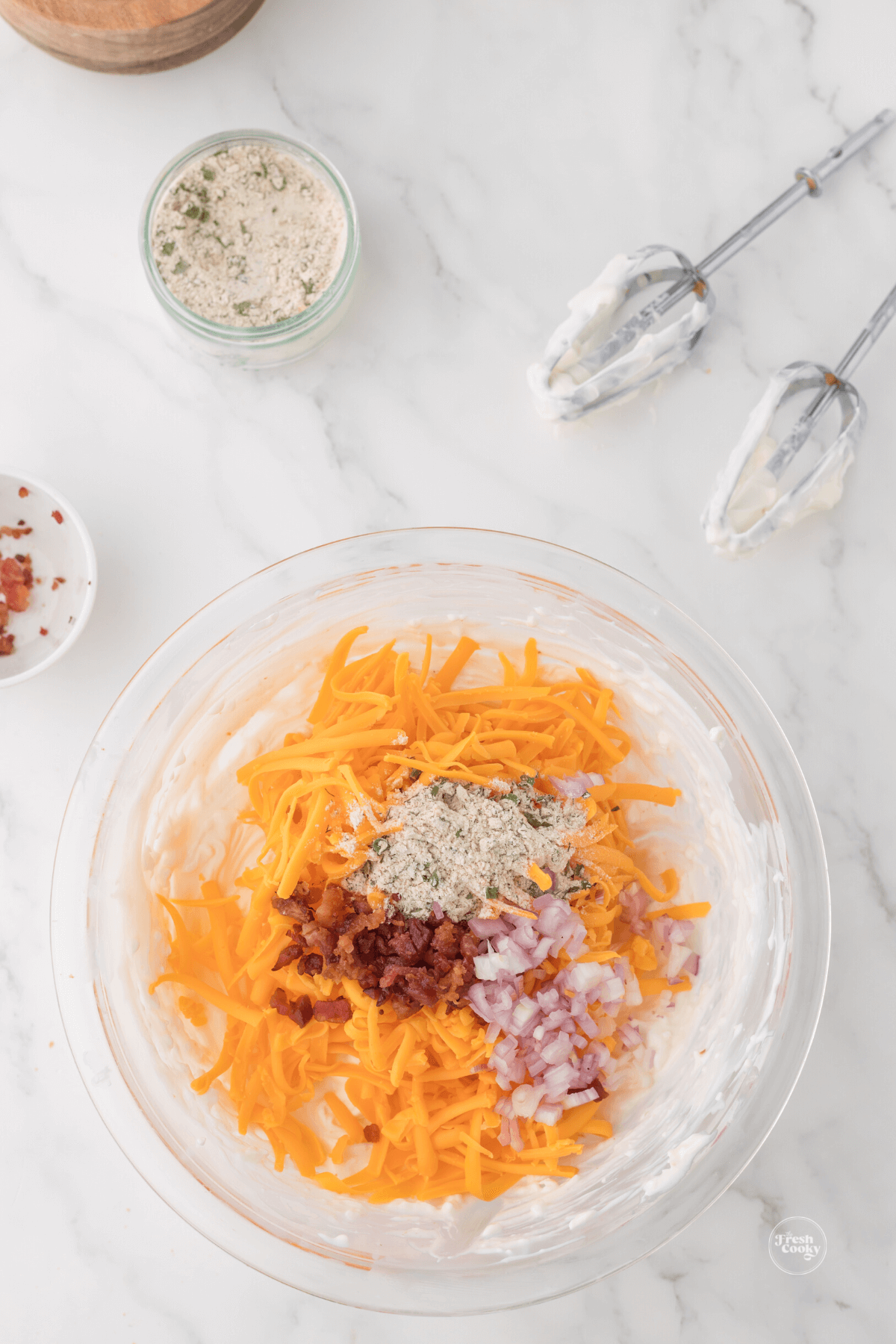 Then, place the crack dip in the refrigerator for at least 1 hour before serving. This will allow the flavors to develop and meld together nicely.
And that's it! If desired, all that's left is to top with more grated cheese and bacon bits and maybe some chopped fresh chives or green onions.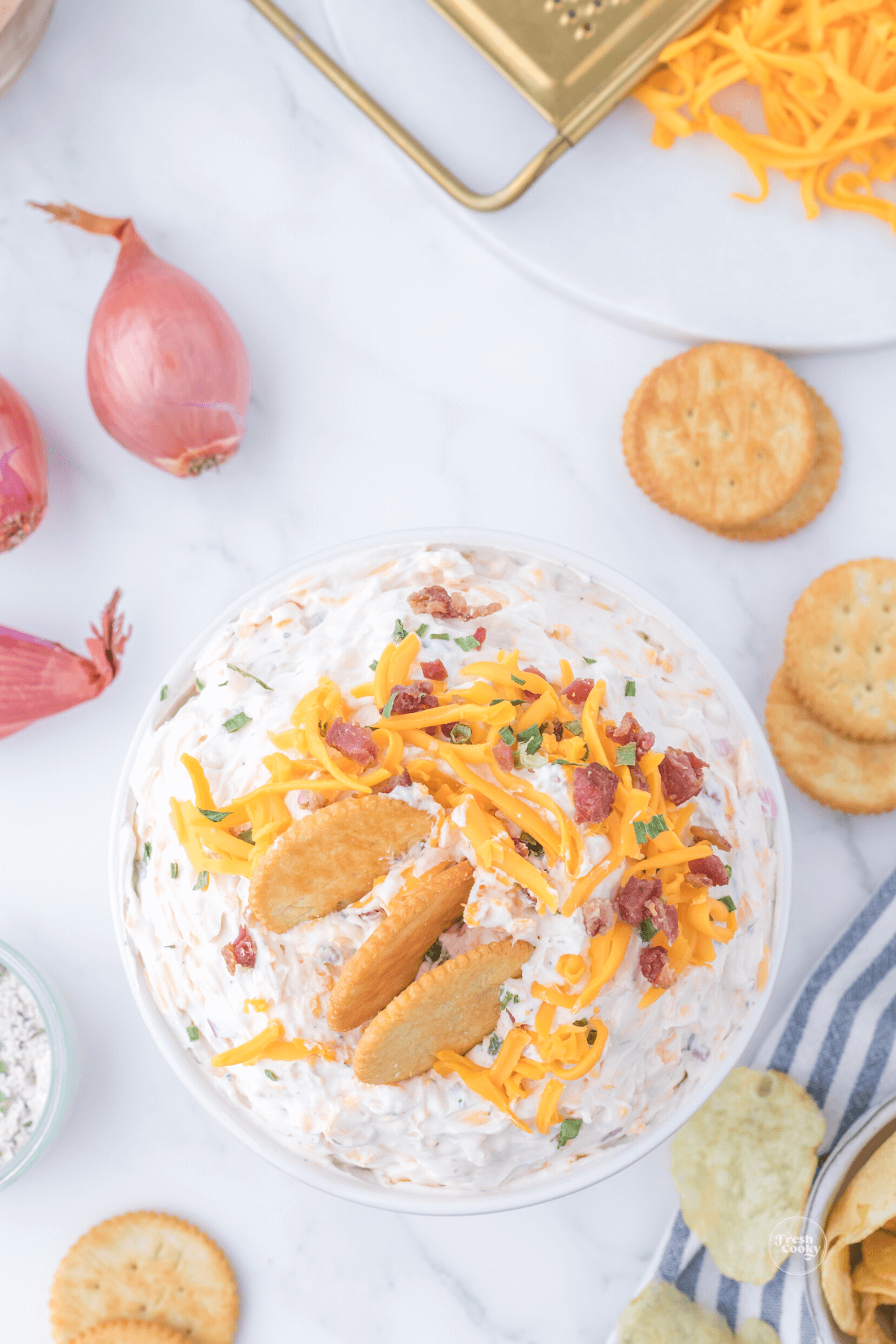 Fresh Tips
Before beginning this recipe, remember to allow your cream cheese to soften at room temperature. To speed the process, cut cream cheese into cubes.
For the best flavor, skip the store-bought option and make your own bacon bits by cooking bacon strips and crumbling them into small pieces. Freshly fried bacon always makes a big difference.
This dip is best when it's allowed to "marinate" in the refrigerator for at least one hour. For an extra tasty crack dip, allow it to chill for up to 24 hours.
If you prefer a thinner dip, you may add ½ cup of half and half or milk to the mixture.
Garnish
I suggest sprinkling some extra shredded cheddar cheese and bacon crumbles on top of the dip before serving. You may also add some chopped green onions or even a drizzle of your favorite hot sauce —YUM!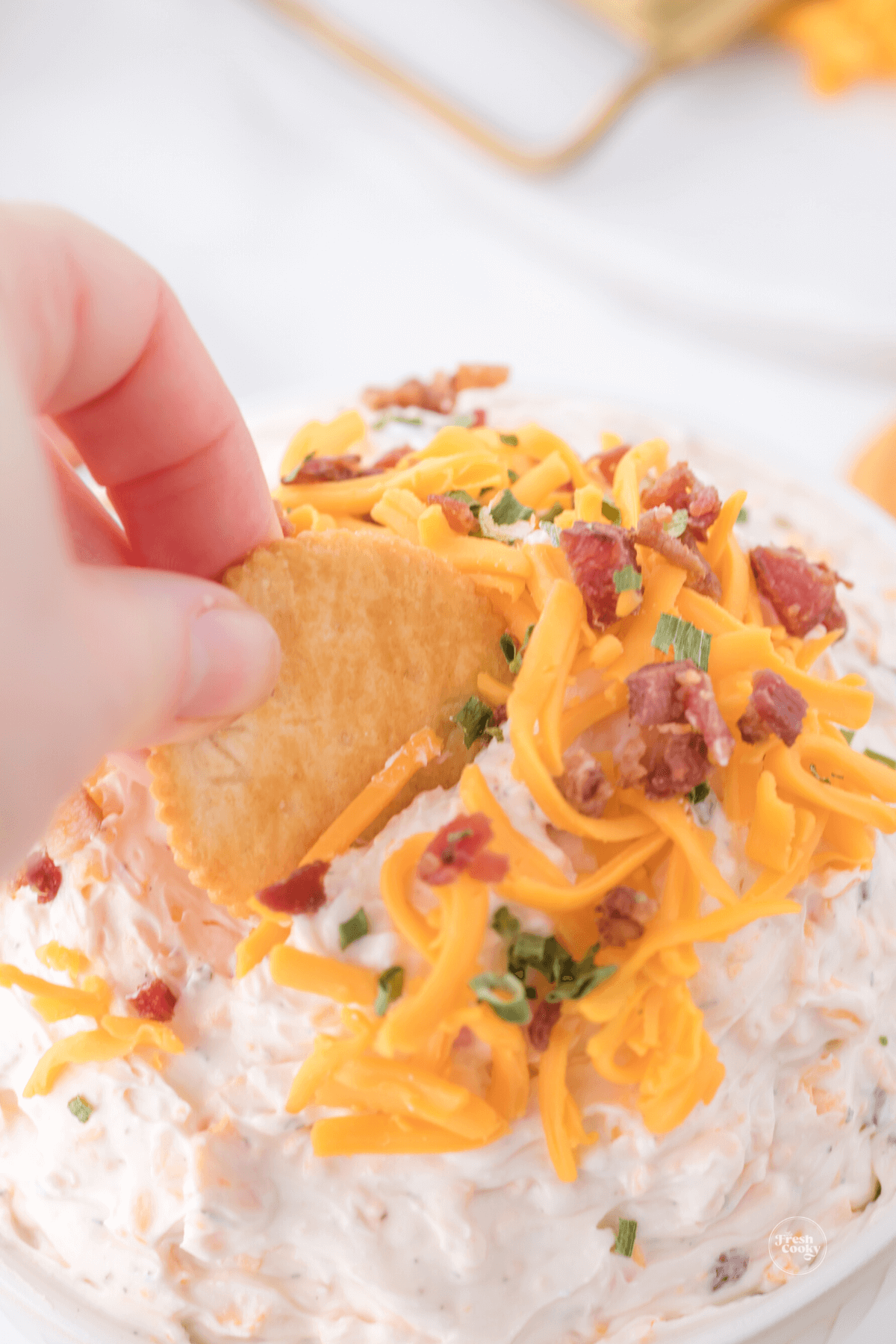 Variations & Substitutions
This dip recipe is perfect for personalizing and making your own. Here are some tasty ideas to get you started:
Swap the cheddar cheese for other flavorful cheeses, like Swiss, Parmesan or Gruyere. For a smokier flavor, use smoked cheddar cheese.
Pour in 1-2 cans of Mexi-corn or sweet corn to the dip for a sweet and crisp addition, drained.
Turn up the heat with a can of diced jalapeños, a dash or two of cayenne pepper.
Swap the ranch dip for taco seasoning, or add up to a teaspoon in addition to the ranch dip.
Add some chopped green onions or chives for a bit of color and extra flavor.
Try serving this dip with pretzels instead of chips or crackers.
Add in chopped fresh herbs, such as dill, parsley, or chives, for some vibrant color and flavor.
If you want a creamier dip, add in an extra ¼ cup of sour cream or for thinner, a little milk or cream.
Add shredded chicken breasts, crab meat, spicy sausage, or other meat — try my 3 ingredient Sausage Dip!
Double the recipe to serve it to a larger crowd.
Storage Tips for Philadelphia Cream Cheese Dip
Refrigerator | It would be a miracle if you have leftovers! Store in an airtight container up to 2-3 days, best eaten within first 24 hours.
Freeze | If you happen to have leftover dip, freeze up to 3 months in an airtight container. And since it will change the texture slightly, I suggest allowing to thaw overnight in the fridge, then transferring to a baking dish, cover with foil and bake at 400 degrees F for about 15-20 minutes, until hot and bubbly.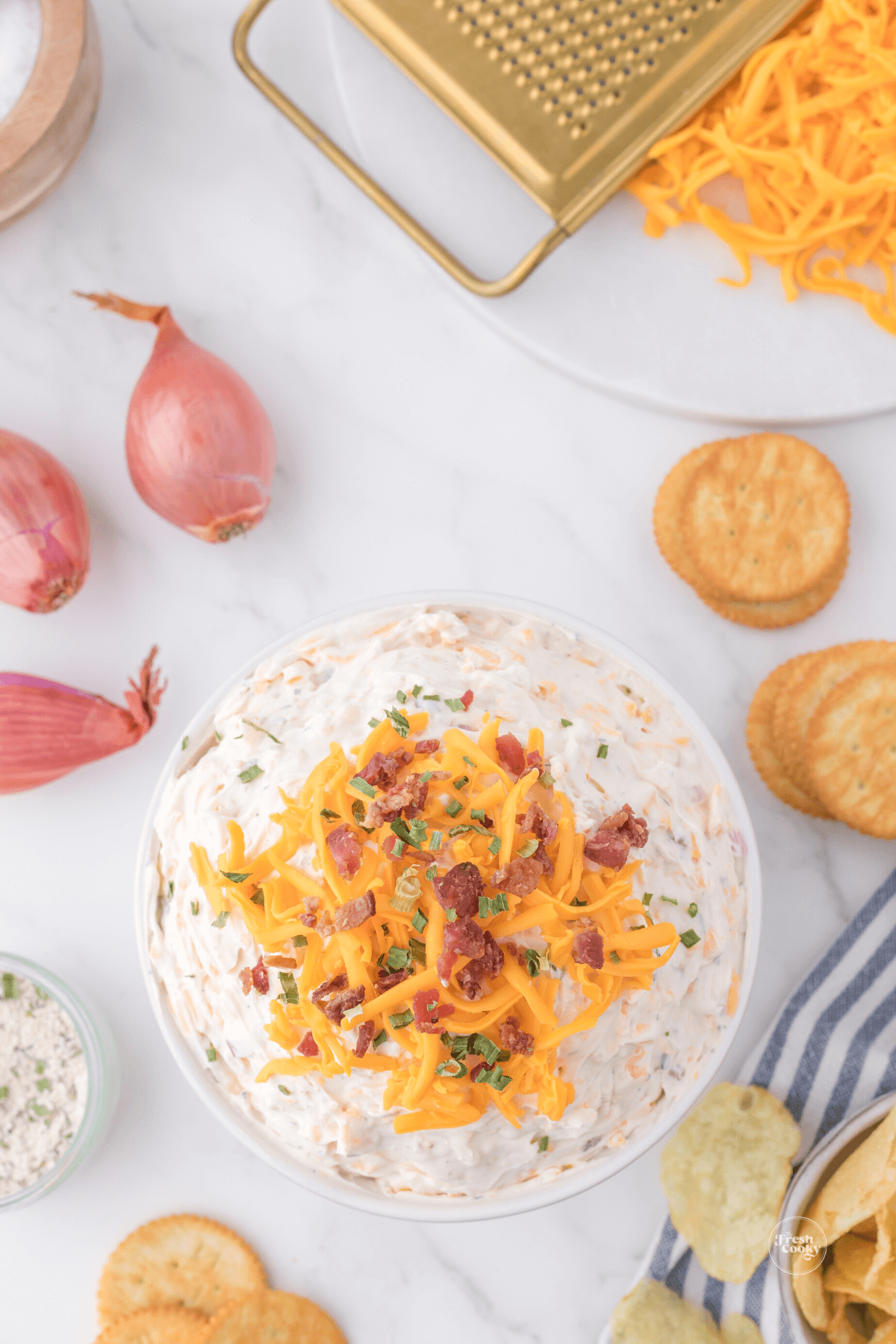 Frequently Asked Questions
How easy is it to make this cowboy crack dip?
This crack dip recipe is very easy to make! It only takes a few minutes to mix all the ingredients together, and then you just need to let it chill in the fridge for an hour before serving. That's it! It's really that simple.
What are the taste and the texture of this crack dip recipe?
Cowboy crack dip is creamy and full of flavor! The cheddar cheese and bacon bits give it a delicious savory taste, while the ranch dressing mix adds a touch of freshness. The shallot provides the dip with a slight onion flavor, while the cream cheese and sour cream make it smooth and creamy. The overall texture of the dip is thick and creamy.
What is crack dip made of?
Crack dip is made of cream cheese, sour cream, shallot, ranch dressing, shredded cheeses, crumbled bacon, and seasonings.
Can I make Philadelphia cream cheese dip recipe dip ahead of time?
Yes, you can make this dip up to 24 hours in advance. Simply store it in the fridge until you're ready to serve it up! It makes for easier prep for any upcoming holiday party.
Can you freeze chip dip?
Yes, you sure can, but freezing anything with dairy will change the texture as it thaws, see my tips below for how to bake your Philadelphia cream cheese dip recipe!
Warm Crack Dip
If you want to make this dip into a hot dip, then simply make the dip, spread into a 2 quart casserole dish and cover with foil. Bake at 400 degrees for about 15-20 minutes until hot and bubbly. Top with fresh green onions and a little shredded cheddar. Serve with pita chips or tortilla chips and watch people go crazy!
What should I serve with this dip?
Honestly, the possibilities are endless! Check out these few ideas:
Potato chips
Pretzel sticks or pretzel thins
Pita chips
Favorite Crackers, yummy with a buttery Ritz cracker
Tortilla chips
Fritos
Bell pepper slices
Celery and Carrot sticks
Jicama sticks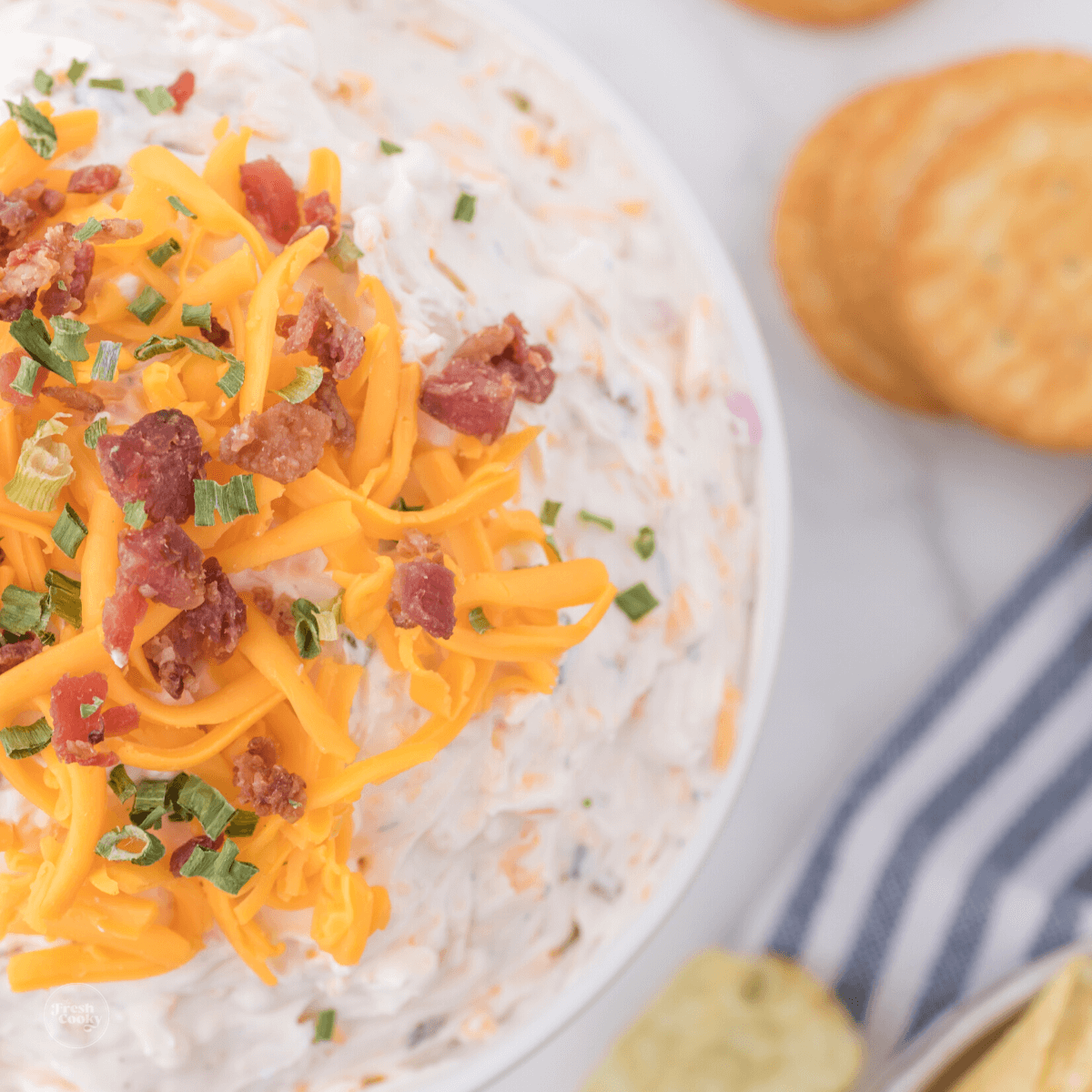 More delicious dip recipes
One of the most crucial steps to this super simple recipe is to allow the dip to chill in the refrigerator for at least one hour before serving. This gives it time for the flavors to really develop.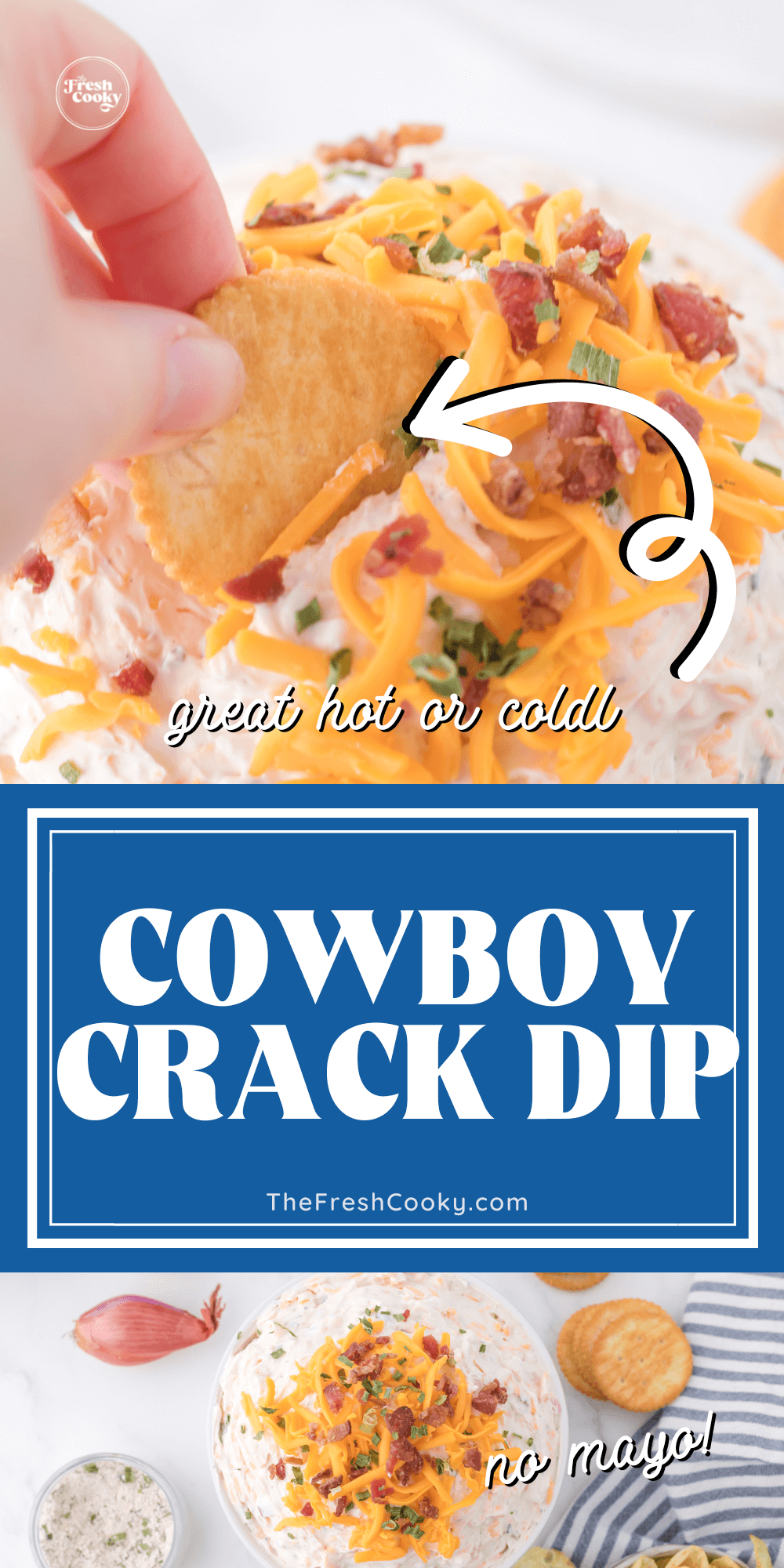 I hope you loved this Philadelphia cream cheese dip recipe — if you did, would you share your creation on Instagram, Facebook and Pinterest? And be sure to comment below!
Like this recipe?
Don't forget to give it a ⭐️⭐️⭐️⭐️⭐️ star rating and comment below the recipe!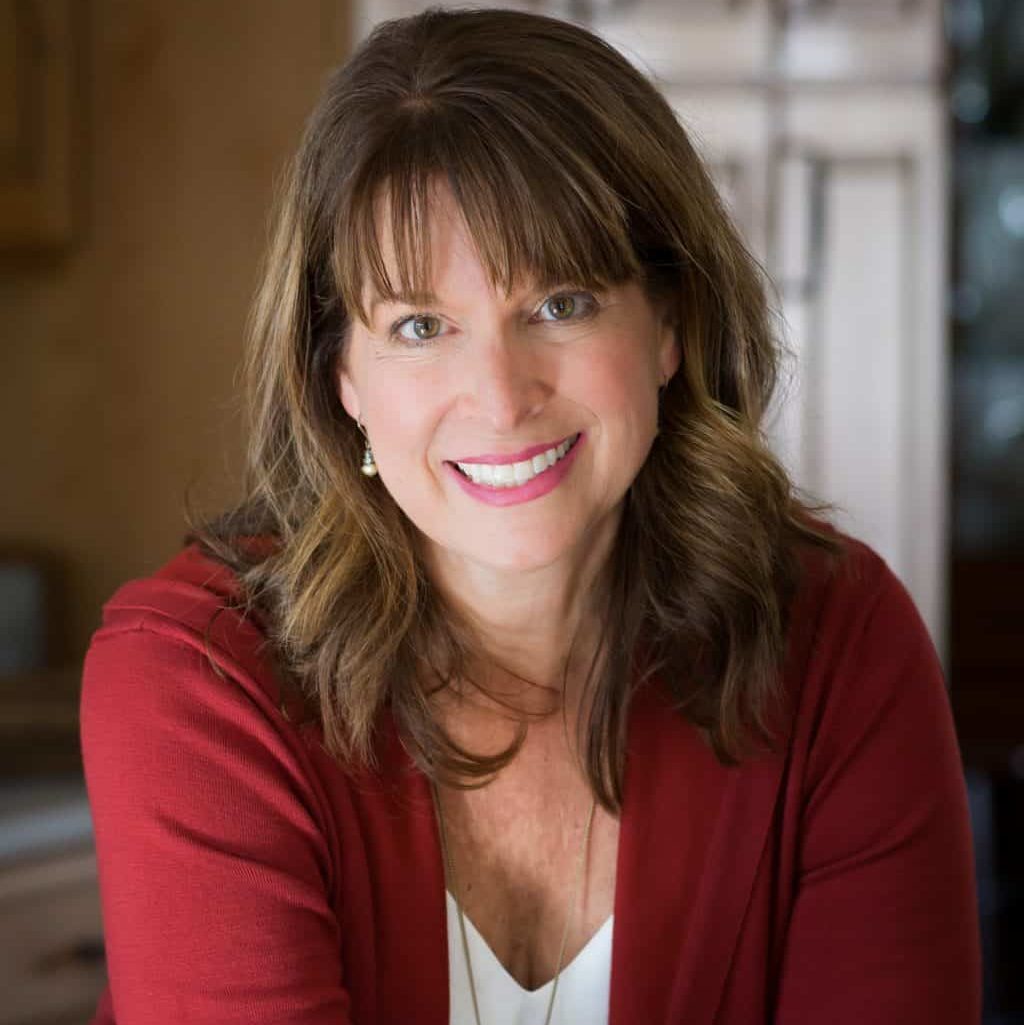 About Kathleen Pope
Recipe Innovator | Food Photographer | Food Writer
Hi, I'm Kathleen Pope. Here at The Fresh Cooky you will find easy, mostly from-scratch, trusted recipes for all occasions. From speedy dinners to tasty desserts, with easy step-by-step instructions. I am here to help teach you how to make mouthwatering recipes without spending hours in the kitchen. Read more about Kathleen here.