How to Plan a Small or Large Brunch
As an Amazon Associate, I earn from qualifying purchases. Please read my disclosure policy.
When springtime rolls around I start thinking of hosting a brunch; with Easter, Mother's Day, Tea Parties, Ladies Luncheons or even the Kentucky Derby; I wanted to show you How to Plan a Brunch.
This post includes easy, tried and true recipes, simple decor ideas, make ahead plans, etc.
I think brunch is probably one of my most favorite special meals to plan, you have diversity in menu items, the best of breakfast plus delicious desserts to choose from.
DRINKS AND NIBBLES FIRST
First things first, when my guests arrive I love having a drink station all set up for them. That way we can all mingle, while they customize their beverage and I bustle about finishing up my preparations.
Set Up a Mimosa Bar
Every hostess should know how to set up a simple Mimosa bar; it's so inviting and pretty, adding easy interest and color to your party decor. Plus your guests can easily help themselves to a drink of their own liking.
Ingredients for a beautiful Mimosa Bar
Provide a variety of juice offerings; orange juice, tangerine juice, cranberry, pineapple, etc.
In pretty serving dishes add a variety of fresh fruit, such as; sliced strawberries, raspberries, blackberries, blueberries, pineapple, mango, pomegranate.
In an ice bucket, place a nice, but not necessarily pricey bubbly, we like Prosecco. You might also consider providing a non-alcoholic bubbly option (Sparkling waters, San Pellegrino, etc. for non-drinking and younger guests a "faux-mosa".)
Add a pretty sign — not necessary, but adds to the celebration.
Don't forget the glasses — use your crystal or go disposable.
Make some Copycat Starbucks Passion Tea Lemonade and always set out a pitcher or pretty dispenser of water.
How to Make a Mini Yogurt Parfaits
I love to have a few light & simple easy to grab munchies for them and these lemon curd yogurt parfaits are perfect for any brunch, luncheon, shower, breakfast or tea party you host!
In mini plastic cups, I layered vanilla bean yogurt and lemon curd, topping with fresh berries and adding a mini plastic spoon.
To easily layer soft foods (yogurt, curds, mousse, puddings, frosting, etc) into a mini container; simply place desired soft item into a piping bag, snip off the end about 1/2 inch and pipe in as desired. Or just use a sandwich baggie!
Make ahead and refrigerate until ready to serve, up to 24 hours ahead; place a fresh berry on top just before serving.
Set on a pretty platter, serve immediately with mini spoons. Check out these other pretty options for parfait's as well.
When planning my brunch menu, I consider who I have invited and whether or not I need to ask for help. The older I get, the more often I ask for HELP! Do not try and do it all alone, your guests appreciate being asked to bring something, if you want it all to go together, give them suggestions on what to bring.
Set the Table the Night Before
Setting a pretty table is one of my favorite parts of hostessing; do this a day or two before if possible. Peruse this post showcasing some easy and simple Easter and Spring tablescapes and decor ideas.
Set up the drink station ahead of time; glasses, cups, signs, dispensers, etc.
Determine a Plan
Will you have a sit down meal with plated food? Or buffet style? Personally, I like buffet style, maybe it's because I have a large family and it's just not practical to pass and serve.
Either way, determine what you will do. Set up serving dishes you will use and put notes with what will go in each dish.
Lay out utensils for serving, this helps as you start placing items in their serving dishes plus others can help lay out the spread.
Make Ahead Dishes
Make as much ahead of time as you can. Many casseroles can be made ahead of time, along with salad dressings, desserts, sides and more.
If you need to put things together the day of, do what you can ahead of time; chop onions, snap green beans, chop what you need and store in individual containers.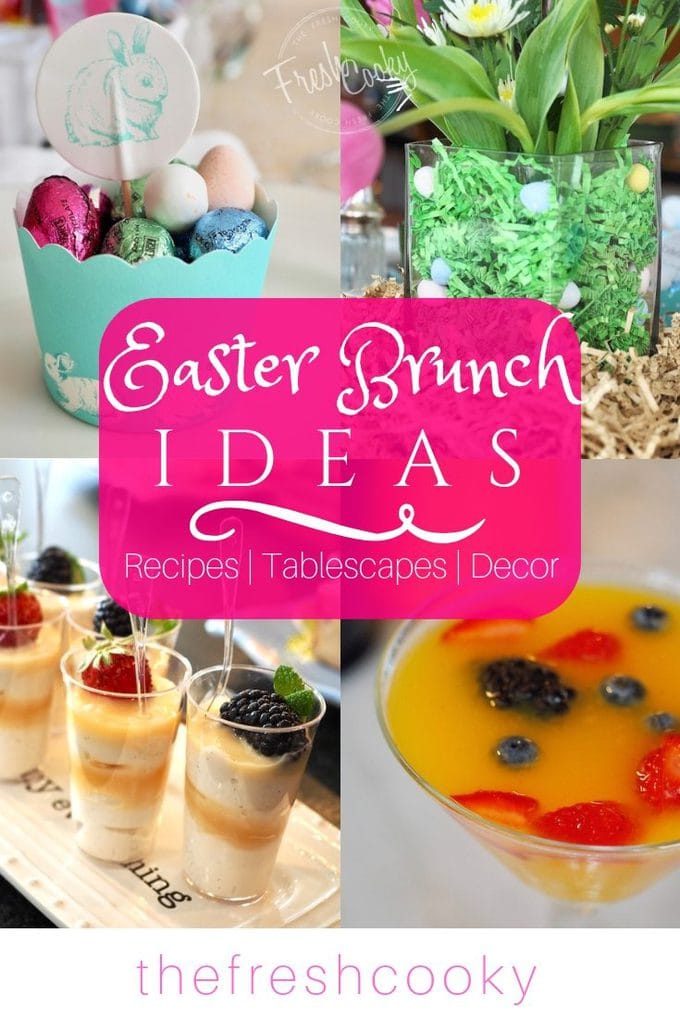 Plan the Brunch Menu
As the hostess I like to provide the main dish, whether that be a nice ham, or a beautiful quiche.
Generally, I choose something savory, something sweet, something fresh and something light. Below are some great recipe ideas to round out what you will serve.
Ask others to help fill out the menu, sides, salads, appetizers, desserts
Most of these recipes can easily be made ahead of time, I don't know about you, but when I am hosting a party, that is a HUGE PLUS! On to some fabulous recipes you will love to serve for brunch or lunch this Easter!
Easter Brunch Main Dish, Sides and Salads
Be sure to check out these other posts as well, that will help you Plan a Brunch
Easter Brunch Breakfast Sweets & Desserts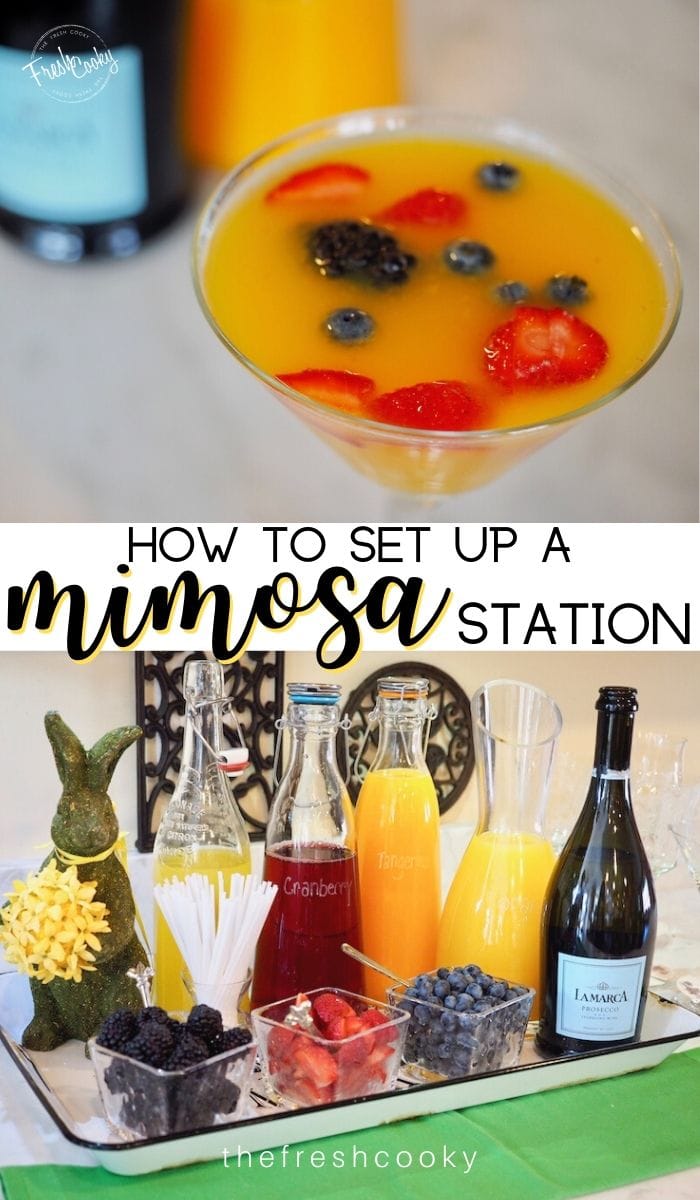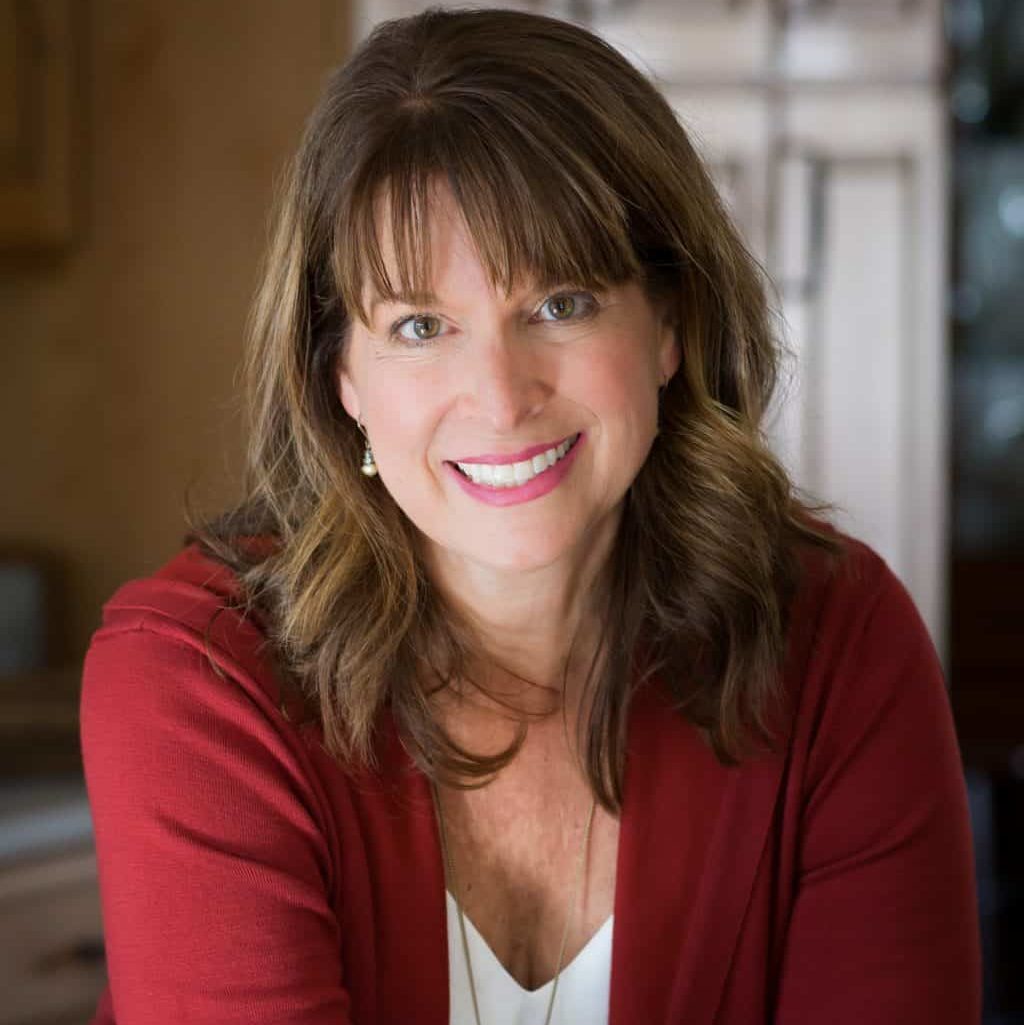 About Kathleen Pope
Recipe Innovator | Food Photographer | Food Writer
Hi, I'm Kathleen Pope. Here at The Fresh Cooky you will find easy, mostly from-scratch, trusted recipes for all occasions. From speedy dinners to tasty desserts, with easy step-by-step instructions. I am here to help teach you how to make mouthwatering recipes without spending hours in the kitchen. Read more about Kathleen here.