Greek Butter Cookies | Koulourakia
As an Amazon Associate, I earn from qualifying purchases. Please read my disclosure policy.
Koulourakia are traditional Greek butter cookies; a pastry like cookie, crisp on the outside tender and buttery on the inside, with a hint of cinnamon and vanilla — the perfect dunking cookie! These butter cookies are mouthwatering and perfect to kick off the holiday baking season, but I'll let you in on a secret, they are delicious any time of the year.
Are you a cookie dunker? I am! Some cookies just scream for a rich cup of coffee or tea to dunk them in and these Greek cookies are perfect!
If you enjoy cookies for dunking, these are some of our favorites! Classic Sugar Cookies, Oatmeal Sandwich Cookies and of course chewy Chocolate Chip Cookies!
The Mountain Baker
This delicious, authentic Koulourakia recipe is from my fellow extraordinary baker, and friend Mimi, owner of Dessert'D Organic Bake Shop in Mammoth Lakes, California. She calls these cookies, Koloodia Cookies (there's a fun story there, read on) and they are in their latest cookbook; The Mountain Baker: 100 High Altitude Recipes for Every Occasion!
This practical cookbook was written by Mimi and her bakery partner Kimmy and is loaded with so many delectable, must make recipes. Easy to follow instructions and adjustments for making and baking at high altitude and sea level, plus gluten free and vegan options.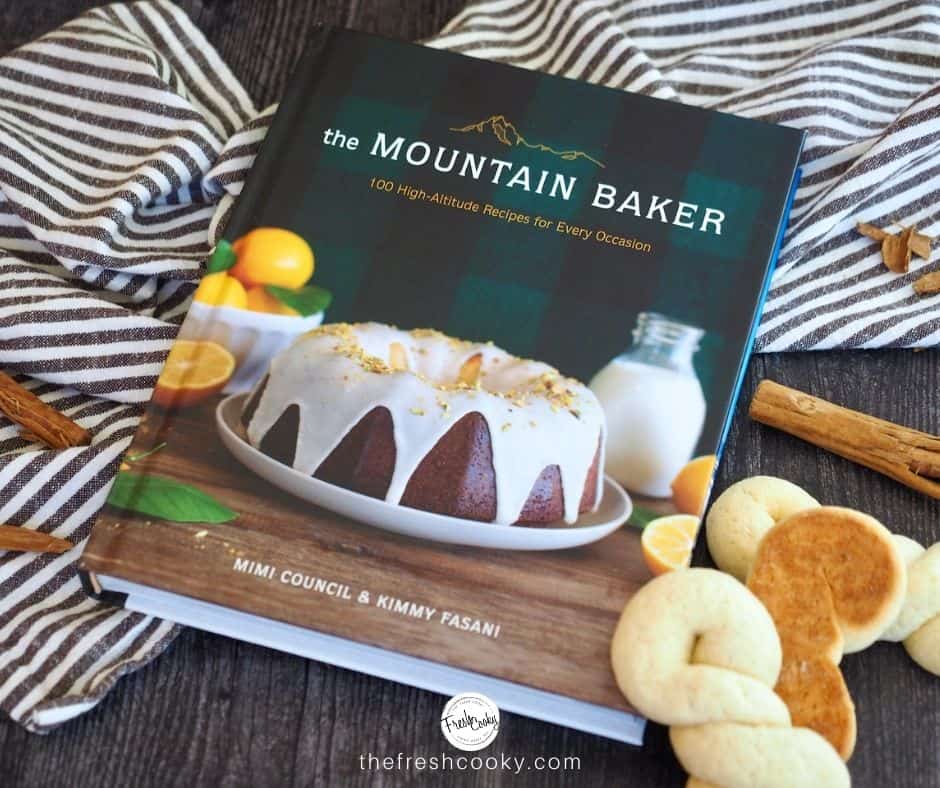 Recipes that stood out to me and can't wait to try are; Mountain Bread, Chocolate Sweet Rolls, Honey Graham Pancakes, Summit Bars, Rosemary Parmesan Biscotti, Backyard Snow Cones, Baked Mac & Cheese and Snow Day Cake!
If you are a cookbook lover like I am, you might also love Mimi's Cookies for Everyone cookbook! Check out all of my favorite cookbooks here — great gifts for bakers!
What Does Koulourakia Mean?
The name koulourakia (pronounced ku-LU-ra-KA) translates to "little koulouria".

Koulouria (whose name comes from its round shape) are sweet, bready rings that can be served at dinner or as a street food.

Koulourakia, on the other hand are a much smaller, butter cookie that are hand rolled and shaped into fun twisted designs.

They traditionally have an egg glaze and are topped with a sprinkling of sesame seeds. (source)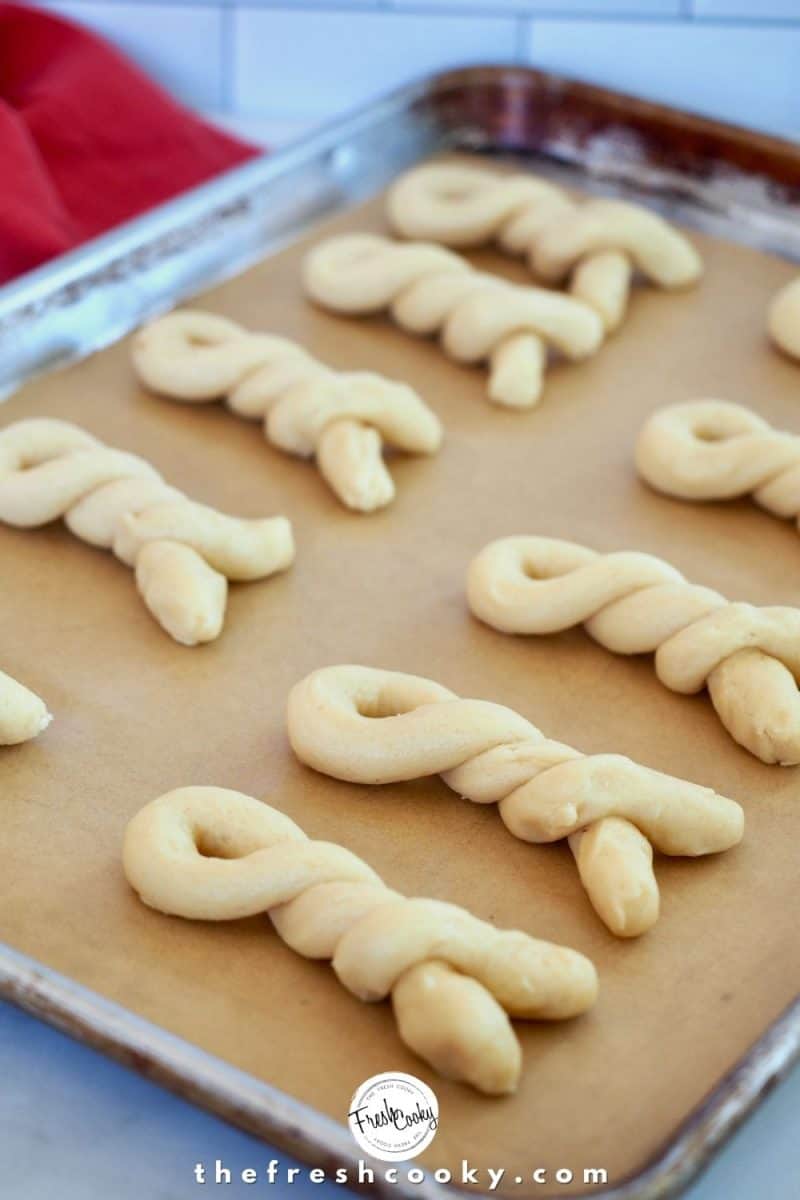 To Glaze or not to Glaze
Mimi's do not have an egg glaze and are sesame seed free; making them a bit easier. Should you want to add a pretty shine, I will provide instructions on how to brush on an egg glaze, but it doesn't alter the taste one way or the other.
This recipe makes 40 good sized cookies, you can certainly opt to use smaller amounts of dough making them smaller, just reduce your baking time accordingly, starting to check them at about 10-12 minutes.
You might be wondering if these are authentic or traditional Greek butter cookies? Mimi's recipe is from her YiaYia ("grandma in Greek"). In fact, her whole family grew up calling them Koloodia cookies and not until writing this cookbook did she discover the correct Greek word for them was Koulourakia, but they still call them Koloodia's — I love stories like that!
Additionally, I asked our dear neighbors (who happen to be Greek) to taste test the cookies, asking for honest feedback. This is what they said:
The Koulourakia they've made and eaten are much smaller in size (but they loved this size)
They are typically more dry (they use them for dunking)
Texture and flavor were delicious
Like many traditional ethnic recipes, there are hundreds of variations passed down from generation to generation over the years
Spices were just right
They gave them a 10 out of 10!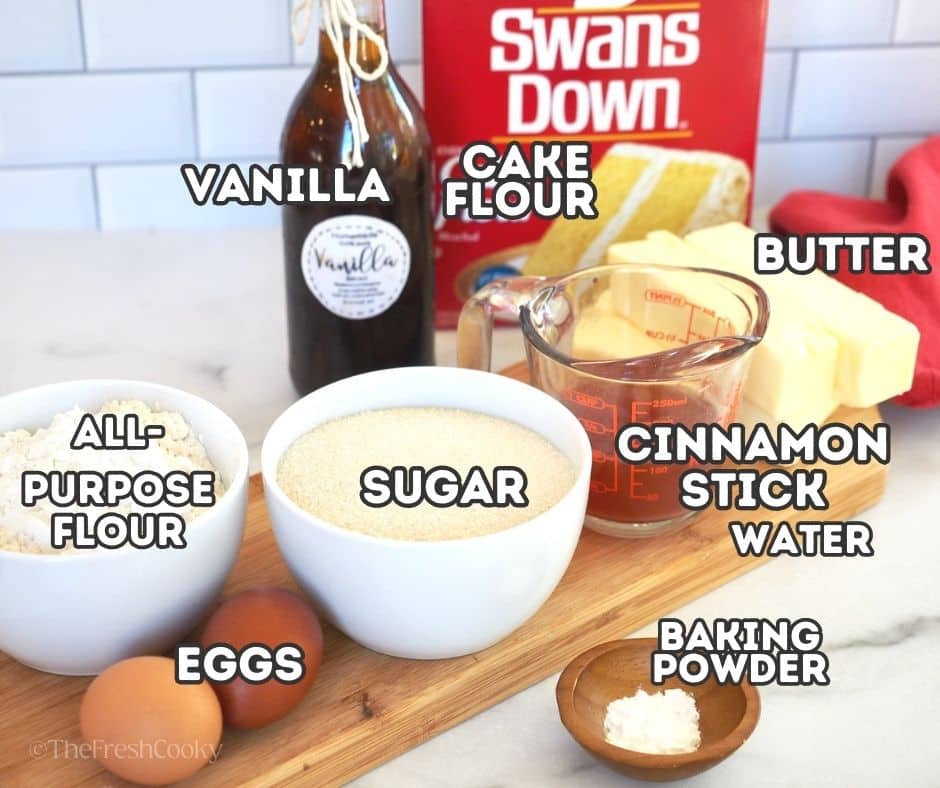 Ingredients
Water | I used filtered water
Cinnamon sticks | I use cinnamon sticks in various recipes, so I buy them in bulk.
Salted butter | The real deal, if it is soft coming out of the fridge, it's not real butter
Cane sugar |I used unbleached all natural cane sugar
Vanilla extract | the pure stuff, make your own vanilla and stop paying the high prices!
Cake flour | I happened to have a box of Swan's in my freezer* but would have preferred to use White Pastry Flour, mainly because it's unbleached.
All-Purpose Flour | I use this one the most often as I buy in bulk from Costco
Eggs | I always use large eggs in my baking, typically free range
Baking Powder | just a touch, original European recipes used baking ammonia (or ammonium bicarbonate) which is not used very often, it is a traditional leavening agent, which we replace 1:1 with baking powder.
FRESH COOKY TIP | Keep specialty and whole grain flours, grains and rice in the fridge or freezer; the higher levels of natural oils in these products causes them to go rancid quicker at room temperature. Typically it extends their shelf life in the fridge to 6 months and freezer up to a year.
Cinnamon Water Reduction
I loved that Mimi's recipe has a secret ingredient, what I am calling a cinnamon water reduction. I made this reduction the day ahead, so it had plenty of time to cool before adding it to the dough.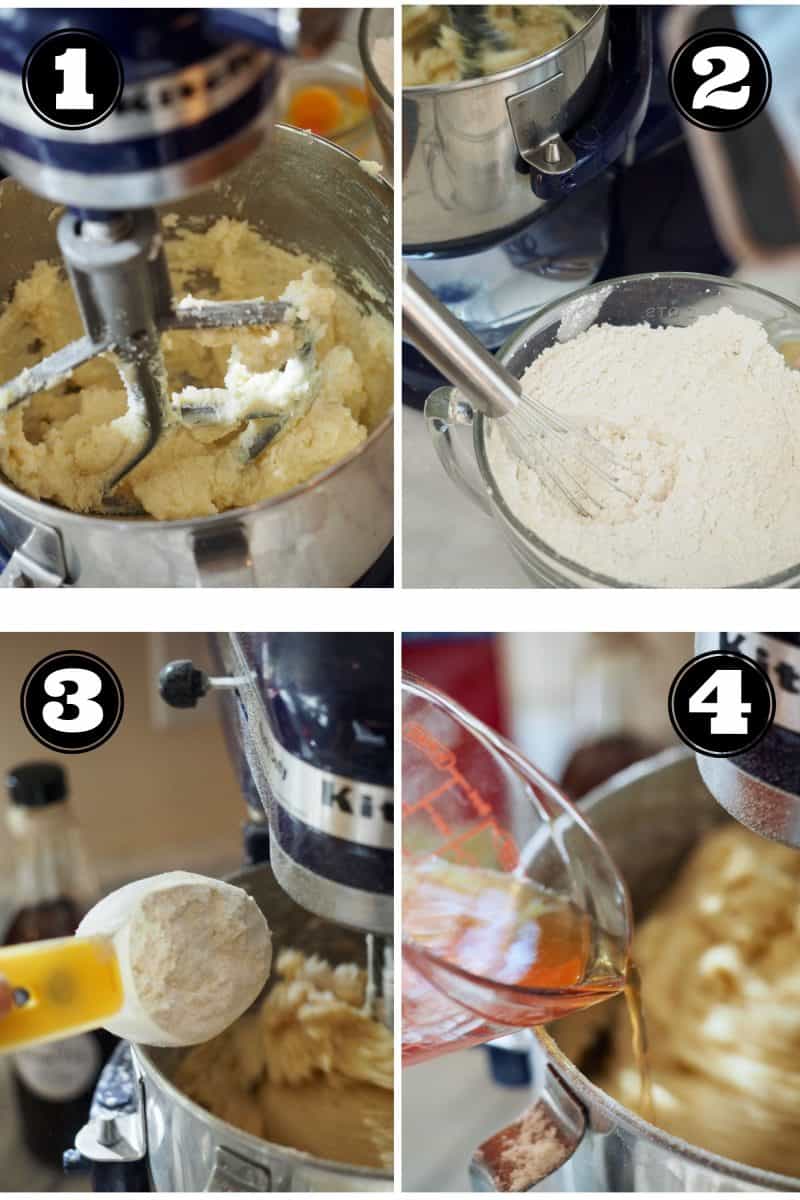 Koulourakia Dough
This dough is soft, pliable and a tiny bit sticky, like a traditional sugar cookie dough or similar to my Frosted Sugar Cookie Bar dough.
Add water and cinnamon sticks to a small saucepan and bring to a rapid boil, over medium heat, reducing to simmer once boiling. Once the water has reduced by about ½ remove from heat. It's better to boil off too much water than not enough, you want the flavor of the cinnamon to shine through. If you do boil too much off, simply add cool water to bring to ½ a cup. Cool completely!
Using a mixer, fitted with a paddle attachment, cream the soft butter, vanilla and cane sugar mixing until smooth and combined on low. You don't want any chunks of butter remaining.
Whisk together in a large separate bowl, cake flour, all-purpose flour and baking powder.
With the mixer on low, add eggs to the butter mixture, then add the flour mixture alternating with a little of the cooled cinnamon water until it comes together and forms a soft, smooth dough.
Using your hands or a 1 ½ tablespoon cookie scoop (makes the cookies come out pretty evenly) scoop a generous heaping portion of dough (about 1.5 oz or 45 grams) and place on parchment lined cookie sheet. Roll into ball and then into about 7″ long ropes, form a "U" shape, then cross one side over the other and twist twice. Place twists onto parchment lined baking sheet, one inch a part.
Bake at 375F for 17-18 minutes for high altitude and about 20 minutes for sea level until golden brown on edges and bottom. Allow to cool completely on baking sheets. Store in airtight container on the counter up to 7 days or up to 3 months in the freezer.
TIPS AND TRICKS
I found refrigerating the dough for 10 minutes after portioning into dough balls made it easier and more uniform to shape these into their traditional twist shape.
I experimented with refrigerating the dough after shaping, as well as placed them straight into the hot oven. The results were almost identical, so go ahead and pop them right in the oven.
Make them smaller! Yielding a lot more cookies, great for larger Easter celebrations or Christmas cookie exchanges. Reduce baking time checking at about 10-12 minutes or so. These are also a fun cookie for kids to help make.
Shape into a variety of shapes; try rings, crescents, twists with lots of twists or a few twists, an "S" shape.
Brush them with an egg glaze; whisk 1 egg with a tablespoon of water, brush on top of Koulourakia dough before baking, if desired sprinkle with sesame seeds.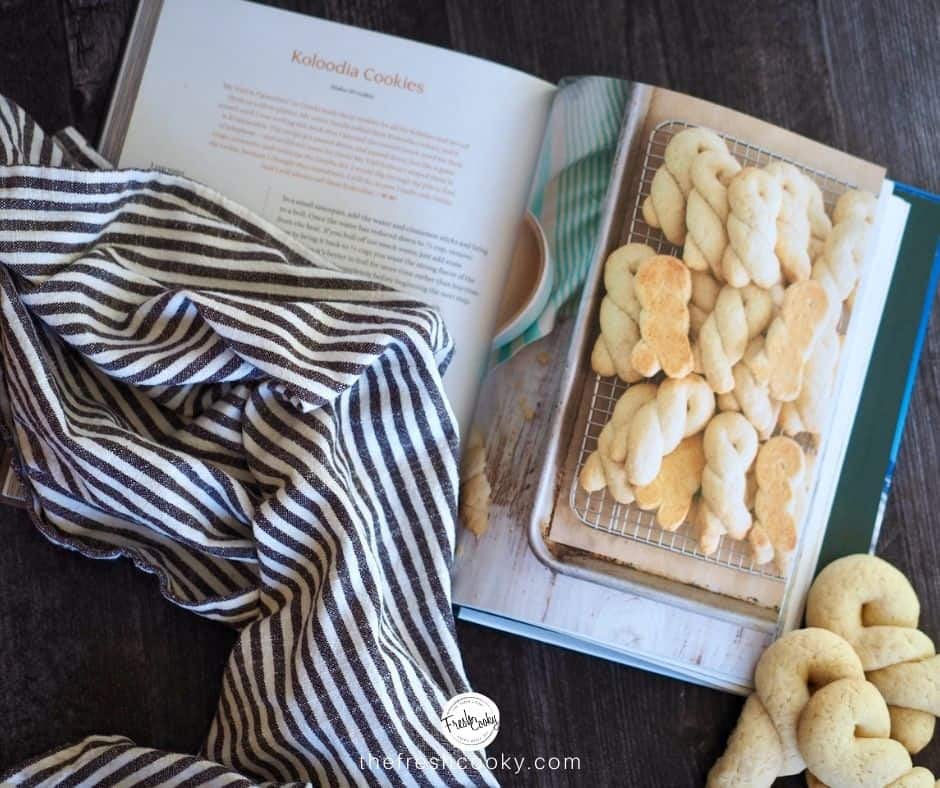 Make Ahead and Freezing Tips
While I didn't try this, I believe this dough is similar to a sugar cookie dough, which I have frozen with success before, like these amazing Pan Banging Sugar Cookies. My suggestions for the best freezing method:
Pre-roll the dough into desired size balls
Wrap in parchment paper, then place in airtight freezer container getting out as much air as possible.
Store dough in freezer up to 3 months
When ready to roll and shape the dough, thaw in refrigerator until dough is workable. Shape as desired into twists and place on parchment lined cookie sheet.
Bake as directed
I hope you loved this recipe for Koloodias or Greek Butter Cookies as much as our family did and start a new tradition this Christmas or Easter, or anytime you need a spot on cookie!
PIN this recipe to your favorite Cookie board!
Like this recipe?
Don't forget to give it a ⭐️⭐️⭐️⭐️⭐️ star rating and comment below the recipe!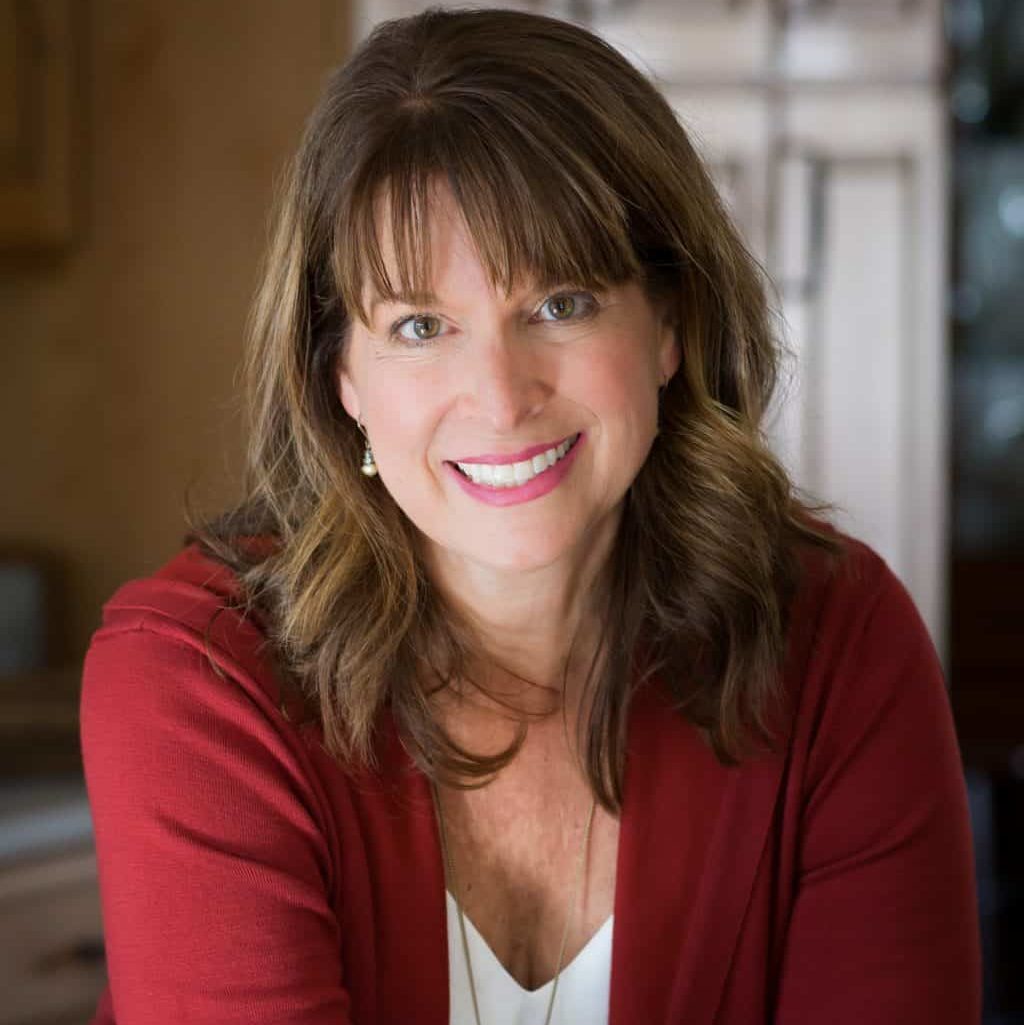 About Kathleen Pope
Recipe Innovator | Food Photographer | Food Writer
Hi, I'm Kathleen Pope. Here at The Fresh Cooky you will find easy, mostly from-scratch, trusted recipes for all occasions. From speedy dinners to tasty desserts, with easy step-by-step instructions. I am here to help teach you how to make mouthwatering recipes without spending hours in the kitchen. Read more about Kathleen here.