Pan Banging Sugar Cookies
As an Amazon Associate, I earn from qualifying purchases. Please read my disclosure policy.
This recipe for Pan Banging Sugar Cookies have amazing chewy, almost caramel like centers, while the edges are delightfully crisp. Top it all with a drizzle of browned butter glaze, toss some sprinkles on to bring it from great to fabulous, from everyday to "let's celebrate"!!! I guarantee, anyone can make these cookies!
Sugar Cookies are probably the simplest of cookies, and yet they easily it encompass the warmth, smell, taste and joy that Christmas baking brings to the season, they are fabulous anytime of year!
Try these other cookies too: Oatmeal Rolled Sugar Cookies, Classic Shortbread Cookies and these Eggnog Gooey Butter Cookies.
The quintessential cookie of Christmas has to be the sugar cookie; whether simply dressed in only sprinkles, or slathered in a creamy buttercream frosting or a delicious glaze.
What is a Pan Banging Cookie?
This clever process was developed by Sarah Kieffer in her cookbook, The Vanilla Bean Baking Book, her gastronomic creation of the Pan Banging Chocolate Chip Cookie has taken the internet by storm and now others are creating pan banging cookies of their own.
Like this incredible Pan Banging Sugar Cookie inspired by Sarah, but reinvented into a sugar cookie by Sprinkles for Breakfast. I've altered her recipe to adapt to my tastes and for high altitude!
In no time at all you'll be banging your way around the kitchen turning out your own incredible pan banging sugar cookies!
HOW TO MAKE PAN BANGING COOKIES
It's really quite easy and oddly satisfying especially if you are a baker, it goes against everything you've ever learned about baking…be careful, don't bang baked goods, banging them will make them fall, well for these cookies the more banging the better!
In the bowl of a stand mixer fitted with paddle attachment, place your room temp butter and beat for 1-2 minutes until light and fluffy, scrape down sides of bowl and beater.
Pour in 1 1/2 cups of sugar, I use all natural cane sugar, so I beat it a bit longer to break down the granules further. If using white sugar, beat for 2 minutes on medium-high, if using natural cane sugar, beat on medium-high for 4 minutes until creamy, light and fluffy. Scraping down sides of bowl occasionally.
Add the egg, vanilla and water, mixing on medium-high for 1-2 minutes until incorporated and fluffy, scrape sides.
Toss in all-purpose flour, baking soda and salt; mixing on low until combined. Scrape sides and beater blade and mix again for a few seconds to combine. Dough will be sticky.
In a small bowl, pour in remaining sugar about heaping 1/4 cup, this is for rolling the cookies.
Using a medium or large cookie scoop, scoop dough into balls and roll in sugar. Continue with half your batter, placing dough balls on a parchment lined cookie sheet. Place dough balls in freezer for 10 minutes.
Preheat oven to 350° and prepare 3-4 cookie sheets, lining with parchment paper. While your sugar cookies are chillin' repeat the "scooping and rolling in sugar" process with balance of cookie dough, place in freezer.
For a medium scooped cookie dough ball, place 6 dough balls, 3 or more inches apart on half sheet pan. If you have smaller cookie sheets, no worries, place 3-4 cookies at time on the cookie sheet to bake. If baking larger cookies, only place 3-4 at a time and make sure there is plenty of space.
PAN-BANGING HOW TO'S
Once your first batch of dough balls have chilled for 10 minutes, then place prepared frozen dough balls into oven and bake for 5-6 minutes (for medium scoop) and 6-8 minutes for large cookie scoop; until puffed up in center.
Using an oven mitt, reach in and lift the cookie sheet off the rack a couple of inches and then drop the pan down onto the rack, banging the pan each time. Do this twice.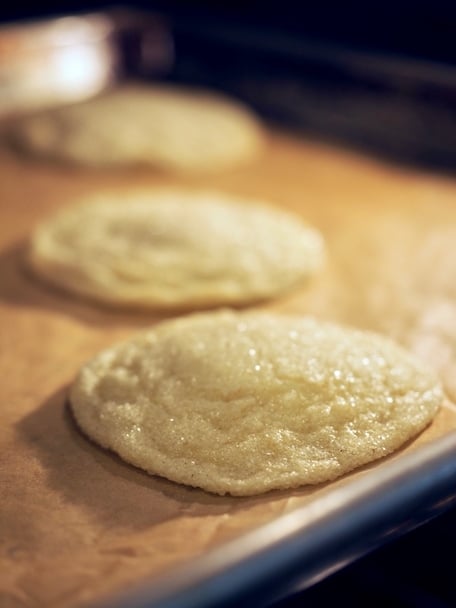 Return to the oven for 1-2 more minutes and then repeat the banging process.
Bake another minute and remove from oven, banging them one last time on the cooling rack. Allow to cool at least 10 minutes on pan to optimize chewiness.
Baking medium scooped (walnut sized) cookies for a total of 7-9 minutes and large scooped cookies for a total of 11-13 minutes. Keeping dough in freezer between batches, repeat process on cooled cookie sheet.
NOTE | Cookies are done with edges are slightly golden, they have spread and wrinkly edges are now present. Allowing the cookies to cool at least 10 minutes on the pan will ensure they are the chewiest.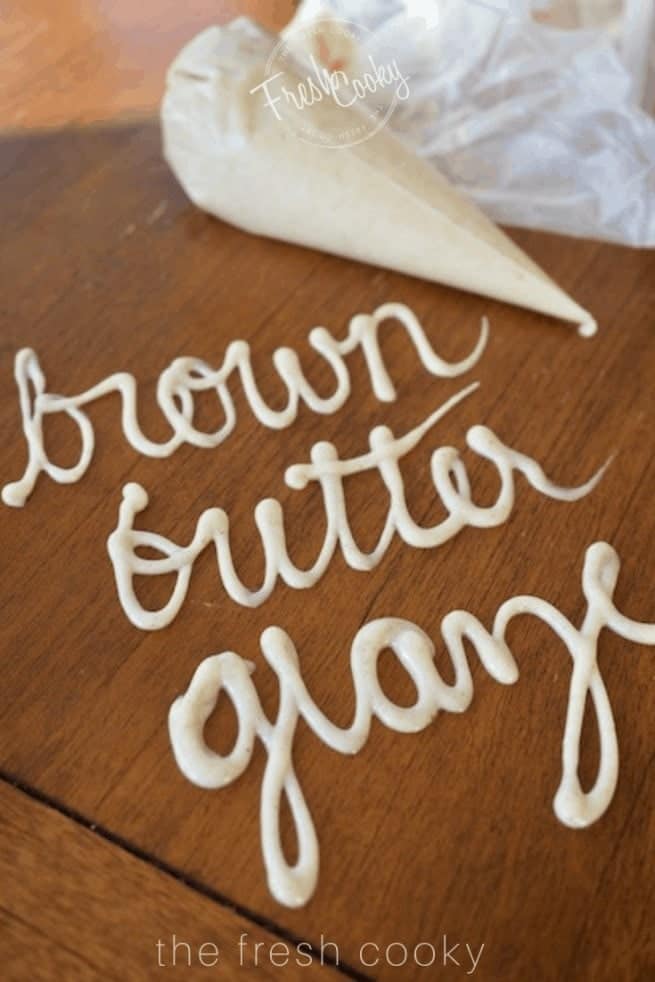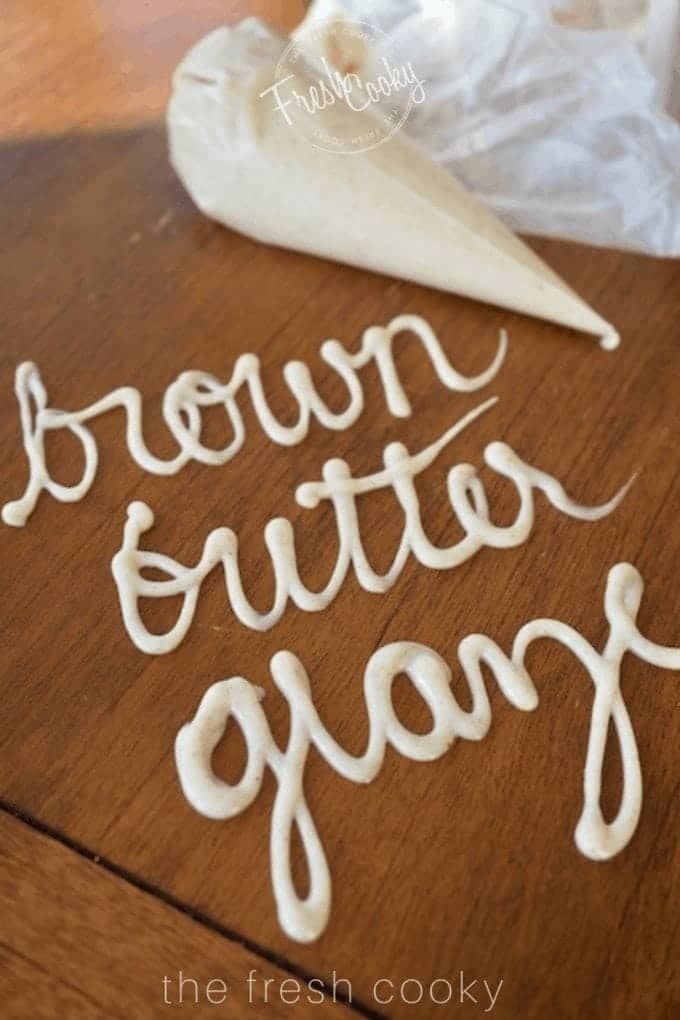 How to make browned butter + glaze
Place butter in a small saucepan, over medium-low heat melt butter; it will snap, sizzle and pop.
Swirl it around every once in a while, when it starts foaming up let it sit on low until foaming subsides, by then your butter should have a nutty aroma and a caramel color. Remove from heat and cool for a few minutes.In a small mixing bowl, measure powdered sugar and pour in browned butter and water, add a pinch of salt and whisk until smooth and pipeable or spreadable.
If it seizes up on you or is too thick*, add a teaspoon of water at a time until thin enough to pipe or spread. Whisking well to combine.
*You may also place in the microwave for 10 second intervals if the glaze gets too thick.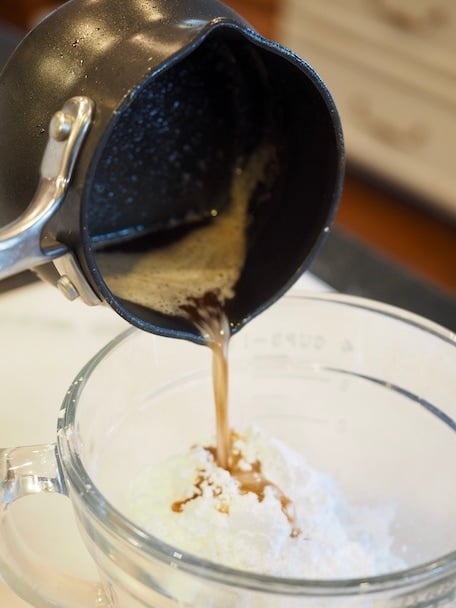 TIP | If desired, replace a tablespoon of water with vanilla or maple syrup!
BAKING HACK | When scooping glaze into a piping bag, simply place the bag in a tall, heavy glass, roll down the edges of your piping bag to enlarge the opening and pour or scoop the frosting/glaze inside.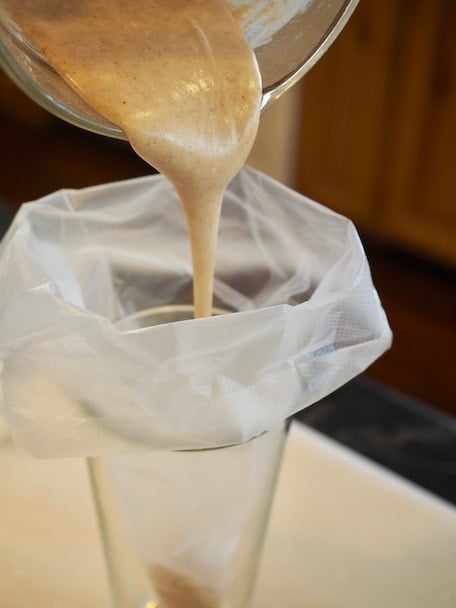 Drizzle on with a spoon, or pour your glaze into a piping bag (baggies work great too) for piping onto the cookies.
Simply snip the end (or corner from a baggie). Be sure to snip a tiny bit initially and see how the stream comes out, if too tight, snip a bit more off until you get the desired amount.
Drizzle back and forth and if desired sprinkle with your favorite holiday sprinkles, like these darling gingerbread sprinkles or these hot cocoa sprinkles.
These cookies are not just for the holidays, change up your sprinkles and suddenly you have year round sugar cookies!
Store cookies in sealed container on the countertop for 2-3 days. For longer storage, freeze and bring to room temperature before serving.
If stacking, place wax paper or parchment paper between cookies to preserve frosting or freeze unfrosted and thaw and then frost.
Like this recipe?
Don't forget to give it a ⭐️⭐️⭐️⭐️⭐️ star rating and comment below the recipe!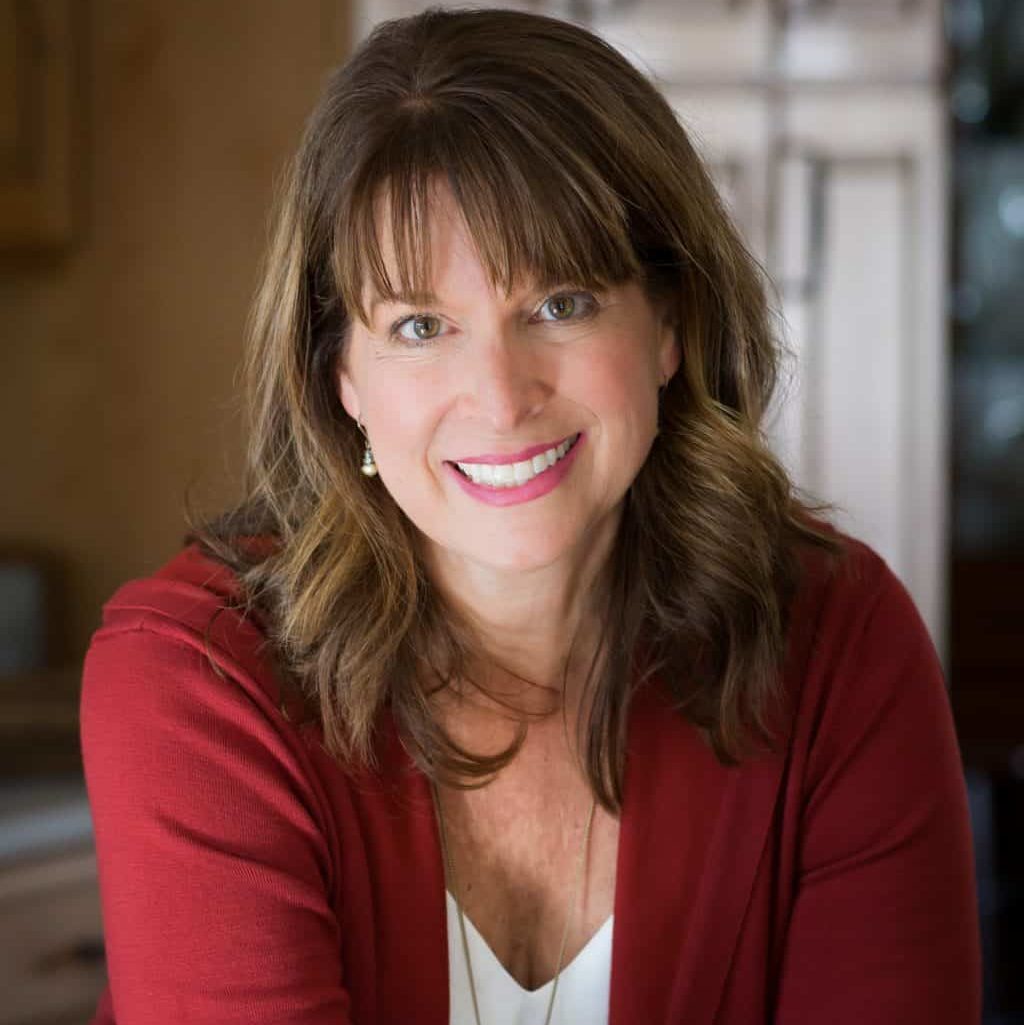 About Kathleen Pope
Recipe Innovator | Food Photographer | Food Writer
Hi, I'm Kathleen Pope. Here at The Fresh Cooky you will find easy, mostly from-scratch, trusted recipes for all occasions. From speedy dinners to tasty desserts, with easy step-by-step instructions. I am here to help teach you how to make mouthwatering recipes without spending hours in the kitchen. Read more about Kathleen here.