Lemon Shortbread Sandwich Cookies
As an Amazon Associate, I earn from qualifying purchases. Please read my disclosure policy.
Lemon Sandwich Cookies are a light, buttery, slice and bake cookie with a bright lemon flavor, they are tender, not overly sweet, with a delicious sweet-tart lemon frosting sandwiched between. These might possibly be my most favorite cookie.
If you are a light, airy and buttery cookie fan, try these Classic Scottish Shortbread Cookies, or my Pan Banging Sugar Cookies or these super simple Sugar Cookie Bites and Bars.
Butter Shortbread Cookies with Lemon
These cookies, without a doubt, are worth the effort, they are NOT difficult, they just take a little planning as they need to chill, like hang out in the fridge kind of chill.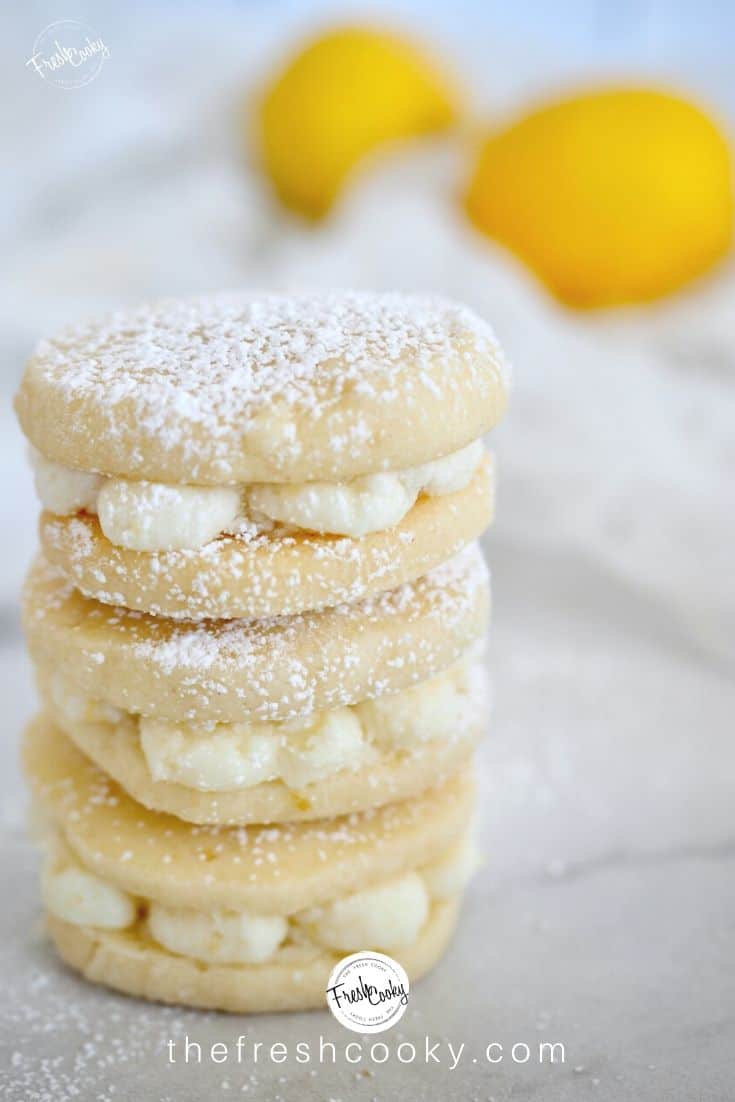 HOW TO MAKE SLICE AND BAKE LEMON SANDWICH COOKIES
Start by zesting your lemons, sometimes I will zest several and freeze the extra zest and juice.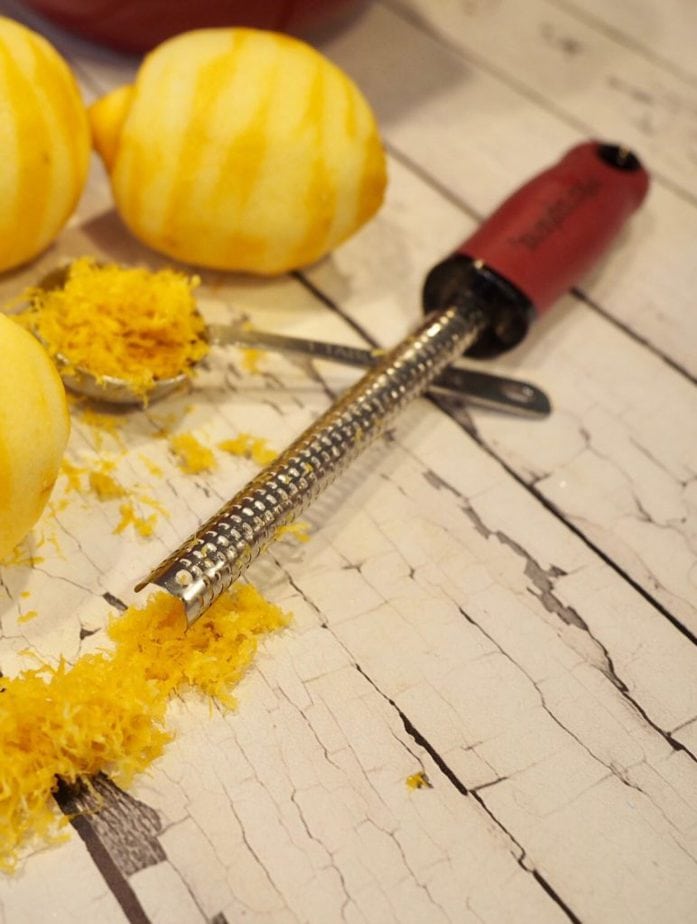 Place softened butter in the bowl of a stand mixer, fitted with a paddle attachment and mix on medium-high for 2-3 minutes until light and fluffy.
Add sea salt (just an ⅛ of a teaspoon if using salted butter) and powdered sugar, start mixer on low, increase to medium once powdered sugar incorporated, for another 2-3 minutes, until light and fluffy!
Add vanilla extract and lemon zest, mix until combined.
Place a sieve over the mixing bowl, pour in all-purpose flour and cornstarch, sifting into mixing bowl.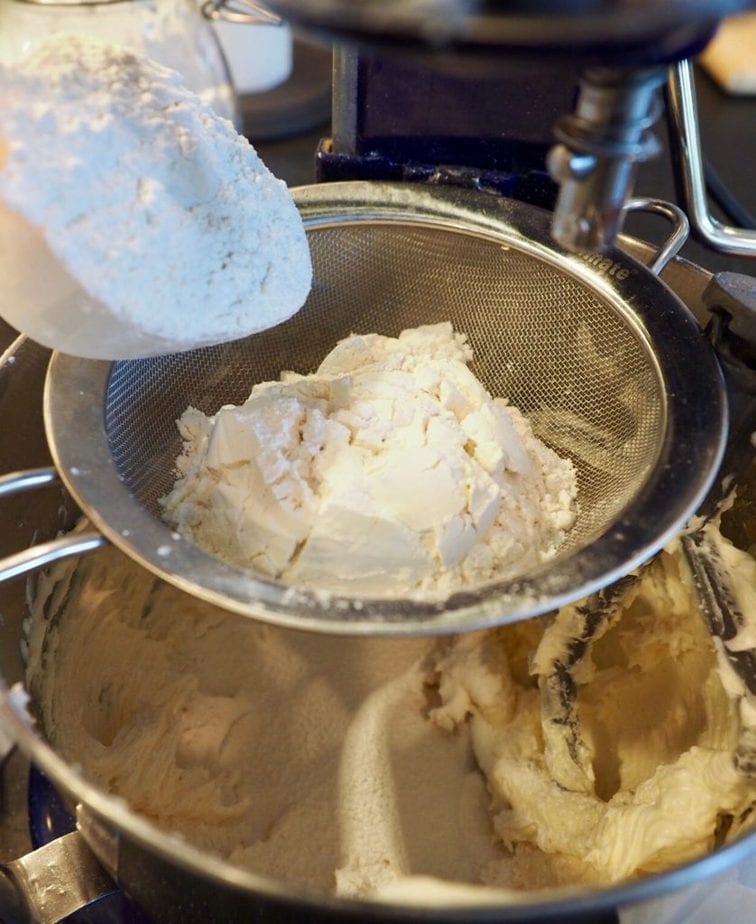 Mix until just combined, scraping down sides as needed.
It'll be a nice soft dough. Now you divide it up into 2 or 3 portions.
How to Shape Refrigerator Cookies
Place your portion of dough, wrapping in plastic wrap and gently mold. Make it square or round, or a bit of both, depending on your mood.
For square, I squared it up as much as I could on my own, then used a couple of boxes (plastic wrap boxes work great) and put gentle pressure on each side of the plastic wrapped dough to create a nice rectangle log.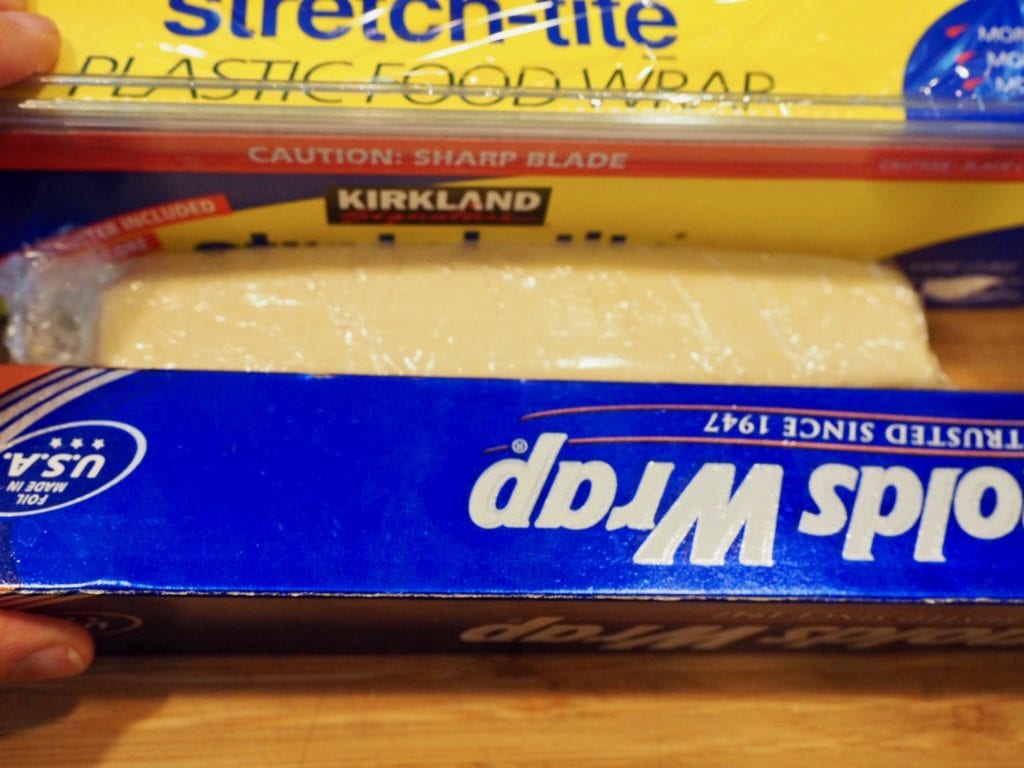 Works pretty well, those boxes!
Or make it a round, try and make it even if you can, keep rolling and patting the ends.
Now, throw those logs in the fridge for 30-60 minutes (or overnight as was the case for me).
Once the Lemon Sandwich Cookie dough is firm, remove from the fridge and slice into slightly under ¼ inch, closer to an ⅛ of an inch, it'll look a bit like a pat of butter. No need to pull out a ruler, unless you are kind of dorky like me.
And the square ones, see that knife in the background, it's my very, very favorite!!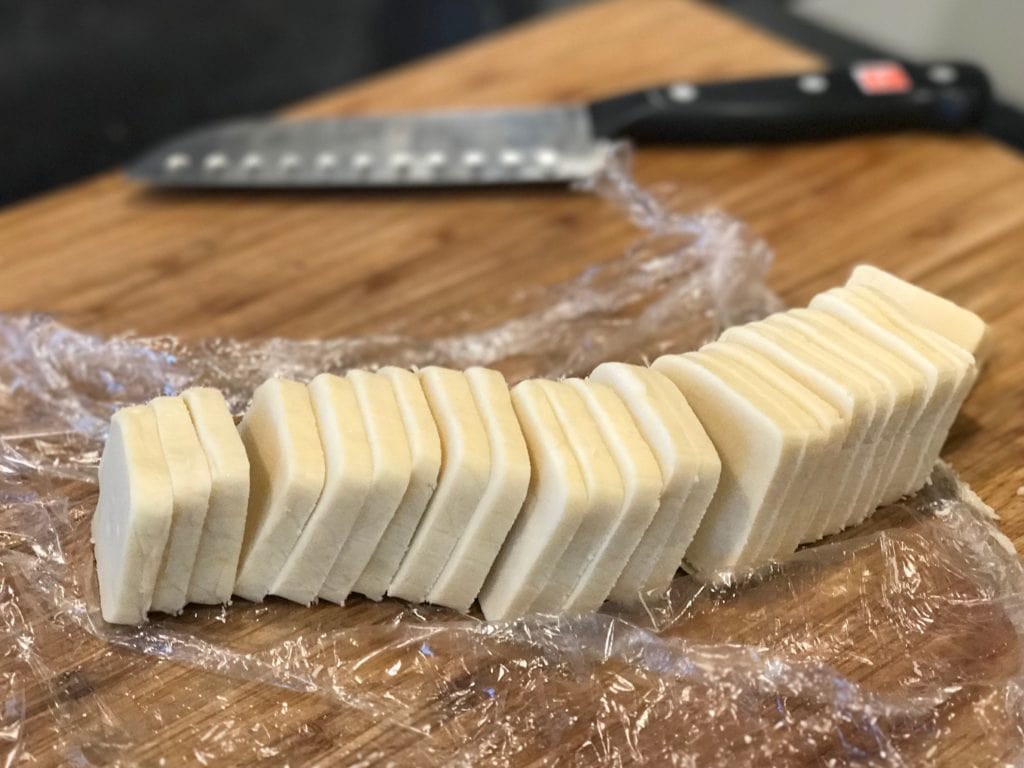 Line a cookie sheet with parchment paper and place on cookie sheet, you can place fairly close together as these cookies don't spread much. If desired, poke a pattern of holes using a fork in the tops, but not necessary.
I had 24 squares and 46 rounds, I lost a few to sneaky teen hands, okay I took some too. Remember though cut your numbers in half since they will be sandwiched.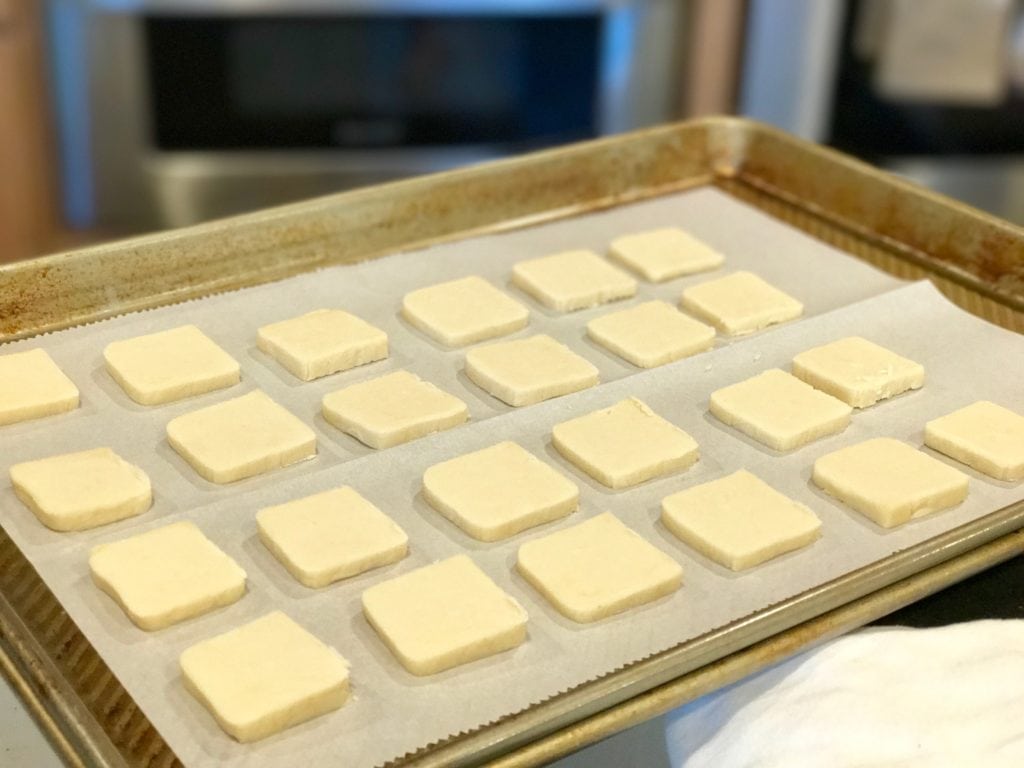 Bake at 300° for about 20 minutes, until barely golden. Cool on pan for 2 minutes, then transfer to cooling rack. Cool completely before frosting.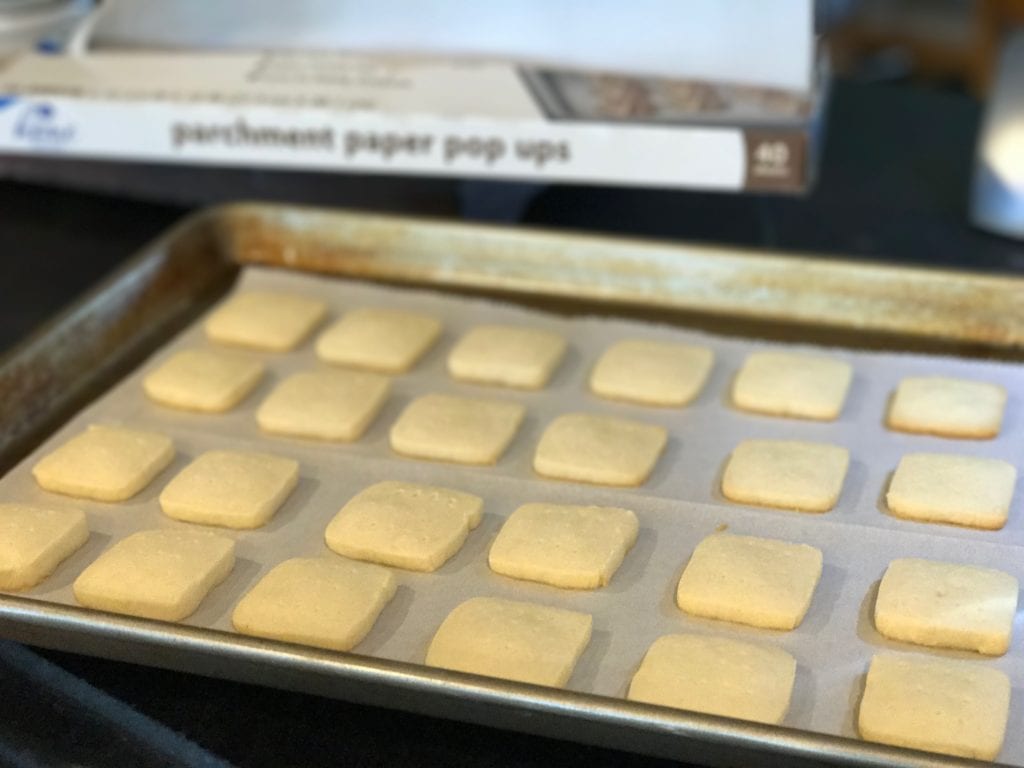 How to Make Lemon Buttercream Frosting
Now let's get started on the frosting; this delectable, sweet-tart, and luscious lemon cream frosting, that will be lovingly nestled between two shortbread cookies. In lieu of the frosting, try heaping a dollop of this delectable sweet-tart lemon curd on top or sandwich between two cookies.
Placing the softened butter in a mixing bowl or bowl of a stand mixer; cream butter for 2-3 minutes until light and fluffy, then slowly mix in powdered sugar and lemon zest.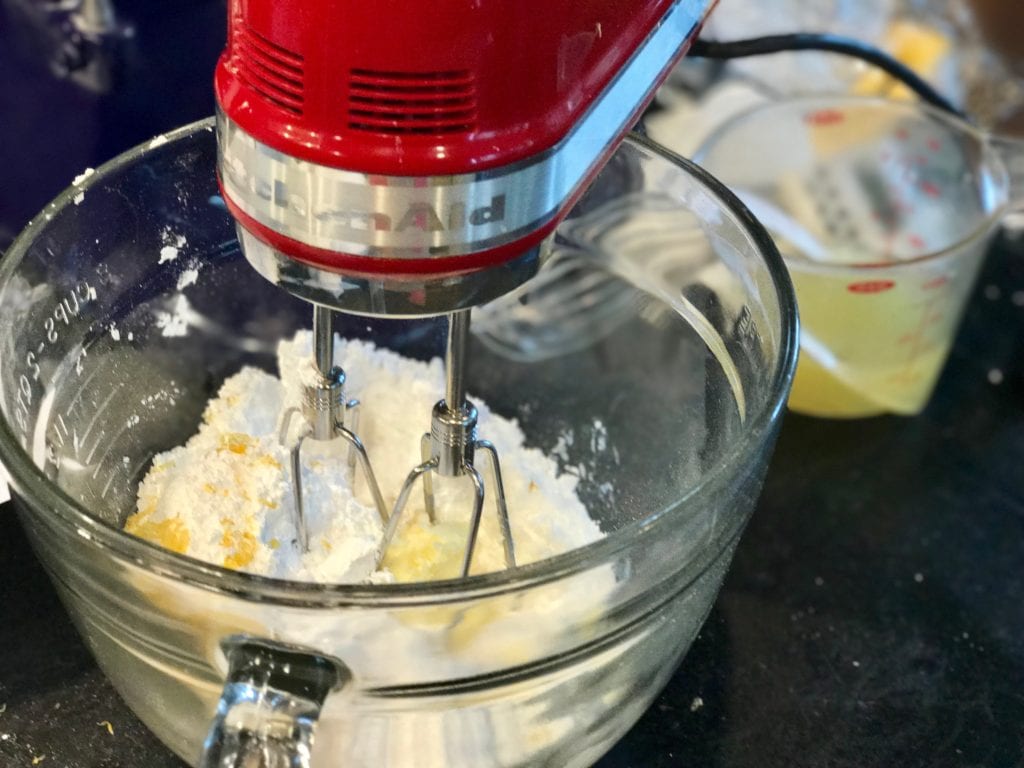 Gently whip and then add lemon juice, until it's the right consistency.
It doesn't make a lot, but you don't need much per cookie, about a teaspoon is all you need.
Using a small spatula spread a small amount of lemon-cream on each cookie or place frosting in a piping bag or baggie snip the end and sploosh a button onto the cookie.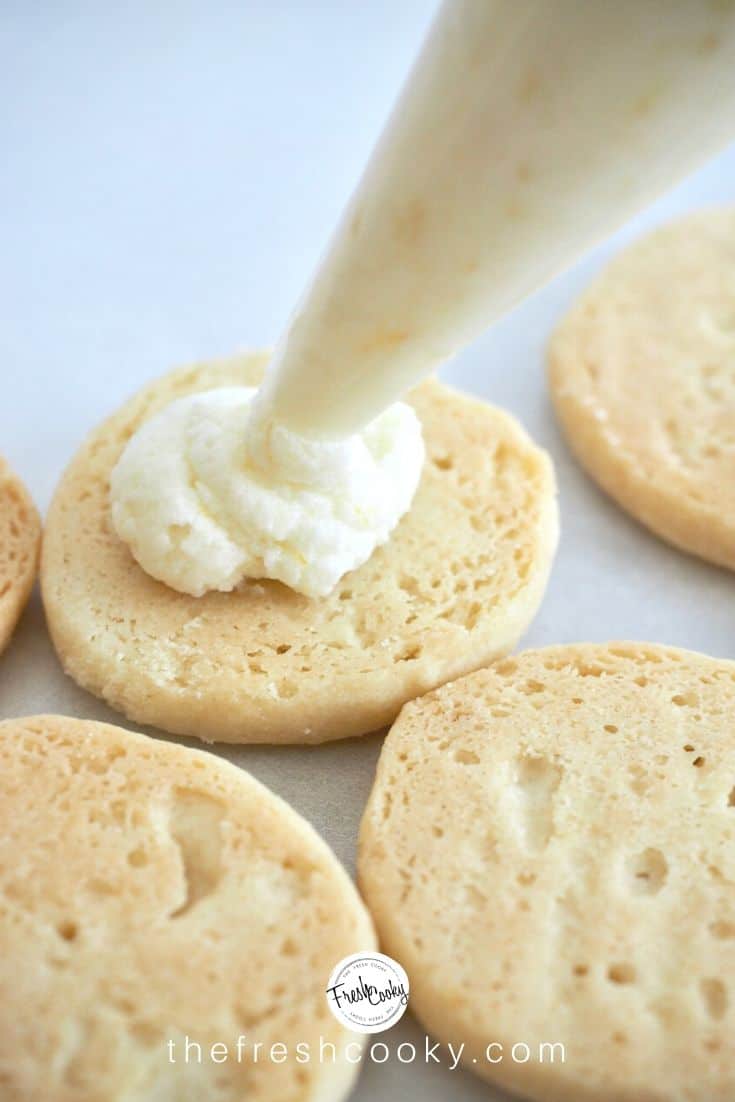 Match the cookies so that they are about the same sizes, spread a little frosting and top with matching cookie. Sprinkle with a little powdered sugar if desired. Store in airtight container, may be frozen, oh and try not to eat them all, at once!
Give them a try, let me know what you think!
More Bright Recipes to Try
Like this recipe?
Don't forget to give it a ⭐️⭐️⭐️⭐️⭐️ star rating and comment below the recipe!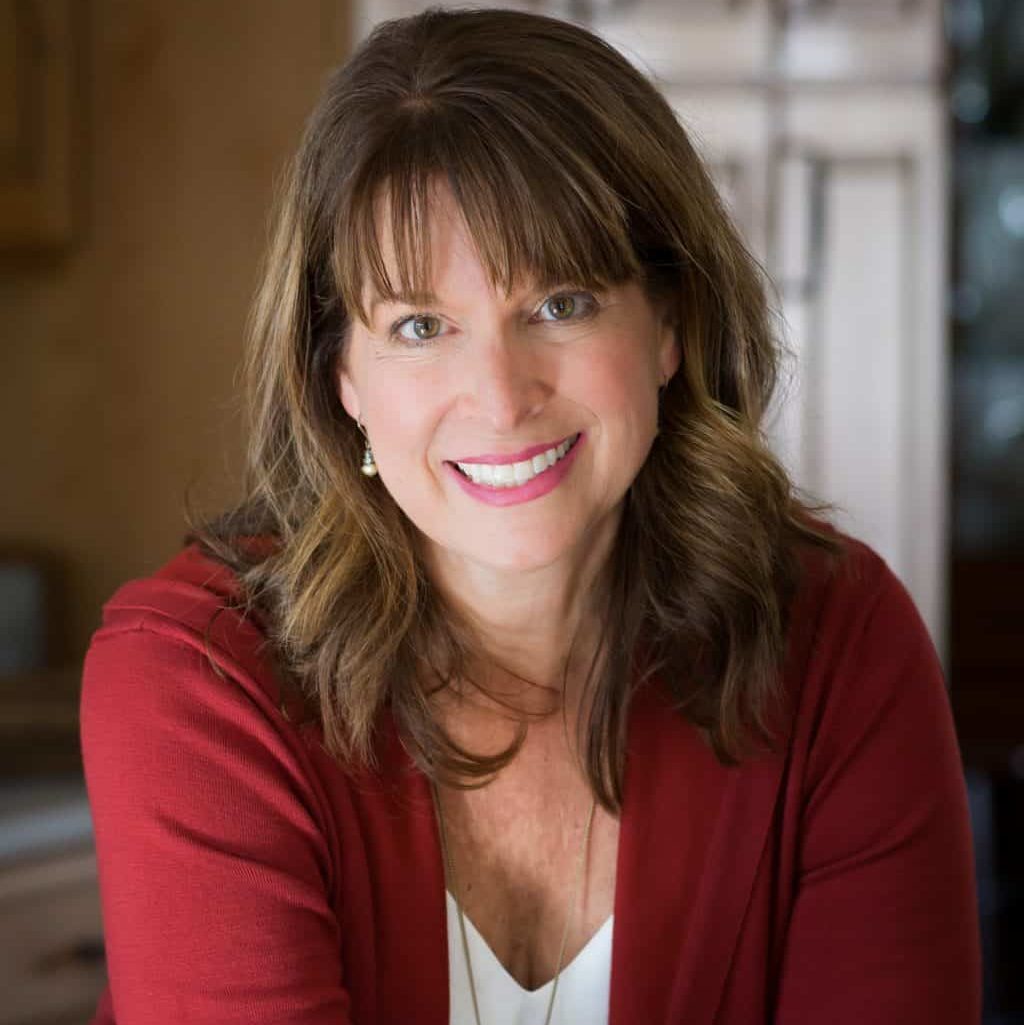 About Kathleen Pope
Recipe Innovator | Food Photographer | Food Writer
Hi, I'm Kathleen Pope. Here at The Fresh Cooky you will find easy, mostly from-scratch, trusted recipes for all occasions. From speedy dinners to tasty desserts, with easy step-by-step instructions. I am here to help teach you how to make mouthwatering recipes without spending hours in the kitchen. Read more about Kathleen here.