As an Amazon Associate, I earn from qualifying purchases. Please read my disclosure policy.
These rich Mint Chocolate Brownies, have a decadent fudge brownie base, layered with a creamy, creme de menthe mint buttercream center and topped with a thick chocolate ganache. WOW!
These rich layered brownies go by many names; Grasshopper brownies, Creme de Menthe Brownies or decadent Mint Fudge Brownies, no matter what you call them, you should make them!
If you are a mint brownies recipes lover, you might enjoy these other reader favorites; Andes Mint Brownie Bites, White Chocolate Peppermint Cheesecake or this show stopping Peppermint Ice Cream Cake.
Who loves Christmastime baking? I do!! And today is a favorite of mine…it's Freaky Friday an Annual Virtual Cookie Exchange. Created Michaela of An Affair from the Heart; check out her amazing blog!
Freaky Friday Mint Fudge Brownies
Freaky Friday is a quarterly seasonal blog hop that a bunch of my blogging friends participate in, this one focusing on holiday sweets!
We are secretly assigned to another blog to bake from, then today, all at the same time, we reveal our recipe and blogger. It's a great way for you to meet some fabulous food bloggers you may not have otherwise ever met!
I hope you take some time at the end of this post to browse through all of the fantastic recipes!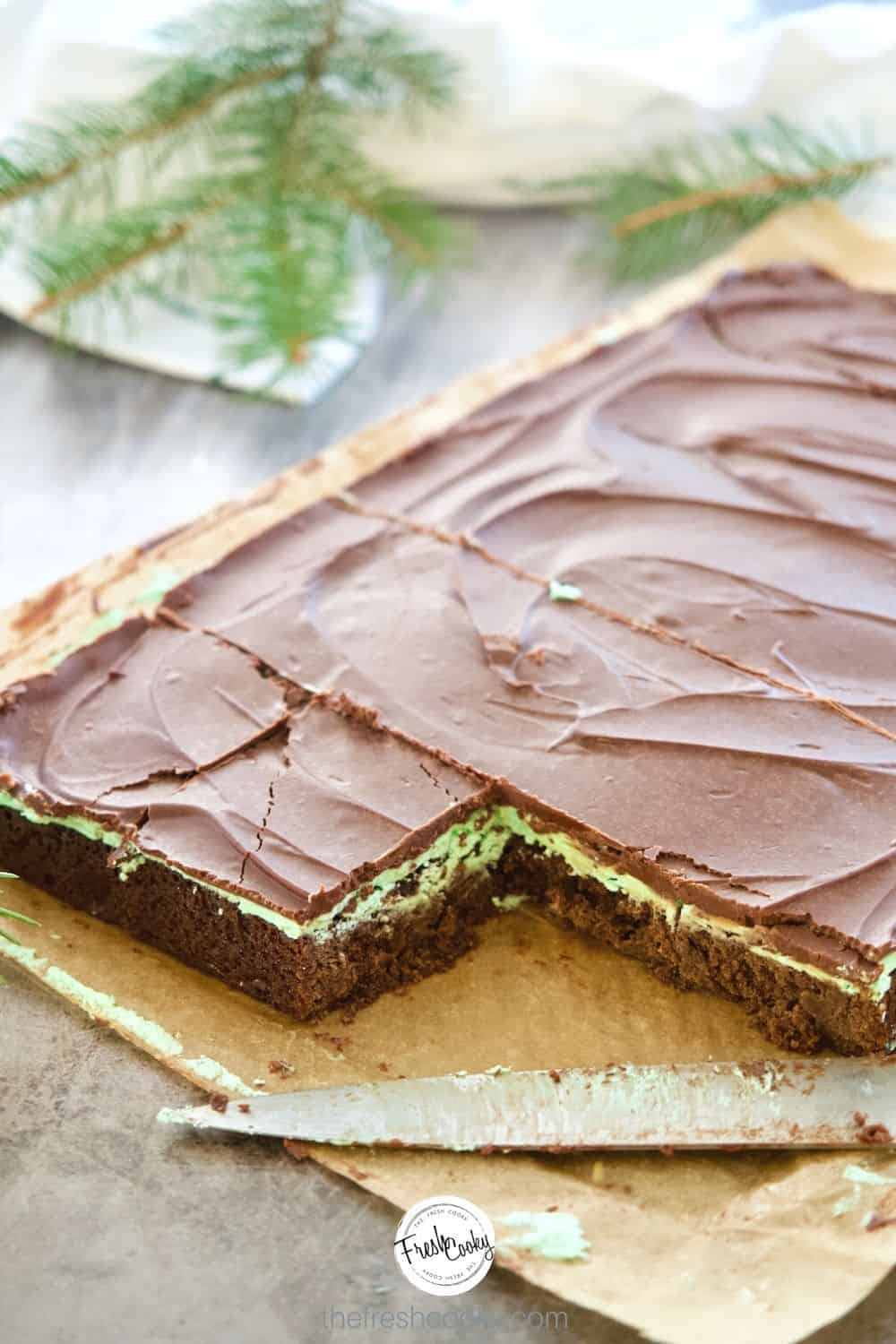 I was thrilled to be assigned one of my favorite bloggers, Sheila of Life, Love and Good Food; an amazing wife, mom and business woman, and talented cook and baker! Sheila has authored several Chicken Cookbooks and has so many delectable cookie recipes!
It was so hard to choose which recipe to make, I still plan on making these Caramel Pecan Thumbprints, and these Buckeye Brownies (be still my peanut butter and chocolate loving heart), and these new Gingerbread Gems — I sure hope you take some time to visit her site, she is one of the kindest women I know! A dear friend and mentor to me!
Sheila really shines in her creative cooking, I made this Cheeseburger Pizza last night, the family went ga-ga over it and SO easy!
Check out her Steakhouse Pan-Seared Steak or her amazing Chicken & Cheese Enchiladas — drooling!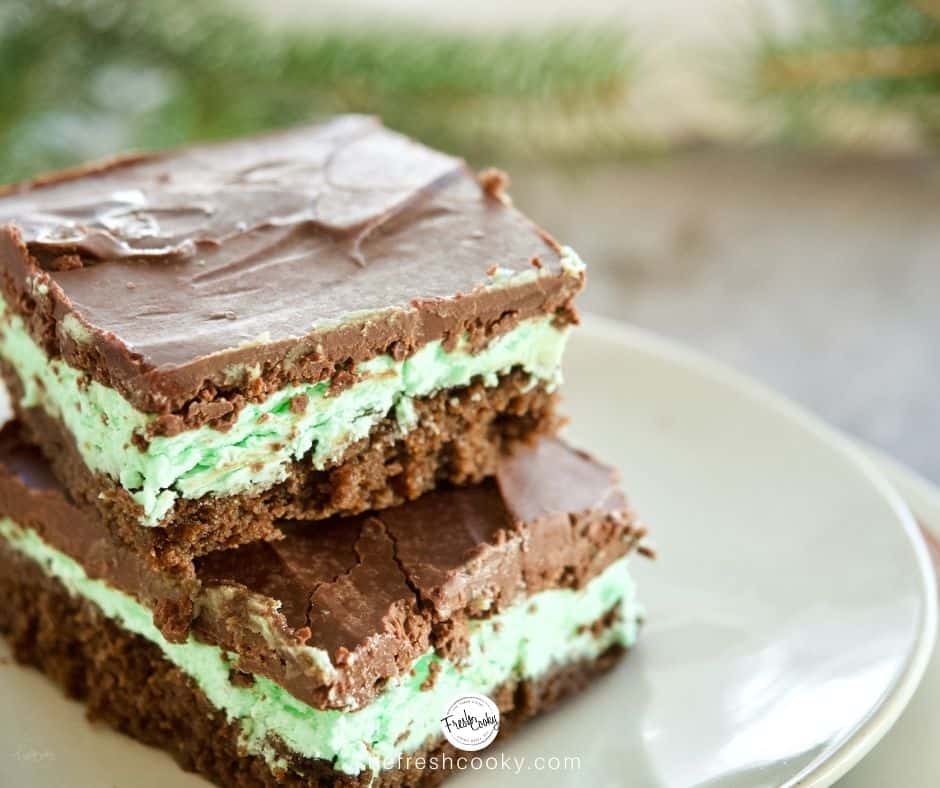 MERRIDEE'S MINT FUDGE BROWNIES RECIPE
I decided on these Mint Fudge Brownies because every time I see these layered mint brownies at a potluck or cookie exchange I make a beeline for them, but have never actually made them. What?!?
Sheila's original recipe is from Merridee's Breadbasket (which I now have a hankering to visit their delightful Franklin, Tennessee bakery and cafe).
Ingredients for CREME DE MENTHE Brownies
FUDGE BROWNIES
MINT BUTTERCREAM FILLING
POWDERED SUGAR | also known as confectioners sugar
Creme de Menthe liqueur | You may substitute with mint syrup if you don't want the alcohol.
BUTTER | the real stuff 🙂
CHOCOLATE GANACHE TOPPING
Semi-sweet chocolate chips
Butter | still real butter (yes, yes, I know, there is a lot of butter, but you don't eat a layered brownie like this everyday!)
How to make Mint Fudge Brownies?
These are the simplest brownies ever, just a few ingredients and you are all set for super fudgy, a teensy bit cake-y, but oh so chocolatey brownies.
Start by preheating your oven to 350F degrees (375F for high altitude) and line a 9×13 inch baking pan with parchment paper or spray well.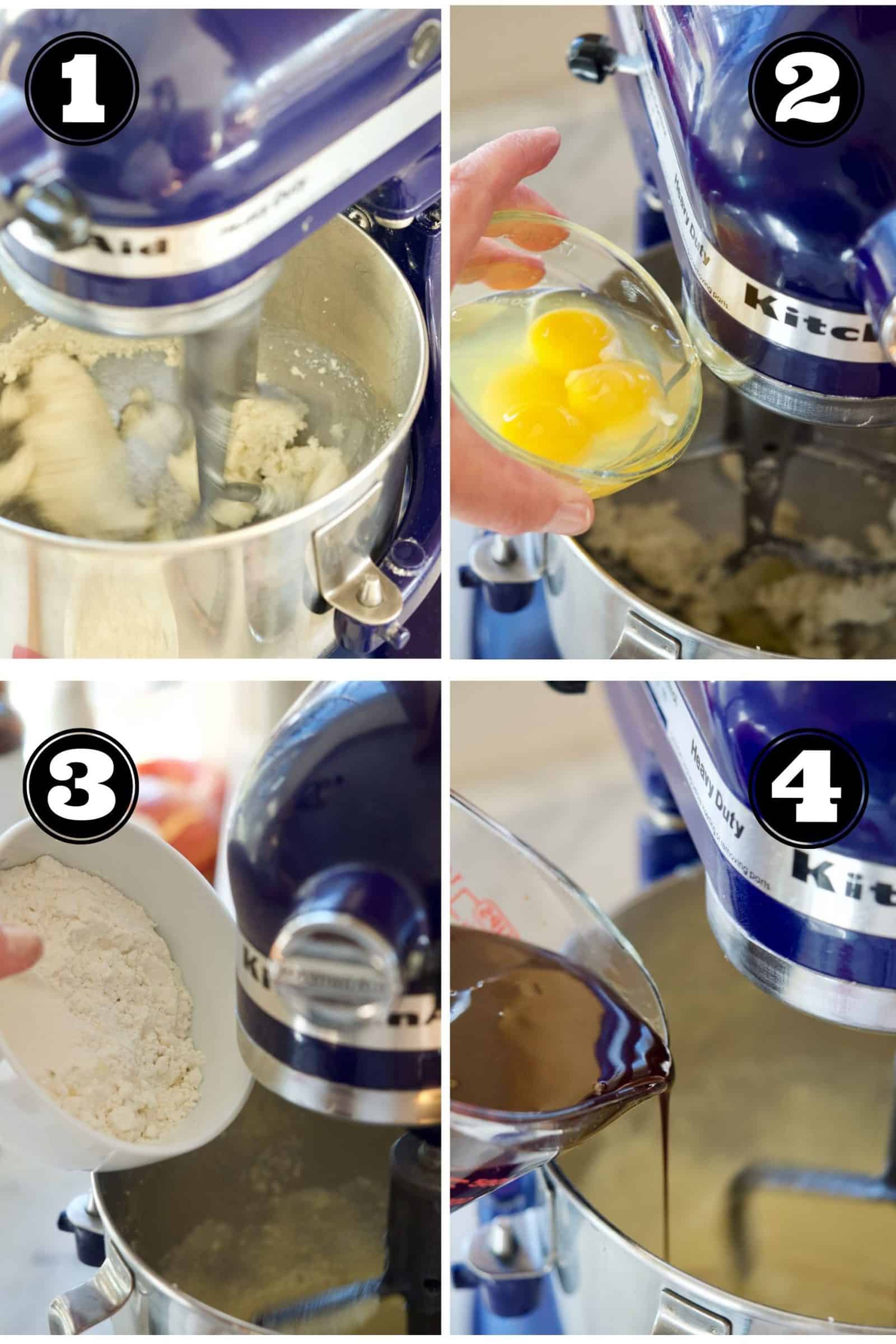 Cream the softened butter and sugar for 1-2 minutes on medium high speed, add another minute if using all natural cane sugar.
Add eggs, mixing on medium for 2 minutes.
Slowly add in flour while mixer is on low, scraping down sides once.
Pour in Hershey's chocolate syrup and mix on medium-low speed until combined, scraping down sides and bottom of bowl until no lighter flour color is seen.
Pour brownie batter into prepared pan and bake for 25-30 minutes until the sides pull away slightly and the top springs back when lightly touched. Cool completely!
Making the Creme de Menthe buttercream filling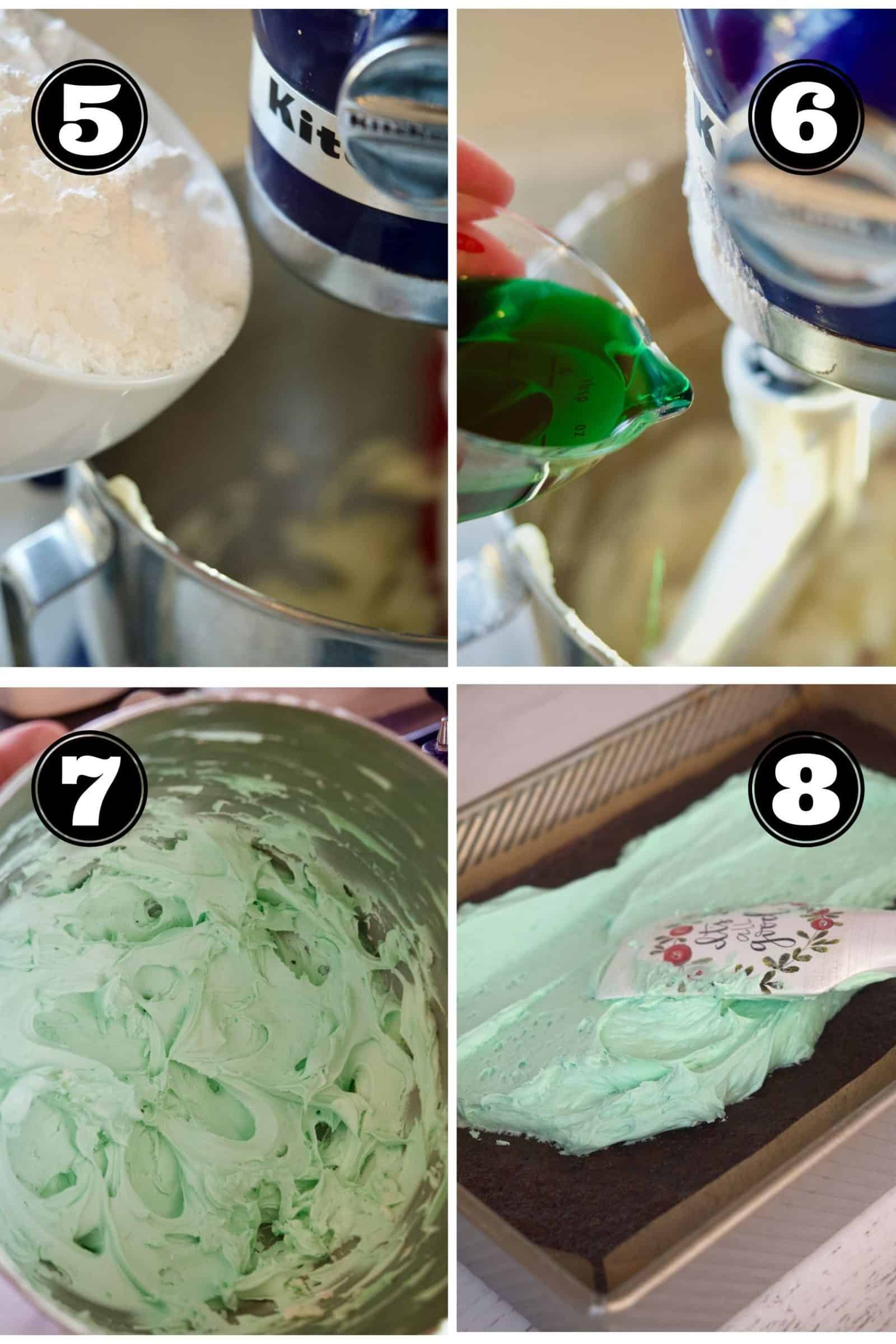 Cream butter and add powdered sugar, creaming until smooth, 1-2 minutes on medium.
Pour in Creme de Menthe* (see below for substitution)
Creamy, fluffy, light green buttercream layer.
Spread creme de menthe frosting on cooled brownie base, place in fridge until ready to top with ganache.
Can I Make the Buttercream without Creme de Menthe (Alcohol)
Yes, if you prefer not to use creme de menthe liqueur in these brownies, simply replace 4 tablespoons of Creme de Menthe with:
4 tablespoons Creme de Menthe syrup
OR
1 ¼ teaspoons peppermint extract
1-2 drops of green food coloring or gel coloring (optional – but needed if you want the middle green)
3-4 tablespoons milk or cream (start slow and only add as much as needed for a light fluffy buttercream)
Chocolate Ganache Layer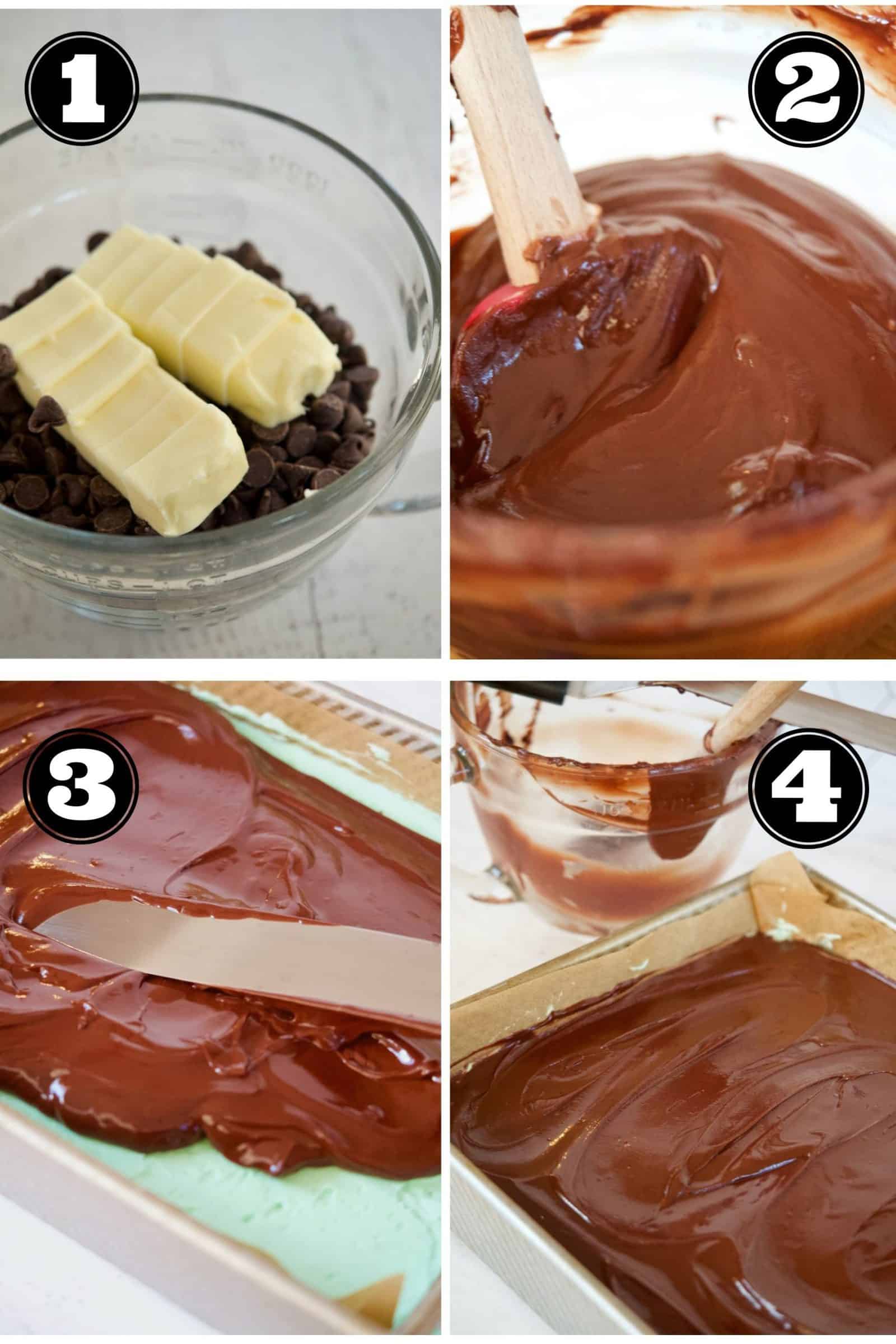 Place chocolate chips and butter (I slice into pieces) in microwave safe bowl.
Microwave in 20-30 second intervals, stirring between each heating. The chips will melt even after you microwave it.
Spread on top of mint layer, cool completely, then slice and serve.
If you overheat your ganache, it will seize up, "break" so to speak, see my post on how to fix broken, oily or grainy ganache.
How to Cut Grasshopper Brownies
Now, when it comes to slicing or cutting these bad boys, I honestly can never get the layers super clean and perfect, but does that change how they taste, not-a-chance!? A fudgy brownie is just plain hard to cut, but these are my tips:
Refrigerate the brownies for 20-30 minutes prior to cutting
Using a long sharp knife, heated with hot water and wiped clean with a paper towel, slice quickly.
This process worked best for me, however; with most traditional brownies, a plastic knife actually works the best, so give it a try!
High Altitude Mint Brownie Adjustments
No ingredient adjustments necessary.
Bake at 375 degrees instead of 350, watching at the 25 minute mark, you would be better off with them being underdone than overdone.
Why Is it called Creme de menthe?
Creme de menthe is French for mint cream, which is funny since it's really more of a simple syrup liquor, no cream involved.
Back in the 60's and 70's my mom would scoop small bowls of lime sherbet and pour a little creme de menthe over the top for a quick and simple holiday dessert — even the kids would get one! Prepping them ahead of time, keeping in the freezer, until ready to serve! Pass me a spoon!
Take a look at all of our 2020 Freaky Friday Holiday Cookie Exchange Recipes:
I hope you enjoyed this fun blog hop, Christmas cookie exchange style!
Please PIN to your Christmas Sweets board.
Like this recipe?
Don't forget to give it a ⭐️⭐️⭐️⭐️⭐️ star rating and comment below the recipe!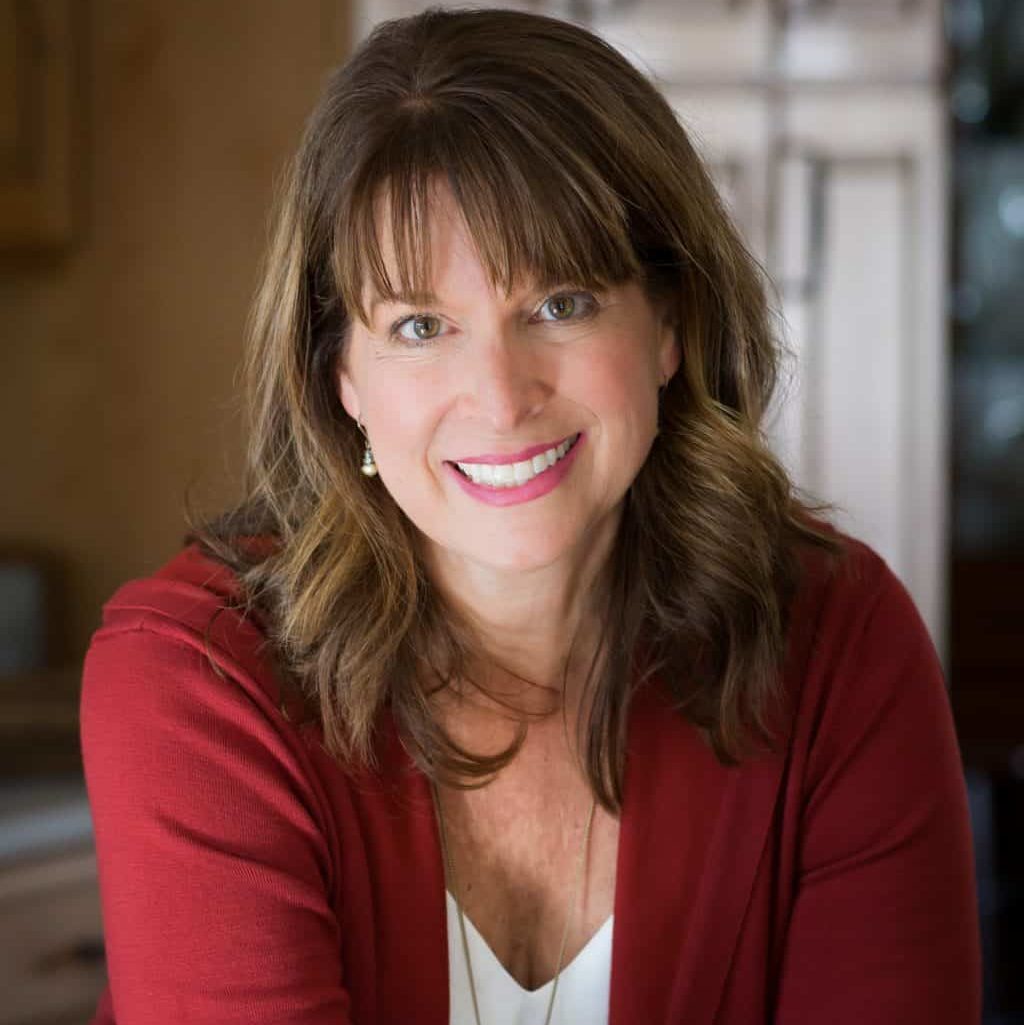 About Kathleen Pope
Recipe Innovator | Food Photographer | Food Writer
Hi, I'm Kathleen Pope. Here at The Fresh Cooky you will find easy, mostly from-scratch, trusted recipes for all occasions. From speedy dinners to tasty desserts, with easy step-by-step instructions. I am here to help teach you how to make mouthwatering recipes without spending hours in the kitchen. Read more about Kathleen here.