Homemade Creamy Greek Yogurt
As an Amazon Associate, I earn from qualifying purchases. Please read my disclosure policy.
Creamy, smooth, mildly flavored homemade Greek yogurt. I never would have dreamt that plain yogurt could be so easy, creamy and delicious! Not nearly as tart as store-bought plain yogurt. Make your own with only two ingredients and a few kitchen tools!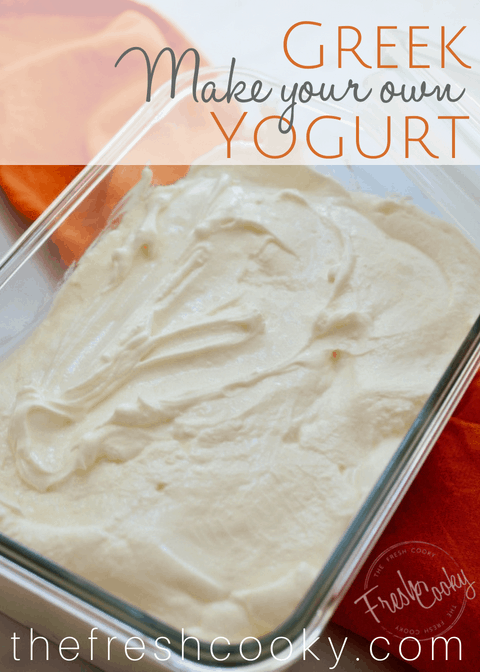 This recipe is from my long-time dear friend, neighbor and blog encourager; Eliza, she blogs on everything from the January Money Diet, green living, delicious recipes, homesteading, gardening and so much more. Check out her blog at Happy Simple Living and her newest cookbook (amongst many); Bacon, Beans and Beer released August 2018.
Eliza and I meet monthly for what we call our "Mastermind" sessions to encourage, goal set, challenge, share information, relay tips and tricks and better ourselves in our blogging endeavors.
She's been doing it much longer than I have and I love sitting and listening to her bounty of wisdom and information. She has the gift of encouragement and lifting-up-ness! I always come away from our times together lighter, determined, clear minded, goals set, learned a few new tips, and encouraged in my faith journey!
This picture below is from last week when we met and she made me the most DELICIOUS crepes!
So it seemed fitting that I should make the most popular recipe on her blog; a very simple, extremely tasty Homemade Greek Yogurt!
All You Need is Time When Making Yogurt
This recipe does take some time, so make sure you have planned your yogurt-making time wisely. It takes about 10 minutes to "cook", 45 minutes cooling, percolate 8-12 hours, cool again for 3 hours and finally strain 1-2 hours.
There is a reason that Greek Yogurt is a bit more expensive, it takes an extra step after the yogurt is finished to strain the extra liquids out, leaving you with a thick, creamy, smooth yogurt. I started my yogurt process at about 3:00 pm and let it sit in the oven from about 4 pm until morning.
To start, pour 2 tablespoons of milk* into a small dish and set aside, I just used my favorite mini measuring cup, so I didn't dirty another dish.
*Eliza notes that if you aren't using organic milk, it's best to use pasteurized milk as opposed to ultra-pasteurized milk and that milk with antibiotics can interfere with the yogurt-making process, so at least make sure it's antibiotic free. She used 1% milk, I used Horizon's Grassfed Whole Organic Milk which is ultra-pasteurized, I wasn't sure how it would turn out. Spoiler Alert: it turned out GREAT!
How to Make Greek Yogurt
Full Fat vs. Low Fat Milk
A note about milk in general; I am of the persuasion that whole milk is best, it has all of the required enzymes for our bodies to absorb, assimilate and breakdown the fats that are in the milk, and provide nutrients to our brains, we don't go overboard with milk in general in our house. Just my 2¢. This is an interesting article from TIME about Full Fat vs. Low-Fat Milk.
TIP | The higher the fat content, the creamier your yogurt will be, a personal choice.
In a heavy bottomed pan (I wonder if people describe me that way? Hmmm? Tee-hee!) or in a double boiler set a candy thermometer or an instant read thermometer, pour in the balance of the milk and heat over medium heat. Stir constantly and watch it very closely so you don't burn the milk.
Heat the milk to 180º F, stirring constantly, watching it closely!
Immediately remove the pot from the stove and carefully pour the hot milk into a glass or ceramic (not metal) bowl, even a deep casserole dish works. I placed my bowl in the sink and then poured in my hot milk, since I'm the QUEEN of Spills!
Place the dish on a cooling rack, UNCOVERED and allow the milk to cool to between 105° and 110°. In the middle of summer, this took about 45 minutes.
TIP | Make sure to leave the dish/bowl uncovered, this allows the good bacteria to start doing their thang!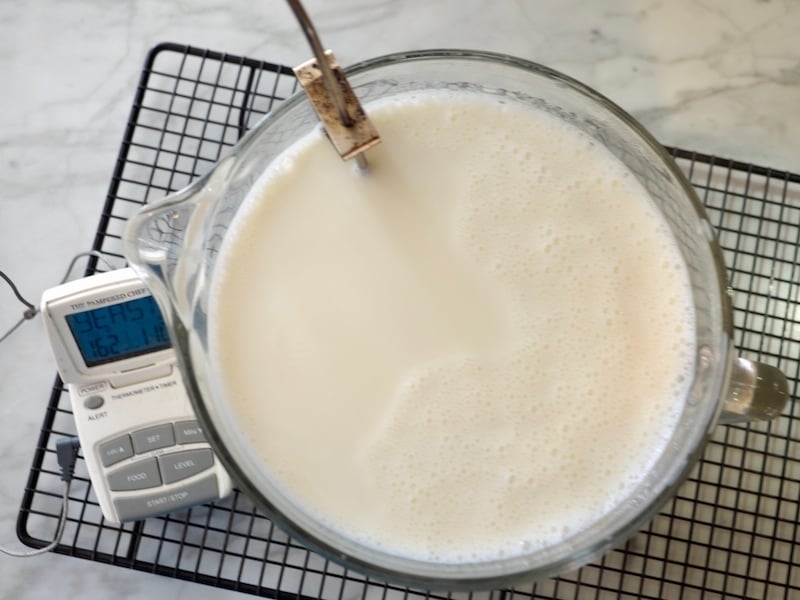 Once it's cooled between 110-105° turn your oven on to the "warm" or "proof" setting if you have it, or heat to 150º.
Combine your reserved milk and 2-3 level tablespoons of plain yogurt and stir to combine. I used 2 1/2 tablespoons as Eliza suggested and it worked beautifully. Make sure your yogurt is plain and has live and active cultures in it! I used Noosa plain yogurt.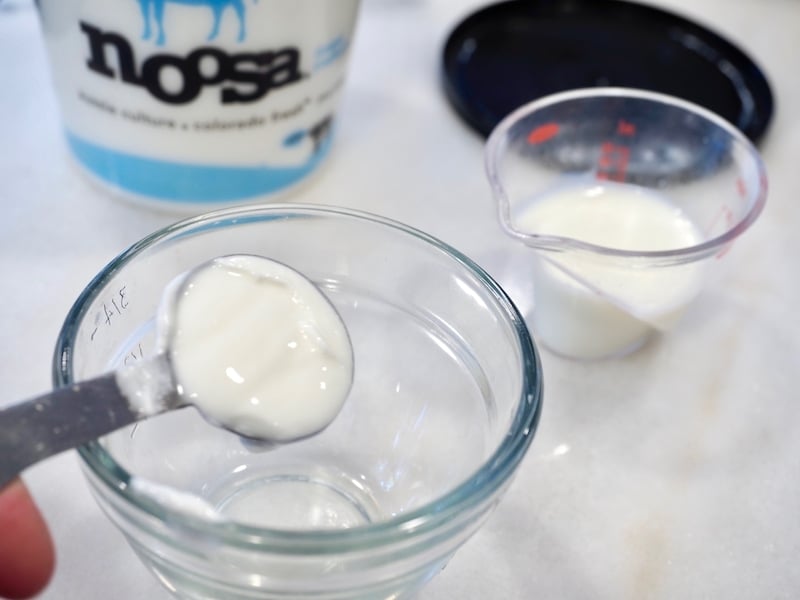 TIP | Resist the urge to add more than 3 tablespoons of yogurt, according to the Joy of Cooking, "you may wonder why so little starter is used and think that a little more will give a better result, it won't. The bacillus, if crowded, gives a sour, watery product."
As soon as your milk has cooled to somewhere between 110-105º, using a non-metal spatula or wooden spoon, pour in your milk/yogurt starter mixture into the milk. Stir well until combined. Note | a film might have developed during the cooling process, no worries, just stir it in.
Place the lid on your bowl (or cover with plastic wrap), carefully wrap the covered bowl of yogurt mixture in a heavy tea towel or I used an old bath towel and place the towel wrapped, covered dish in the oven.
IMPORTANT STEP…turn your oven OFF, but turn the oven lights ON. The heat from the lights in the oven should be sufficient to keep the dish warm enough to encourage the yogurt-making process (i.e. bacterial process). Leave the yogurt alone for 7-8 hours or overnight. I left mine overnight, from about 4pm – 6am.
TIP | Make sure that your towel isn't near the oven lights. If your oven light doesn't emit any heat, Eliza suggests "you place the towel wrapped yogurt on a heating pad set to "low" or put it in a cooler with a tight-fitting lid and several jars of hot water to maintain the heat." Try not to disturb the yogurt during it's bacterial phase!
In the morning, carefully take your dish out of the oven, unwrap the towel and remove the lid, check to see whether the milk has turned into yogurt, it should be thick and creamy, especially if you used whole milk.
If your batch hasn't quite thickened, return to the oven and check in an hour.
NOTE | My batch felt extremely HOT when I took it out of the oven, I thought for sure it had killed the bacteria and I'd have soupy warm milk, but to my delight, it was amazingly thick and super creamy. Eliza had the opposite happen one time where she took it out after 8 hours and it was still "milk", it was too hot, so she decided to add a little more yogurt/milk starter to the mixture, let it sit in the warm oven for another hour and voilà, yogurt!
If want regular (not thicker, Greek) yogurt, you can stop at this stage, just stir and refrigerate, it may develop a little watery liquid, simply pour off before serving, but if you are going for creamy, dreamy, thick yogurt…
How to make thick Greek Yogurt
Refrigerate the yogurt (without stirring) for at least 3 or more hours until completely cooled and further thickened. Then line a large mesh strainer with 4 layers of dampened cheesecloth; I wet mine, then squeezed it out with my hands and laid it in a cross pattern.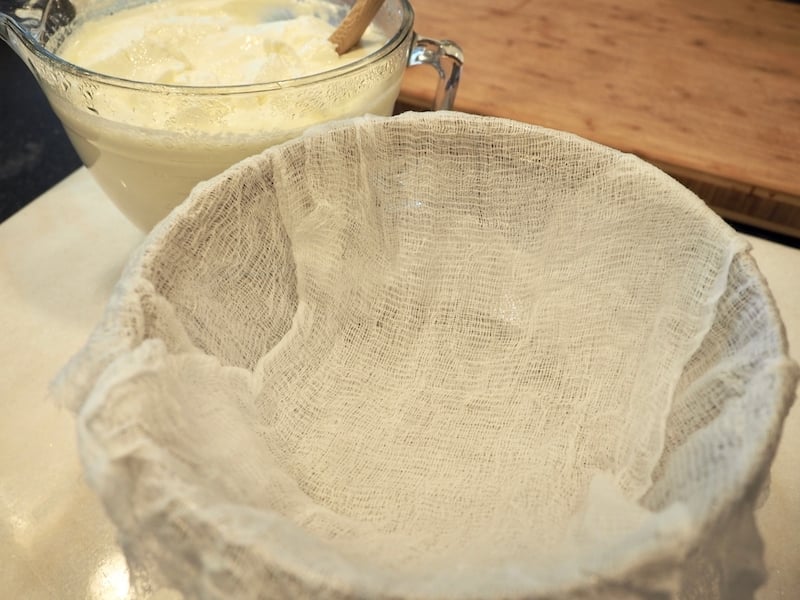 Set the lined strainer in a bowl large enough to allow the strainer to drain and not sit on the bottom of the bowl. Refrigerate for one hour, then pour the liquid that has puddled in the bottom out, discard. Return the strainer, yogurt and bowl to the refrigerator for one more hour (if desired), strain the liquid again and your yogurt will be done!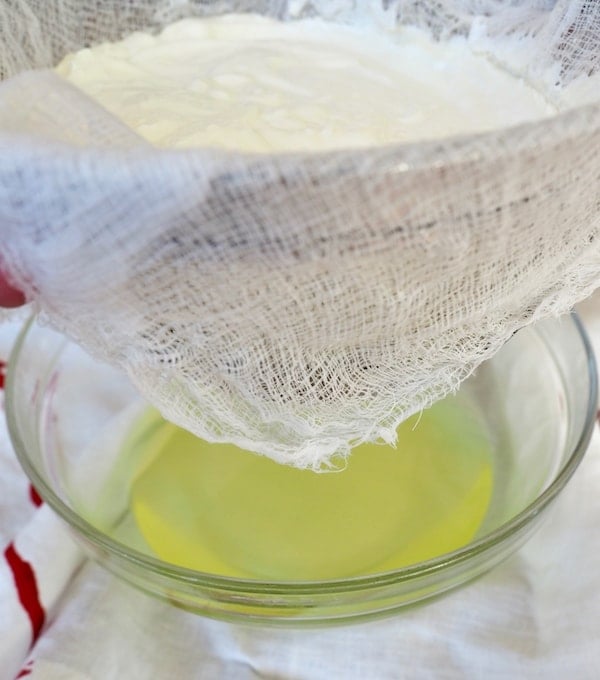 Spoon or pour your yogurt into a container (makes about 32 oz; recycle a clean yogurt container or a large mixing bowl).
COOKS TIP | If you think you might make additional batches of homemade yogurt, reserve 2-3 tablespoons of your yogurt as a starter for your next batch. Keep tightly covered in the fridge until ready to use.
Refrigerate for up to 10 days, Eliza says 6, but I ate mine up to day 12 and it was fine, but I am a risk-taker that way!
How to Make Copycat Vanilla Bean Noosa Yogurt
Now if you prefer your yogurt a bit sweeter, stir in a scant 1/8 – 1/4 cup of raw, local honey, try and buy local honey as it has amazing health & allergy benefits for you.
Want to make Vanilla Bean Yogurt just like my very favorite Noosa flavor? Stir in 1 teaspoon of vanilla bean paste along with the honey, until smooth and combined. Return to refrigerator.
Eat all by itself or make a yogurt parfait layering some of my soft-baked homemade granola, your favorite in season fruit and some lemon curd! STOP! It's so good, ever tried it?
I hope you enjoy this and my other recipes! Please PIN IT if you do!
Ways to use Greek Yogurt!
Like this recipe?
Don't forget to give it a ⭐️⭐️⭐️⭐️⭐️ star rating and comment below the recipe!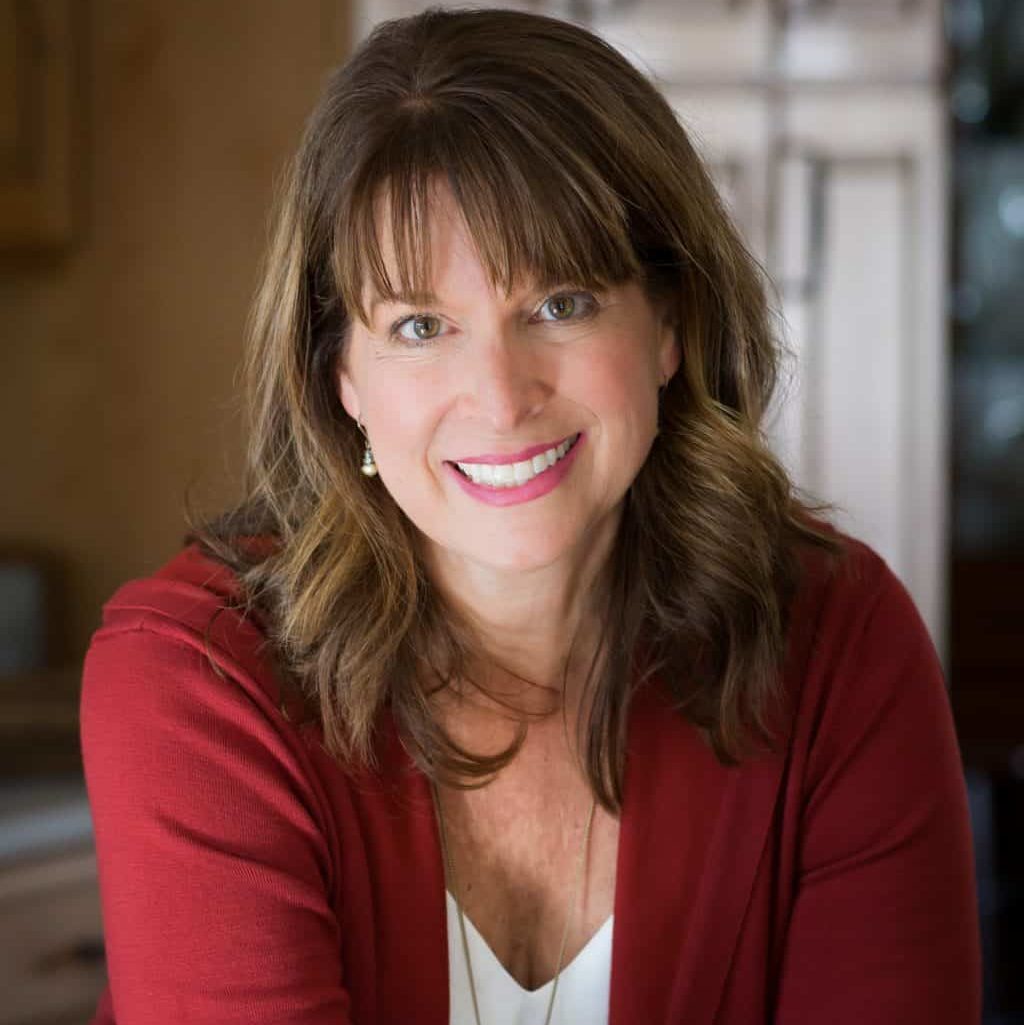 About Kathleen Pope
Recipe Innovator | Food Photographer | Food Writer
Hi, I'm Kathleen Pope. Here at The Fresh Cooky you will find easy, mostly from-scratch, trusted recipes for all occasions. From speedy dinners to tasty desserts, with easy step-by-step instructions. I am here to help teach you how to make mouthwatering recipes without spending hours in the kitchen. Read more about Kathleen here.