As an Amazon Associate, I earn commissions from qualifying purchases (
disclosure policy
).
Did you know you can "bake" granola in your crock pot? Yes! Crock pot granola comes out much softer and chewy than oven-baked granola. I'll walk you through each step on this hands-off recipe.
Are you a "Granola"? I grew up in the 60's with a mom ahead of her time who embraced whole foods. I remember making and eating granola long before it was cool. So I guess, I am a Granola, I've always loved the nutty, crunchy, lightly sweetened oaty breakfast snack. This recipe for soft baked granola is so versatile with a bonus for yogurt parfaits!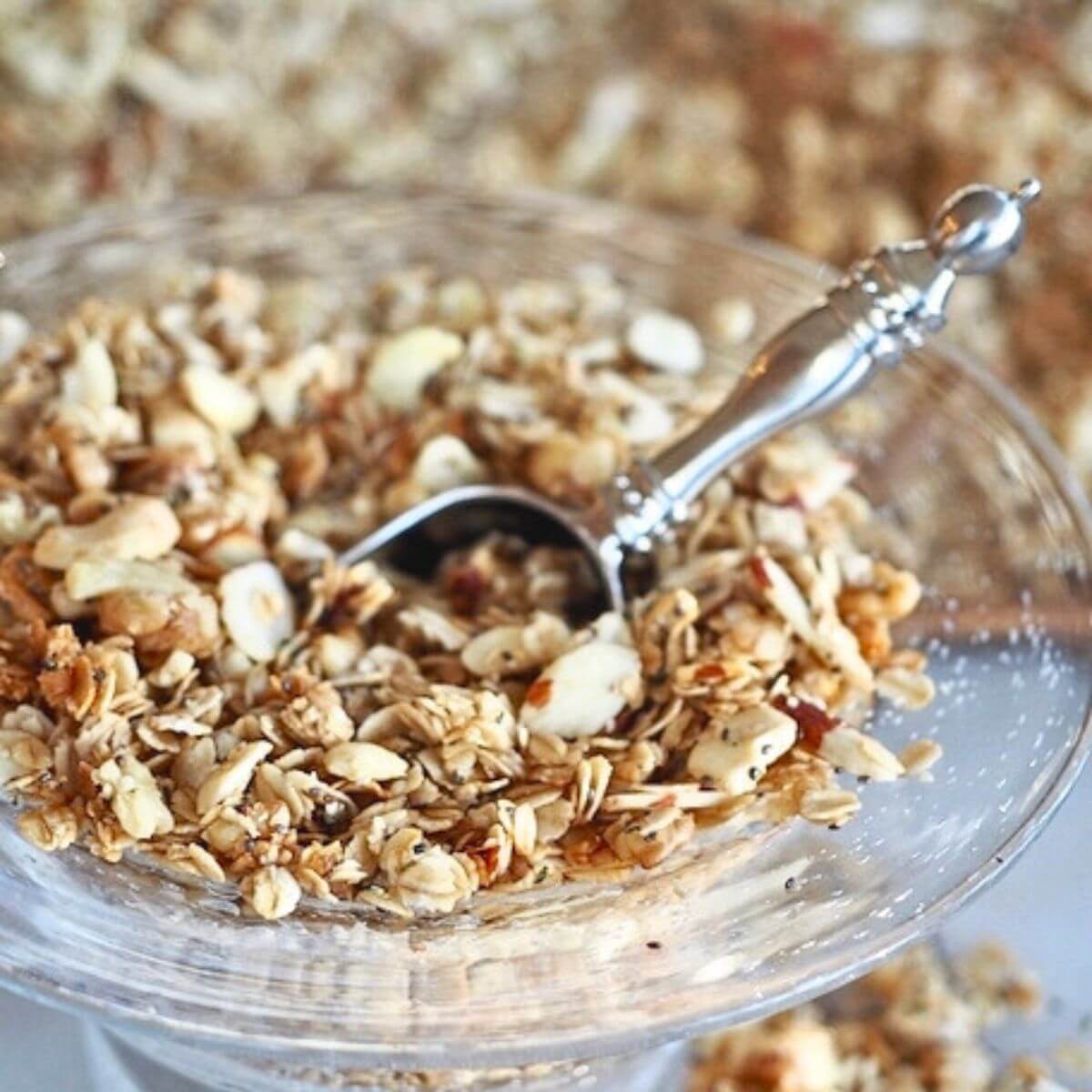 Word origins have always been interesting to me, as I was thinking about doing this post, I wondered where in the world did we get the word "Granola" from?
Perhaps it's a twist on the word "grains", but while I haven't vetted this article, it is certainly an interesting story on the alleged history of granola and how the name came about; born out of a couple of cereal moguls you will still recognize today. Read it if you have the time.
I enjoy giving precise details in my recipe posts to lead my readers through any questions. If you're just here for the printable recipe, you can Jump to Recipe to head straight there!
Simple Ingredients for Crock Pot Granola
Old-fashioned Rolled Oats | Don't use quick-cooking oats; if it's important, use gluten-free oats.
Butter or Oil | I used grass-fed butter for a richer flavor, but you can use half and half or use all oil if preferred, coconut oil and avocado oil would be my favorite choices.
Honey or Maple Syrup | A combination of the two also works great. To keep it vegan, use maple syrup.
Spices | Use your favorites here; I used cinnamon which is classic, but also add nutmeg or your favorite pie spice blend. Also a little touch of kosher salt is important here too.
Vanilla Extract | Adds depth to all baked goods!
Optional Add-Ins | Be creative, toss in your favorite nuts, some Chia seeds, or Flax seeds or flax meal, add a few tablespoons of brown sugar (reduce the honey).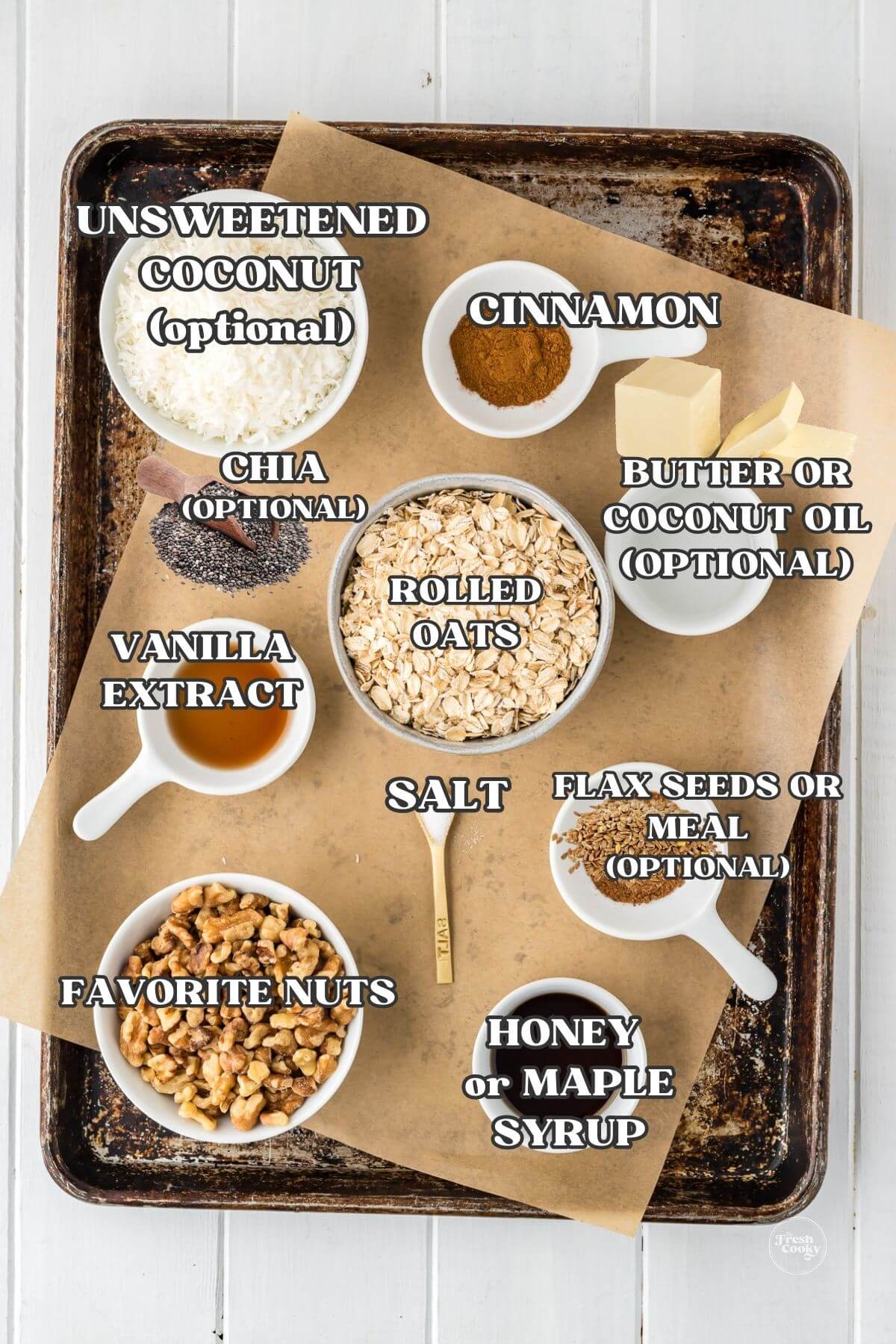 Some might balk at the very first ingredient, it's ½ cup of melted butter, you can use a good oil or a combination.
I like coconut oil or avocado in its place. This makes a large batch, so don't let half a cup of any fat scare you away. Plus I use grass-fed butter; well the butter wasn't grass fed, but the cows that gave the milk were…ha!
How to Make Soft Baked, Chewy Granola
Lightly spray your crock pot with some non-stick spray, then pour in your melted butter* and toss in your 5-6 cups of rolled (not quick) oats and give it a quick stir. You can also wait and pour the butter at the very end.
Fresh Tips
You can melt the butter in the crock pot, but it'll take a bit. I usually melt my butter on the stovetop or microwave and transfer it to the crock.
Add a generous tablespoon (or two) of ground flax meal (or whole flax seeds if you prefer the seeds), my boys don't notice the meal which is why I use that instead.
Additionally toss in a couple tablespoons of light brown sugar, this is optional, but I am making a Maple Pecan Granola, and brown sugar and maple go hand in hand. Pour in a couple of teaspoons of vanilla.
Likewise, add some Chia seeds (optional), but the more good stuff the better, no?! Every time I see a chia seed I am reminded of the Cha-Cha-Chia Pet commercials of old. Do they still have those? Recently I've discovered hemp hearts as well; they are delicious; raw, tossed in yogurt or in your granola.
Finally, add your kosher salt, yes, salt, it brings out the ultimate "oaty-ness" of the oats…yum.
Now, add your honey; good local raw & unfiltered honey, is so very good for you.
Honey 101
Did you know that honey is the only food that won't spoil? It has an indefinite shelf life if kept closed.
It will crystallize and harden, yet all you need to do is place the container in a pan with hot water (not boiling) until it returns to its original honey-like state.
It does have bacteria in it, which is good for anyone over the age of 1, but this bacteria can be dangerous for infants, not that you'll feed your infant granola. Although I know my mom gave me raw honey in my bottle when I was a baby…and I'm okay, I think, well maybe, it's debatable!
Lastly, if adding, add pure maple syrup, the real stuff. If you use maple syrup, reduce your honey by the amount of syrup you add. If only a few tablespoons, then don't worry about it.
Give it all a good stir with a wooden spoon, it will start out rather clumpy as things stick to the honey and syrup, but don't worry as it melts and cooks it will mix about.
Set crockpot on high and place the wooden spoon between the lid so that you prop the lid open slightly, this allows some heat and steam to escape while it's baking.
Stir every 15 minutes for about 1 to 1-½ hours, being careful towards the end as it can actually burn, so watch around that hour mark.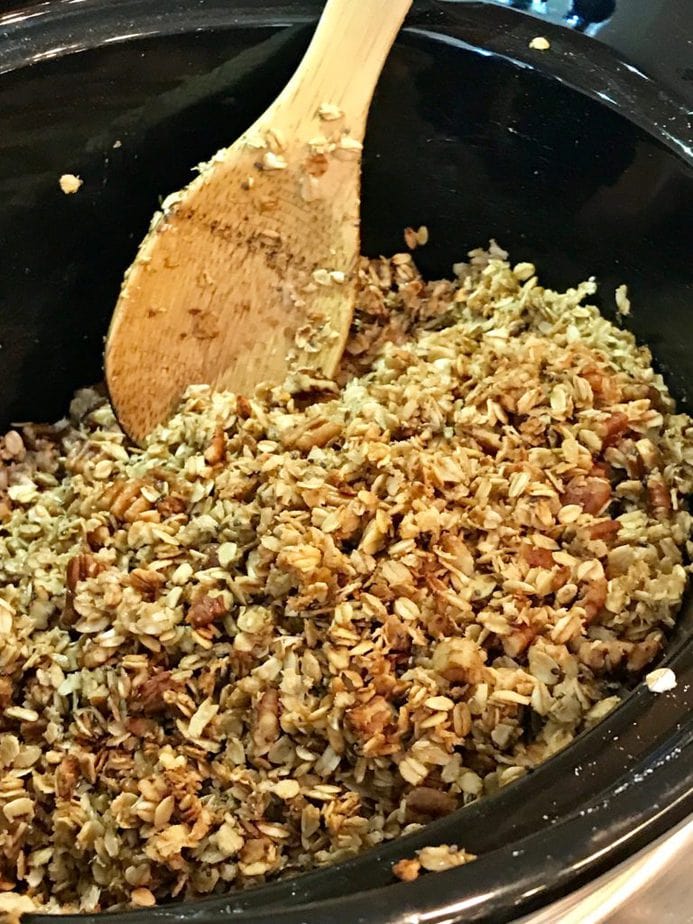 When it's finished to your liking, pour onto a large piece of parchment or wax paper or onto a cookie sheet to allow to cool completely before bagging.
Scoop granola into quart size freezer baggies (it will make between 3-4 full baggies worth). I like to keep one in the cupboard and the rest in the freezer, or give it away, it makes a lovely hostess gift or neighbor gift.
Ways to Use Granola
My favorite way eating this granola (besides sneaking handfuls) is as a mid morning snack with a little vanilla yogurt (try Vanilla Bean Greek Yogurt) and berries or lemon curd!
I love serving these yogurt parfaits during a breakfast or brunch, they are such a fun, healthy and wholesome dessert, treat, protein packed breakfast.
Try it with vanilla yogurt, blackberries and pomegranate arils, a favorite combo of mine.
WOW! Give it a go and let me know what you think or your unique flavor combinations!
How to Make Yogurt Parfaits with Granola
Choose a couple of pretty glasses for the yogurt parfaits; any glass will do (a mason jar, wine glass, martini class or pretty glasses or bowls).
Alternate layers, starting with granola, then yogurt and berries, topped with more granola and finally a dollop of yogurt on top with a few additional berries. Layer a little of this granola butter in there too! It's so delicious!
Suddenly plain ol' granola all dressed up and is looking a lot like dessert!
Makes a great gift too! I'd love to hear your take on it, and what you combine to make it your own!
Like this recipe?
Don't forget to give it a ⭐️⭐️⭐️⭐️⭐️ star rating and leave a comment below the recipe!
Basic Crock Pot Soft Granola
Soft, hearty and chewy textured granola. Easily customizable to your tastes. Delicious on it's own with some milk or in a yogurt bowl or parfait.
Click stars to rate now!
Print
Pin
Save
Saved!
Rate
Servings:
24
servings (⅓ cup)
Ingredients
BASIC SOFT GRANOLA
5-6

cups

rolled oats

not quick oats, use gluten-free if needed

½

cup

butter

melted (or ¼ cup melted butter + ¼ cup oil or replace butter with ½ cup oil of choice, try coconut oil)

2

Tablespoons

Flax Seeds

Optional, or Flax Meal

1

Tablespoon

Chia Seeds

optional

¼

cup

Organic Hemp Hearts

1-2

teaspoons

vanilla extract

1

teaspoon

salt

½

cup

honey
OPTIONAL ADD INS
½

cup

slivered almonds

or any other nut/seed of choice

½

cup

shredded coconut

unsweetened

1-2

teaspoons

cinnamon

½

cup

dried fruit

dried cranberries, raisins, chopped dates, dried cherries, etc

¼

cup

maple syrup

reduce honey, by ¼ cup in most cases
Instructions
I change up my ingredients all the time; the beauty of this recipe is that it is totally customizable, so feel free to make your own or follow one of mine.

You'll need a larger crockpot for this recipe, if you have a small cooker, then reduce the amounts. This can also easily be doubled in a large crockpot. Spray crock with spray oil. Add all dry ingredients to the crockpot, stir it.

Add melted butter (or oil) and honey (or maple syrup) and stir well. Turn crockpot on high, venting the lid with a wooden spoon. Stir well every 15 minutes, cooking for 1 – ½ hours. Watching close at the end as it can burn.

Turn onto wax or parchment paper or onto a cookie sheet to cool. Add any after cooling mix-ins (such as chocolate chips/chunks). Package in quart size freezer baggies and freeze any unused portions.
For Yogurt Bowls or Parfaits
Place a small portion of granola on the bottom of the bowl/glass. Next layer the majority of your yogurt, reserving a generous dollop for the top. A

dd seasonal berries on top of the yogurt (reserving 2-3 berries for top).

Add the rest of your granola, finish with final dollop of yogurt and reserved berries or pomegranate arils.

Serve immediately or place in refrigerator until ready to serve, but not much longer than a couple hours, unless you don't mind the granola really soft.
Notes
MAPLE PECAN GRANOLA
Basic Granola Recipe
1-2 teaspoons cinnamon
½ teaspoon nutmeg
¼ teaspoon cloves
⅓ teaspoon ginger (optional) above spices may be replaced with 2 rounded teaspoons of pumpkin pie spice
1 cup chopped pecans
2 Tablespoons light brown sugar
Reduce honey to ¼ cup and add ¼ cup pure maple syrup
COCONUT-PECAN GRANOLA
Basic Granola Recipe
½-1 cup unsweetened coconut, shredded or flakes
1 cup toasted pecan pieces (toast in 350 oven for 5-6 minutes)
1 handful whole pecans (optional)
2 Tablespoons dark brown sugar (optional)
After it's cooled slightly, sprinkle on some additional sea salt, toss to combine, I like Flaky Sea Salt.
HAWAIIAN GRANOLA
Basic Granola Recipe
½ – 1 cup unsweetened coconut, shredded or flaked
½ – 1 cup roasted (salted ok) macadamia nuts, rough chopped
Replace butter with ½ cup melted coconut oil (or just ¼ cup oil and ¼ cup butter)
DARK CHOCOLATE GRANOLA (my husband's favorite)
Basic Granola Recipe
⅓ cup cocoa powder
½ cup dried cranberries or cherries (optional)
1 cup dark chocolate chips or chunks *mixed in after granola has cooled)
TRAIL MIX GRANOLA
Basic Granola Recipe
½ cup cashews (raw or roasted/salted) rough chopped if desired
¼ cup roasted pumpkin seeds
¼ cup roasted sunflower seeds
½ cup walnuts, rough chopped
½ cup pecans, rough chopped
½ cup dried fruit (raisins, dried cranberries, dried cherries, dried mango, etc)
Additional ¼ cup honey or maple syrup
½ cup chocolate chips, added after granola has cooled (optional)
YOGURT PARFAITS
1 cup vanilla yogurt (or your favorite, I love Noosa Vanilla Bean yogurt or try making your own yogurt
¼ cup prepared granola
¼ cup berries of choice (blackberries, blueberries, strawberries (sliced), pomegranate arils, etc.)
Nutrition
Serving:
1
serving
|
Calories:
173
kcal
|
Carbohydrates:
22
g
|
Protein:
4
g
|
Fat:
8
g
|
Saturated Fat:
3
g
|
Polyunsaturated Fat:
2
g
|
Monounsaturated Fat:
2
g
|
Trans Fat:
0.2
g
|
Cholesterol:
10
mg
|
Sodium:
135
mg
|
Potassium:
110
mg
|
Fiber:
3
g
|
Sugar:
9
g
|
Vitamin A:
130
IU
|
Vitamin C:
0.1
mg
|
Calcium:
30
mg
|
Iron:
1
mg