As an Amazon Associate, I earn from qualifying purchases. Please read my disclosure policy.
I discovered the simplest from-scratch chocolate cake recipe, no frosting required! This mouth-watering, easy chocolate loaf cake is light, almost spongy, not overly sweet, and it could not be easier to make, plus I have provided high altitude baking adjustments!
Do all cakes needs frosting? I think so! But I fully support you keeping it simple, it holds its own either way!
If you are a chocolate lover, you are in luck! Try these other reader favorites: Copycat Chocolate Chocolate Chip Nothing Bundt Cake, Fudge Chocolate Brownies, Chocolate Bread Pudding.
RECIPE FOR EASY CHOCOLATE LOAF CAKE
If I have said it once, I have said it a 100 times, I am not a big cake or chocolate fan, WHAT!? I know, you probably cannot be friends with me :-).
However; the most important men in my life (my hubby and two boys) are HUMONGOUS chocolate cake fans, so I am always on the hunt for a quick and easy chocolate cake recipe.
When visiting my BFF a few weeks back, she made this incredibly easy, light, chocolate loaf cake recipe she found in a Wall Street Journal article. I was smitten, YES ME?!
CAN I MAKE THIS SIMPLE CHOCOLATE CAKE IN DIFFERENT PANS?
Yes! I had more fun playing around with a variety of pans for this cake, see my suggestions below:
PULLMAN PAN OR LONG LOAF PAN: I love using my Pullman pan <– (my favorite pan brand, made in the USA!) for this recipe. You can also use a 12x4x3 inch loaf pan.
TWO REGULAR LOAF PANS: This recipe easily splits into two regular sized loaf pans, again, my favorite loaf pan is the USA pans!
BUNDT PAN : I had a funny suspicion this would bake beautifully in a bundt pan and it did!! I used a 12 cup bundt pan, which is the smallest you should use. If you use a 10 cup, please place it on a baking sheet.
10 INCH ROUND CAKE PAN: This is a large cake pan; I have not tried in a springform pan, the original recipe warns against this.
Try it in two 8 or 9-inch pan round cake pans too. I haven't tried it, but as long as your batter is not higher than ⅔ full it should work fine.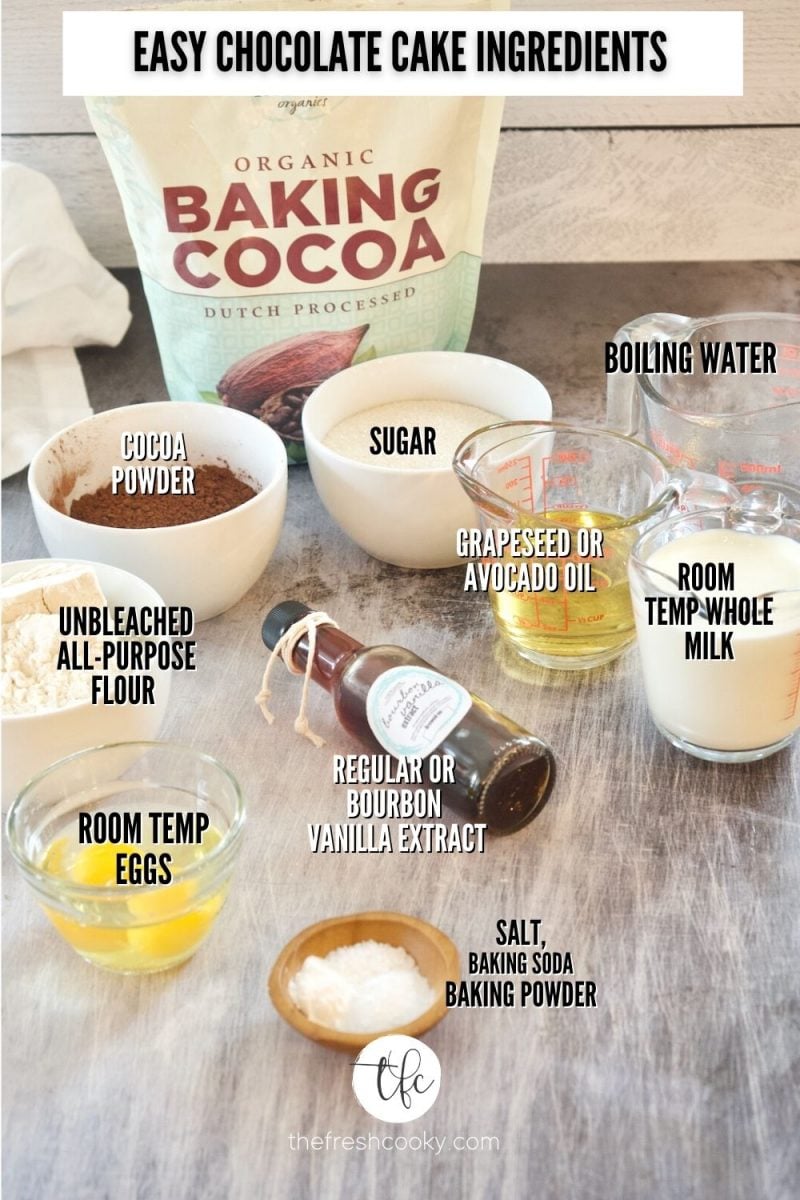 RECIPE INGREDIENTS
What you are going to need to bake up this tasty, moist and easy chocolate loaf cake. Gather up the following:
FLOUR | simple all-purpose unbleached flour is the base for this easy chocolate loaf cake recipe.
COCOA POWDER| unsweetened, Dutch-process is best in this recipe, pretty standard and what I use most often.
BAKING POWER AND BAKING SODA | what provides the lift and rise to the recipe.
KOSHER SALT | I used kosher salt, but table or fine salt may also be used, brings out the flavors in the chocolate.
SUGAR | As always, I used all-natural pure cane sugar, regular granulated white sugar may be substituted
EGGS | Eggs will help bind the ingredients together, in this recipe it is important that they are room temperature* (see tips below)
MILK | whole milk is the only way I have tested this recipe, the extra fat is important in the texture of the cake, allow to come to room temp.
OIL | A neutral oil is best here, I used Avocado, Grapeseed oil would be great also, or any neutral oil.
PURE VANILLA | vanilla extract adds depth and just the right amount of flavor to the simple chocolate cake. I used both regular Vanilla and Bourbon Vanilla.
BOILING WATER | boiling water blooms the cocoa powder, bringing out the best of cocoa powder and releases the mega-chocolatey possibilities.
TFC TIP | If you forget to bring your eggs to room temperature (as I often do); place eggs in bowl, cover them with warm (not hot) tap water, allowing them to sit for 5 minutes until they are no longer cool to the touch.
WHAT IT MEANS TO BLOOM COCOA POWDER
When cocoa powder is "bloomed" it is mixed with a hot liquid (like in these Classic Whoopie Pies), stirred well to break up any lumps, and then left to sit for a minute or two.
The cocoa powder dissolves, which thickens the liquid and releases flavor particles within the powder. (Source)
HOW TO MAKE A QUICK AND EASY CHOCOLATE CAKE
Preheat the oven to 350 degrees and prep grease pans well or line with parchment paper <–my favorite way!
Place flour, cocoa powder, baking powder, baking soda, salt and sugar into bowl of stand mixer, mix on lowest setting until combined. Or sift all of above ingredients (except sugar) into mixing bowl, then whisk in sugar.
In another bowl (at least 4 cups), whisk together milk, eggs, oil and vanilla until blended.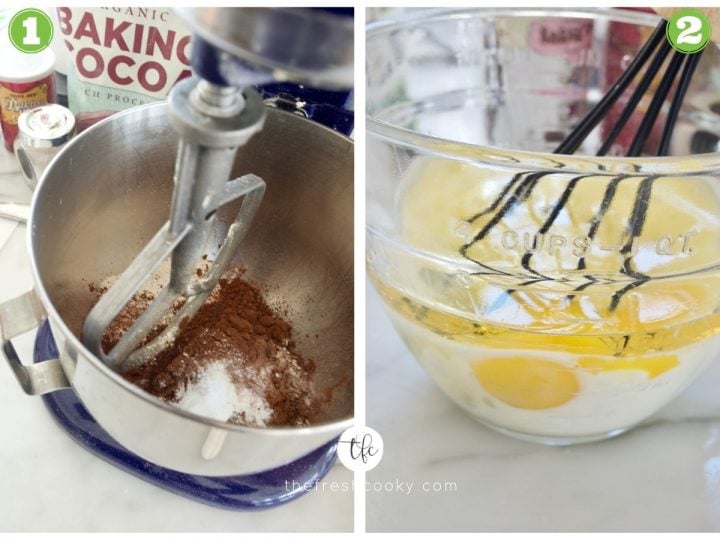 Gradually add wet ingredients and mix (or whisk) on low until smooth, with no lumps.
Stir in boiling water to combine, I used the stir function on my mixer.
Pour batter into prepared pan, bake on middle rack in center of oven, until wooden skewer inserted in middle comes out clean and cake bounces back when lightly pressed.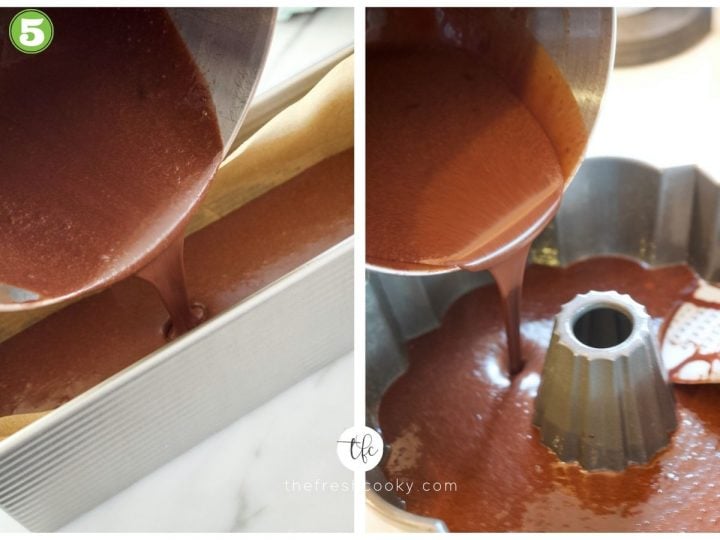 BAKING TIMES FOR EASY CHOCOLATE CAKE
Bundt Pan | Check at about 35-40 minutes, if a few crumbs stick that's fine, if gooey, place back in oven at 5 minute intervals. Mine was great at 40 minutes.
Pullman or Long Loaf Pan | Check at 35-40 minutes, mine was perfect at 42 minutes.
2 Standard Loaf Pans | Mine were great at 43 minutes, check at 40.
10″ round pan | about 50 minutes, check at 40 minutes.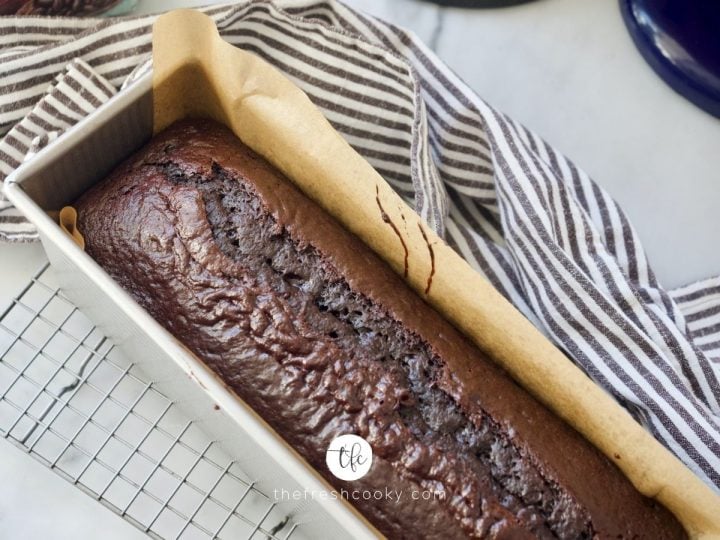 Remove cake from oven and allow to cool on wire rack for 10 minutes. Lift cake using parchment paper or run a butter knife around cake to gently release, inverting onto wire rack, peeling off parchment.
For bundt pan (see video) allow to cool 10 minutes, then using a cooling rack, place on top and invert, carefully lifting off bundt pan.
Allow to cool completely before dusting with powdered sugar or frosting.
DUSTING, GLAZING AND FROSTING SUGGESTIONS
This cake is delicious all by itself, but if you are like me, frosting makes the cake! See suggestions below:
HIGH ALTITUDE CHOCOLATE RECIPE ADJUSTMENTS
We live in the Mile High City, about 5,280 feet above sea level; anywhere above 3,000 feet typically requires some adjustments for high altitude.
I have made all of the high altitude adjustments for you in the recipe card at the bottom, but do not worry if you are not high altitude, I have the original amounts there also.
A few of my popular high altitude adjusted recipes are: Best Easy Banana Bread, Chewy Chocolate Chip Cookies, Texas Sheet cake.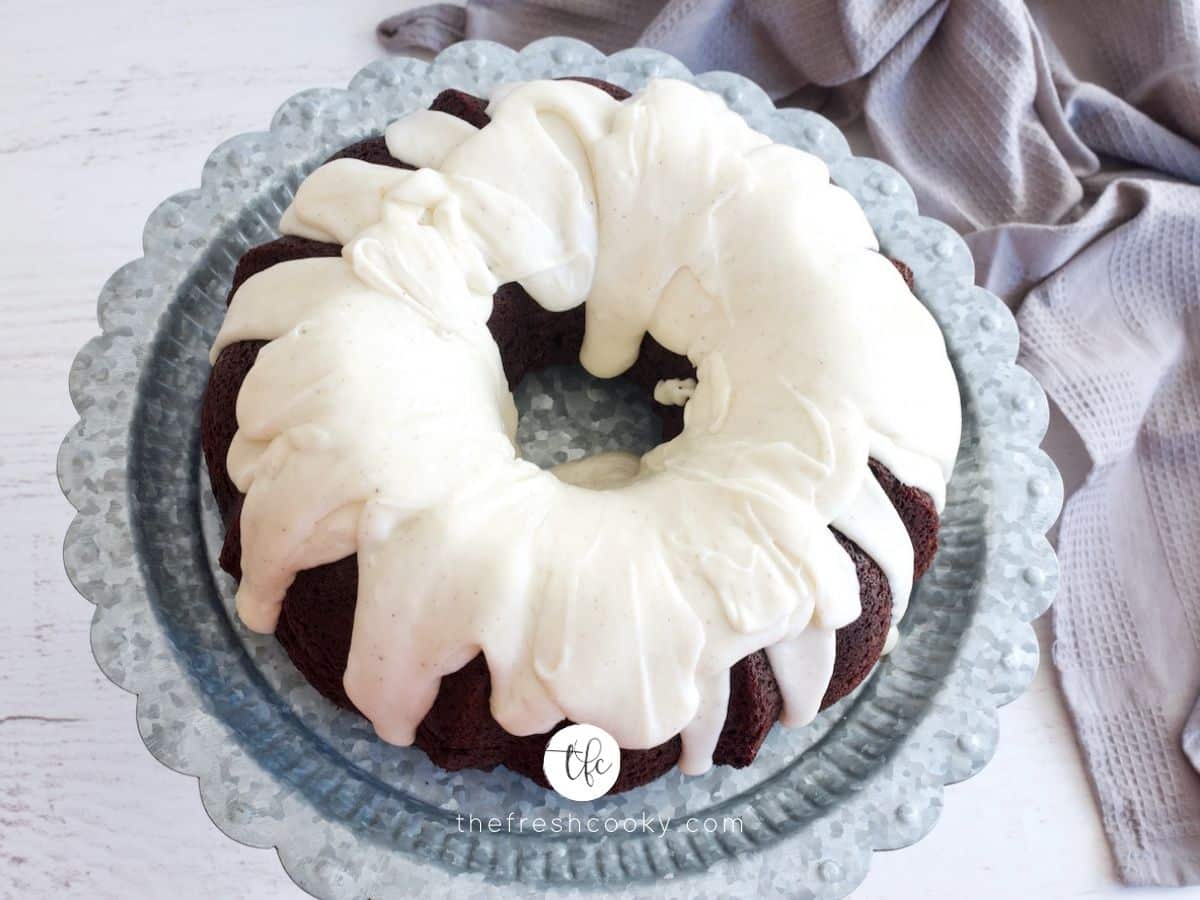 SIMPLE TIPS FOR THE BEST, MOIST CHOCOLATE CAKE
Make sure all your ingredients are at room temperature, yes, even the milk and the eggs.
Use the best quality ingredients you can afford.
Do not over mix the batter.
Do not over bake the cake.
FREQUENTLY ASKED QUESTIONS
Can I freeze Simple Chocolate Cake?
Yes! If freezing be sure to cool completely, wrap in plastic wrap, then place in freezer baggie, up to 3 months. Thaw and frost as desired.
How Should I store the cake?
Cover with plastic wrap or store in an airtight container on the counter 3-5 days, may be refrigerated up to 7 days.
What Makes a Cake Moist?
The oil, not over-creaming or over-whipping, good fats and room temperature ingredients.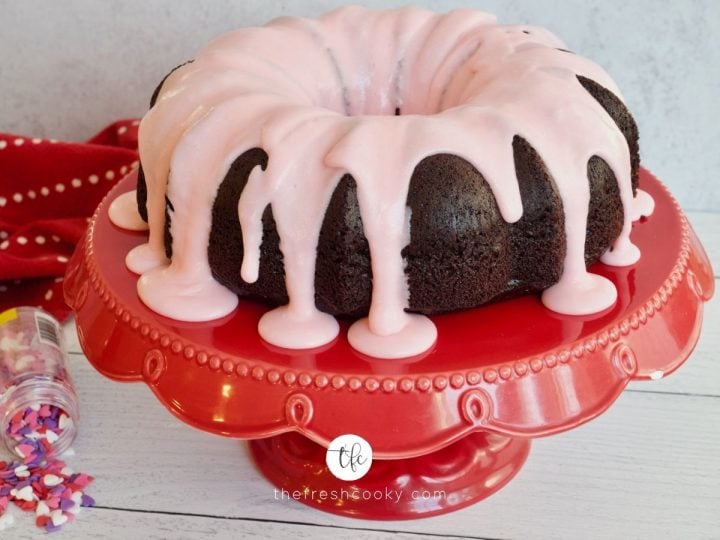 SERVING SUGGESTIONS
How can you serve easy chocolate loaf cake? Anyway you like it, but here are a few suggestions:
MORE EASY CHOCOLATE DESSERT RECIPES
Like this recipe?
Don't forget to give it a ⭐️⭐️⭐️⭐️⭐️ star rating and comment below the recipe!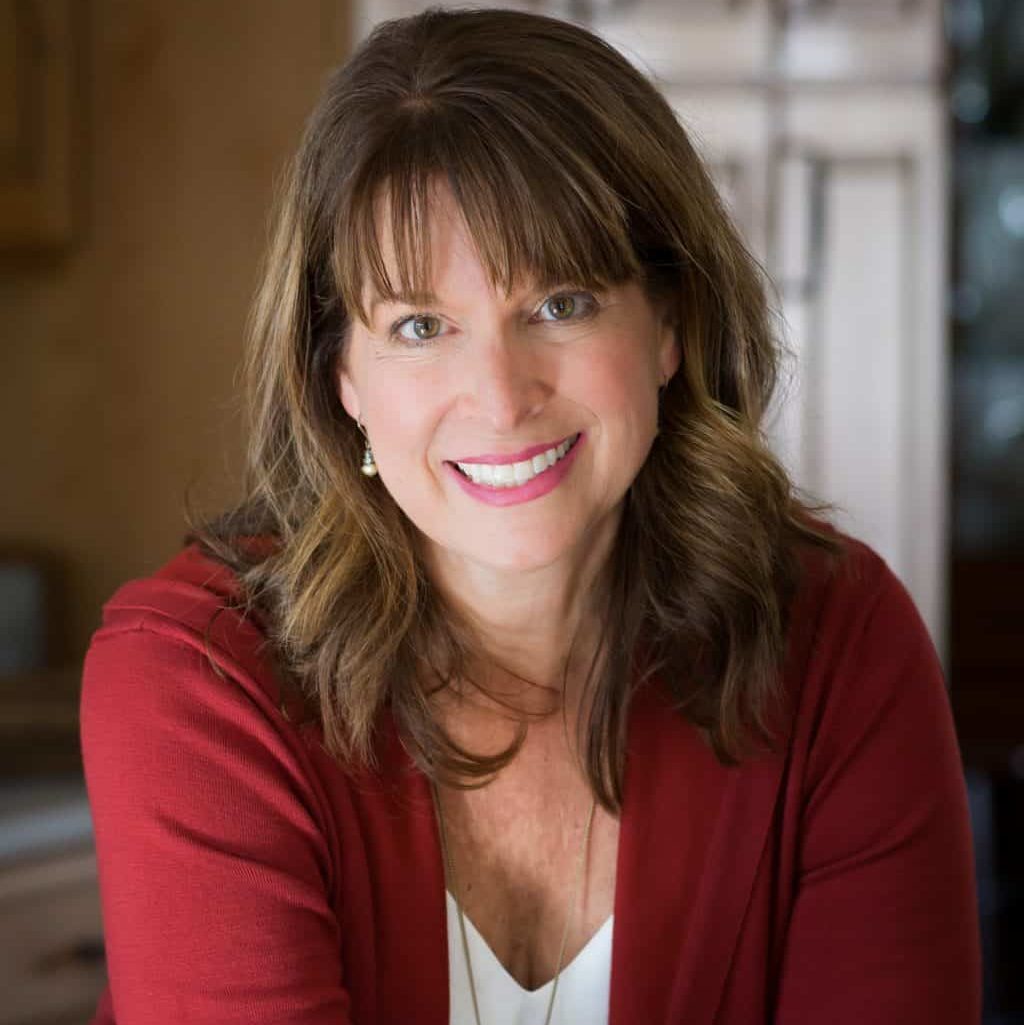 About Kathleen Pope
Recipe Innovator | Food Photographer | Food Writer
Hi, I'm Kathleen Pope. Here at The Fresh Cooky you will find easy, mostly from-scratch, trusted recipes for all occasions. From speedy dinners to tasty desserts, with easy step-by-step instructions. I am here to help teach you how to make mouthwatering recipes without spending hours in the kitchen. Read more about Kathleen here.