Bacon Balsamic Macaroni Salad
As an Amazon Associate, I earn from qualifying purchases. Please read my disclosure policy.
Crisp bacon pieces strewn throughout this delectable, creamy bacon balsamic macaroni salad; loaded with crunchy celery, bright red grape tomatoes, sharp cheddar cheese and topped with a mouthwatering and tangy creamy balsamic ranch dressing.
Bacon! People go nuts with bacon! Why is that? Perhaps it's the crispy, salty nature of a slice of bacon, or the heavenly aroma wafting up to your bedroom tickling your nose and beckoning you to come downstairs on a sleepy Saturday morning, whatever it is, it works!
If you adore bacon, like we do, try this delicious Bacon Minestrone Soup or Best Ever Cowboy Baked Beans that are topped with, you guessed it BACON!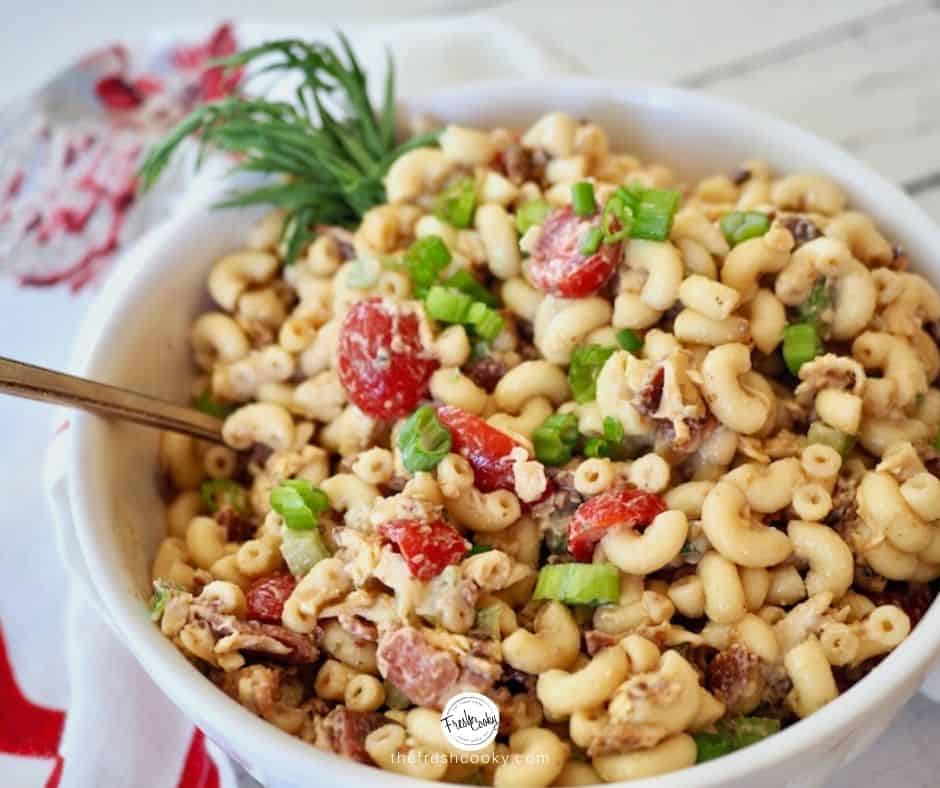 I'm not a huge pork fan and yet I L.O.V.E. crispy bacon! Can't be limp or under-cooked, no siree, has to be cooked crisp and crunchy! Heck, I know several vegetarians who say they have one exception; BACON!! That cracks me up!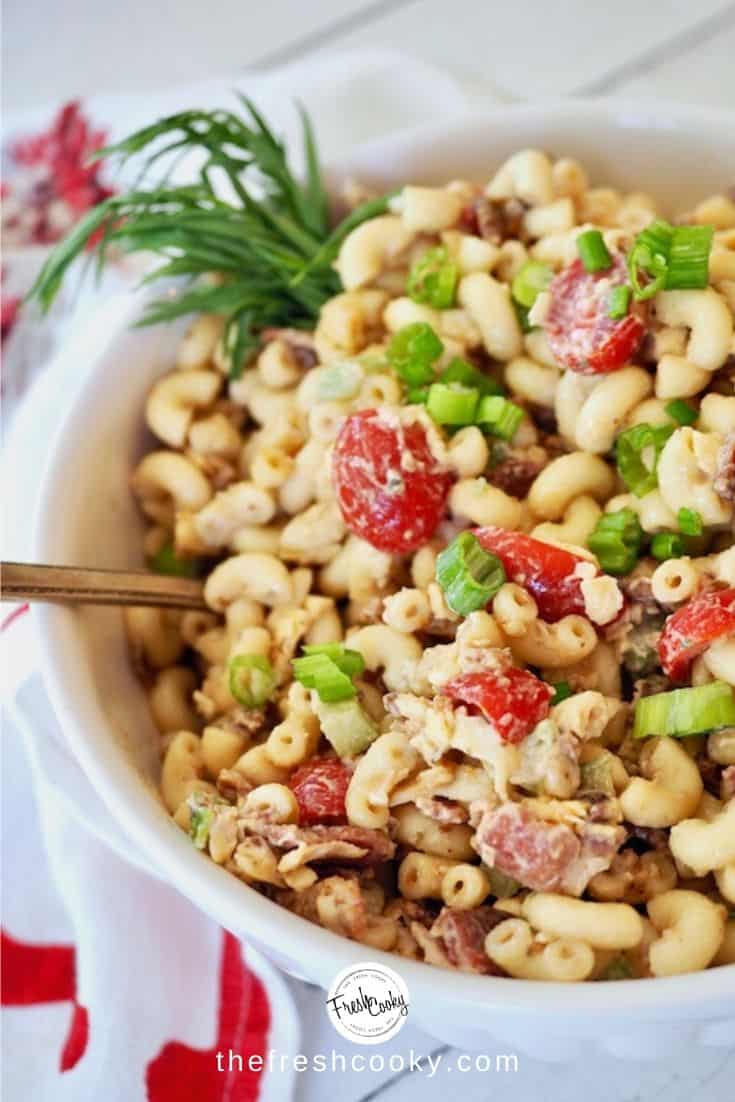 This recipe is from my dear friend, fellow blogger and cookbook author, Eliza! When she posted this recipe from her latest cookbook, Bacon, Beans and Beer I knew I had to try it.
I'm not a big fan of your standard over mayo'd up macaroni salad — this is quite the opposite, lighter and fresher and in case I didn't mention it — it has BACON!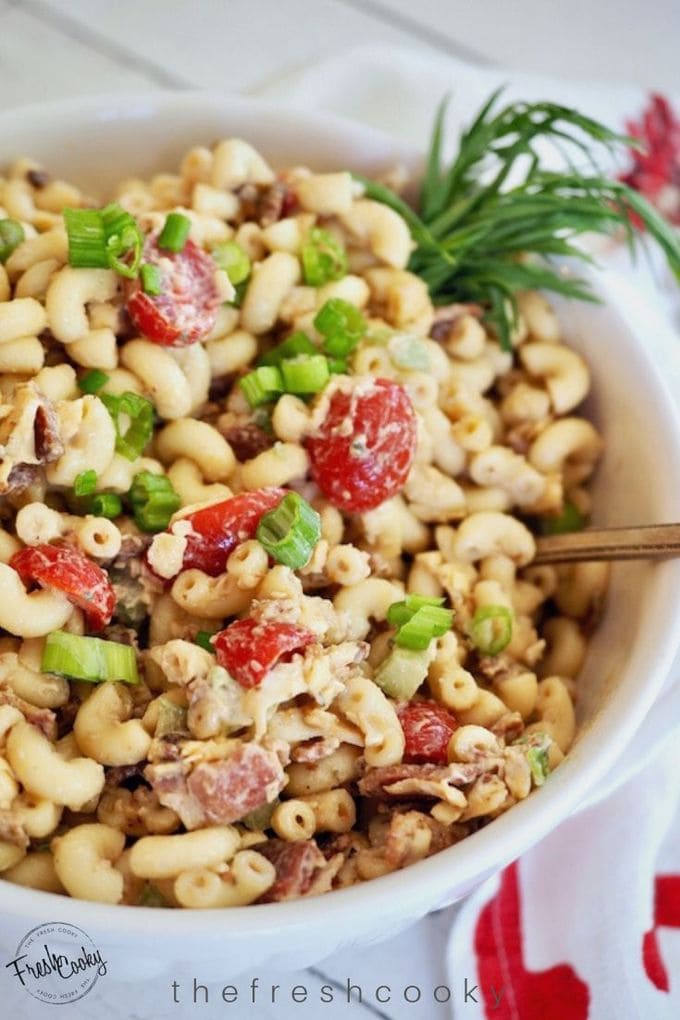 HOW TO MAKE BACON BALSAMIC MACARONI SALAD
Gather your simple ingredients. Hollywood Safflower Mayo just happens to be the mayo I grew up on, I've never been satisfied with other mayos, give it a try! I find it at our local grocery store in the natural section.
Add several teaspoons of salt to your boiling water. Cook pasta according to package directions; drain and rinse well with cold water.
While your pasta is cooking; chop your celery, green onions and halve your grape tomatoes (or a large tomato, chopped). Hold off on the bacon and and cheese, you'll add those after it's chilled out a few hours.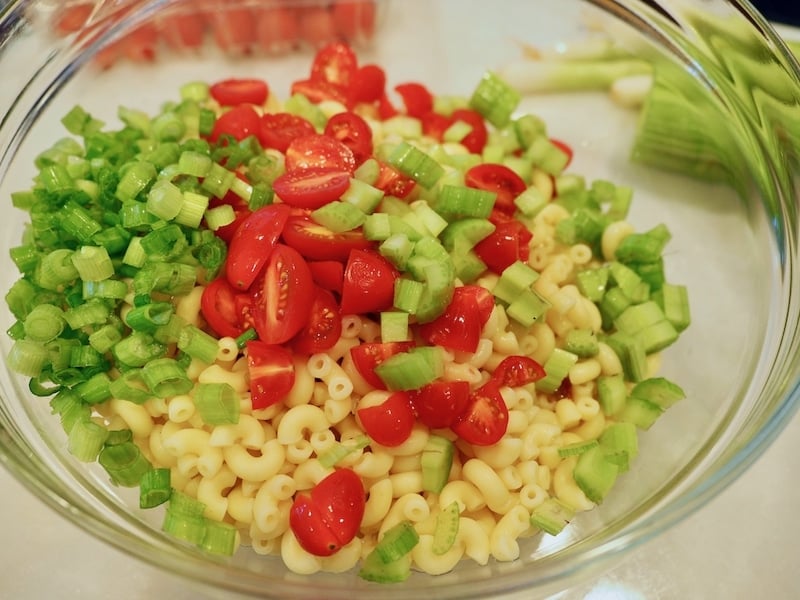 Grab a small mixing bowl, combine your dressing ingredients and gently whisk until combined and smooth.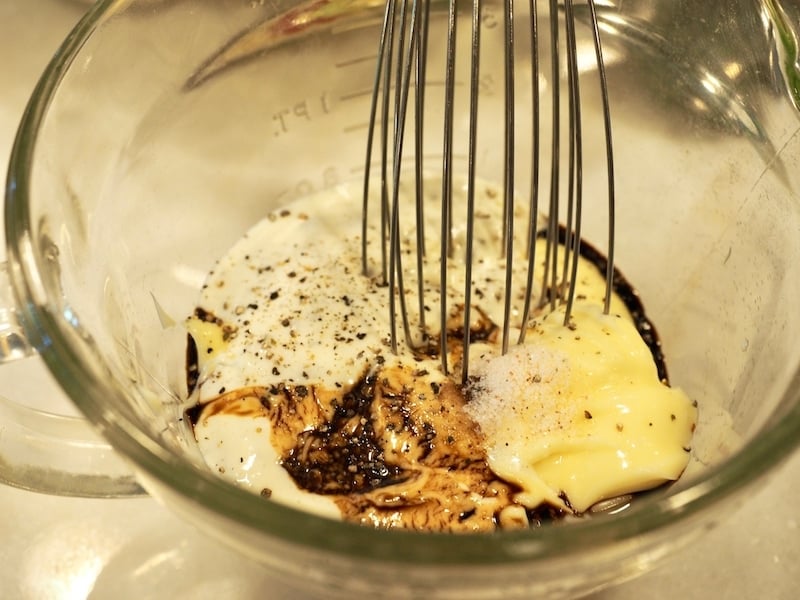 Pour it over your pasta and veggies…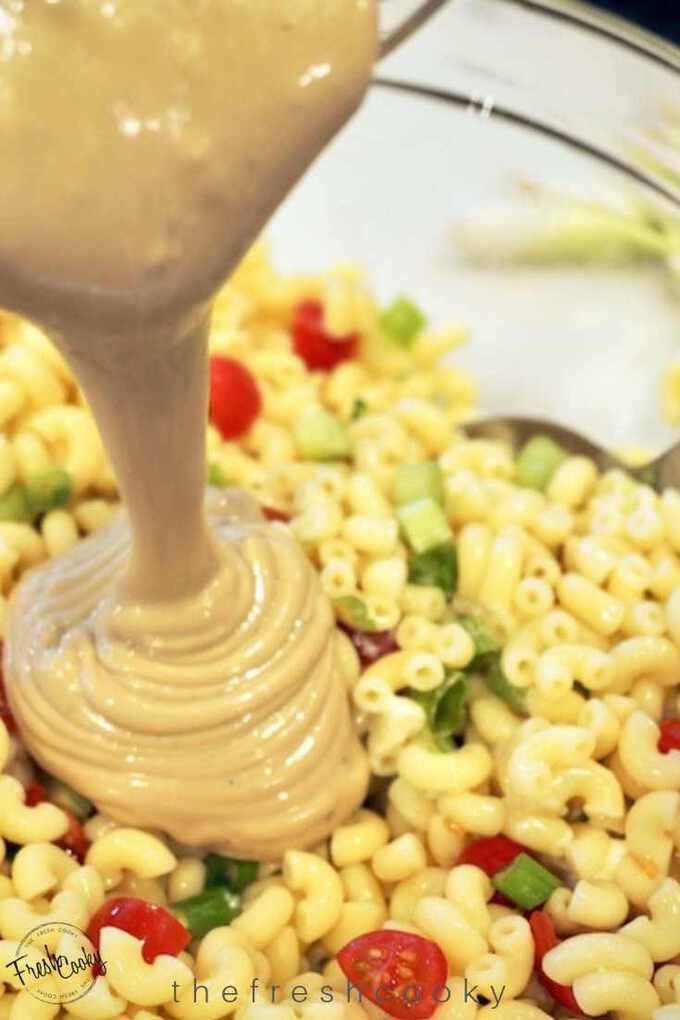 …mix gently coating everything.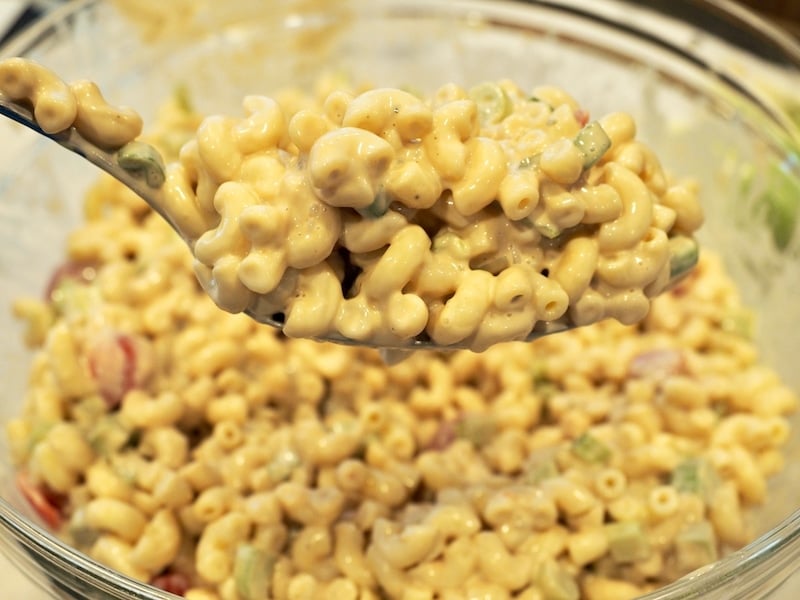 Now, cover and refrigerate a minimum of 2 hours or even overnight. Time is your friend with this dish.
While your pasta salad is hanging out, cook your bacon — I love using my cast iron griddle.
Just before serving add your cooked and crumbled bacon, shredded cheddar cheese and if desired chop a little fresh tarragon and mix to combine.
Garnish with fresh chopped onions and a sprig of tarragon if desired. I think tarragon is a highly undervalued herb; highly aromatic, sporting a taste somewhat similar and yet so different than anise. Try it on your cooked carrots sometime…be still my pulsating palate!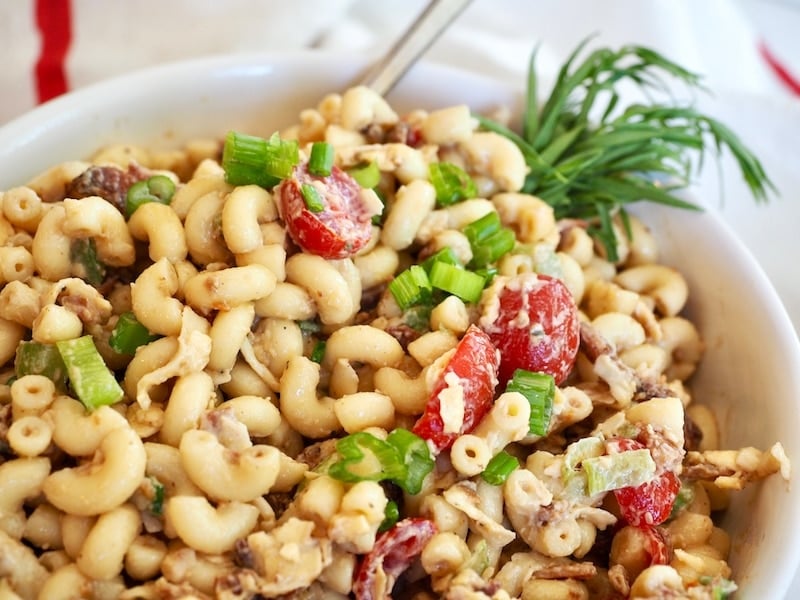 This dish tastes even better the second day! It's delicious and pairs perfectly with Hanneman's Flank Steak or Summertime Kebab's.
This amazing recipe has been slightly adapted from my friend Eliza's Bacon, Beans and Beer Cookbook!
Sharing on Weekend Potluck!
Try these other Summertime recipes:
Like this recipe?
Don't forget to give it a ⭐️⭐️⭐️⭐️⭐️ star rating and comment below the recipe!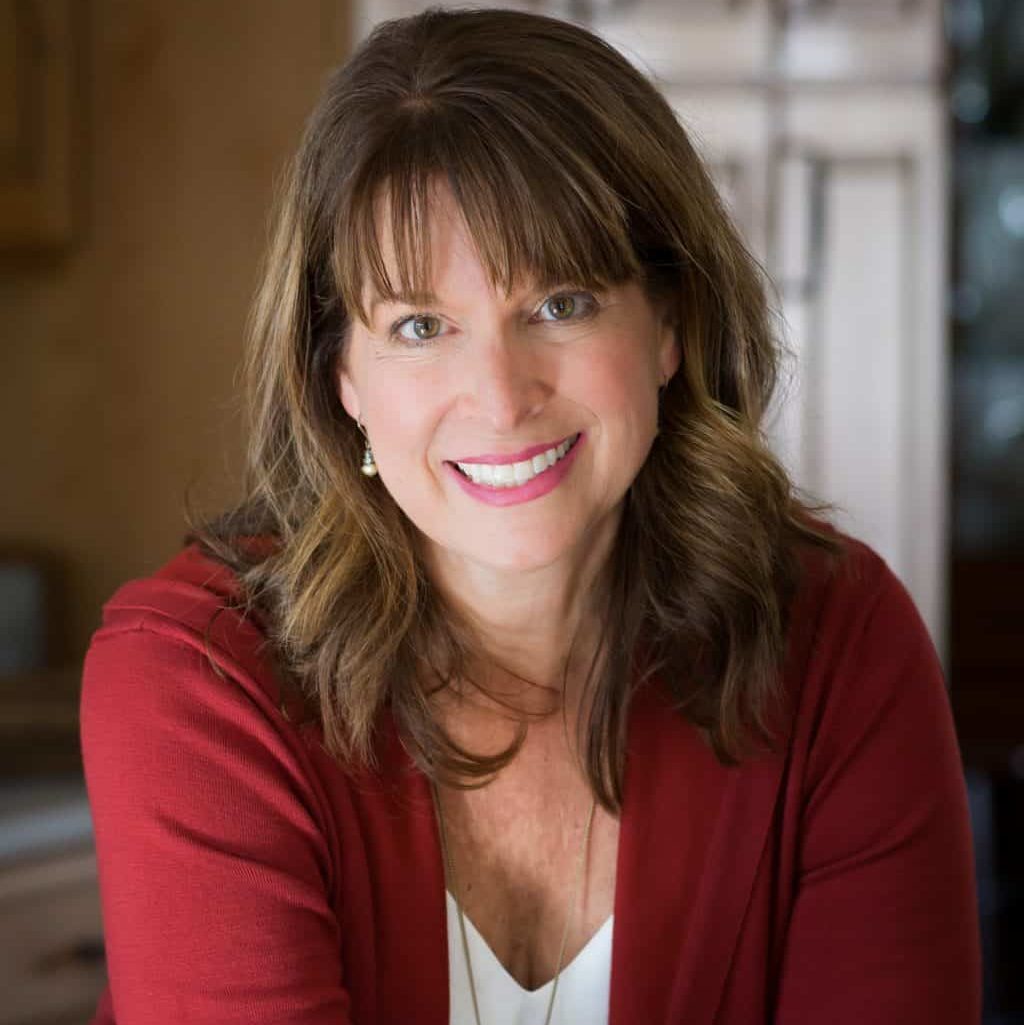 About Kathleen Pope
Recipe Innovator | Food Photographer | Food Writer
Hi, I'm Kathleen Pope. Here at The Fresh Cooky you will find easy, mostly from-scratch, trusted recipes for all occasions. From speedy dinners to tasty desserts, with easy step-by-step instructions. I am here to help teach you how to make mouthwatering recipes without spending hours in the kitchen. Read more about Kathleen here.