Philly Cheesesteak Sliders Recipe
As an Amazon Associate, I earn from qualifying purchases. Please read my disclosure policy.
A sensational twist on a much-loved classic, this Philly Cheesesteak Sliders recipe packs all the savory and cheesy flavors of a traditional Philly sandwich into just a few bites! A great recipe for game day, summer BBQ, tailgating or just a delicious and easy weeknight dinner.
Serve these perfect nibble-sized sandwiches at your back-to-school bash or final summer BBQ- Philly cheesesteak sliders surely won't disappoint!
Check out my Roast Beef Sliders, Hammy Sammies, and yummy Turkey and Cheese Sliders — all amazing slider recipes! And if you are looking for more shaved steak recipes, you will love this super popular Best Cheesesteak Sandwich Recipe, New England Steak Bomb Sandwiches and Healthier Mongolian Beef.
Why You Will Love this Philly Cheesesteak Slider Recipe
Easy Recipe | This Philly Cheesesteak slider recipe is oh-so-easy to prepare and an absolute hit for any get-together, BBQ, or tailgating party!
Kid Approved | Phillys are a classic adored by both kids and adults. Even better, mini slider Phillys make it so little fingers and little mouths can enjoy all the flavor of a traditional Philly sandwich, and adults love the savory and cheesy small-bite take on the classic.
Make Ahead | These cheesesteak sliders are perfect for preparing ahead of time- freezer-friendly and easily kept warm for an upcoming event.
Simple Ingredients for Cheesy Steak Slider Rolls
The full printable recipe card is at the end of this post.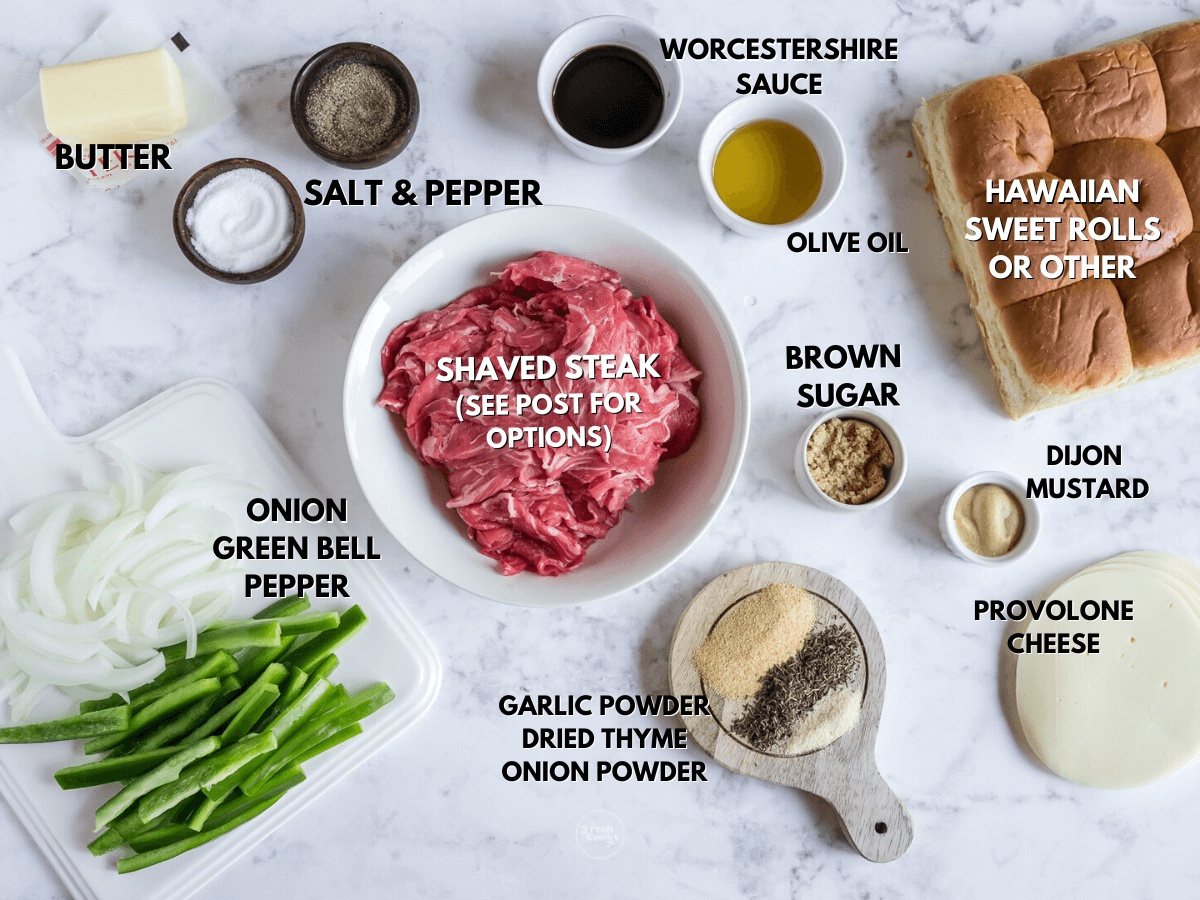 Sliders
Hawaiian Sweet Rolls | What I love about these rolls is that they are easy to handle and have a fluffy texture that crisps well in the oven.
Oil | You'll use oil to fry up your shaved steak. You can choose a neutral oil, olive oil, or even try a pat of butter.
Veggies | Thinly sliced onions and green bell peppers are a classic Philly cheesesteak topper — and sautéed onions and peppers are so yummy!
Shaved Steak | Ribeye shaved steak meat is considered best for Phillys because it is tender when cooked. Flank steak or skirt steak are also excellent option for a leaner cut of meat. See tip for how to shave.
Worcestershire Sauce | Add a bit of umami flavor to compliment the savory and meaty goodness of this slider recipe.
Dijon Mustard | An optional ingredient for my mustard fans!
Garlic Powder | A dash of garlic powder brings a hint of spice.
Provolone Cheese | Provolone cheese slices are the "cheese" in cheesesteak and it melts perfectly for gooey bites!
Kosher Salt and Black Pepper | Just a little salt and pepper go a long way. Season to your liking.
How to Shave Steak for Philly Cheesesteaks
If you cannot find shaved steak at your butcher or in the meat section of the grocery store (Trader Joe's is my favorite).
Purchase rib eye, flank steak or skirt steak and freeze for 20-30 minutes. Then using a very sharp knife slice steak into thin slices. You won't get as thin as a butcher will with a slicer, but it will work in a pinch.
Ask your butcher! They should be able to shave any cut of beef you want to use.
Sauce
Butter | Melted butter is all this sauce needs to meld the flavors together.
Brown Sugar | Brown sugar is optional but creates a rich sweetness you may want to try.
Worcestershire Sauce | A quick dash of Worcestershire anchors this sauce to the rest of the savory slider ingredients.
Dijon Mustard | Just a pinch of tangy and sharp Dijon mustard adds the kick this Philly sauce needs.
Spices | Spice things up with a little garlic powder, onion powder and thyme. Use dried thyme or use ⅓ the amount of fresh thyme, chopped.
Healthy Twist
Using organic, whole food ingredients this shaved steak slider recipe is a step above anything store bought. No fake ingredients, just real food.
Use whole grain rolls in place of the Hawaiian Sweet Rolls, or better yet, make as a casserole and omit the rolls all together.
Reduce the butter by half, it will still be delicious.
How to Make Philly Cheesesteak Sliders
To get started, preheat the oven and lightly spritz your casserole dish with just enough cooking spray, so the rolls don't stick to the surface.
Step 1 | Make Seasoning and Sauce
In a small bowl, prepare your shaved steak seasoning so that it's ready to go when you need it. Stir together the Worcestershire sauce, mustard, garlic powder, salt, and pepper and set the ingredients aside for later.
Next, chop and slice the fresh peppers and onions. You'll want to use a sharp knife to get thin slices of each. –Bring on the onion tears!
Step 2 | Prepare Philly Cheesesteak Slider Recipe
Now it's time to move to the stovetop! In a large skillet (I love this cast iron skillet), begin heating the oil and add your freshly sliced onions and green peppers. Cook over medium heat until peppers are soft and onions have caramelized slightly, stirring the mix every couple of minutes.
Move the onions and peppers to the side of the pan to make room for the shaved steak. Or, if you are using a smaller pan, remove the veggies and place them onto a plate for later.
Turn up the heat to about medium-high to cook your shaved steak. Use tongs to quickly toss the steak, preventing unwanted clumping. You'll know your shaved steak is ready for seasoning when it is slightly pink but mostly browned. Watch closely it cooks really fast!
Then, pour in the Worcestershire sauce, mustard, garlic powder, salt, and pepper that you mixed earlier. Stir in the yummy seasonings until the steak is thoroughly coated.
Finally, stir the caramelized onions and soft peppers back into the beef and remove the pan from the burner.
Step 3 | Assemble Shaved Steak Recipe
Move on to slicing the Hawaiian rolls and assembling these irresistible mini Philly cheesesteaks. Using a serrated knife, cut the rolls in half horizontally and put the tops to the side for now. Place the bottoms of the rolls in your prepared baking dish. Spread the meat and onion mixture evenly over the top of each roll.
Next, layer on the slices of provolone cheese and place the tops of the rolls back onto the sliders for that melted cheese layer. I know, I know, "wiz wit" or cheez whiz (or is it Cheese Whiz?) is traditional, but we're going a little off tradition.
Before you pop these delicious treats into the oven, you'll need to mix the sauce that really makes these Philly cheesesteak sliders to die for. Grab a small bowl to stir together all your sauce ingredients.
Slowly pour your mixture over the top of the individual rolls. Using a brush, get between the rolls and on the sides, so they are completely smothered. (Is your mouth watering yet?)
Step 4 | Bake Cheesesteak Sliders
Cover your cheesesteak sliders with aluminum foil and place them in the oven and bake for about 25 minutes. Then, remove the foil and continue baking for an additional 7-10 minutes. You'll know these easy Philly cheesesteak sliders are ready to eat when the provolone cheese is melted, and the rolls are a beautiful golden brown.
That's it! Take your savory sliders out of the oven, plate, and serve! You won't want to wait too long before diving into this goodness, so you can enjoy the gooey cheese and crispy rolls at their finest!
Trust me– this is one of those easy recipes you'll want to make again and again.
Pro Tips
This Philly cheesesteak tasty sliders recipe is pretty simple and straightforward. However, there are a couple of tricks you'll want to keep in mind to ensure they come out as perfect as they can be!
Remember to continuously toss the beef once you add it to the sizzling pan. This will keep the thin slices from clumping together.
Also, ensure all sauce and seasoning ingredients are well-mixed to combine the flavors evenly.
Variations & Substitutions
Gluten-free Philly Cheesesteak Sliders | To make this adored recipe gluten-free, just a few ingredients will need to be swapped for GF alternatives. Of course, you'll want to find high-quality GF rolls to hold all the yummy ingredients inside. Next, find the GF versions of all the bottled seasonings, like garlic powder, onion powder, and dried thyme. I recommend the reliable brand – McCormick.
Also, note that most Worcestershire sauces are naturally gluten-free, but you may want to double-check the specific brand to be safe. Lee & Perrin's the most popular is actually gluten-free, whereas Annie's Organic is not. Now, this irresistible recipe can be enjoyed by those with gluten intolerance or celiac disease!
Alternative Rolls | If Hawaiian Rolls aren't your preferred rolls, you can absolutely swap them out for another type. Traditionally, Philly cheesesteak sandwiches are made with submarine or hero rolls. Cut them in half or thirds to create slider buns.
Dairy Free | This recipe can even be made dairy-free! Substitute the butter in the sauce with oil and use your favorite dairy-free brand of cheese to top it off. Or, omit the cheese if you'd prefer. Either way, the sliders are delish!
Make it Yours | Add mushrooms to the veggies when sautéing, even better add more veggies, red, orange, or yellow peppers, sneak in some grated zucchini – be creative! Use rosemary or your favorite herb in place of the thyme. Swap out spicy brown mustard or regular yellow mustard for Dijon. You get the idea! Got an idea! Go for it!
If just making for two, make half a batch, cutting this recipe in half. Enjoy 2-3 each for dinner with a light salad, saving any leftovers for lunch the next day. WIN!
Or make the entire batch, freezing half for another meal!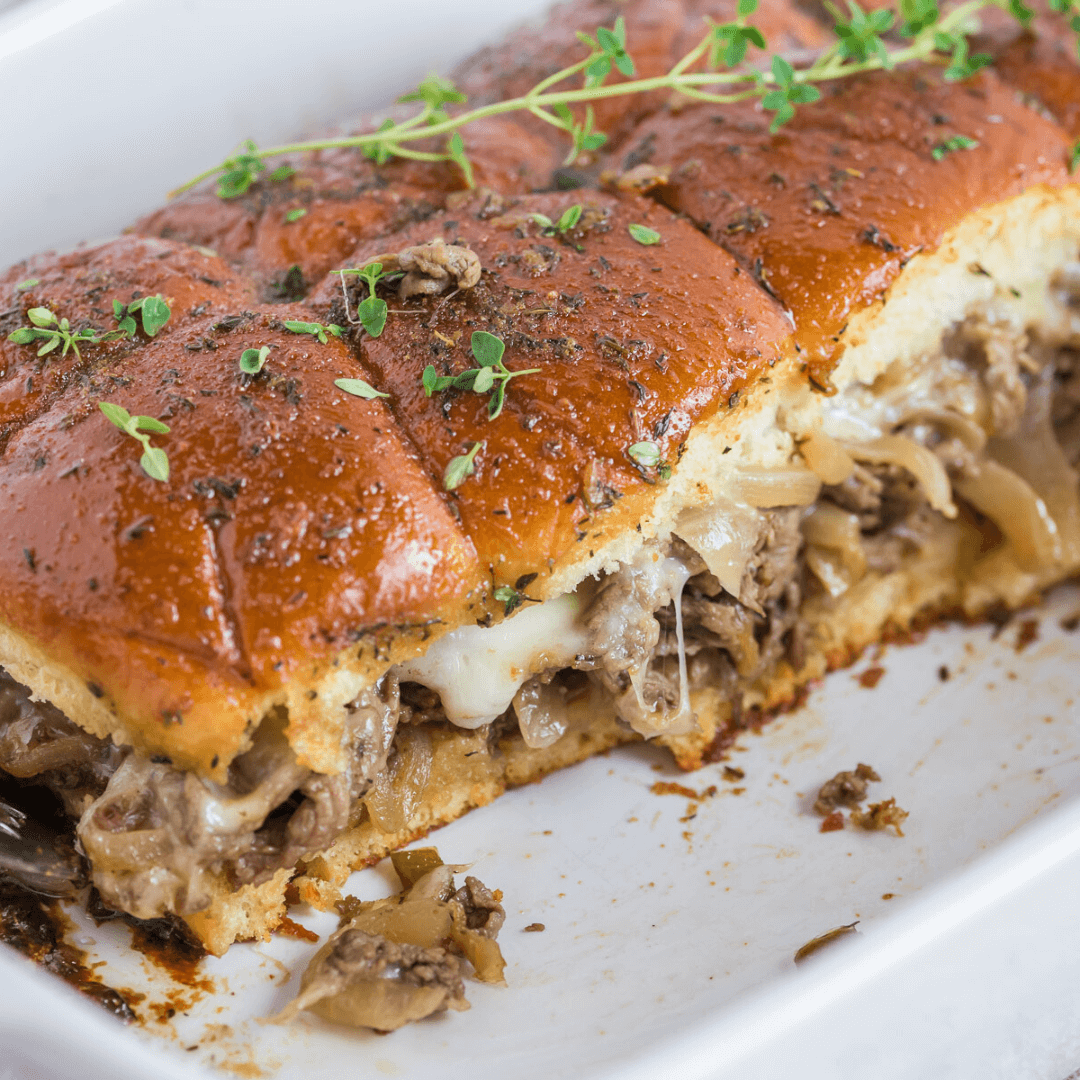 This is my favorite saute pan, it works for so many different recipes! Cleans up beautifully and cooks evenly – plus goes from stovetop to oven!
Easy cleaning casserole dish anywhere from a 10. 5″ X 7. 5 to a standard 9×13″ will work for this dish — these Staub baking dishes are my favorite!
Storage Tips
Party Prep | If you are making this cheesesteak slider recipe for a party, you'll need a surefire way to keep them warm! Wrap each mini sandwich in foil and place them in a slow cooker on the warm setting.
To Go | Or perhaps you're traveling for a get-together. That's no problem- Just place the covered baking dish in an empty ice chest with a towel underneath. The insulated container will keep your food warm.
Leftovers | It's unlikely you'll have Philly cheesesteak leftovers. But, if you do, store the sandwiches in the fridge in an airtight container. Easily rewarm the dish for a quick lunch the next day at 300 degrees in the oven for around 15-20 minutes, covered with foil
Freezer | What's even better is these Philly sliders are extremely freezer-friendly! Whip up a bunch ahead of time and pop them in the freezer. When you're ready to eat, cook in a 300-degree oven for 15-20 minutes longer. Or, I recommend thawing in the fridge before baking and bake as directed.
Frequently Asked Questions
What kind of Hawaiian Rolls work best for this shaved steak recipe?
I like to use the popular King's Hawaiian brand. To create a more traditional Philly flavor, choose the "savory butter rolls" option. However, you can play with the contrasting flavors of sweet and savory by using the "sweet rolls" instead. Either way, the mini Philly Cheesesteak Hawaiian Roll Sliders will be a hit!
What other cheeses can be used in this slider recipe?
American and provolone cheese are most commonly on Philly cheesesteak sandwiches. My recipe calls for provolone, but you can absolutely swap it for American cheese or even use a combination of the two. Truthfully, just about any cheese will do, so don't be afraid to top the sliders with cheddar, Havarti, mozzarella, Swiss or even Cheese Whiz if that's what you prefer.
Can you add other toppings to a Philly cheesesteak slider?
You can absolutely add more to these basic sliders! I suggest throwing on hot peppers or banana peppers- or both- if you want to kick up the heat. Mushrooms also are an excellent addition to the shaved steak and peppers. Add a crunch with crispy onions!
What can I substitute for shaved steak?
Shaved steak is a more recent addition to the meat department at your local grocery store. My favorite is Trader Joe's Shaved Steak, tender, juicy and so fresh. However; if you cannot find shaved steak, you can shave your own by flash freezing your meat and using a very sharp knife, shave off little pieces of the steak. Ask your butcher to shave your favorite cut of steak or you can even substitute ground beef if it's more economical for you.
To keep the sliders from getting soggy, be sure to slice the rolls evenly. That way, the bottom half isn't too thin. You can also toast the bottoms in the oven for a few minutes before you start assembling everything.
The buttery sauce and the melting gooey cheese caramelizes on the bottom, creating a delicious, warm, slightly sweet crust.
More Party Favorite Recipes
3-Ingredient Appetizer Recipes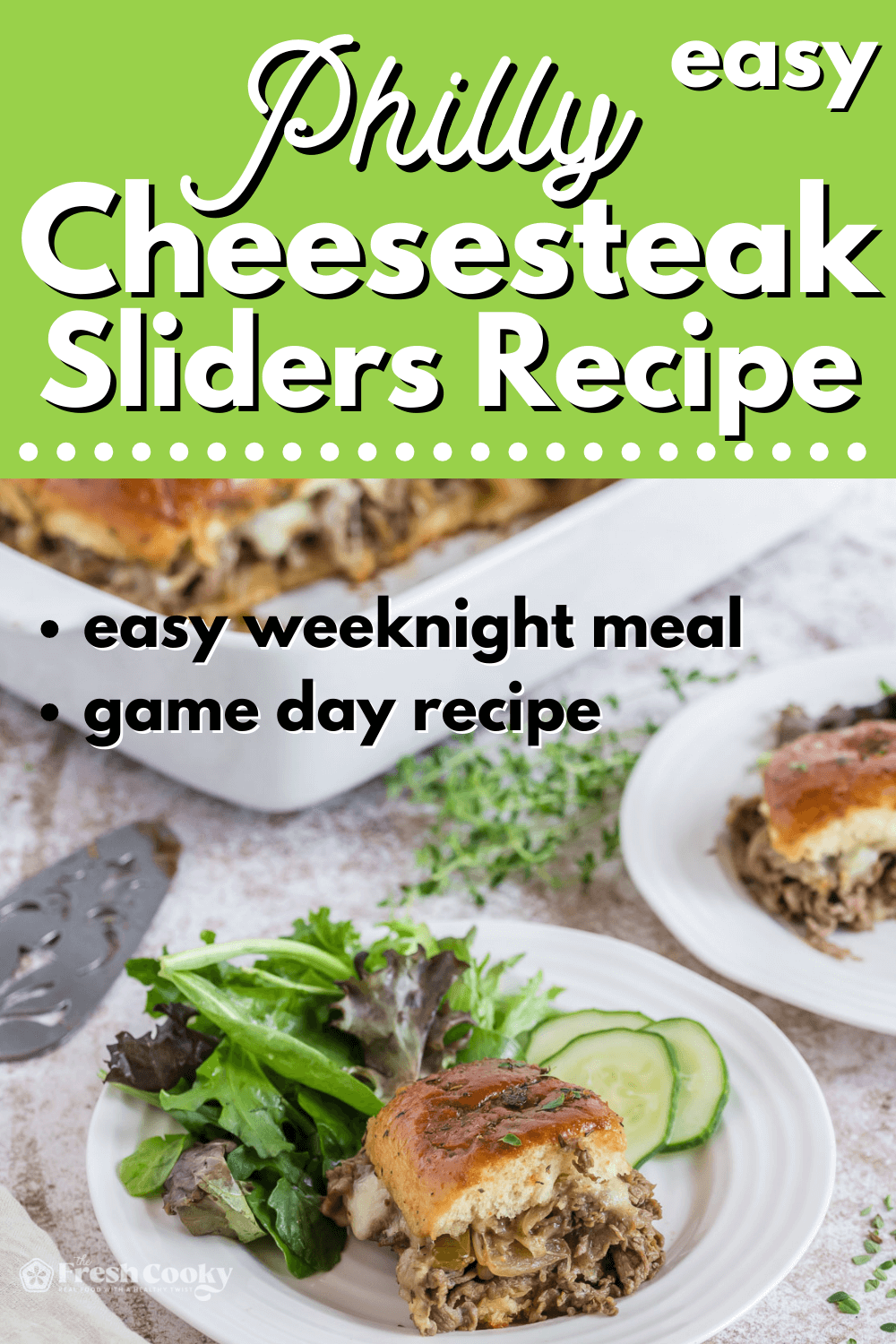 I hope you loved these Philly Cheesesteak Sliders — if you did, would you share your creation on Instagram, Facebook & Pinterest? And be sure to comment below!
Like this recipe?
Don't forget to give it a ⭐️⭐️⭐️⭐️⭐️ star rating and comment below the recipe!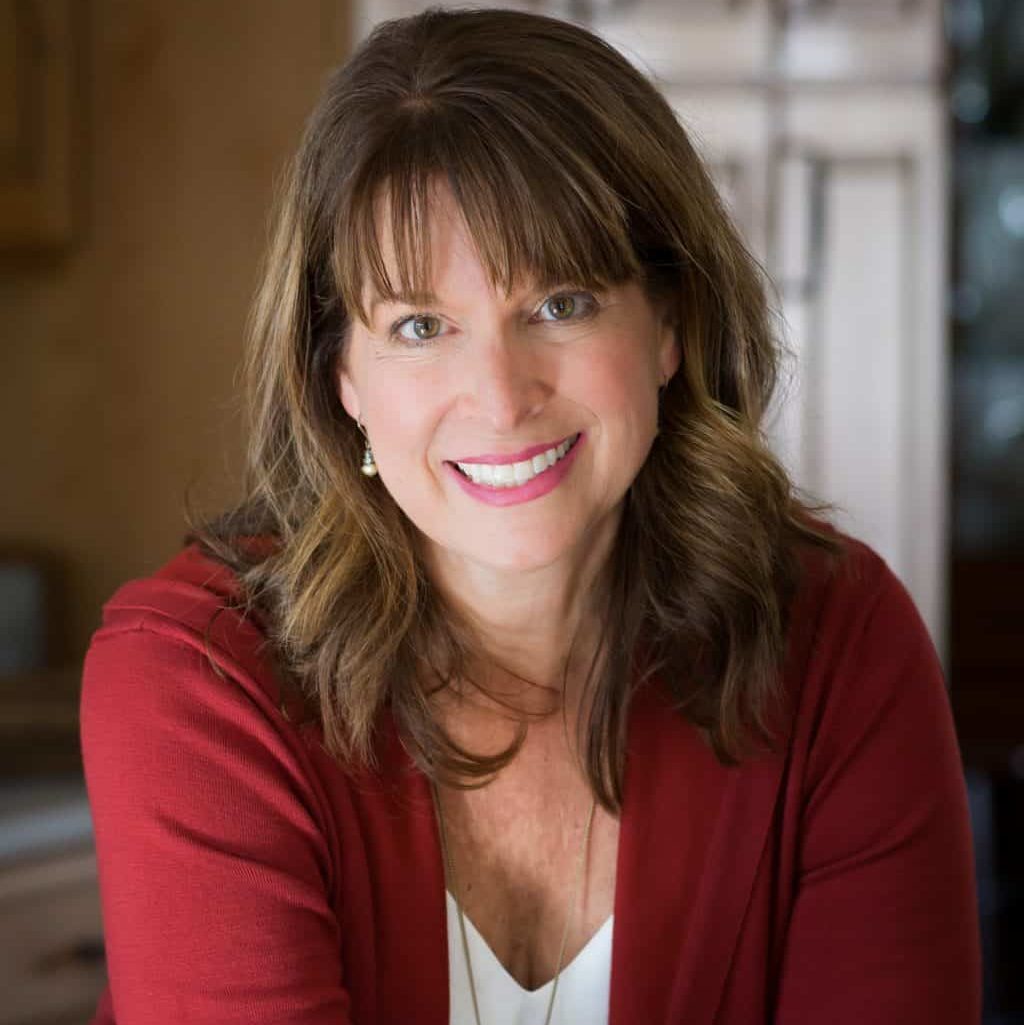 About Kathleen Pope
Recipe Innovator | Food Photographer | Food Writer
Hi, I'm Kathleen Pope. Here at The Fresh Cooky you will find easy, mostly from-scratch, trusted recipes for all occasions. From speedy dinners to tasty desserts, with easy step-by-step instructions. I am here to help teach you how to make mouthwatering recipes without spending hours in the kitchen. Read more about Kathleen here.