Easy 3-Ingredient Cranberry Meatballs (Crockpot)
As an Amazon Associate, I earn from qualifying purchases. Please read my disclosure policy.
Easy 3-Ingredient Cranberry Meatballs are tender and slow cooked in a tangy cranberry and barbecue sauce. Just dump the ingredients into your crockpot and heat!
Serve these delicious cocktail meatballs with cranberry sauce as an appetizer for Christmas dinner, or use it as a main dish at a holiday party. Directions for oven and stovetop too!
More great recipes for your next holiday party, New Years Eve party or game day; Rosemary Cashews, hot and cheesy Cowboy Crack Dip, or this classy Goat Cheese Log with Hot Honey, Fig, and Pistachios and no appetizer spread is complete without a bright platter of veggies and crudite dip!
3-Ingredient Recipes
3 ingredient recipes are the best, at least I think so, not much thinking involved and delicious results. Try my 3 Ingredient Chili Cheese Dip Recipe (also made in the crock pot), this amazing 3 Ingredient Sausage Dip, or make dinner super simple with this 3 ingredient raspberry Salmon recipe (so good, even Salmon haters love this recipe) and don't forget this Easy 3 Ingredient Butter Pie Crust Recipe.
Why You Will Love this Recipe
Holiday Favorite | These 3-ingredient crockpot meatballs are cooked in rich and tangy cranberry barbecue sauce, a favorite holiday appetizer.
Easy Appetizer | These tangy meatballs only take 5 minutes to prepare and require three simple ingredients. Toss the ingredients into the crockpot, and your job is done!
Crowd Pleaser | This delicious recipe makes 15 to 20 servings, making it the perfect appetizer for a holiday party, family dinner, or game day. Plus, you can easily double the ingredients to serve even more holiday guests!
Leftover Cranberry Sauce? This is a great way to use it!
Simple Ingredients for 3 Ingredient Cranberry Meatballs
Ingredients, directions and nutritional information in the printable recipe card at the end of the post.
3 ingredient Cranberry Meatballs
Meatballs | Use your favorite brand of fully cooked frozen meatballs. I recommend using homestyle meatballs rather than Italian. However, either one will work fine. You could also use turkey meatballs if you prefer, personally I love Trader Joe's meatballs, they are so tender and delish! You of course make your own homemade meatballs if you choose!
Cranberry sauce | Grab a can of whole-berry cranberry sauce from the grocery store or make it from scratch with the ingredients and instructions provided below.
Barbecue sauce | Pour your favorite barbecue sauce into the mixture to add a little tang. I like using Bone Suckin' Sauce—YUM!
Optional Ingredients
Worcestershire | If you want your party meatballs to have more zip; you may add a few drops of Worcestershire sauce. However, this ingredient is entirely optional.
Fresh herbs | Finely chopped parsley or chives are an excellent garnish for these cocktail meatballs.
Homemade Bourbon Cranberry Sauce Recipe
Make this cranberry sauce and then use your leftover cranberry sauce to make this Cranberry Cream Cheese dip to go along with your cocktail meatball recipe. Easily make this cranberry sauce up to 5 days ahead of time, cool and store in the fridge.
Fresh cranberries | Remember to rinse them and discard the softer ones.
Sugar | I use organic cane sugar, but regular white sugar will also work, you might even try using honey or agave!
Water | Water helps to make the sauce more fluid and meld the flavors.
Bourbon (optional) | Add some bourbon to the cranberry sauce, please do, it's so yummy!
Cinnamon stick | A cinnamon stick brings a little warm spice to the recipe.
Orange | Use the zest from the orange and two orange halves to add some citrus notes. If no fresh orange is available, replace up to ½ cup of the water with orange juice. For a more tangy sauce you could also use some lemon juice.
Cloves | Whole cloves bring more warm seasonal spice to the recipe.
Recommended Equipment
Crockpot | This Instant Dutch Oven (by Instant Pot) is perfect for this recipe, since you do everything in the pot and it's a beautiful presentation as well. It is versatile, going from stovetop to oven, to tabletop. A regular crockpot works great too!
Pretty Serving Spoon | I love using wooden serving spoons as they don't get as hot as metal and won't scrape the surface of your Dutch Oven.
How to Make Crockpot Cranberry Meatballs
Step 1 | Cranberry Sauce, if making
Grab a medium saucepan and pour in the fresh cranberries, sugar, water, and orange zest. For a richer taste, add the optional bourbon to your cranberry sauce. Remember to toss in the yummy cinnamon stick, too!
Next, slice the orange. Then, press the whole cloves into the two halves and push them down into the cranberry mixture. You want the spiced orange to be submerged in the sauce.
Set the stove to medium heat and stir the mixture for about 10 minutes or until the cranberries burst. Next, reduce heat to a simmer and continue cooking for another 10 minutes or so. When finished, discard the cinnamon stick and orange halves. Of course, you may also skip these steps and use a can of cranberry sauce.
Now it's time to move on to the meatballs. Consider making them in the crockpot, on the stove, or in the oven. The choice is yours!
Step 2 | Crock Pot Cranberry Meatballs
Slow Cooker cranberry meatballs can't get any easier! All you need to do is pour the homemade or store-bought cranberry sauce, your favorite barbecue sauce, and the optional Worcestershire sauce into a crockpot.
This recipe works best when the crockpot holds at least 6 quarts. Mix the sauce ingredients thoroughly, then stir in frozen meatballs. Be sure to coat them entirely in the sweet and tangy sauce.
Now, the "hard part" is over! Cover the crockpot and cook the recipe on LOW for about three to four hours. If you prefer, cook it on HIGH for two hours. Either way, stir it occasionally to ensure all the ingredients are incorporated, and the meatballs heat evenly.
Stovetop Cranberry Meatballs
The stovetop method is also straightforward. Plus, it takes a fraction of the time to make them in the crockpot! A great option if you are in a hurry!
Start by mixing the sauce ingredients into a large, heavy-bottomed pot or Dutch Oven. Next, add the frozen meatballs, stirring to coat. Then, cover and heat the tasty recipe over low heat. It will only take about 25 to 30 minutes to cook the meatballs all the way through. Just be sure to stir the ingredients a few times during the process.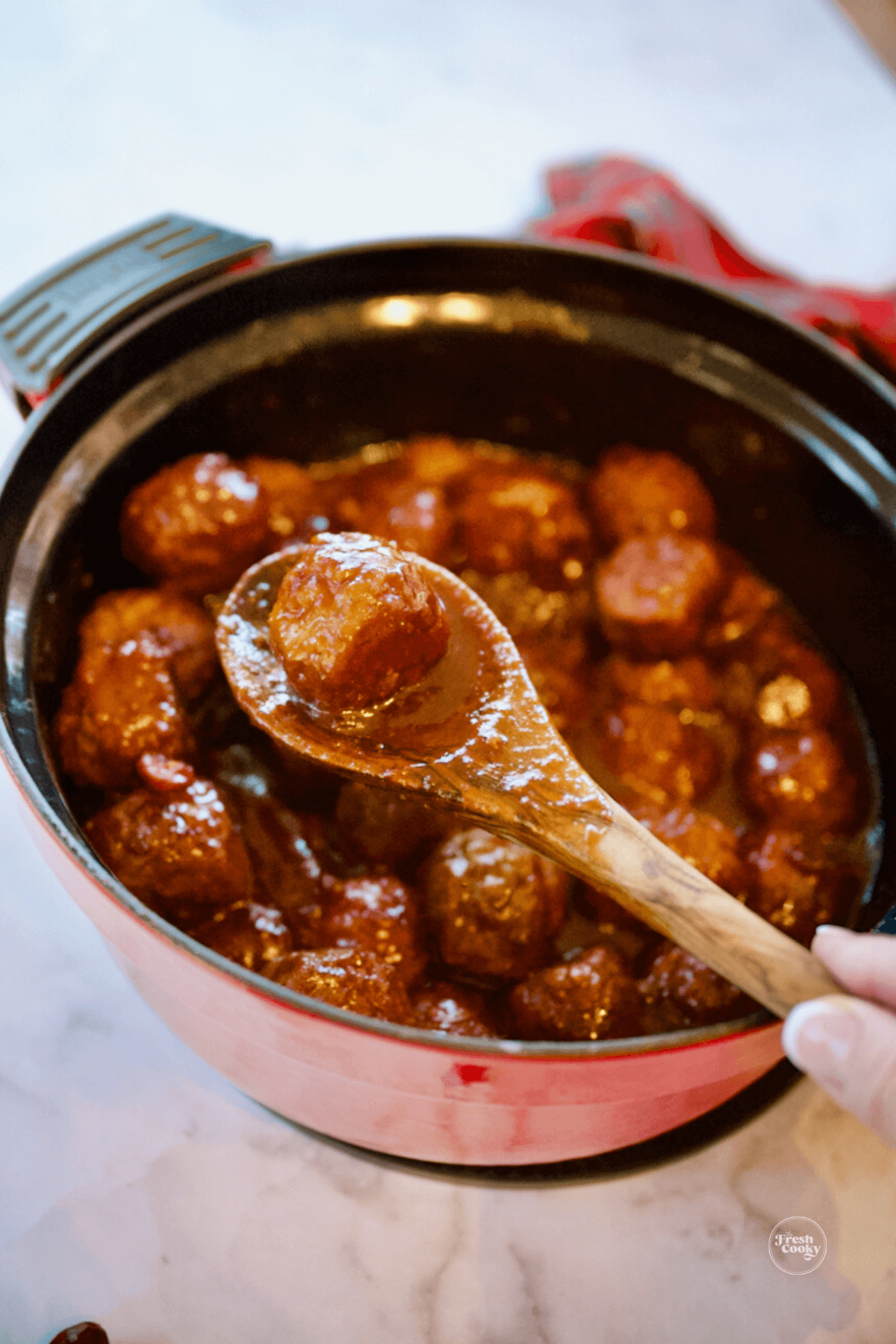 Oven-Baked Cranberry Meatballs
If you choose the oven-baked method, begin the recipe by preheating the oven to 325 degrees F. Next, dump all the ingredients, stirring sauce together first, then coating frozen meatballs and placing in an oven-safe pot or 9×13-inch casserole dish.
Use foil or a fitting lid to cover the recipe while it bakes for 25-30 minutes or until the meatballs are heated through. Larger meatballs may take longer to heat.
Fresh Tips
This recipe easily doubles for a larger crowd. I made mine 1 ½ times the recipe, using the entire bottle of barbecue sauce and extra cranberry sauce.
Do not thaw the frozen meatballs before adding them to the recipe, no matter what cooking method you use.
Garnish
Sprinkling freshly chopped parsley or chives on this cranberry meatball recipe is a great way to add a pop of color for the holiday season.
Variations & Substitutions
Spicy Cranberry Meatballs | For Christmas meatballs with cranberry chili sauce, replace the BBQ sauce with the same amount of chili sauce.
Swap Out the Cranberry Sauce | These meatballs are similar to classic grape jelly meatballs. To change it up, use a good preserve instead of cranberry sauce. Try grape, strawberry, raspberry, or your favorite flavor of jelly. Orange marmalade would also be delicious. Also while I prefer whole cranberry sauce to the jellied cranberry sauce it can also be used.
Make your own BBQ sauce | Combine 1 ½ cups ketchup, two tablespoons brown sugar, and a splash of Worcestershire sauce. Mix the ingredients to create a sauce similar to barbeque or chili sauce.
Cranberry Jalapeño Meatballs | Add 1-2 minced jalapeño's for a nice kick! Or try a few shakes of red pepper flakes or ¼ cup of chili sauce to the recipe for a little more spice.
Homemade Meatballs | Make your own homemade meatballs if you prefer!
Storage Tips
Refrigerate | Store cooled, leftover meatballs and sauce in an airtight container for up to 5 days in the fridge.
Freezer | These cranberry and barbecue meatballs freeze beautifully. Cool completely placing in an airtight container or baggie, up to three months.
Reheat | Thaw overnight in fridge, rewarm in microwave, oven (350 covered for 25 minutes), stovetop (over low heat, until warmed through) or crockpot, adding a little water if needed.
Take it To-go | Transport your 3 ingredient cranberry meatballs directly in the crockpot or wrap in a baking dish with foil in one of these casserole transporters.
Frequently Asked Questions
Do meatballs need to be thawed before going into the crockpot?
No! That's the beauty of this recipe. Toss them in and the rewarm right in the slow cooker! However; if you already thawed your meatballs, no worries, just cook them on low for 2-3 hours.
Can you make this recipe entirely from scratch?
Absolutely! Make the cranberry sauce from scratch and your favorite meatball recipes. You can cook and then freeze the fresh meatballs before using them in the recipe. That way, you can follow the directions as written, or reduce the time in the crockpot.
Otherwise, you'll need to brown the meatballs on the stovetop or in the oven and adjust the cooking time.
Are these cranberry meatballs gluten-free?
It really depends on your ingredients, many meatballs have breadcrumbs in them, so check your labels. Finally, double-check that the barbeque sauce and all other ingredients are officially labeled gluten-free.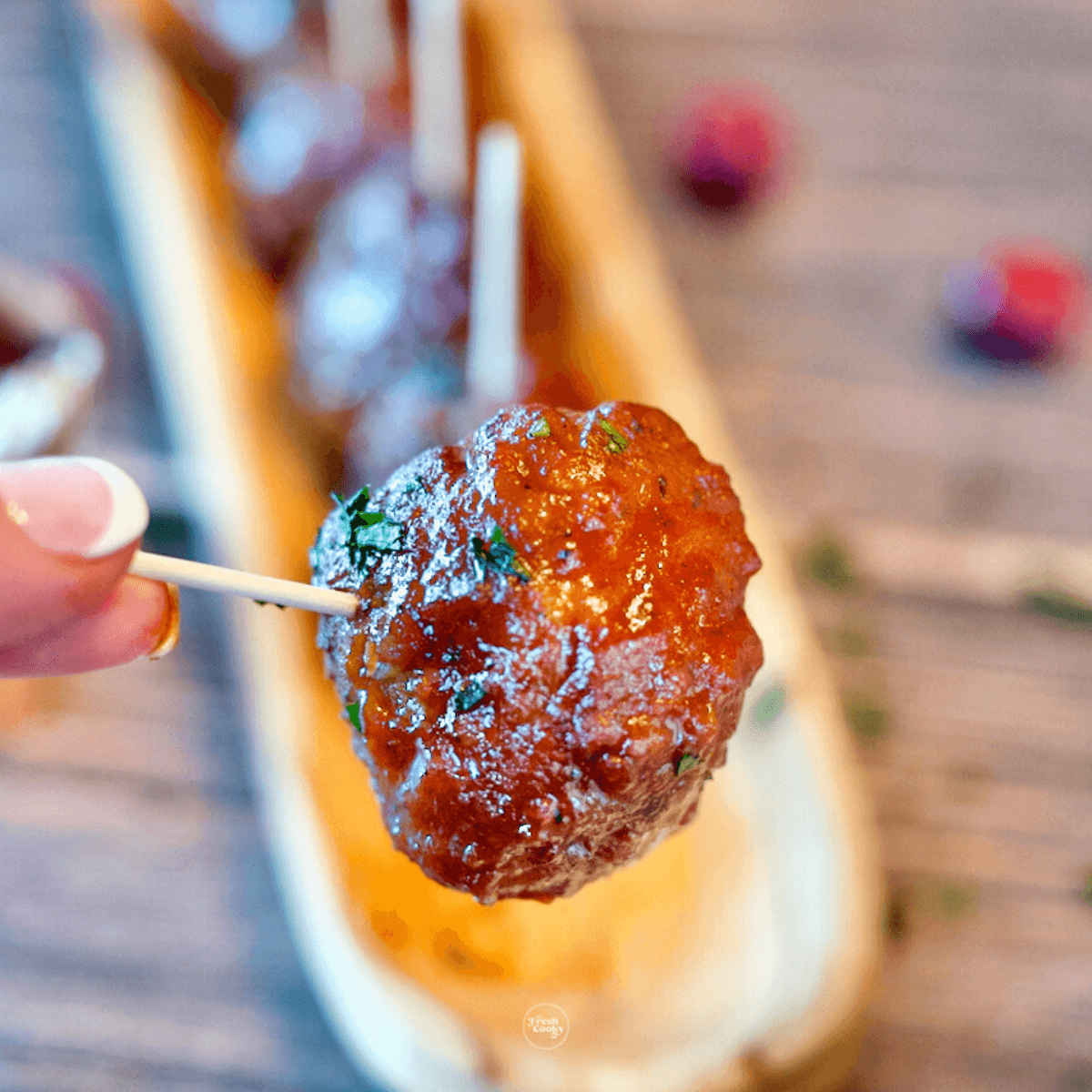 More Delicious Cranberry Recipes
This easy recipe is pretty straightforward. Dump and go! If your crockpot heats on the hotter side, you may want to stir it mid-way through!
What to serve with cranberry meatballs
More Easy Appetizers
I hope you loved these 3 ingredient crockpot meatballs — if you did, would you share your creation on Instagram, Facebook and Pinterest? And be sure to comment below!
Like this recipe?
Don't forget to give it a ⭐️⭐️⭐️⭐️⭐️ star rating and comment below the recipe!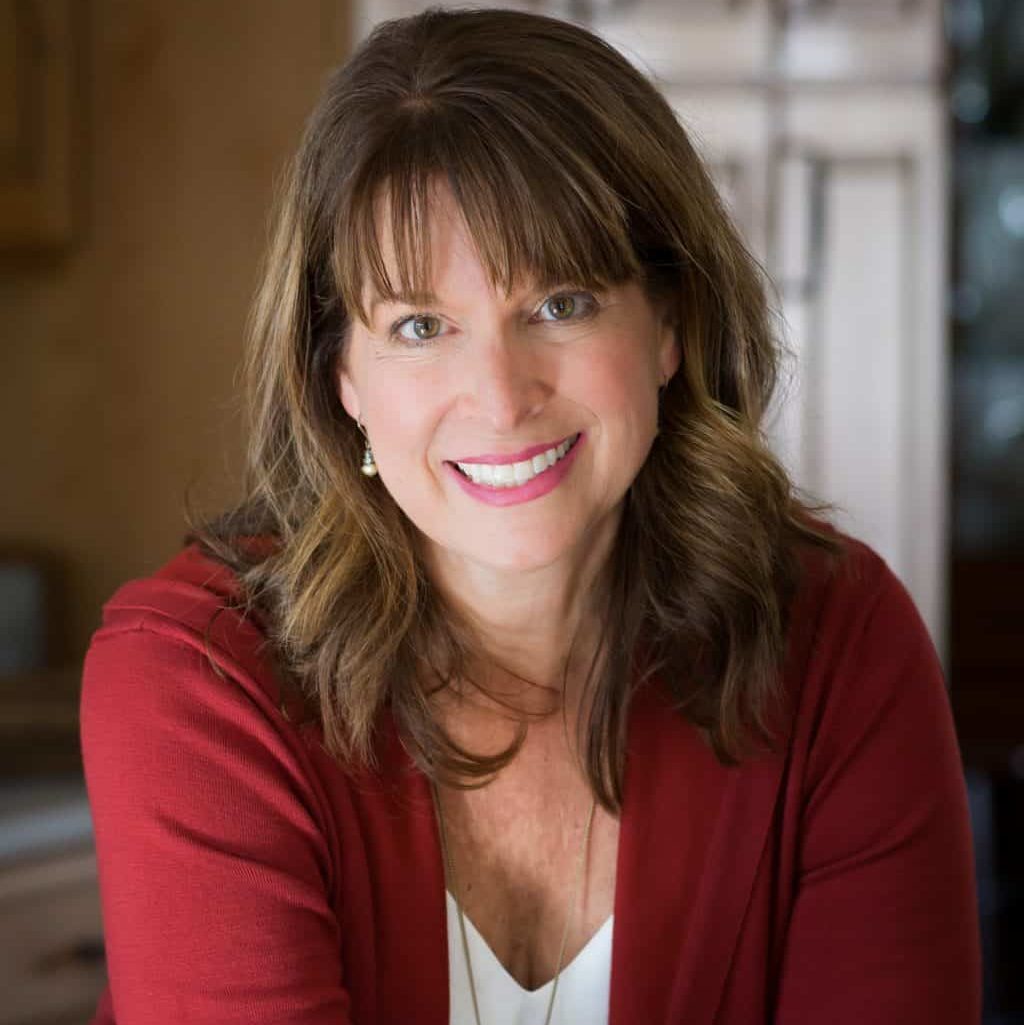 About Kathleen Pope
Recipe Innovator | Food Photographer | Food Writer
Hi, I'm Kathleen Pope. Here at The Fresh Cooky you will find easy, mostly from-scratch, trusted recipes for all occasions. From speedy dinners to tasty desserts, with easy step-by-step instructions. I am here to help teach you how to make mouthwatering recipes without spending hours in the kitchen. Read more about Kathleen here.