Starbucks White Hot Chocolate Recipe
As an Amazon Associate, I earn from qualifying purchases. Please read my disclosure policy.
On a cold day you will love this quick and easy recipe on how to make a Starbucks White Hot Chocolate recipe at home. Save time and money during the winter months by making this fast copycat white hot chocolate recipe, it ranks up there with the best things in life.
When cooler weather settles in, my family is ready for my hot chocolate for two, it is the best hot chocolate or try this Christmas Morning Chai Latte recipe, or this easy Wassail recipe and this seasonal Starbucks Eggnog Latte. My hubby and boys go nuts over it and I modeled this White Hot Chocolate after this recipe.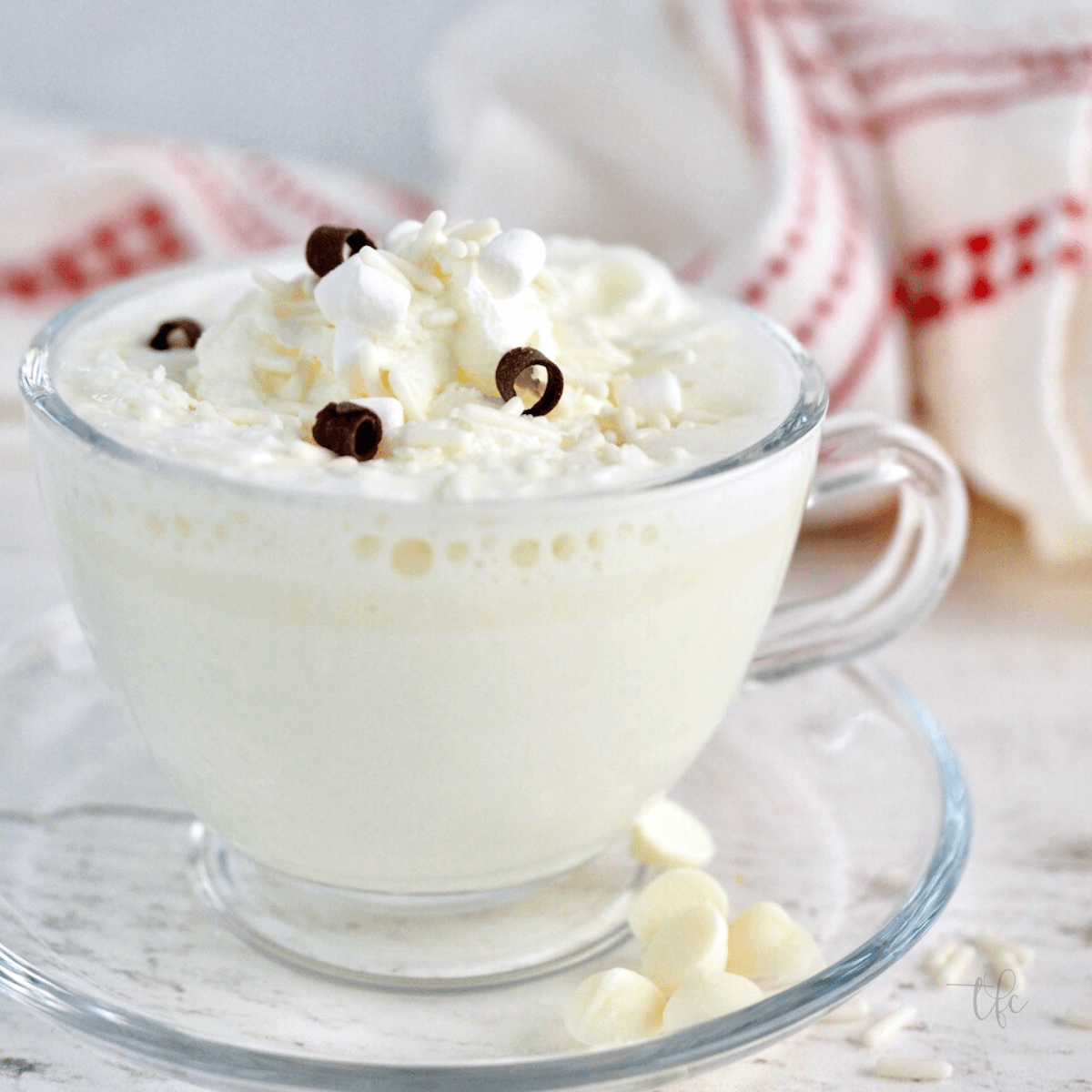 I developed this recipe as part of Chocolate Week this week, be sure to pop down to the end of the post for all the amazing recipes! And be sure to check out my other recipes as part of this week, like Ferrero Rocher Ice Cream and Crockpot Peanut Clusters.
Why You Will Love this White Hot Chocolate Recipe
Easy | When I am making hot drinks or any drink for that matter, I want it to be simple and uncomplicated, this fits the bill. If you can heat milk, you can make this drink.
High Quality Ingredients | You just need a few ingredients, so splurge for good ones, oh and the higher-quality white chocolate doesn't not have fillers and is typically gluten-free. No white chocolate sauce in this white chocolate recipes!
Versatile | I love recipes that I can make one batch of, then change it up for each person!
Simple Ingredients
Full recipe with measurements are in the printable recipe card at the end of this post.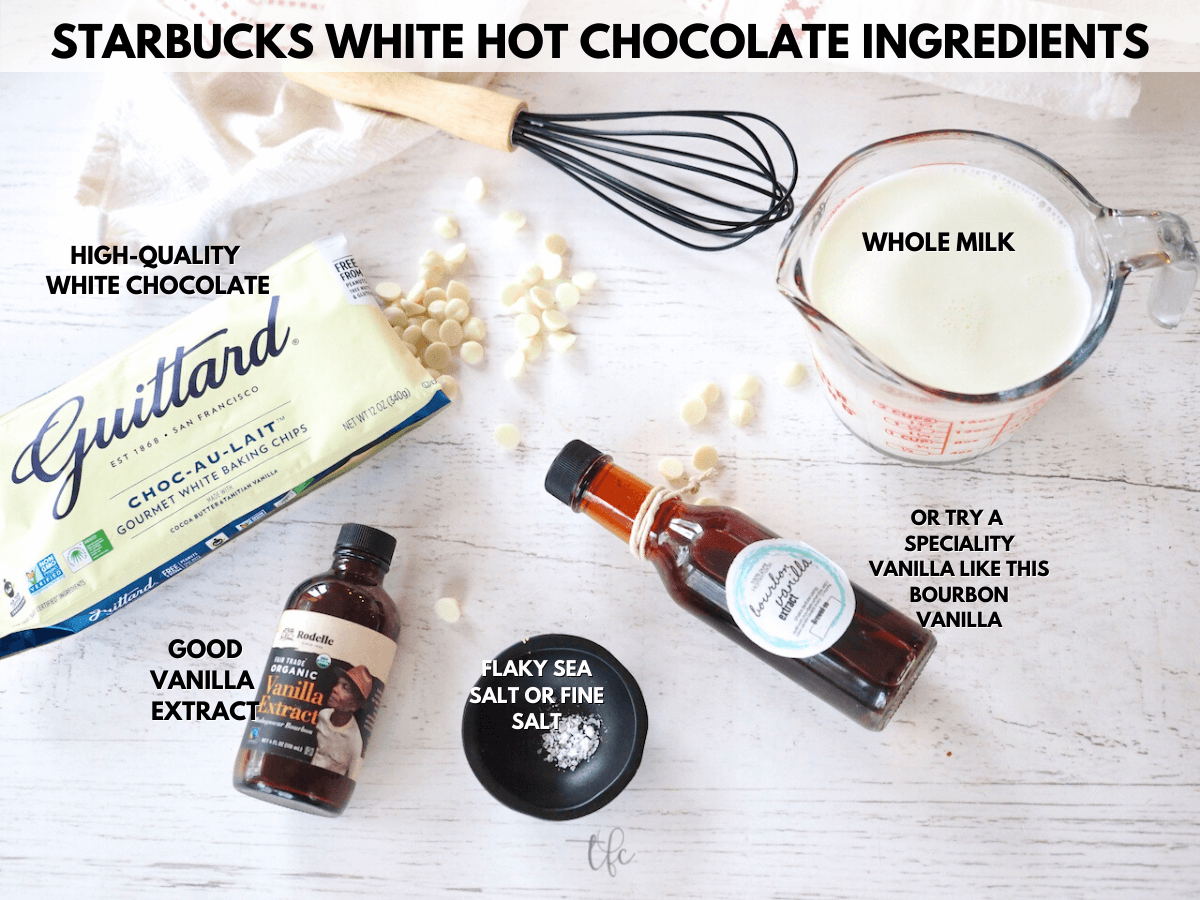 White Chocolate | Since white chocolate is the main ingredient you want to splurge on a high-quality white chocolate bar or chips (I like Guittard, it is non-GMO and Gluten-free, also love Ghirardelli, or Lindt) All of these have a higher percentage of cocoa butter. Technically a white chocolate bar is better, as it's more pure, however for ease, I use chips, since that's usually what I have on hand.
Vanilla | Use real vanilla extract or try my homemade vanilla extract, I actually used Bourbon Vanilla Extract.
Milk | I use whole milk, you could also use half and half or lower percentages of milk, even skim milk if that's your thing, for this hot cocoa recipe.
Salt | Yes! A pinch of salt brings out the flavor immensely! I love using flaky sea salt
What is in a Starbucks White Hot Chocolate?
Are you ready for it? Milk, Fontana White Chocolate Mocha Sauce (which contains Sugar, Condensed Skim Milk, Coconut Oil, Cocoa Butter, Natural Flavor, Salt, Potassium Sorbate, Monoglycerides), Whipped Cream (Cream, Milk, Mono And Diglycerides, Carrageenan), Vanilla Syrup (Sugar, Water, Natural Flavors, Potassium Sorbate, Citric Acid).
This White Hot Chocolate is so much better, easier and a decadent drink without all of the unpronounceable ingredients.
How to Make Starbucks White Hot Chocolate
This white hot chocolate recipe could not be easier! Pretend like you are a Starbucks employee and make this coffee shop speciality drink the easy way! Can you heat milk? Throw in a few other ingredients and stir? You've got this!
In a small saucepan, pour in milk and heat over medium-low heat until steaming, but not boiling.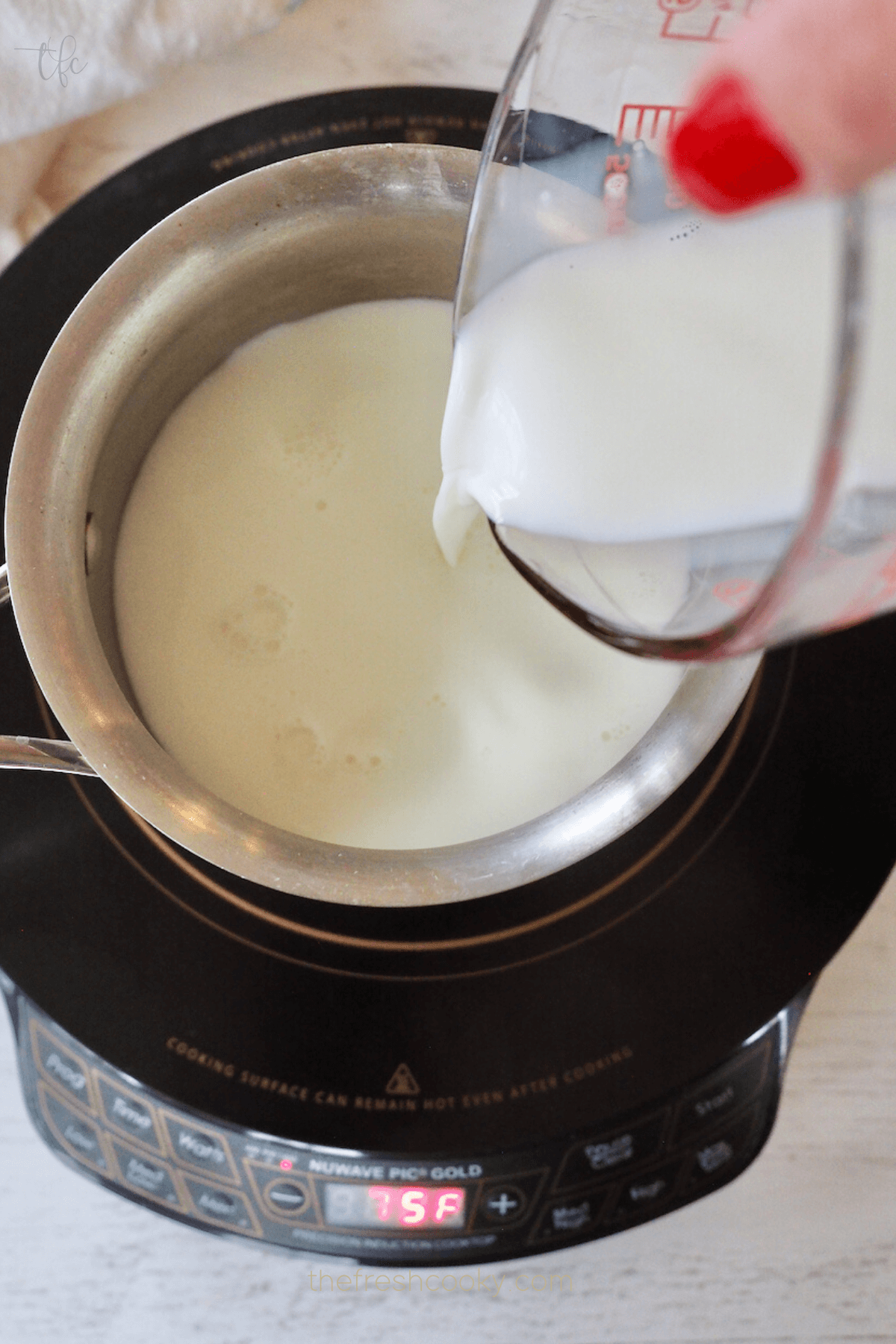 Remove from heat, add white chocolate to the warm milk and let sit for 30 seconds, then whisk into the mixture. Return to low heat, add vanilla and flaky sea salt, stirring until smooth.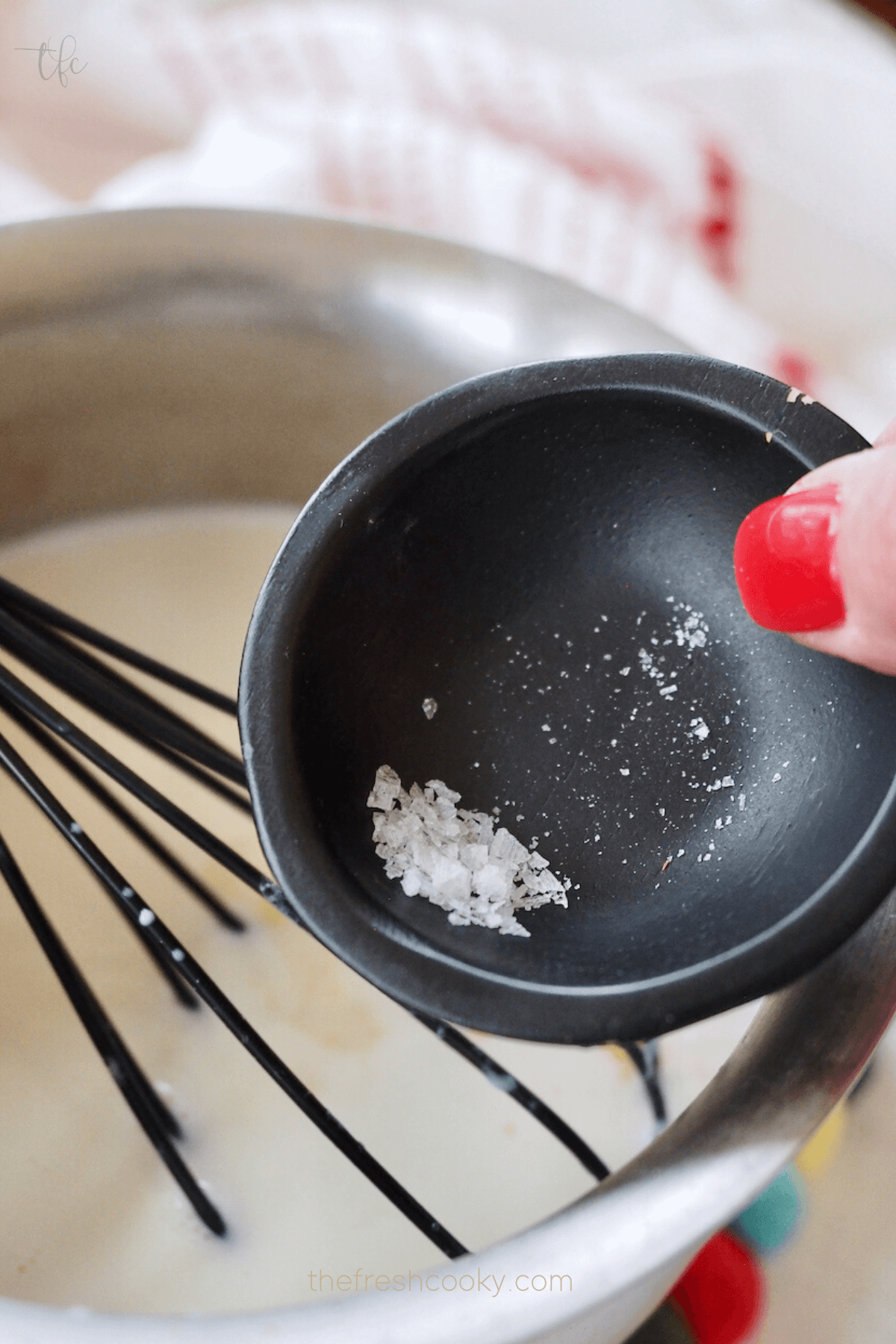 Heat until hot, but not boiling, serve immediately, see below for ways to top this delicious drink.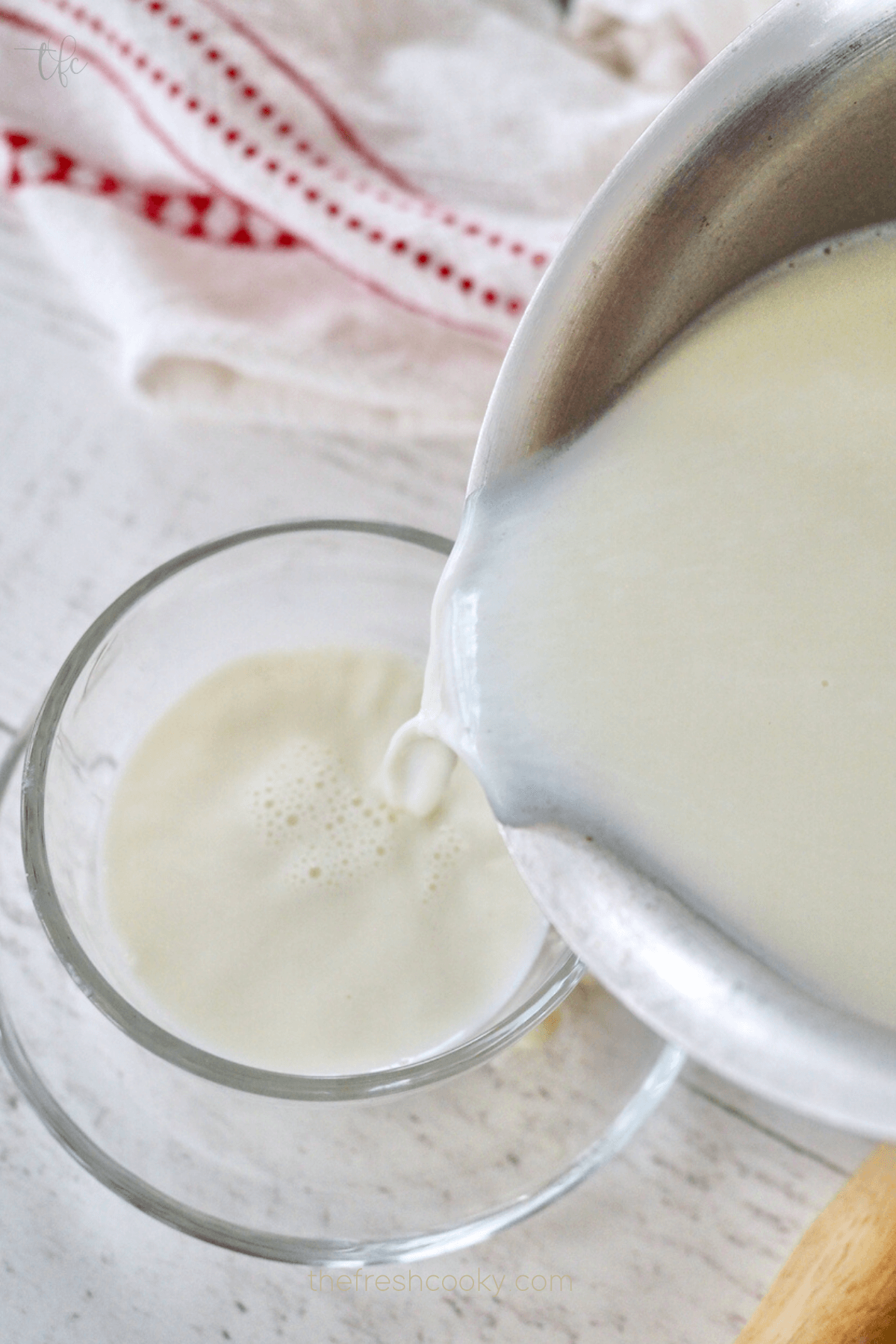 Fresh Tip
If you want a White Chocolate Latte, use a frother to steam and froth the milk, then pour over the white chocolate chips, stirring gently.
Frequently Asked Questions
What is Starbucks White Hot Chocolate Made of?
According to the ingredients on their website, White Hot Chocolate is made using white chocolate mocha sauce, 2% milk and foam and topped with whipped cream.

The white chocolate mocha sauce has a LOT of sugar in it, so by using a high-quality white chocolate we reduce the sugar content dramatically. I've used whole milk, because it's what we drink, but you can certainly use 2% if you choose. Instead of steaming the milk, we mimic the process on the stovetop, making our White Hot Chocolate easier and a wee bit healthier for you. Use a frother to whip it up!
Is there coffee in Starbucks White Chocolate Mocha?
It's a little misleading since the sauce Starbucks uses contains the word mocha, which typically implies coffee and chocolate combined. However; there is not coffee in Starbucks white hot chocolate mocha syrup and there is none in this hot chocolate.
Can I add coffee to my Copycat White Hot Chocolate?
You bet! My suggestion would be to pull a 1-2 ounce espresso or brew some really strong coffee pour it into your mug, then pour the white hot chocolate on top. OR make it simpler and add 1 teaspoon of Espresso powder to the milk mixture when adding the white chocolate.
White Hot Chocolate Toppings
Whipped Cream | from a can, homemade or frozen.
Whipped Cream | from a can, homemade or frozen.
Marshmallows | the classic way to top white hot chocolate! Make homemade marshmallows <– my friend Tasia's recipe. Or try mini dried marshmallows.
Marshmallow Creme or Fluff | A generous dollop of this will make you swoon!
Naked | this would be my youngest son's preference, keep the marshmallows on the side, maybe drizzle a little chocolate syrup on the sides of the glass.
Fresh Grated Nutmeg | Nutmeg, like on eggnog, enhances the flavors of white chocolate.
Cocoa Powder | Sprinkle with a light dusting of cocoa powder.
Chocolate Jimmies | These are my favorite all natural jimmies or try white jimmies.
White or Dark Chocolate Curls | You can make your own, by using a room temperature bar of good chocolate (white or dark), and using a vegetable peeler, pull towards you on the side of the bar, creating a curl.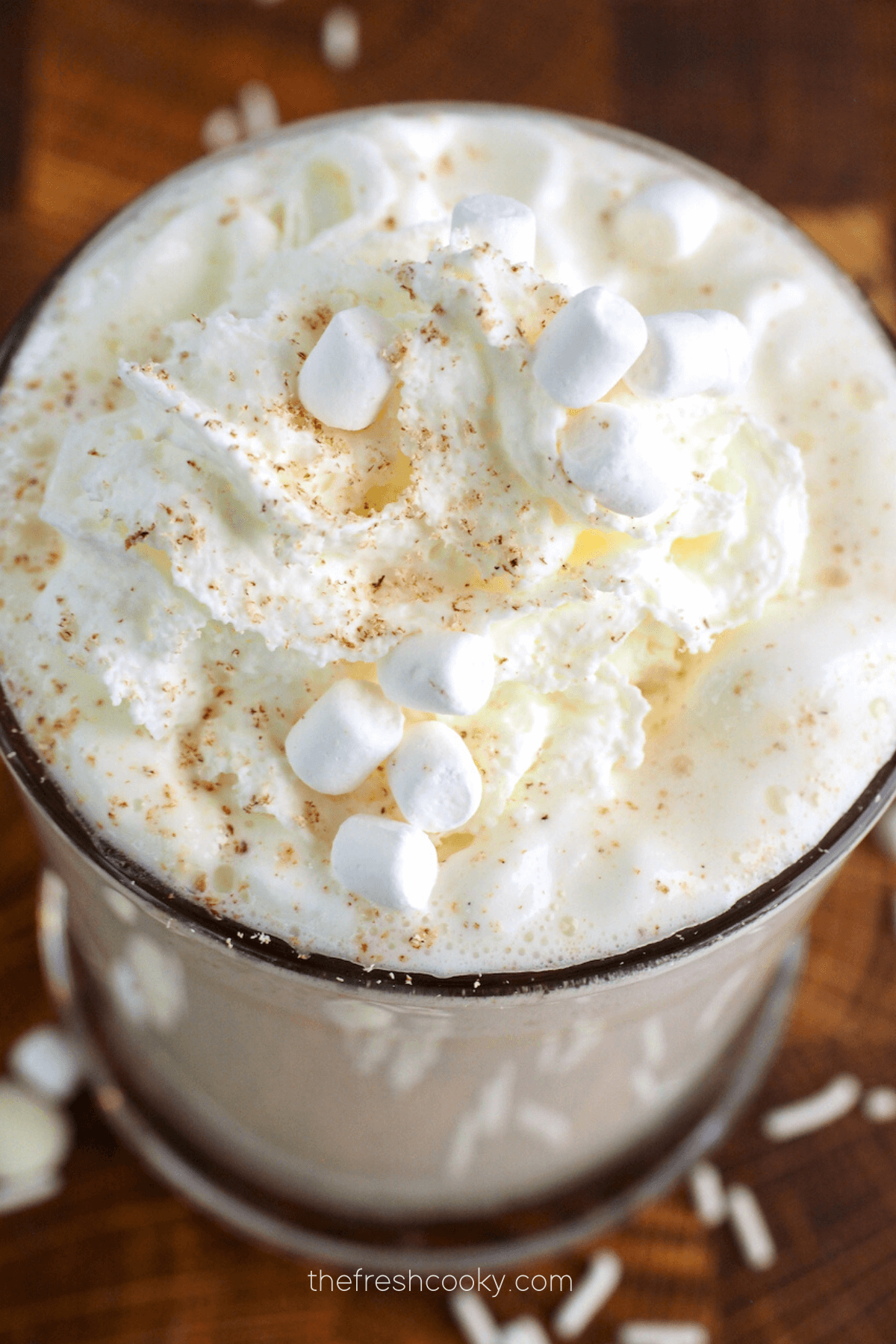 Variations & Substitutions
Dress your White Hot Chocolate recipe up for any season!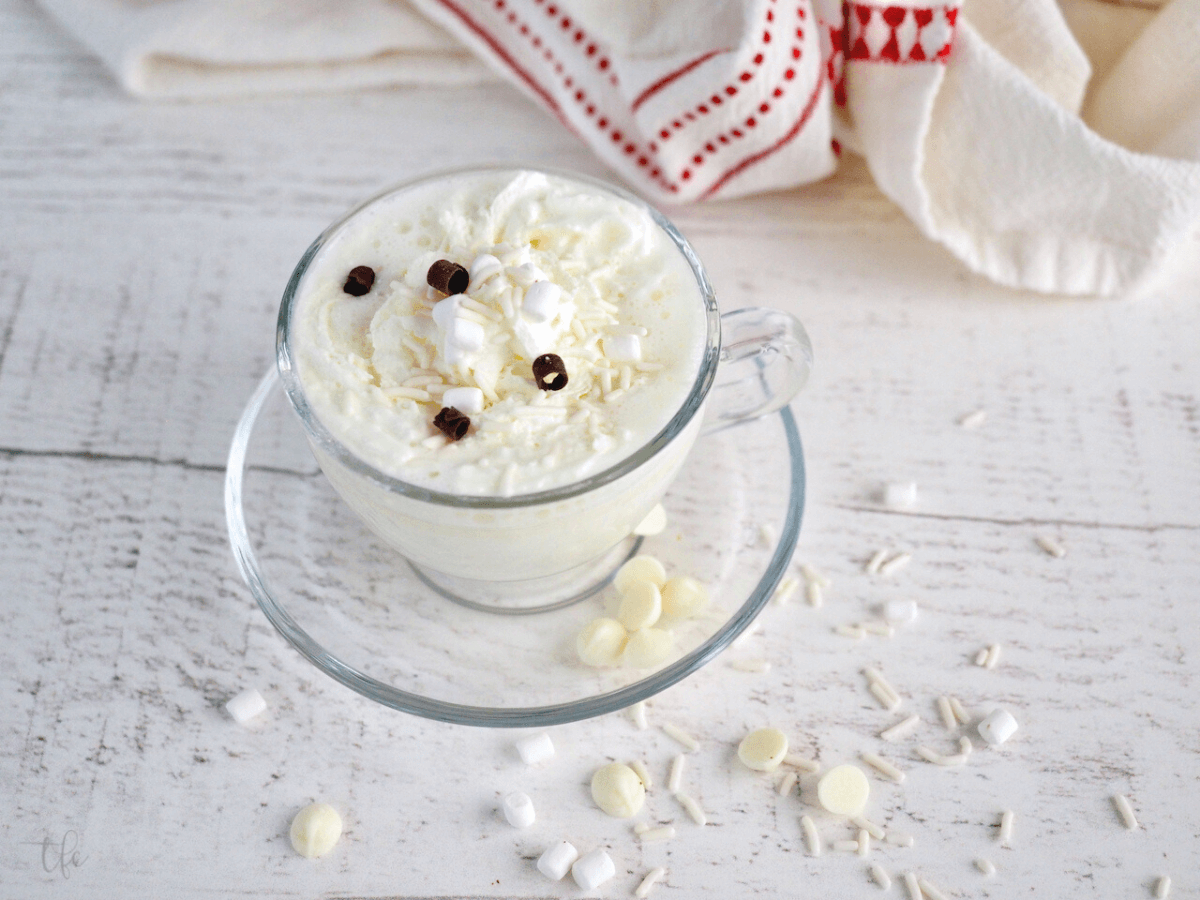 Crock Pot White Hot Chocolate
White hot chocolate for a crowd!
Increase milk to 6 cups, 9 ounces white chocolate (chopped or chips) and 2-3 teaspoons vanilla extract, plus 2-3 pinches of salt. Add white chocolate chips to the crock pot, pour in the milk, stir in vanilla and salt.
Heat on high for about 1 hour 30 minutes, stirring well after the first 30 minutes. When ready to serve, turn the crock pot to warm, stir or whisk to combine and serve. Serves 6-8, feel free to double for more people.
Be sure to serve with individual bowls of toppings like crushed candy canes, jimmies, whipped cream, marshmallows and your favorite sauces.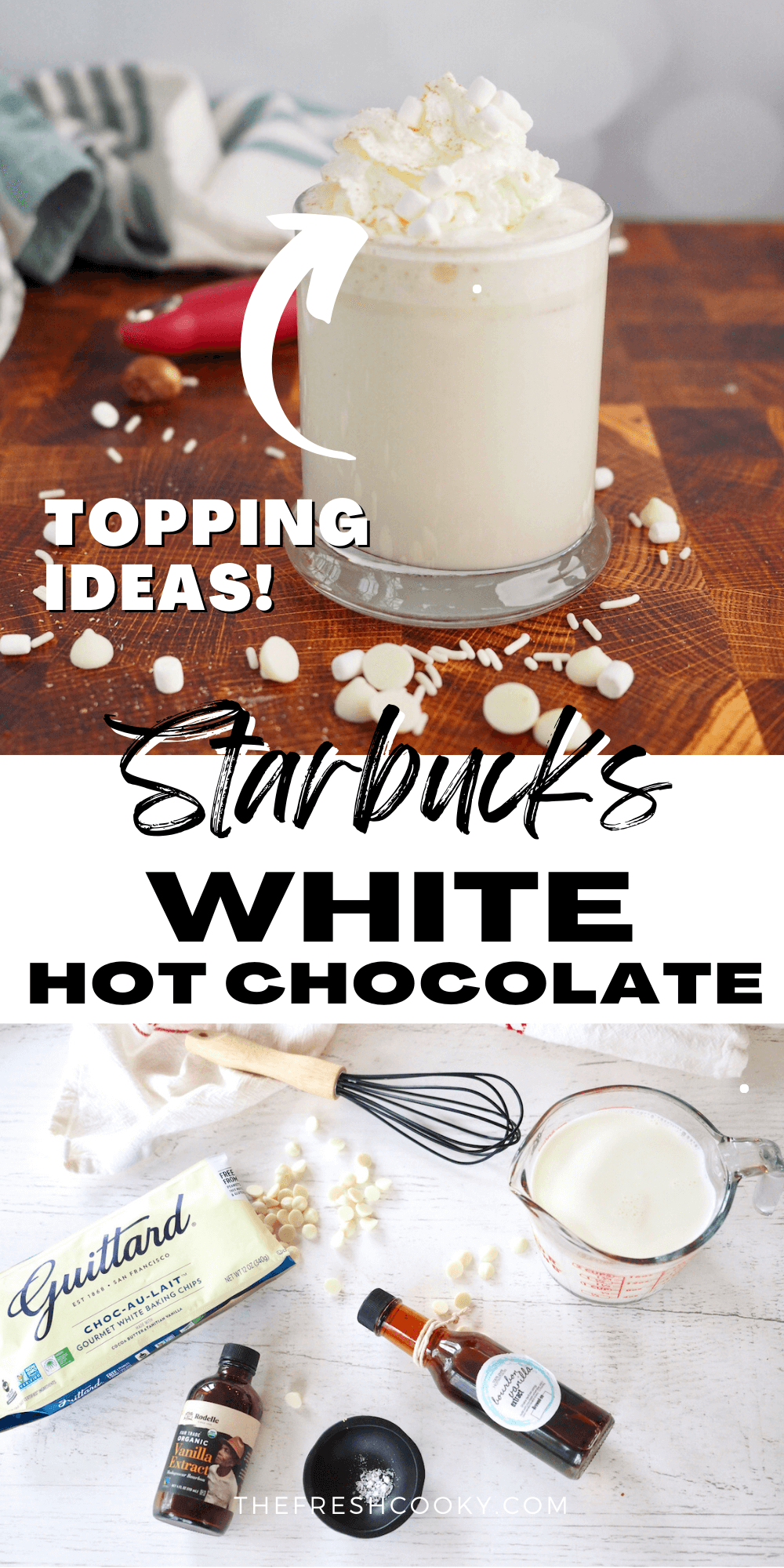 Storing & Reheating
Store any leftovers in fridge, up to 3 days. To reheat, place in saucepan and heat over low heat until warmed through, stirring occasionally.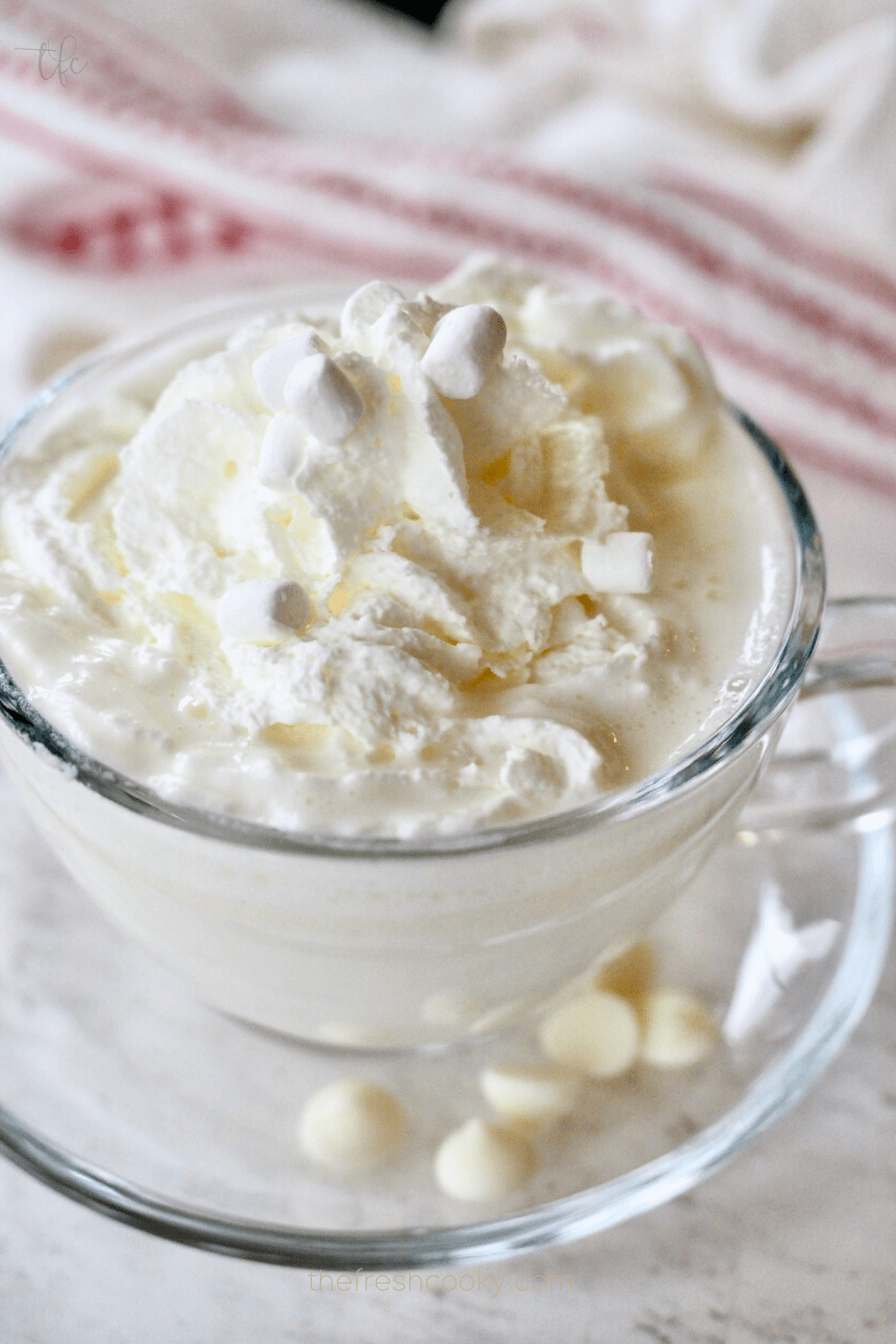 I am joining other bloggers for Chocolate Week this week! Be sure to browse through all of the mouthwatering recipes below!
More Chocolate Recipes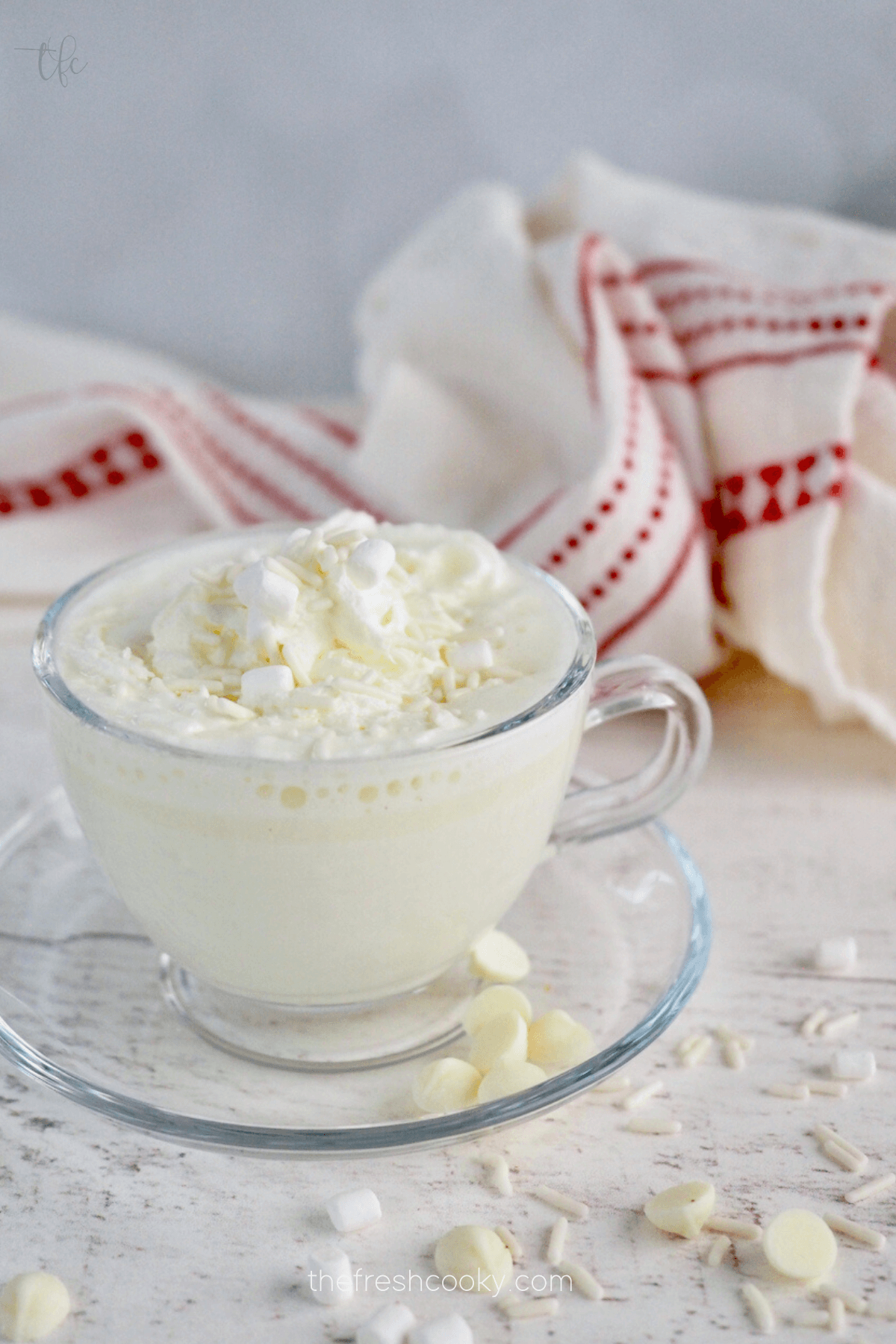 I hope you loved this Starbucks White Hot Chocolate Recipe — if you did, would you share your creation on Instagram, Facebook and Pinterest? And be sure to comment below!
Like this recipe?
Don't forget to give it a ⭐️⭐️⭐️⭐️⭐️ star rating and comment below the recipe!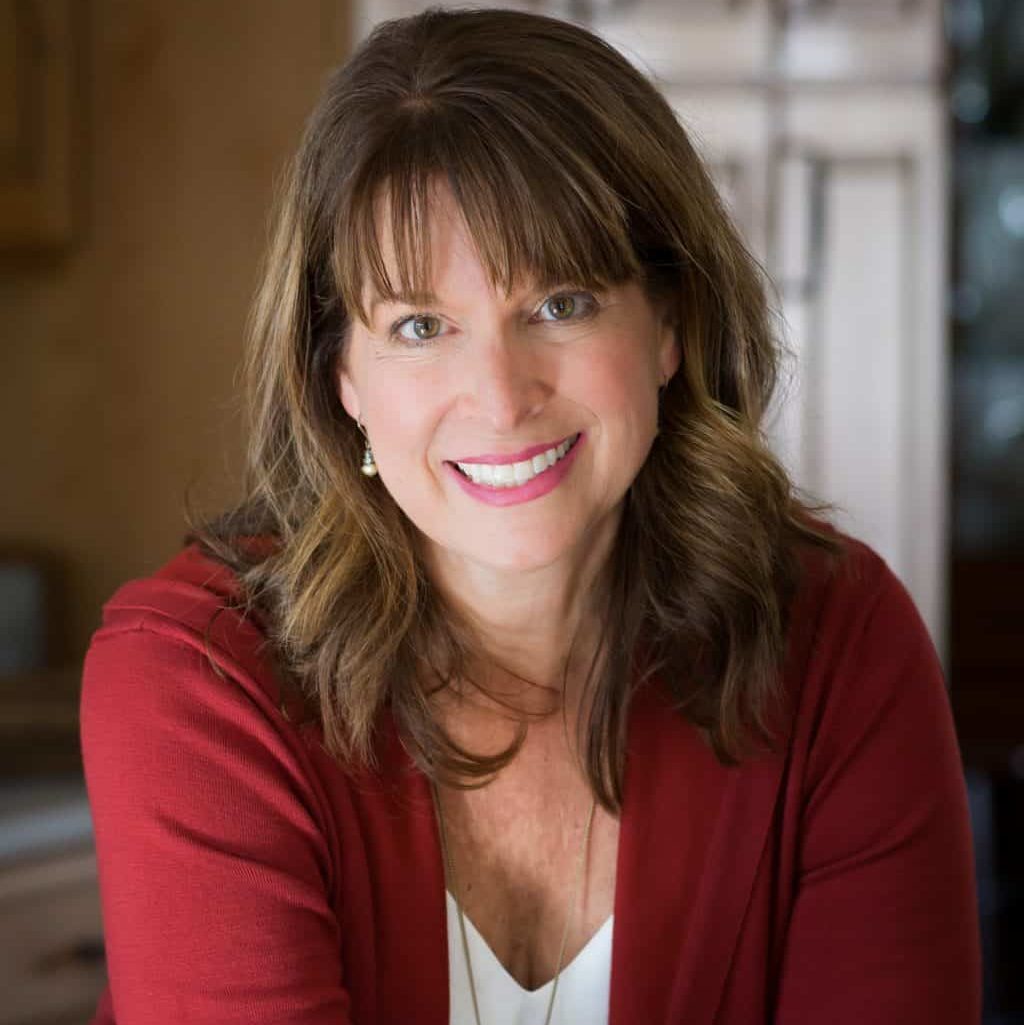 About Kathleen Pope
Recipe Innovator | Food Photographer | Food Writer
Hi, I'm Kathleen Pope. Here at The Fresh Cooky you will find easy, mostly from-scratch, trusted recipes for all occasions. From speedy dinners to tasty desserts, with easy step-by-step instructions. I am here to help teach you how to make mouthwatering recipes without spending hours in the kitchen. Read more about Kathleen here.