Best Crudite Dip Recipe for Veggie Platters
As an Amazon Associate, I earn from qualifying purchases. Please read my disclosure policy.
Creamy, herbaceous, and light with a kick of red wine vinegar—this is the best Crudite dip recipe you'll ever make! Throw together the ingredients in minutes, then serve with crisp raw vegetables, chips, or crackers, and you have a crowd-pleasing and easy vegetable dip.
For even more delicious dip recipes to add to your holiday spread, check out my addictive Cowboy Crack Dip Recipe, sweet Cranberry Cream Cheese Dip, or this flavorful Mediterranean Layered Dip.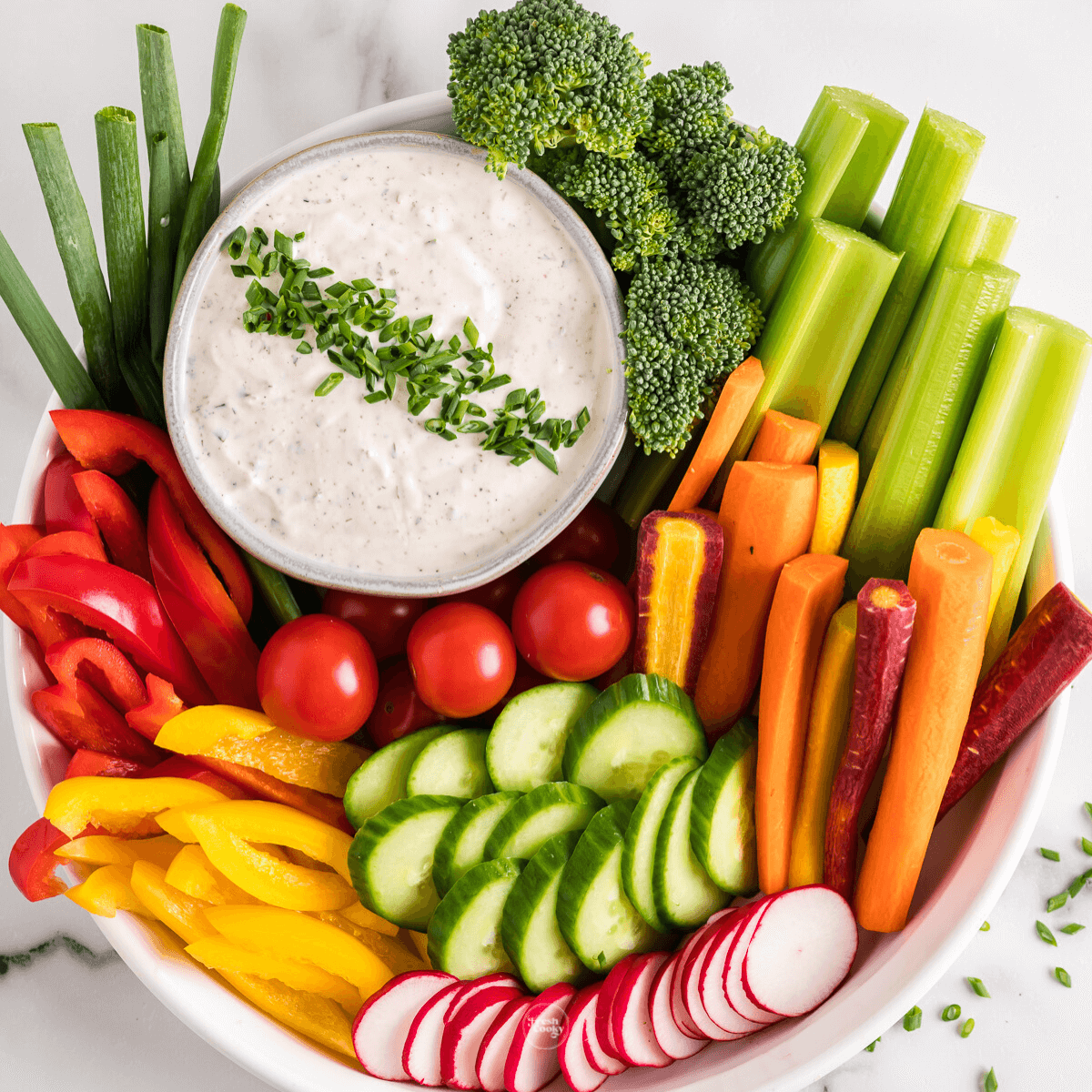 Why You Will Love this Crudite Dip Recipe
Tasty | This crudite dip recipe has great flavor and will have you returning for more! Unlike any grocery store veggie dip!
Easy to Make | Measure, mix, chill, and serve. That's it—No fancy techniques or detailed steps!
Make Ahead | Easily make this recipe ahead of time to save yourself some hassle before a major event. It lasts well in the fridge for a few days.
Great Veggie Platter Ideas | Loads of ideas for your veggie platter, how to blanche your veggies, keep them crisp and fresh too! The best veggie dip!
Holiday Parties, Game Day, Tailgating, Potlucks | No matter where and how you make it, it's always a hit!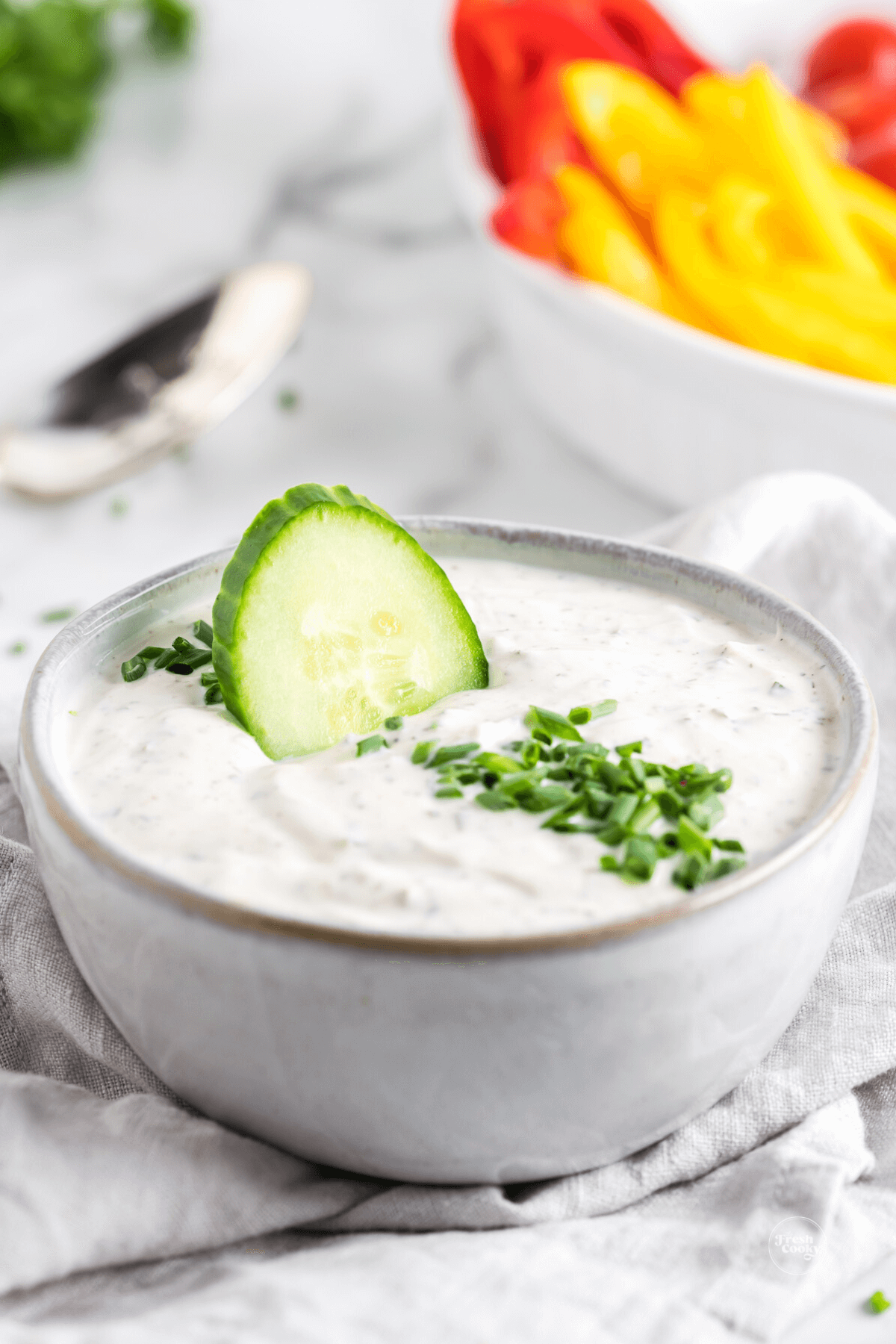 My vegetable dip recipe is perfect for including on a veggie platter or next to your cheese board at your next gathering. And will have everyone begging for the recipe.
Even better, this veggie dip is a great way to get your kids to finally eat some raw veggies! If the original recipe alone is not enticing enough, try adding in some shredded cheese and bacon bits—how could a kid possibly turn down crispy bacon?
Healthy Twist for the Best Veggie Dip
Made with Greek Yogurt | One of the main ingredients is plain Greek yogurt, a much healthier alternative to other similar recipes.
Gluten-free | This incredible recipe is entirely gluten-free so everyone can enjoy it! But check your spices before adding.
Served with Raw Veggies | Of course, one of the biggest health perks to this recipe is that it is meant to be served with a tasty vegetable tray.
The Best Keto Veggie Dip | That's right—this tasty recipe is suitable for a keto diet, being low in carbs and higher in fat.
Simple Ingredients for Crudite Dip Recipe
Ingredients, directions and nutritional information in the printable recipe card at the end of the post.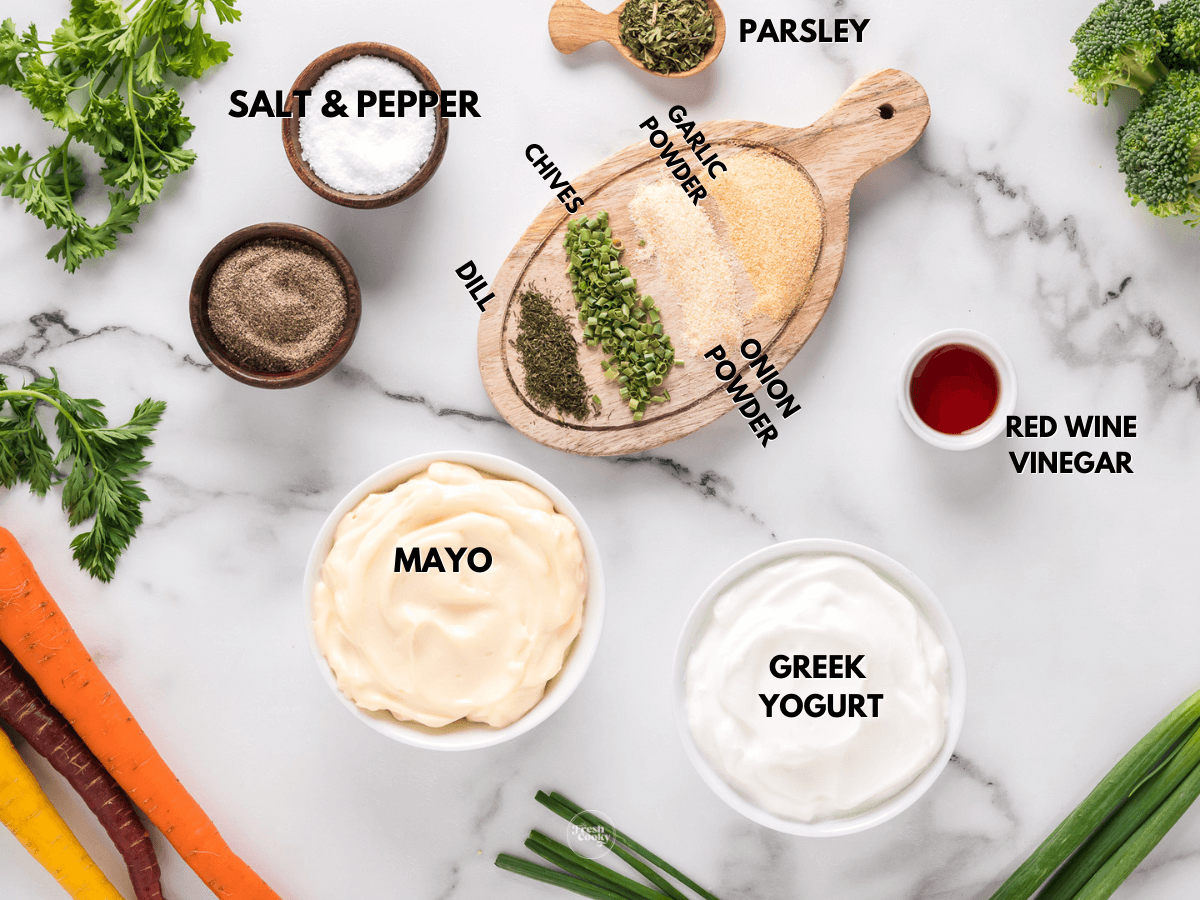 Mayo | Mayonnaise helps create the silky and creamy base for the veggie dip. I like to use Chosen Foods Avocado Mayo for a healthier alternative and better flavor. However, you may use whatever mayo is your favorite.
Greek yogurt | Plain Greek yogurt completes the creamy base for the veggie dip, adding a little tang along with the velvety and light texture. Use full fat or non-fat.
Red wine vinegar | Deepen the dip's flavor by adding a bit of red wine vinegar, and a little zip.
Garlic and onion powder | Sprinkle in some savory notes and subtle spice with garlic powder and onion powder.
Herbs | Dried chives, dill, and parsley are what you'll use to season the dip, feel free to use fresh too!
Kosher Salt and pepper | Throw in a dash of salt and black pepper to pull all the flavors together of this creamy dip.
Optional garnish | If desired, garnish the vegetable dip with fresh chives, parsley, and sliced green onions.
How to Make the Best Veggie Dip
All you need to do to create this easy and delicious crudité dip recipe is mix the ingredients. So, grab a medium bowl and add in the mayonnaise, Greek yogurt, red wine vinegar, garlic powder, onion powder, chives, dill, parsley, salt, and pepper. Stir until everything is combined and velvety smooth.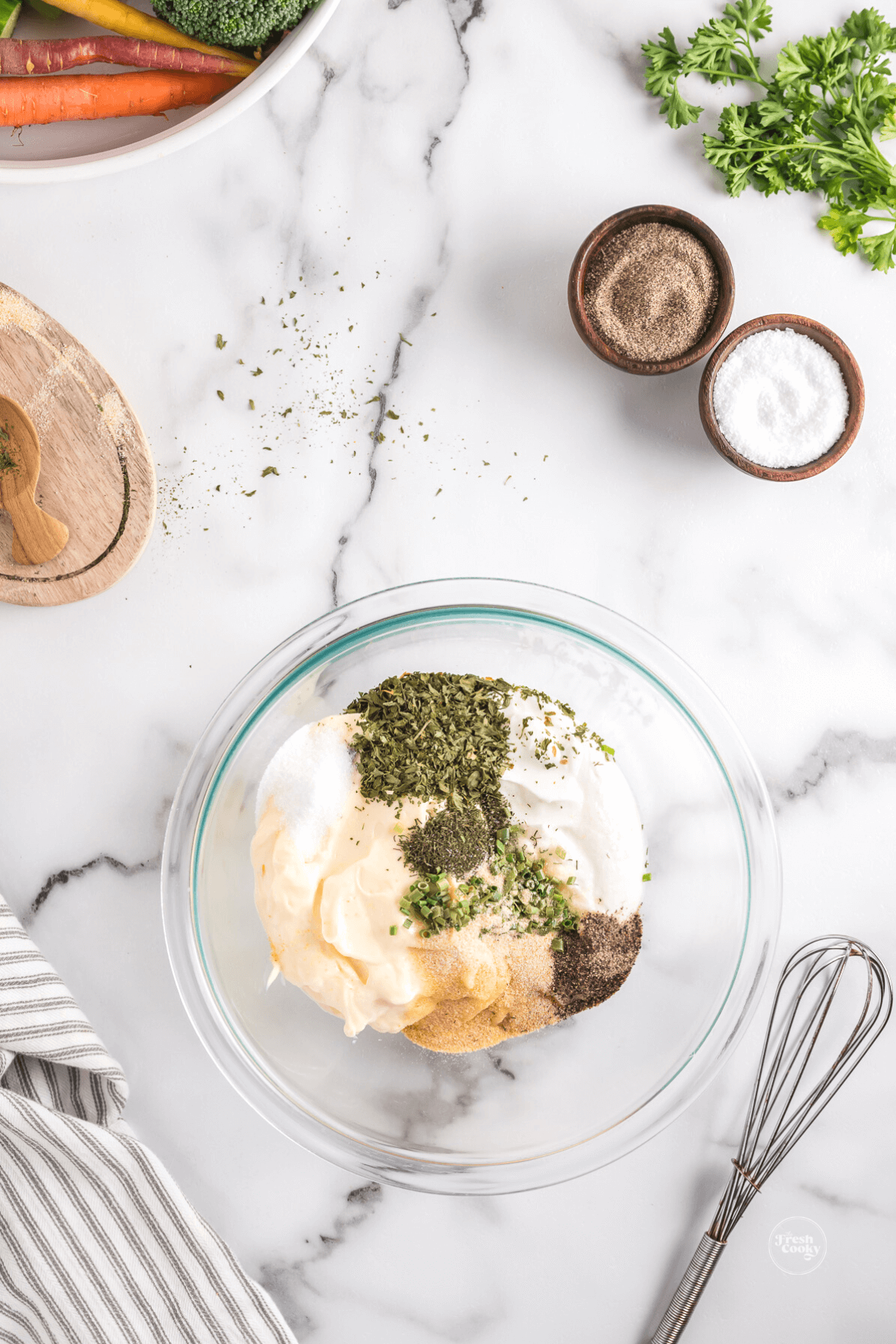 Then, transfer the completed veggie dip to a small bowl fit for the occasion, whether it be a casual family gathering or a festive holiday feast.
I like to chill the dip in the refrigerator for at least 30 minutes before serving. This allows all the flavors to meld. Even better after sitting for about 24 hours!
However, you may also serve this irresistible dip right away. Place the serving bowl of veggie dip in the center of a tray and surround it with your choice of crisp vegetables, making a beautiful crudité platter!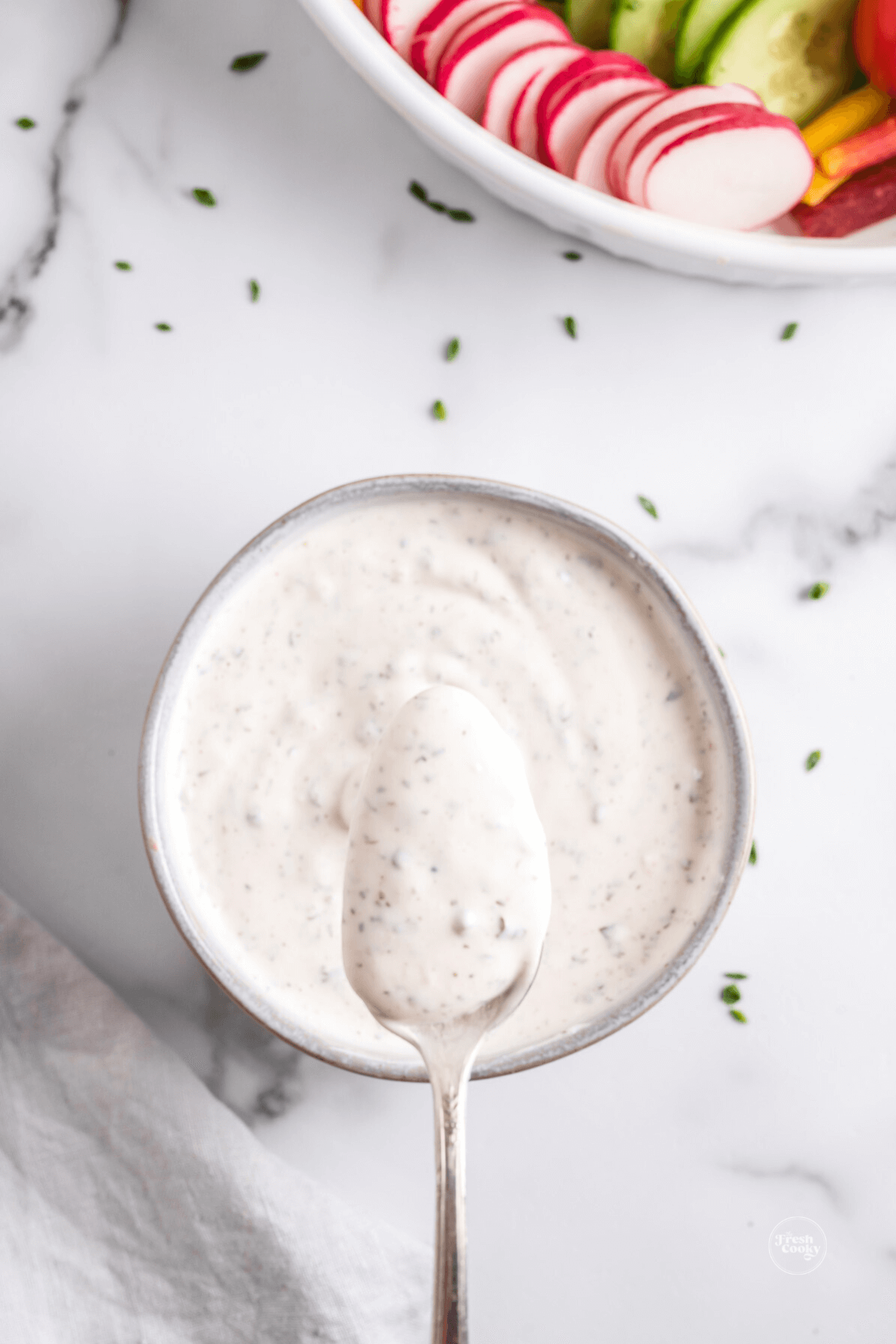 Fresh Tips
If you prefer not to chill the recipe before serving, ensure all your ingredients, like the yogurt and mayo, are nice and cold before throwing it all together.
When you use high-quality ingredients, the flavors of this recipe really come to life.
Toppings
If you'd like, garnish the veggie dip for a stunning presentation. Chop up some fresh chives, parsley, and sliced green onions. Sprinkle the garnishes on top, and voila! If you'd like, you can even add some lemon zest and a little drizzle of olive oil.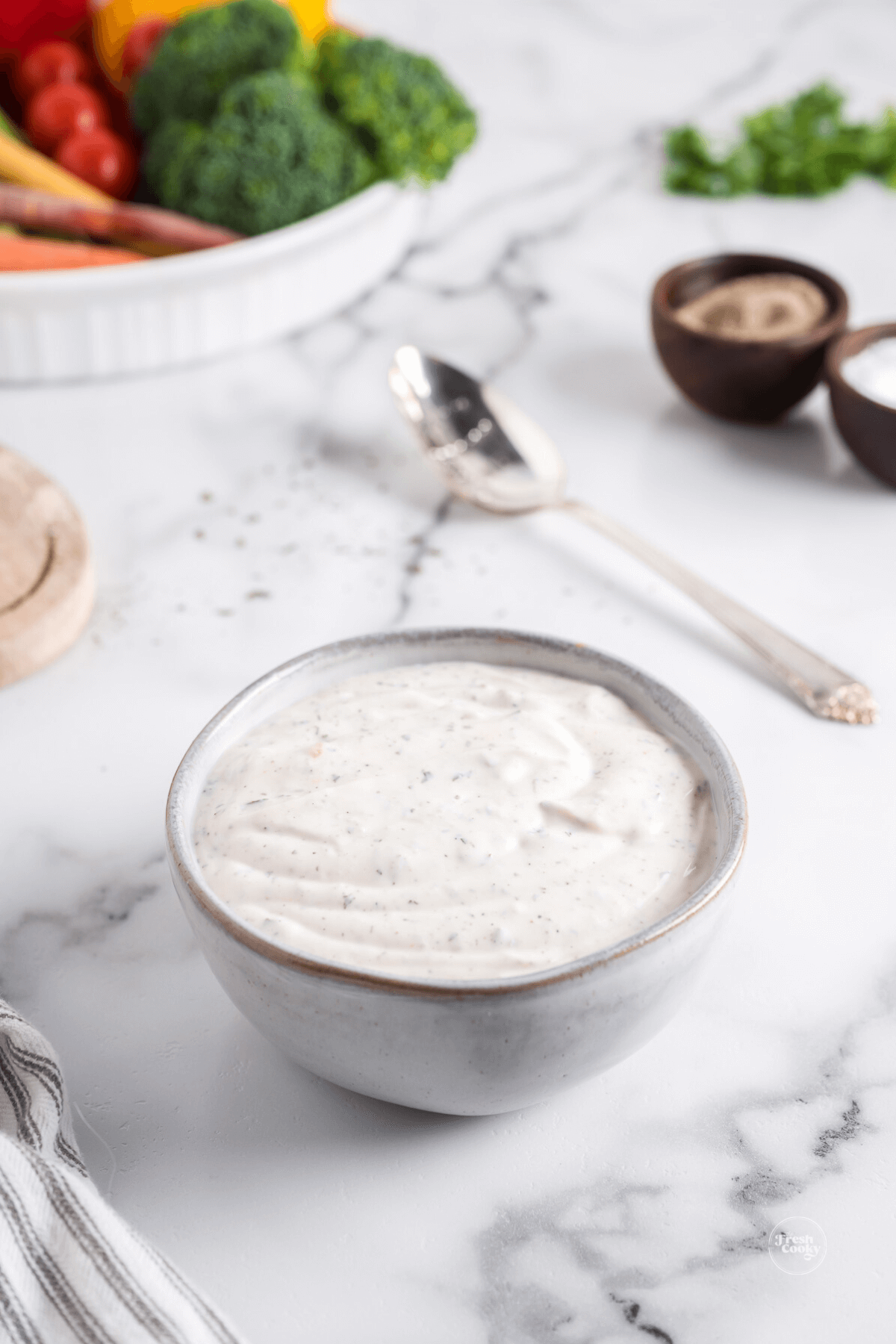 Best Veggie Platter Ideas
Ultimately, the best vegetables for your crudite platter, are the vegetables that you and your guests love the most. Try and have variety though, something for everyone! Below are suggestions to get your juices flowing:
Sliced sticks of celery, carrot, sweet peppers (red, yellow or orange pepper works) and jicama (yum!)
Sticks or rounds of cucumber, cherry or grape tomatoes, cauliflower florets, sugar snap peas, green onions or radishes.
Blanched green beans, asparagus spears, broccoli florets. See blanching guidelines below.
Go bold with shishito peppers, sliced poblano peppers, mini sweet peppers, Cornichons or your favorite pickles, fennel, and beets, shoot you can even do radicchio.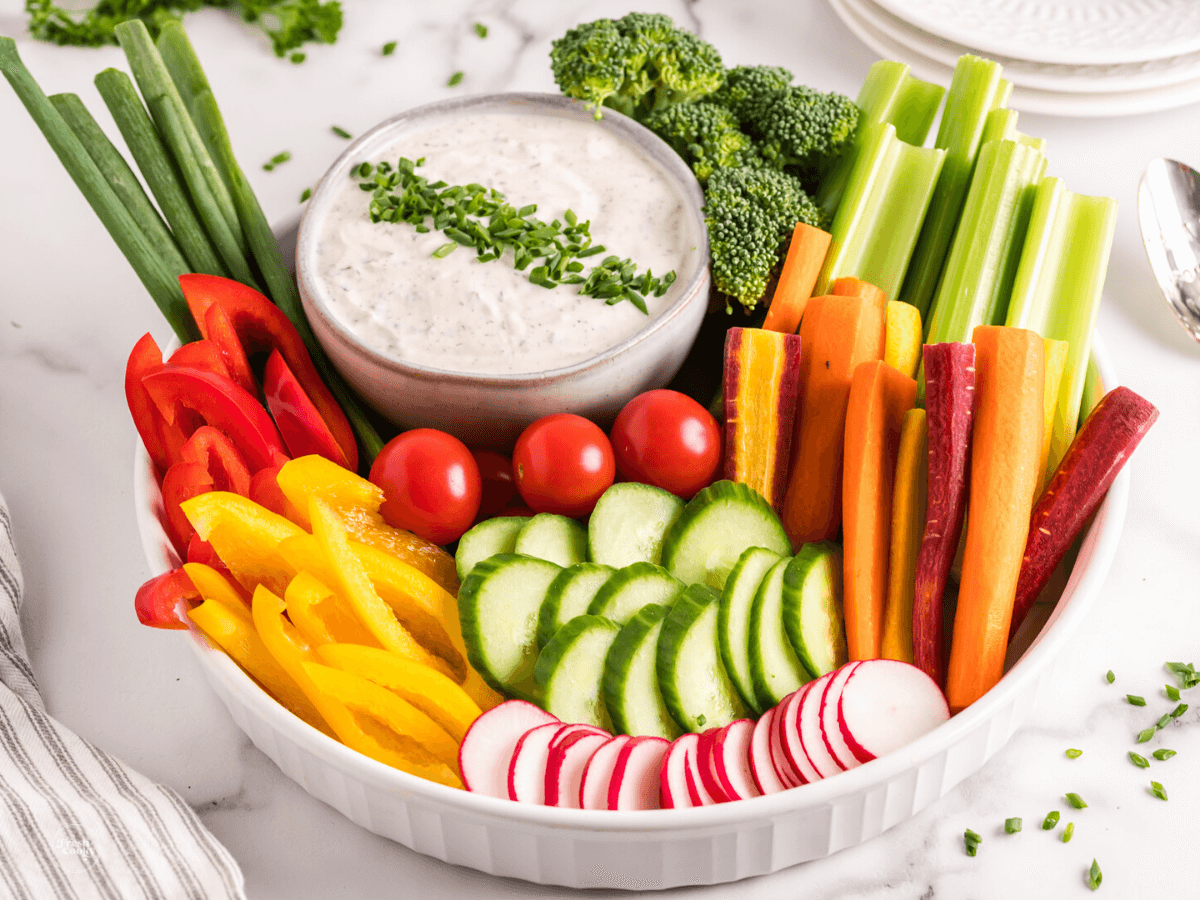 How to Blanche Vegetables for your Crudités Board
What is blanching?
Blanching vegetables is a quick scalding or steaming of vegetables in boiling water, followed by a dip in an ice bath, which is simply a large bowl filled with ice water. This stops the cooking process yielding slightly softer, but still crisp green vegetables. Plus, it brings out vibrant colors to your veggies.
How to blanch vegetables?
Heat a large pot of while to a rolling boil. Place washed and trimmed veggies carefully into boiling water for allotted time (see below).
Remove when done, immediately plunging into large bowl of ice water, chilling for same time they boiled.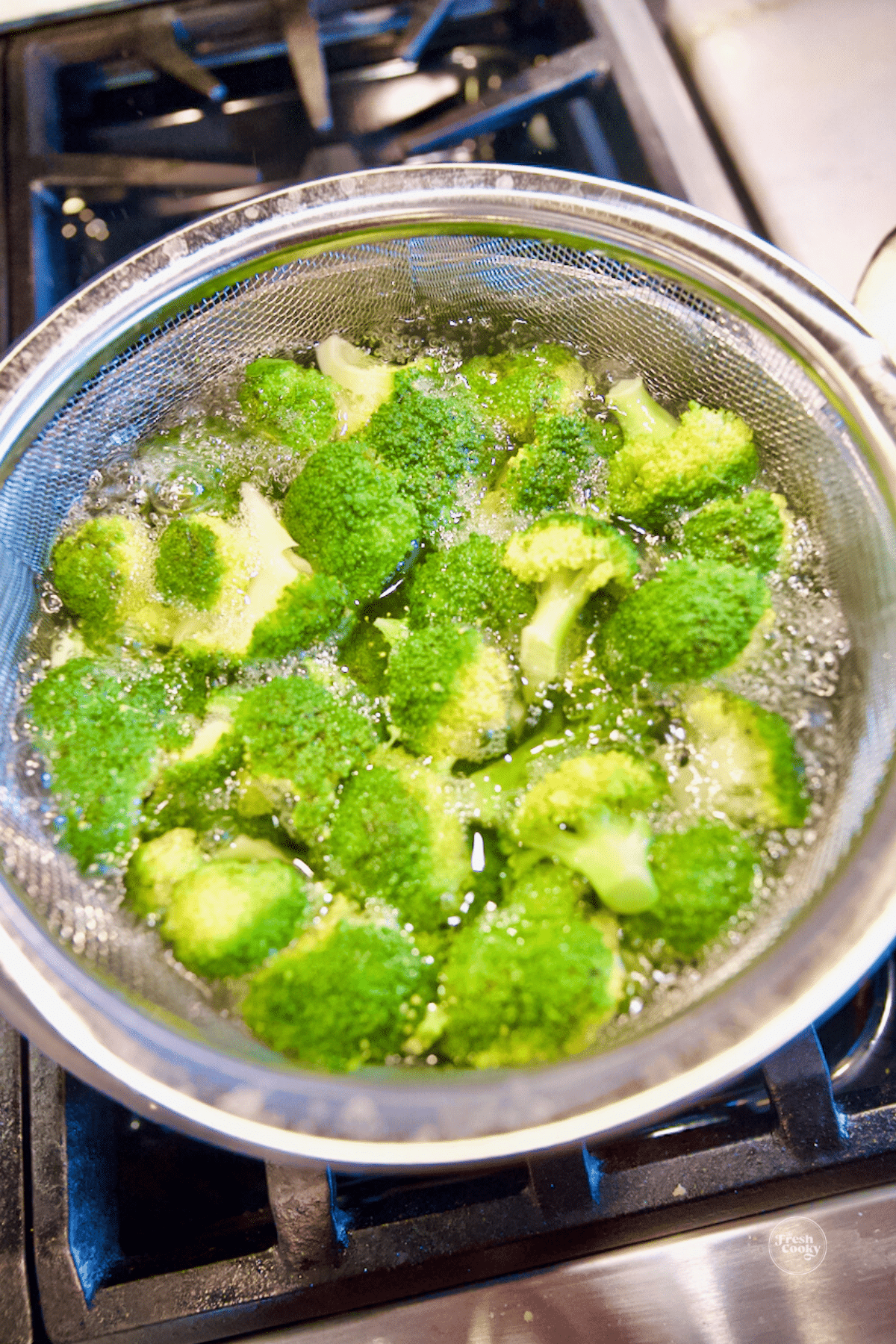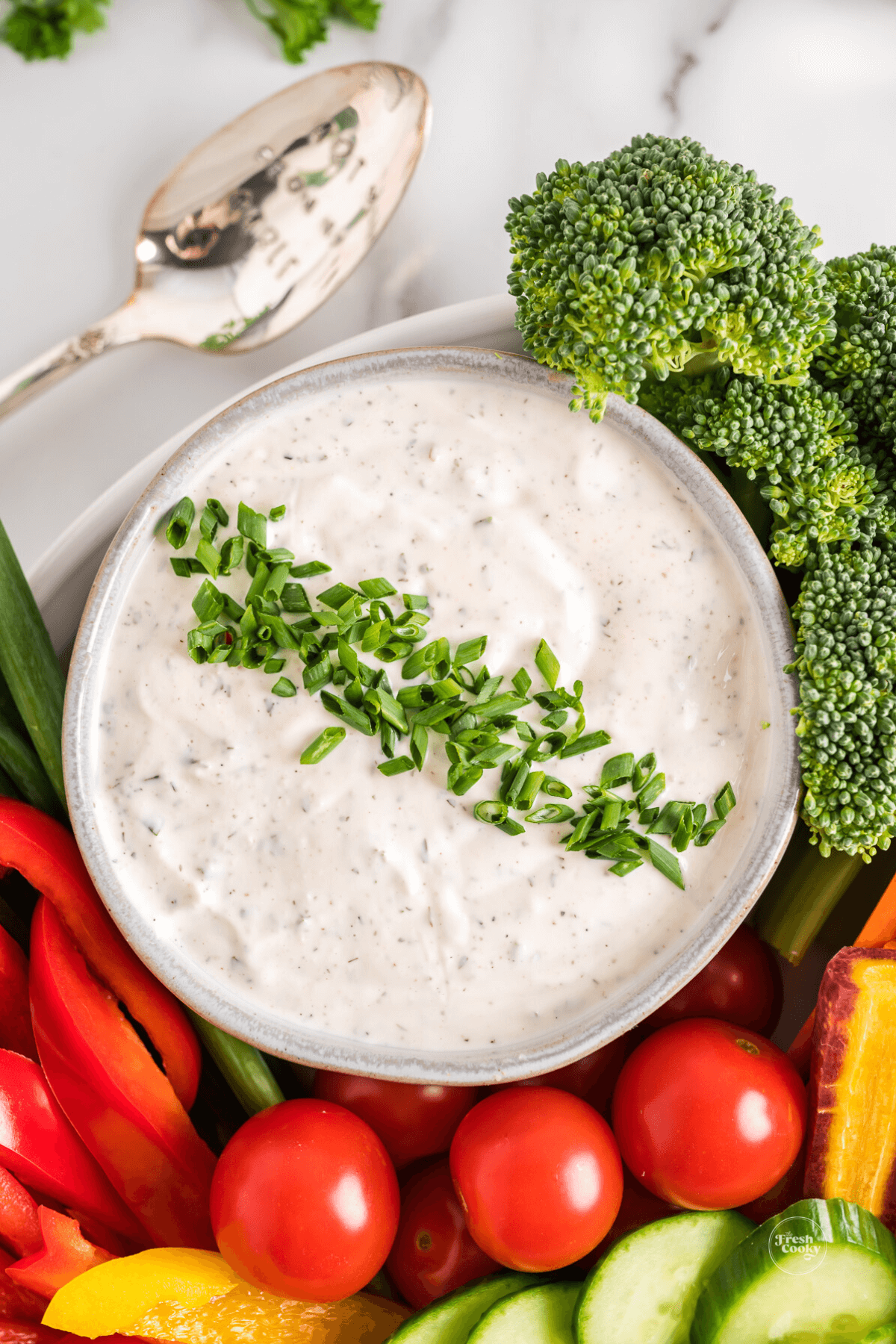 How long should I blanch my veggies?
Broccoli: Broccoli florets (on the smaller side) need about 3 minutes. The broccoli should turn bright green and be barely tender.
Beans: Whether you are working with green beans, Italian, snap or wax beans, working in batches; boil small beans for about 2 minutes, medium for 3 minutes, and large beans for about 4 minutes. Again you want them crisp still, just starting to get tender.
Carrots: Blanch small whole carrots 5 minutes and sliced carrots about 2 minutes.
Asparagus: Blanch small asparagus spears 2 minutes, medium spears 3 minutes, and large spears 4 minutes.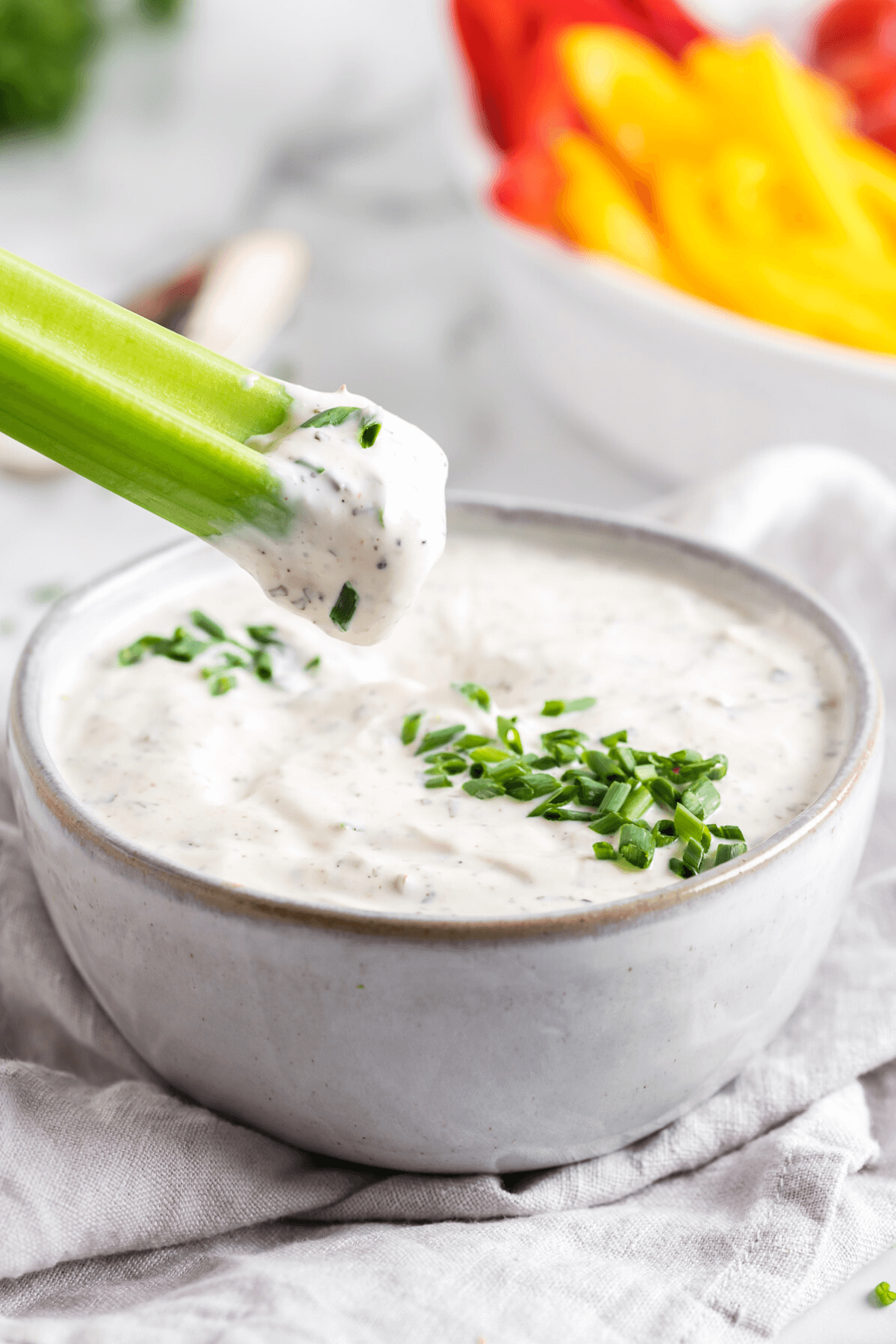 Freezing Blanched Veggies
Once vegetables are blanched and cool in the ice bath, if freezing, pat dry and place in airtight freezer baggies, preferably vacuum sealing to remove any air. Cook as you would any frozen veggie.
Why are my carrots ashy and how do I fix it?
Since carrots are a root vegetable, they take on a lot of water while growing, so naturally they lose water over time. This ashy or white coating on carrots is harmless. They are simply dehydrated. To refresh your carrots, place them in a bowl of ice water for 5-10 minutes, drain and serve. If preferred, slice them first, then place in bowl of ice water.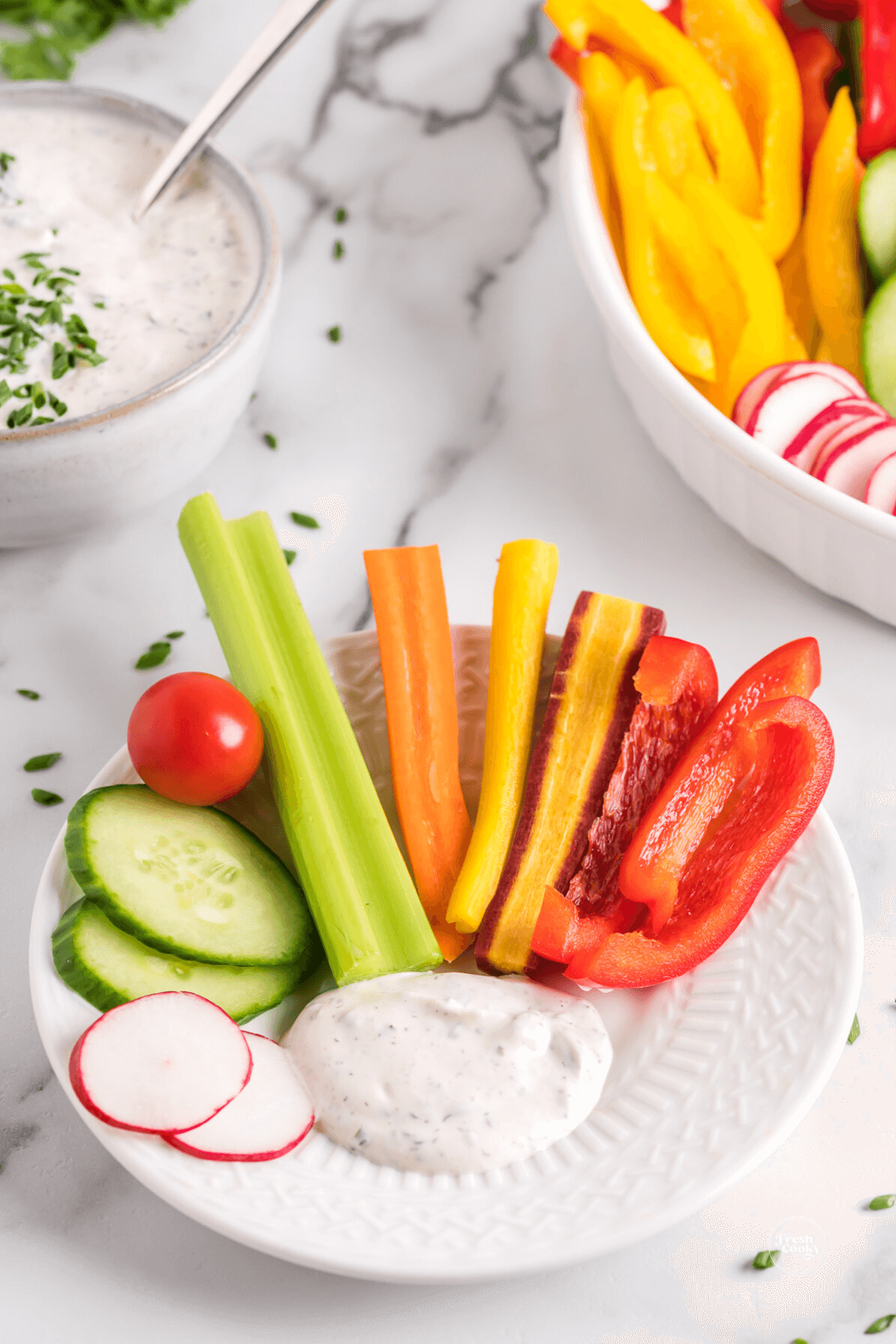 Variations & Substitutions
Add texture and use dried onion flakes instead of onion powder, but definitely allow the crudité dip recipe to chill for a while to rehydrate the onion.
No Mayo | Mayonnaise gives the dip it's smooth and silky texture and tangy taste, but if preferred, use sour cream or try it with all Greek yogurt instead.
Swap the dried herbs for fresh herbs! Just be sure to finely mince the fresh herbs and adjust the measurements accordingly. If desired, place all ingredients and quickly process in a food processor.
Add freshly grated cheese to the dip. Consider using mozzarella, Parmesan, sharp cheddar, Swiss, or Colby jack cheese.
Turn up the heat by adding chopped jalapeños, minced garlic cloves, bell peppers, or a drizzle of your favorite hot sauce.
Make the recipe your own by adding more ingredients you and your family love! For instance, fry bacon slices and chop them into bits to sprinkle into the veggie dip.
Replace the red wine vinegar with lemon juice, balsamic or rice vinegar, if desired.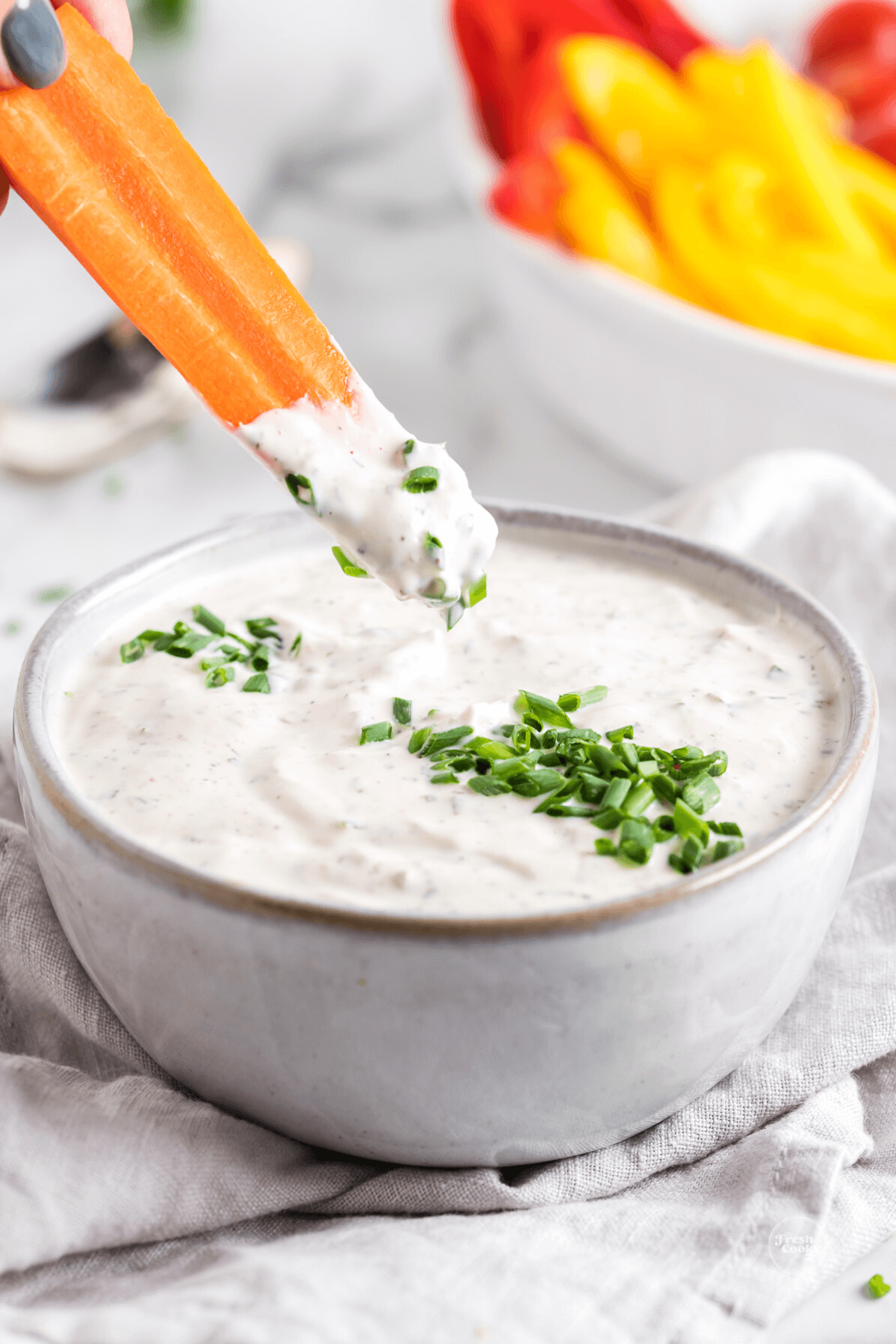 Storage Tips
Refrigerator | Store the crudité dip recipe in an airtight container in the fridge for up to five days.
Freezer | I do not recommend storing the dip in the freezer. Dairy products tend to separate and curdle when frozen and thawed.
Frequently Asked Questions
What should you serve with this vegetable dip?
As you may assume, the most classic dippers for this veggie dip recipe are crunchy and fresh vegetables, like carrot sticks, celery, raw cauliflower, broccoli florets, bell peppers, snap peas, cherry tomatoes, and more.

However, you don't have to limit this veggie dip to only vegetables. You may also the crudité dip with potato chips, pita chips, crackers, or pretzel chips or try making these pretzel bites.
What does crudite consist of?
Crudites is French meaning "raw things" and is pronounced kroo-dee-teh. A crudite is very simply put, sliced or whole raw veggies arranged on a tray or platter, served with a sauce for dipping.
What are common examples for crudite vegetables?
Examples of crudités include carrot sticks, cucumber slices or sticks, strips of bell peppers (all the colors), blanched* green beans, asparagus spears or broccoli florets, cauliflower, jicama sticks, baby corn, cherry or grape tomatoes. *see blanching guidelines above.
Is crudite or crudités?
Just like other times you add the "s" for plural, crudité in essence is like saying vegetable dip and crudites would be dip for vegetables.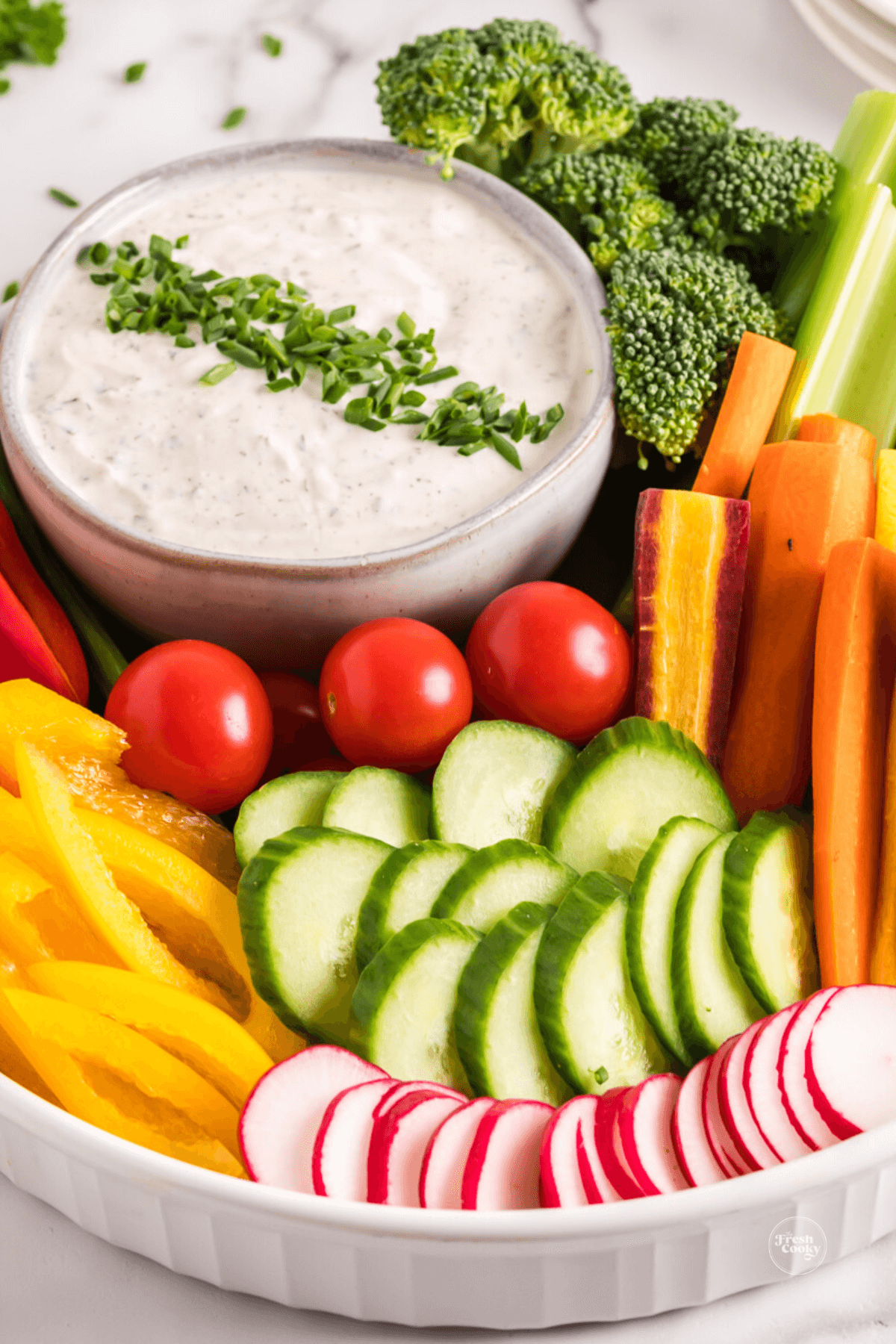 Make creative and beautiful crudités platter
What's great about this simple veggie dip is that it takes little time to make, leaving room to put some effort into the beautiful presentation. Need some stunning vegetable platter ideas? Use the following to inspire your display:
Veggie Platter Ideas
The Veggie Fan – Place the serving bowl of veggie dip at the bottom or top center of a serving tray. Then, fan the veggies and crackers like beams radiating from the sun.
Veggie Bowl – If you really want the display to be eye-catching, hollow out a head of purple cabbage, or three colorful bell peppers and pour the dip into the center. Instead of an ordinary serving bowl, you'll have an organic bowl with tons of interest.
Crudité Shooters – Skip the tray entirely, and drop a dollop of the veggie dip into the bottom of a dessert shooter, plastic cup or shot glass. Then, stick in the carrot sticks, celery, and sliced bell peppers, charcuterie cups to go!
Sweet and Simple – You can't go wrong with simply placing the serving bowl in the center of a circular serving tray surrounded by even sections of the various veggies and dipping foods.
More Great Appetizer Ideas
For the best flavor, allow the crudite dip recipe to chill in the refrigerator overnight or for about 24 hours. At the very least, you'll want to let the ingredients marinate and meld together for 30 minutes to an hour.
I hope you loved this Crudite dip recipe, an amazing dipping sauce for your crisp veggies –would you share your creation and tag @ thefreshcooky on Instagram, Facebook and Pinterest?
Like this recipe?
Don't forget to give it a ⭐️⭐️⭐️⭐️⭐️ star rating and comment below the recipe!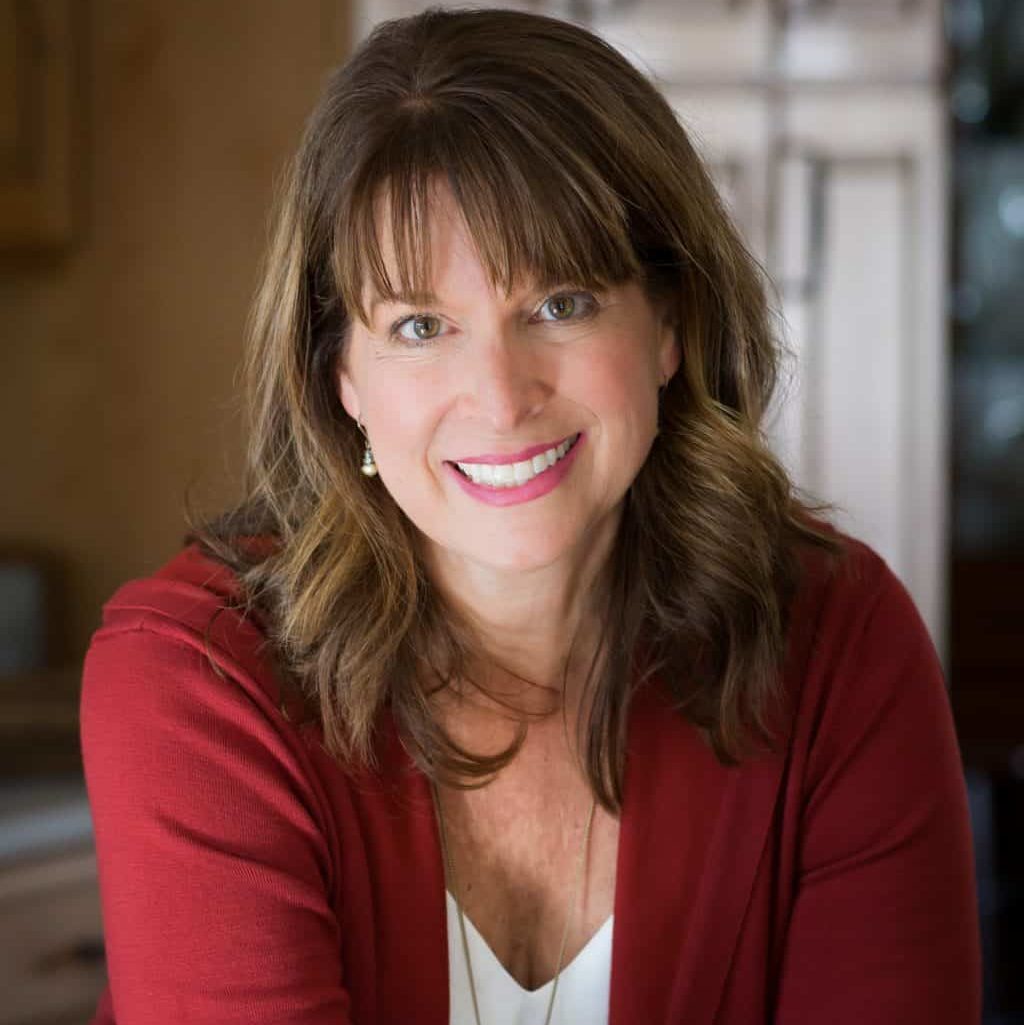 About Kathleen Pope
Recipe Innovator | Food Photographer | Food Writer
Hi, I'm Kathleen Pope. Here at The Fresh Cooky you will find easy, mostly from-scratch, trusted recipes for all occasions. From speedy dinners to tasty desserts, with easy step-by-step instructions. I am here to help teach you how to make mouthwatering recipes without spending hours in the kitchen. Read more about Kathleen here.