New England Steak Bomb Sandwich Recipe
As an Amazon Associate, I earn from qualifying purchases. Please read my disclosure policy.
This Steak Bomb recipe is New England's version of the Philly Cheesesteak, kicked up with "hots", melted provolone cheese, salami and smashed mushrooms. A hot sub, dripping with juicy shaved steak sautéed with mushrooms, peppers and caramelized onions, on a toasted sub roll.
My hubby grew up in New England, attending the University of New Hampshire where it's rumored the Steak Bomb was born, others claim Rhode Island and still others Connecticut — you won't really care after you sink your teeth into this tender shaved steak sandwich.
These are not an authentic Philly cheese steak, because you have to be in Philly for one of those, but if you like a good copycat recipe, try my crazy popular cheesesteak sandwiches (and read all of the fun, informative comments) or my other popular shaved steak recipes like these Philly Cheesesteak Sliders, Healthy Mongolian Beef, or this simple Beef and Broccoli.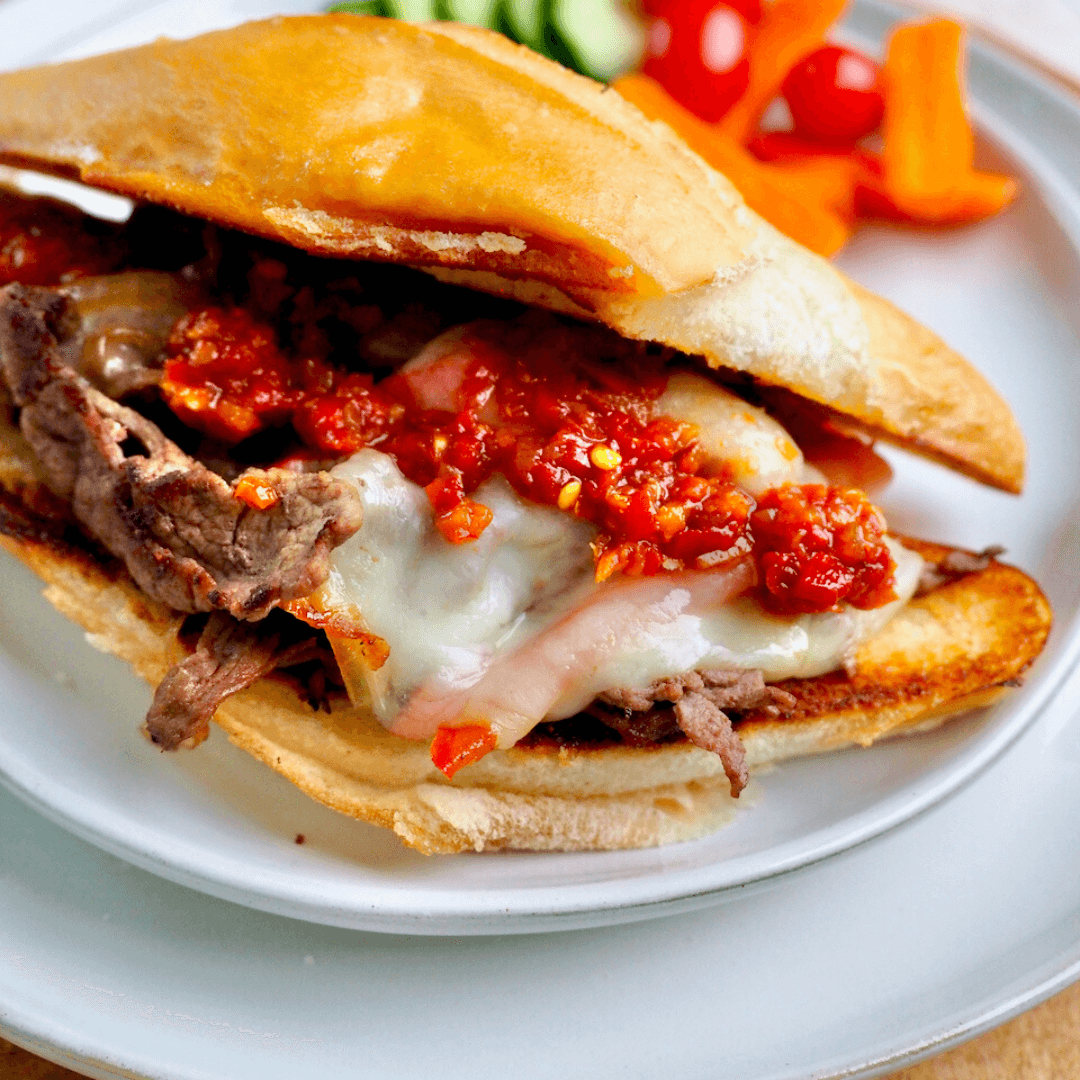 Why You Will Love this Shaved Steak Sandwich Recipe
Easy Weeknight Meal | Steak Bombs are ready in about 30 minutes, perfect for busy weeknights.
Flavor Explosion | A few simple ingredients, made quickly, with amazing flavor, they are literally 'da bomb!
Game Day Fave | Your friends and family will go nuts if you make these for a tailgating event (just wrap in foil and store in a cooler to keep warm) or when having friends over for the big game.
**TIP** Cut sandwiches in half or make using small French rolls for smaller bites!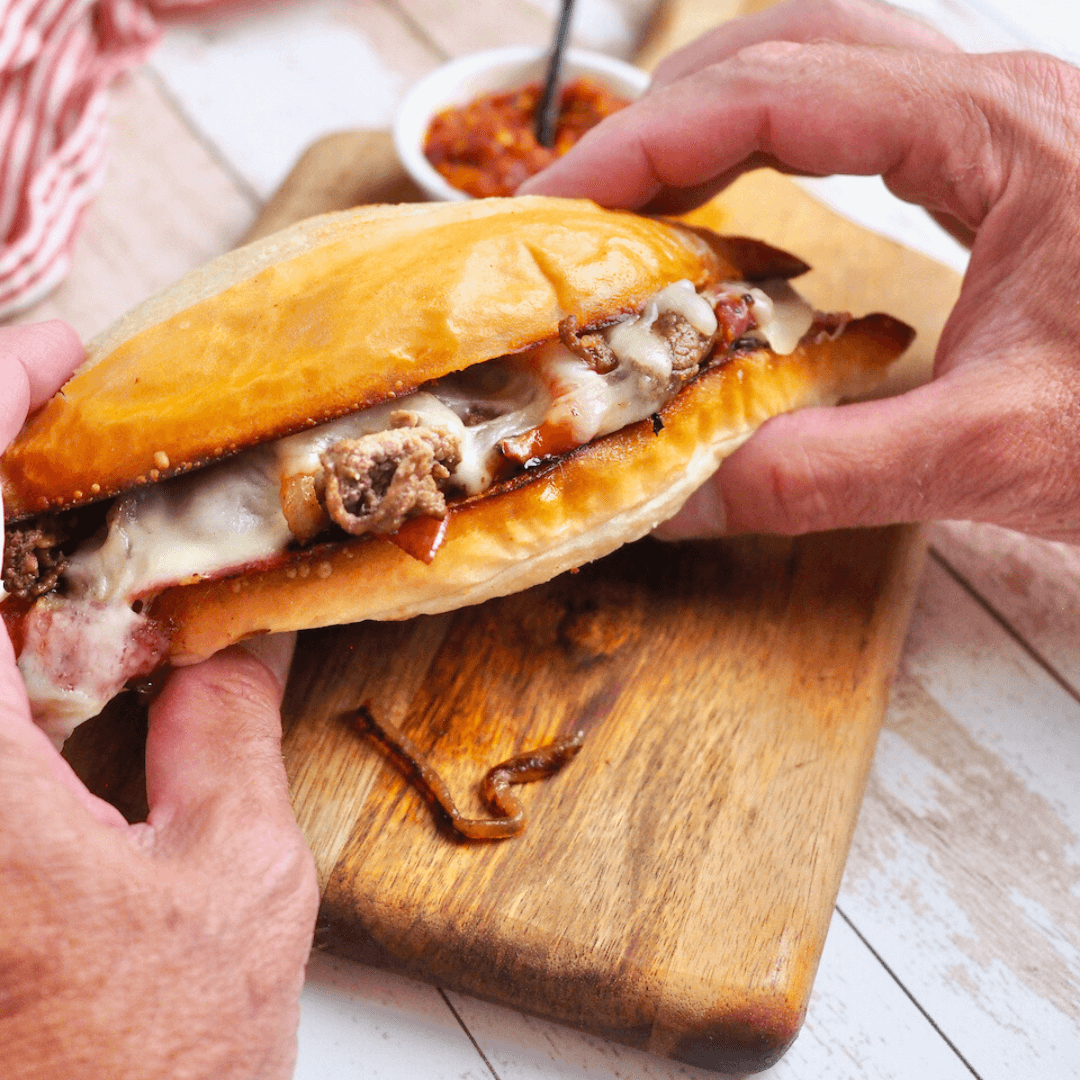 History of the Steak Bomb Recipe
This juicy, hot and messy Steak Bomb Sandwich is revered throughout all of New England, using shaved steak, peppers, onions and mushrooms and covered in melted provolone or mozzarella cheese. I couldn't quite narrow down where they started and got their name, but here is the scoop; according to the Library of Congress, the first steak sandwich sold in the United States was at Louis' Lunch of New Haven, Connecticut – family run since 1895! Also known as the birthplace of the hamburger!
There is Jitto's Super Steak in Portsmouth, New Hampshire calls itself "The Home of the Steak Bomb." which coincidentally is nearby the University of New Hampshire where my hubby attended college. Then there is USA Subs in Derry, New Hampshire who claim rights to the sandwich as well! And since all of these places are still around, I'd say their steak bomb sandwiches are worth a try!
In the New England region of the United States you can go into almost any sub shop or Italian deli and find their version of the New England Steak Bomb, many variations include salami and "hots" or a hot pepper relish.
Key Ingredients for the Best Steak Bomb Recipe
Ingredients, directions and nutritional information in the printable recipe card at the end of the post.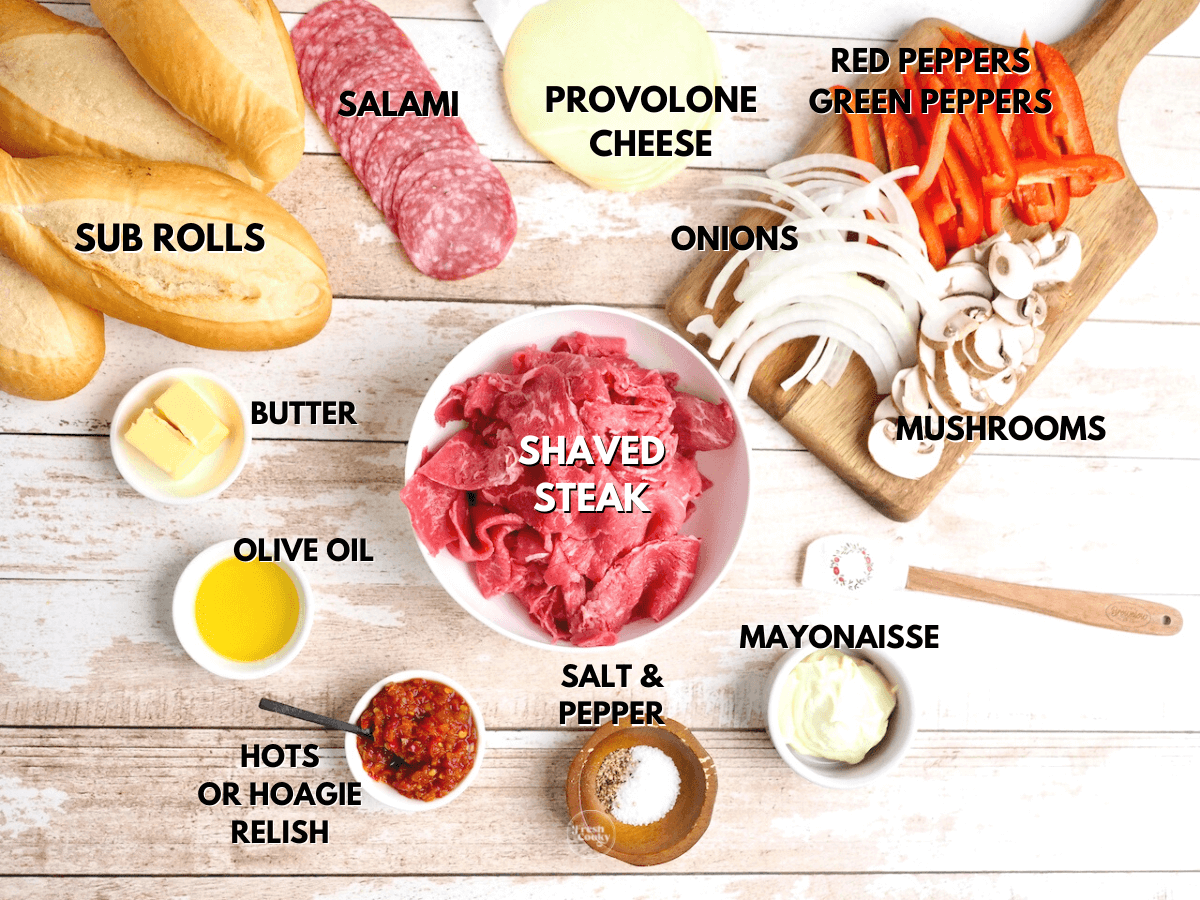 Shaved Steak | If you have not tried shaved steak also called shaved beef, you are going to love it! Buy quality shaved steak, I love Trader Joe's shaved steak — which is shaved ribeye steak, but many grocery stores now carry it as well. Or just ask your butcher, they can shave the steak paper thin. Apparently some steak bombs use steak tips, mine does not.
Onions, Peppers, Mushrooms | The trifecta of delicious juicy sandwich, we used red bell peppers (and would have used green bell peppers but the store was out!) and a sweet Vidalia onion, along with button mushrooms.
Rolls | Use hoagie rolls, bolero rolls, French rolls, Italian rolls, sub rolls; the goal being a slightly hard roll so it holds up to these juicy steak bombs
Cheese | traditionally Provolone cheese is used, which I love, but you may also use mozzarella, white American cheese, cheddar cheese, Havarti, Muenster, Pepper Jack would all be delicious.
"Hots" | What New Englanders call "hots" are a Cherry pepper spread, hoagie spread or hot pepper relish placed on the steak bombs in heaps or puddles.
How to Make New England Steak Bombs
Step 1 | Prep ingredients
Chop, and prep your onions, peppers and mushrooms. I read somewhere that a true steak bomb sandwich uses "smashed" mushrooms, so I smashed them, sliced and then used my fist to smash! Kinda fun, I must admit, but watch it, they tend to go flying as you hit them.
Step 2 | Saute veggies
Heat a large skillet (<-my favorite) to medium heat and add tablespoon of butter and a tablespoon of olive oil to the pan. Add the peppers and onions cooking until soft and caramelized, about 10-15 minutes. Then scoot to the side adding a little pat of butter and tossing in the mushrooms, sautéing until soft and tender, another few minutes.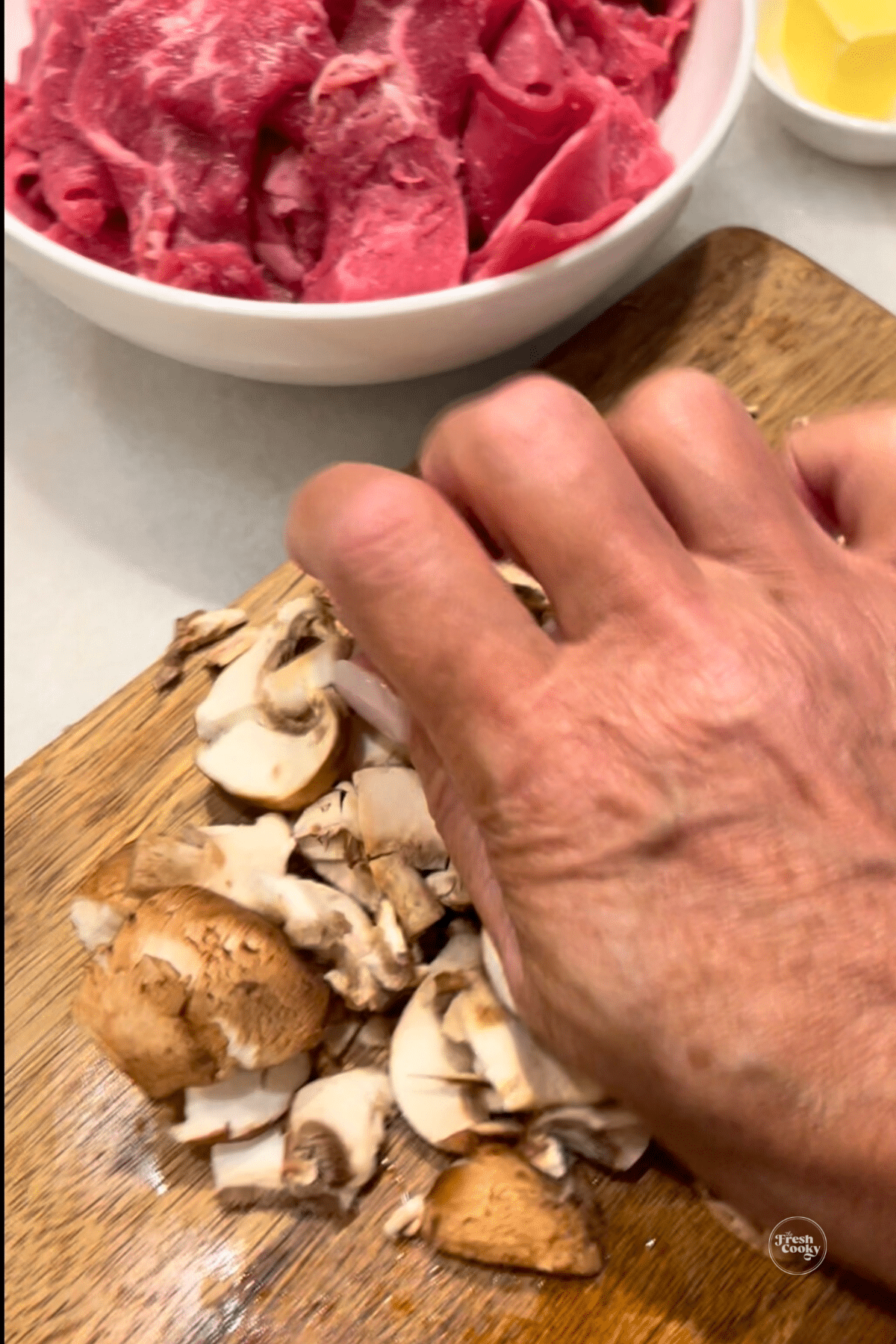 Scoot your shrooms, peppers and onions to the side (if room, if not remove from pan) and turn up the heat on the skillet to medium-high.
Step 3 | Brown shaved steak and salami
Add the shaved steak a little at a time tossing quickly to brown to your liking, seasoning with a pinch of salt and black pepper. Scoot each batch to the side and add more until all the shaved steak is cooked.
Finally, add your slices of salami (what truly sets apart these cheese bombs apart from Philly cheesesteak bombs.) Tossing salami until heated through and then mix all of the veggies and meat mixture. Remove from heat and cover, taste and add additional seasoning if needed.
Step 4 | Grill Sub Rolls and Assemble
If you have a flat griddle, either an electric griddle or cast iron now is the time to break it out, heat to medium-high heat and then spread a thin layer of mayo on the halves of hoagie rolls and grill until golden and crispy.
Using a slotted spoon scoop up a heaping sandwich serving of the steak mixture placing onto the griddle, warming it quickly and place provolone slices over the top to melt. Using a large spatula scoop the mixture up and place on the toasted hoagie roll.
Top with cherry pepper "hots" or hoagie spread if desired and eat immediately for the best flavor.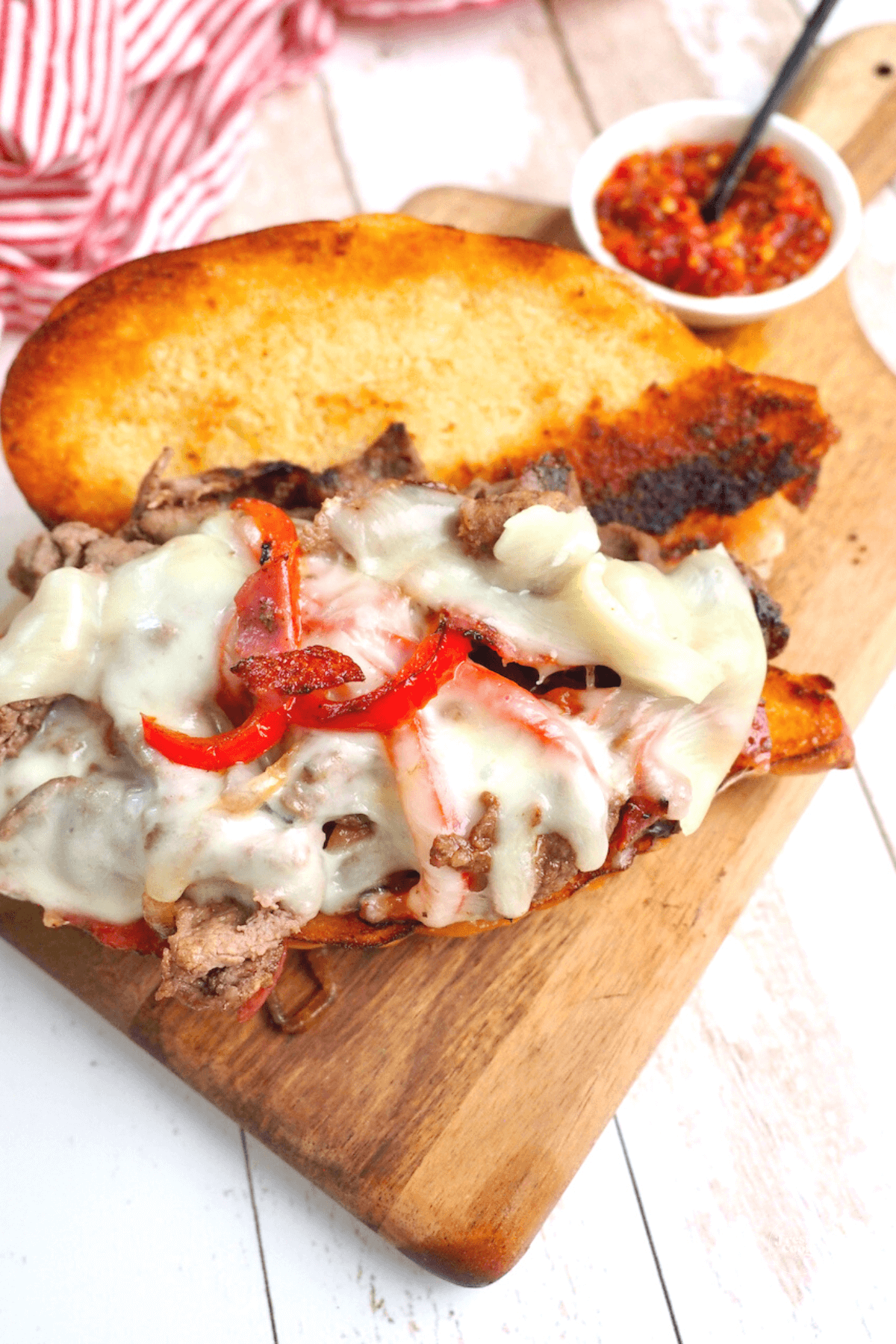 Frequently Asked Questions
What is the difference between a Steak Bomb and a steak and cheese?
A steak bomb is a hot submarine sandwich filled with sautéd mushrooms, red peppers and green peppers, caramelized onions, sliced salami and seasoned shaved steak topped with melted provolone cheese. Simply it is a variation of a steak sub sandwich, as is the cheese steak.
Why is it called a "Steak Bomb"?
Essentially, it is a hot messy sub sandwich that is literally the best of the best, "the bomb" or "da bomb" as in, it will knock your socks off.
Variations & Substitutions
Use your favorite cut of meat for your steak bomb recipe. You can use skirt steak, flank steak, sirloin or my favorite rib eye. The key is to ask your butcher to shave it for you, as it's very hard for home cooks to shave it thin enough themselves. These are not thick slices of beef.
Use your favorite bell peppers, I could not find green bell peppers for the life of me when making these! The things we cannot find these days!
Add a few grinds of pepper to the loaded steak if that is your thing.
Also delicious served with a schmear of garlic aioli and some banana pepper slices.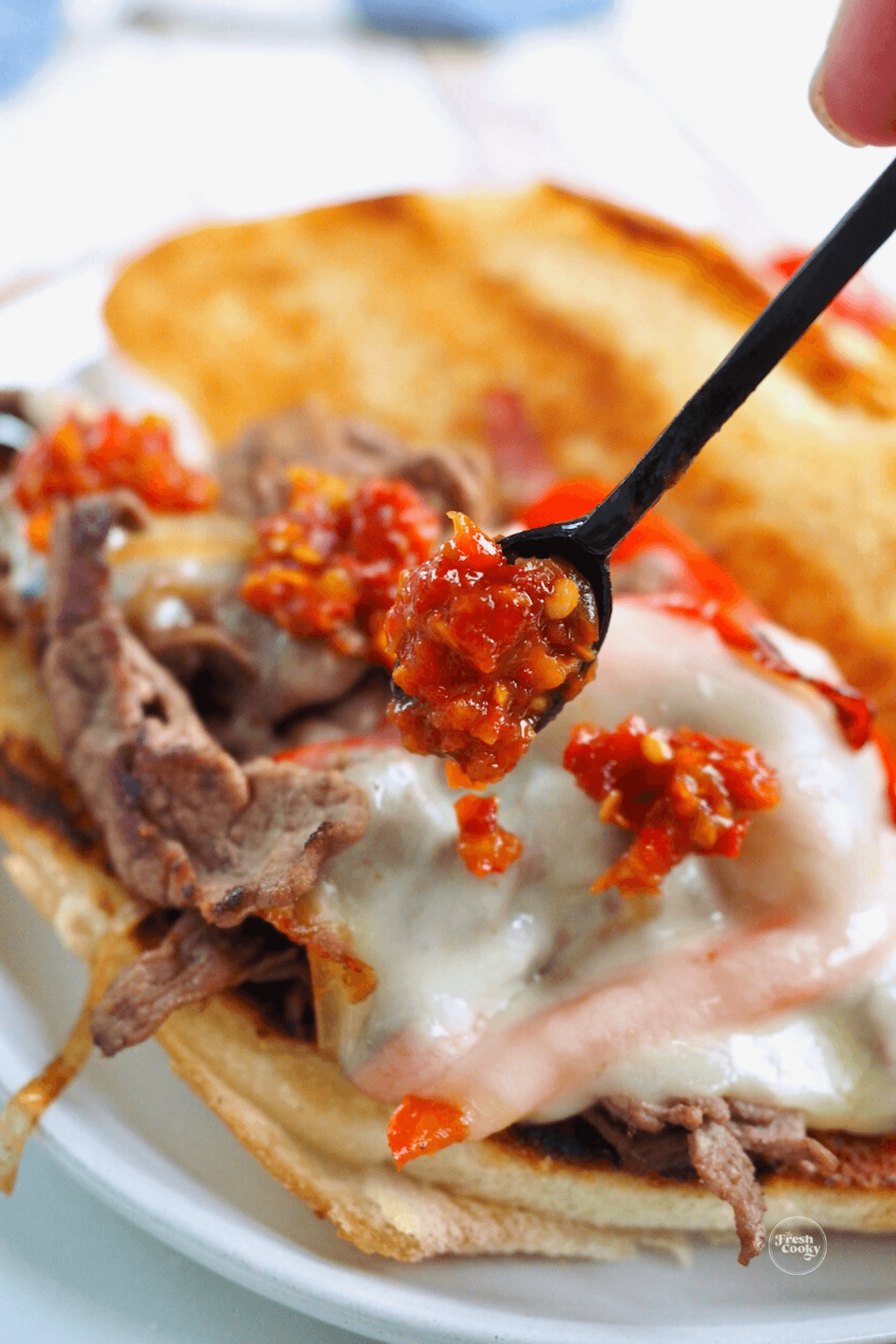 Tips for Two
I love recipes like this, my husband and I are now empty nesters and so I am constantly looking for easy, quick dinners that we can enjoy twice!
So for two, you can cut this recipe in half and enjoy or split a large single sandwich. OR make the entire recipe, cool completely and freeze or refrigerate leftovers for another meal.
Storage
Store leftover meat mixture in the fridge in an airtight container up to 5 days. May be frozen up to 3 months.
To reheat, heat a cast iron skillet or your favorite skillet to medium high heat and toss the steak mixture into the hot skillet. Adding a teaspoon of butter or oil if necessary. Heat until warmed through, add cheese and serve on a toasted hoagie.
Top Tip for the Best Steak Sandwiches
Use quality shaved steak, rib-eye is the most tender and what I purchase most often.
Do not overcook it, keep your pan hot so that you do not steam your meat. Steamed meat is rubbery meat 🙂
More great sandwiches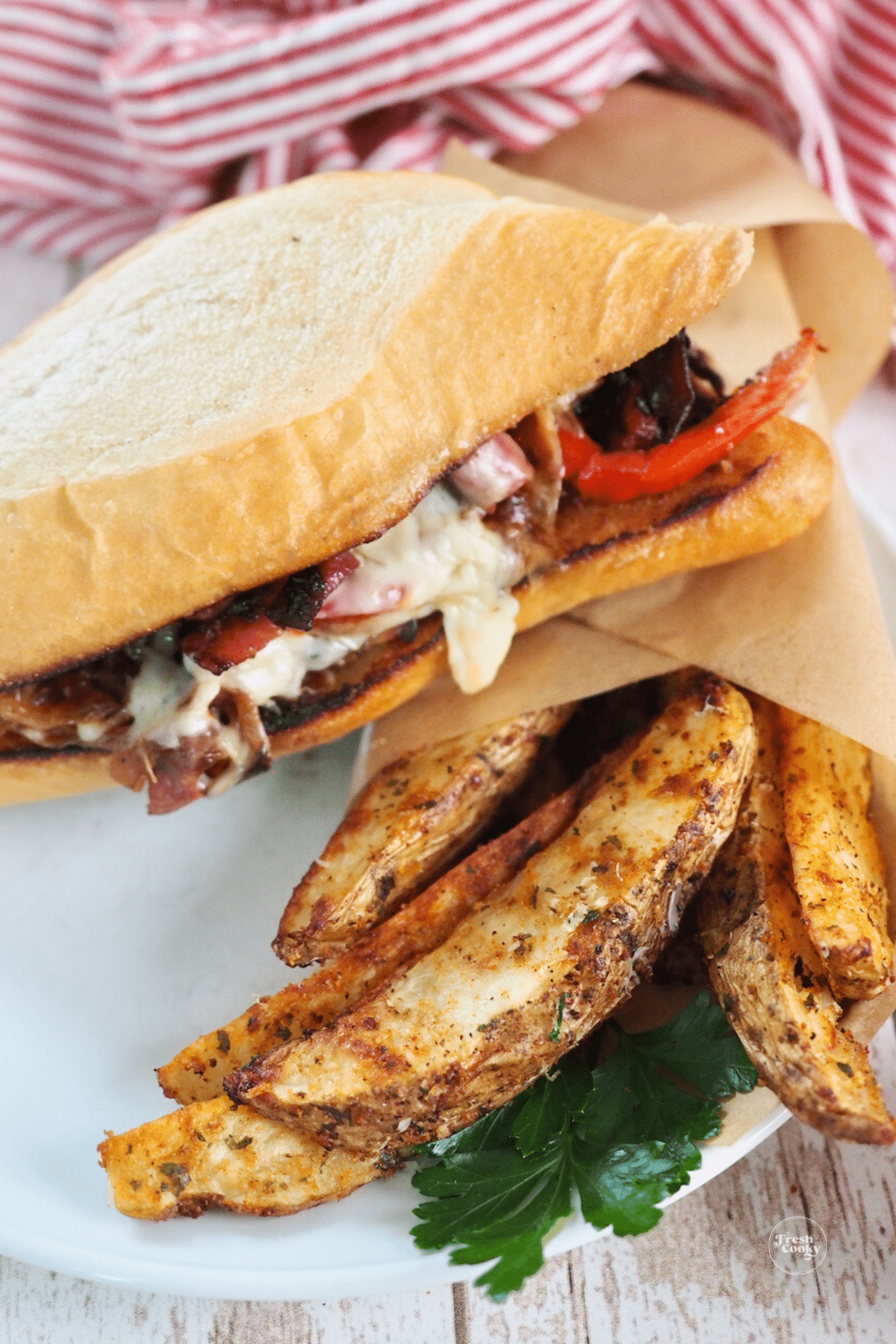 What to Serve this with your Steak Bomb Recipe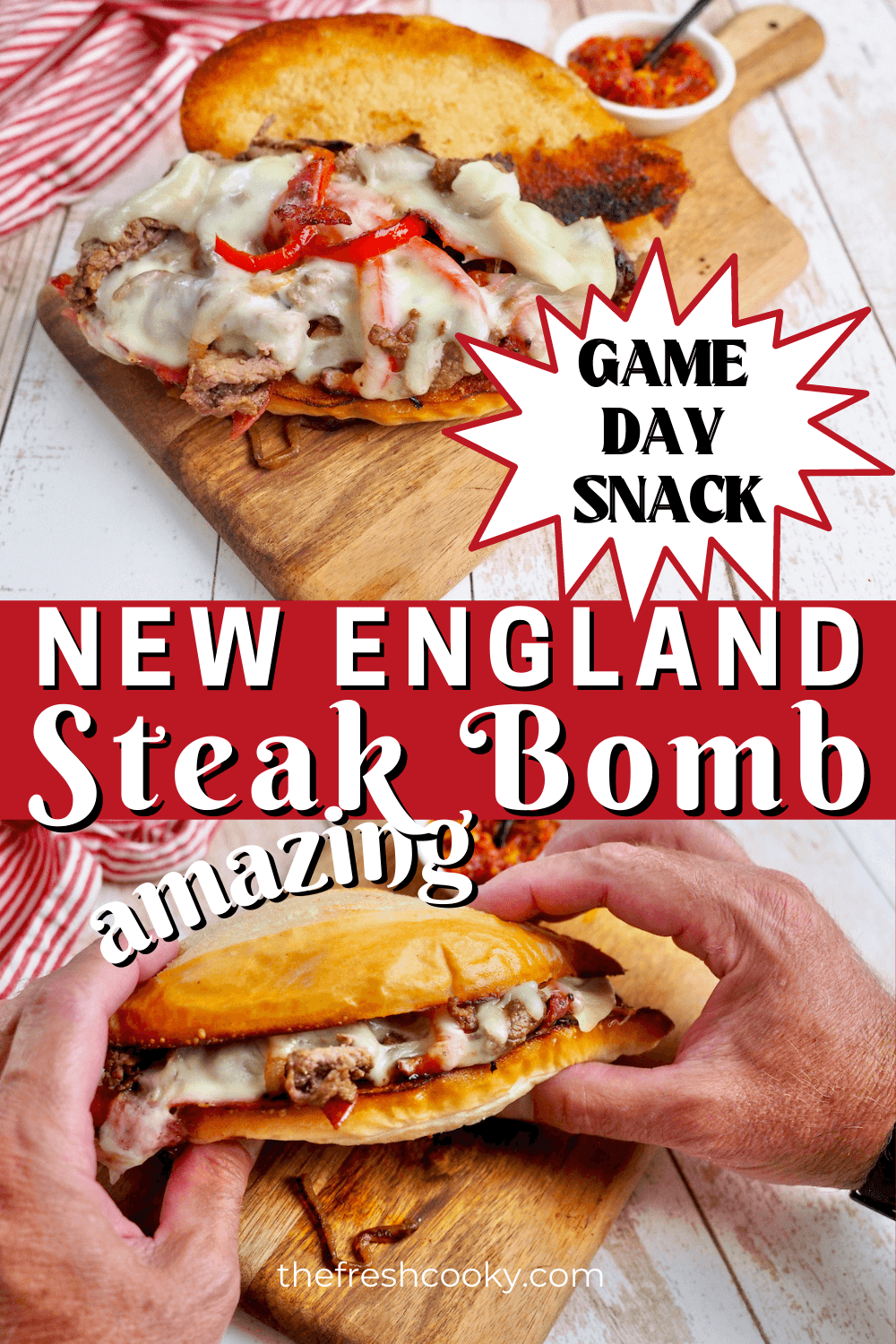 I hope you loved this Steak Bomb Recipe — if you did, would you share your creation on Instagram, Facebook and Pinterest? And be sure to comment below — that's how we grow!
Like this recipe?
Don't forget to give it a ⭐️⭐️⭐️⭐️⭐️ star rating and comment below the recipe!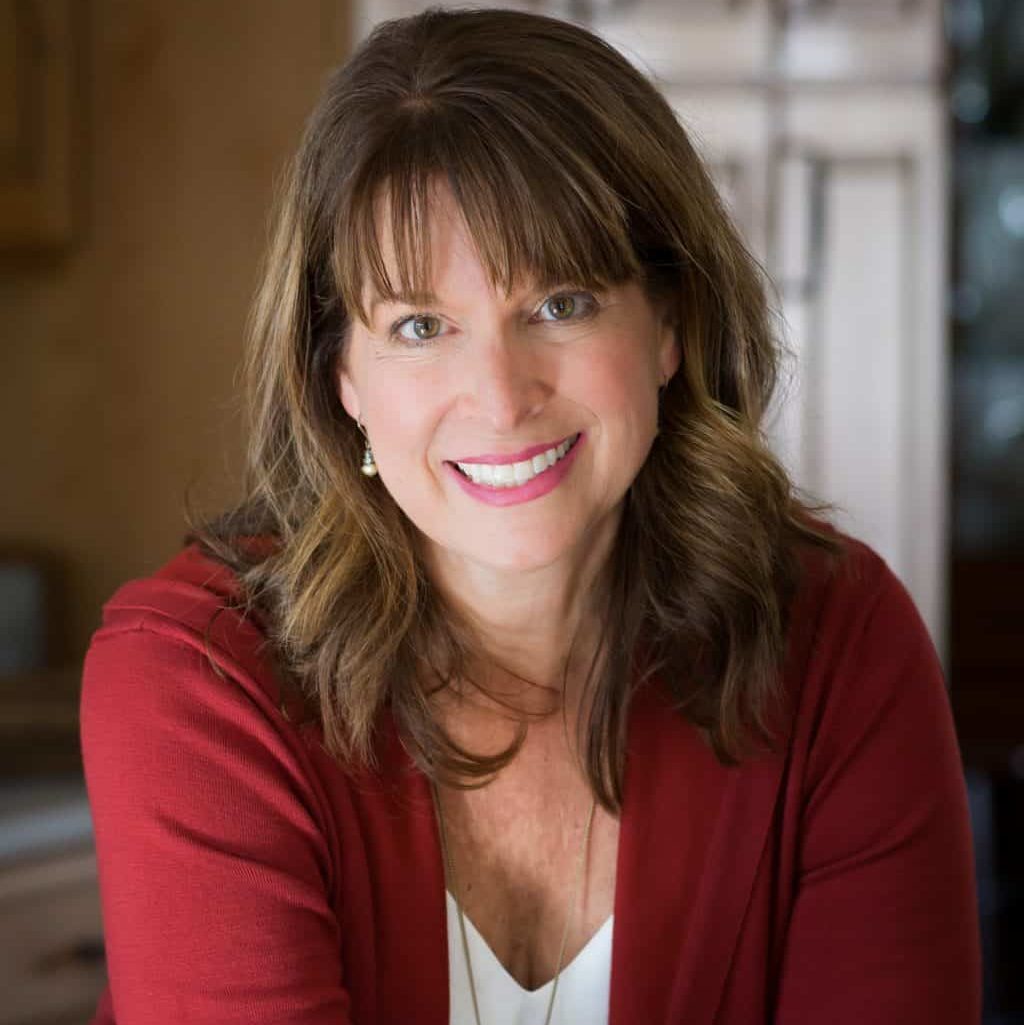 About Kathleen Pope
Recipe Innovator | Food Photographer | Food Writer
Hi, I'm Kathleen Pope. Here at The Fresh Cooky you will find easy, mostly from-scratch, trusted recipes for all occasions. From speedy dinners to tasty desserts, with easy step-by-step instructions. I am here to help teach you how to make mouthwatering recipes without spending hours in the kitchen. Read more about Kathleen here.