Crispy Oven Roasted Sweet Potatoes and Broccoli
As an Amazon Associate, I earn from qualifying purchases. Please read my disclosure policy.
Beautifully seasoned and oven roasted to perfection, these healthy crispy Roasted Sweet Potatoes and Broccoli recipe is a game-changer for weeknight meals. The prep is quick, and it only takes about 30 minutes for the veggies to roast.
Healthy oven roasted sweet potatoes and broccoli that cook at the same time and aren't mushy?! Who knew it was possible? Pair these roasted vegetables with my cheesesteak sandwich or my crockpot London Broil.
Eager for more quick and simple veggie side recipes with little prep time? Try my Roasted Brussels Sprouts with Honey Balsamic Glaze, Air Fryer Sweet Potatoes, or this incredible Air Fryer Asparagus Recipe.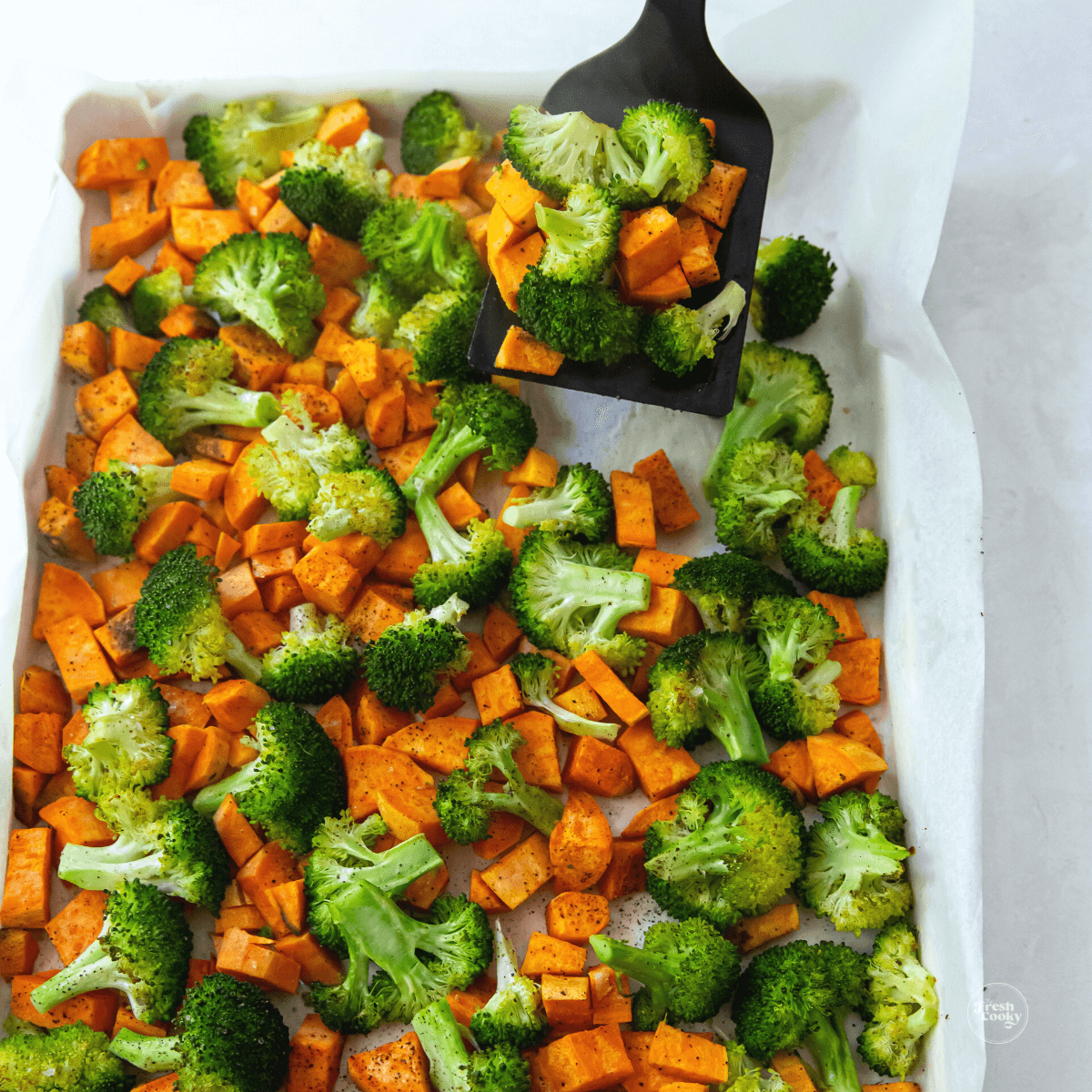 Why You Will Love this Recipe
Simple ingredients | Only seven simple ingredients make this recipe. Most likely, you already have all the basic seasonings in your pantry.
Low-Carb Meal | This broccoli sweet potato roast is a great low carb side dish that is quick and easy to make!
Easy Prep | All that's required for this roasted vegetable prep is to wash and chop the veggies, then toss them in oil and seasonings. Depending on your skill in the kitchen, it should take you less than 10 minutes before popping the baking sheet full of seasoned veggies into the oven.
Sweet potatoes roasted with broccoli is possibly my favorite way to cook them. As opposed to steaming or frying, baking enhances the earthy and naturally sweet notes in the veggies. Even better, this dish is highly versatile— top a pasta, salad, or grain bowl, with these crispy roasted sweet potatoes and broccoli.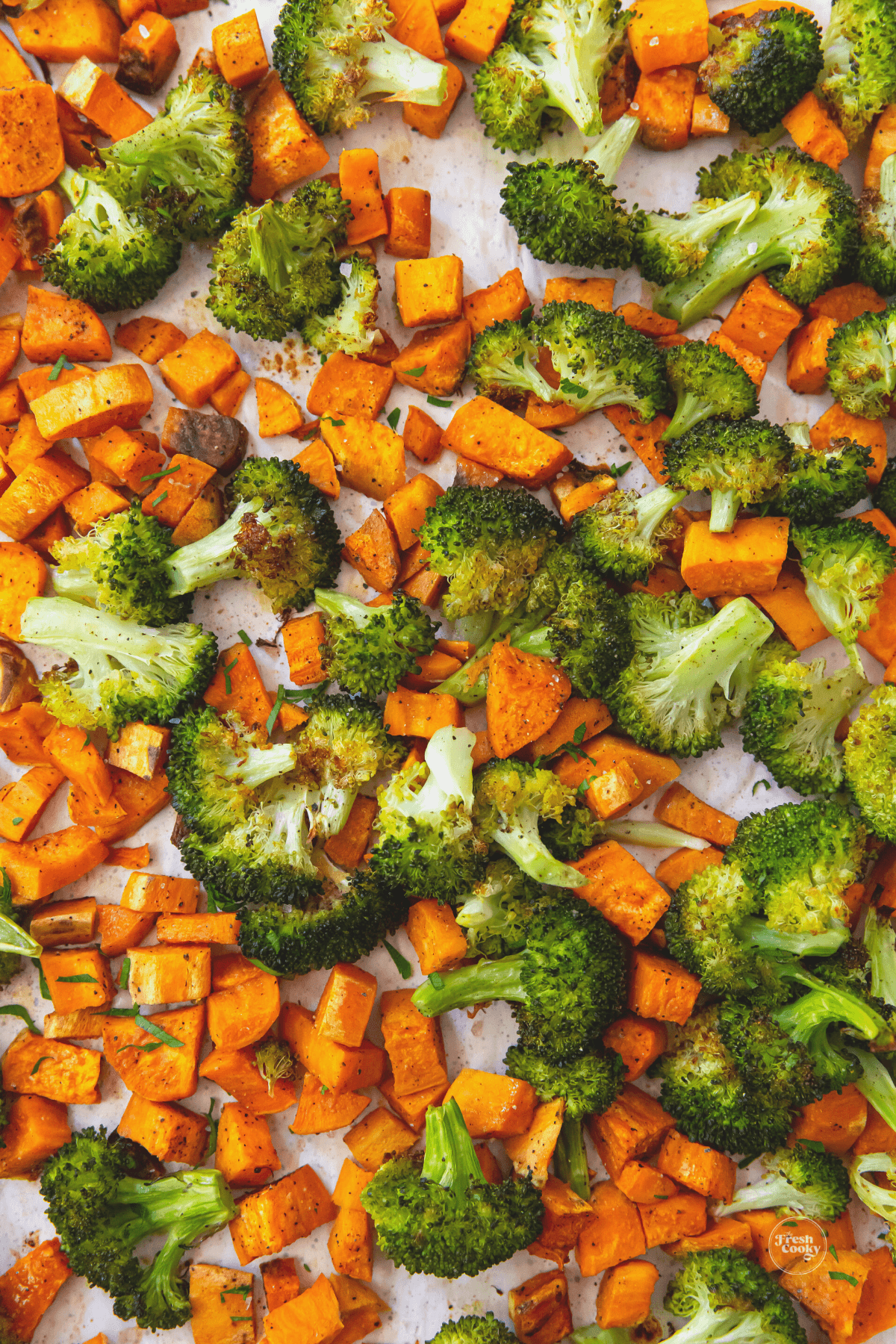 Healthy Twist
Vitamin and Mineral-Packed | Both broccoli and sweet potatoes are considered superfoods. For example, broccoli and sweet potatoes are high in antioxidants and fiber.
Gluten-Free Recipe | These delicious roasted veggies are entirely gluten free. Just be sure to check the labels of the seasonings you use.
Key Ingredients
Ingredients, directions and nutritional information in the printable recipe card at the end of the post.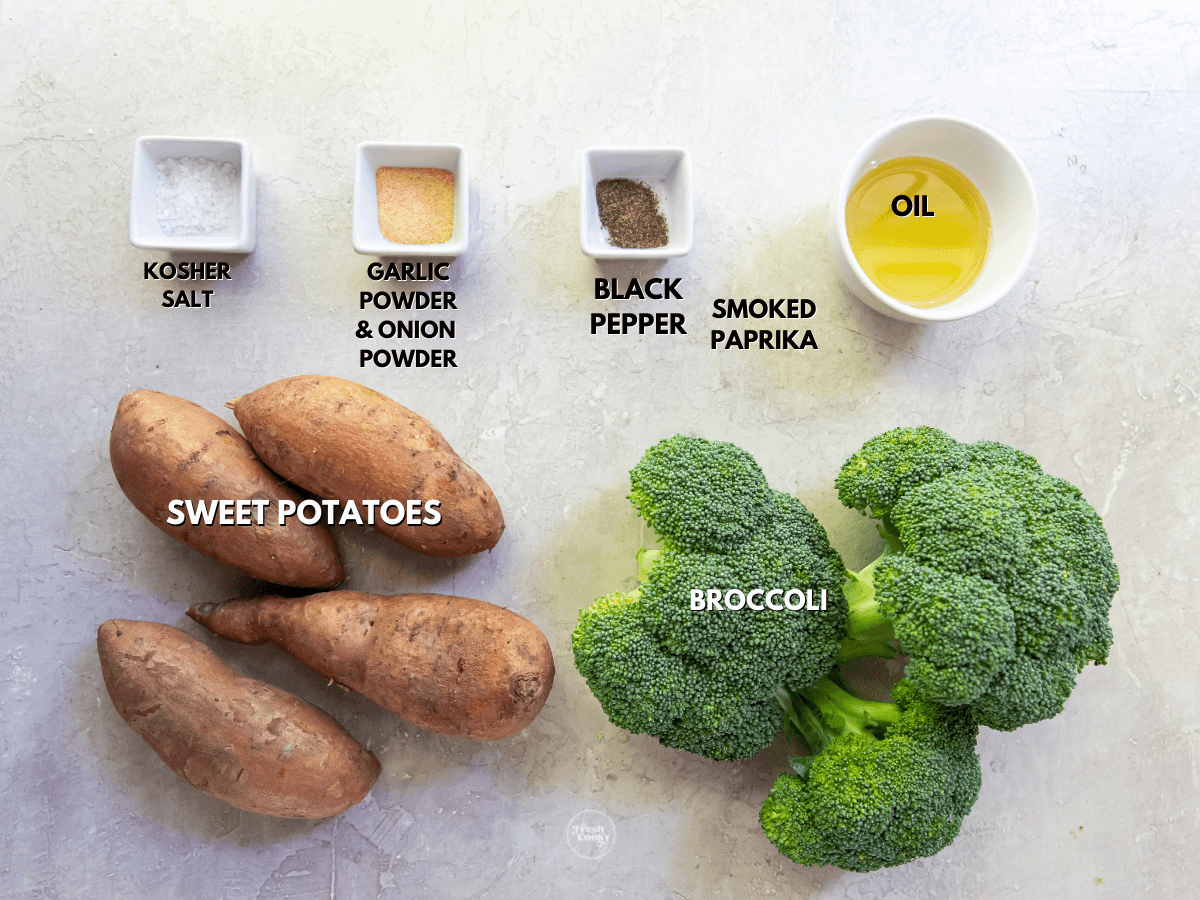 Sweet potatoes | The recipe calls for two to four potatoes. At the store, use your best judgment based on their size. For instance, if you choose large sweet potatoes, you'll need fewer than if you choose smaller ones.
Broccoli | Bitter-sweet broccoli works beautifully with sugary sweet potatoes. I do not recommend using frozen broccoli when baking with fresh sweet potatoes.
Oil | I like to use avocado oil for this recipe. It is mild in flavor and gives the veggies a crispy outside. However, you may use any medium-heat oil you prefer, olive oil works great too!
Salt and pepper | Some kosher salt and freshly ground black pepper add essential flavors to these roasted veggies.
Garlic powder | Bring subtle spice to the vegetables with a sprinkle of organic garlic powder.
Onion powder | Onion powder lends sweet and savory notes that complement the broccoli and sweet potato flavor.
Smoked paprika | Add a little richness and smokiness with a dash of paprika.
Because this recipe stores well, you can follow the recipe as directed and refrigerate the leftover veggies for another night or lunch the next day. But if you're not a leftover person, cut all the measurements in half to serve just two people.
For example, you might only need one medium-sized sweet potato, half a head of broccoli, and half the amount of each seasoning.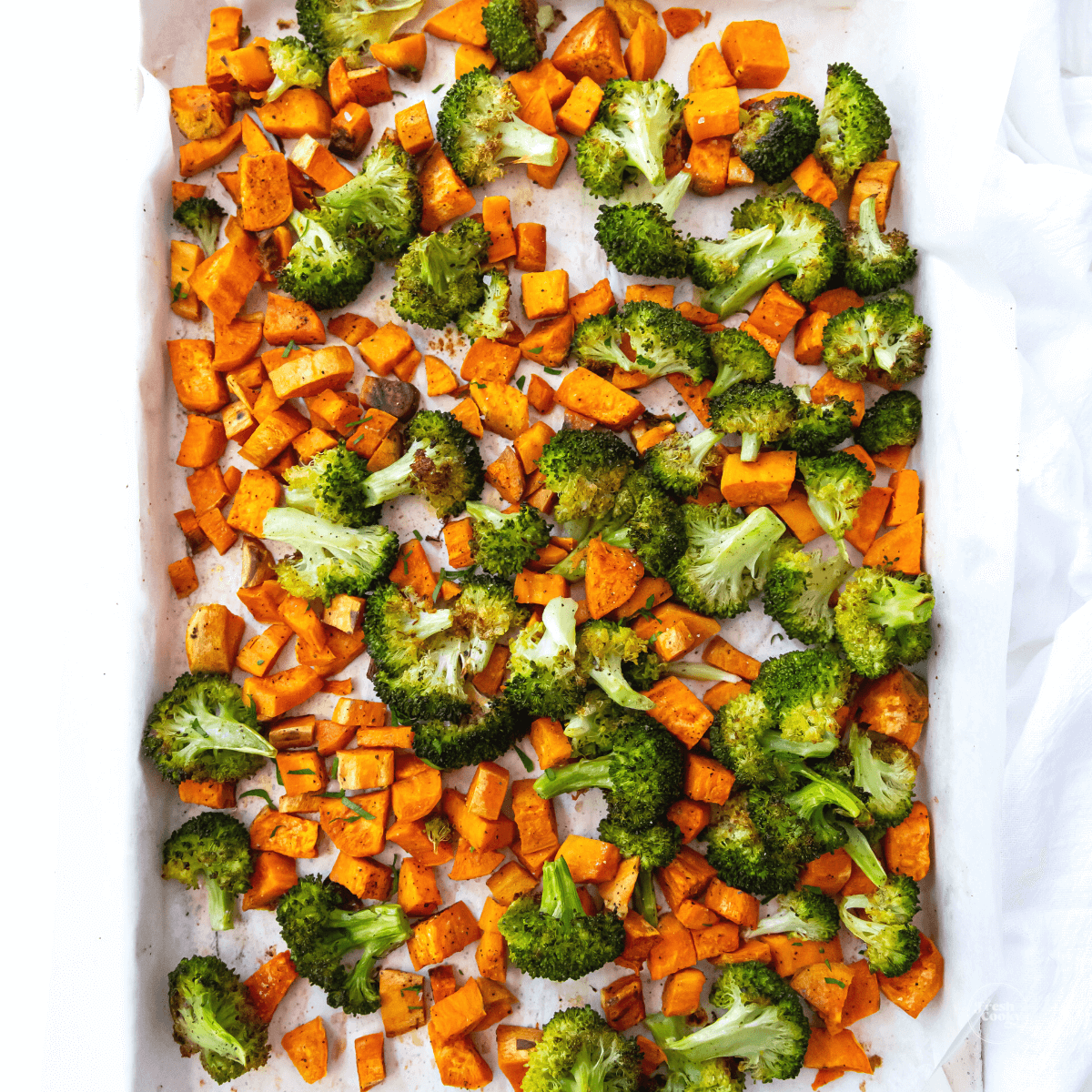 How to Make the Perfect Roasted Sweet Potatoes and Broccoli
Are you ready to make the best roasted vegetables you've ever tasted? Let's get started! Begin by preheating the oven to 425 degrees F and place a half-sheet pan in the oven. Heating the pan before cooking the vegetables gives them a little extra crispiness! Depending on how many veggies you have, you might need to split the recipe between two pans.
Step 1 | Prepare the Veggies
While the oven preheats, prepare the sweet potatoes and broccoli. Wash and peel the sweet potatoes and slice them into 1-inch cubes. Then, place them into a large mixing bowl.
Next, wash and chop the broccoli into bite-sized florets and add them to the mixing bowl.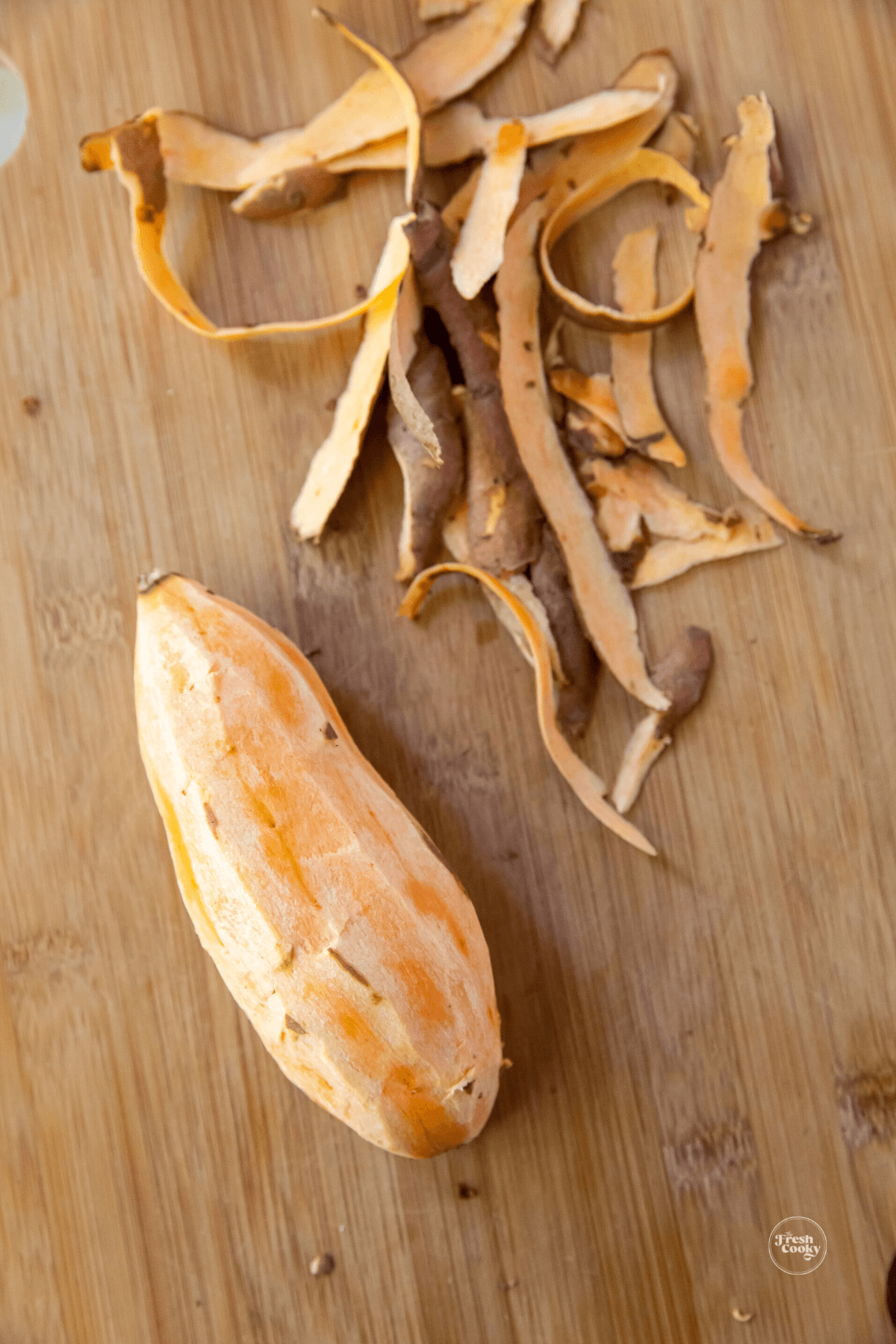 Step 2 | Measure & Mix the Seasonings
Now, for the seasonings! Gently toss the veggies with your chosen oil, kosher salt, freshly ground black pepper, garlic powder, onion powder, and smoked paprika.
Use a large, slotted spoon or a pair of clean hands to mix everything together. Once the vegetables are evenly coated with the tasty seasonings and oil, you can proceed with the recipe.
Step 3 | Bake the Vegetable Mix
Next, carefully remove the baking sheet from the oven. If you'd like, line the baking sheet with parchment paper for easier cleanup. Then, evenly spread the broccoli and sweet potatoes in a single layer on the baking sheet.
Finally, roast the sweet potatoes and broccoli for about half an hour. To ensure the veggies cook evenly, rotate the sheet pan halfway through the cooking time and toss the veggies with a spatula.
And you've completed the recipe! Remove the roasted sweet potatoes and broccoli from the oven and serve right away!
Recommended Equipment
Sheet Pan | A quality sheet pan, that doesn't warp under high heats is important! These USA sheet pans are my favorite brand!
Sharp Knife | This Wusthof knife is my go-to knife, my favorite!
Prep Bowl | I love using this stainless steel prep bowl, cleans up easy and great for tossing.
Variations & Substitutions
What's great about this basic recipe is that you can customize it all you want. Here are some fun ideas on how you can switch up this recipe to make it your own:
Make it fancy for the holidays. Drizzle the veggies with sweet maple syrup or balsamic glaze— YUM!
Broccoli Sheet Pan Meal | Slice your favorite sausages, kielbasa or brats and roast with the vegetables.
Roast some delicious brussels sprouts instead of broccoli. The bitter Brussels are an incredible contrast to the sugary sweet potatoes, trim, wash and halve.
Swap the sweet potatoes for butternut squash or carrots. Or use a combination of the two!
Switch up the seasonings. For instance, replace the paprika with thyme and a sprinkle of lemon juice. Or spice things up with cayenne pepper and chili powder.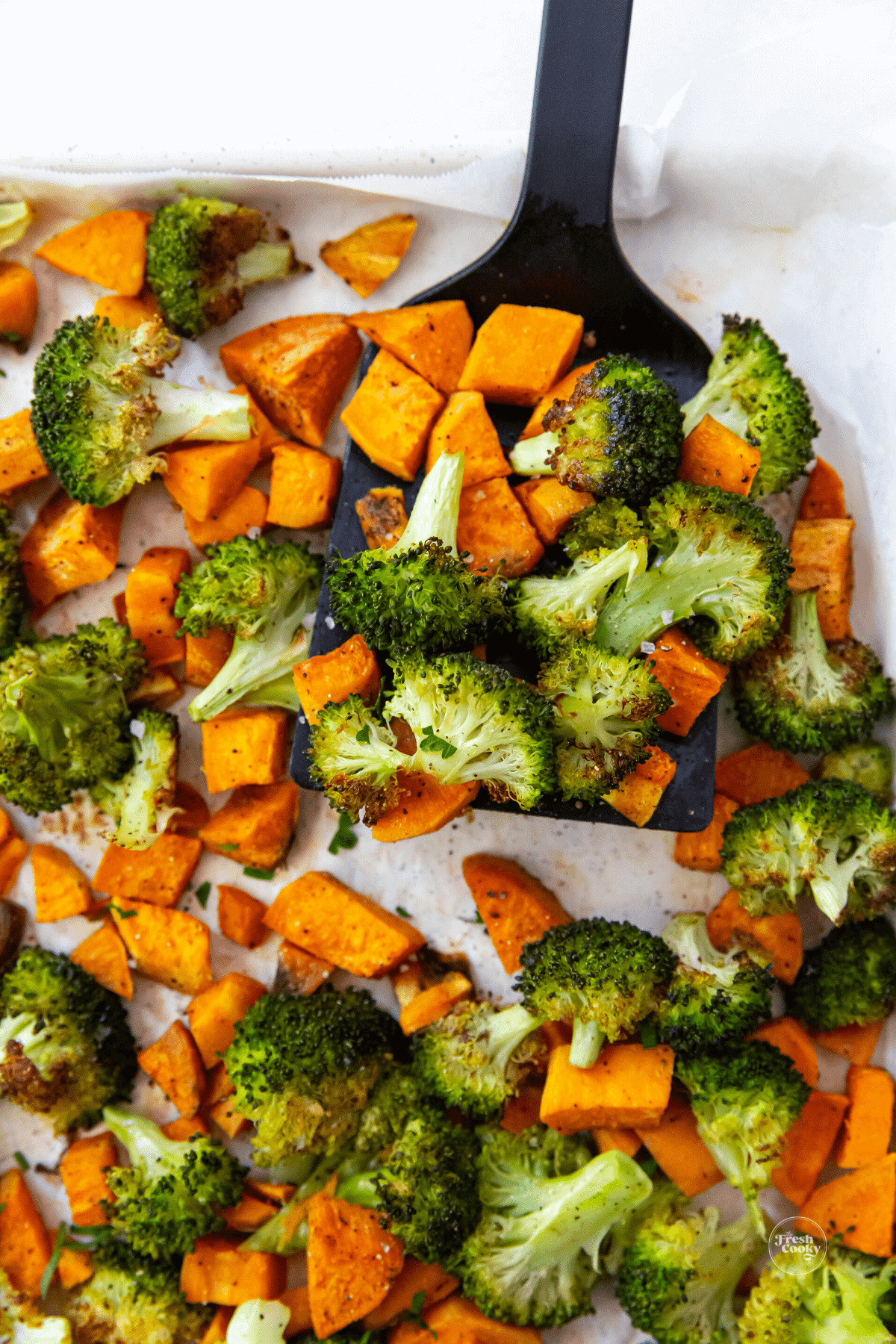 Fresh Tips
You'll know this dish is done roasting when you can easily pierce the sweet potatoes with a fork, and the broccoli is tender yet crisp. You can also look for that beautiful golden brown color around the edges.
Be sure to cut the veggies into similar sizes, so they cook more evenly.
BONUS TIP – Save the broccoli stems you would typically discard. Place them in a freezer-safe bag, along with other vegetable scraps you collect throughout the week. When the bag is packed full of unwanted veggie pieces, boil them down to make a homemade vegetable broth—Waste not, want not!
Storage Tips
Refrigerate for Later | If you have some leftovers of these tasty roasted vegetables, you can store them in an airtight container in the refrigerator for about two to three days.
To reheat, warm them in the microwave for a couple of minutes or bake them in the oven at 350 degrees F until heated through.
Make-Ahead | Add this recipe to your meal prep list because it's super simple to make ahead of time. You can complete the recipe all the way through, store it in the refrigerator, and reheat it when you're ready. Or you may prep all the veggies, toss them in the oil and seasonings, and store them in the refrigerator to roast later in the day.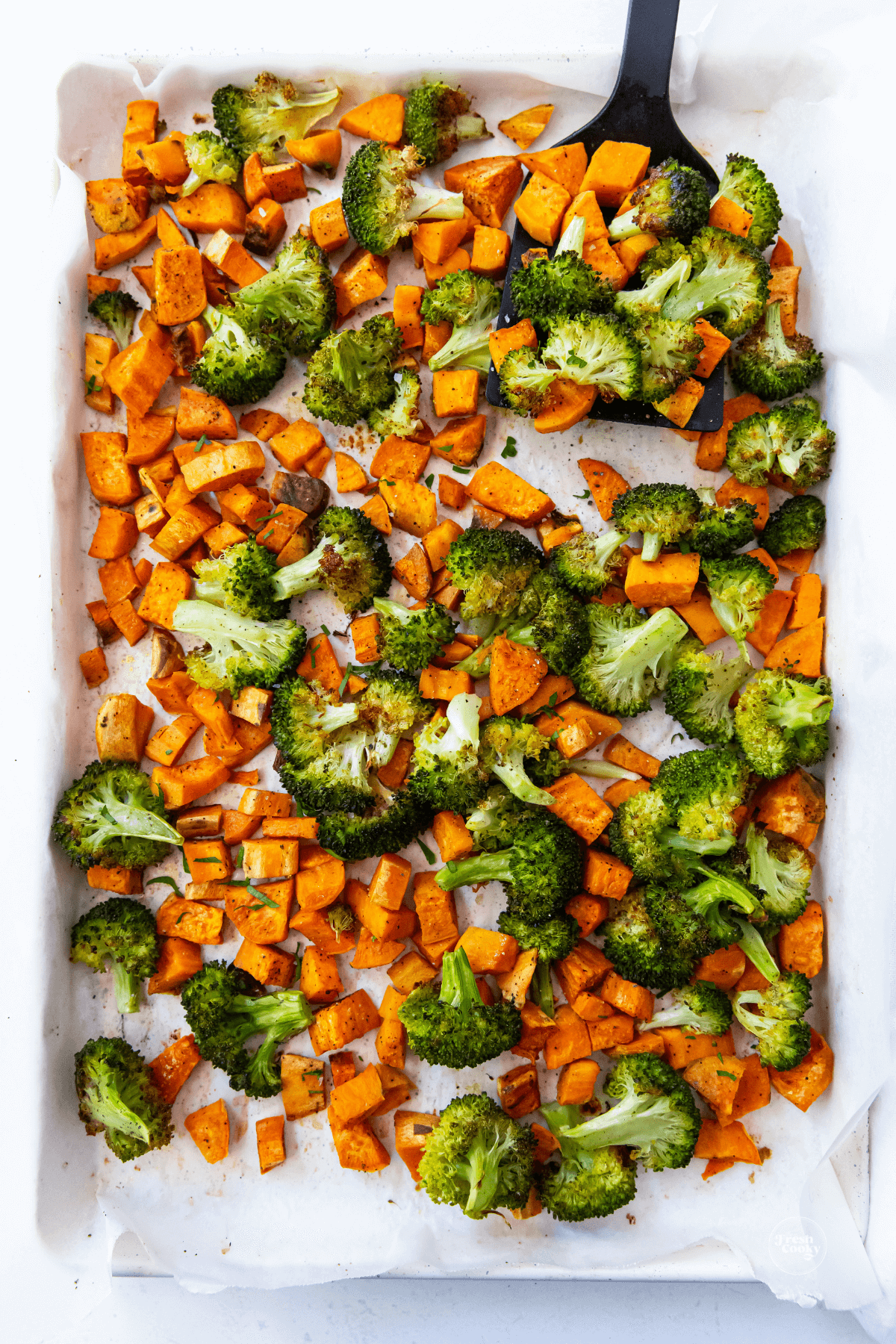 Frequently Asked Questions
What oil produces crisper veggies?
When roasting vegetables, it's best to use a medium-heat oil. You also want the oil to be milder in taste so the pan roasted broccoli and sweet potato flavors really shine through. For example, avocado and vegetable oil work well for roasting and are milder than other oils. Olive oil and coconut oil have more robust tastes but roast veggies nicely.
Is there a difference in taste when using organic sweet potatoes and broccoli?
Most people find there is a difference in taste when using organic produce. Organic veggies and fruits are often more flavorful than other produce. The additional techniques used to grow non-organic produce are believed to lessen the authentic flavors of the vegetable, fruit, or grain. So, for the best flavor, use organic broccoli and sweet potatoes. However, it is certainly not necessary.
Is it safe to leave the skins on the sweet potatoes?
If you'd like, you can skip peeling the sweet potatoes. The scrubbed clean skins are 100% safe and contain added vitamins and minerals.
How to Roast Sweet Potatoes in an Air Fryer
Preheat the air fryer to 400 degrees F and then place the oil tossed and seasoned sweet potatoes and broccoli in a single layer in the air fryer. Roast for 10-12 minutes tossing half way through. You might need to do in batches, depending on the size of your air fryer.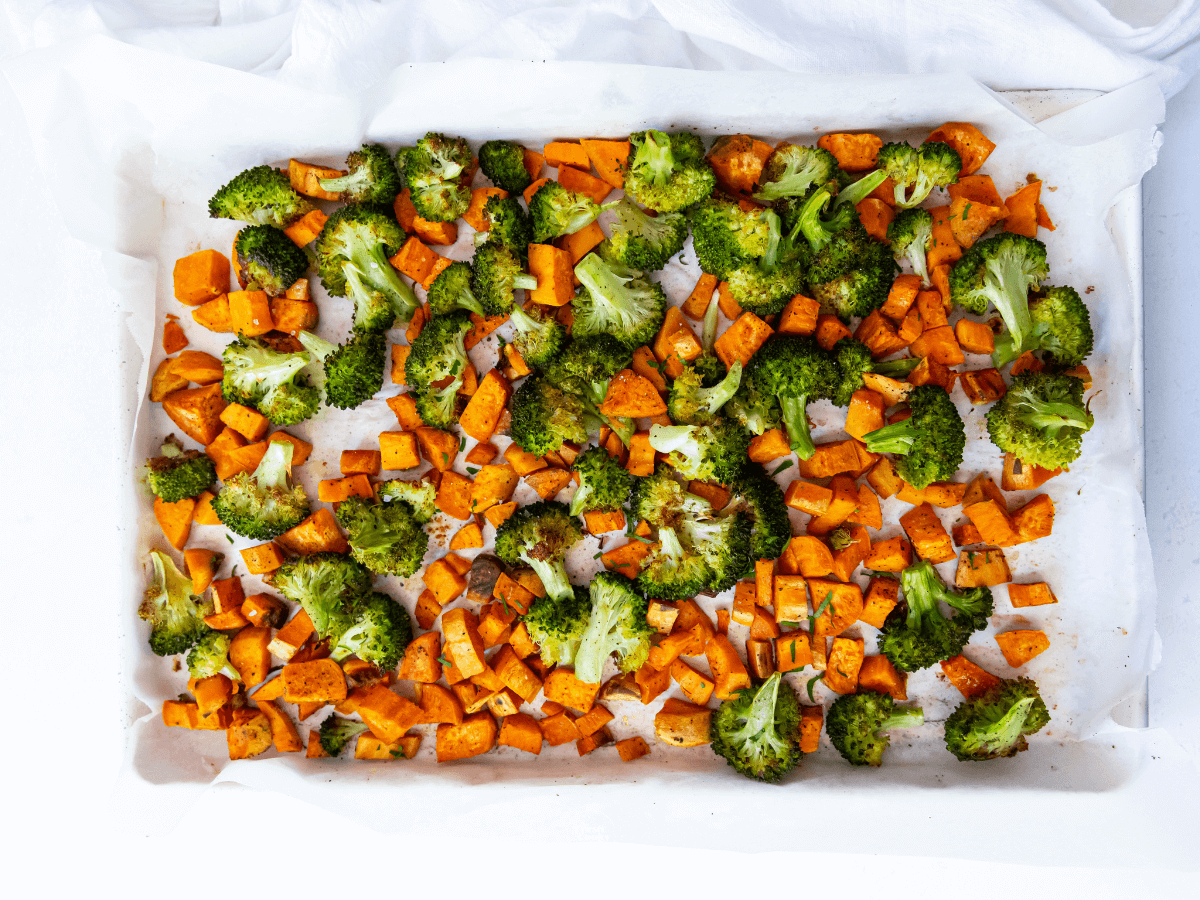 What to serve with roasted sweet potatoes and broccoli
What else to serve with Oven Roasted Broccoli?
Or keep it classic and serve them as a side to a mouth-watering entrée, such as:
Remember to place the baking sheet in the oven as it preheats and you prep the veggies. It is the secret to extra crispy roasted broccoli and sweet potatoes!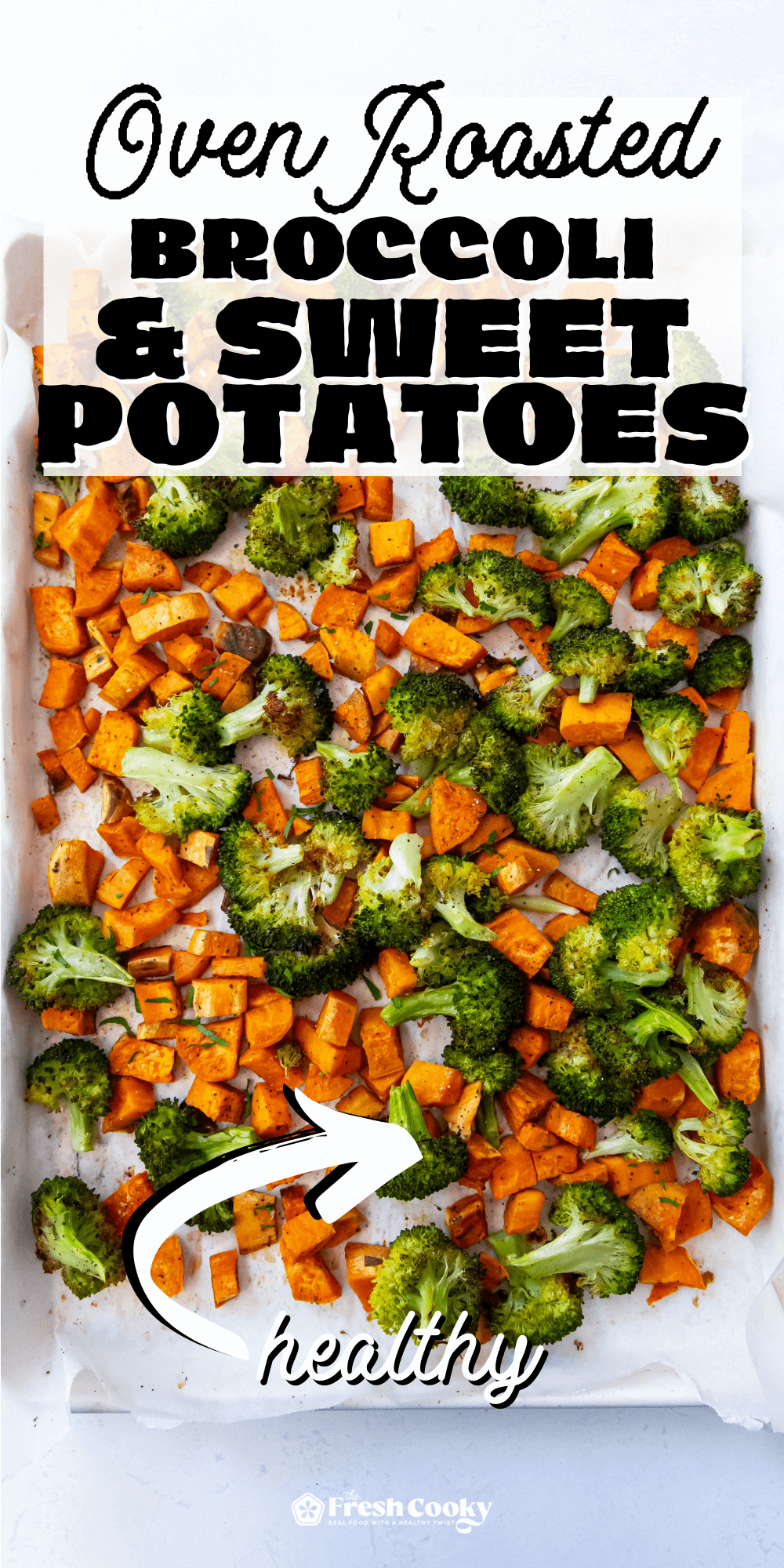 I hope you loved this Roasted Broccoli & Sweet Potatoes — if you did, would you share your creation on Instagram, Facebook and Pinterest? And be sure to comment below!
Like this recipe?
Don't forget to give it a ⭐️⭐️⭐️⭐️⭐️ star rating and comment below the recipe!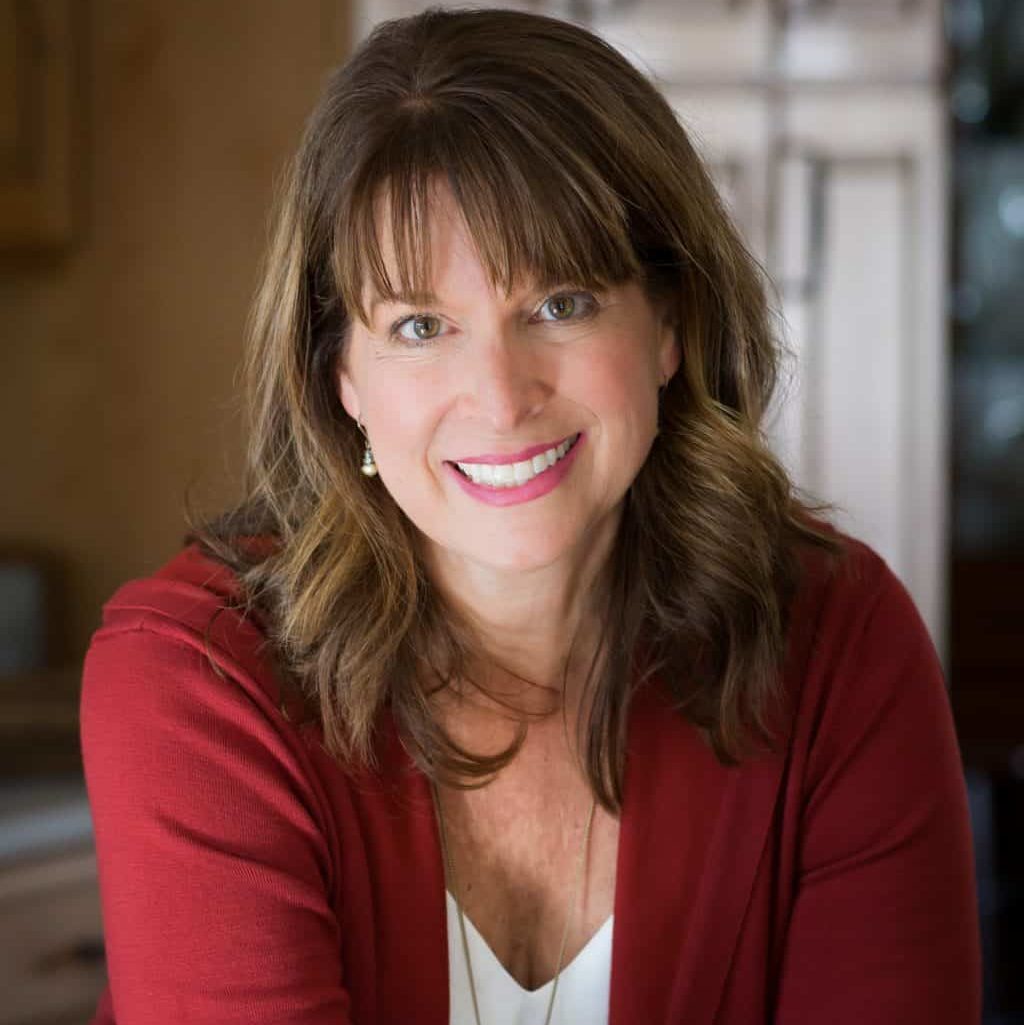 About Kathleen Pope
Recipe Innovator | Food Photographer | Food Writer
Hi, I'm Kathleen Pope. Here at The Fresh Cooky you will find easy, mostly from-scratch, trusted recipes for all occasions. From speedy dinners to tasty desserts, with easy step-by-step instructions. I am here to help teach you how to make mouthwatering recipes without spending hours in the kitchen. Read more about Kathleen here.