Olive Garden Crock Pot Chicken
As an Amazon Associate, I earn from qualifying purchases. Please read my disclosure policy.
This copycat Olive Garden Chicken crock pot chicken is juicy, tender, and packed with bold and tangy flavors. Made easily in your crock pot or Instant Pot and with only 5 minutes prep, you really can't beat the convenience! Indulge with this absolutely decadent, succulent chicken pasta dish full of true Italian flavors and let the slow cooker do the work for you!
For a meal that's easy to prep, cook, and serve, look no further than this Olive Garden™ Chicken in the crock pot that you can make right at home. Made with rich, smooth cream cheese and zesty Italian dressing, this recipe is absolutely mouthwatering. Truly a dump and go recipe!
If you love slow cooker or Instant Pot meals, you will love these other reader favorites; like my Instant Pot Bow Tie Pasta, this meal prep favorite Healthier Crack Chicken or my barbecue pulled pork recipe and this fall apart tender Barbacoa Beef recipe.
Did you know that January is National Slow Cooker Month! I have joined other bloggers to bring you fresh new recipes this week, be sure to check out all the great recipes at the end of this post.
These three slow cooker recipes are on repeat in our house! Be sure to try them all, starting with this family favorite! Plus Crock Pot London Broil and Crockpot Ranch Chicken, but if you are in love with all things Olive Garden, then try this Olive Garden Steak Alfredo!
This crock pot dinner is so easy, in fact, that you may never buy it in the restaurant again! Plus, it's a simple task to make a low-fat, low-sodium, or low-carb version of this Olive Garden chicken dish.
Ingredients
The full list of ingredients and instructions are in the printable recipe card at the bottom of this post.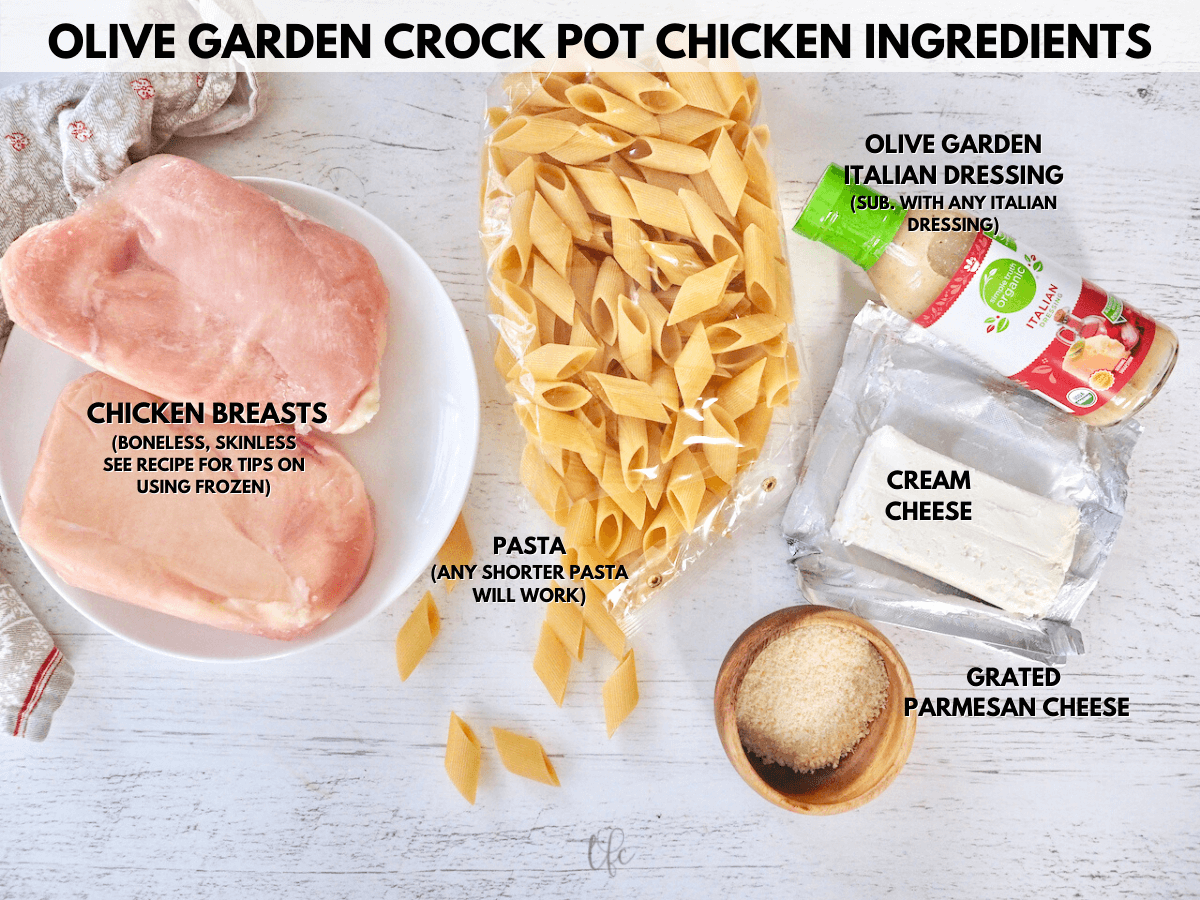 Italian Dressing | For a true copy of the Olive Garden chicken, use Olive Garden dressing. But any dressing will do the trick! I have used Brianna's Italian Salad Dressing, Trader Joe's Romano Caesar and Simply Organic Italian. Olive Garden dressing while delish, is high in sodium and has high fructose corn syrup, which I am not a fan of.
Chicken | You want approximately 2 pounds, which is typically 3-4 boneless, skinless breasts.
Parmesan Cheese | A microplane zester creates tiny, delicate shreds which melt seamlessly into your pasta.
Pasta | The original Olive Garden chicken dish is served with pasta. For this recipe, I used a short pasta, like a penne pasta, any pasta will work — it grabs all that delicious sauce so there's plenty in every bite.
Black Pepper | Ground fresh black pepper on your dish as desired.
Cream Cheese | You can easily use Neufchatel cheese instead of full-fat cream cheese in this Olive Garden copycat recipe.
Instructions to Make Olive Garden Chicken in Crock Pot
Place the meat in the bottom of your slow cooker, then cover with Italian dressing and freshly grated parmesan. If desired, add some ground black pepper as well.
Add a block of cream cheese, cover, and cook on Low for 4-5 hours, if cooking on high, check chicken after 2 ½-3 hours. See tips for making this with frozen chicken breasts.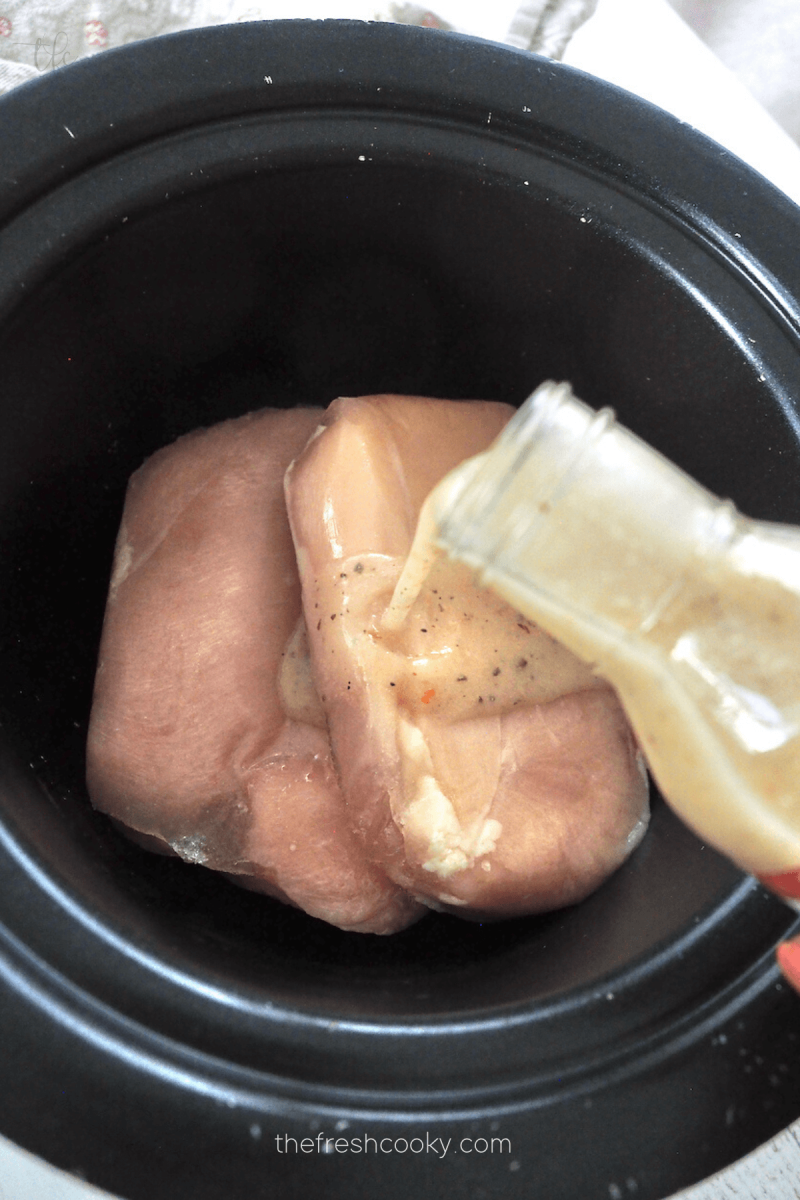 During the last hour of cooking, bring a pot of water to boil on the stove and cook your choice of pasta.
Shred the Olive Garden chicken once complete, then return it to the crockpot and stir in the pasta. Sprinkle the whole thing with parmesan cheese and serve! If desired, garnish with some fresh chopped thyme. YUM!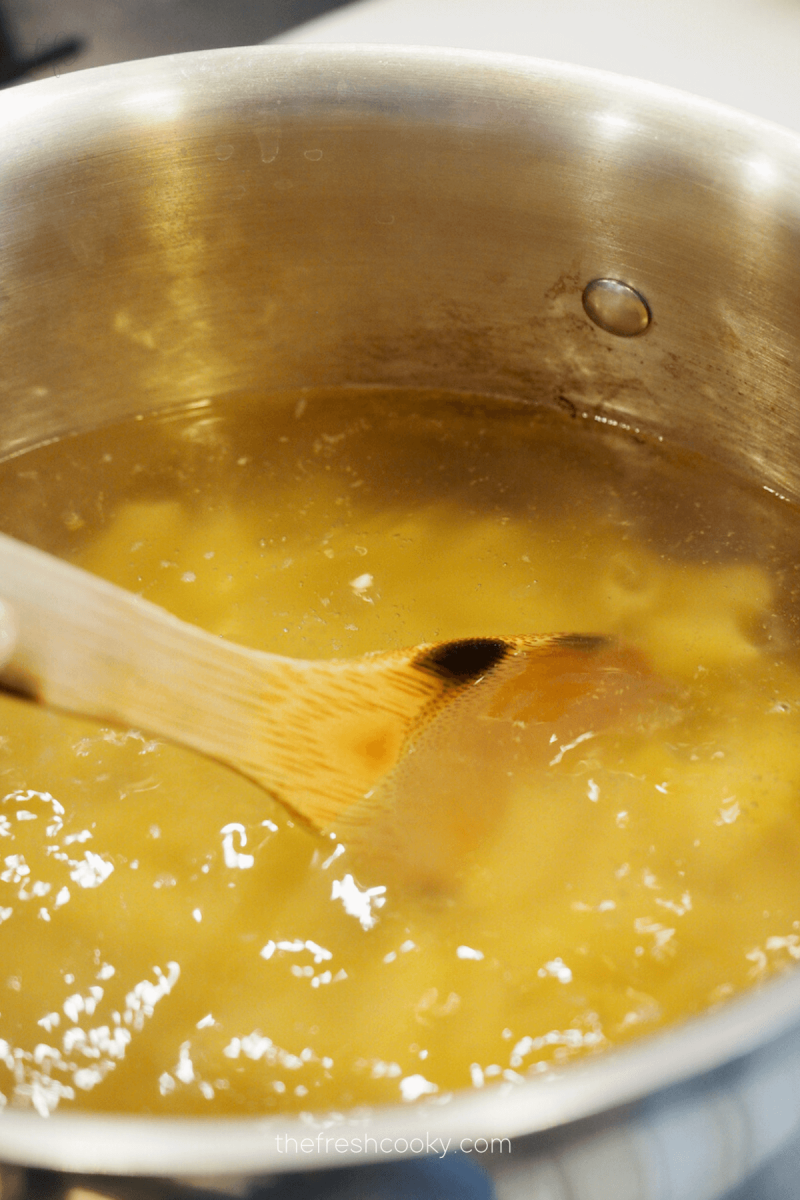 TFC TOP TIP | Cooking chicken in a slow cooker longer than 4 hours typically results in dry, chewy chicken – yuck! Nobody wants dry chicken. While the timing isn't terribly convenient, if I am around all day, I don't mind starting this a little later in the day. I have found the sweet spot is around 4 hours!
Olive Garden Chicken Pasta Instant Pot Instructions
Chicken recipes shine when made in the Instant Pot, here are some quick tips for Olive Garden Chicken Pasta Instant Pot style.
Pour in half the bottle of dressing, then add the chicken breasts, finishing with the rest of the bottle of Italian dressing. Lay the block of cream cheese on top of the chicken breasts.
Close the lid, seal and set on high pressure for 10 minutes with 6-8 minutes of natural pressure release. Release any leftover steam and remove the chicken to a cutting board, shred easily with two forks, then stir back into the mixture. Now is a great time to cook your pasta.
Remove chicken, shred or cut and return to Instant Pot, add cooked pasta and all of the parmesan cheese; stir and serve immediately.
Variations
It's very easy to swap out the ingredients for healthier options. You can use a low-sodium Italian dressing, swap out cream cheese for plain greek yogurt or Neufchatel cheese, and/or serve with a whole-grain pasta or high protein pasta.
You can use another sharp cheese instead of parmesan if you wish. Romano and asiago are your best substitutes, as they are also dry and have a similar salty flavor.
Penne pasta can be swapped out with another type of short noodle such as rigatoni, cavatappi, or fusilli, but honestly spaghetti works great too. Bottom line, use your favorite pasta or what you have on hand!
Fresh Tips
You can quickly thaw your poultry in the microwave by gradually defrosting one minute at a time, or in a bath of warm water.
Or you can cook them frozen! See my tips below for the best practices.
This recipe very easily cuts in half for smaller family meals. But this is great for meal prepping. Leftovers can be stored in the refrigerator for up to 4 days and frozen up to 3 months in an airtight container.
Frequently Asked Questions
How can I keep my chicken from getting dry in the crock pot?
The best way to keep your poultry moist is by cooking on low instead of high, and keeping your time to 4 hours if possible.
Can you put uncooked chicken in the slow cooker?
You can! It's always important, however, to check the internal temperature of the meat when it's done cooking. You want the temperature to reach 165 degrees F to ensure that it is safe to eat. But if it shreds easily, it is done.
What is the best way to shred chicken?
It shreds easiest while it's warm, so be sure to shred before refrigerating. You can use two forks to shred, use your hands, or even use a stand mixer after tearing into larger chunks and placing them in a deep mixing bowl. I personally think it's easiest to shred using two forks.
How Long to Cook Frozen Chicken in the Crock Pot?
I typically use frozen boneless, skinless chicken breasts when making crock pot dinners. If you are around, frozen chicken will be ready when cooked on low in the crockpot for 5-6 hours, but read on if you need it to hang out a bit longer.

Start with frozen chicken when you know you are going to be gone for 8 or more hours. You are less likely to have dry chicken, by starting with frozen chicken in the slow cooker. Heading out to work, or errands, or just don't want to be bothered with babysitting your crock pot all day? This slow cooker ranch chicken recipe is for you! After-all, that is the beauty of the crock pot isn't it!?

My recommendation is to start with frozen chicken, add your ingredients and set on low for 6-8 hours with it defaulting to warm after it's done. Then all you need to do when you get home is shred the chicken and cook your pasta! PRESTO! Dinner!

Recommended Tools
4 qt or larger crockpot | My favorite slow cooker is this one from All-Clad as it's aluminum liner can go from stovetop to slow cooker, this is especially handy for recipes that need browned meat, like my Slow Cooker Beer Beef Stew or Firecracker Chili. But it's pricey, I also recommend this more budget friendly Cuisinart.
Flexible Cutting Boards | These flexible cutting boards are super handy when prepping ingredients to slide into a pot. I like them because they are BPA Free.
What's the difference between a slow cooker and a crock pot?
Nothing really, Crock Pot is simply the brand name of a slow cooker, which is why we use it interchangeably.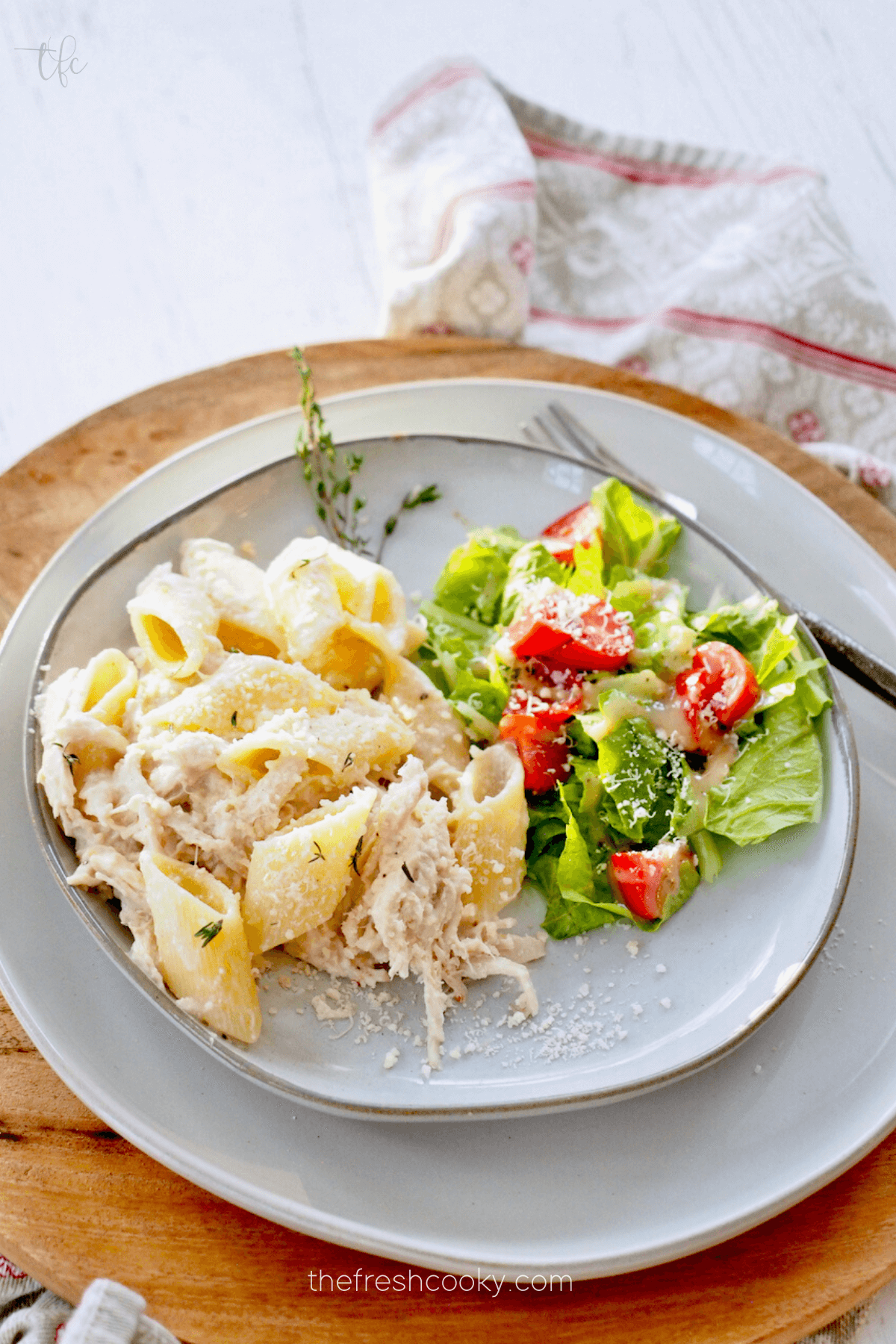 What to serve with Olive Garden Crock Pot Chicken Pasta
My Olive Garden crock pot chicken pasta recipe goes great with so many sides, but it is especially delicious when served with cheesy garlic bread. Talk about comfort food! And how about starting off with a bright and delicious drink, this Tangerine and Thyme Gin & Tonic pairs beautifully!
If you want to feel a little less guilty about your dinner, however, you can also serve this dish with a fresh, crisp salad. My collection of summer salad recipes has a ton of great options to choose from!
More Copycat Recipes You Will Love
Be sure to finish your meal off with a delicious, no-bake, make ahead dessert, this Traditional Tiramisu is the best!
Love It? Pin It!
Welcome to our #NationalSlowCookerMonth Celebration!
January is National Slow Cooker Month and this week we are celebrating all things slow cooker! We have delicious recipes from across the country to fill your meal plans with delicious slow cooker recipes!
Like this recipe?
Don't forget to give it a ⭐️⭐️⭐️⭐️⭐️ star rating and comment below the recipe!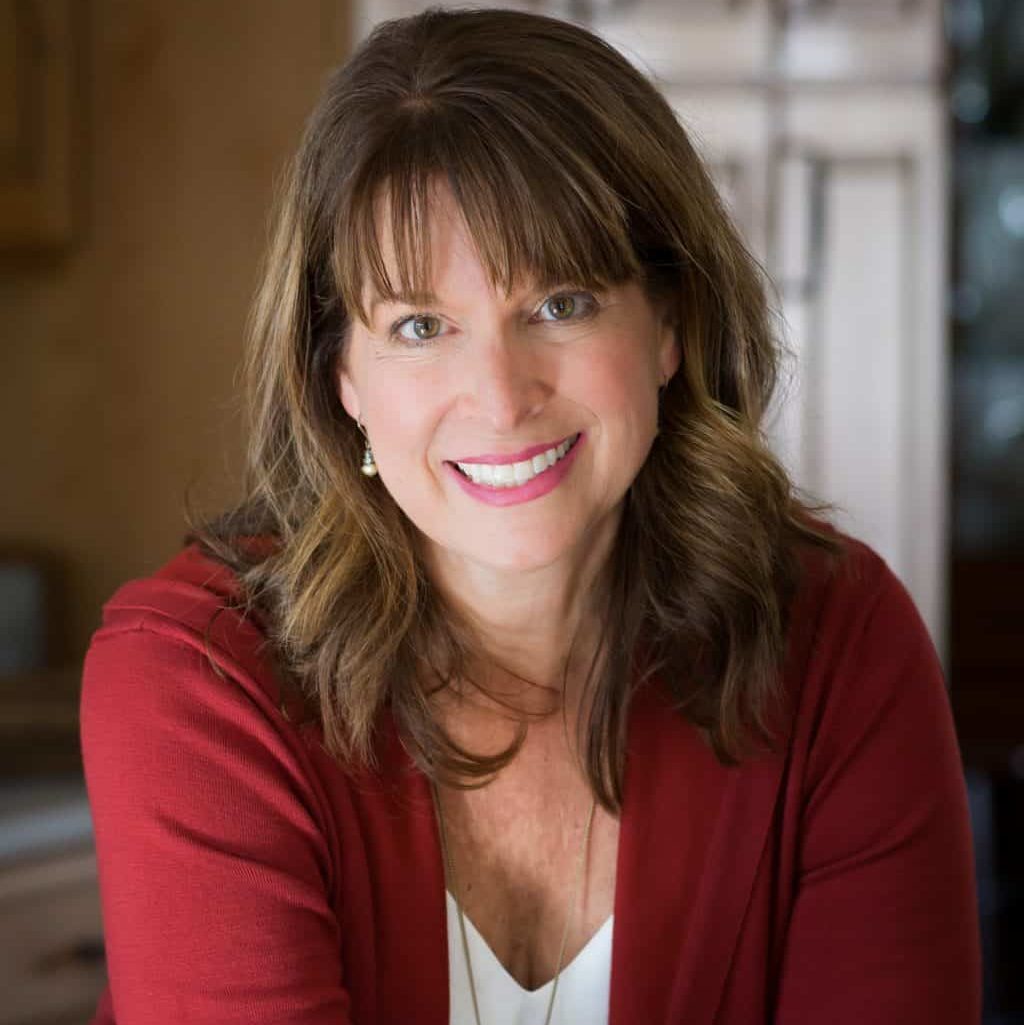 About Kathleen Pope
Recipe Innovator | Food Photographer | Food Writer
Hi, I'm Kathleen Pope. Here at The Fresh Cooky you will find easy, mostly from-scratch, trusted recipes for all occasions. From speedy dinners to tasty desserts, with easy step-by-step instructions. I am here to help teach you how to make mouthwatering recipes without spending hours in the kitchen. Read more about Kathleen here.