Christmas Margarita Recipe (Hibiscus and Pomegranate)
As an Amazon Associate, I earn from qualifying purchases. Please read my disclosure policy.
A festive Christmas margarita recipe! Yes! This hibiscus pomegranate margarita recipe is a lovely twist on the classic margarita and boy is it delicious! With a sweet and tangy combo using homemade syrup it is sure to become a favorite Christmas cocktail. Some might even call it the perfect mistletoe margarita!
If you enjoy this recipe, I know you will love my Cranberry Lemon Drop Martini, or this Festive Pomegranate Punch, this Spiced Holiday Sangria and most definitely this kid-friendly Cranberry Spritzer.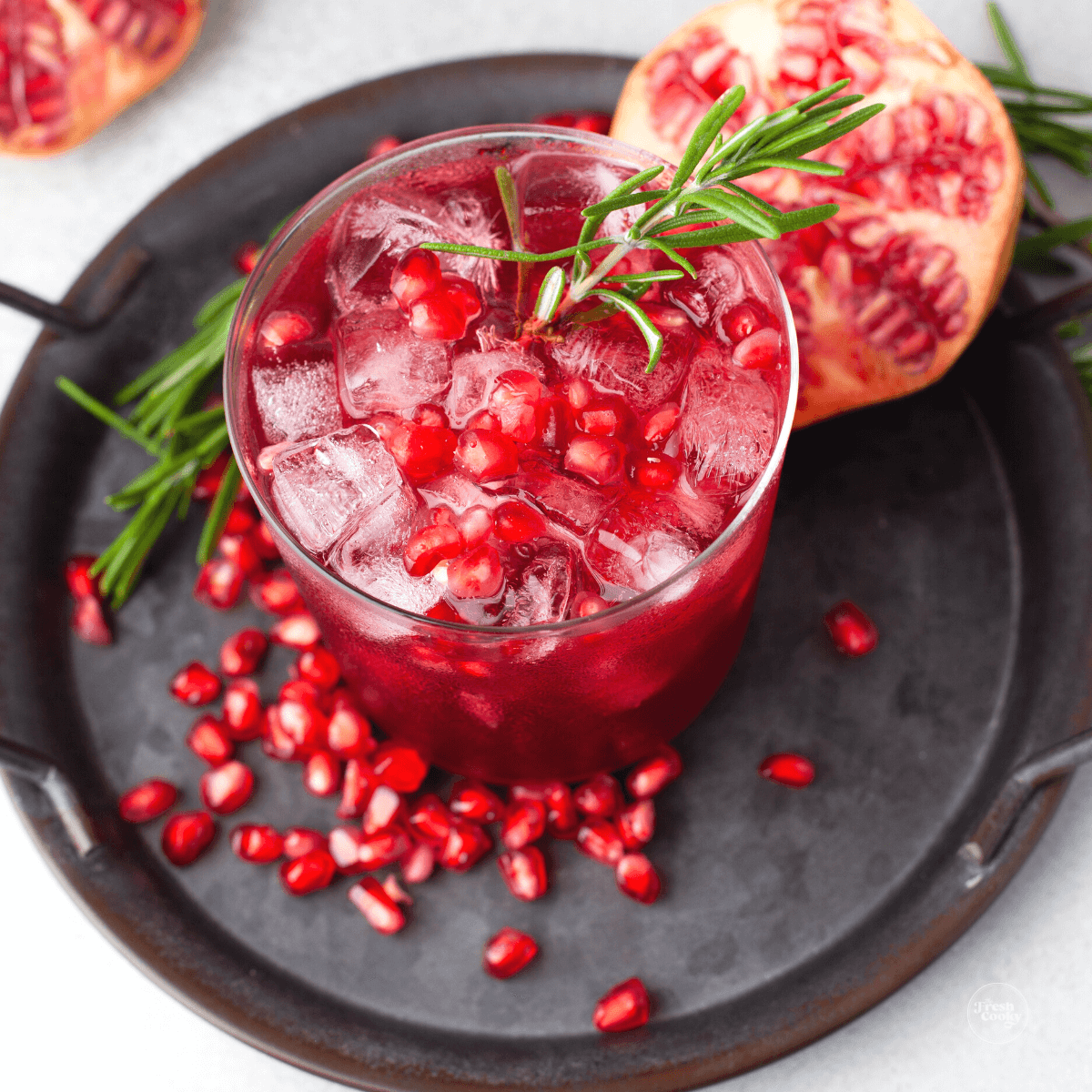 Why You Will Love this Margarita
Easy to Assemble | Make the hibiscus pomegranate syrup a few days beforehand and assemble the cocktail in 5 minutes
Perfect Holiday Cocktail | Nothing glams up a holiday party like a deep red, sparkling signature cocktail.
We all know that a good margarita is hard to beat. However, when searching for a festive holiday cocktail, a traditional margarita doesn't quite fit the bill. Thankfully, this time of year is a perfect time to mix things up – literally!
My Christmas Margarita Recipe takes cues from the classic cocktail and turns it into an irresistible holiday cocktail complete with flavors of the season. It's feels like opening a present early! No matter what you call it; whether a Mistletoe Margarita, Pomegranate Margarita, or Jingle Juice — it's a beautiful margarita everyone will love.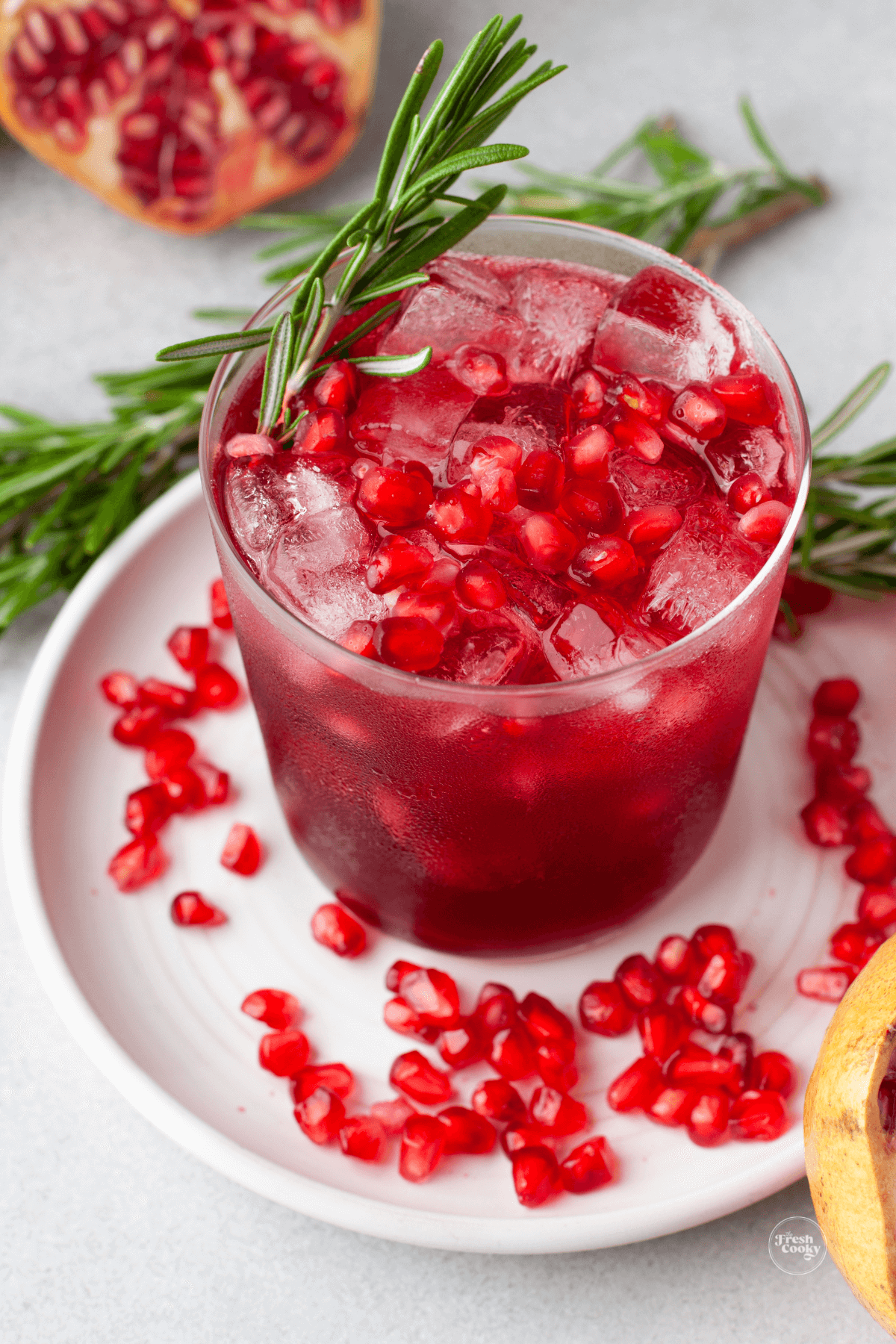 Healthy Twist
One might say this is already a healthy cocktail! Why is that you say? Hibiscus has been shown to be SO GOOD FOR YOU! High in antioxidants, these flowers are amazing, in fact it's the primary ingredient in Tazo's Passion Tea bags. You might also enjoy my Passion Tea Lemonade and this Elderberry Syrup.
Festive appeal isn't the only thing this winter cocktail has going for it! Pomegranate is also known to be antioxidant rich and high in vitamin C. This recipe is most definitely on the NICE list!
Key Ingredients
Ingredients, directions and nutritional information in the printable recipe card at the end of the post.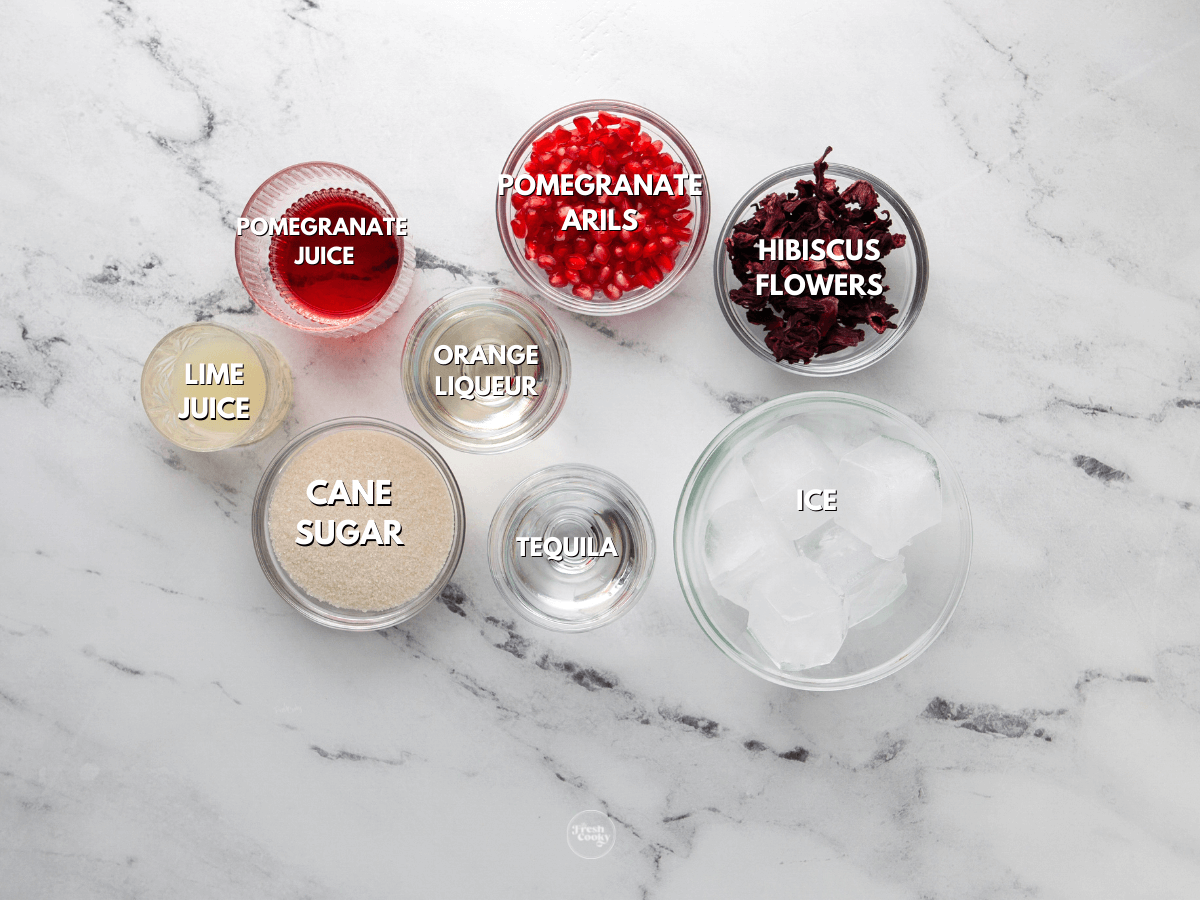 Pomegranate Juice | Make sure it is unsweetened pomegranate juice, it's sweet enough on it's own! I like the Pom brand that you find in the refrigerator section, in our produce area.
Hibiscus Flowers | Dried hibiscus flowers can be found online as well as in grocery stores like Whole Foods and Natural Grocers, try your local health food store.
Sugar | For this syrup, I like to use organic, unbleached cane sugar. However; you can use white sugar too.
Lime Juice | Fresh Squeezed Lime Juice is best to add real lime flavors
Tequila | 100% Agave Tequila, silver
Orange Liquor | Cointreau, Grand Marnier, triple sec or your favorite citrus liqueur
How to Make Christmas Margaritas
Make the Hibiscus Pomegranate Syrup
In a small saucepan, place the sugar, juice and hibiscus flowers. Mix and place on medium-low heat stirring until it boils, about 15 minutes.
Turn off the heat, strain or remove hibiscus petals with a slotted spoon and set aside. Let it cool to room temperature before using.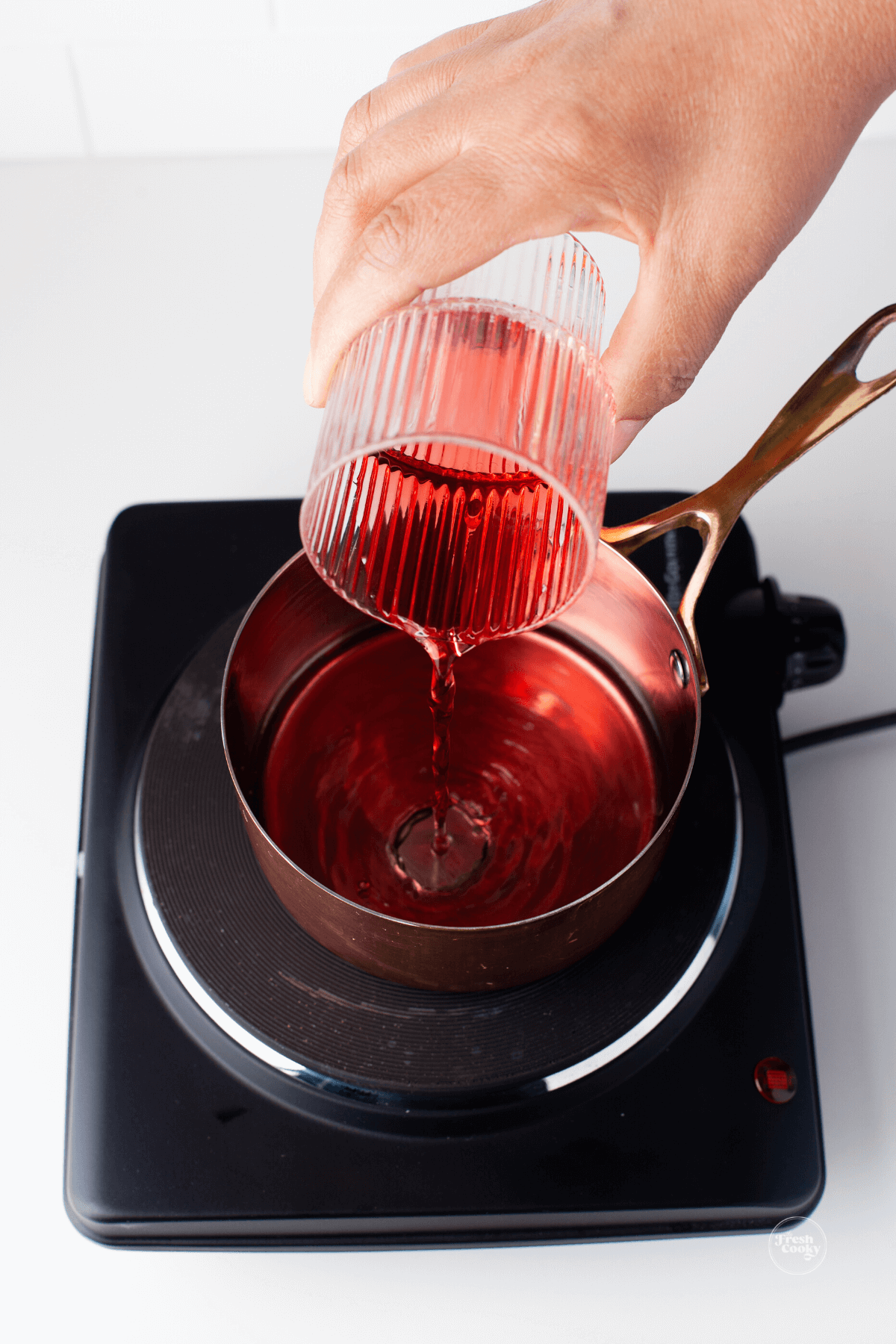 May be made up to a week ahead of time, stored in an airtight container in the fridge.
Make Cocktail
In a large cocktail shaker, add a piece or two of ice, hibiscus pomegranate simple syrup, tequila, triple sec and fresh lime juice. Shake 10-15 vigorous shakes (the fun part).
For additional sweetness, rim each glass with white sugar (see below for how to), or omit entirely, it's up to you.
Strain into an ice filled margarita glass, or cocktail glass and garnish with extra pomegranate, hibiscus flowers, rosemary, cranberries or other edible flowers. Or try making these fun and festive Christmas ice molds!
Garnish
Rosemary, fresh cranberries, sugared cranberries, pomegranate arils, edible candied hibiscus flowers, orange slices or the classic lime wedge.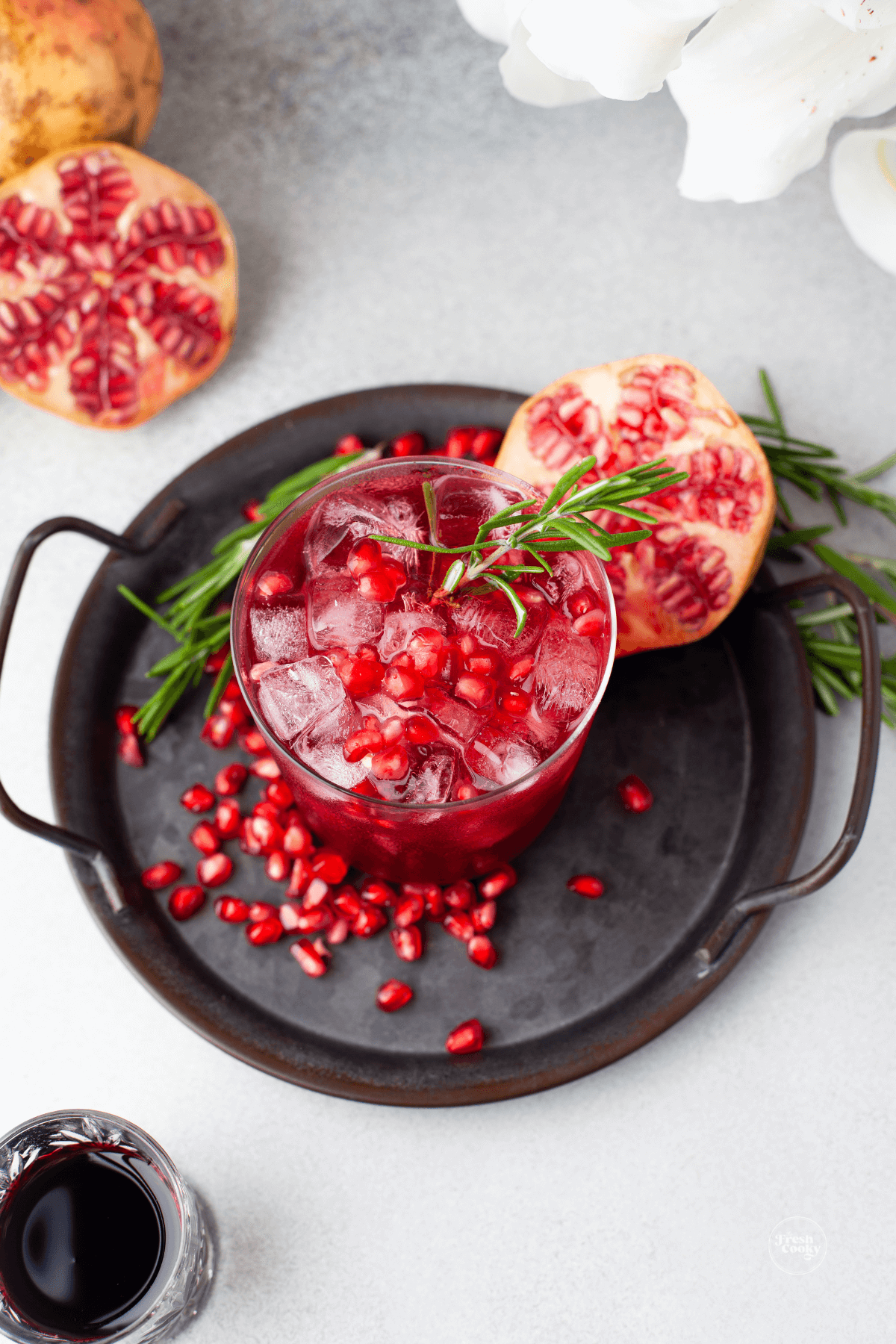 How to make a Sugared Rim
While I didn't sugar the rim on my Christmas margarita recipe, you certainly may. This will make it look even more festive, wintery and fun!
To sugar rim your glass, follow these simple instructions:
Sugar | In a shallow dish or bowl, pour granulated sugar. You may also use colored sugars, raw sugar, brown sugar or even powdered sugar. You can even use edible glitter to make it look like snow! Great for a New Years Eve cocktail.
Wet the rim of your glass | what you use to wet it with is entirely up to you! Try using some orange, a little of the hibiscus pomegranate syrup or some lime, these will adhere the best. You can even use your tequila or triple sec. Water is your last resort and might results in a more drippy rim. Just rub it around the rim or dip in the rim.
Sugared Rim | With the glass straight down, gently roll into the sugar of choice. Or hold the glass at a 45 degree angle and slowly swirl it around. Add your Christmas margarita recipe and you are ready to party!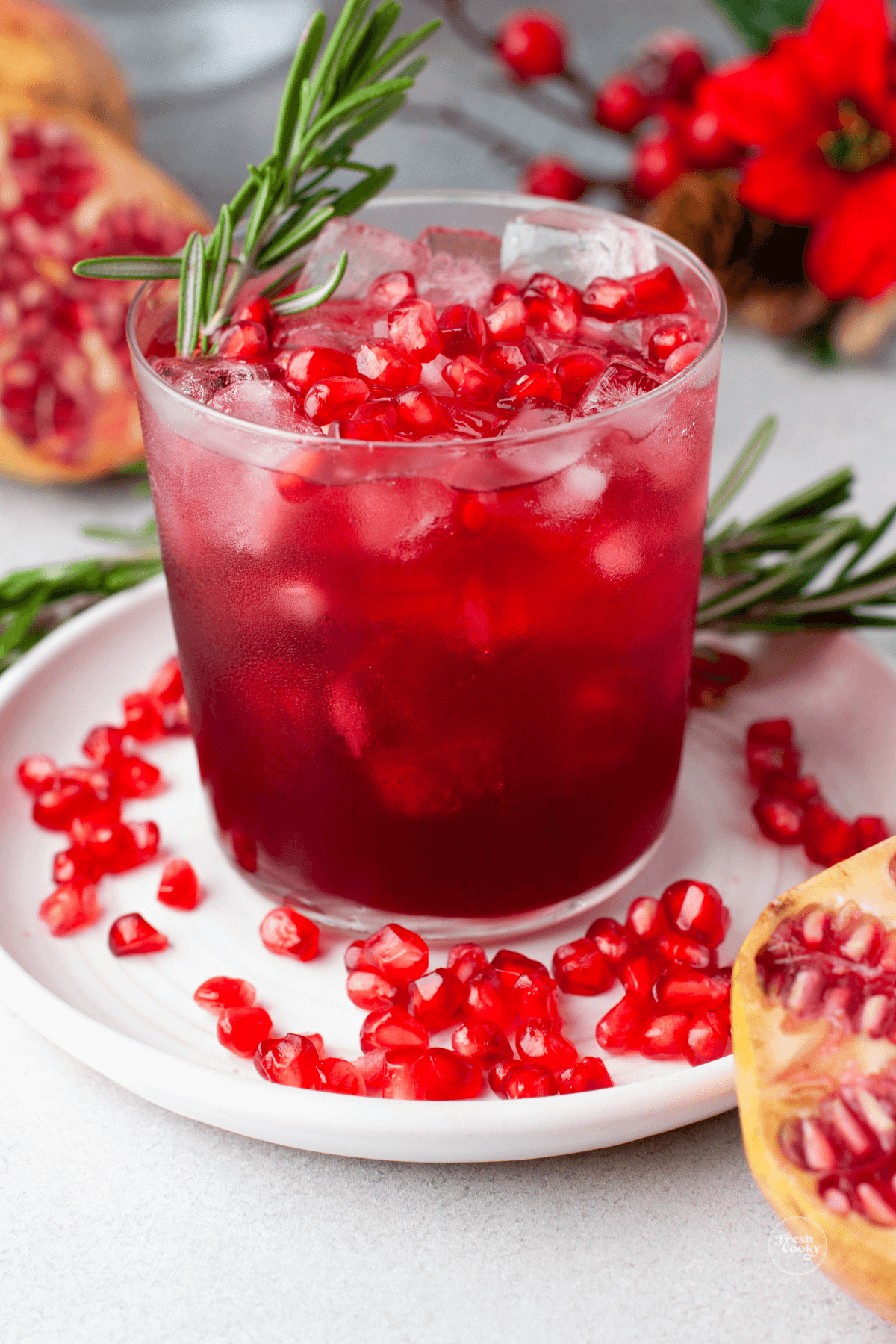 Christmas Margarita Punch by the Bowl or Pitcher
Add all the above ingredients, then pour well chilled ingredients into a punch bowl, add ice floats and pour your favorite carbonated beverage over the top, about 1 quart. Try cranberry ginger ale, cranberry mineral water, Sprite or other Lemon-Lime soda, etc. Serve at your Christmas party or any holiday gatherings with wheels of sliced oranges floating in the punch. Beautiful!
By the Pitcher (serves 4)
7-8 ounces hibiscus pomegranate simple syrup
6-8 ounces tequila
2-3 ounces orange liqueur
Juice of 2 limes
Add all ingredients to a large pitcher, stir well; refrigerate until ready to serve. Stir again before serving and add some ice balls or provide ice for guests to pour over.
For serving 8 or more, this recipe easily doubles and triples, taste a little after adding the lime, you won't need as much lime juice as you increase the amounts.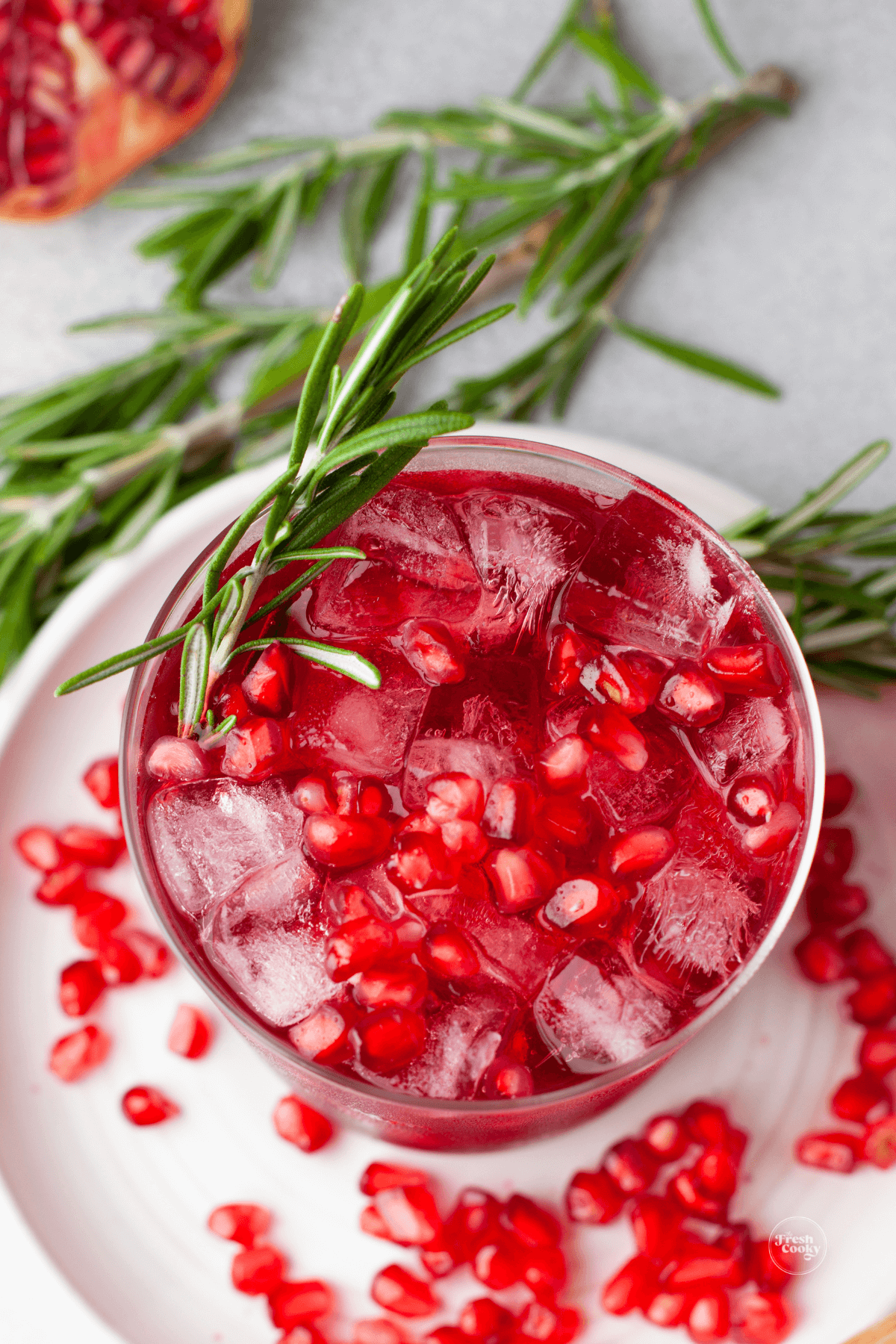 Variations & Substitutions
Replace limes with lemon juice or one of each
Replace hibiscus pomegranate simple syrup with grenadine syrup (easily bought in local grocery stores)
Instead of pomegranate hibiscus syrup, make some of my cranberry simple syrup and turn this into a cranberry margarita.
Use vodka in place of tequila (try Deep Eddy's Cranberry Vodka – YUM!)
Replace orange liqueur with fresh squeezed orange juice, though it will not be as strong or as flavorful.
Frozen Christmas Margarita | Instead of pouring on the "rocks" place 1-2 cups of ice and ingredients for 1 or 2 margaritas in a blender. Blend until smooth and desired consistency, adding more ice as needed.
How to Make a Mocktail Christmas Margarita Recipe
Omit the tequila, or use a non-alcoholic tequila and orange liqueur. If omitting, replace tequila with ginger beer or ginger ale and replace the Triple Sec with orange juice.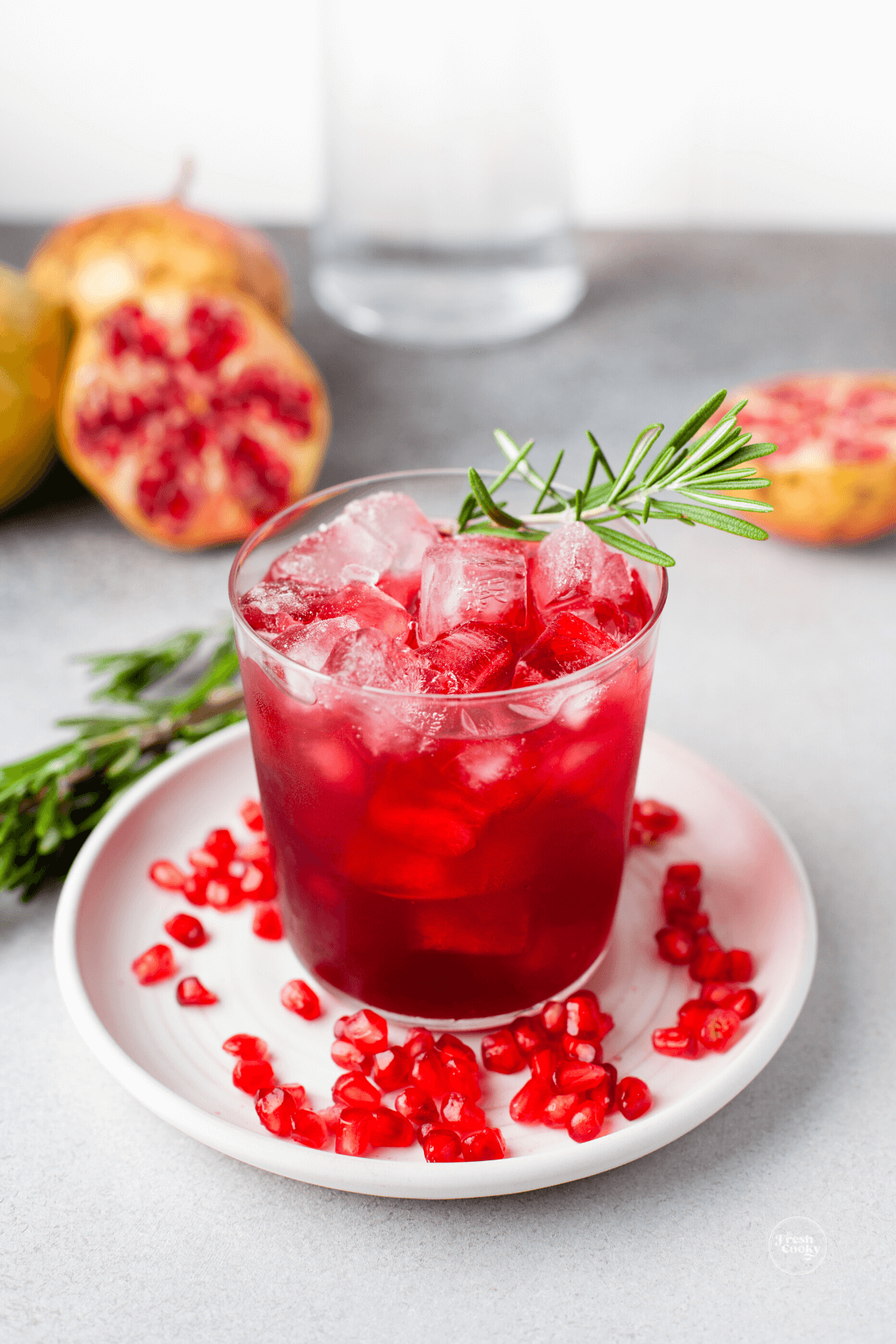 Frequently Asked Questions
What is the official drink of Christmas?
Eggnog of course, eggnog and the holiday season go hand in hand. For an extra dose of holiday spirit, add a splash of brandy, rum or bourbon, yum! Try my eggnog latte for a festive coffee drink! Add a splash of Bailey's to make it more festive!
Why do you need triple sec for margaritas?
Triple sec also called curaçao is an orange flavored liqueur that is both sweet and has some bitter notes. It is vital for a well-made margarita. But there are other orange flavored liqueurs which I believe taste just as good; Cointreau and Grand Marnier are good quality, and are my favorites.
What is better for margaritas, gold or silver?
Silver tequila is the better choice for margaritas for the simple reason that the aging process is shorter (usually less than 60 days) and mixes better with the other ingredients for a cleaner, crisper finish. Also called blanco tequila since it is clear.
How many types of pomegranates are there?
There are hundreds of varieties of pomegranates and they have been around for thousands of years. The most common in the US is the "wonderful variety" that is a sweet-tart pomegranate. I found these "sweet pomegranates" also called Eversweet at a farmer's market. As their name implies, they are even sweeter!
More Holiday Cocktails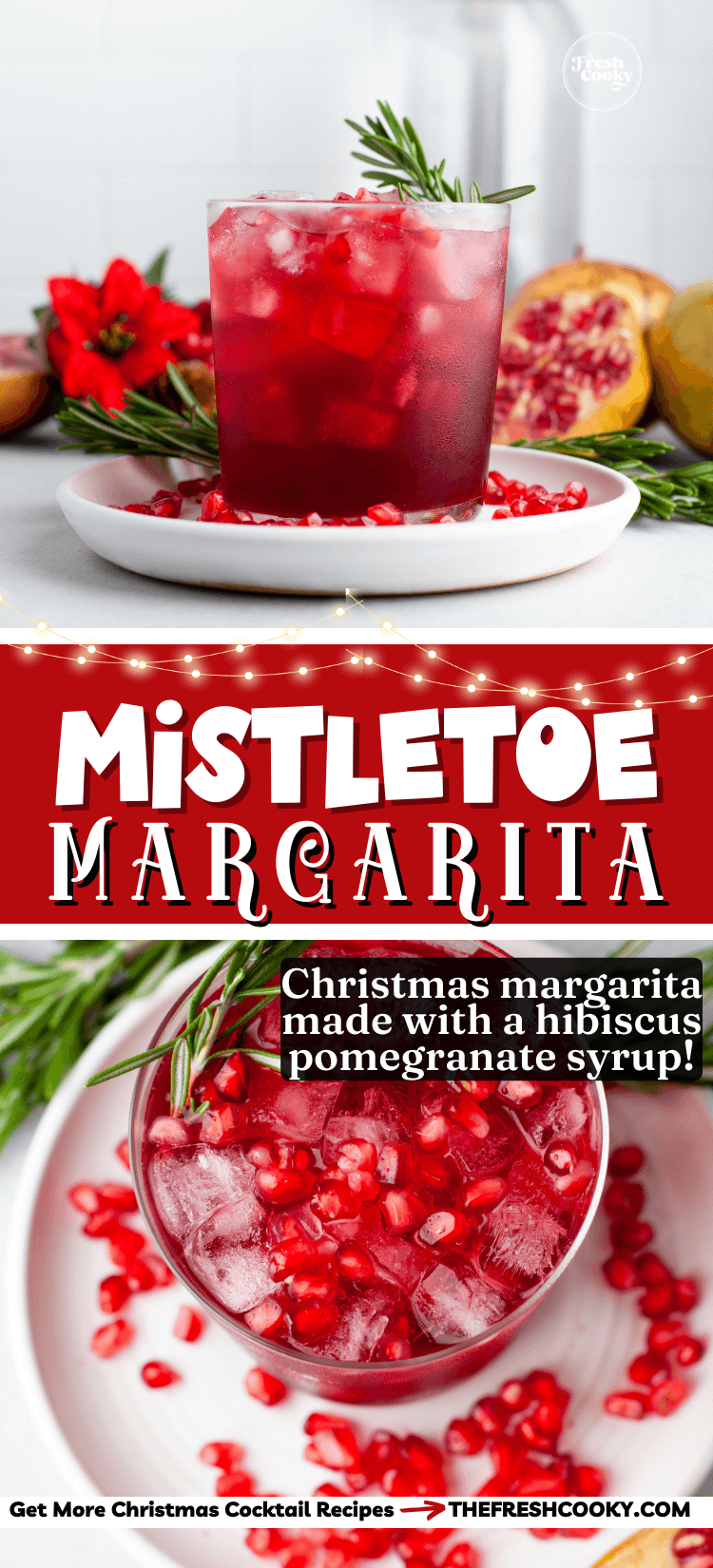 More Pomegranate and Hibiscus Recipes
I hope you loved this Mistletoe Christmas Margarita Recipe — if you did, would you share your creation on Instagram, Facebook and Pinterest? And be sure to comment below!
Like this recipe?
Don't forget to give it a ⭐️⭐️⭐️⭐️⭐️ star rating and comment below the recipe!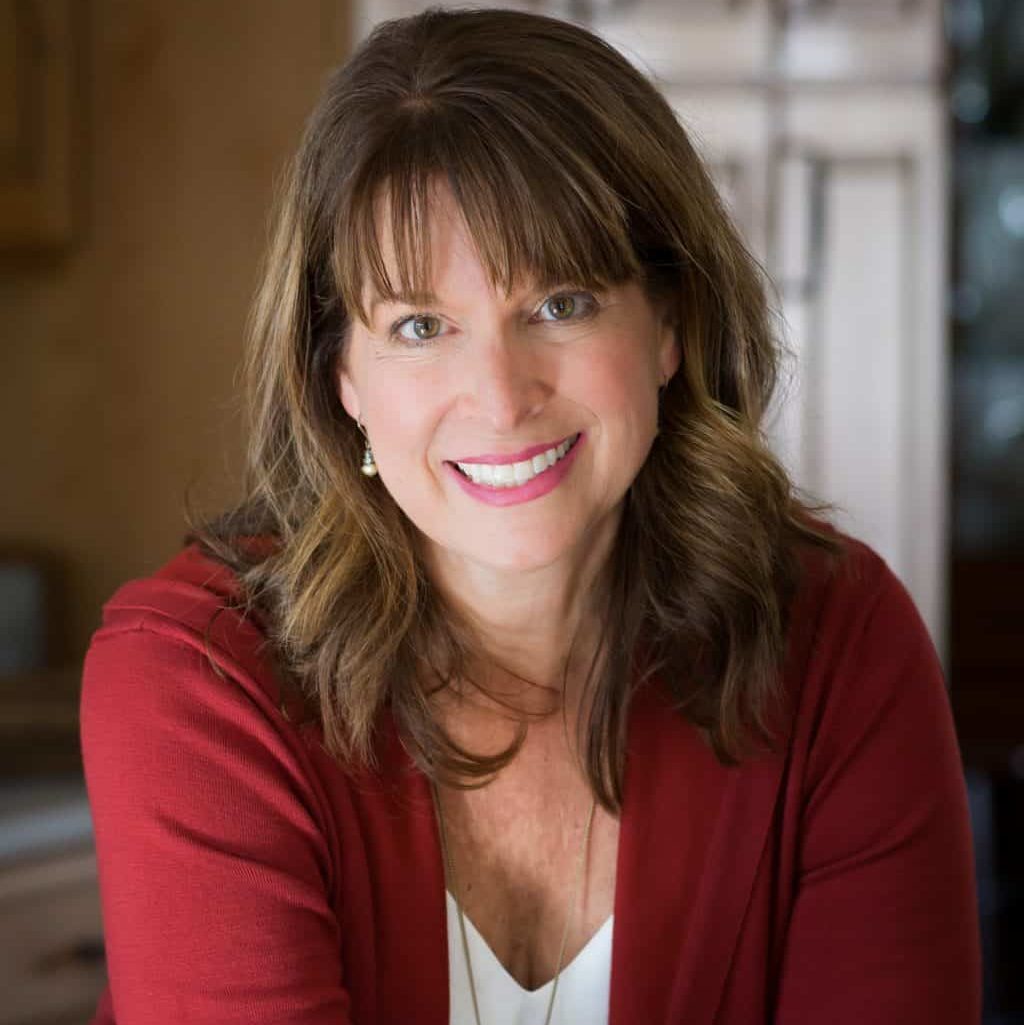 About Kathleen Pope
Recipe Innovator | Food Photographer | Food Writer
Hi, I'm Kathleen Pope. Here at The Fresh Cooky you will find easy, mostly from-scratch, trusted recipes for all occasions. From speedy dinners to tasty desserts, with easy step-by-step instructions. I am here to help teach you how to make mouthwatering recipes without spending hours in the kitchen. Read more about Kathleen here.