As an Amazon Associate, I earn from qualifying purchases. Please read my disclosure policy.
Enjoy the bounty of summer veggies with this scrumptious appetizer for Zucchini Corn Fritters. These sweet corn fritters are loaded with healthy, fresh vegetables, in a simple buttermilk batter, briefly fried and finished in the oven. They are light, easy and you can make them gluten free.
These Zucchini Corn Fritters are chock full of Colorado Olathe Sweet Corn, fresh garden zucchini, red peppers, jalapeno and green onions. Perfect as an appetizer or as a vegetarian main dish!
If you are a fan of using fresh veggies in your cooking, try these reader faves; Barbacoa Beef Street Tacos with all the toppings, or this Blackberry Chicken Salad, or perhaps this easy Easy Tomato Bruschetta.
I went to our local farmer's market this week and bought some of our state famous Olathe Sweet Corn. Firm, crisp, sweet and tender, perfect as the star of this sweet corn fritter! I am sure you have a local corn that is just as delicious! Support your local farmers!
Pair these zucchini corn fritters with this light, bright, full of more fresh herbs Buttermilk Ranch Dressing! I could easily make an entire meal from this fresh appetizer, but are also a delicious side for Shish Kebabs!
Farmer's Market Week is always the first week in August. Whether you have a great local farm stand or market, are a member of a CSA or purchase your fruits and vegetables at the supermarket, follow our
Pinterest board
, for great recipes including those for appetizers, drinks, breakfast, lunch, dinner, dessert and more.
I have had so much fun this week making fresh Farmer's Market inspired recipes, you might enjoy my other recipes showcased this week; Watermelon Slush and Heirloom Tomato Pie.
Ingredients
I hope you are ready for a little chopping, it's so worth it with all these fresh veggies! And remember the quantities are in the recipe card.
Unbleached AP Flour | I use organic flour, but have also made gluten free corn fritters by using GF AP Flour.
Baking Powder, Kosher Salt, Smoked Paprika | gives it even more flavor
Eggs | large eggs, used to bind ingredients and to provide puff when cooking
Buttermilk | Adds a tangy richness to the batter for zucchini corn fritters
Fresh Cut Corn | Purchase fresh corn from your local store, farmer's market or garden
Fresh Grated Zucchini | everyone's garden is bursting right now, if you don't have one, ask for one!
Red Pepper | or orange, or yellow, I dice them small so they aren't so noticeable
Scallions | also called green onions
Jalapeno | finely minced, so nobody gets a super hot bite, adds a touch of heat
Parmesan Cheese | just a little bit of grated parm, adds flavor
Instructions
Ready to make this super simple, filling, easy appetizer?
In a large batter bowl, mix together the AP Flour, baking powder, salt, and paprika. In a smaller bowl, mix together the buttermilk and beaten eggs
HINT: Grate your zucchini* first and lay on a couple of paper towels so that some of the moisture will pull out of them.
Add the mixed liquid ingredients to the dry ingredients for the zucchini corn fritter batter, whisking or stirring well until smooth and combined (it's okay to have a few lumps). Then gently fold in the sweet corn.
Add the rest of the chopped veggies (red pepper, chopped onion, jalapeno and shredded zucchini*. Gently fold together until batter and veggies are distributed.
Heat a 10-12 inch skillet over medium-high heat with oil, this is my favorite skillet. You don't need to submerge the zucchini corn fritters in oil, but enough for them to get a good crisp; try 2-3 tablespoons to start.
Using a medium cookie scoop or a tablespoon carefully place the corn fritter batter into the hot oil. Carefully (flip away from you so you avoid splatter) flip sweet corn fritters after about 2 ½ minutes until crisp and golden, remove and set on sheet pan.
Working in batches, fry up all fritters (or as many as you need, the batter will hold for about 6 hours in fridge) and finish up by baking in a preheated 350 degree oven. Bake until slightly puffed, about 10-15 minutes.
Reheating Zucchini Corn Fritters
To reheat zucchini fritters, place on sheet pan and reheat in a preheated 300 degree oven for about 10 minutes.
Substitutions
Gluten Free Corn Fritters | Easily make these scrumptious fritters gluten free, by substituting the AP flour with Gluten Free AP Flour, my favorites are King Arthur and Bob's Red Mill.
No Buttermilk? Replace with regular milk, I have also made these with whole milk.
Replace the Cheese | Instead of parmesan try using sharp white cheddar cheese or any other melty cheese.
Variations for Zucchini Corn Fritters
This recipe is loaded with delicious veggies, but maybe you want to make it a bit simpler or just change it up, try these variations below:
Spicy Corn Fritters | Add a few dashes of cayenne pepper to the corn fritter batter
Kid Friendly | While many of these veggies are hidden in this recipe, you may want to omit the red peppers and jalapeno, and either reduce or omit the green onions.
Mexican Sweet Corn Cakes | These already side on the Mexican tasting side, but you could also add a ¼ cup chopped cilantro, use white cheddar cheese instead of parm and about 2 tablespoons of lime juice.
Tips for the best Sweet Corn Fritters
Batter can be made ahead and stored in the fridge for 4-6 hours before making the sweet corn fritter.
Prechop all of your veggies, the recipe will come together quickly.
Make sure the oil is hot before frying; use a mild, high heat vegetable oil (I use Avocado or Grapeseed oil, both heart healthy choices).
I love this recipe with fresh, sweet corn, however; you may use thawed frozen corn and canned as well (reduce the salt if using canned).
Adding oil as needed and allowing it to heat up is important, this will avoid soggy fritters.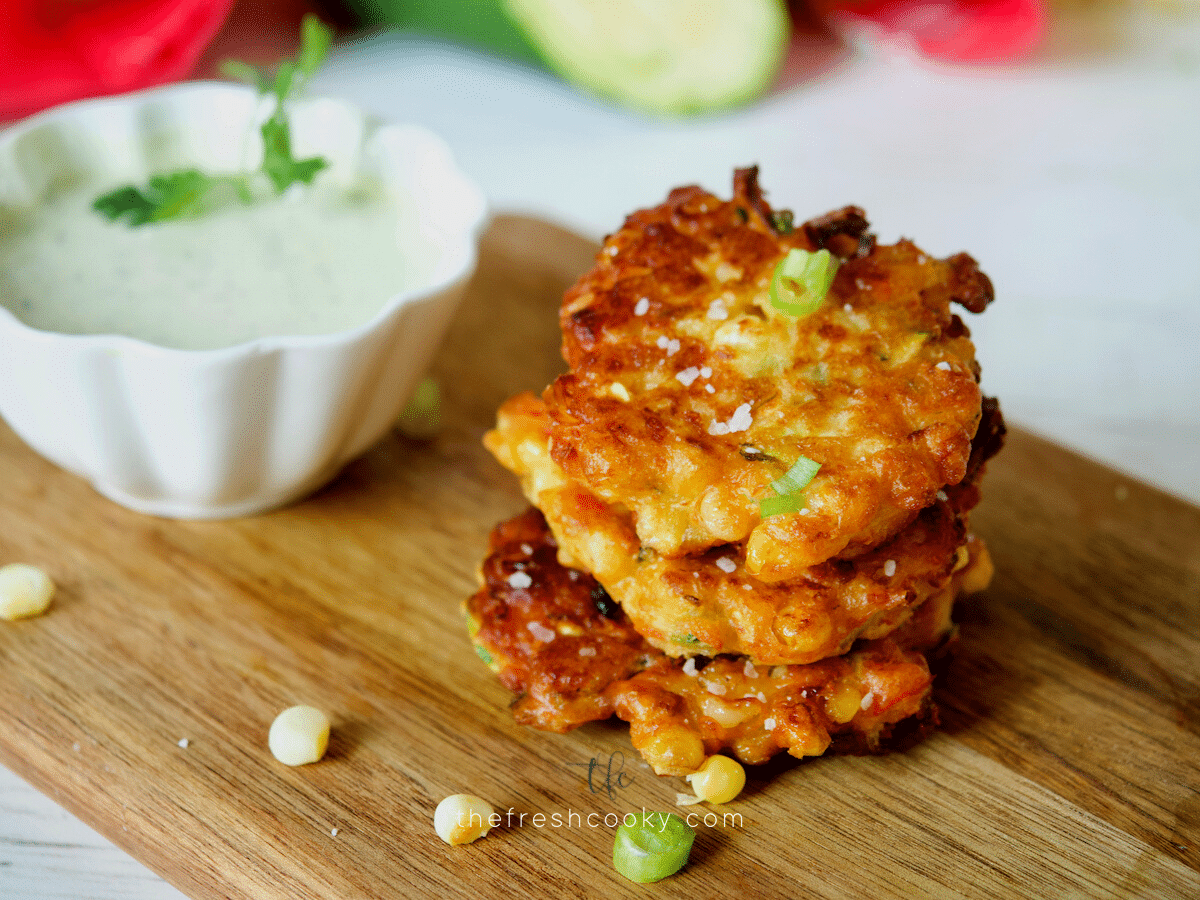 Equipment
Storage Tips
Batter may be made ahead of time and stored in the fridge up to 6 hours. Store leftover over corn fritters in airtight container in fridge, up to 7 days, may be frozen up to 3 months.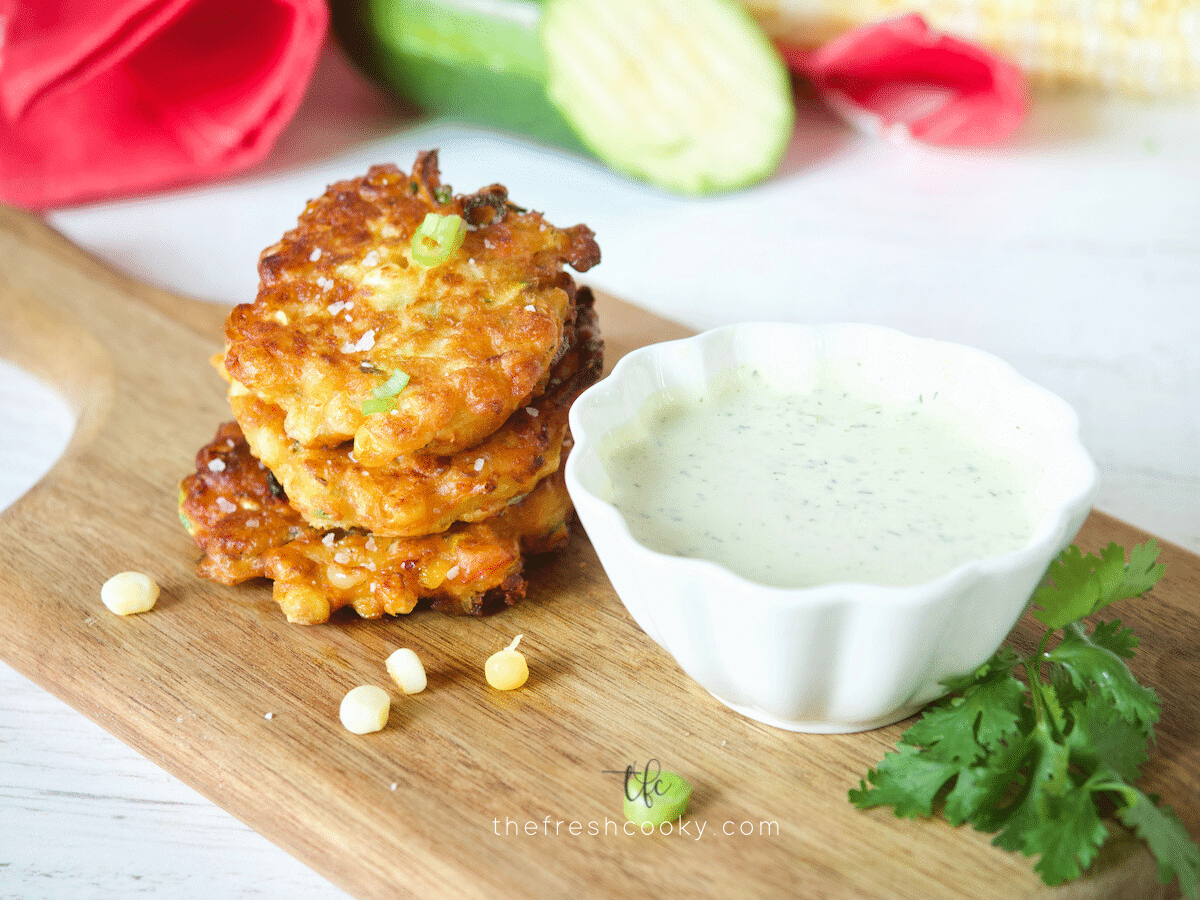 Frequently Asked Questions
Why are my fritters soggy!
It's mostly likely the consistency of the batter and the temperature of the oil! If your batter is too runny, add a touch more flour, if too thick add a little cold water. The batter should not run off a spoon when scooped up, but mound slightly. Make sure your oil is plenty hot, test the batter in the hot oil, it should sizzle immediately. Do not overcrowd the pan, work in batches.
How do you know when fritters are done?
Getting a great golden crispy sear on both sides will just about ensure that the middle of the fritter is not doughy, but I highly recommend you do not skip the step of placing them in the oven for a few minutes, this will finish the cooking process without compromising the crispness.
Can I freeze zucchini corn fritters?
YES! This recipe makes about 20 decent sized fritters and if that is too many, simple allow to cool completely on a wire rack and then place in an airtight container and freeze up to 3 months.
Sweet Corn Fritter Topping Suggestions
Buttermilk Ranch Dressing | would be my favorite dipping sauce for these fritters (linked in the recipe)
Sour Cream, Bacon and Chives | just a little dab of each of them brings out all the flavor.
Avocado Lime Dressing | would be fantastic, this is in my Barbacoa street tacos post
Your favorite bottled, ranch, blue cheese dressing
Honey! Some folks like these to be a bit sweeter, drizzle with your favorite local honey or hot honey!
TOP TIP
Lay out the grated zucchini on a couple of paper towels while prepping the rest of the ingredients, this will pull some of the water out of the zucchini, which will ultimately give you a more crisp corn fritter.
More Great Zucchini & Corn Recipes
Here's more Farmer's Market Week Recipes
Breakfast Recipes
Starters and Sauce Recipes
Side Dishes Recipes
Main Dish Recipes
Dessert Recipes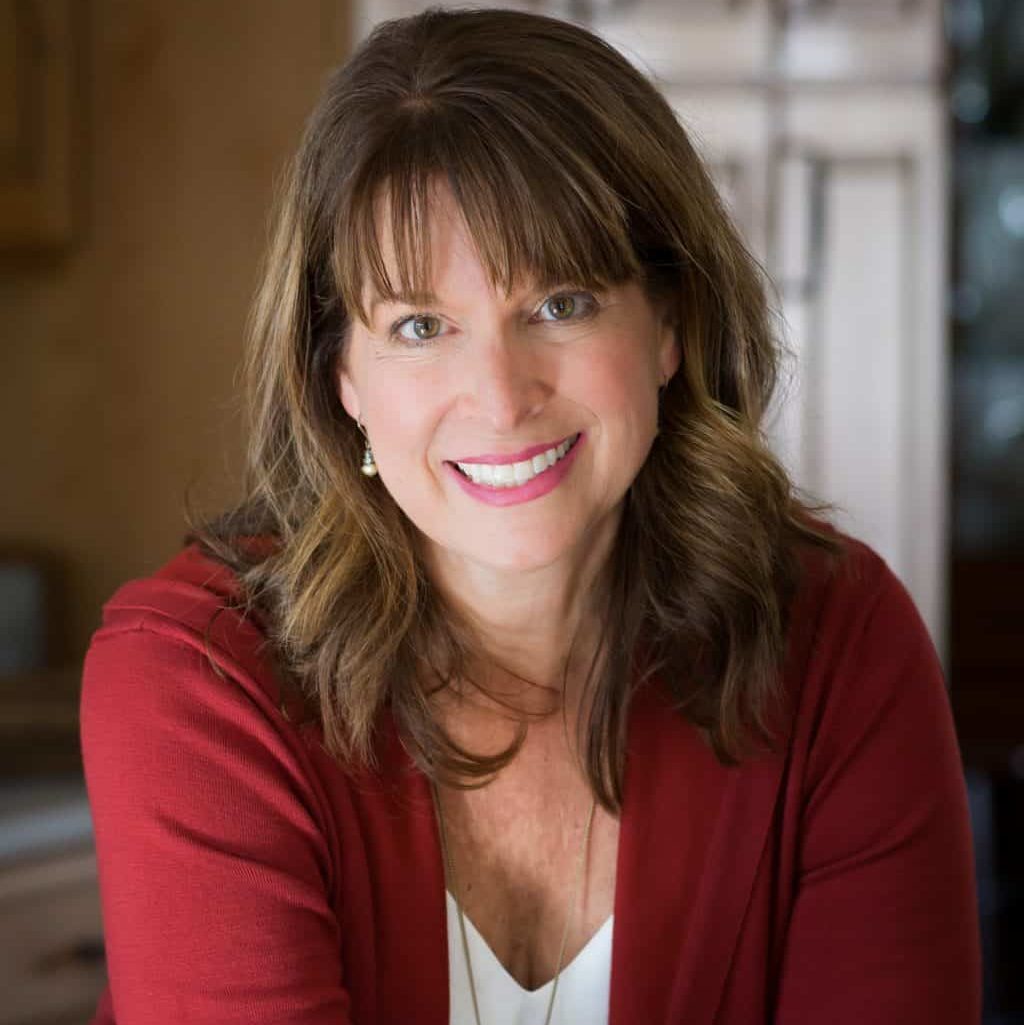 About Kathleen Pope
Recipe Innovator | Food Photographer | Food Writer
Hi, I'm Kathleen Pope. Here at The Fresh Cooky you will find easy, mostly from-scratch, trusted recipes for all occasions. From speedy dinners to tasty desserts, with easy step-by-step instructions. I am here to help teach you how to make mouthwatering recipes without spending hours in the kitchen. Read more about Kathleen here.