Easy Air Fryer Steak Fries Recipe from Scratch
As an Amazon Associate, I earn from qualifying purchases. Please read my disclosure policy.
Easy Air Fryer Steak Fries from scratch are a delicious addition to your list of quick and simple air fryer recipes and are the perfect side dish. They are tender inside and cheesy crisp on the outside, delivering that classic steak fry taste with a garlic parmesan crunch, homemade or frozen they will become a favorite!
Serve these homemade steak fries on game day, grill night, or as a loaded potato appetizer dish all on its own. Air fryer steak fries are the perfect accompaniment to hearty Philly Cheesesteak Sliders, Juicy Burgers, or this Air Fryer Halibut!
It is easy to adjust the number of servings for this fry recipe if you figure half a potato per person. Unless you have a fry addict at your table. Then you may want to count a whole potato for that one!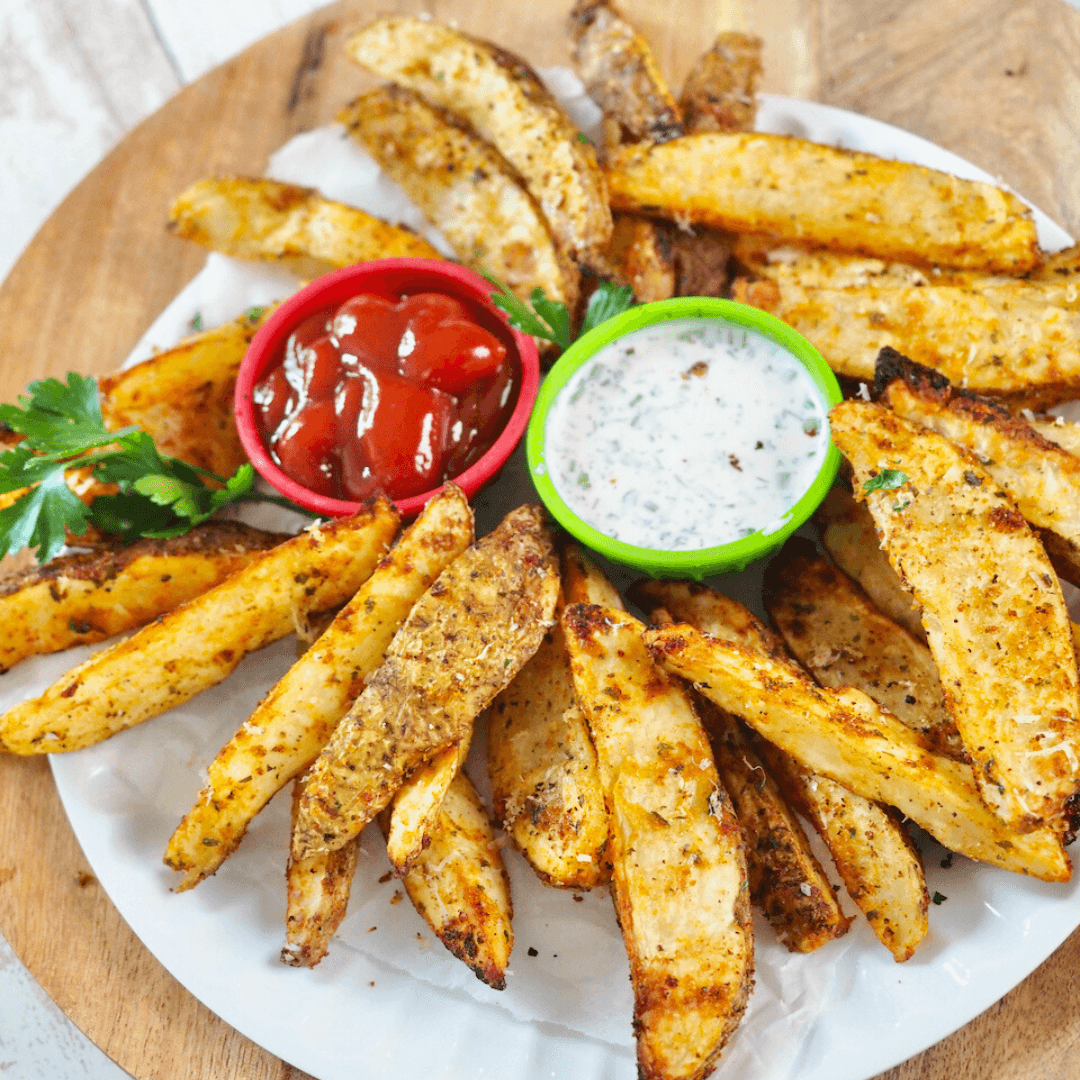 Sometimes, I will even make a small batch to enjoy dipping them in my Creamy Tomato Bisque Soup on a cool fall day.
The Fry Difference
Now, you must be a real French fry expert to know these finer details about all the different fries out there. Hahaha! I happen to know an expert fry connoisseur or two. And from one to another, they are as diverse as they look but equally as salty delish! I mean, Man vs. Fries wasn't created for nothing! Without further ado…
French fries come in shoestring, standard fries, curly fries, crinkle-cut, potato wedges, cottage fries, waffle fries, and of course, steak fries. However, steak fries are typically baked, so they are a bit healthier. On top of that, using an air fryer uses even less oil and still gives you that perfect crisp outside.
Then there are the alternative varieties like smiley fries, tater tots, sweet potato fries, and home fries. There you have it—you are welcome!
Simple Ingredients Air Fryer Steak Fries from Scratch
Ingredients, directions and nutritional information in the printable recipe card at the end of the post.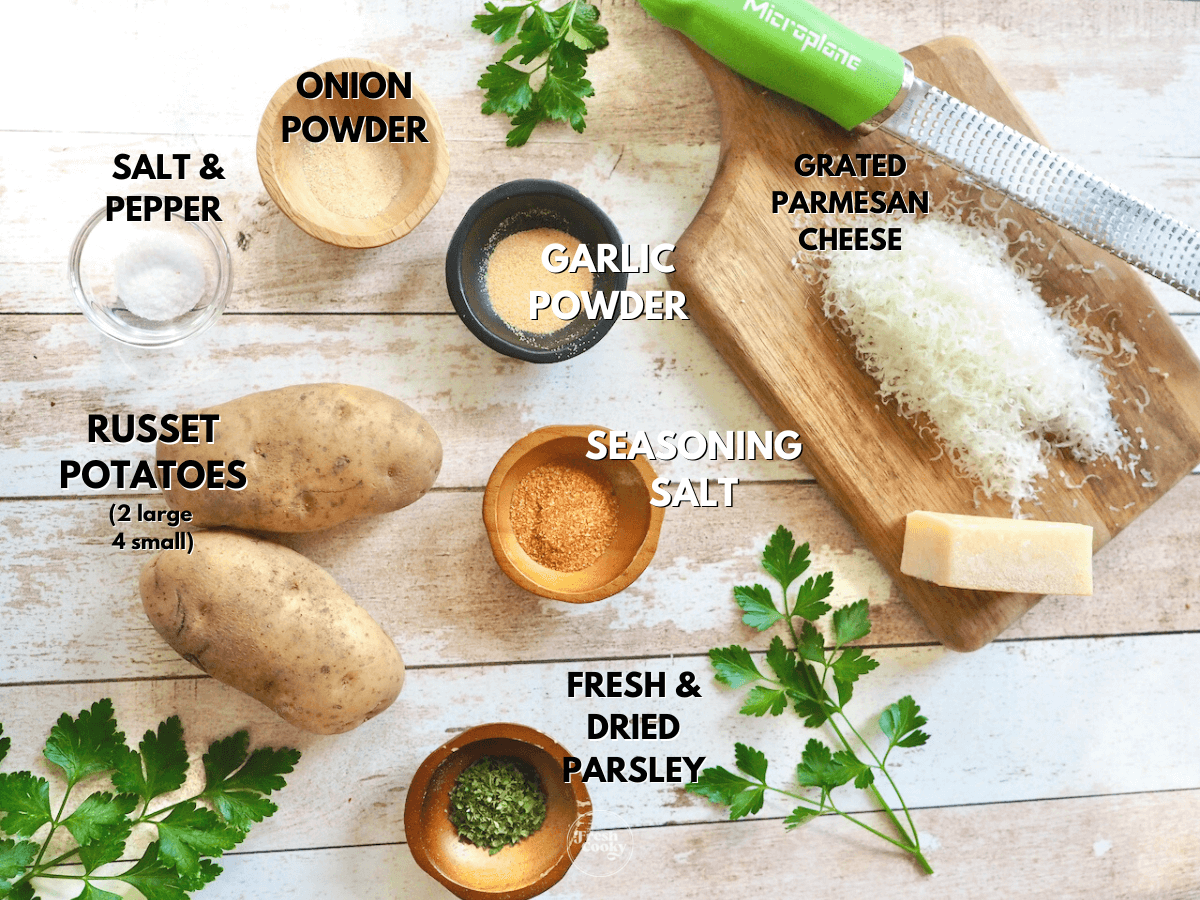 Potatoes | I think Russet potatoes are the best potatoes for french fries in the air fryer, but I have also used and loved Yukon Gold potatoes.
Avocado Oil | Avocado oil spray has a high smoke point. Olive oil spray or regular oil in a pump may be used.
Seasoning Salt | You can make a homemade salt or choose one like Lawry's, I just make sure there is no MSG in mine.
Garlic Powder and Onion Powder | These seasonings will take your fries to the next level —kind of like Red Robin steak fries! And of course we'll use kosher salt and black pepper.
Garnish | Lastly, you might enjoy a sprinkle of parmesan cheese and parsley on your fries! A bit more color and flavor!
Healthy Twist
Homemade steak fries are healthier than deep-fried French fries. First, an air fryer uses way less oil than a deep fryer. Then, I use heart-healthy avocado oil since it is an unsaturated fat containing vitamin E and more! — bonus!
How to Make Steak Fries in Air Fryer
Air fryers need to be preheated, so go ahead and get that started. And don't forget to spray the air fryer basket with spray oil or a pump of olive oil.
Why you should never spray your air fryer racks or basket with cooking spray
While it contains oil, it also contains lecithin (an emulsifier), dimethyl silicone (an anti-foaming agent), and a propellant.
It will build up over time on the nonstick surface creating a sticky goo, that can harm the non-stick surface in time and make it hard to clean.
For that matter you shouldn't use cooking spray (like Pam) on any non-stick pan.
Instead use a high smoke point oil spray, such as Avocado oil. (source)
Step 1 | Prep the Potatoes
Wash those potato skins in cold water and pat them dry with paper towels for the best results. Then get out your cutting board and slice those potatoes into wedges. Nice thick slices are my preference, slice wedges or plank style (like Red Robin fries).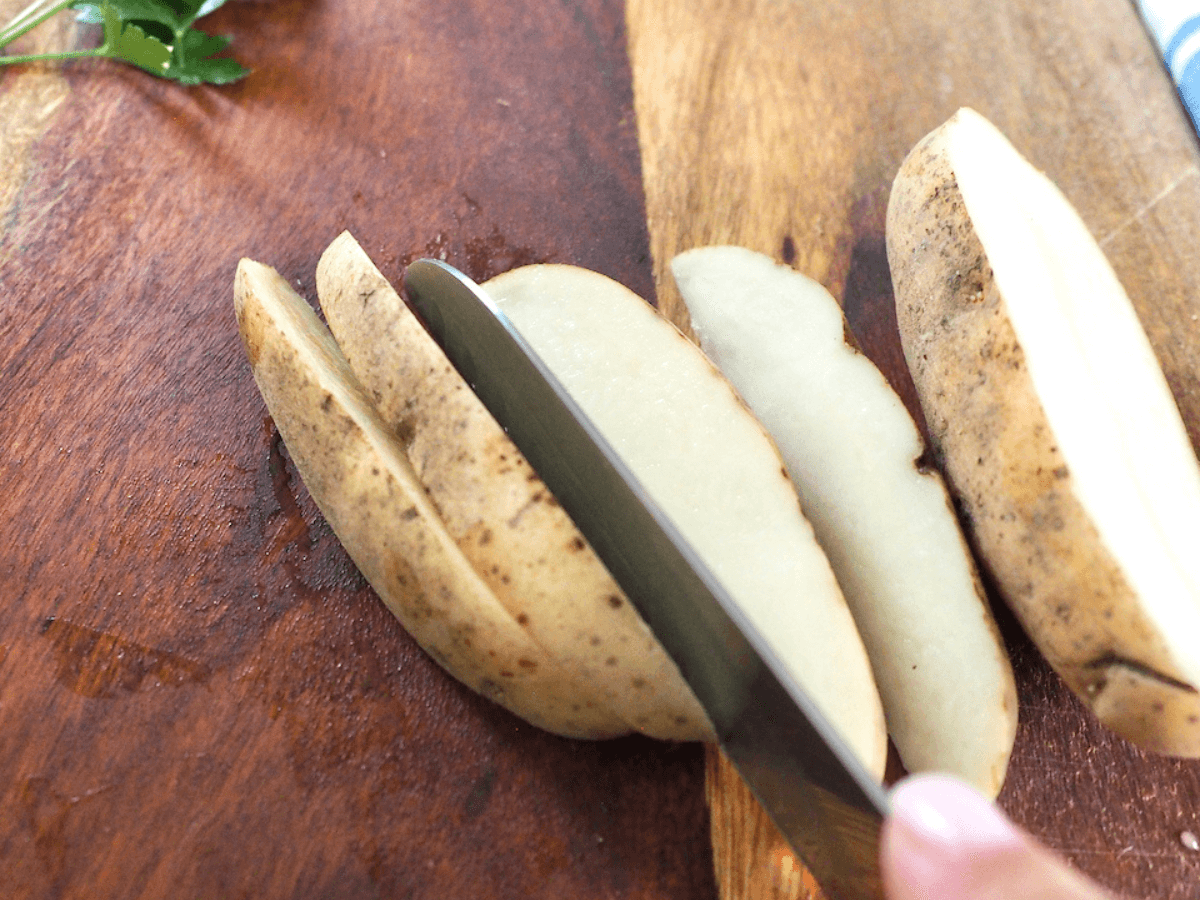 Step 2 | Season the Steak Fry Wedges
Grab a large bowl and toss the sliced potatoes with oil or spray the bowl full. Then once all the pieces are coated, sprinkle the fries with the seasonings. Add a little parmesan cheese to make extra crispy and cheesy fries! Toss it all together to combine and coat each wedge.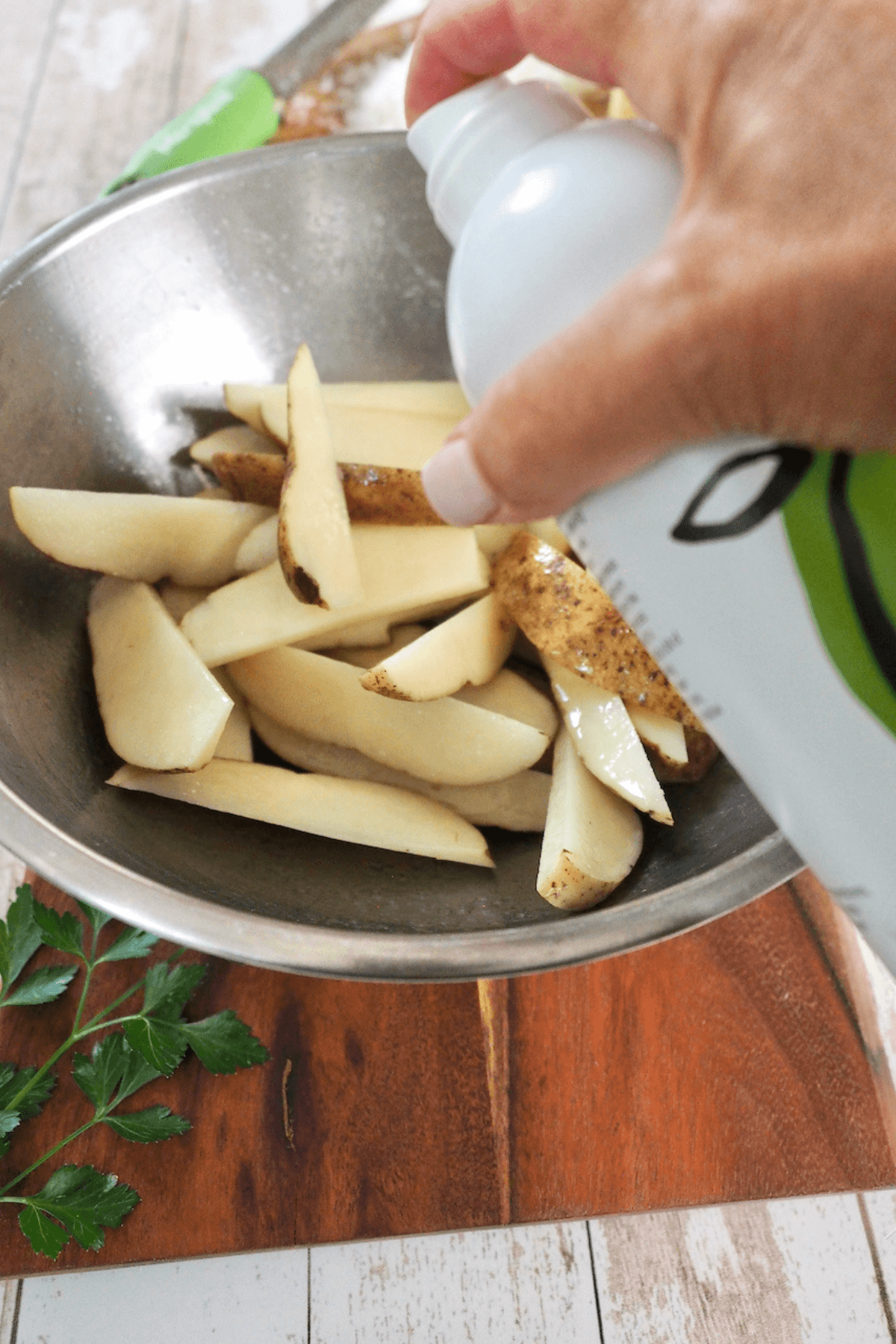 Step 3 | Time to Air Fry
In the basket of your air fryer, place a single layer of the seasoned potatoes, so they are not touching one another. This allows the fryer to crisp all sides of each fry. Fry for 20 minutes per batch.
If you are making a large batch for the family, you will need to do this in batches. I suggest placing the finished fries on another baking sheet and placing it in the oven to keep warm while you get the next batch cooked.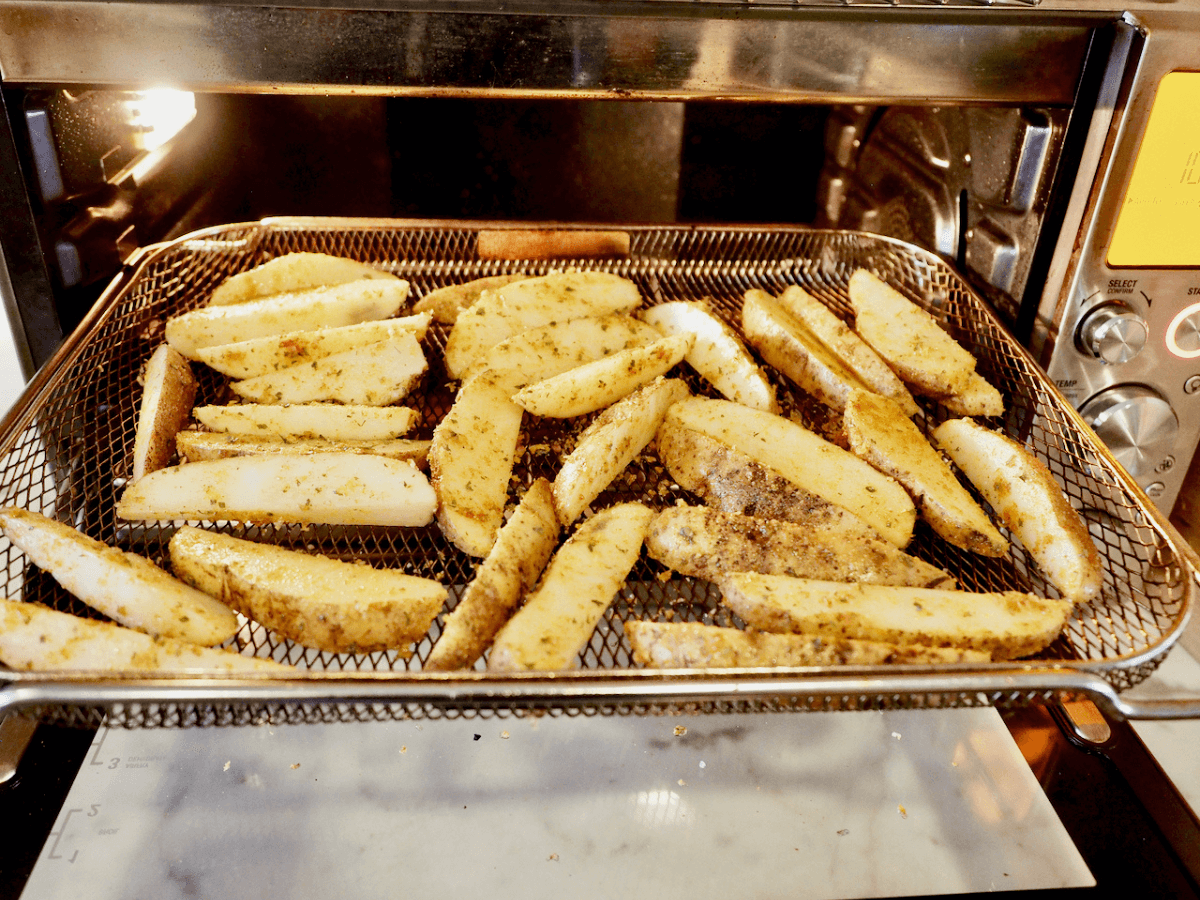 Step 4 | Give the Fries a Shake
No, I am not talking about a milkshake, although that would be a great idea! – Halfway through the cooking process, turn or shake the air fryer french fries, ensuring they get the perfect crispy texture on all sides. Then cook them a little longer if even more crispy fries are desired.
Step 5 | Take 'em Out
Everyone out of the pool—or air fryer. Remove the fries carefully from the air fryer. Then you can give one a taste and add an additional sprinkle with parmesan cheese and garnish with freshly chopped parsley if desired.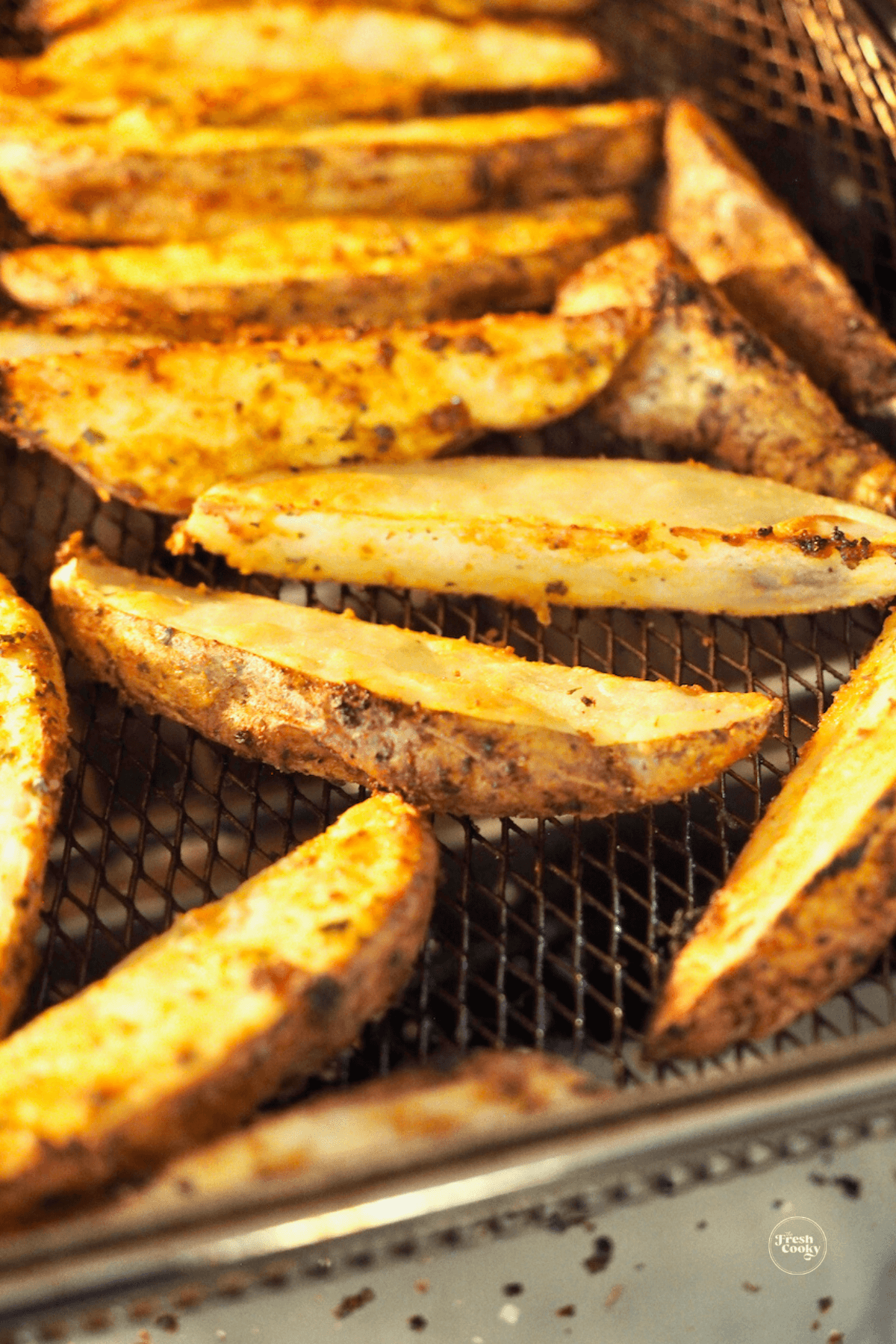 Okay, taste one more time—just to be sure 😉 and add more kosher salt and fresh pepper if they need it, a little more grated parm and a sprinkle of fresh chopped parsley for color.
Now let everyone else enjoy these crispy on the outside and soft on the inside golden crispy air fryer steak wedges. Serve immediately for the best French fry flavor and crisp texture.
This is a great recipe to make for two people. Use just one potato, and reduce the seasoning amounts in half!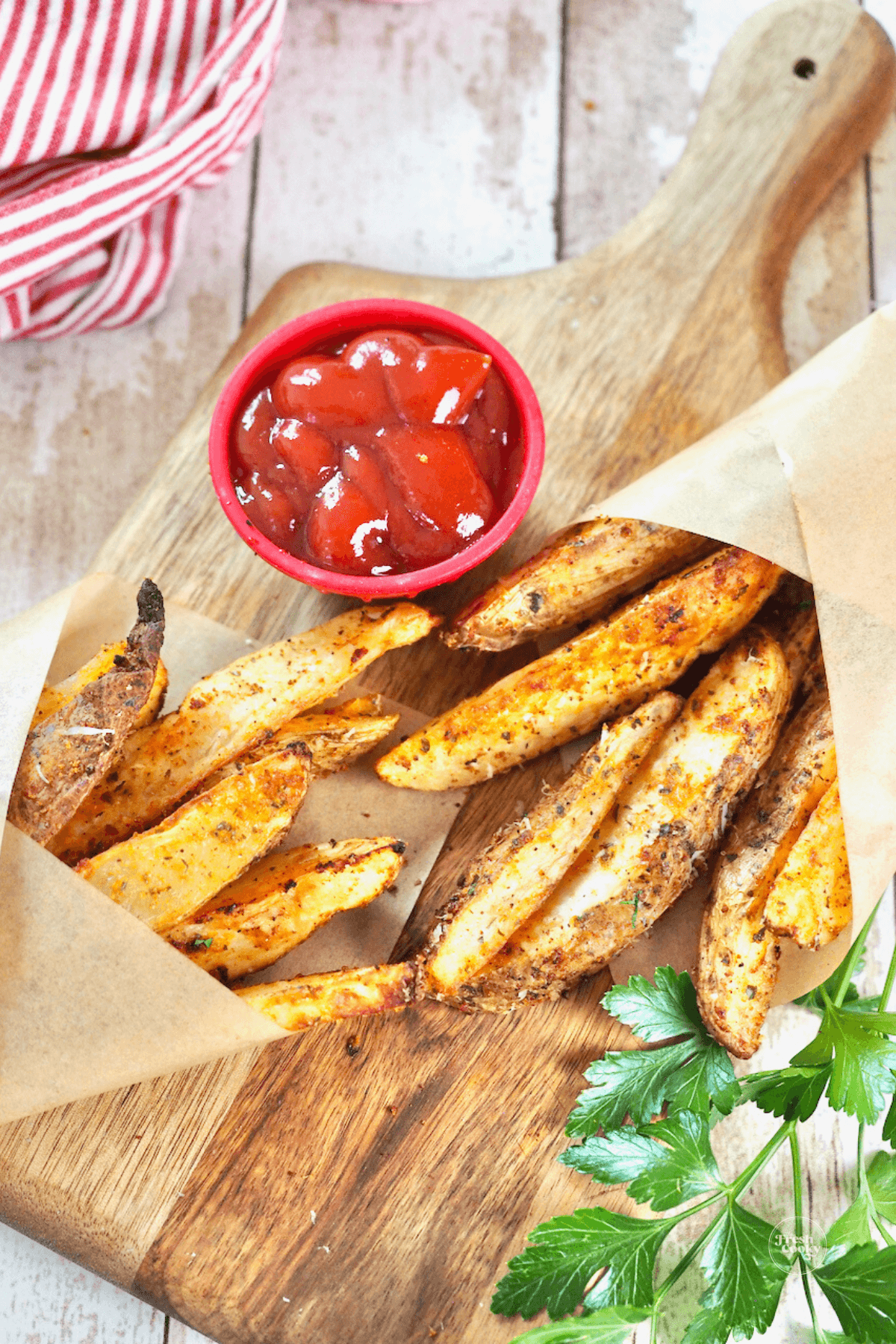 Variations and Substitutions
Since you are making these easy air fryer steak fries from scratch, make them your own! Change up the seasonings, oils and more! Hint: Trader Joe's has so many great seasoning blends. Try using different seasoning blends like these:
Greek Seasoning
Cajun or Creole Seasoning
Popcorn Seasoning
During the prep stage, you can also drizzle a little truffle oil over the wedges. Sounds good, right?
Steak Fry Topping Ideas
Of course, you can add parmesan cheese, as indicated in the instructions, but there are plenty more toppings to choose from. You do not have to stick with ketchup.
Fresh chopped rosemary – Up to 1 tablespoon fresh or 1 teaspoon dried.
Fresh chopped thyme – Up to 1 tablespoon fresh or 1 teaspoon dried.
Bacon pieces, crispy fried of course!
Cheddar Cheese or Blue Cheese
Gravy? Yep, some people love gravy on their fries.
Jalapeños (fresh or canned)
See below for fabulous dipping sauce ideas!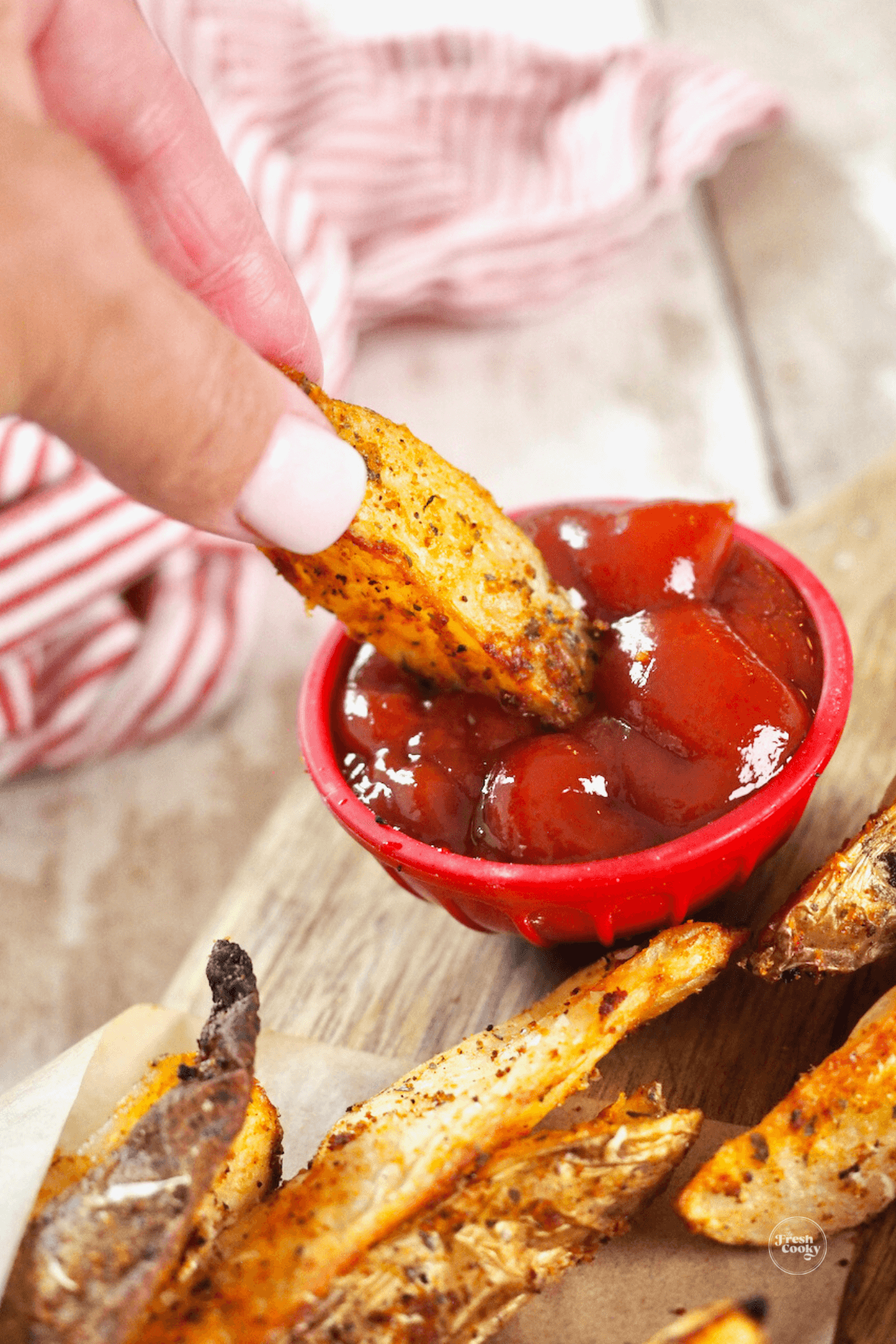 Serving Suggestions
Dip those fabulous steak fries in your favorite dipping sauce, delicious in homemade Ranch Dressing, barbecue sauce, my Honey Teriyaki Sauce, this amazing Bacon Aioli or ketchup.
Recommended Equipment
Lucky me, I have two air fryers. I use my smaller Air Fryer Lid for my Instant Pot for smaller recipes like Air Fried Ice Cream.
But you need a larger basket for recipes like homemade fries, where you want to get the whole lot done at one time. My Air Fryer friends love this Cosari air fryer with a larger basket perfect for making for a larger group than two and I have been hearing great things about the Instant Vortex Pro!
I actually used my Breville Smart Oven Pro, which has that larger basket, perfect for air fryer steak fries from scratch! This oven does it all, convection, pizza oven, dehydrator, proofing, toasting, bagels, warming, and reheating, to name a few! It's been a fantastic investment.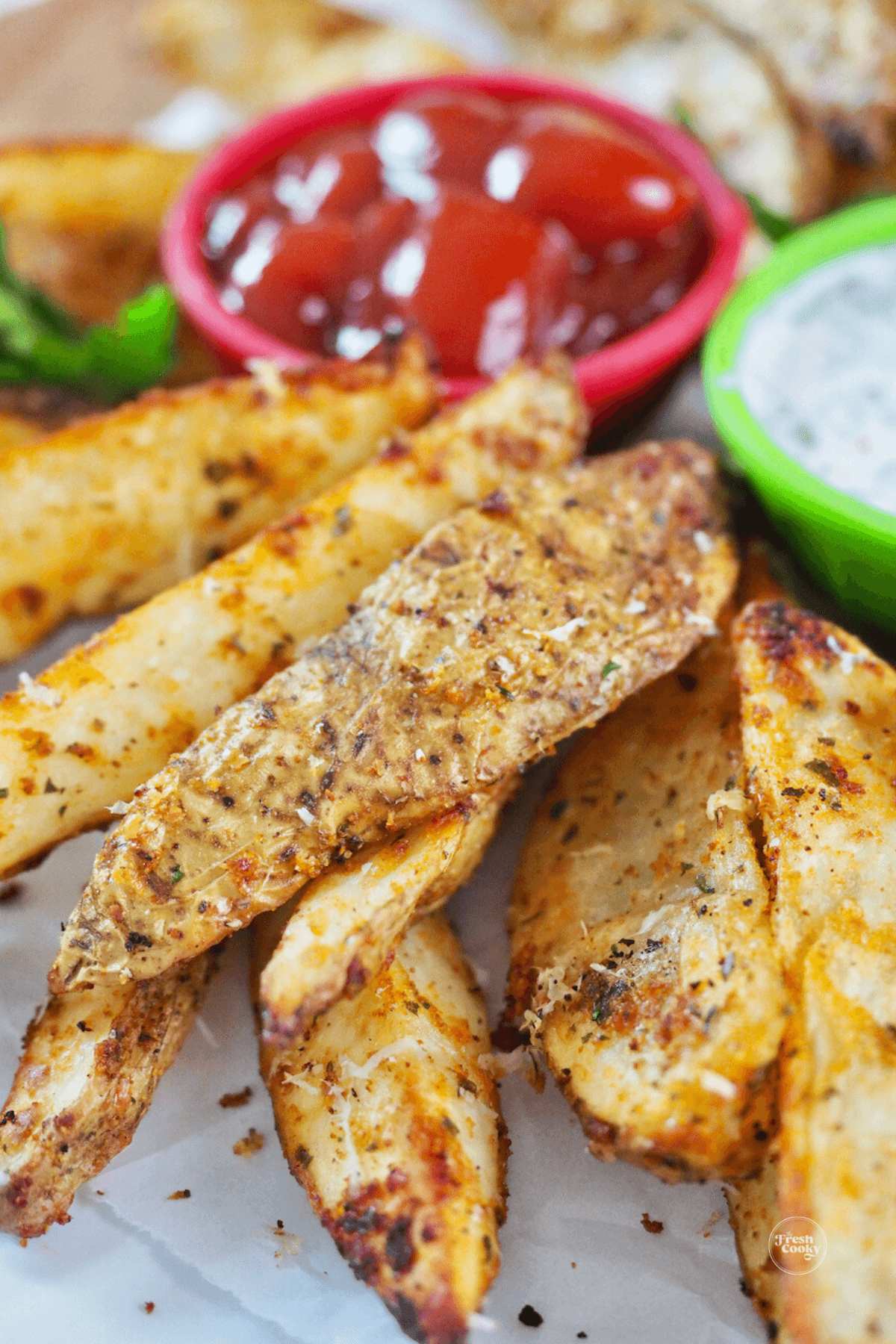 Frequently Asked Questions
Can I use sweet potatoes instead of regular potatoes?
Yes! Making sweet potato fries in the air fryer would follow the same instructions—so they are an easy swap. Season as desired and start checking about 12-15 minutes for desired crispness. In fact, try my friend Nikki's Air Fryer Sweet Potato Cubes.
How does an Air Fryer Work?
Initially created for the health conscious folk to fry food without adding all the oil and fat! In short, an air fryer is a countertop appliance (ranging in sizes) that uses a convection oven concept circulating hot air around the food to provide the perfect crispness. If you want to learn more, check out this article from Food52.
How long does it take for air fryer frozen steak fries?
Whether you slice them fresh at home or use a bagged frozen steak fry, they take about 13-20 minutes at 400 degrees, depending on the crispiness you like. Actual cooking time could vary depending on air fryer, quantity and more. Go ahead and season (check that they aren't already seasoned) them as desired.
In just 25-minutes, you'll have the perfect steak fries to pair with your favorite dipping sauce and a giant smile!
PRO TIP
When making this recipe in the air fryer for a larger group, you will want to preheat the oven to 200 degrees when you begin preheating the air fryer. That way, it is nice and warm when you are ready to place batches in as you get them to the perfect golden crispness. Don't let those steak fries get cold on you!
Storage
Store any leftovers in an airtight container in the fridge for up to 1 week or in the freezer (up to 3 months).
Freeze | If freezing, cool completely and lay in a single layer on parchment lined baking sheet, flash freeze for 30-40 minutes then transfer to airtight container or baggie.
Leftovers
Should you find yourself with leftover fries, they are a great addition to breakfast the following day, along with a serving of homemade Mock Eggs Benedict, Easy Cheesy Chile Relleno, or chop them up and use them in a hash or scramble.
How to Reheat in Air Fryer
This is the shear beauty of the air fryer! Brings the original crispness back to fried foods, or crispy foods. Preheat the air fryer to 370 degrees F, place leftover fries in one layer in the basket and fry for 3 minutes until crispy.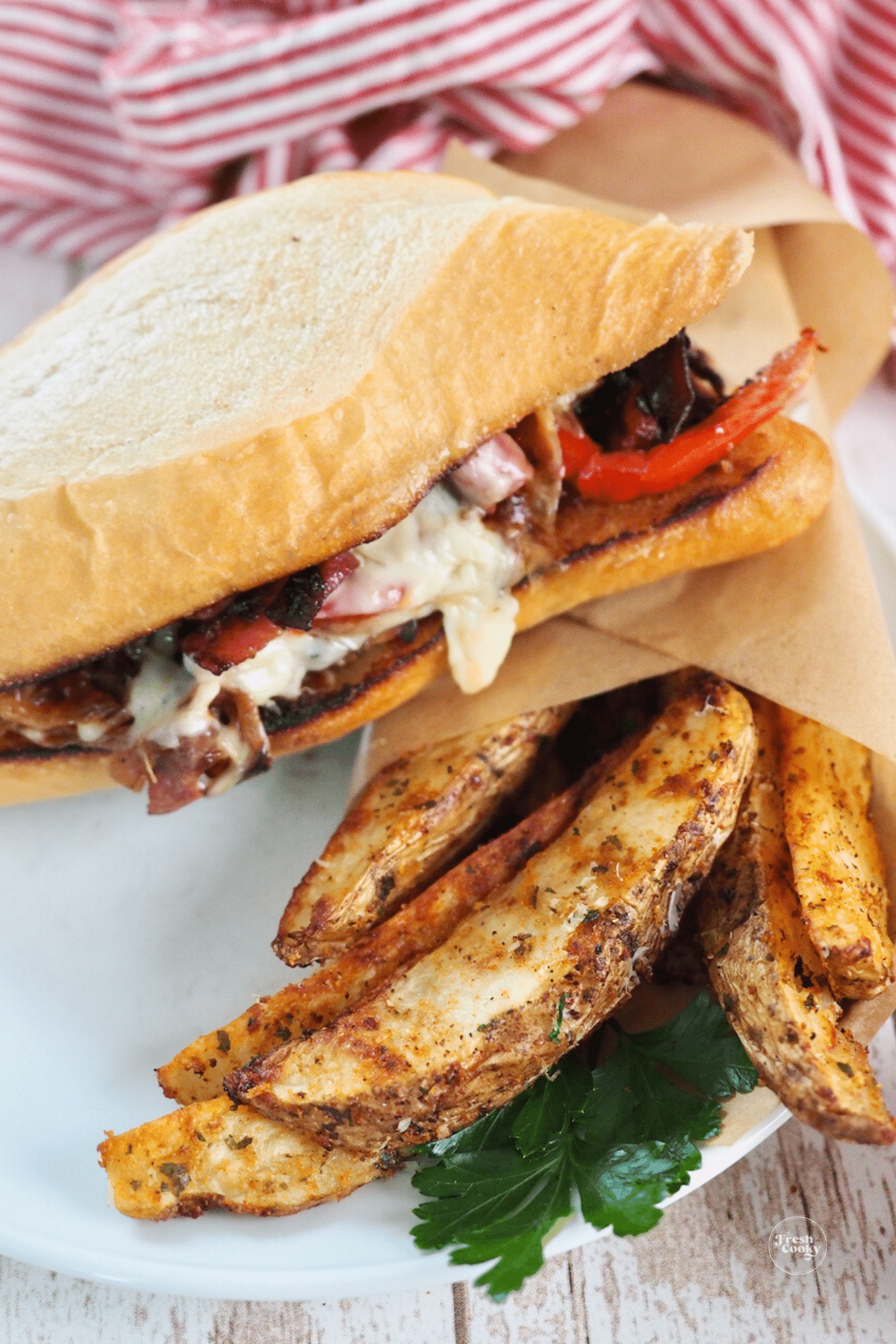 More Easy Air Frying Recipes
What to Serve with Air Fryer Steak fries from scratch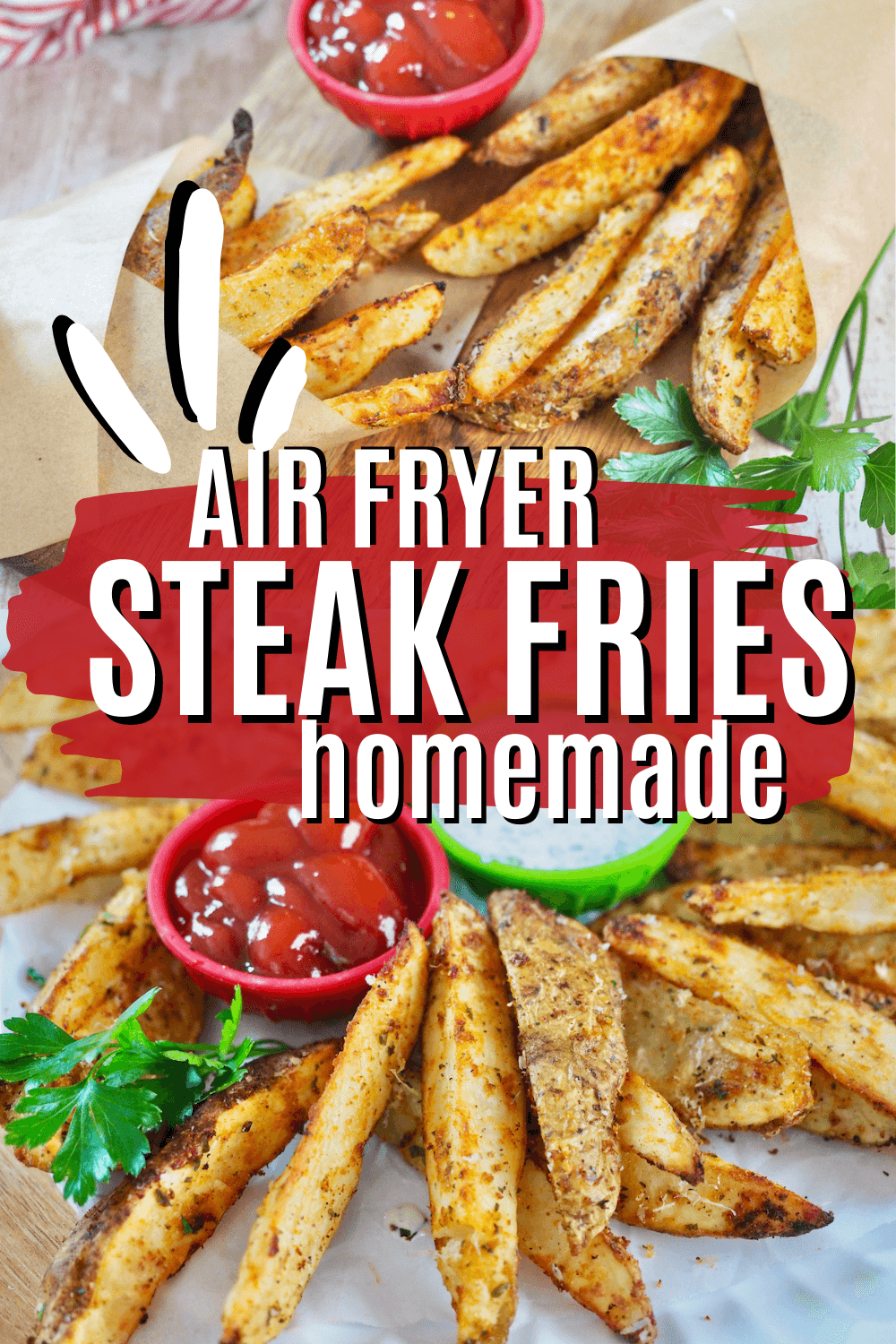 I hope you loved this recipe for air fryer steak fries from scratch — if you did, would you share your creation on Instagram, Facebook and Pinterest? And be sure to comment below!
Like this recipe?
Don't forget to give it a ⭐️⭐️⭐️⭐️⭐️ star rating and comment below the recipe!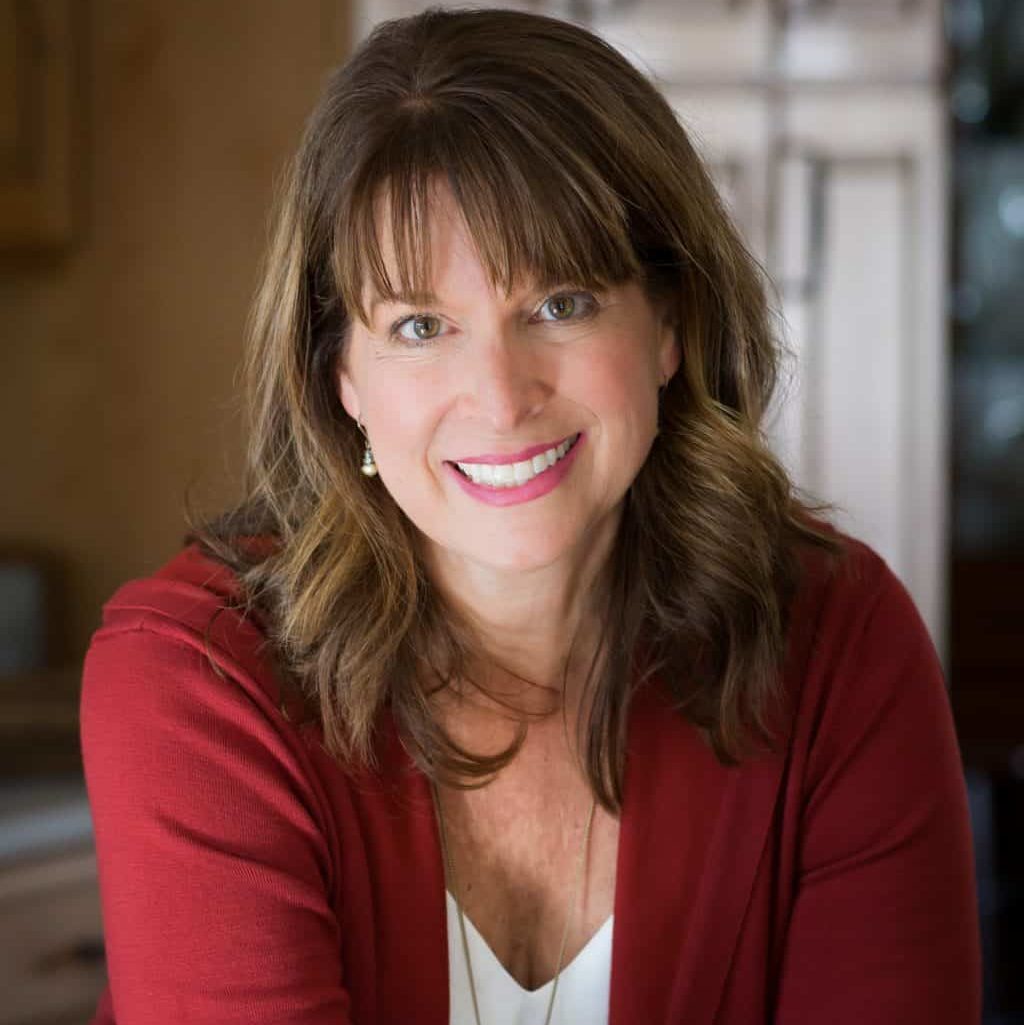 About Kathleen Pope
Recipe Innovator | Food Photographer | Food Writer
Hi, I'm Kathleen Pope. Here at The Fresh Cooky you will find easy, mostly from-scratch, trusted recipes for all occasions. From speedy dinners to tasty desserts, with easy step-by-step instructions. I am here to help teach you how to make mouthwatering recipes without spending hours in the kitchen. Read more about Kathleen here.