Super Simple Guacamole (+ Video)
As an Amazon Associate, I earn from qualifying purchases. Please read my disclosure policy.
How do you make a super simple guacamole? This is not only simple, but healthy, and so easy. Whether you are making it for Cinco de Mayo or Taco Tuesday or just because you have a craving, it might become your favorite recipe too.
Growing up in Southern California I have a deep love for authentic Mexican food and a favorite part for me has always been the guac on top! Taught by a dear Hispanic friend, this has been one I've made for years.
If you love Mexican food as much as I do, you will enjoy these family and reader favorites: Cheesy Enchiladas, Spanish Mexican Rice, and Barbacoa Street Tacos.
My favorite recipe for healthy Guacamole
I felt it was high time I gave you my super simple guacamole recipe, this is a throw together kind of recipe, an excuse to grab some chips and dip in to do a "taste test".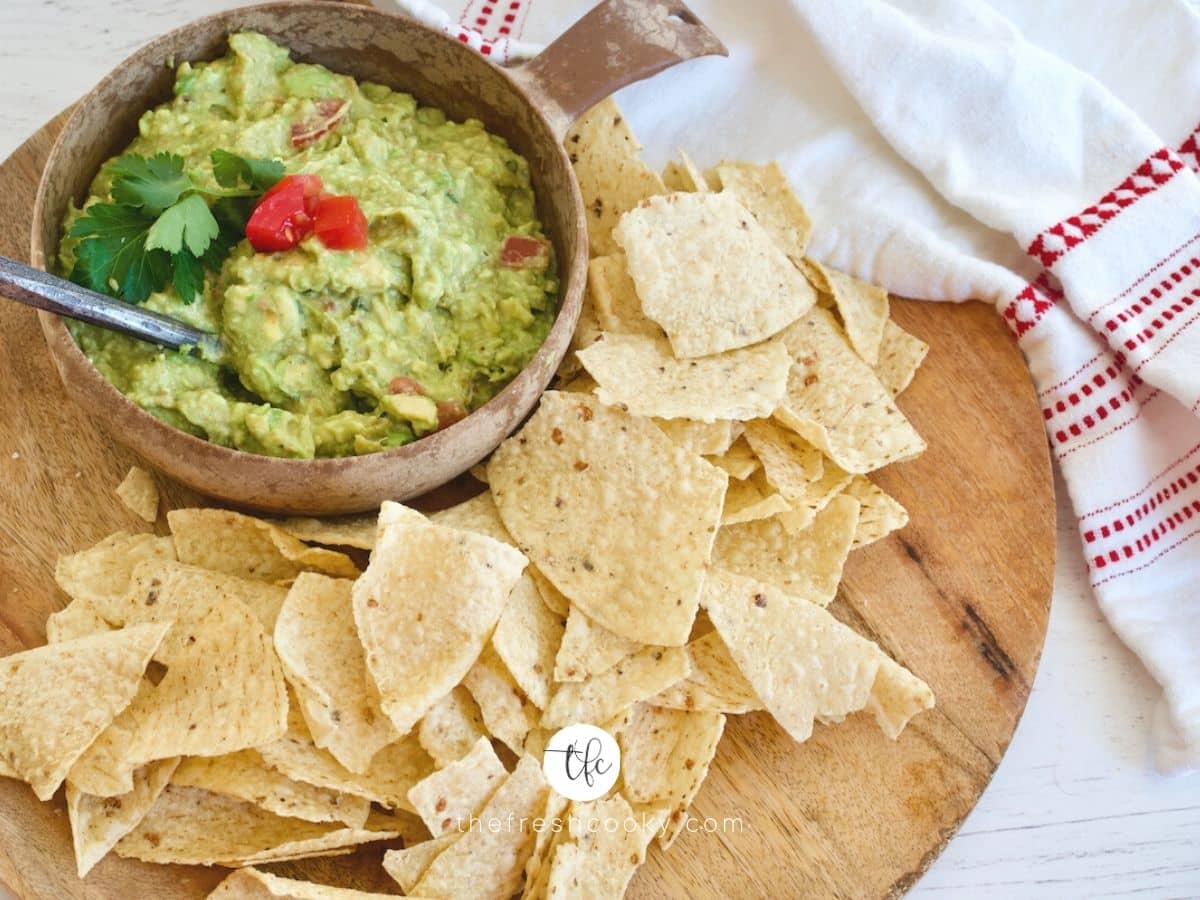 Why you'll love this Guacamole
SIMPLE | In fact it's so simple it's super simple guacamole! When I am making Mexican I don't want to be chopping jalepeno, onions, garlic and all. I want to throw in a dash of this and that, splash of lime and eureka, it's chips and guac time!
FRESH | The bright, nutty and delicious flavor of the healthy avocado shines through!
HEALTHY | No sour cream, just a few herbs and spices is what makes this so delicious!
QUICK | This comes together in a matter of minutes!
This easy recipe is so simple, our families tried and true recipe, if I have made it once, I have made it hundreds of times.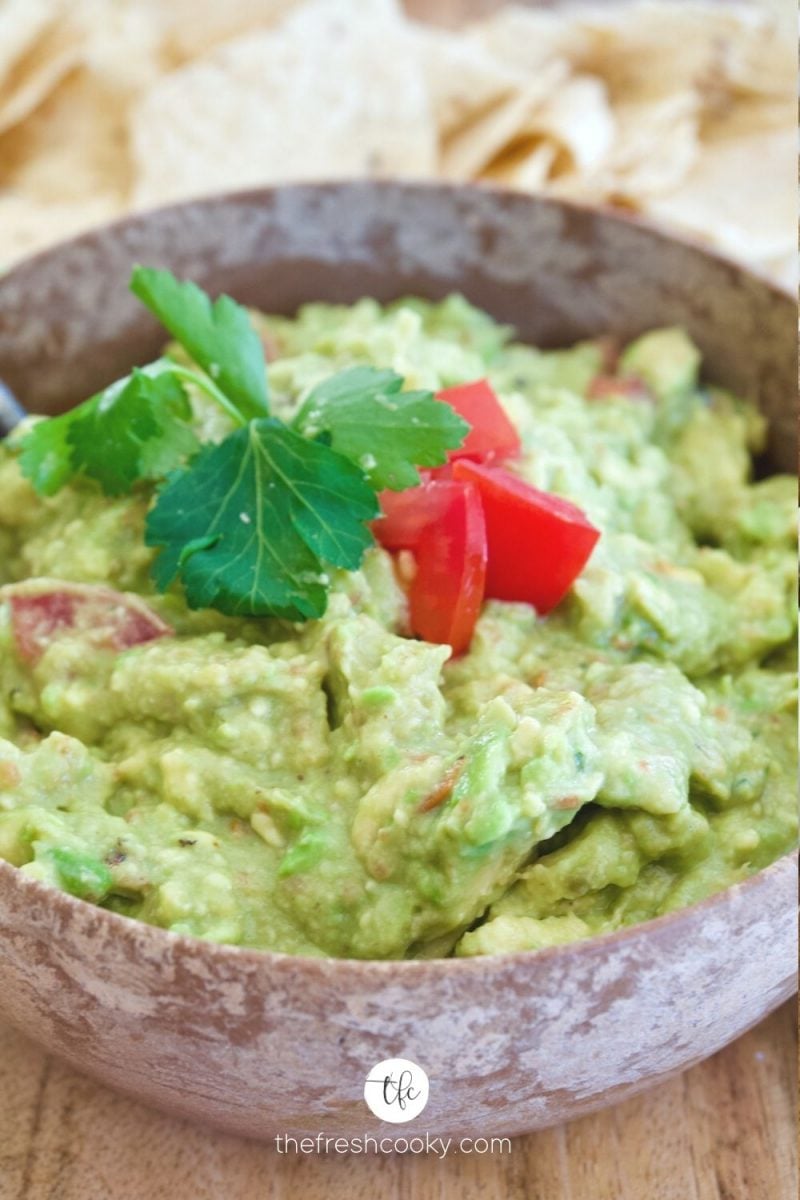 What you'll need for Authentic Guacamole
Simple, real, whole food ingredients here, nothing fancy and probably other than a couple of ripe avocados, you might have everything in your pantry.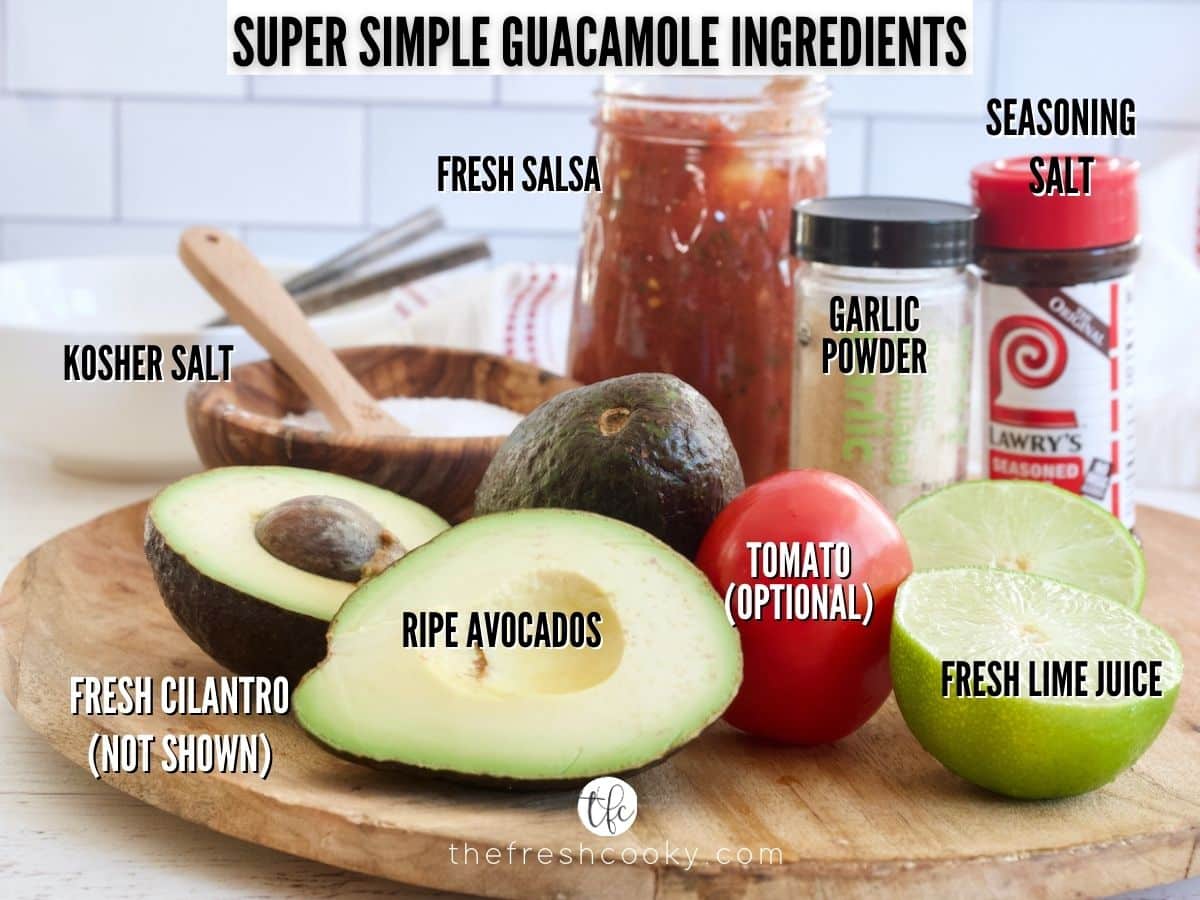 AVOCADOS | Ripe, but firm, gives slightly under a tiny bit of pressure.
LAWRY'S SEASONING SALT | My secret ingredient, use any seasoning salt.
GARLIC POWDER | A simple way to add great flavor, optional add a little dash or two of onion powder.
TOMATOES | I love chunky, fresh tomatoes in my chips and gauc.
SALSA | Adds a little spice, texture and definitely flavor!
LIME | A must for zing, plus aids in keeping it from turning brown
KOSHER SALT | Taste before adding, you may not need it.
CILANTRO | to taste, omit for guacamole without cilantro.
How to make Quick Guacamole
Watch the simple video for how to make this easy, super simple guacamole. But I will take you step by step below: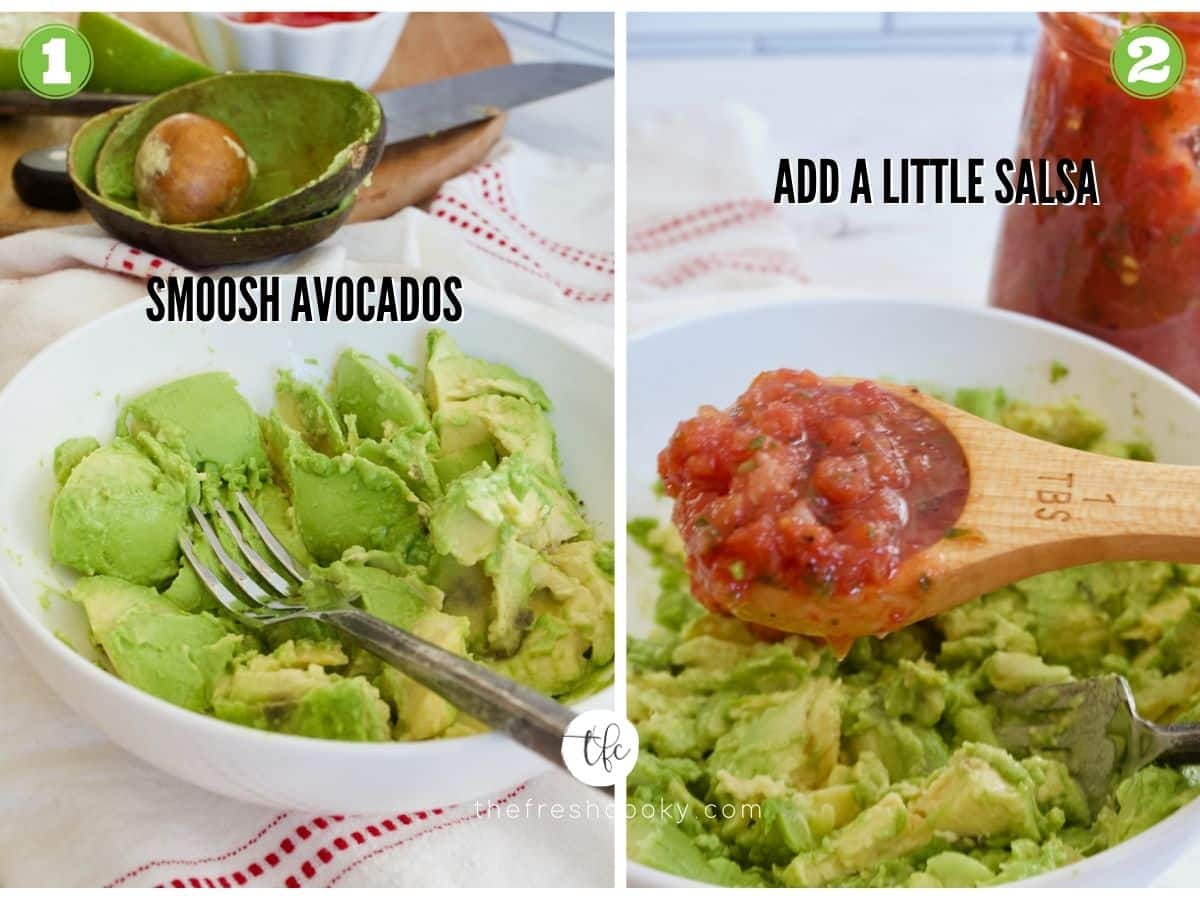 Using a sharp knife, slice through the avocado to the pit all the way around, then scoop out the avocado flesh using a spoon, repeat with second avocado.
Mash slightly for more chunky guacamole, you will continue mixing as you add the various ingredients, which will natural smooth it out, we like ours a little chunky. Add 1-2 tablespoons of your favorite salsa.
Toss in ¼ – ½ teaspoon garlic powder, a few shakes of Lawry's Seasoning salt (not too much, you can always add more salt, you can't remove it).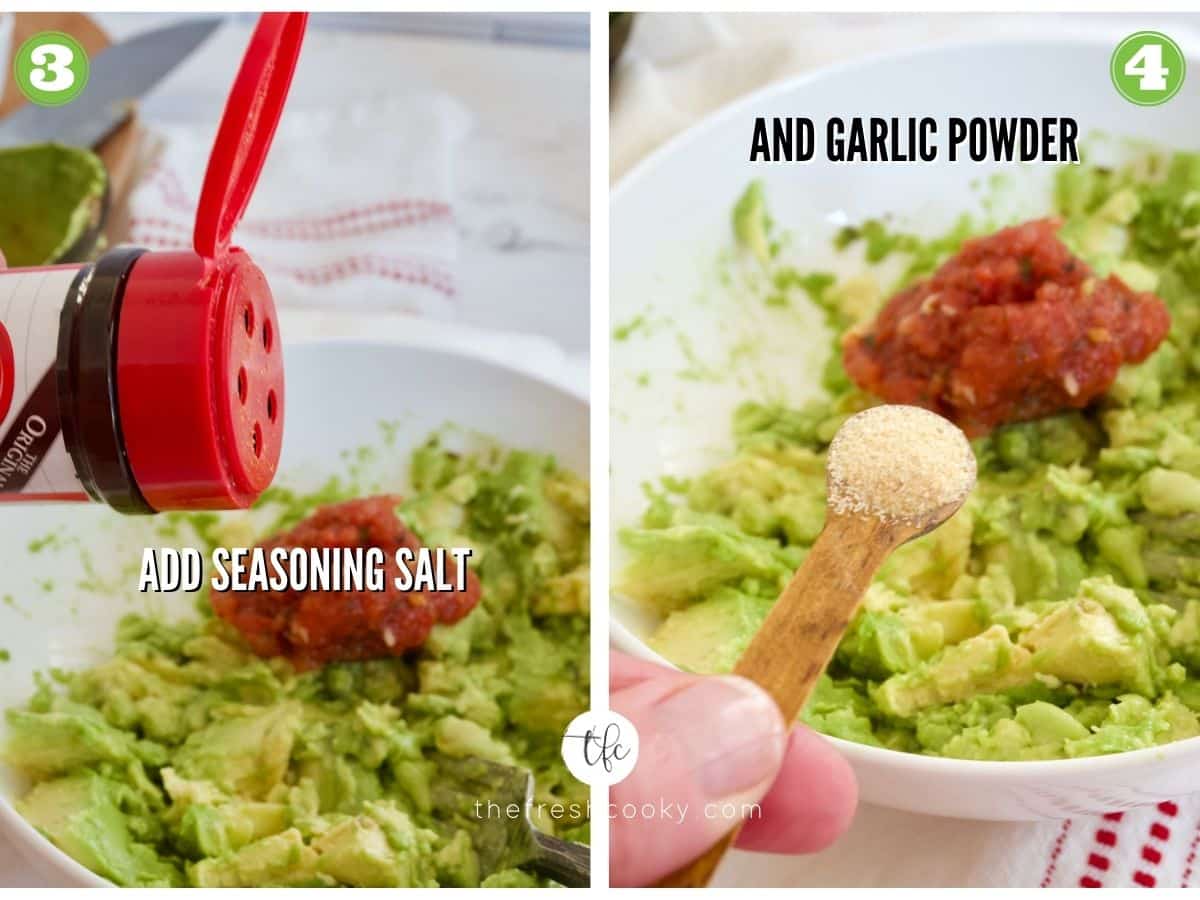 Toss in fresh, chopped tomatoes (if desired), squeeze in half a lime, then taste. Adding a little more salt, lime or salsa if desired. Finally, stir in 1 tablespoon fresh chopped cilantro, if desired.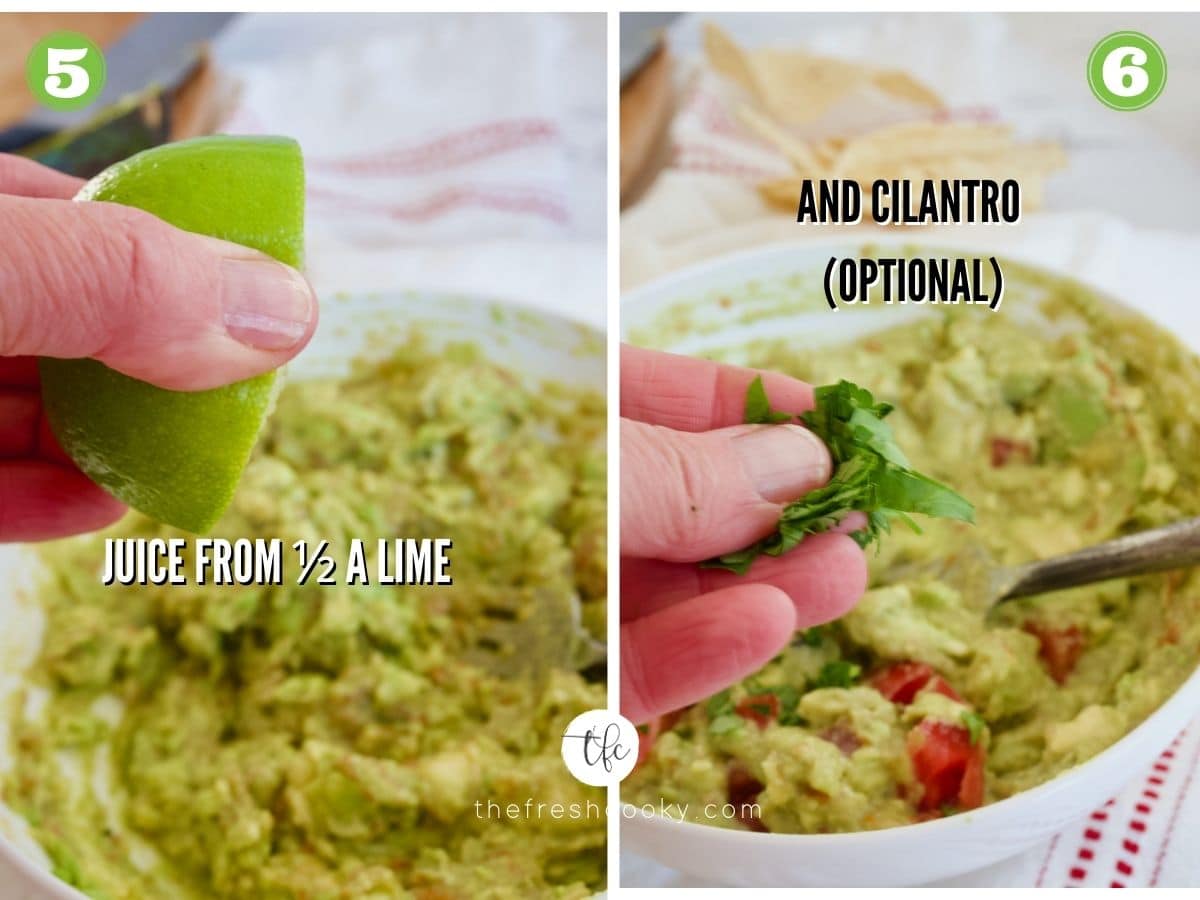 Storing Homemade Guacamole
I typically make mine according to our needs and rarely have any leftover. It will last 1-3 days in the fridge, but really, can you resist it. Read below for tips on storing healthy guacamole.
How to Keep Guacamole from Turning Brown
Kathleen's Tips | Add lime or lemon juice to your guacamole, not only does the citrus add a lovely zest and zing to the dip, but it provides a barrier to the natural oxidation that happens when avocados are exposed to air.
If storing, smooth the guac as flat as possible, then place a piece of plastic wrap, directly on the surface. This will help slow the oxidation process.
If your guac develops a brown layer, it will not hurt you, either skim it off or just stir it in, you will have bright green guac once again.
RESTAURANT TIPS
So how about those vats of guacamole at Chipotle or Qdoba? After doing a bit of research here is what restaurants do to reduce the brown in their guac.
Smooth the guacamole into a flat layer.
Pour a thin but visible layer of water or lemon/lime juice over the guacamole to form an air barrier.
Place a piece of plastic wrap onto the guacamole to prevent air pockets, or place in a sealed container.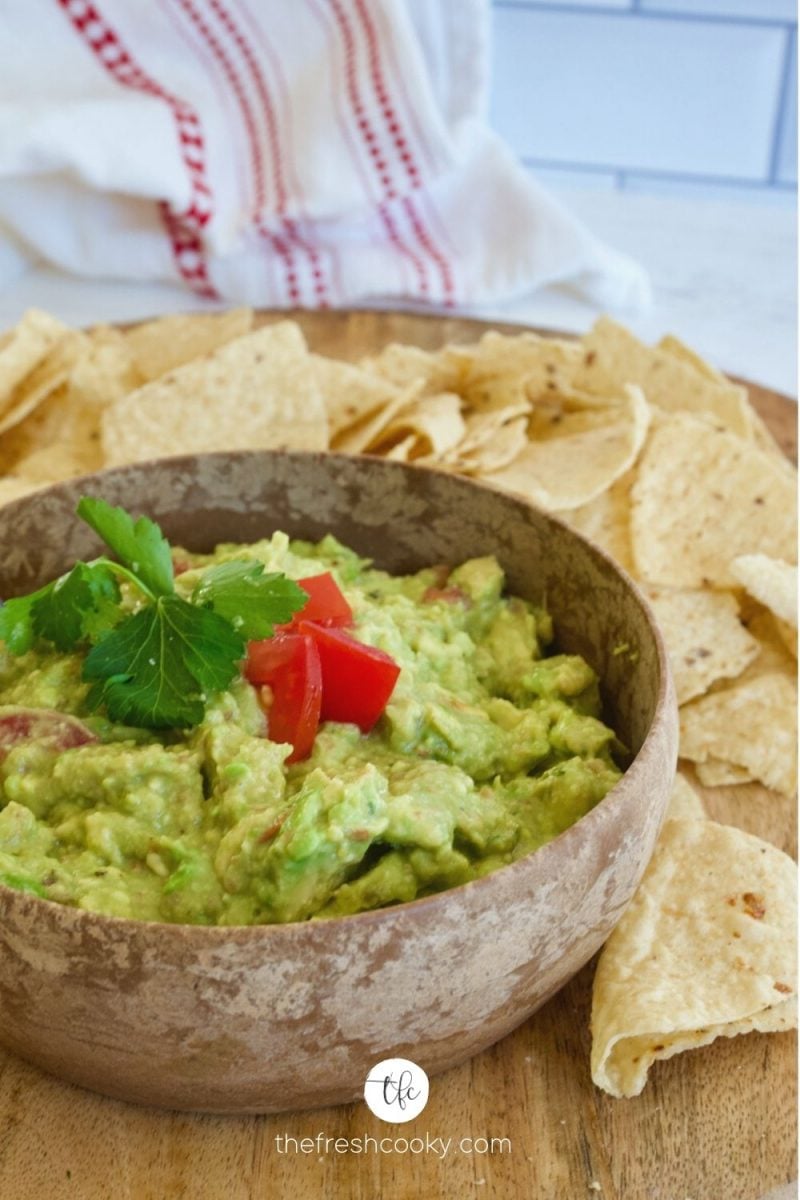 Frequently Asked Questions
Why is my guacamole bitter?
Most likely the avocados are under-ripe, if they are really firm, they need to ripen more before making guacamole.
What does guacamole mean in Mexican.
The name comes from Classical Nahuatl āhuacamōlli [aːwakaˈmoːlːi], which literally translates to 'avocado sauce', from āhuacatl [aːˈwakat͡ɬ] 'avocado' + mōlli [ˈmoːlːi] 'sauce' (Source)
How to ripen avocados quickly.
Avocados do not ripen on the tree; they ripen or "soften" after they have been harvested. To speed up the avocado ripening process we recommend placing unripe avocados in a brown paper bag with an apple or banana for two to three days until they are ripe. We do not recommend any other method of ripening. (Source)
Can I double or triple this recipe?
Yes, it multiplies easily. Be careful when doubling the salt and your lime juice though, go easy at first and then add to taste.
How do I get chunky guacamole?
If you want some nice large chunks of avocado, then hold out ½ to a full avocado, mix all the ingredients with 1st avocado. Chop second avocado with a couple of knives and gently fold into the guacamole mixture.
Healthy Guacamole is best served immediately, serve with your favorite chips, salsa and queso for the trifecta of Mexican appetizers.
More great Mexican recipes: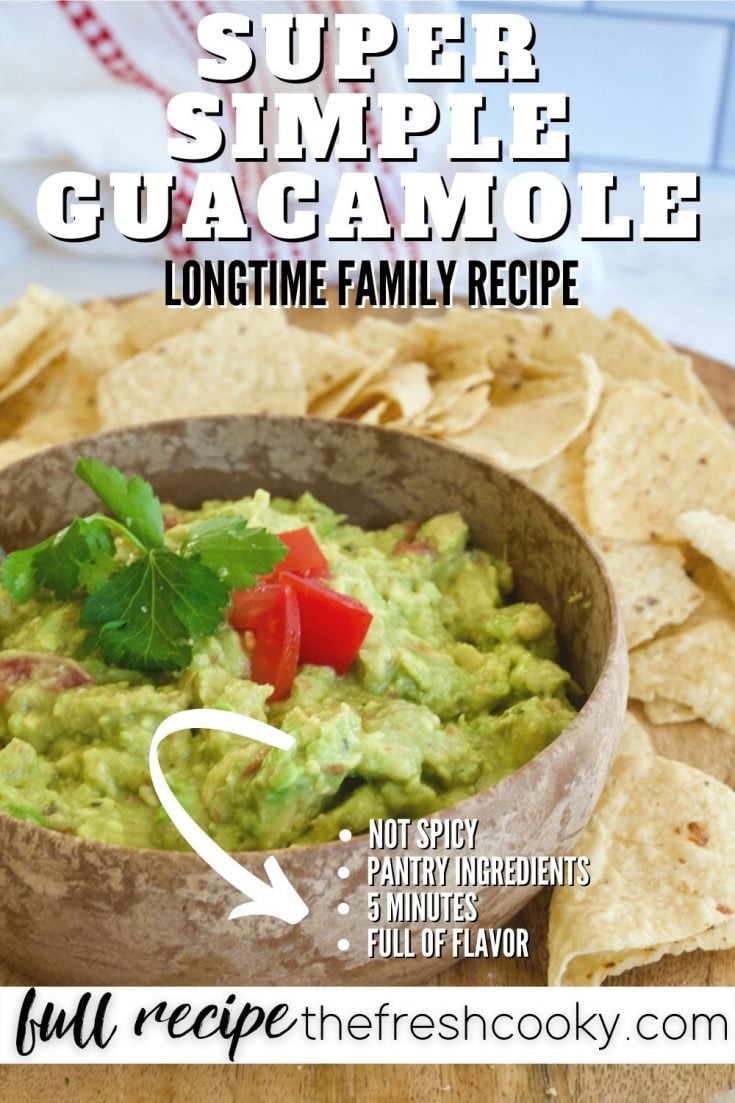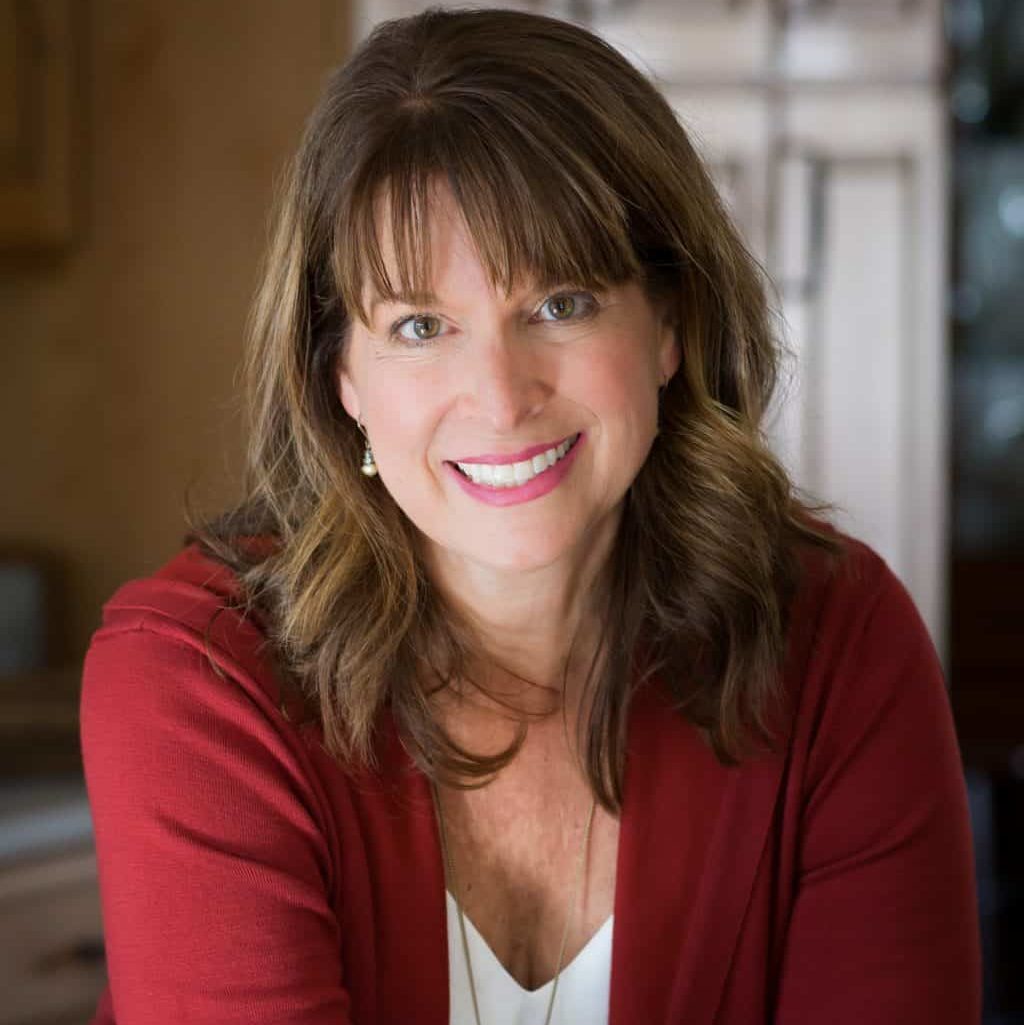 About Kathleen Pope
Recipe Innovator | Food Photographer | Food Writer
Hi, I'm Kathleen Pope. Here at The Fresh Cooky you will find easy, mostly from-scratch, trusted recipes for all occasions. From speedy dinners to tasty desserts, with easy step-by-step instructions. I am here to help teach you how to make mouthwatering recipes without spending hours in the kitchen. Read more about Kathleen here.