Easy 3 Ingredient Butter Pie Crust Recipe
As an Amazon Associate, I earn from qualifying purchases. Please read my disclosure policy.
Hello pie season, I thought it was high time that I give you my favorite all butter, easy 3-ingredient pie crust recipe. Three methods, food processor, stand mixer and by hand. The next time you are making a pie recipe, make this no fail pie crust recipe. This simple recipe will become your go-to easy pie crust recipe.
This family recipe makes enough for two deep dish 9″ pies or a 9″ double crust pie. And I just want to say, it doesn't have to look picture perfect! I'll show you some of my less than perfect crusts.
If you are stuck for ways to use this no fail pie crust, let me get you started with this savory leftover ham pot pie, maybe creamy butterscotch cinnamon pie, a classic pumpkin custard pie or replace the graham cracker crust on this amazing key lime pie.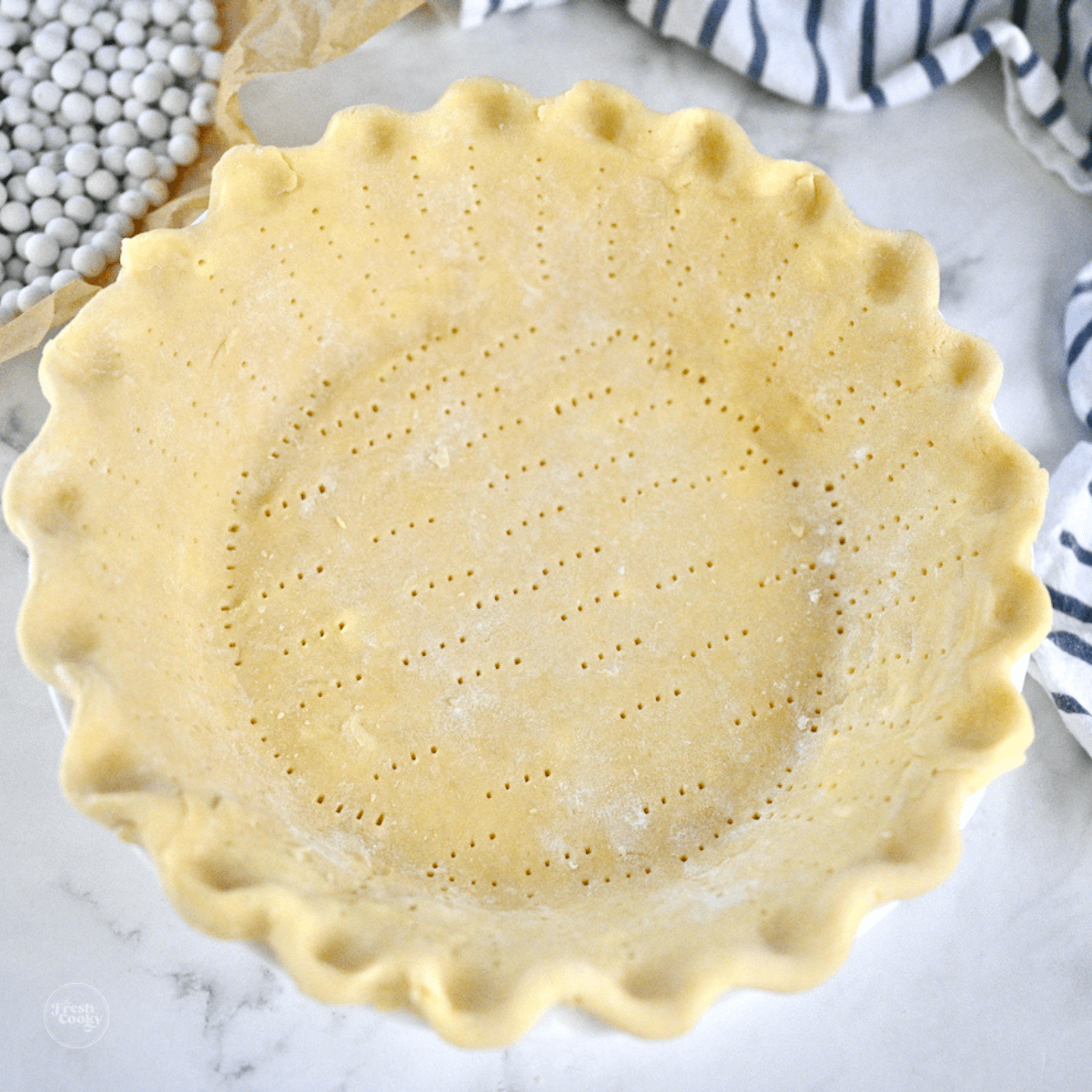 Why we love this recipe
Tested | Over the years, I've tweaked the process to make the perfect pie crust.
Imperfectly Perfect | I have pieced together and patched many a pie crust dough, still tastes just as good, don't worry about how it looks.
3-ingredient pie crust | Doesn't get much simpler! Flour, cold water and butter are your main ingredients, adding salt or sugar depending on your pie recipe.
3 Methods | Whether you prefer by hand, a food processor or using your stand mixer, I have all three methods for you!
I've been using this easy pie crust recipe for decades, a never fail pie crust recipe for both savory pies and sweet pie recipes. It's a winner and gets rave reviews from all of my recipes testers.
This is a lengthy, full of tips and tricks post, so browse the table of contents below to jump to your favorite bits.
Simple Ingredients
Ingredients, directions and nutritional information in the printable recipe card at the end of the post.
Unbleached all purpose flour | I always use organic unbleached flour and haven't tested with bleached flours. You can also use pastry flour if you have it on hand.
Butter | Use a good quality, COLD butter, salted or unsalted, I typically have salted butter on hand so that is what I use. I typically use Irish butter, like Kerrygold, makes a world of difference, but use the best you can afford. Use cold butter, not room temperature.
Ice Water | Place a 4-6 ice cubes in a measuring cup with water, let them sit while you prep the rest of the ingredients. Then pour ice water amount into a mini measuring cup.
Optional Ingredients | You might want to add a bit more kosher salt if you are using unsalted butter or add a little cane sugar if you are making a sweet pie crust.
Recommended Equipment
Food Processor | this tool makes this all butter pie crust so much easier, but don't worry, I'll show you how to make without a food processor and with a stand mixer.
Rolling Pin | I have an antique rolling pin that I use for my pies, but I just ordered one of these adjustable rolling pins so your thickness is uniform.
Bench Scraper | is a handy tool when making a homemade pie crust recipe, use it to unstick dough from your rolling surface and to slice the dough into two pieces.
Pie Weights | I've used dried beans for years, perfectly fine to use when blind baking your pie crust. But have recently bought pie weights.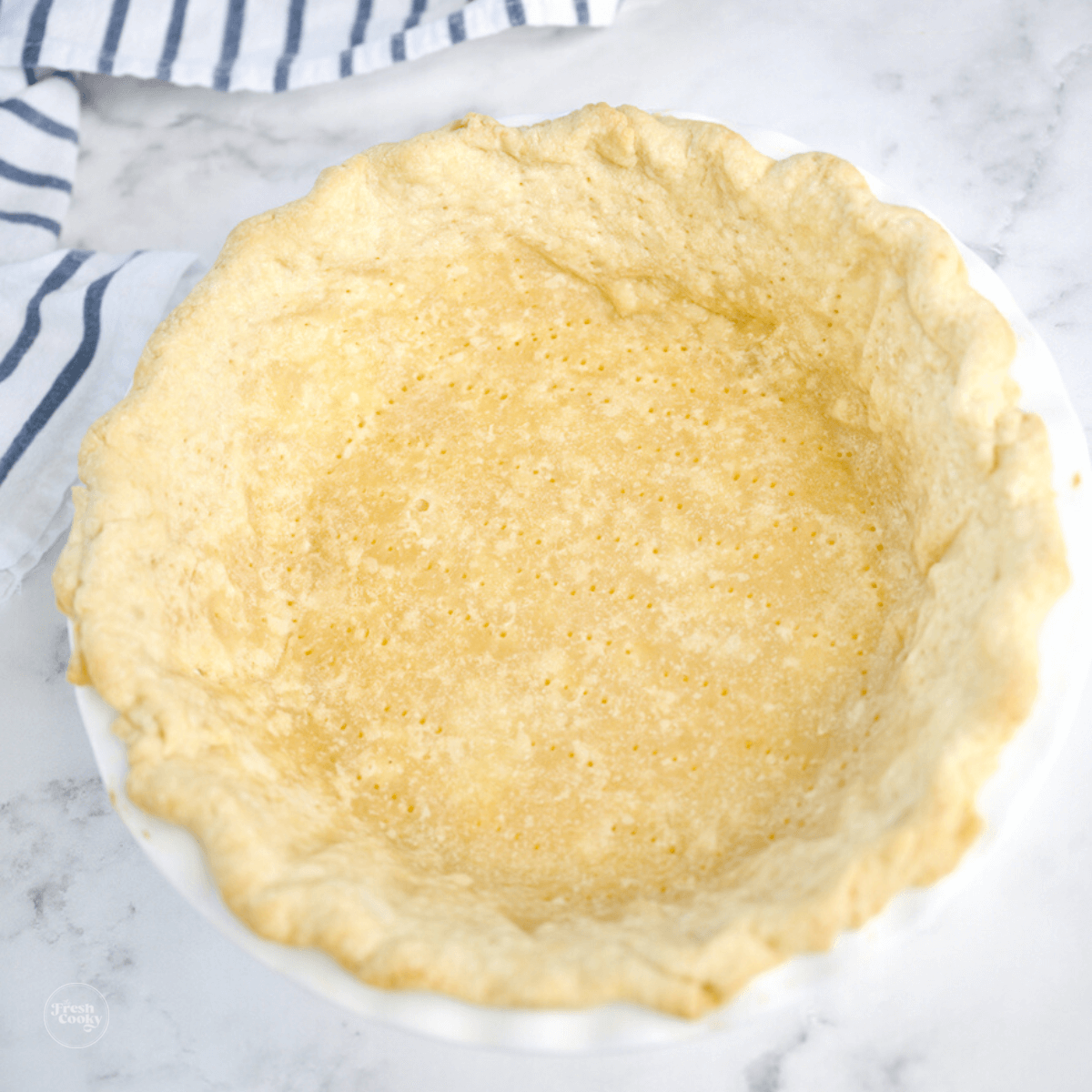 Why I use Irish Butter for my Pie Crust
Because Irish butters contain a higher fat content, which translates into a more tender and flaky — oh so amazing butter pie crust. I think it's actually the trick to this recipe, makes rolling out a dream.
Do not use margarine or any butter that is soft coming out of the fridge, it will not work the same. Soft out of the fridge "butters" are actually butter blends.
How to Make a No Fail Pie Crust | Food Processor Method
Step 1 | Pulse Dry Ingredients
This is key! ==>> Start with 1 ½-2 cups of flour (reserving the additional cup), add kosher salt and sugar if adding to food processor. Pulse the dry ingredients a couple of times to combine.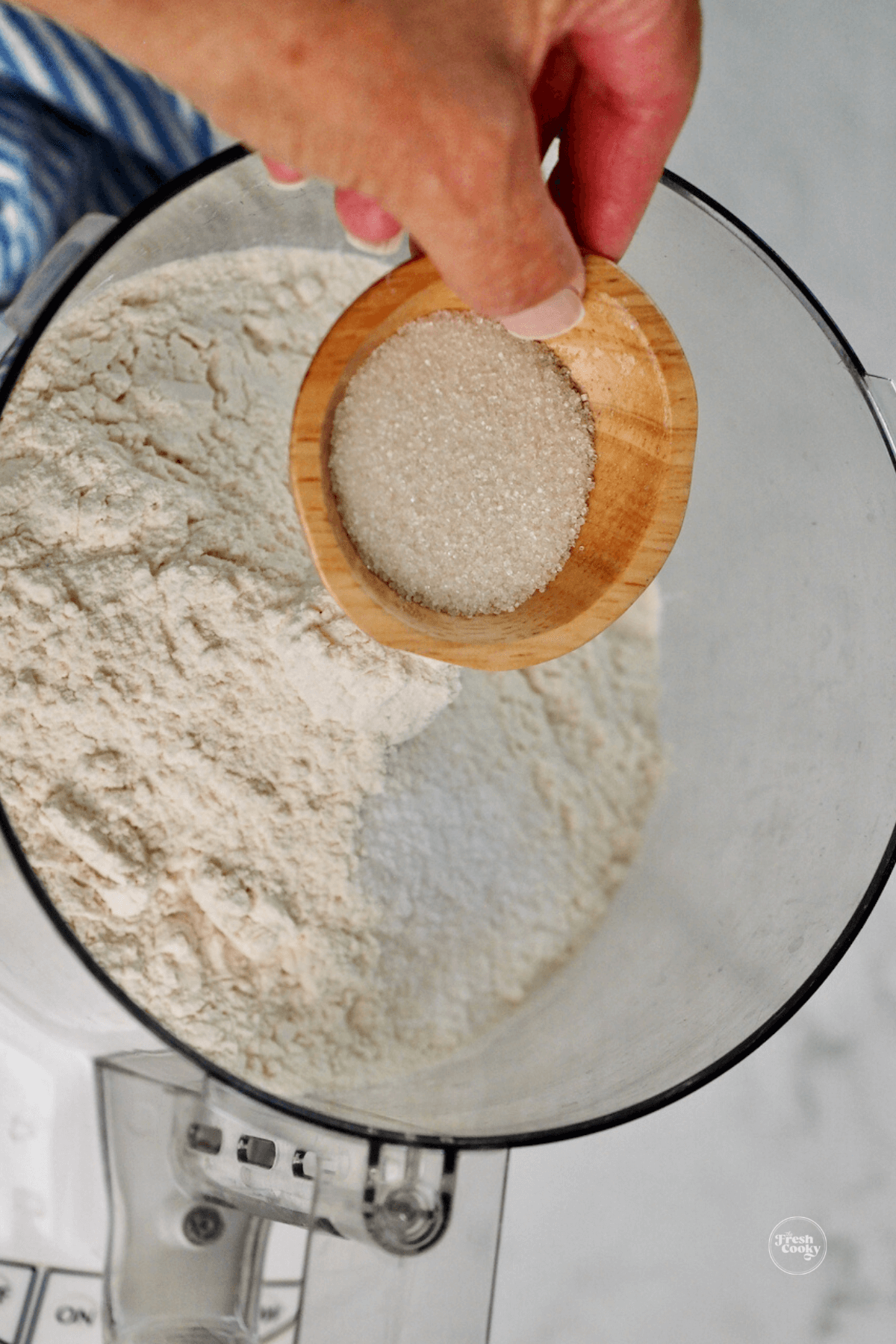 Step 2 | Add cold, cubed butter
Drop cubed cold butter over the top of the flour mixture, as evenly as possible. Process the flour and butter mixture, pulsing until it begins to make a paste, some machines take longer than others. It will start as crumbs, then as you pulse it will become a clumpy paste. Don't overmix it here.
Step 3 | Add remaining flour
Scrape the sides and spread the paste mixture evenly back into the bowl of the food processor. Sprinkle remaining 1 1/2 cups flour over the top, pulse 5-8 times on LOW until the mixture is crumbly and broken up.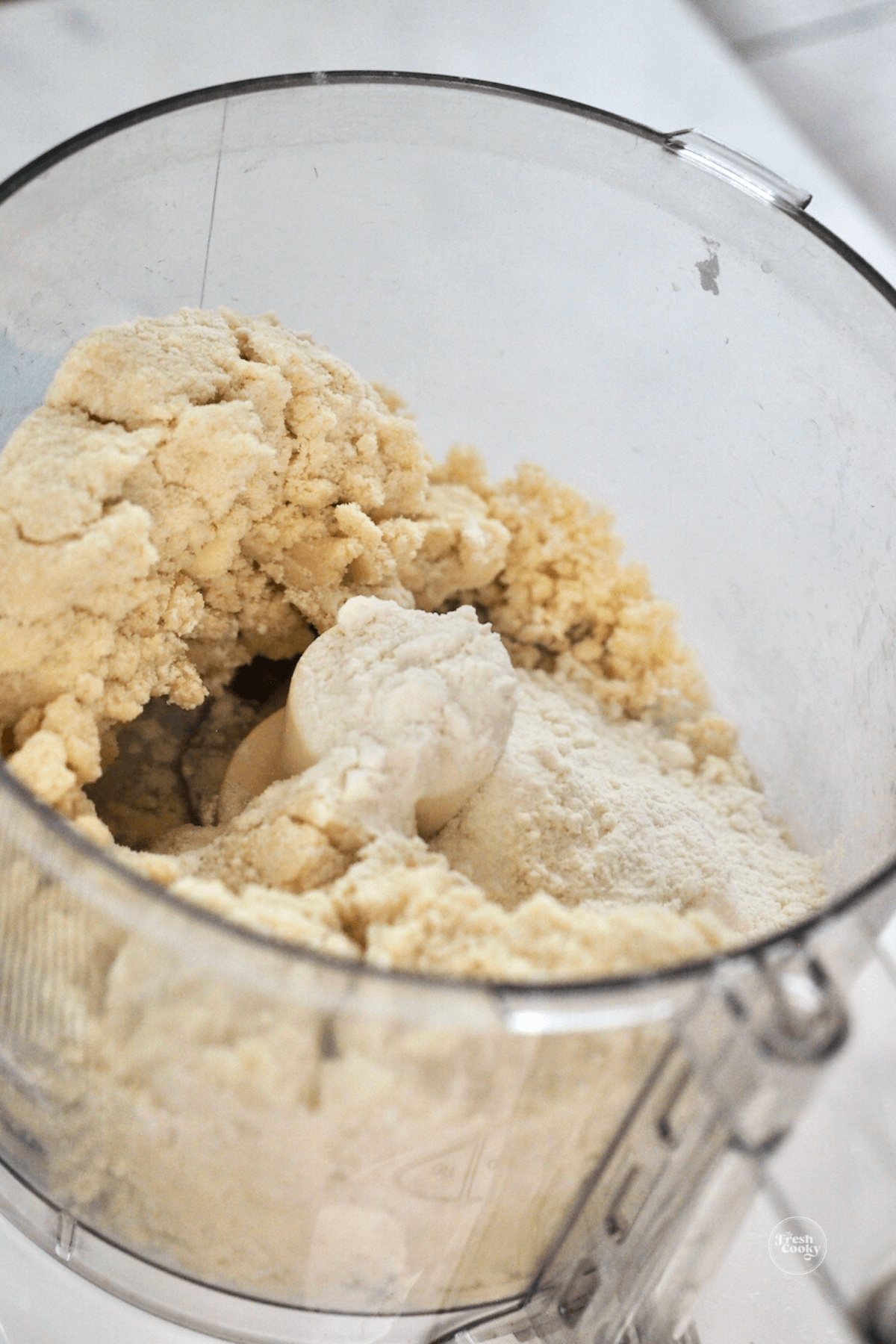 Step 4 | Transfer to bowl, add ice water
Transfer the crumbly dough to a large bowl, and sprinkle with ice water (start with 3 tablespoons of water), mix using your hands or pastry blender until the crumbs start making some larger clumps.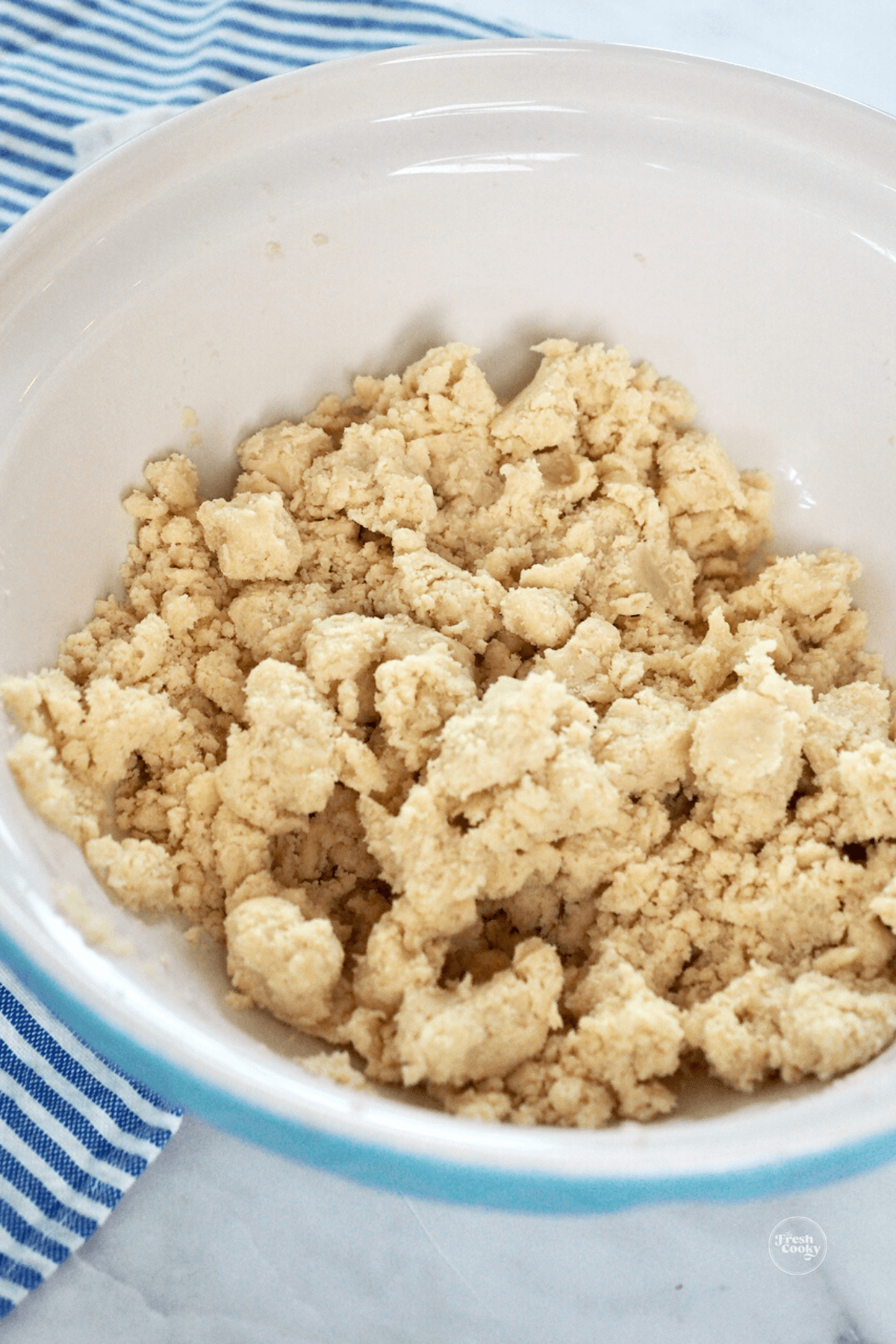 Give it a pinch, if the dough falls apart, you need to add enough water just to hold it together. Add just a teaspoon or two at a time, working it in, folding the dough over on itself until it comes together.
Step 5 | Make Pie Discs
On a lightly floured surface, gently pull the dough together (lightly now) just until it forms a large ball. Divide the dough into two dough disks, one slightly larger than the other if making a 9" deep dish pie crust. Press into a 1 inch flat round dough disc and wrap (both discs) in plastic wrap. Chill for 30 minutes in the fridge. If you chill too long, it will become too hard to roll out, no worries. Just let it sit out for 15-30 minutes and then roll out.
Fresh Tip
Use powdered sugar (instead of flour) when rolling a crust for a sweet pie! It will give the pie dough a sweeter profile.
When ready to roll out, dust the rolling surface (and the pie dough) with flour for savory pies and with powdered sugar for sweet pies.
How to make an easy pie crust recipe without food processor by hand
No food processor, no problem, I have handmade pie crusts for decades without a food processor. See tips below for how to make with a stand mixer.
Step 1 | Combine Dry Ingredients
In a large bowl add 1 ½ cups of flour, salt and/or sugar if using, mix to combine.
Place the cold, small cubes of butter (¼ inch cubes) on top of the dry mixture.
Step 2 | Cut in Butter
Using a pastry blender (also called a pastry cutter) or two knives work the butter into the flour mixture until well combined, sprinkle ¼ cup of the remaining flour at a time, gently working in each time until all of the flour is incorporated, but the dough is still crumbly.
Step 3 | Add Ice Water
Sprinkle the dough with 4 tablespoons of ice water, working into the dough until it just starts sticking together, only adding 1 teaspoon additional ice water at a time. Once the dough starts to hold together, stop adding water. Proceed with the recipe.
How to Make Pie Crust using a Stand Mixer
Want to make your pie crust in your stand mixer? You are in luck, it's super simple too — no pastry blender involved!
Place cubed butter in freezer while you measure out the rest of your ingredients.
Step 1 | Combine dry ingredients
Combine the flour, salt and/or sugar if using in the bowl of the stand mixer fitted with the paddle attachment. Mix on low until combined.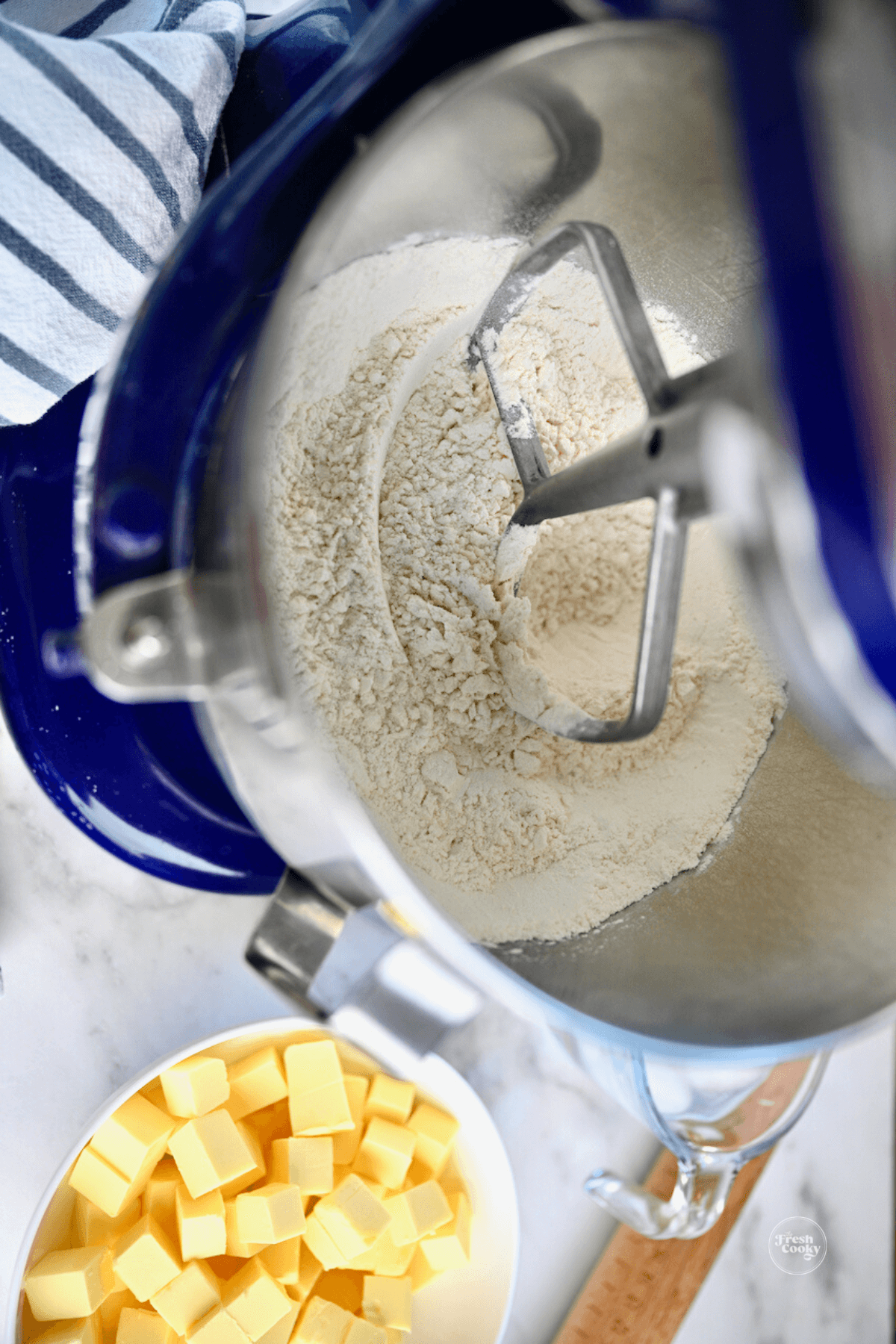 Step 2 | Mix in butter
With the mixer on low, add a few pieces of cold butter to the flour at a time, it won't really incorporate but you will have some bigger and smaller mashed up pieces.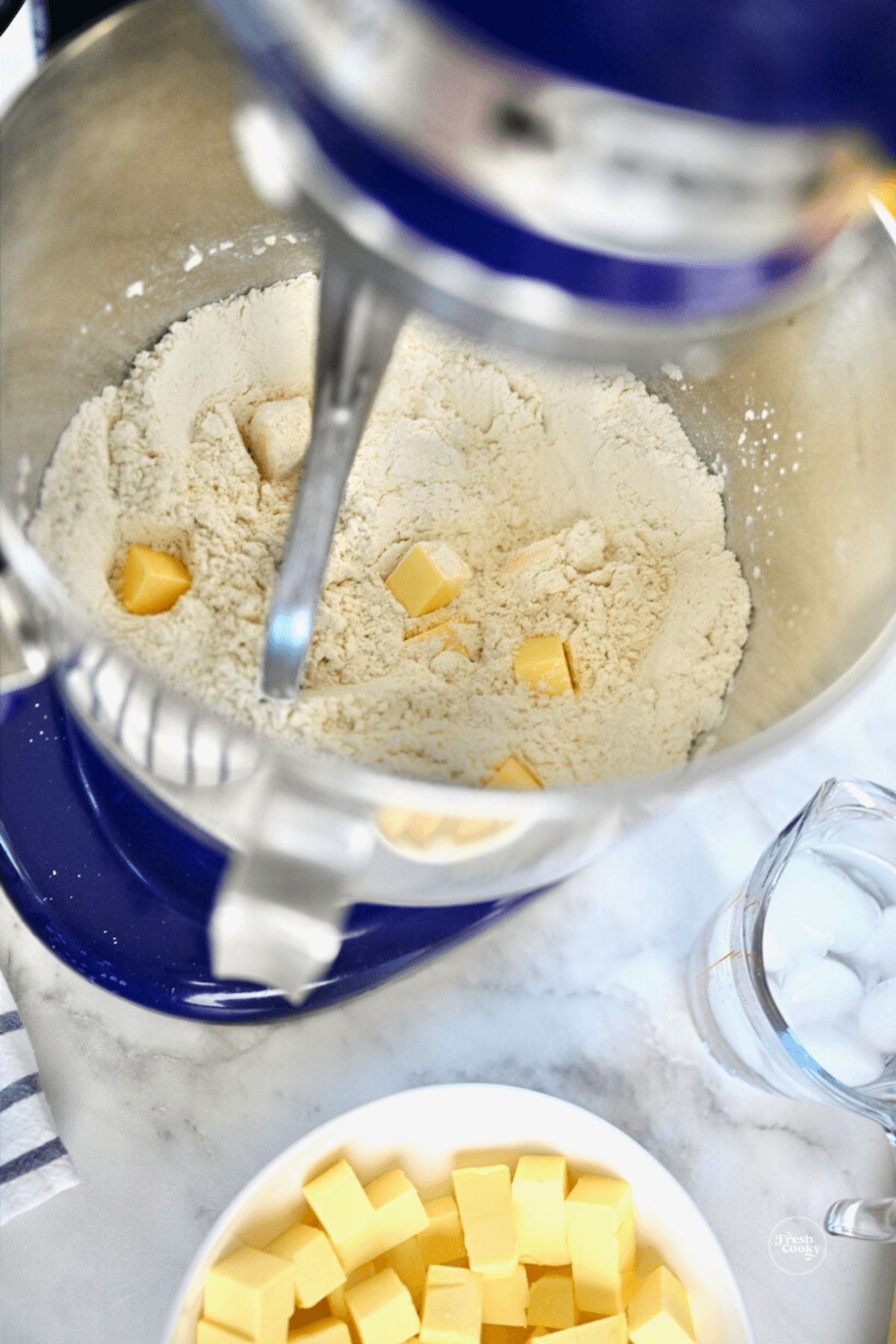 Step 3 | Add ice water
Measure out your ice water, starting with 4 tablespoons, drizzle into the pie crust mixture with mixer on low, add a little more until the mixture forms a doughy ball.
Remove from mixer onto a lightly floured surface and form the dough gently into a ball (careful not to overwork the dough here). Divide into two balls, flattening out with hand. Wrap well and refrigerate for 30 minutes.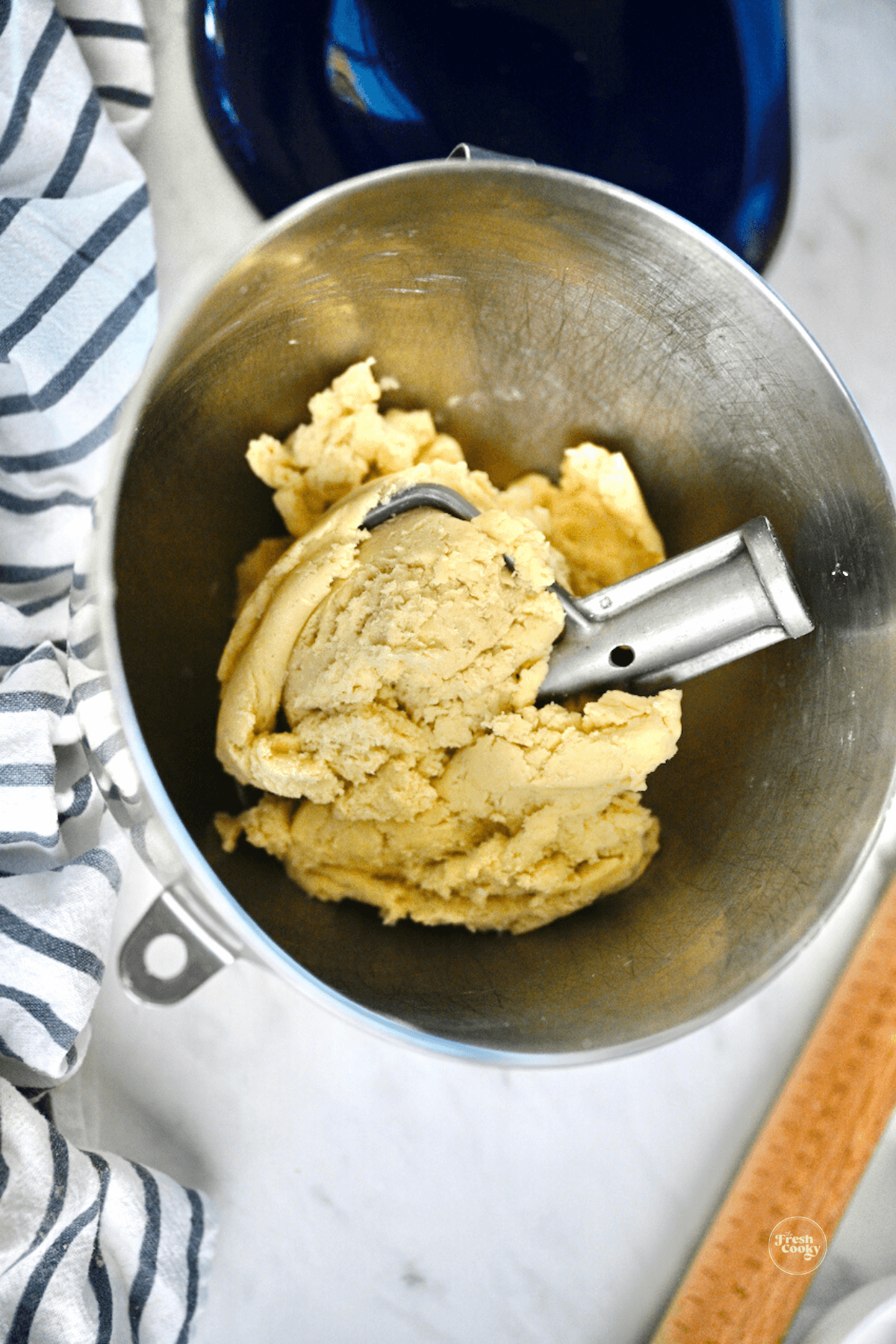 Proceed with rolling out.
How to roll out pie dough (all three methods)
Roll* the dough into a 12" circle between ¼-⅛ thick. Sprinkle with a little flour or powdered sugar as needed.
*Place the dough disk between two sheets of parchment paper or wax paper for easier rolling and cleanup.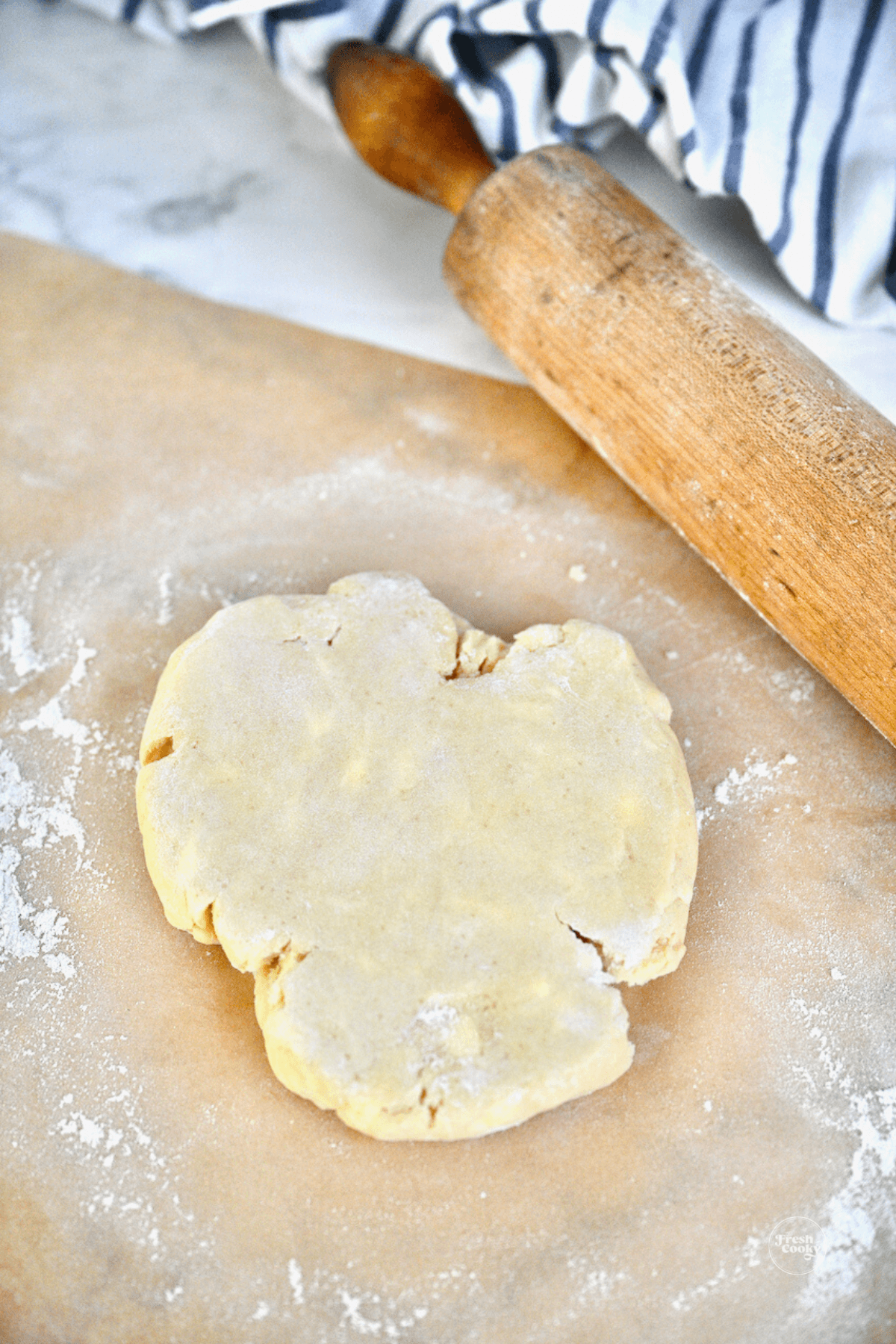 Make sure your rolled out dough will fit the pie pan you are using; invert the pie dish over the top of the dough, the pie shell should have at least a 1-2 inch excess.
Roll the pastry dough carefully onto the rolling pin, then roll out onto the top of the pie dish, using your fingers to gently press it into the pie plate. Trim the dough with a sharp knife or scissors to about a ½ – 3/4 inch outside the rim of the dish.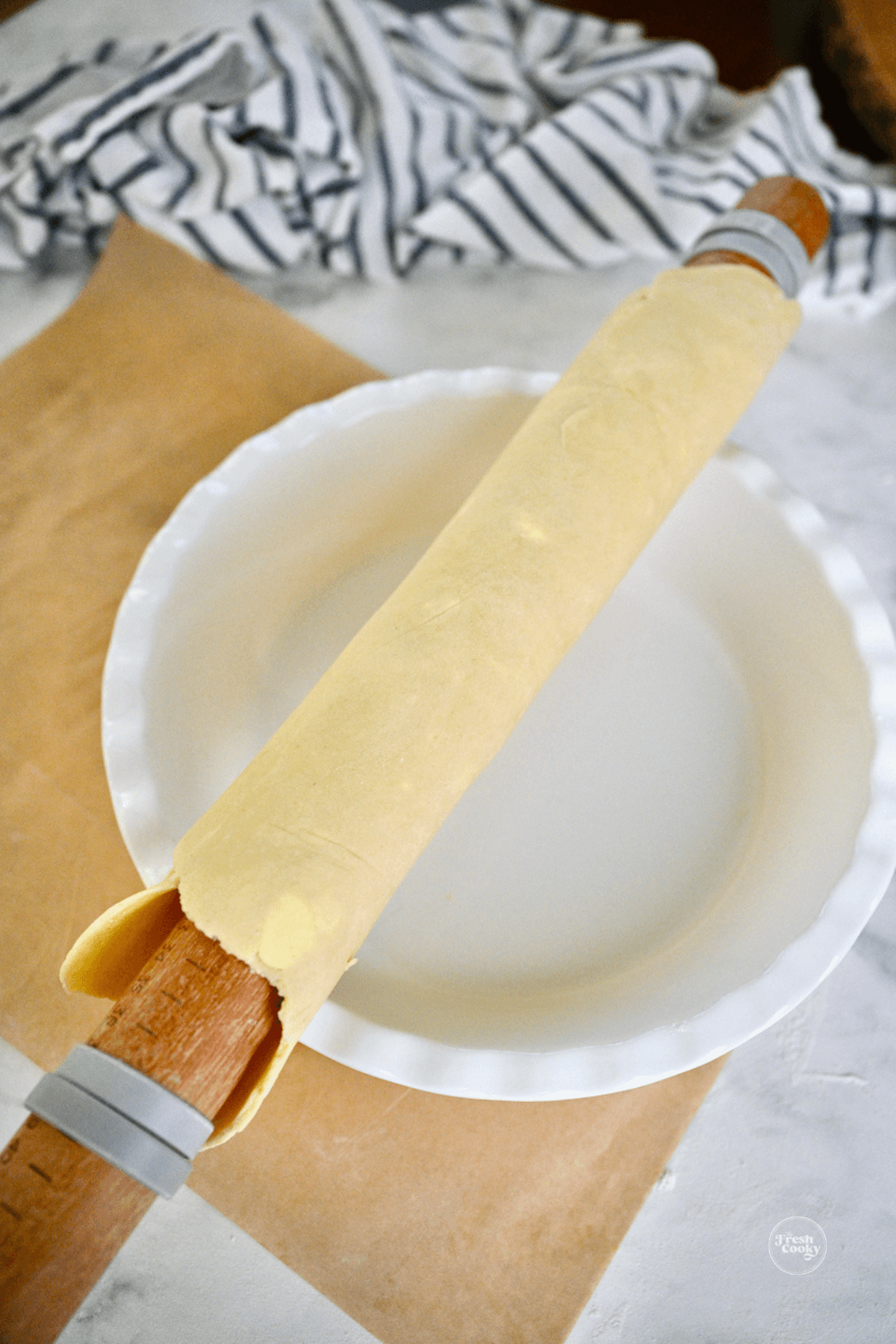 How to fix a torn pie crust
If you have holes, tears, splits or gaps in your dough, have no fear, tear a patch piece of pie dough that will fit the area and using a bit of water on your finger, rub the area you are patching, then press the patch onto that space.
It's okay if it doesn't look perfect, the flakiest pie crust is what we're after here. Believe me, no one will care when they see your creation!
SINGLE-CRUST PIE CRUST
If making a single crust, roll pie crust onto pie plate, then fold the edges under making a smooth rimmed border. Then using two knuckles on the outside and one finger or knuckle between the knuckles on the inside, make a fluted crust. Or use a fork and press into the crust creating a pretty design. Again, don't worry about what this looks like, just make sure it's fairly uniform in thickness.
DOUBLE PIE CRUST
Place the dough disc between two sheets of parchment paper and roll the dough into a 12-13" circle between ¼ – ⅛ thick. Be sure to have at least 1 inch excess hanging over the pie plate. Alternatively, you may use a pastry mat sprinkled with flour or powdered sugar.
Roll the pastry dough carefully onto the rolling pin, then roll out onto the top of the pie dish, using your fingers to gently press it into the pie plate.
For double crust pie, place pie crust in the freezer for 15 minutes if you have time.
Roll out the top crust making sure it fits the top of the pie dish. Set a damp paper towel or tea towel over the top of the pie crusts.
Fill the bottom crust with desired pie filling and top with a second crust, trimming the edges to ¾ inch and folding under, making sure to press the two seams together well, you might use a little water to help seal. Crimp to desired shape or use a fork or spoon to make the design.
How do I get a golden, glossy pie crust
If a glossy, golden crust is desired, lightly brush with egg wash (cream or water mixed with well beaten egg). Brush the edges of the pie crust before baking. If your crust starts browning before the pie is done, use a pie shield and be sure to cut 3 or more slits into the top of the pie crust to allow for venting.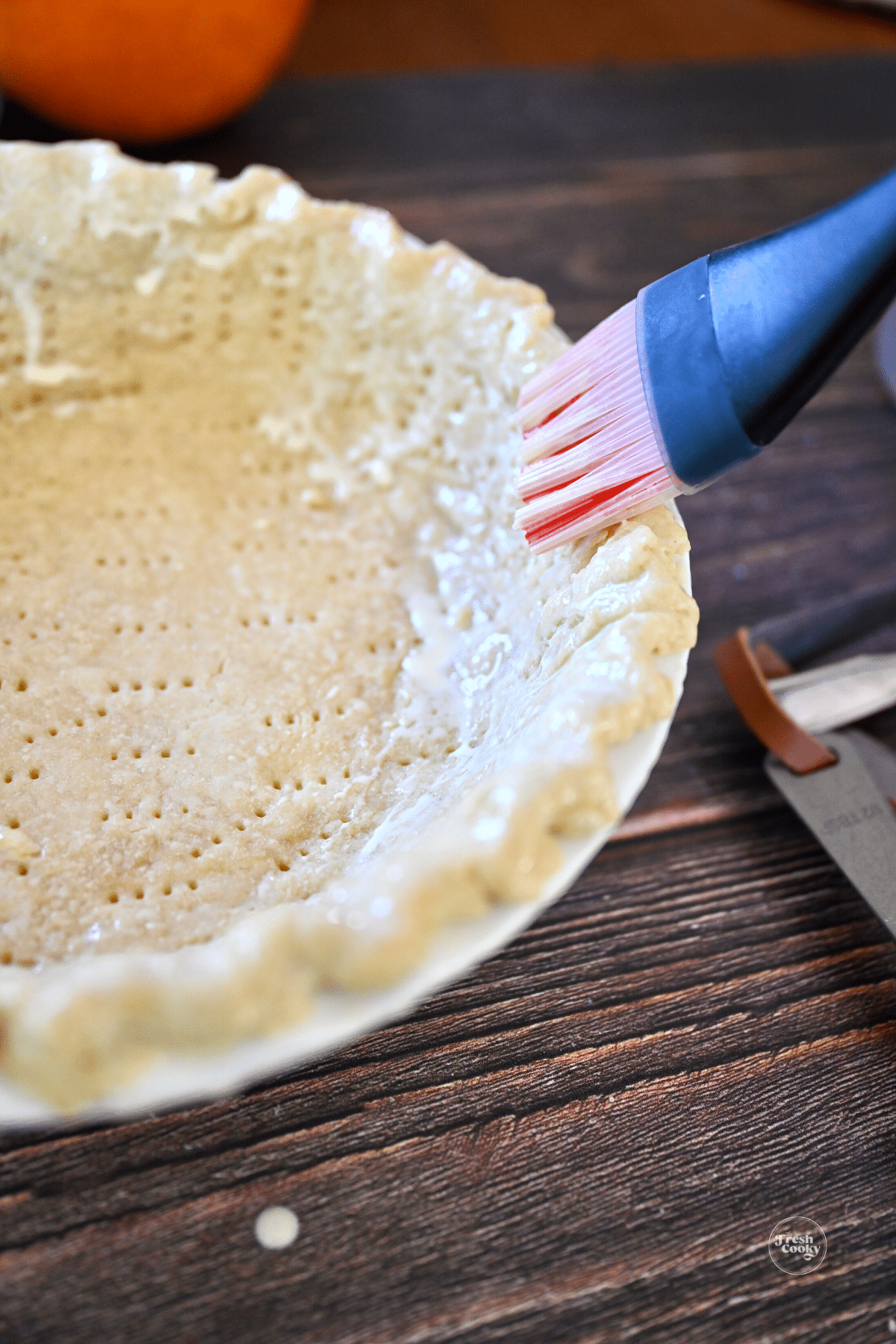 Optional | Sprinkle with a little Demerara or coarse sanding sugar for sweet pies. Bake as directed in your recipe.
How to Par-Bake a Pie Crust (Blind Baking)
For single crust pies that will still be baked (like pumpkin pie), you will want to par-bake your crust to avoid a soggy crust.
Pierce the entire pie crust including the bottom and sides with a fork, this is called "docking". Freeze your pie crust (in the plate) for 30-60 minutes before baking, while freezing, preheat the oven to 425 degrees, placing a foil covered baking sheet on a rack placed in the lower third of the oven.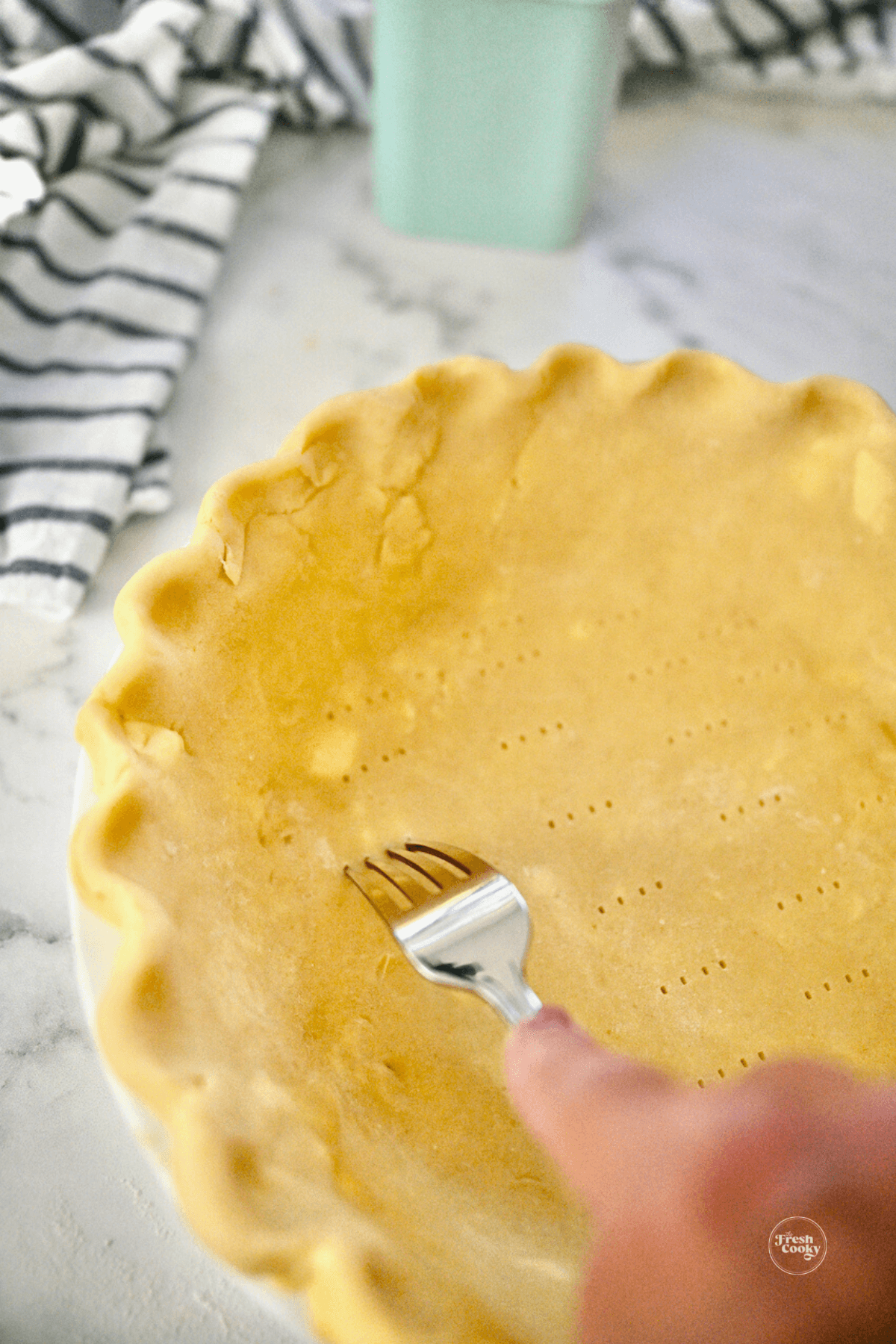 If desired, brush the rim of the crust with egg wash for a glossy golden finish. Crumple some tin-foil or parchment paper and carefully lay in the chilled crust. Add pie weights, dried beans or rice to weigh down the crust.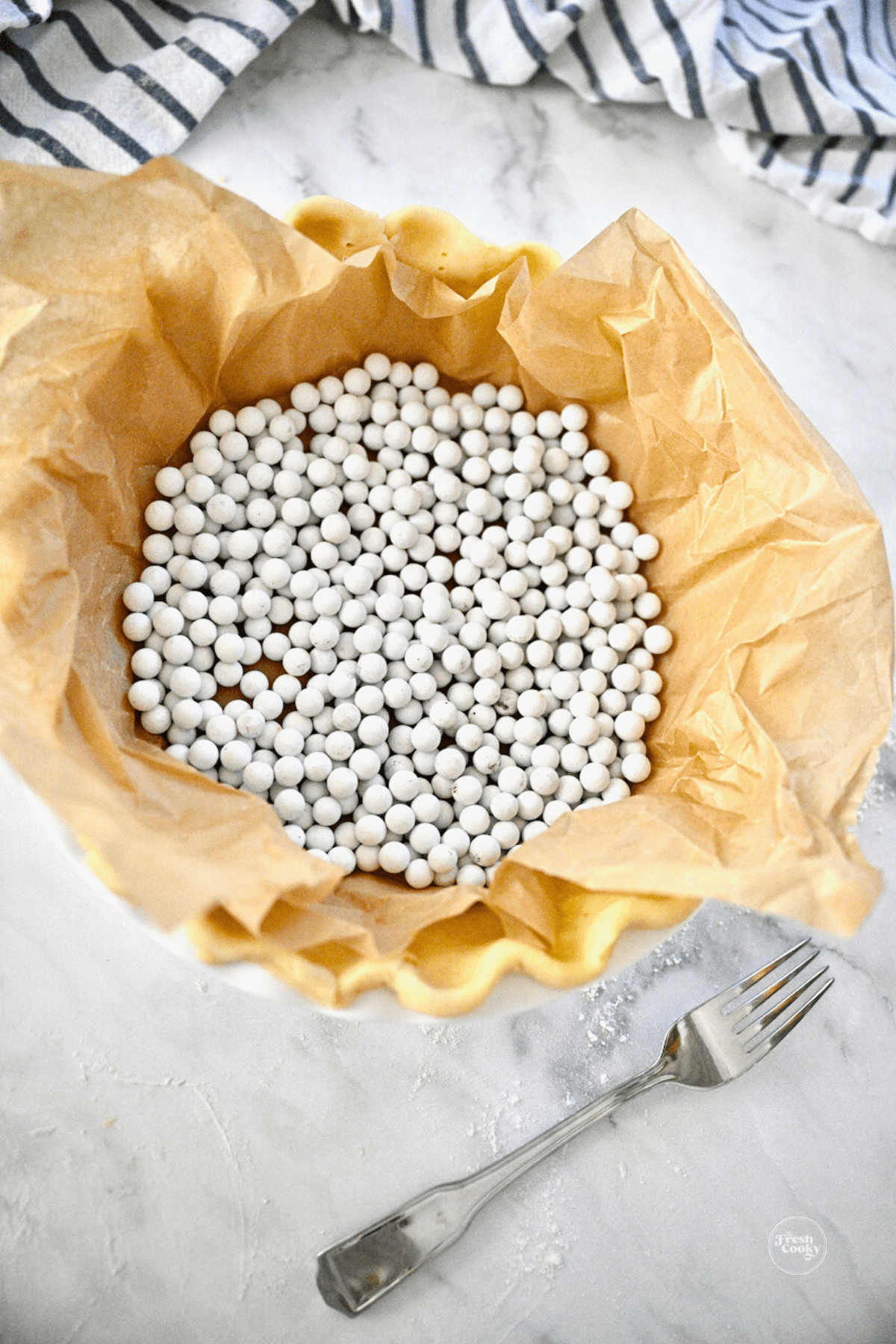 Bake for 15-20 minutes or until the pie crust no longer sticks to the parchment or foil. Remove pie weights carefully and proceed with your recipe.
How to Pre-Bake Pie Crust | for Custard Pies
Proceed as with the par-baked instructions, when you get to the 15-20 minute mark, carefully remove the foil or parchment and the pie weights, returning the pie crust to the oven to bake for an additional 12-15 minutes, until the crust is golden brown. Remove from the oven and cool completely before filling with something like my Butterscotch Cinnamon Pie filling!
Frequently Asked Questions
Can you freeze pie crust before baking?
Yes, in fact it is recommended to freeze pie dough in pie plate, best for 60 minutes before baking. This allows the butter (fat) to harden back up, giving you a tender, flaky pie crust.
How to bake a pie crust without pie weights?
No pie weights, no problem. Until recently, I used a pound of dried beans that I kept just for that purpose. You may also use rice, but beans are cheaper! Be sure to line the pie dish with crumpled and smoothed out foil or parchment paper and gently press into the pie dish, then add the weights. Don't forget to prick the pie dough with a fork before you place the weights in.
How to store baked pie crust overnight?
Easy! Store cooled baked pie crust by wrapping in aluminum foil or plastic wrap or place in a ziplock baggie. If just overnight, it may sit on the counter, store up to 3 days in the refrigerator. Just make sure your pie crust is cooled completely, if it's still warm at all, it will create steam and cause it to become soggy. You can store a par-baked pie crust or fully baked pie crust this way.
Do I need to spray or butter my pie dish before placing the crust in it?
Typically, no, there is plenty of grease in this butter pie crust recipe to keep it from sticking. If you are worried about it sticking, then spray very lightly with a little spray oil, then using a paper towel wipe it to even it out, leaving a thin layer.
Why did my pie crust shrink?
Did you chill and rest your dough before rolling? Did you chill it after rolling? Did you dock it (prick holes in the bottom and sides)? Did you use pie weights? Was your oven the right temperature? All of these can be the reason why, that being said, sometimes you do it all and it still shrinks (like my image below), don't worry, still delicious!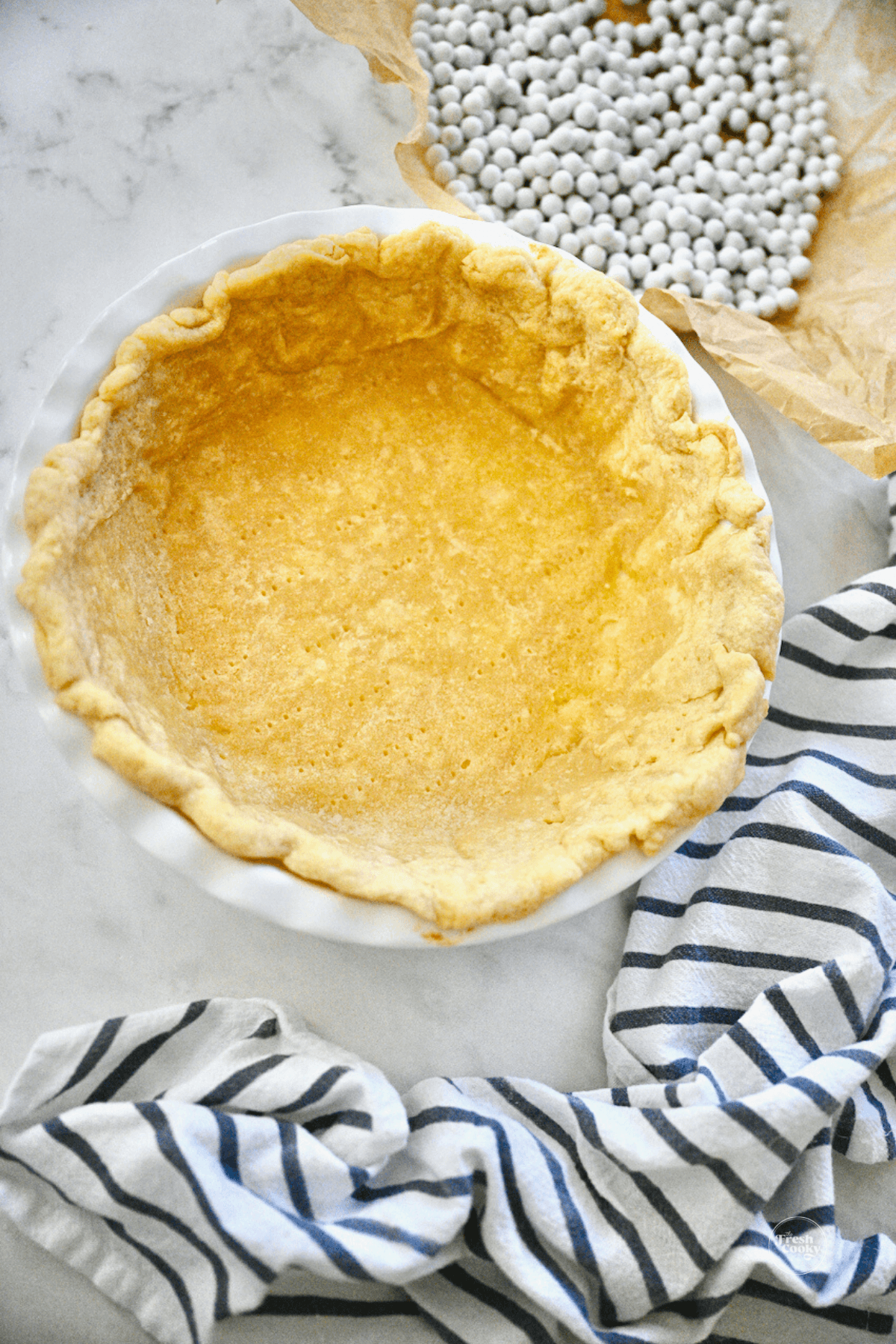 How to avoid a tough pie crust?
I have several tips for ways to avoid a tough pie crust:
Dough too warm | Cold ingredients are best! Then, working as quickly as possible. If the butter warms enough that it starts to melt into the flour, it will cause your dough to be tough.
Over-handling | Working too much or too firmly with the dough will toughen it up, this will cause an over development of gluten.
Not enough liquid | Liquid is what binds the fat and the flour. Remember to keep that water ice cold, that will help things.
Just Chill | Let your dough rest in the fridge for at least 30 minutes and if you have time after rolling it out, pop it in the fridge or freezer for 30 minutes or so.
High Altitude Pie Crust
You might think you need to make adjustments for high altitude pie crust, but you do not! Follow all of my tips and you will be golden — at altitude or sea level!
Gluten-Free Pie Crust
This recipe has been tested using a good cup-for-cup gluten-free all-purpose flour and yields excellent results. I've also tested it using fine ground almond flour and doing a 50/50 mix of the two flours. Delish!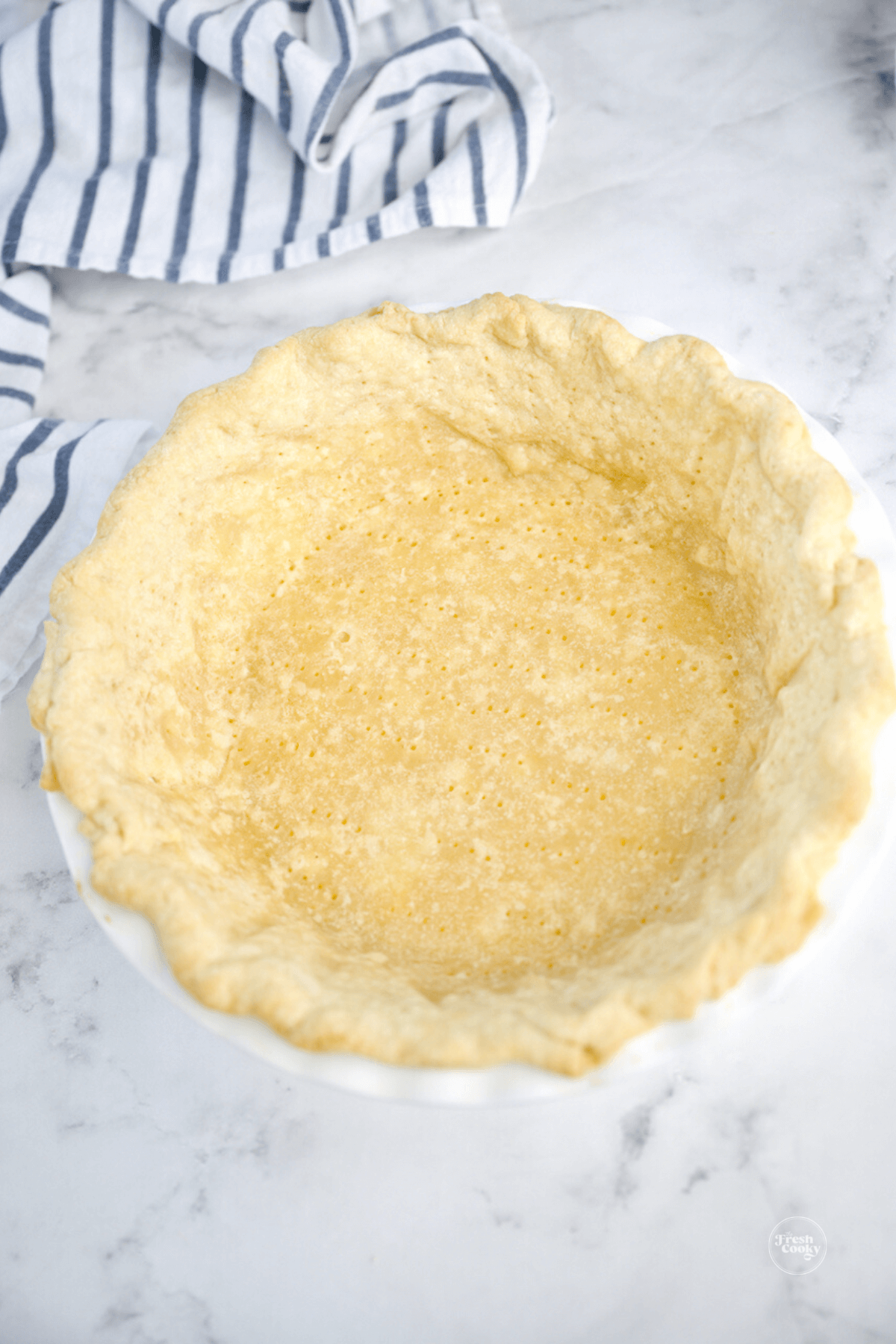 Dairy-Free Pie Crust
Replace the butter with a quality vegan butter, the kind that is hard and in sticks like regular butter, not soft. Or you could try freezing coconut oil, and cutting into cubes.
Ways to use your no fail pie crust recipe
Bake your favorite quiche in this perfect flaky pie crust.
Fill with apple pie filling, pumpkin pie filling, coconut cream pie — any pie filling you desire!
Make yourself a turkey pot pie, chicken pot pie or Shepherd's pie (use this filling).
Bake hand-pies or tarts.
What to do with pie crust scraps
The best part, okay, maybe not, but still yummy! Make some pastry cut outs, or cinnamon sugar bites!
Roll out the dough and use a cookie cutter, like these fall leaves that I made. If you want them glossy, brush with egg wash and a little sprinkle of sugar. Bake at 425 for 15-20 minutes.
Or roll out pieces or scraps, then sprinkle with a little cinnamon sugar or even better, and sprinkle with cinnamon sugar. This is how my mom always used up our scraps or the extra piece of pastry if only baking a single crust pie. Bake at 425 for 15-20 minutes.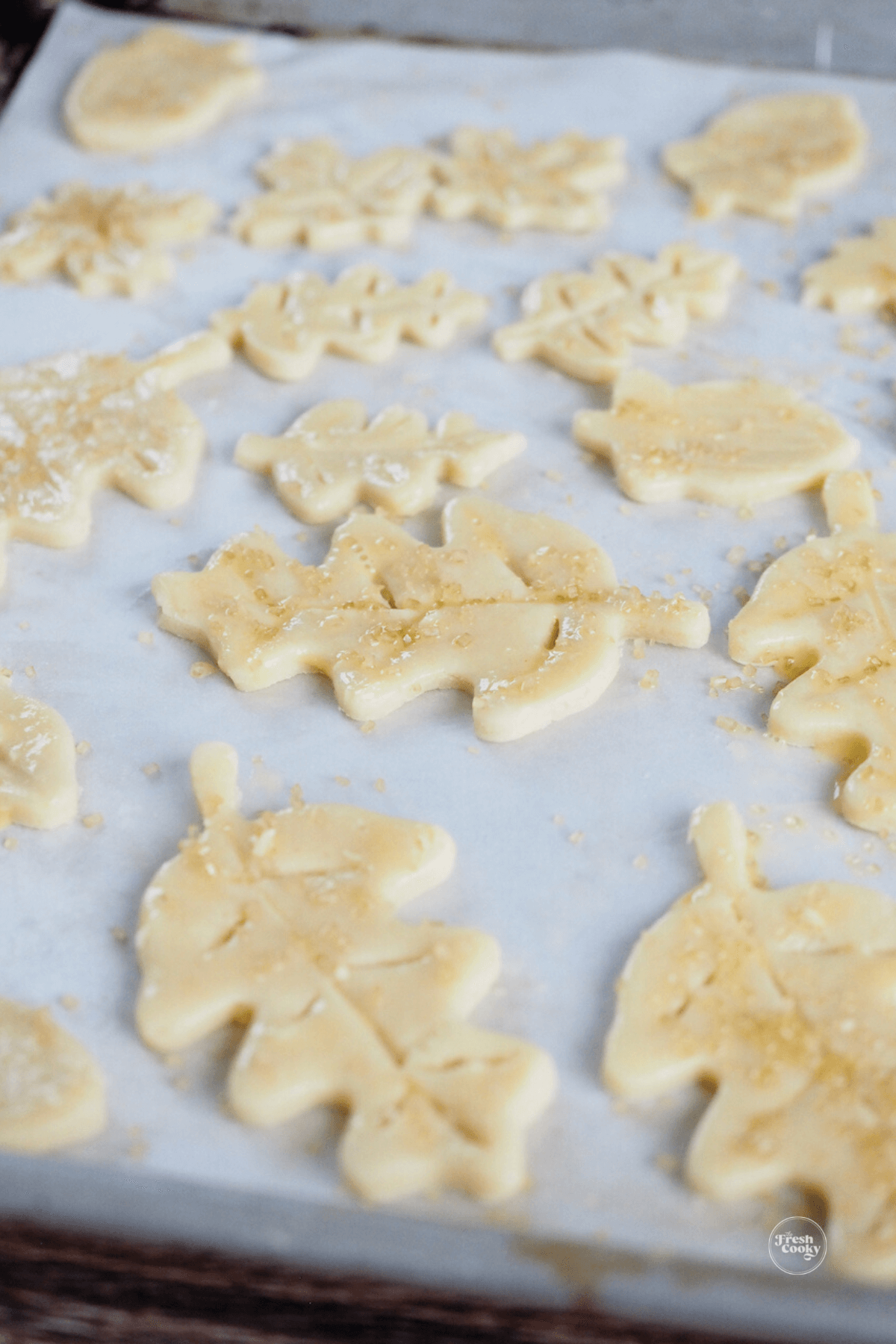 Storage for 3 Ingredient Pie Crust
Pie dough may be made and formed into discs (double wrapped in plastic) and sealed well in an airtight container for up to 5 days in the fridge. Be sure to remove from fridge for 60 minutes before rolling.
Freeze | Pie dough may be frozen up to 3 months, better at 2 months and make sure it's really well sealed as the pie dough will absorb fridge and freezer odors quickly! Ew!
Store unbaked or baked pie crust (cooled), double wrapped in plastic wrap and then placed in baggie in fridge or freezer.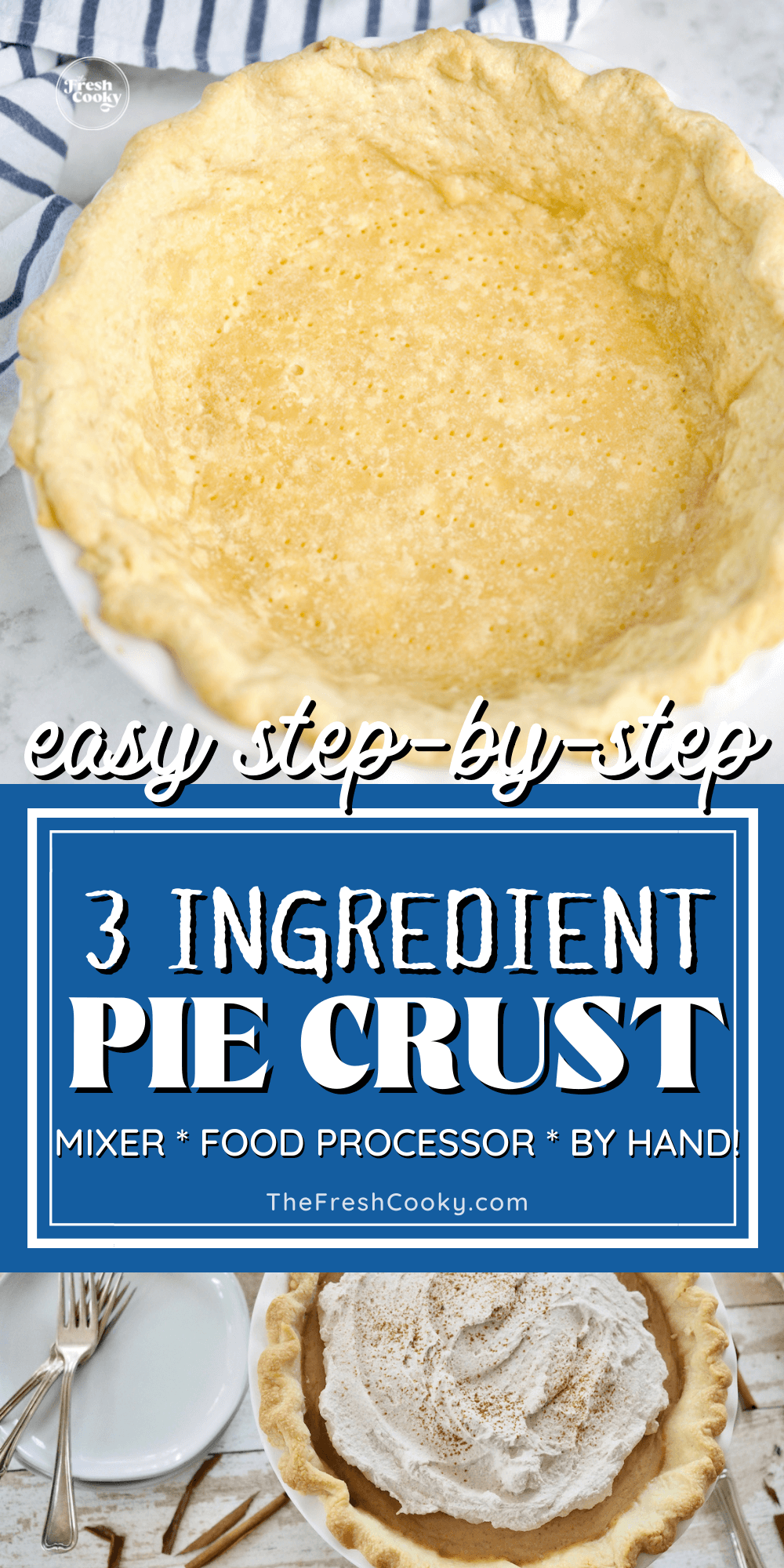 It's okay if it's not the perfect pie crust
I guarantee you when it comes time to dig into this pie, nobody will care if it shrunk, is pieced together or isn't crimped perfectly. They will just care how it tastes, and this all-butter pie crust tastes AMAZING!
Top Tips
Cold, Cold and More Cold | Make sure your butter is firm and cold.
Work Quickly | The quicker you work the less time your hands will heat up the dough.
Chill Some More | When in doubt, chill a bit more.
I hope you loved this 3 ingredient pie crust recipe — if you did, would you share your creation on Instagram, Facebook and Pinterest? And be sure to comment below!
Like this recipe?
Don't forget to give it a ⭐️⭐️⭐️⭐️⭐️ star rating and comment below the recipe!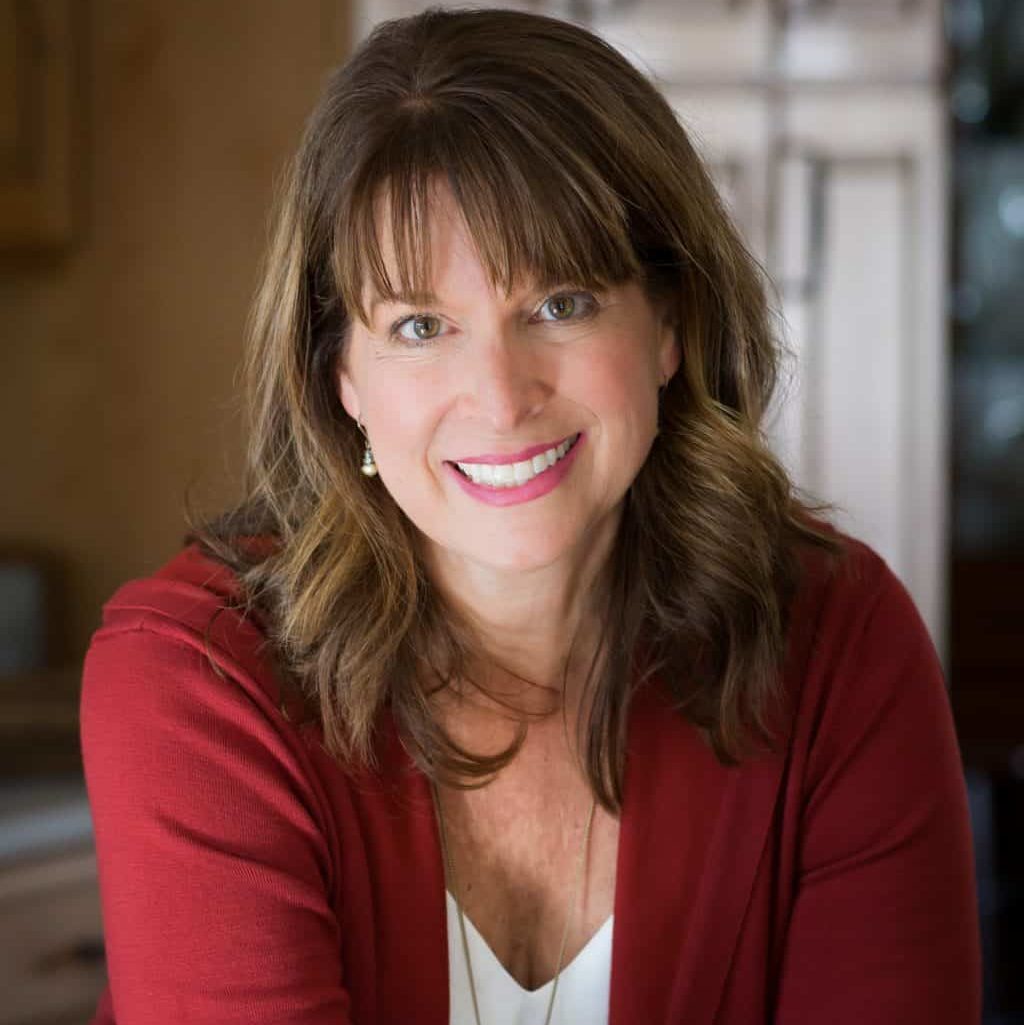 About Kathleen Pope
Recipe Innovator | Food Photographer | Food Writer
Hi, I'm Kathleen Pope. Here at The Fresh Cooky you will find easy, mostly from-scratch, trusted recipes for all occasions. From speedy dinners to tasty desserts, with easy step-by-step instructions. I am here to help teach you how to make mouthwatering recipes without spending hours in the kitchen. Read more about Kathleen here.