Easy No Cook Strawberry Freezer Jam Recipe (Low Sugar)
As an Amazon Associate, I earn from qualifying purchases. Please read my disclosure policy.
Taste the refreshing flavors of summer all year long with this Easy Strawberry Freezer Jam Recipe. And the best part? This recipe uses half the sugar of typical freezer jam– So enjoy this delicious strawberry jam guilt-free!
Forget the cooking, special canning equipment, and hot water bath that come with making traditional jam. This recipe is oh-so-easy with simple steps and sweetly divine flavor. It's a low sugar strawberry freezer jam recipe that will make you swoon!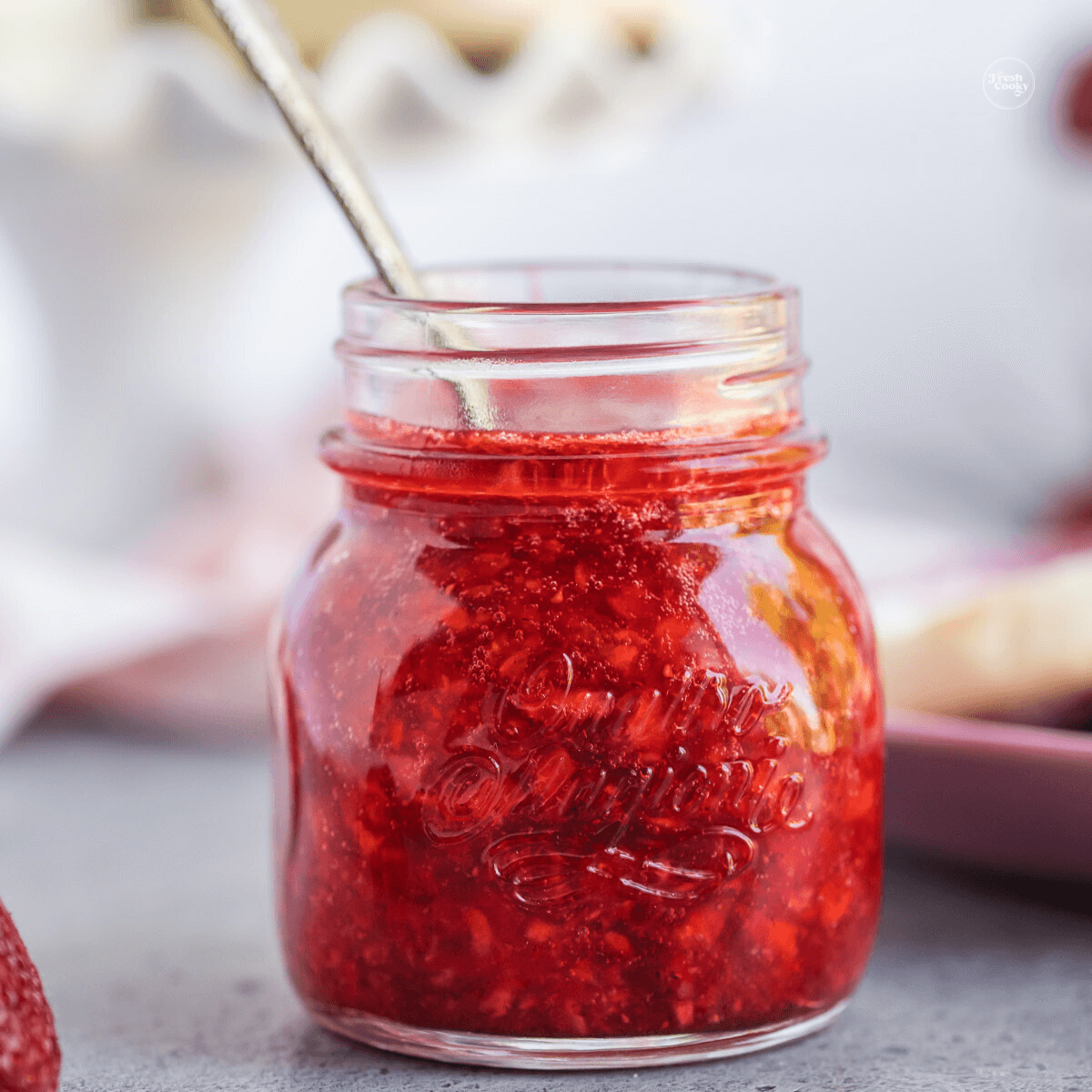 Not to mention, freezer jam is an easy way to make a lovely gift; plus, I've made some beautiful Strawberry Jam labels for you to print out with your freezer jam, both for your pleasure and gifting.
It's great for any upcoming holiday, including Easter, Father's Day, or Mother's Day. Tie the adorable mason jar with a pink ribbon and attach the recipe with storing and serving instructions, or print the labels below; you can also use these FREE from the kitchen gift tags!
Why You Will Love This Jam Recipe
Quick and Simple – A 20-minute recipe, using 3 basic ingredients!
Versatile – Keep a few jars in the freezer to add fresh strawberry flavor to buttered toast, scones, biscuits, and even ice cream whenever desired!
Guilt-Free Recipe – Our recipe uses not nearly as much sugar as a typical freezer jam. Enjoy your delicious jam guilt-free!
Strawberry Season – This is the perfect way to preserve sweet seasonal strawberries!
Simple Ingredients
Ingredients, directions and nutritional information in the printable recipe card at the end of the post.
Strawberries | Juicy and fresh strawberries work best for homemade jam. Just be sure to remove the stems! I would avoid substituting this key ingredient with frozen strawberries to prevent overly runny results. Freshly picked local strawberries are also great!
Sugar | I like to use all-natural cane sugar for most of my recipes, but I opted for white granulated sugar in this homemade strawberry freezer jam. Keep in mind that other strawberry jam recipes call for four cups, while this version requires less sugar. I wouldn't recommend using a sugar substitute because of how the sugar crystals react with the pectin.
Fruit Pectin | I used Ball real fruit pectin to produce the signature gel-like texture of jam. If you have the option, choose low sugar pectin that will react better with the lack of sugar in the recipe. Citric acid or a dash of lemon juice also helps the pectin function when you can't find the low-sugar product at your grocery store. Sure Jell is another good one.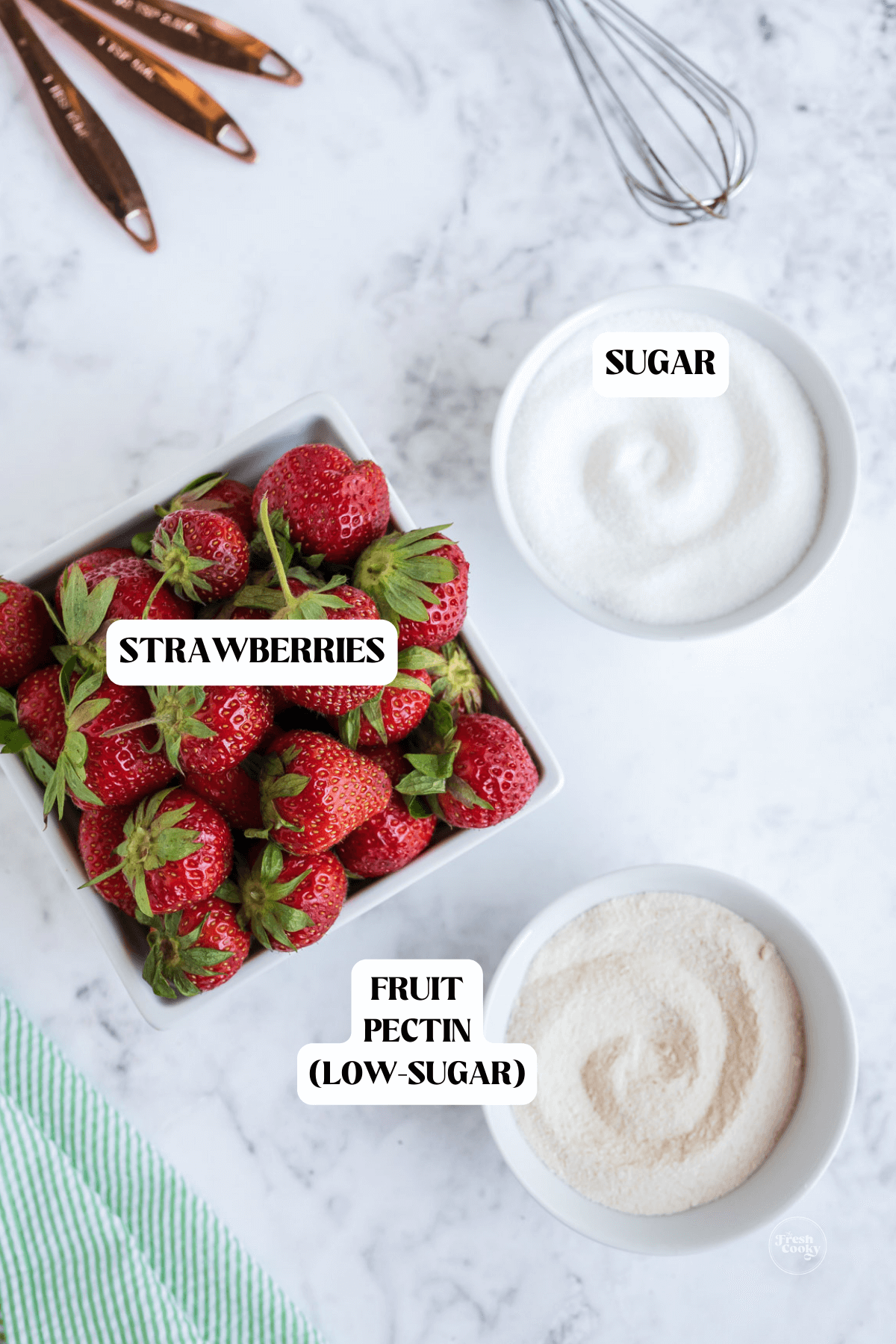 Fresh Tips
Check the expiration date on your pectin and make sure it's fresh.
If your sugar is not dissolving, allow the jam mixture to sit for 5-10 minutes, then stir again well.
How to Make Low Sugar Strawberry Freezer Jam
First, crush the ripe strawberries! If you have a food processor handy, dump the fresh berries into the container and pulse them a few times, leaving some chunks of fruit.
Otherwise, place the strawberries in a large bowl and use a potato masher to mash them up. When mashed, the two quarts of berries should produce around five cups of strawberries.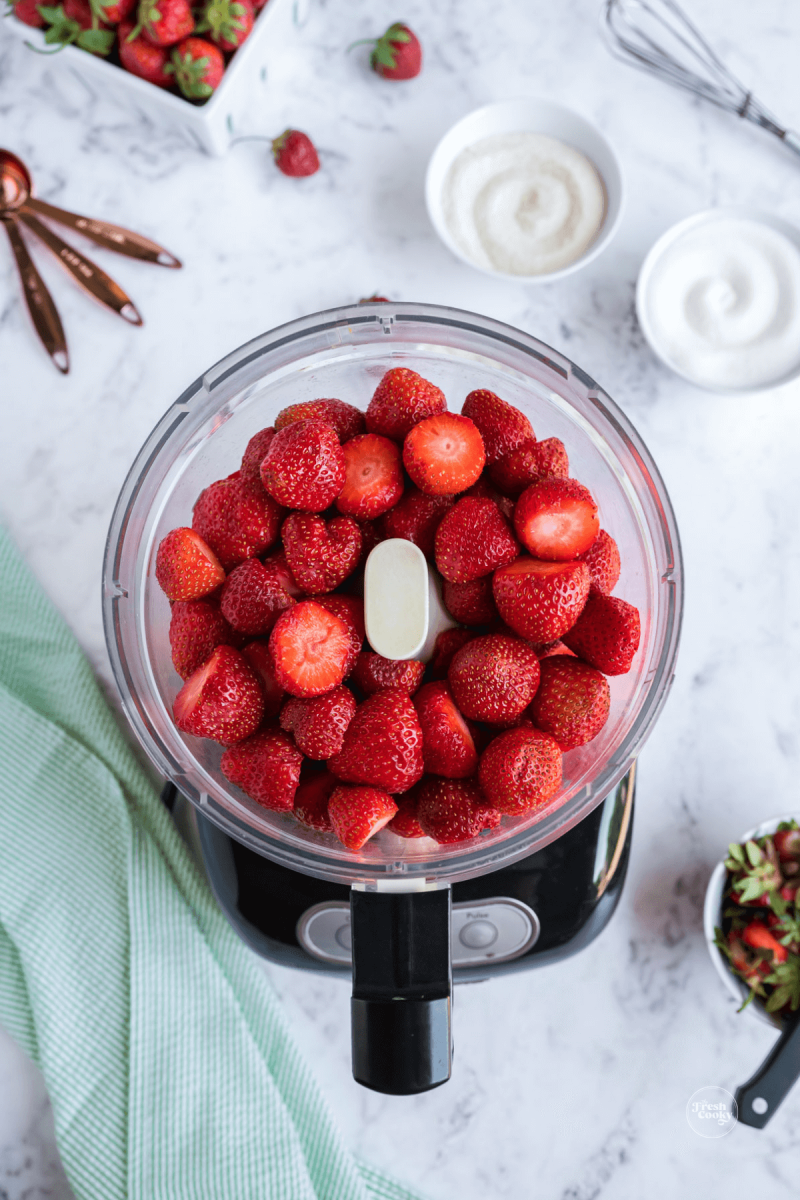 Next, whisk together sugar and the box of pectin in a separate bowl. Then, add the crushed strawberries to the sugar mixture and continuously stir for at least three minutes, 4-5 minutes if using all-natural cane sugar. Remember to scrape the bottom to get all the ingredients!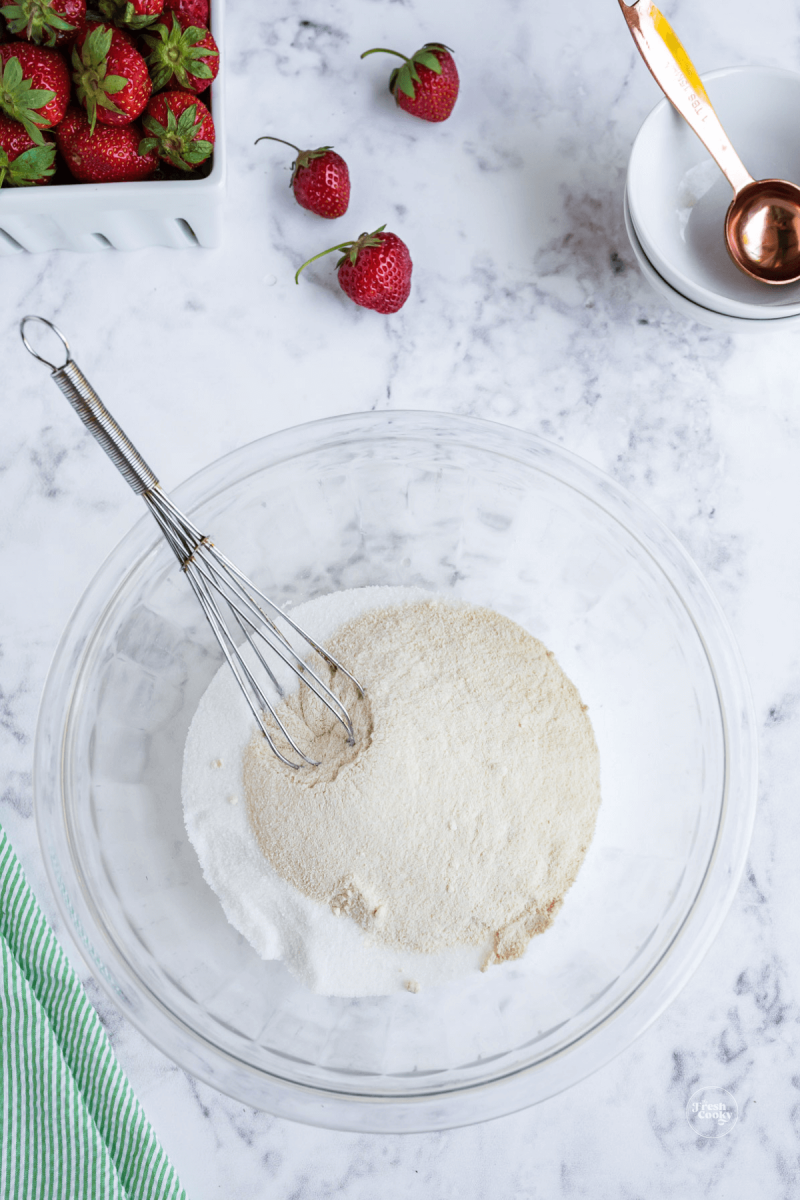 Finally, using a ladle, scoop the strawberry mixture into freezer-safe containers (glass jars or plastic containers), fit with a tight-fitting lid, and place the storage containers in the freezer. Easy, right? This method is so much more manageable than a traditional jam recipe!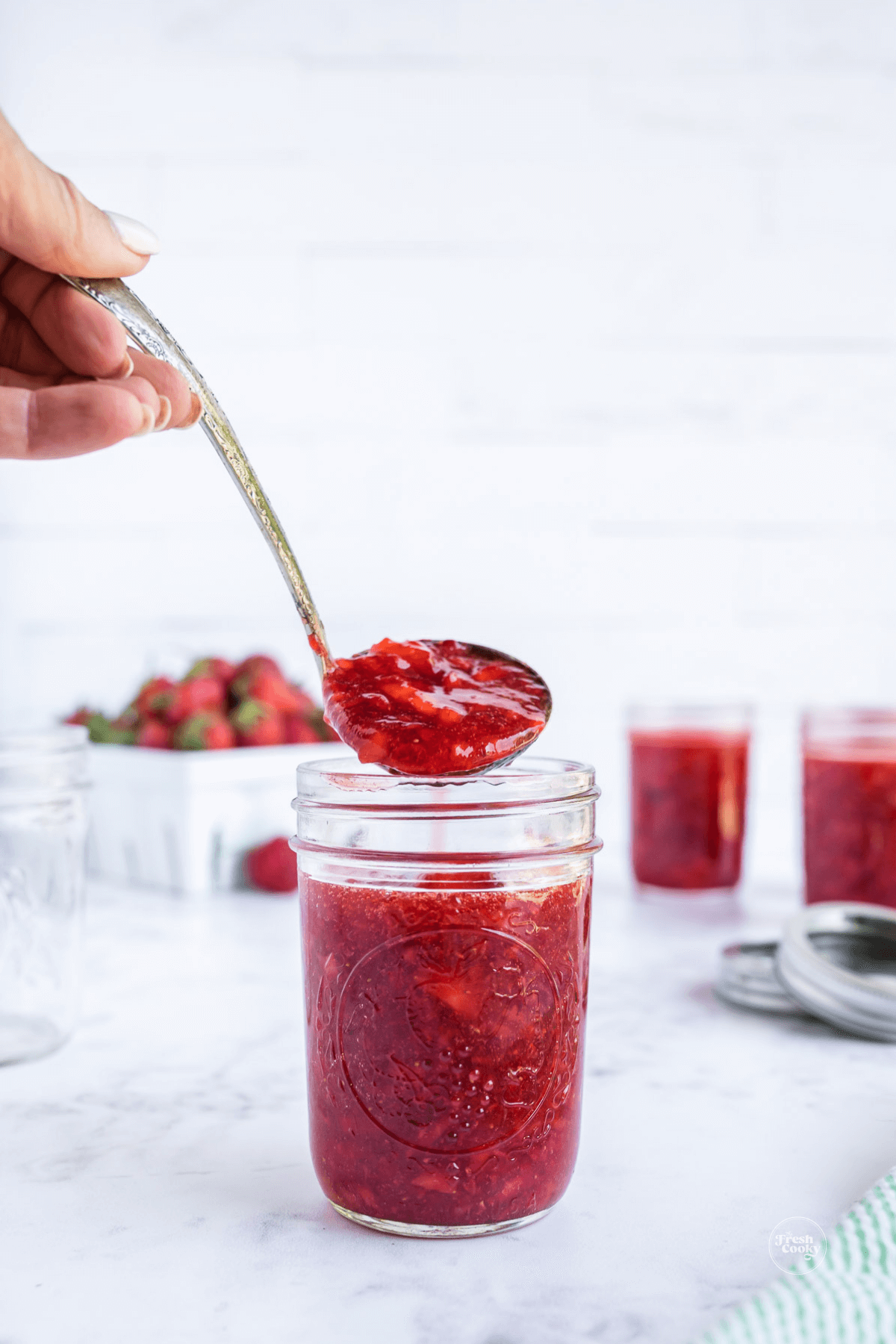 Helpful Tips
A meat chopper will also work if you don't have a food processor or potato masher. It's also easier when the berries are at room temperature.
Cut the stems off using a paring knife. The process is made more simple when you use a strawberry huller. I highly recommend one of these convenient tools if you often chop up strawberries.
This jam is slightly less gel-like because there's only a little sugar. Add up to four cups of sugar if you prefer a thicker consistency and aren't worried about the extra calories.
The jam won't set fully right away, hence the instructions to allow it to sit on the counter for 24 hours.
If jam starts separating (fruit floating to the top), give the freezer jam a quick stir, reseal, and then return to the counter until 24 hours is up.
Mason jars work great for storing homemade jam! Just be sure to leave about an inch of space in the container so it allows for expansion as it freezes.
For best results, allow freezer jam to sit on the counter, in airtight containers for 24 hours, to allow it to set more fully before freezing. Then place jars in the fridge or freezer.
Once the jam starts setting, you may notice the fruit floating to the top and some separation of fruit and jelly. While this is normal, stir the jam quickly using a spoon or knife, and the fruit should stay suspended.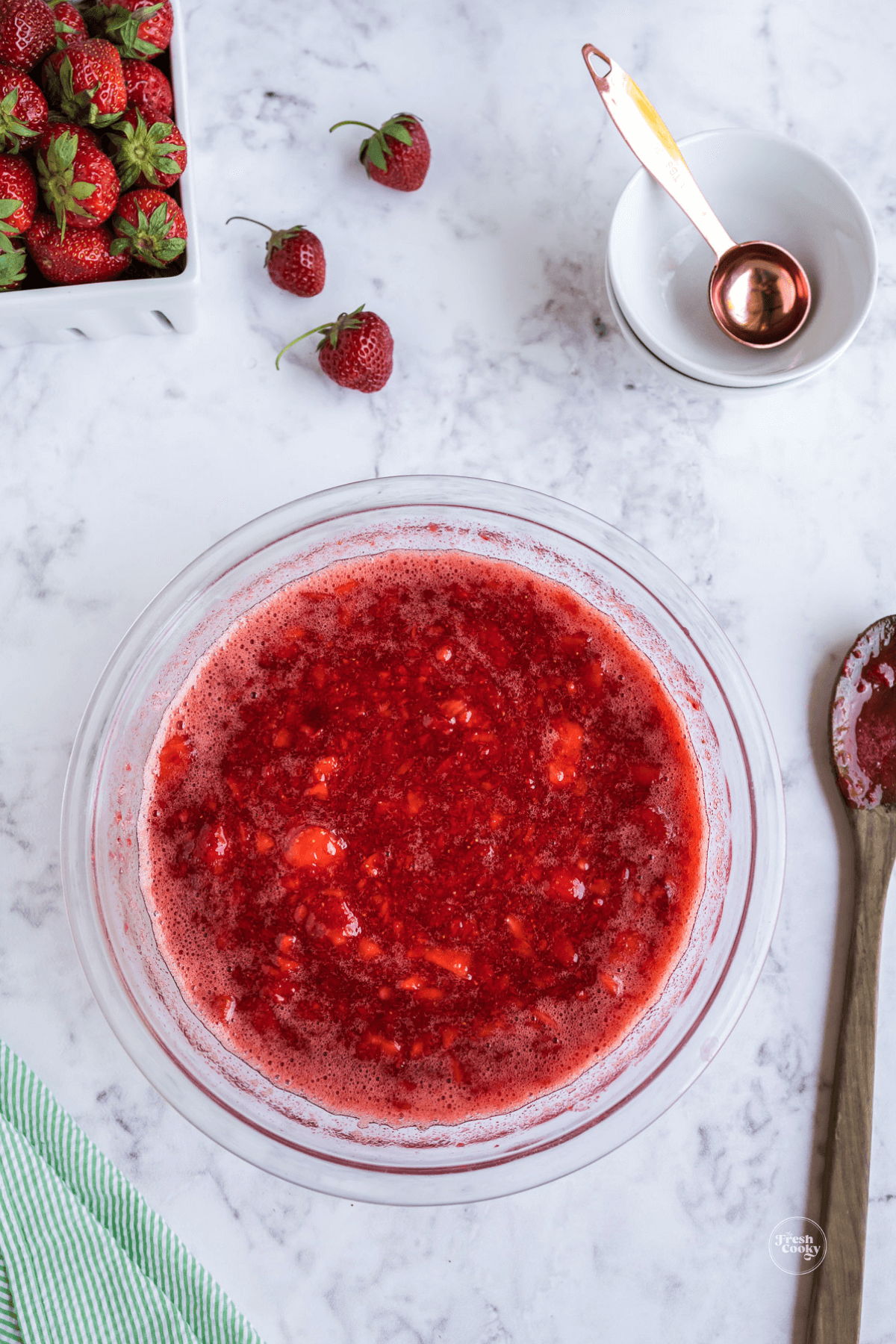 Free Strawberry Jam Labels
You are going to love these 2-inch freezer strawberry jam labels! Three designs. Print them out on quality paper, use a 2-inch punch or hand cut them, then use a glue stick to affix them to the jar or the top of the lid. Or print onto Avery 2-inch round labels.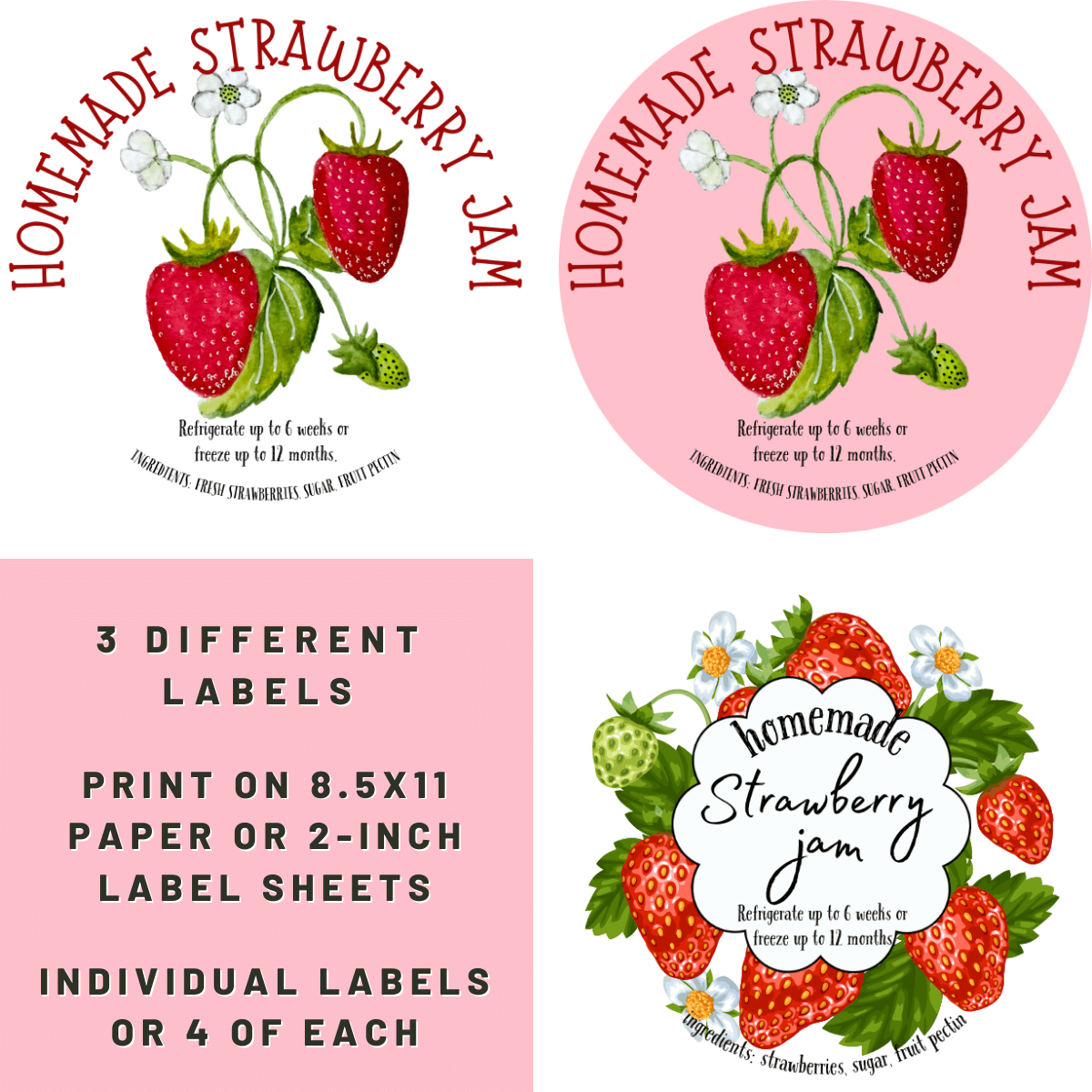 Simply click the link below for the free printable sugar scrub labels.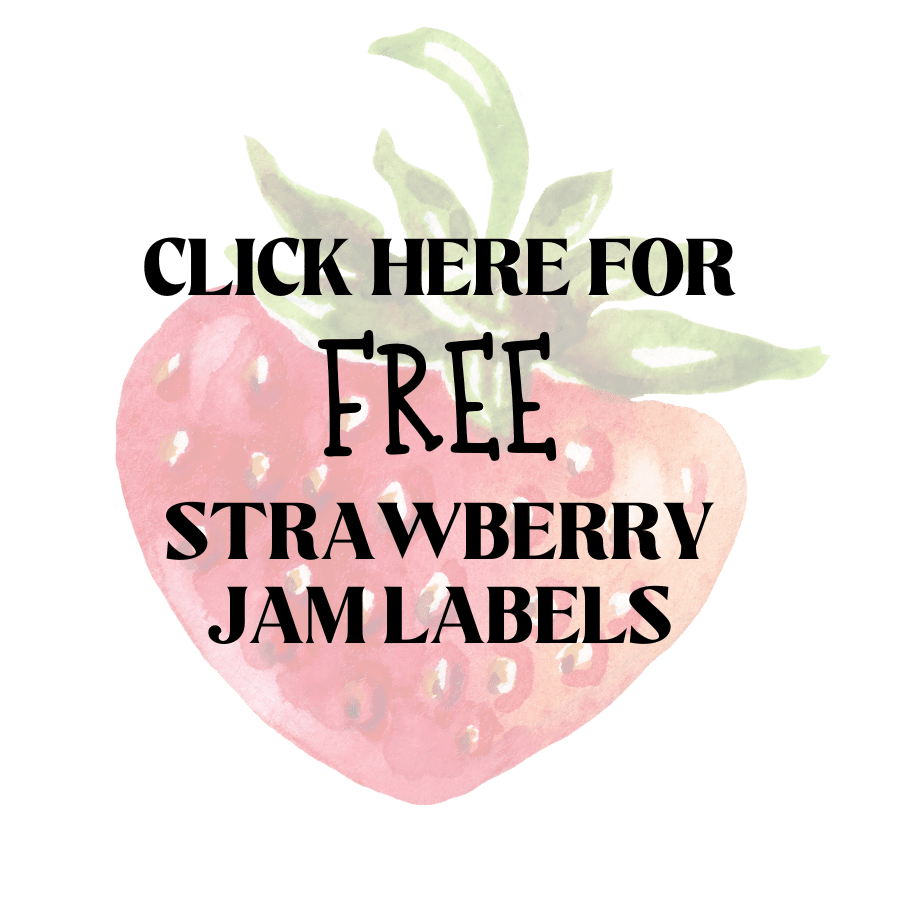 If you love making homemade hostess gifts or neighbor gifts like this, then try my Strawberry Sugar Scrub, Strawberry Lip Scrub, and my Lemon Antibacterial Hand Scrub.
How to fix grainy low-sugar strawberry freezer jam
Even though freezer jam is quick and easy, you want to ensure your sugar is all dissolved; if not, as it sets, it can cause graininess.
To avoid grainy freezer jam, stir it well; it should deepen in color as the sugar dissolves. If necessary, allow it to sit on the counter for a few minutes, then keep on stirring.
Get the kids or grandkids involved! Let them stir, stir and stir some more!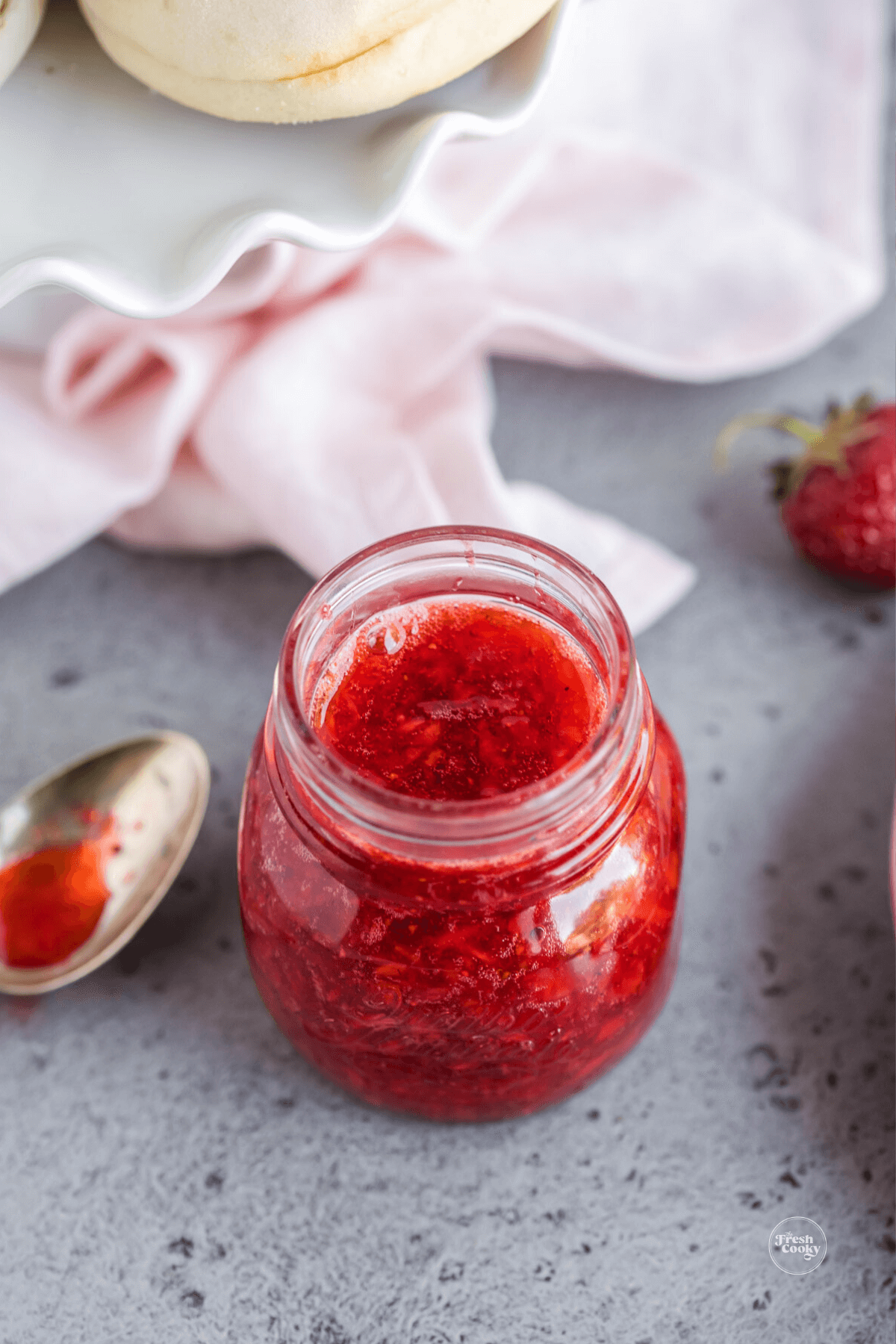 Can I use frozen strawberries for freezer jam?
I've always used fresh strawberries, but yes, typically, you can substitute frozen berries for fresh ones in most recipes. I recommend thawing the strawberries first, draining any additional liquid, or laying them on paper towels. In theory, pulsing them in the food processor will do short work of thawing them, but they might contain too much liquid.
Variations and Substitutions
Swap Out the Fruit: Feel free to trade strawberries for your favorite fresh fruit to make blueberry, blackberry, or even raspberry freezer jam!
There's no shortage of delicious strawberry recipes here! Check out my Healthy Strawberry Bread, Easy Strawberry Shortcake Cookie Recipe, Strawberry Rhubarb Crumb Bars, and more by entering "strawberry" into my site's search bar!
Recommended Equipment
I love these Weck Jars, I use them when I'm gifting. Make up a batch of Orange scones and deliver them to a friend with a beautiful jar of freezer jam! Standard Ball Jelly jars work well too!
A Food Processor makes quick work out of the process of mashing the strawberries.
Ladling into the jars using a food funnel makes easier clean-up.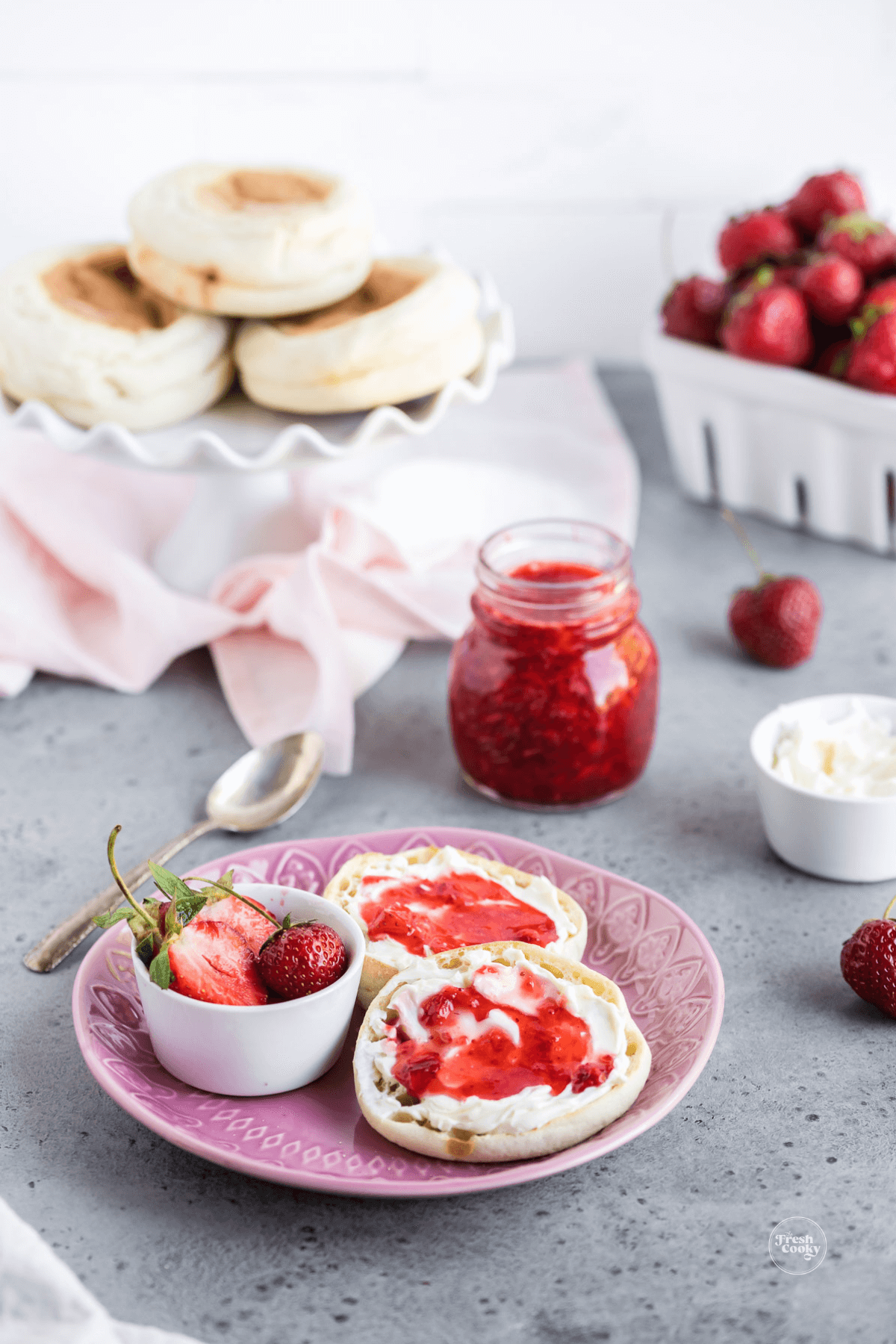 Storage Tips
How to Freeze Jam – Store your freshly-made jam in an airtight container in the freezer. It will last for up to 12 months!
Thaw and Serve – When ready to enjoy this deliciousness, thaw the freezer jars overnight in the fridge, then keep them refrigerated. Once thawed, give it a good stir before serving.
Refrigerate – In the refrigerator, strawberry freezer jam will last 3 – 6 weeks. I tuck mine in the back of the fridge, where it is coldest, for good measure.
Frequently Asked Questions
How do you serve strawberry jam?
There are endless ways to use your low-sugar freezer jam. For example, you can add it to Greek yogurt, mix it into a bowl of vanilla ice cream, smear it on crispy toast, spread it on warm biscuits, make a classic PB&J sandwich, or apply it to fluffy waffles!
How can I thicken jam without adding sugar?
Mix water and sugar for the best thickening agent to avoid adding extra sugar. However, the more sugar you add, the thicker the jam. Or you can add one more tablespoon of pectin.
What's the difference between jelly, jam, and preserves?
Jelly, jam, and preserves follow similar recipes and often taste alike. However, they are certainly not the same thing. It's easy to get them confused with one another because of how close in texture and taste they can be.

Jam contains mashed fruit, and jelly is made with juice. Preserves are much like jam, except they often have whole pieces or large chunks of the fruit, unlike the smooth texture of jam.
How many pints are in a quart of strawberries?
There are two pints in every quart of strawberries, about 1.5 pounds.
1 quart = 1 1/2 pounds (approximate)
4 cups whole strawberries = 1 quart
1 quart = 2 pints
1 quart = about 24 large strawberries or 48 medium strawberries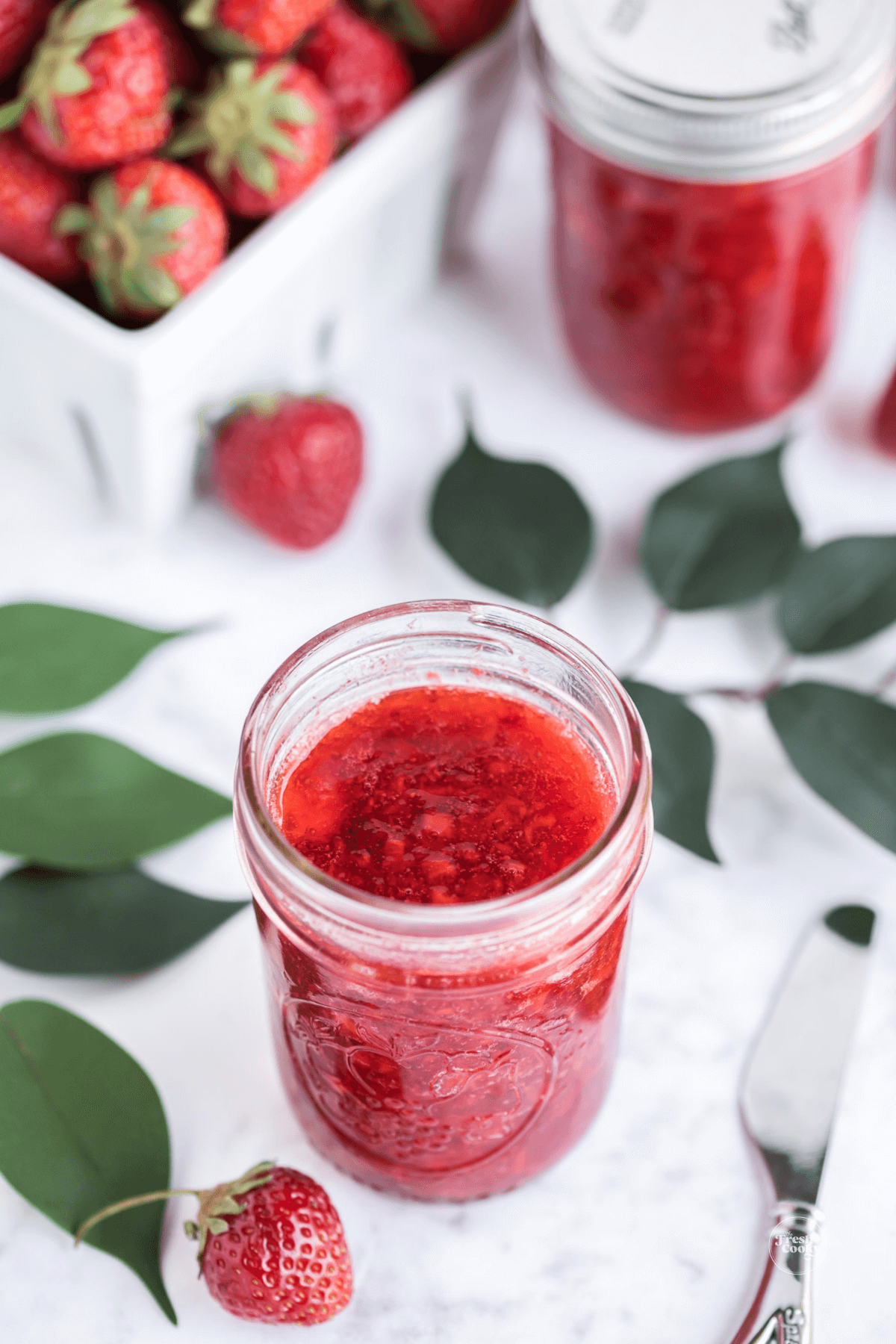 More ways to use strawberries
For more fruity good fresh recipes like this one, try a few of these fruit recipes listed below:
Fresh Strawberry Refresher
Using fresh strawberry syrup (recipe below) in this light, tasty and delicious non-alcoholic drink.
Fresh Strawberry syrup
This no-cook strawberry syrup is perfect to brighten and bring sunshine to cocktails, mocktails, ice cream, and more! Check out this Strawberry Gin Cocktail with free printable instruction sign.
What to serve with Strawberry Freezer Jam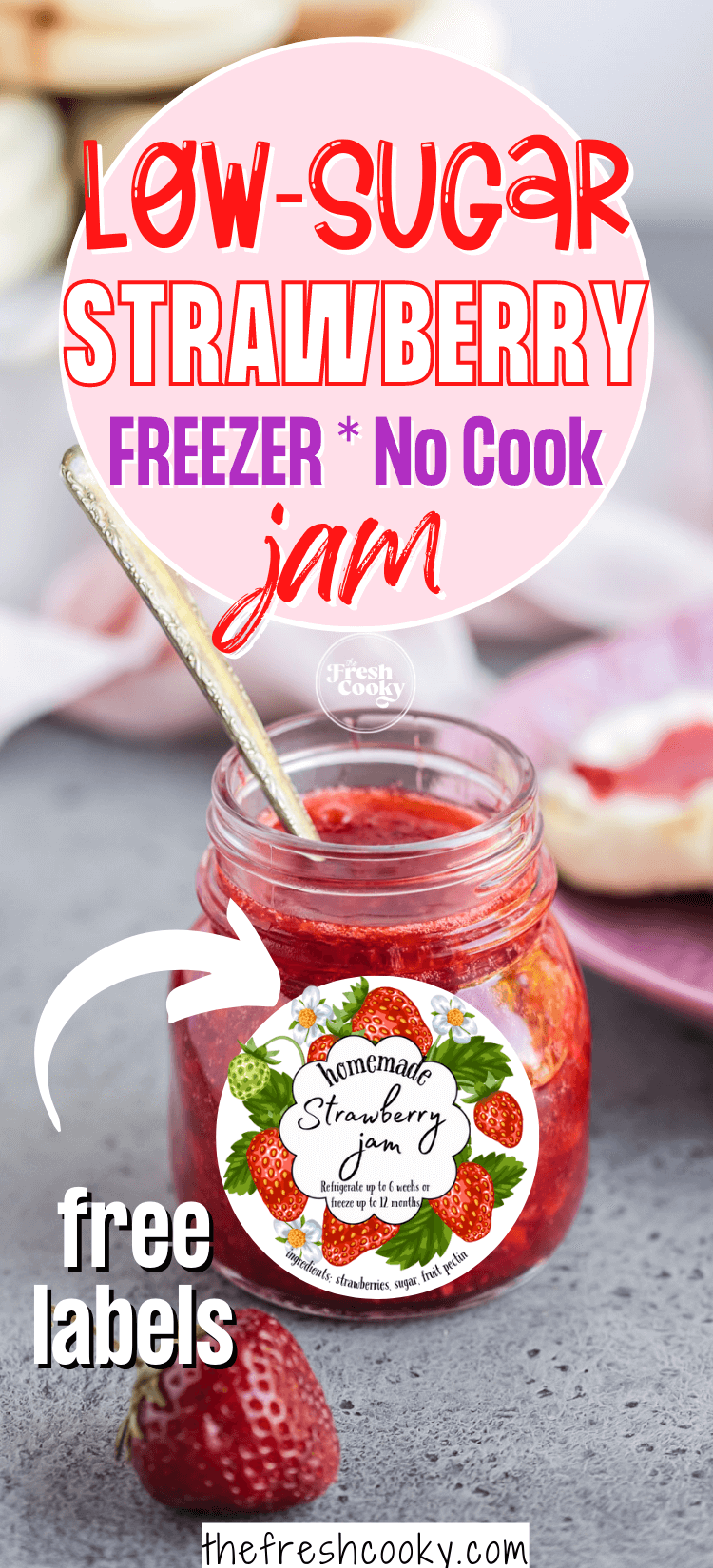 One of the most important things to remember for this strawberry freezer jam recipe made with a smaller amount of sugar is to leave some space at the top of the glass jars or plastic freezer containers you place in the freezer. Otherwise, it can burst and make a mess from the contents expanding.
I hope you loved this low sugar strawberry freezer jam — if you did, would you share your creation on Instagram, Facebook and Pinterest? And be sure to comment below!
Like this recipe?
Don't forget to give it a ⭐️⭐️⭐️⭐️⭐️ star rating and comment below the recipe!
Strawberry Freezer Jam Recipe (Low-Sugar)
This easy Strawberry Freezer Jam Recipe uses half the sugar of typical freezer jam, a low sugar strawberry freezer jam! YES! Enjoy this delicious strawberry jam guilt-free!
Ingredients
2

quarts

strawberries

,

cleaned, patted dry, stems removed (2 quarts equals about 3 pounds)

2

cups

granulated sugar

,

I used all-natural cane sugar, regular white sugar may also be used

6

tablespoons

fruit pectin,

I used Ball low-sugar fruit pectin
Instructions
In a small bowl, whisk together sugar and fruit pectin

In a food processor, pulse strawberries a few times. You want some chunks. Or in a large bowl using a potato masher, mash strawberries, leaving some chunks.

Add 5 cups crushed strawberries (2 quarts should yield just about 5 cups) to a large bowl, sprinkle the sugar and fruit pectin over the mashed strawberries.

Stir the strawberry jam mixture really well for 3 whole minutes. Make sure you are scraping the bottom.

Spoon into containers or jars, cover and seal, then set on the counter for 24 hours. As the jelly starts to set, if there is separation (the fruit begins to float to the top), give it a quick stir, and the fruit should stay suspended.

After 24 hours, place jars of jam in the freezer or refrigerator; be sure to leave about an inch of space in the jars for your freezer jam so it allows for expansion while it freezes.
✱ Kathleen's Tips
Storage
Store frozen jam in well-sealed containers in the freezer for up to 6-12 months. Leave about an inch of head space to allow for expansion when freezing. I have frozen in glass containers for years and only had something break if I overfilled it.
When ready to enjoy, thaw overnight in the fridge and refrigerate the freezer jam for 3-6 weeks. I tuck mine in the back of the refrigerator, where it is coldest.
Instead of a food processor, use a potato masher or a meat masher (like what you'd use to break up ground beef); it works well.
Clean and de-stem strawberries using a paring knife or using a strawberry huller.
This is a lower-sugar version. Because of that, the jam is a little less gel-like. Add more sugar, up to 4 cups, if you prefer a thicker consistency.
Fresh-picked strawberries are ideal, but store-bought will work fine. I've never used frozen strawberries, but typically you can swap frozen for regular berries in cooking and baking. If using frozen strawberries, thaw them first, draining as much of the liquid as possible.
Nutrition
Serving:
1
jar
Calories:
487
kcal
Carbohydrates:
125
g
Protein:
3
g
Fat:
1
g
Saturated Fat:
0.1
g
Polyunsaturated Fat:
1
g
Monounsaturated Fat:
0.2
g
Sodium:
40
mg
Potassium:
582
mg
Fiber:
9
g
Sugar:
98
g
Vitamin A:
46
IU
Vitamin C:
223
mg
Calcium:
63
mg
Iron:
2
mg
Nutrition Disclaimer
The Fresh Cooky is not a dietician or nutritionist, and any nutritional information shared is only an estimate. We recommend running the ingredients through an online nutritional calculator if you need to verify any information.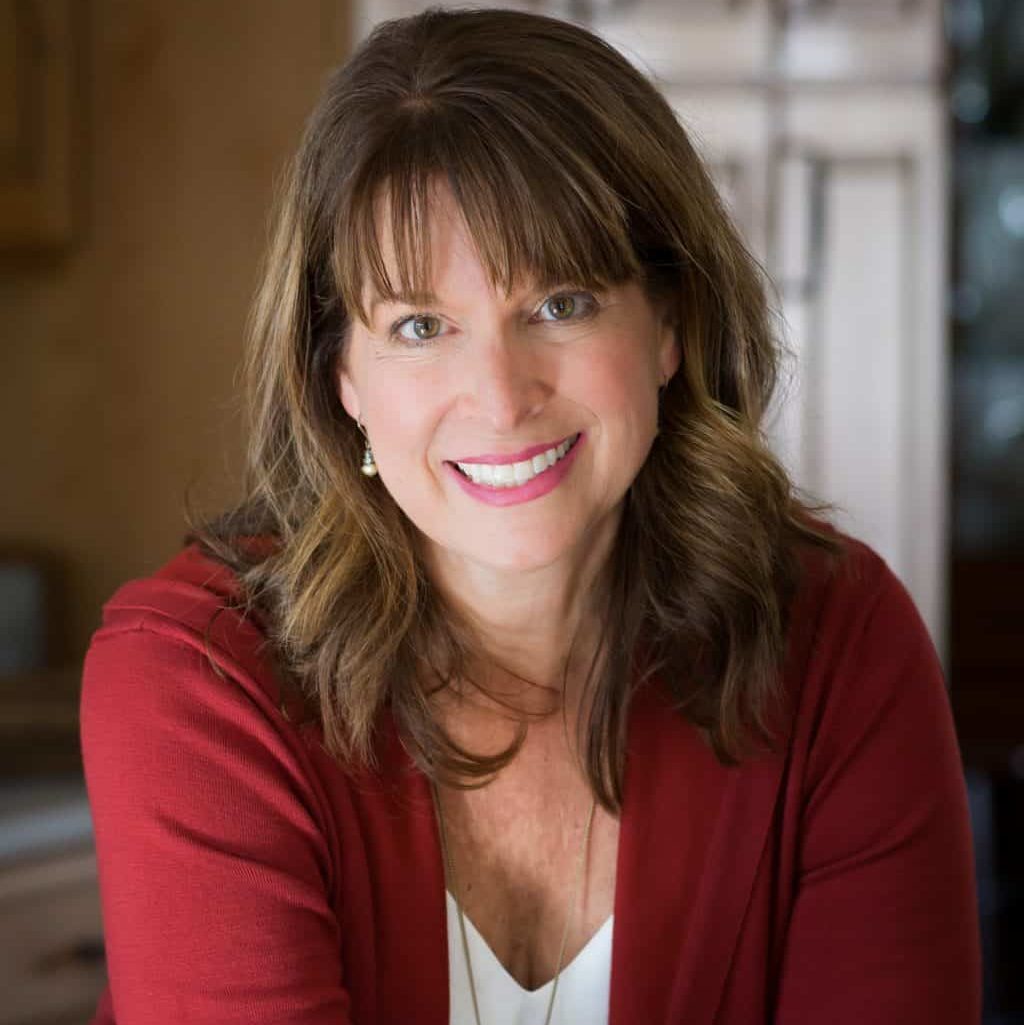 About Kathleen Pope
Recipe Innovator | Food Photographer | Food Writer
Hi, I'm Kathleen Pope. Here at The Fresh Cooky you will find easy, mostly from-scratch, trusted recipes for all occasions. From speedy dinners to tasty desserts, with easy step-by-step instructions. I am here to help teach you how to make mouthwatering recipes without spending hours in the kitchen. Read more about Kathleen here.