Bavarian Pretzel | Traditional German Pretzels (Laugenbrezel)
As an Amazon Associate, I earn from qualifying purchases. Please read my disclosure policy.
This Bavarian pretzel recipe is the perfect German Pretzel recipe. With a crispy outside a soft, bagel-like chewiness, delightful little bursts of saltiness, baked to beautiful brown perfection and gigantic. That is how I would describe these iconic traditional German Pretzels or Laugenbrezels.
A long, long, long time ago I was an Au Pair in West Berlin and fell in love with all things German! Their breads being the best, in my German heritage humble opinion! These Bavarian pretzels are easier to make than you might think and great for Oktoberfest or any fall celebration.
For other easy bread recipes, grab our favorites like Homemade Naan, Russian Black Bread or Easy Yeast Rolls and a must try are these simple Skillet Cheddar Bay Biscuits.
The people, the history, architecture, the landscape, but the food, oh the food! Strudels, schnitzels, Rote Grütze and the bread, oh the bread spoke to my heart. I am pretty easy to please!
I found this recipe years ago from Saveur, and I am pretty sure it's from the same Hofbrauhaus beer hall in Munich where I first had these amazing pretzels! Soft, warm, GIANT pretzels eaten simply with soft butter. A true Bavarian Preztel!
Authentic German Pretzels aka Laugenbrezel
They are so easy to make too, with just a few simple ingredients and a little elbow grease, you'll have GIANT, warm and soft, chewy pretzels in no time! It actually took me longer to write this post than it did to make the pretzels.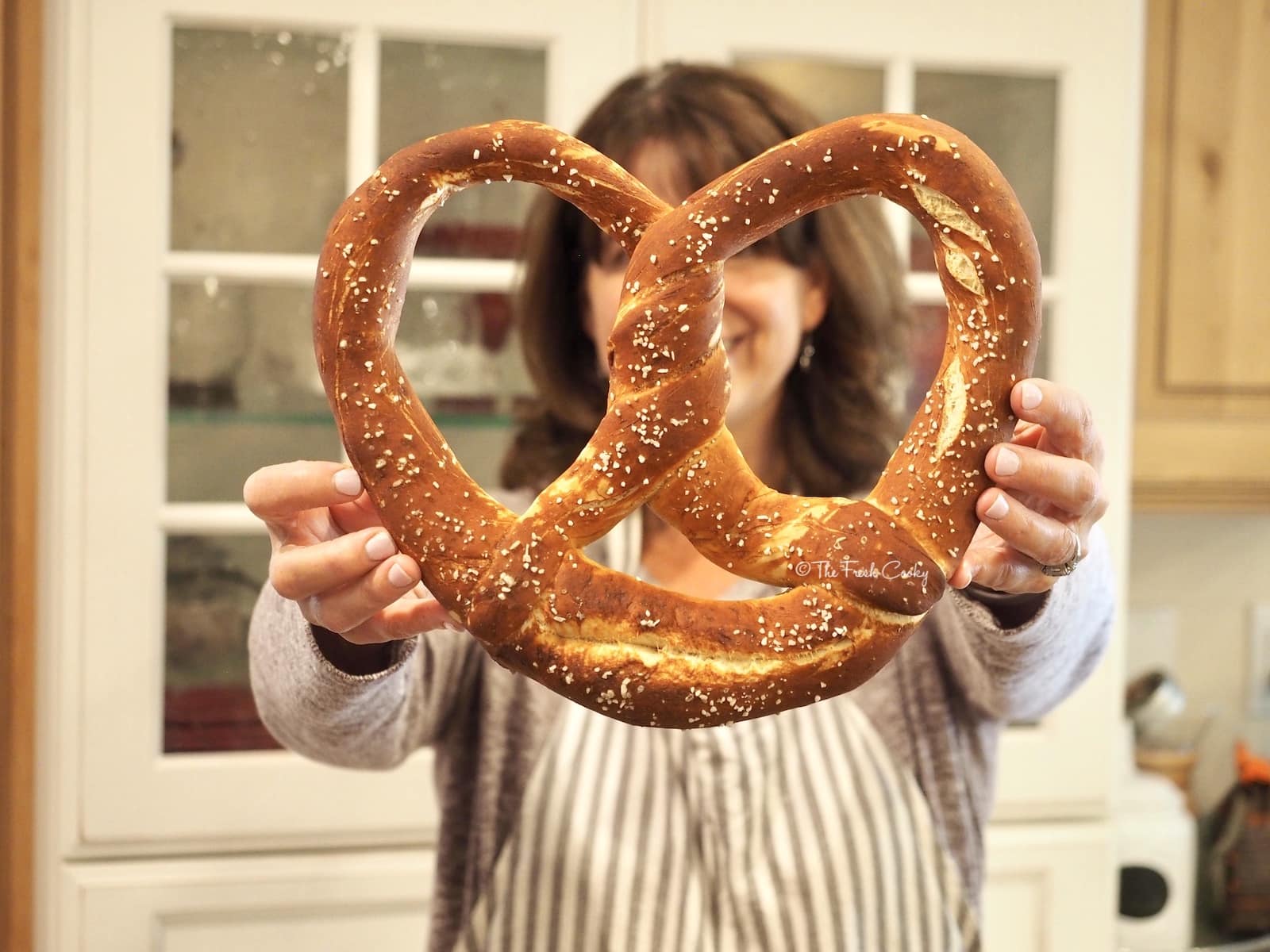 What is a Bavarian Pretzel or Laugenbrezel?
Glad you asked! I had to look it up too, it has been a few years and mein Deutsch ist nicht gut! Loosely translated, my German sucks now! HA!!
Laugen means lye and brezel means, you guessed it, pretzel! I found German quite easy to learn since so many of our words are rooted in Latin.
Do I Need Lye to Make Pretzels?
So what is a Lye Pretzel!? Traditional German pretzels have used lye to achieve the classic crispy, browned crust and flavor. However; a great home baking alternative is using a baking soda wash! Not quite as alkali as lye, but I am not sure about you, I have not seen lye in the grocery aisles!
Ingredients for Bavarian Pretzels
How to Make Bavarian Pretzel Recipe
Heat a baking stone in an oven to 450-500°. No baking stone? Place a sheet pan in the oven instead, make sure it's a high quality pan, if it warps at high temps, then it's best to used for low temp cooking. Investing in a baking stone is worth it; besides pizza, you can make crostadas, pastries, rolls, homemade calzones and so much more!
In a large batter bowl, stir together syrup, yeast, and 1½ cups warm water, and let sit until foamy, about 10 minutes.
Add butter, flour, and sea salt to the yeast mixture, stirring until dough forms. Can be made by hand with a spoon or as I did in my KitchenAid mixer. If using a mixer; incorporate ingredients on low until smooth and sticky, then attach your "J" hook and "knead" for about 6 minutes on low.
If not using a mixer, once mixture is combined, transfer to a lightly floured work surface, and knead until smooth and elastic, about 8 minutes.
Barley Malt Substitution
A unique part of the Bavarian soft pretzel is the barley malt syrup. But, I have had numerous people say they cannot find barley malt syrup, while I haven't tried this, a couple of readers said it worked great, try substituting with 2 ½ -3 teaspoons of molasses instead.
How To Shape Bavarian Soft Pretzels
Cut the dough in half and working with one piece at a time, roll dough into a 4′ rope, about 1″ thick.
Transfer rope to the bottom edge of a large sheet of parchment paper, and keeping the center of the pretzel rope on the paper, pick up both ends, cross one end over the other, about 2″ from the ends, and twist; attach each end to the sides of the pretzel.
Repeat with remaining dough, cover with damp paper towels or tea towel and set aside to rest and rise for 20 minutes.
How Do Pretzels Get Their Dark Brown Color?
Did you know it is the process of brushing (or dipping) pretzels in baking soda water that gives pretzels their traditional brown and tan look? Do not skip this step! Plus it adds to the chewy, bagel like texture.
For the rest of the recipe, simply pop on down to the bottom of the post for the handy printable! You will not be disappointed! I can almost guarantee it!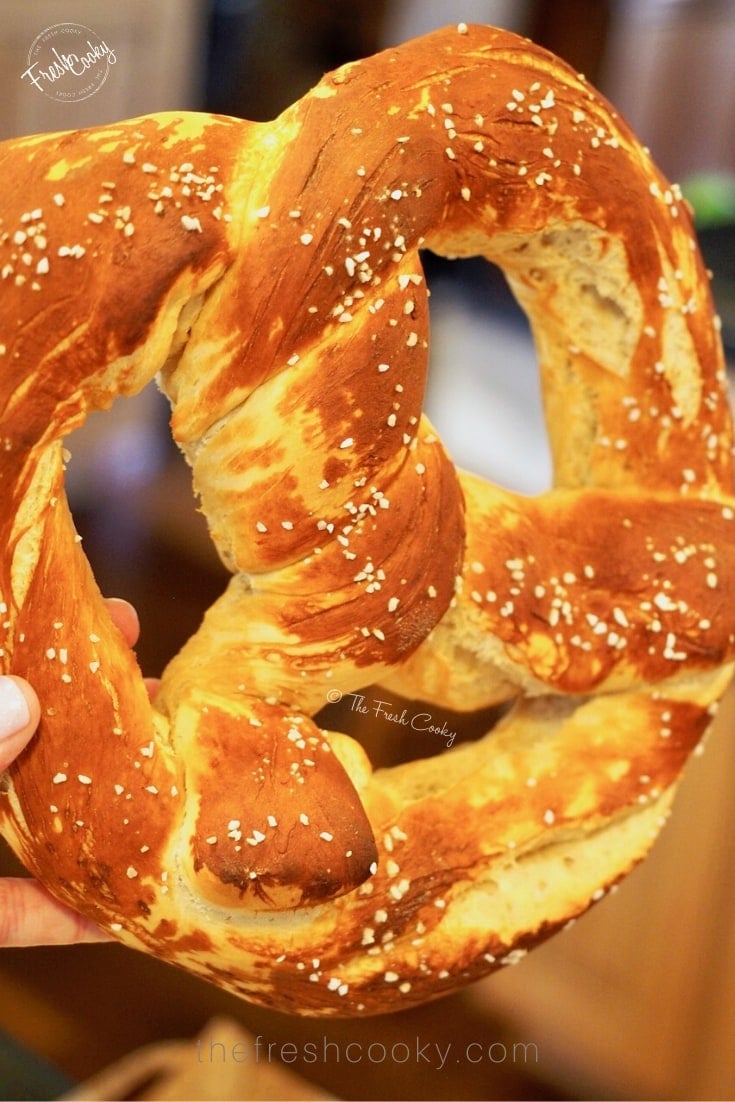 Can I Make My Pretzels Smaller?
Yes, I recently made about 8-10 smaller but still decent sized soft pretzels using this same recipe, then slathered them with melted butter and pretzel salt.
Simply divide the dough into 8 or 10 equal portions, roll your dough ropes about 12-15 inches long, shape into pretzels, brush with baking soda water, sprinkle with pretzel salt; allow to rise 15-20 minutes; bake on stone or pan the same temp and amount of time as large pretzels.
If desired, just before serving brush with melted butter. If you brush with butter too soon, it will melt the pretzel salt and make the pretzels look all wrinkly, don't ask me how I know! Haha!
Check out my collection of 15 Oktoberfest Traditional Recipes for ideas to go along with your pretzels, even better make a batch of these pretzels to accompany this heart-warming, comforting Beer Cheese Soup!
PIN this recipe to your favorite Oktoberfest or Bread Board!
Like this recipe?
Don't forget to give it a ⭐️⭐️⭐️⭐️⭐️ star rating and comment below the recipe!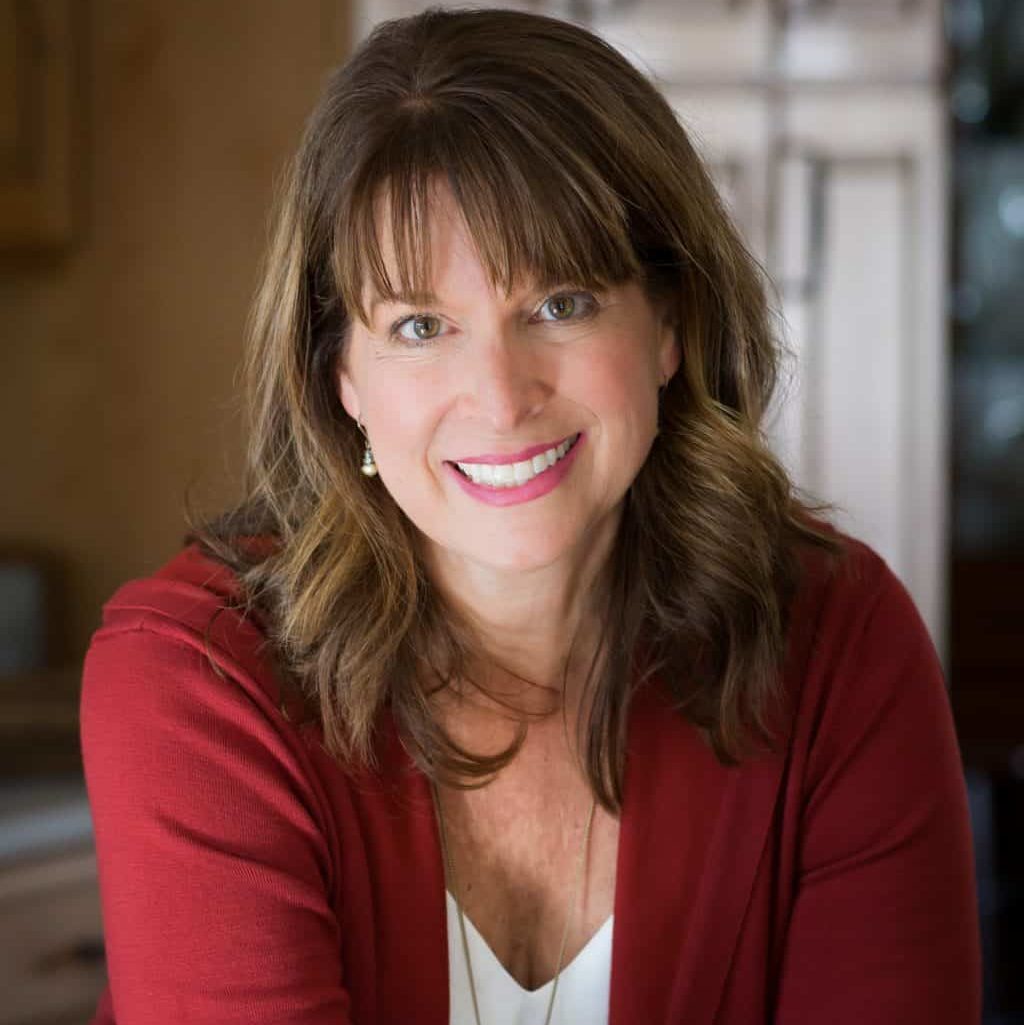 About Kathleen Pope
Recipe Innovator | Food Photographer | Food Writer
Hi, I'm Kathleen Pope. Here at The Fresh Cooky you will find easy, mostly from-scratch, trusted recipes for all occasions. From speedy dinners to tasty desserts, with easy step-by-step instructions. I am here to help teach you how to make mouthwatering recipes without spending hours in the kitchen. Read more about Kathleen here.