The Best Homemade Sloppy Joes
As an Amazon Associate, I earn from qualifying purchases. Please read my disclosure policy.
I have tweaked my Sloppy Joe recipe until it's perfect! These delicious brown sugar bacon Sloppy Joes are simmered in a rich, thick, full-bodied, sweet and sticky tomato sauce loaded with caramelized onion, red pepper, and bacon! They are even a teensy bit less sloppy than others since you simmer the sauce down until rich and thick.
I love Sloppy Joe burgers, they are a quick, flavorful and easy meal to make on a busy weeknight, in fact this recipe is ready in 30 minutes or less! WIN! No mix or can's for this recipe; simple, everyday, wholesome ingredients; plus how to make them vegan and gluten free!
If you like quick, healthy, easy weeknight meals that are favorites for teens and tweens, try these other family favorites; Shawarma Chicken Bowls, Copycat Chipotle Chicken, and Easy Beef & Broccoli.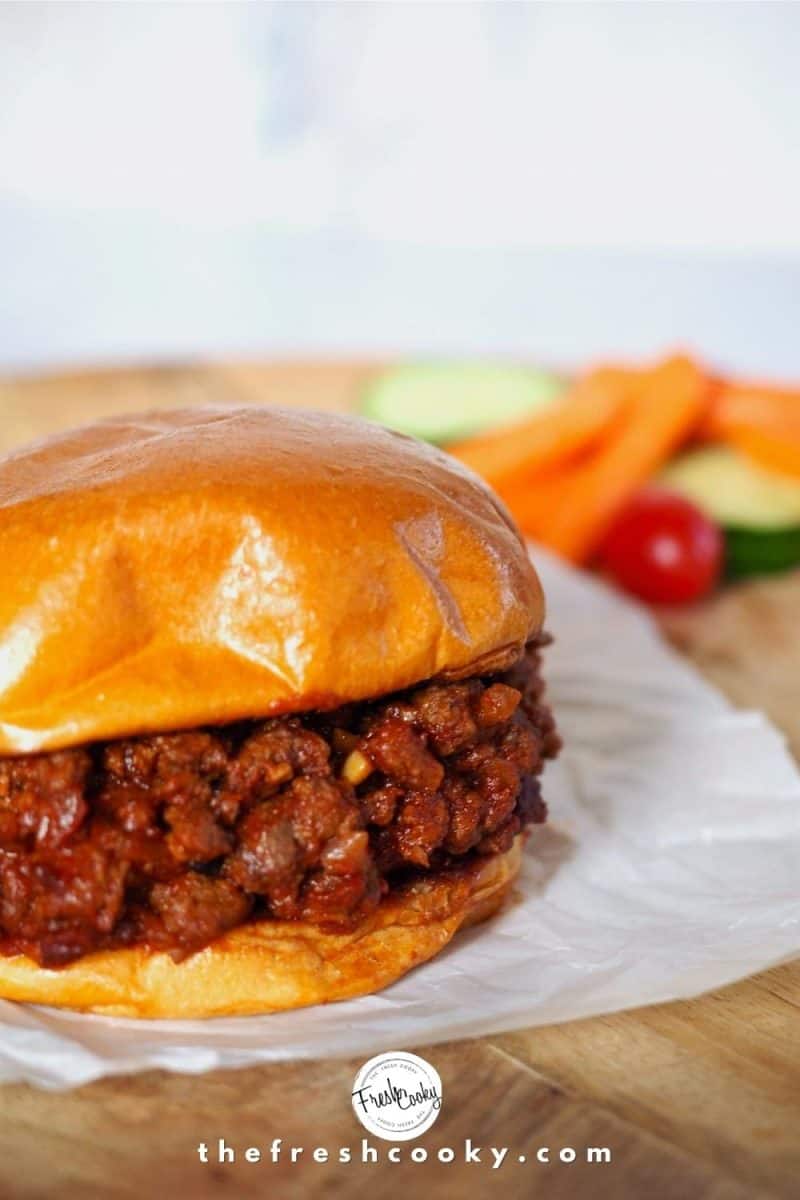 What is Sloppy Joe sauce made of?
Onions, peppers, and garlic | lends amazing flavor, texture and well hello, veggies! Got picky eaters? Easily disguise by grating the onions and mincing the peppers super fine.
Tomato sauce & tomato paste | no ketchup here baby! Rich, delicious tomato sauce.
Smoked paprika | this is the best stuff, I use it all the time!
Brown sugar | light or dark, your choice, I used light!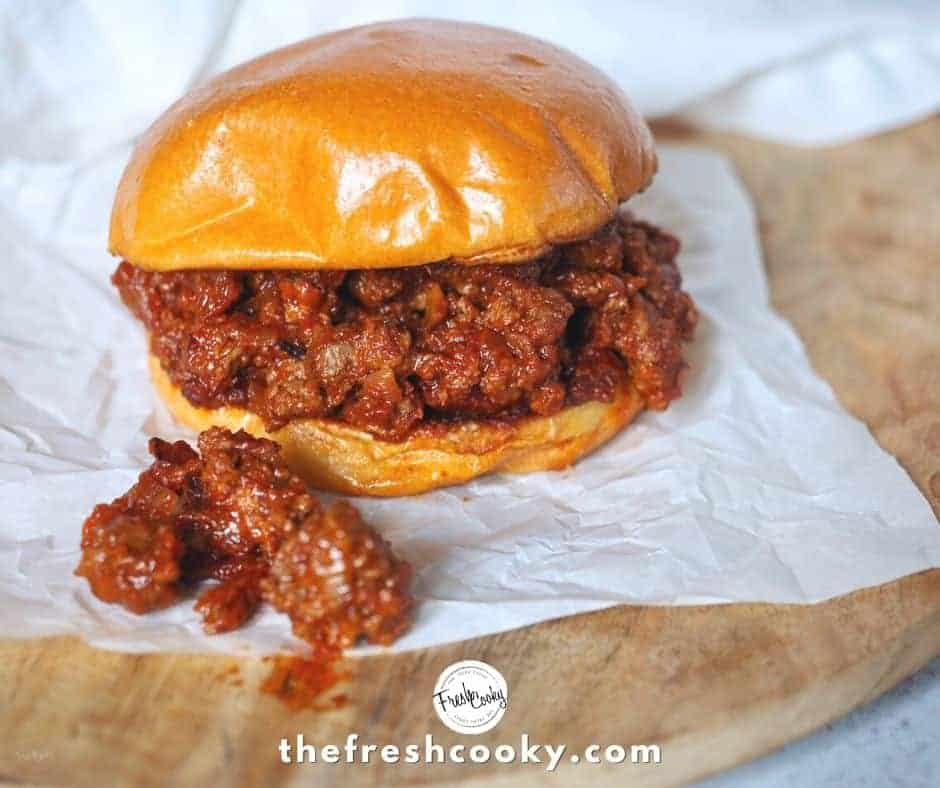 Worcestershire sauce | adds a punch of savory and amazing flavor!
Bacon | totally optional, thick or thin, I've made it with both, personally I like the crispy thin bacon!
Ground Beef | You can also use ground turkey, chicken, bison or plant protein; I use 80/20 ground beef from a local rancher, it's so delicious!
Brioche buns or hamburger buns | lightly grilled is best!
Is Sloppy Joe and Manwich the Same Thing?
Remember those? Manwiches! A sloppy joe sauce that came in a can that you simply added to browned ground beef, ew! LOL!
So while they might be the same thing, this recipe uses a homemade from scratch sloppy joe sauce and tastes amazing!
Are there other names for Sloppy Joes?
Who knew!?? Manwich, slush burger, dynamite, spoonburgers, tavern sandwich; barbecues, dynamites, gulash, sloppy janes, steamers, wimpies, and yum yums are all variations on the Sloppy Joe Sandwich. (Source) I'm leaning towards yum yums! 🙂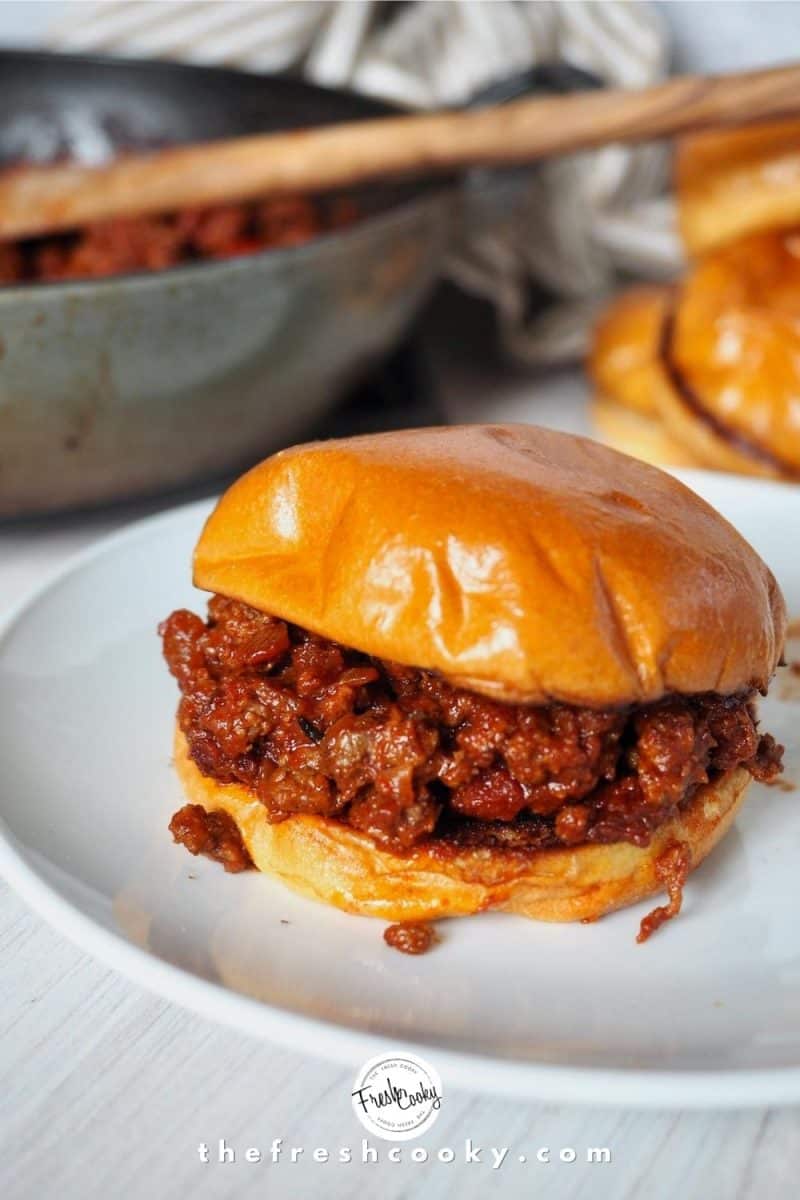 Why Are They Called Sloppy Joes?
According to legend, a cook named Joe at Floyd Angell's café in Sioux City, Iowa, added tomato sauce to his "loose meat" sandwiches and the "sloppy joe" sandwich was born. And the rest, as they say, is history!
How Do you Make Sloppy Joes from Scratch?
While a packet of sloppy joe mix or canned mix seems easy, there are so many ingredients in those you cannot pronounce and are just flat out not good for you!
I'll show you how to make homemade sloppy joe sauce from scratch and dinner will on the table in under 30 minutes!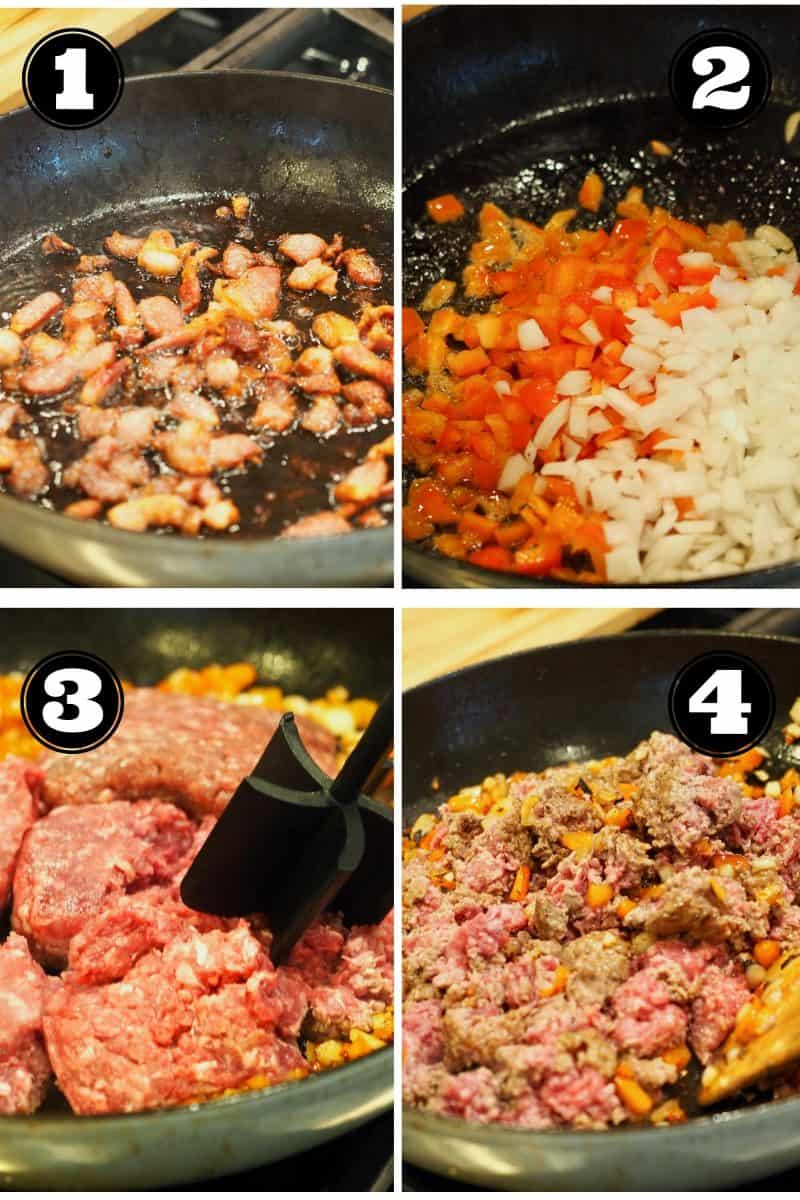 If using bacon (thin, thick or turkey bacon), in a large skillet cook the bacon on medium-high for 2-3 minutes until crisp. Remove from pan to paper-towel lined plate.
Reserve about 2 tablespoons of bacon grease — if you used turkey bacon or precooked bacon, simply add 2 tablespoons of olive or vegetable oil.
Heat skillet to medium-high heat and cook onions and peppers; about 5 minutes until soft and slightly caramelized. Add minced garlic the last minute and stir until fragrant. Scoot veggies to the side, adding ground meat to skillet.
Break meat apart into chunks to brown, don't break into tiny pieces, keep some larger, that will help keep the sandwich together better. Brown until almost all pink is gone. About 5-6 minutes.
Add smoked paprika, tomato sauce, tomato paste, brown sugar and Worcestershire sauce. Stir to combine and reduce heat to low, bringing to a simmer. Stir occasionally over low heat for about 5-6 minutes until the mixture thickens and reduces slightly.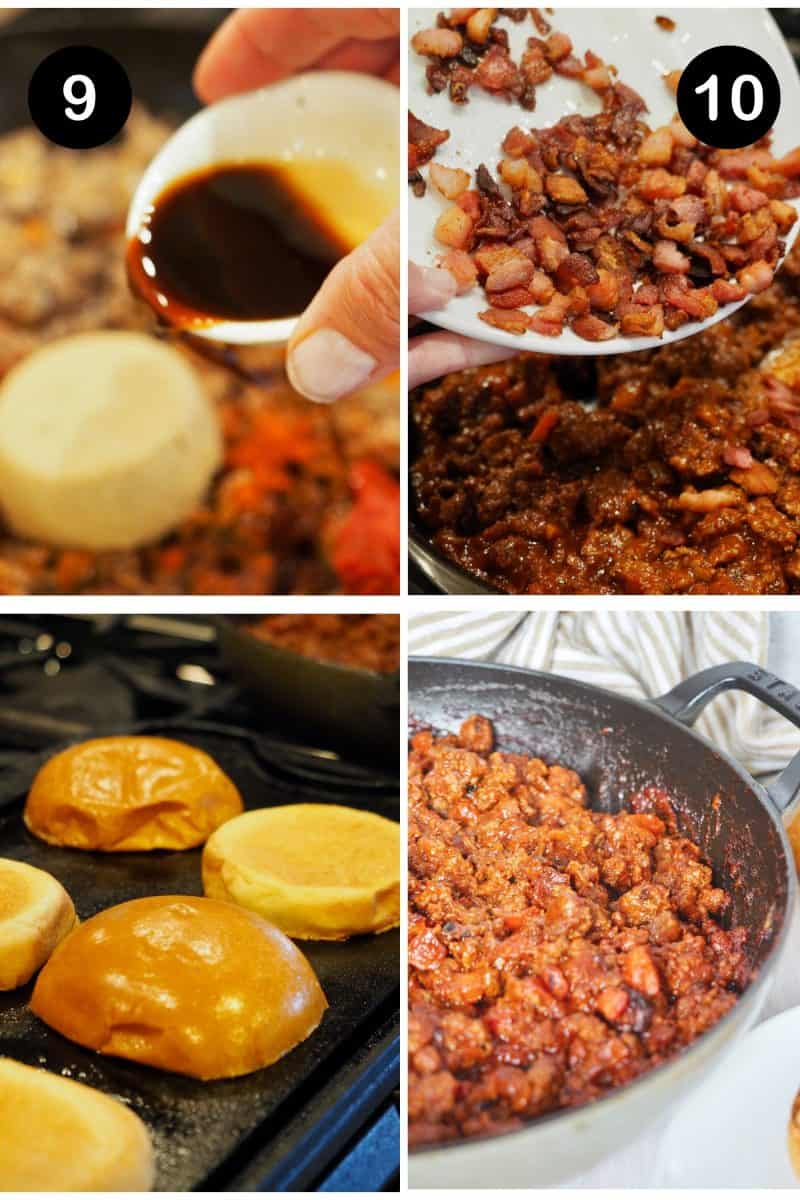 Return bacon to skillet with sloppy joe mixture and mix in.
If desired, toast buns on griddle or pan with a little bit of butter until golden. Spoon mixture on top of buns, enjoy!
CAN I SUBSTITUTE TURKEY OR CHICKEN FOR BEEF?
Yes! In fact, you can substitute any ground meat, including bison, elk or venison in this dish! Or if you are vegetarian, try a plant based protein as well.
Increase leaner meats to 2 pounds, also increasing Worcestershire sauce to 2 tablespoons; it's a bit more bland, especially if not making with bacon. Season with salt and pepper to taste.
CAN I SUBSTITUTE KETCHUP FOR TOMATO PASTE?
Substitute two tablespoons of ketchup for every one tablespoon of tomato paste. Reducing brown sugar by a few teaspoons as well. OR…
Substitute 1 tablespoon tomato paste with 2 to 3 tablespoons tomato puree or tomato sauce (reduce liquid in recipe by 2 to 3 tablespoons); or boil tomato puree or sauce until reduced to 1 tablespoon.
I created this simple free substitutions chart!
Print and tape to the inside of a cupboard, I refer to mine often!
RECOMMENDED TOOLS
Can I Make Sloppy Joe's Vegetarian or Vegan?
Well yes, yes you can! And here's how:
Omit the bacon (obvi)
Swap a plant based protein for ground beef
Use soy sauce instead of Worcestershire sauce, increasing Soy sauce to 2 tablespoons and adding a little extra salt and pepper — let me know if you try it!
Gluten Free Sloppy Joes
Sloppy Joes, minus the buns are naturally gluten free, swap out gluten-full buns with a quality Gluten Free bun and it's a delicious, healthy, gluten free dinner!
I hope you enjoy this Sloppy Joe burger or whatever you want to call it! Just don't call them late for dinner!!
More great 30 minute meals to enjoy!
Like this recipe?
Don't forget to give it a ⭐️⭐️⭐️⭐️⭐️ star rating and comment below the recipe!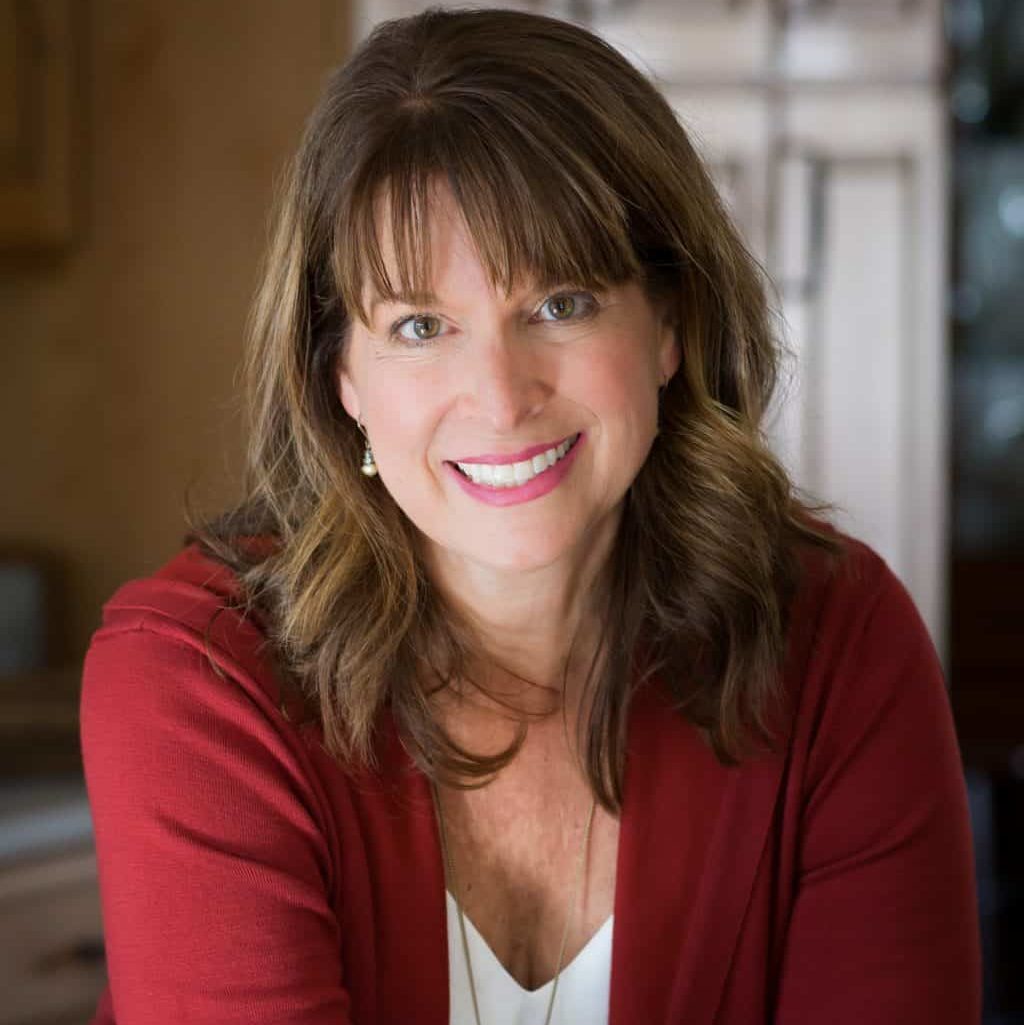 About Kathleen Pope
Recipe Innovator | Food Photographer | Food Writer
Hi, I'm Kathleen Pope. Here at The Fresh Cooky you will find easy, mostly from-scratch, trusted recipes for all occasions. From speedy dinners to tasty desserts, with easy step-by-step instructions. I am here to help teach you how to make mouthwatering recipes without spending hours in the kitchen. Read more about Kathleen here.