Instant Pot Whole Chicken
As an Amazon Associate, I earn from qualifying purchases. Please read my disclosure policy.
Easy Instant Pot Whole Chicken is incredibly tender, juicy and loaded with flavor! The best part of this "roasted" chicken is it is made in one pot and is done in about an hour!
I have come to really love my Instant Pot! I am working on more recipes to that your family will really enjoy; like this Potato Leek Soup, Buffalo Chicken, Chicken & Sausage Jambalaya and these AMAZING Tarragon Carrots!
Are you like me? Did your Instant Pot stay in the box for 6 months (taunting you, I might add), before you had the courage to open it — or maybe it's still in the box?
I get it, but I am hoping to encourage you to break it out and make this chicken recipe, cause you might not go back to buying a Rotisserie Chicken from the store! It is really, THAT easy and that good!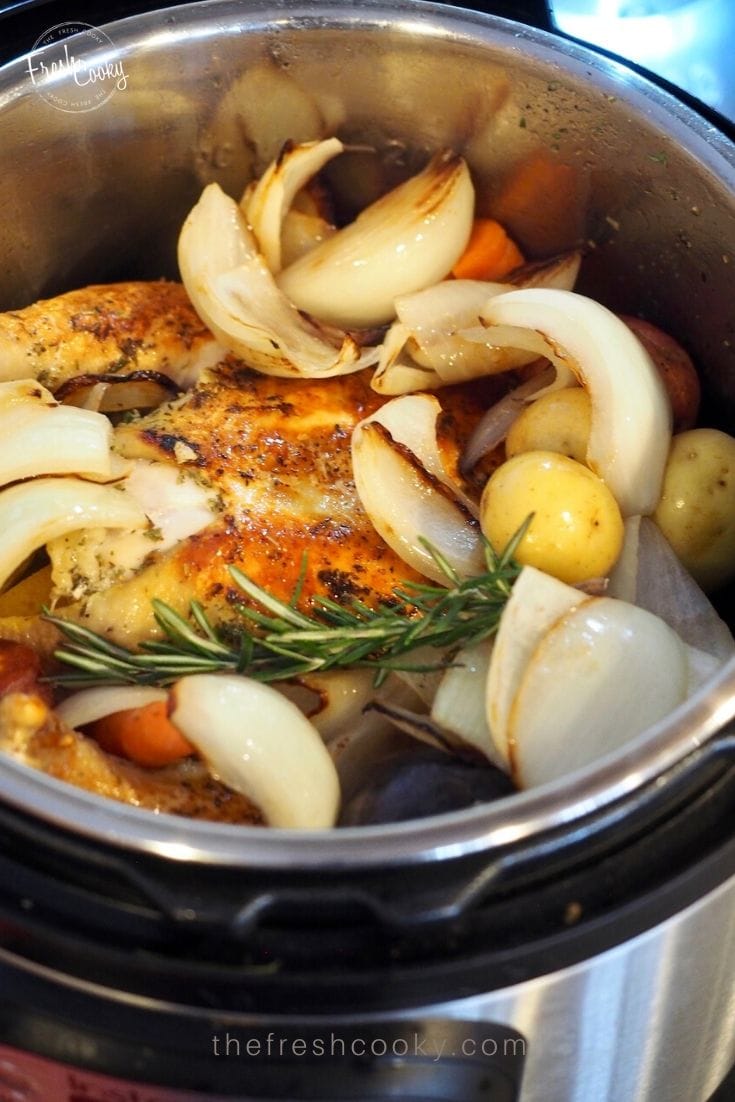 INSTANT POT WHOLE CHICKEN + HOMEMADE CHICKEN BROTH
I have made this recipe again and again in my pressure cooker! What I love most, is not only do you have a healthy, wholesome dinner, full of crazy flavor.
You can also make a scrumptious and healthy chicken broth using the carcass and leftover stock — also in the Instant Pot! It's a TWOFER!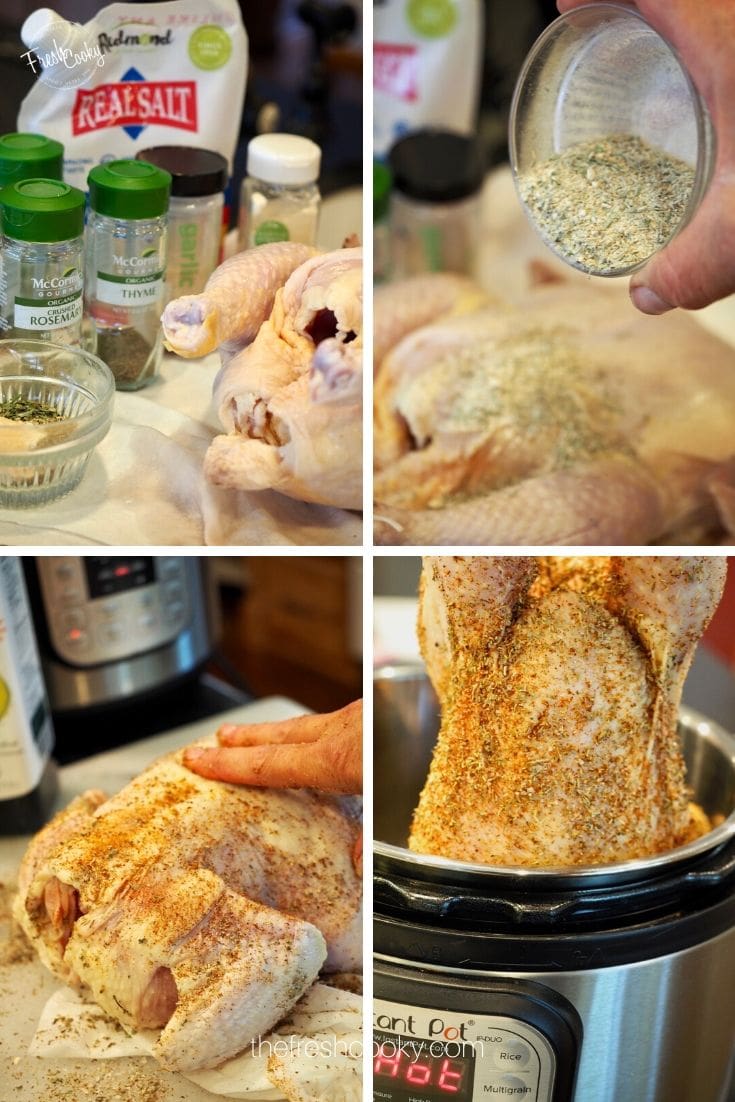 Step 1 | Prep Whole Chicken for Instant Pot
In a small bowl combine, sea salt, pepper, thyme, rosemary, paprika, oregano, onion powder and garlic powder.
Set Instant Pot to the HIGH saute setting while preparing the chicken
Remove giblets/gizzards from cavity of chicken and any plastic that may be on the chicken; rinse with cold water inside and out and pat dry (using paper towels).
Rub dry spice rub all over chicken, splashing a little on the inside of the cavity as well.
Place lemon halves inside cavity of chicken.
Alternative Spice Mixtures
Replace thyme, oregano with rosemary (or add 1 teaspoon in addition)
Purchase a store bought spice rub for poultry
Cajun | Use Creole or Cajun rub instead of paprika, thyme, oregano
Simple | Kosher Sea Salt and Pepper
Spices that go well with poultry are; thyme, oregano, rosemary, paprika (try smoked paprika), sage, basil, bay leaf, cinnamon, lemon, ginger and parsley. Keep your salt, garlic and onion powder about the same amounts and play with other spices.
Feel free to toss in fresh rosemary, thyme, parsley if you happen to have those herbs around! Tuck some in with the lemon!
Step 2 | Browning Chicken Prior to Pressure Cooking
Once IP reads "HOT" it is ready to brown the chicken
Add oil to Instant Pot
Holding the legs of the chicken, slowly lower into hot oil, breast side down first and brown 4-5 minutes.
Using tongs, flip and brown for additional 4 minutes, remove and set aside.
If desired and using, toss in some quartered or sliced onions to brown for a couple of minutes.
Step 3 | Pressure Cooking a Whole Chicken
Place the metal trivet in the pot and pour in chicken stock.
Gently place chicken on top of trivet, breast side up, if using vegetables (1-2 potatoes, quartered onion, 2-3 carrots), wash and cut into large chunks and tuck around chicken.
Cover, seal steam vent.
Select Pressure Cook setting or Manual Pressure. Adjust to high and set time for 18 – 30 minutes (see chart below for size of chicken)
When time is up, allow pressure to naturally release for at least 10 minutes, longer for more tender chicken. Mine took about 30 minutes to release naturally.
Carefully (might fall apart on you) using tongs, remove from Instant Pot to cutting board, cover loosely with foil for 10-15 minutes, before slicing.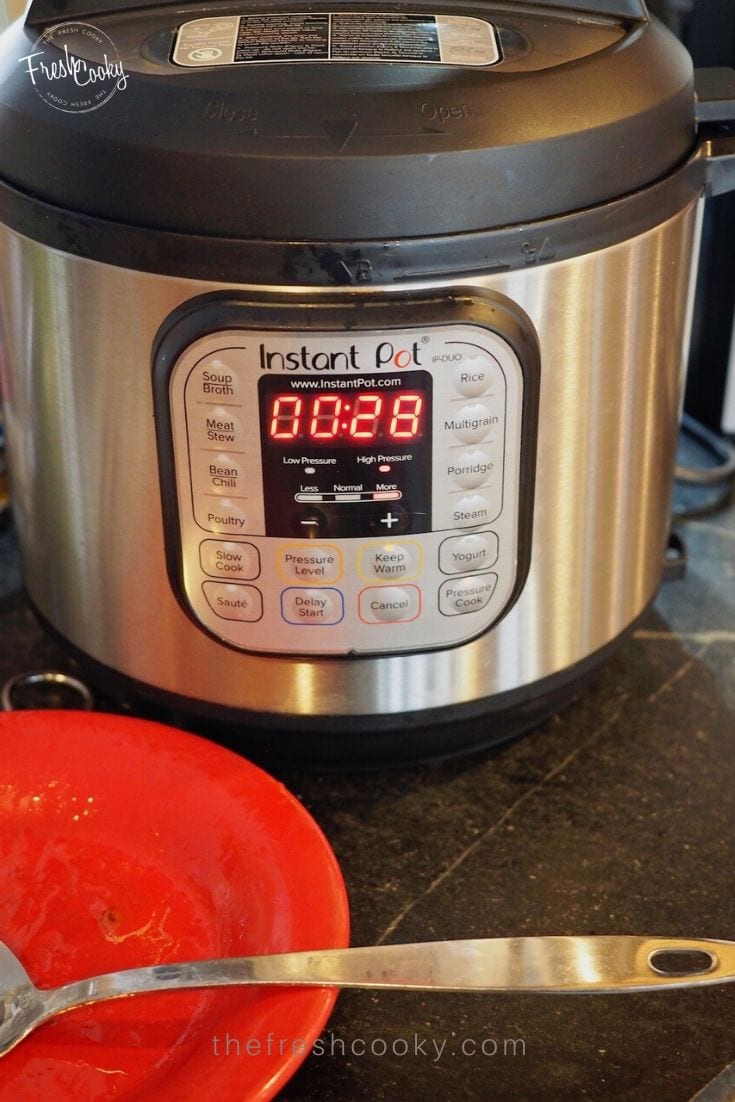 Making Pan Gravy in your Instant Pot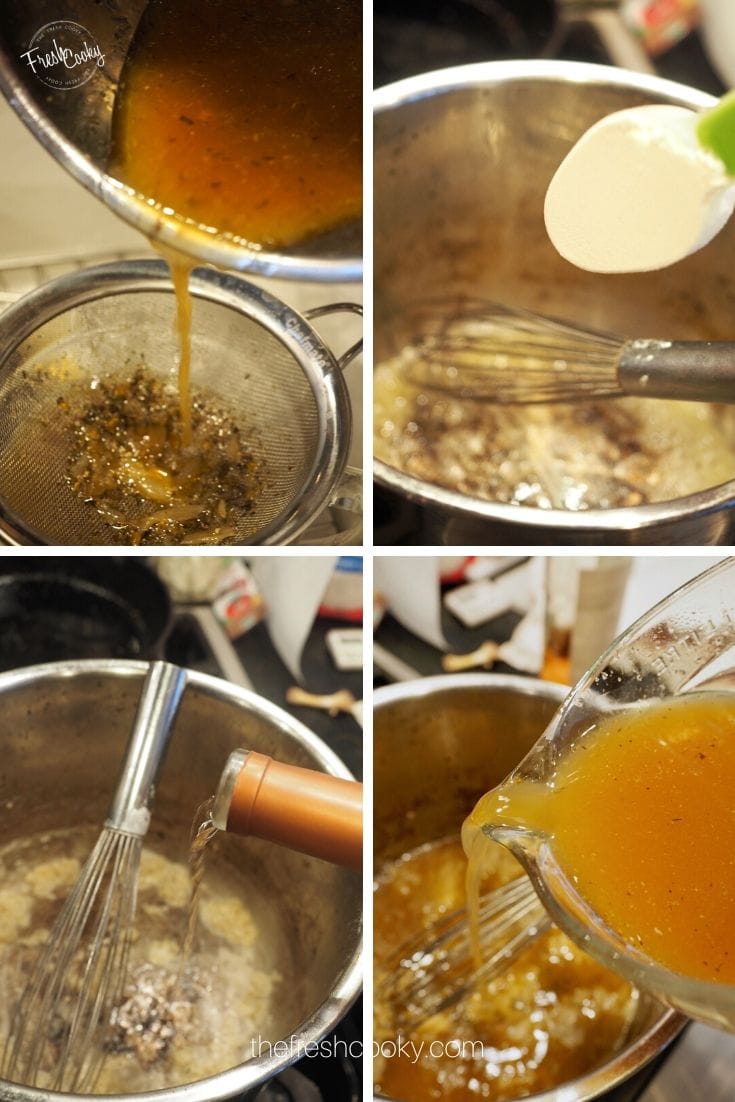 Once chicken has been removed from pot, pour juices through fine mesh sieve into a 4 cup measuring cup and reserve.
Press Saute on Instant Pot, add a tablespoon of butter to melt in pan, then add ¼ cup flour, whisk until smooth and slightly golden.
Return pan juices to mixture, 2 cups at a time, whisking until thick. If too thick, add a little more of the pan juices until desired thickness. Add a splash of white wine if you have it around, adjust seasonings to taste, adding sea salt and pepper if needed.
Frequently Asked Questions about Instant Pot Whole Chicken
What size Instant Pot (pressure cooker) will cook a whole chicken?
I have a 6 qt Instant Pot, which is perfect for our family of 4, the 8 qt would work fine as well, be sure to add an additional cup of liquid.
How Long Does it Take to Cook a Chicken in a Pressure Cooker?
It depends on the size of chicken. The chicken should read 165 degrees with a meat thermometer, but these times are a rule of thumb.
* 3 pound chicken 18 minutes on high pressure
* 4 pound chicken 24 minutes on high pressure
* 5 pound chicken 30 minutes on high pressure
* For every extra pound, add about 6 minutes at high pressure or 3 minutes for every half pound.
Will the chicken be ready in 30 minutes?
Nope! I must admit I do get a bit frustrated with some Pressure Cooker recipes that say that a recipe is done a matter of minutes.

Maybe the actual cooking time (under pressure) takes minutes, but typically the instructions do not take into account the time it takes come to pressure, cook and depressurize (naturally or manually). So my times will be higher than you see on many recipes, but hopefully a bit more realistic.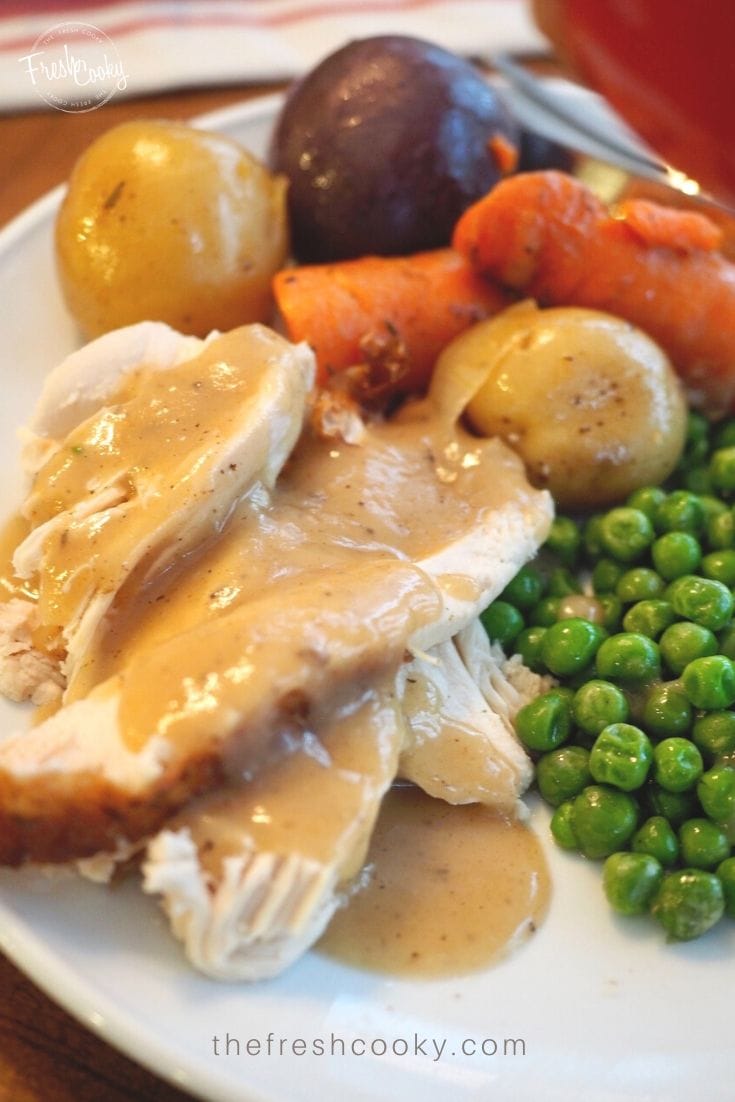 Keep in mind the amount of time that it will take to allow the pressure to release naturally, again can vary, but mine takes about 30 minutes to release.
Should I Rest eat before Slicing
YES!! You should allow all meats to rest before slicing or eating. 10-15 minutes, on a platter, loosely covered with foil.
High Altitude Adjustments for Pressure Cookers
I live in Denver, 5280 ft above sea level, and yes, you do have to adjust the pressure cooking times — altitude impacts the temperature that water boils, the higher you are the lower the water temperature, so this could impact your cooking. Check out this great article on how to increase (and decrease) times when pressure cooking.
Cooking guidelines are included in the printable recipe card below. However; with chicken, you should grab a handy meat thermometer and shove it into the thigh of the chicken, avoiding bones — it should read 165 degrees F!
What If My Chicken Is Not Cooked Through
Return the chicken to the Instant Pot, throw that lid back on, close your steam valve and cook for another 2 minutes for every 5 degrees below 165 degrees.
Common Questions when Cooking a Whole Chicken in your Instant Pot
What is an Instant Pot Trivet? This is the piece that allows the chicken (or other foods) to sit up off of the bottom of the Instant Pot. This should have been included in your box, but you can also purchase separately.
What if I am missing or do not like one of the spices for the rub? Good news, you can omit, or substitute with another spice!
Can you cook a frozen whole chicken in a pressure cooker? Sort of? Yes and No. If your chicken still has giblets/gizzards and/or any plastic (that holds the legs together) in it then, NO, you should not cook it from frozen. If you know it's free from plastic, paper or gizzards, then yes, give a try. If you are interested in trying, pop over to fellow blogger at A Mindfull Mom's blog and read her tips.
Can I add vegetables and/or potatoes with the whole chicken? Yes, with caution, if you are averse to mushy carrots and or potatoes, then I would not recommend you doing this as they are pretty soft. But they cook in the juices from the chicken so are very flavorful! Vegetables that work okay are onions, carrots, most potatoes.
Is the skin crisp? No, while it is very flavorful, since it is cooked under steam pressure, the skin is not crispy. If crisper skin is desired, after cooking, place the whole chicken on a sheet pan, brush with a little olive or avocado oil and place rack in middle of oven with oven on broil, watch closely so it doesn't burn. Try 2-4 minutes depending on how crispy you like it.
Can I set this on Delay Start? Yes, I typically get this all ready and delay start before church — it's done when we get home, it will not hurt the chicken if it stays on the warm feature. I do not recommend that you set it for more than 2 hours delay due to the fact that it's prebrowned.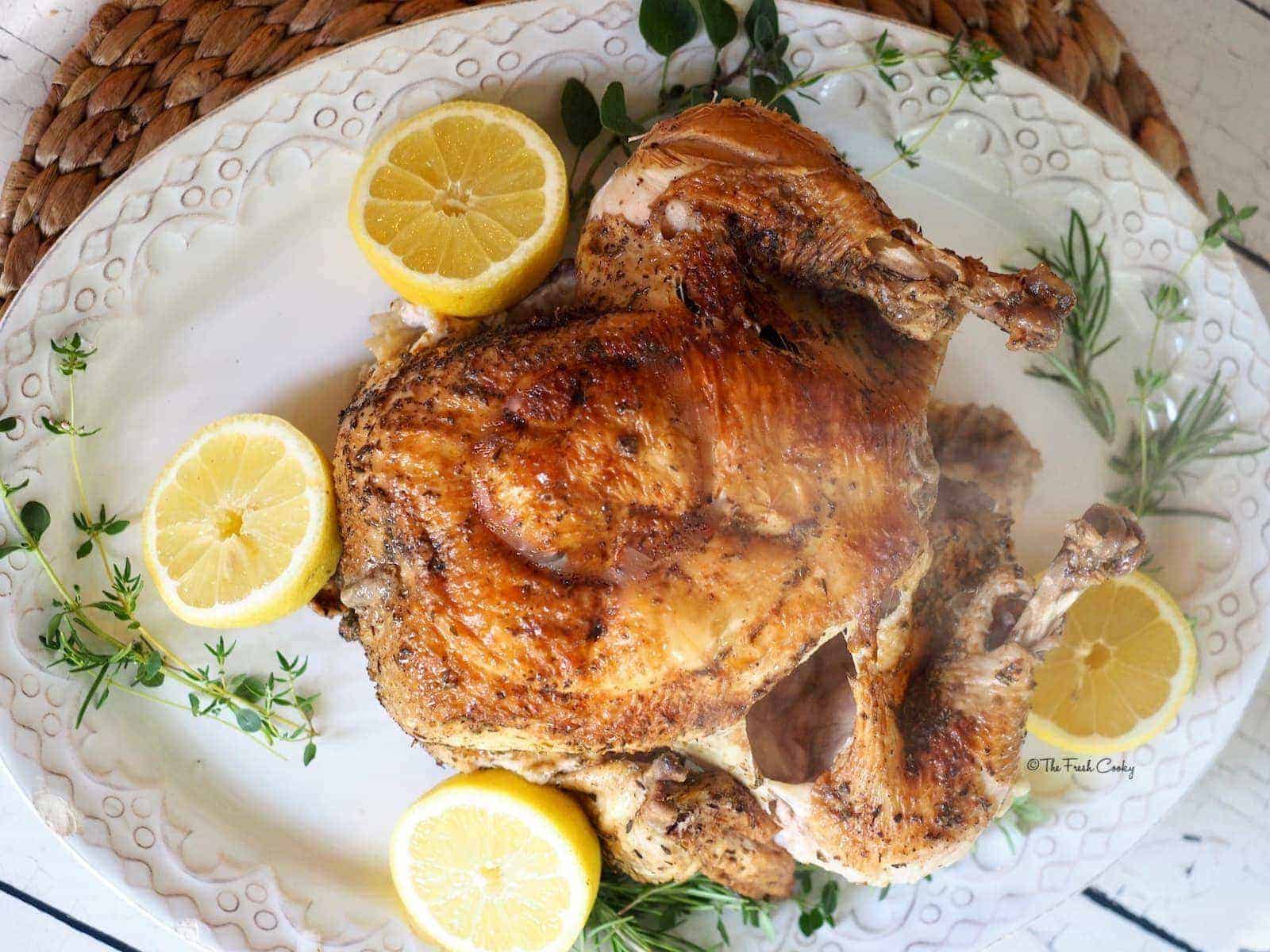 What to Serve with Instant Pot Whole Chicken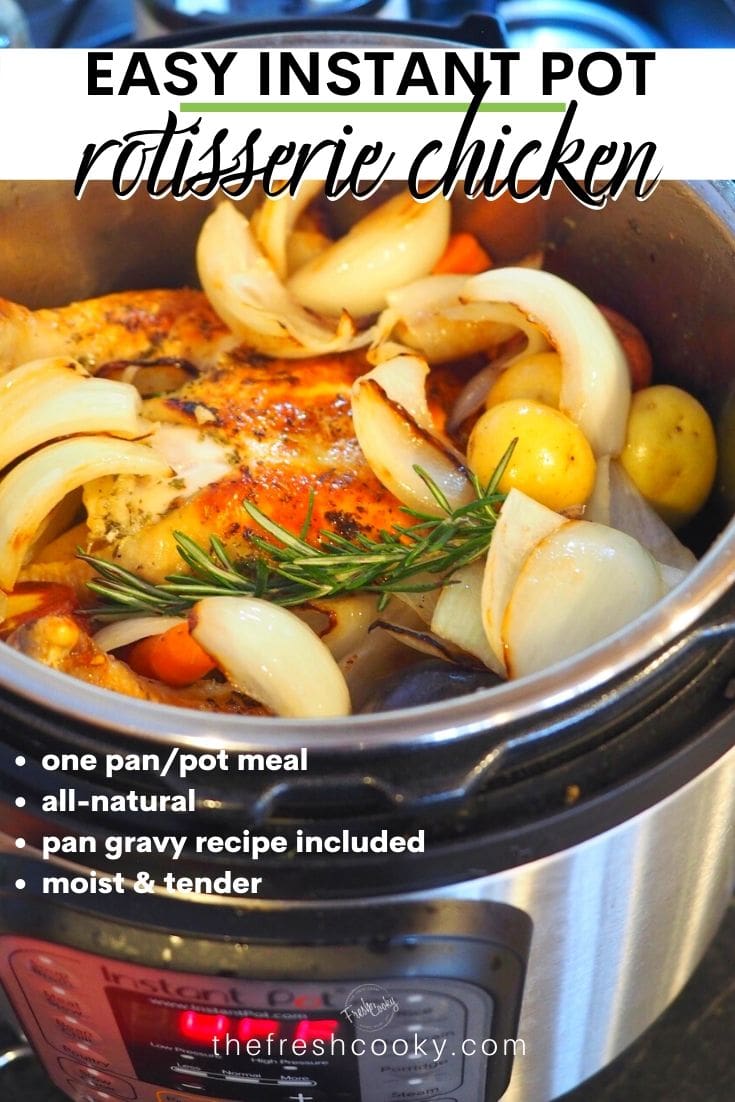 Like this recipe?
Don't forget to give it a ⭐️⭐️⭐️⭐️⭐️ star rating and comment below the recipe!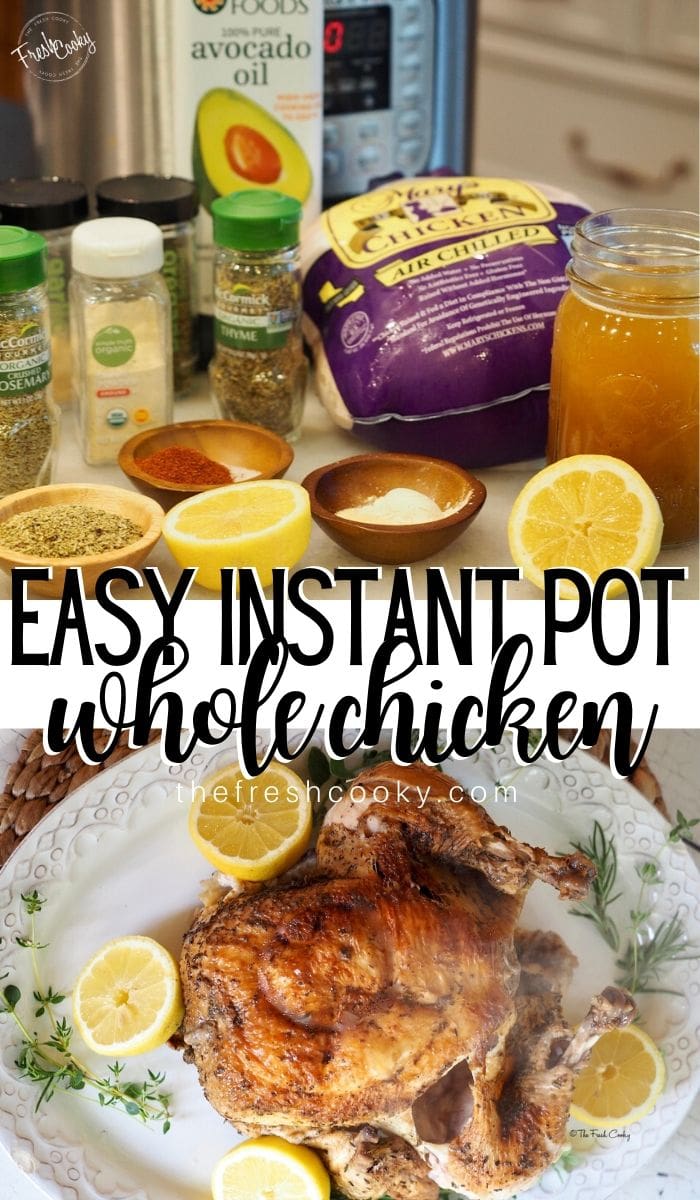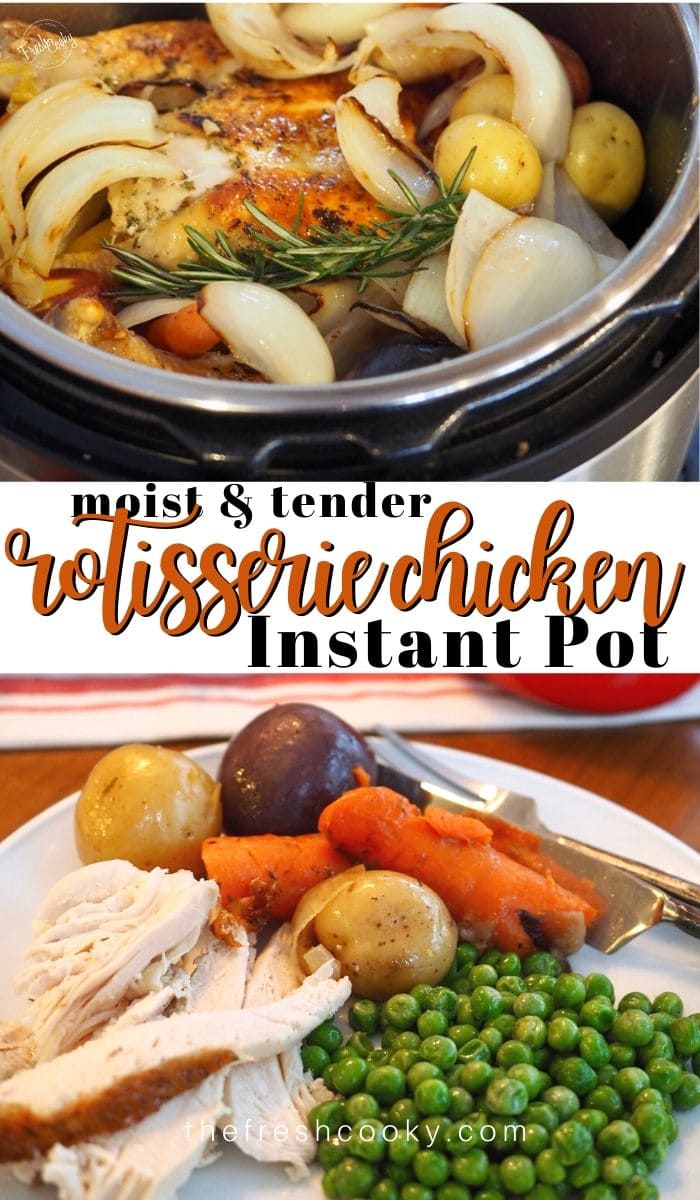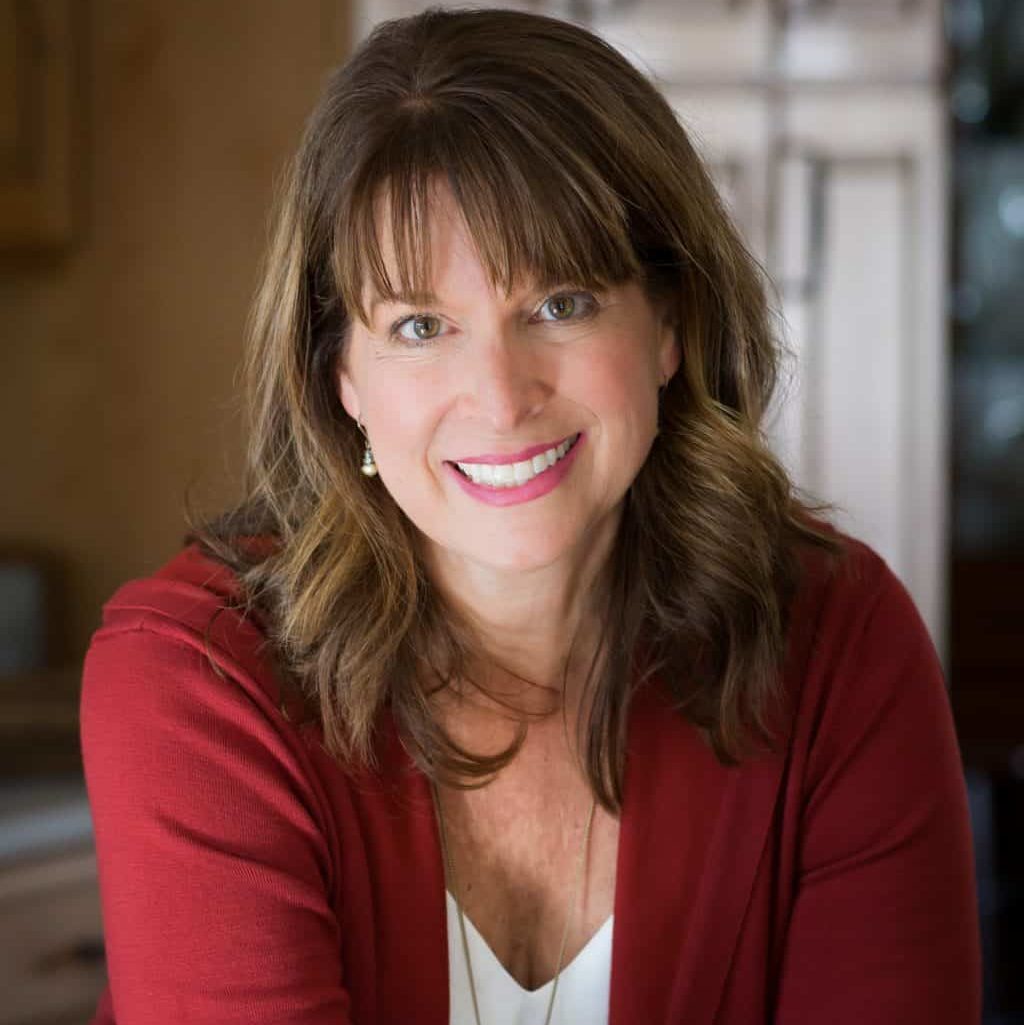 About Kathleen Pope
Recipe Innovator | Food Photographer | Food Writer
Hi, I'm Kathleen Pope. Here at The Fresh Cooky you will find easy, mostly from-scratch, trusted recipes for all occasions. From speedy dinners to tasty desserts, with easy step-by-step instructions. I am here to help teach you how to make mouthwatering recipes without spending hours in the kitchen. Read more about Kathleen here.