Easy Wassail Hot Cider Recipe (non-alcoholic)
As an Amazon Associate, I earn from qualifying purchases. Please read my disclosure policy.
It's time to simmer a batch of fragrant hot mulled cider on the stove and this easy Wassail recipe (non-alcoholic) is perfect! Fresh fruit, a variety of juices, classic apple cider, and fragrant seasonal spices. Sipping on a steaming mug of wassail is sure to put you in the holiday spirit!
If you're looking for more special drinks for a Christmas tradition, try my Starbucks White Hot Chocolate. Or this Cranberry White Grape Christmas Punch, Christmas Morning Chai Recipe, or this classic easy Homemade Eggnog – DELISH!
A traditional wassail recipe is just the right beverage for serving a large crowd at family gatherings or a Christmas party. However, it is also enjoyable after the festive months; think sledding day, après–ski drink or post shopping sipper. An absolutely delicious drink served alongside a slice of my Cranberry Christmas Cake, these Raspberry Thumbprint Cookies or a buttery traditional shortbread cookie.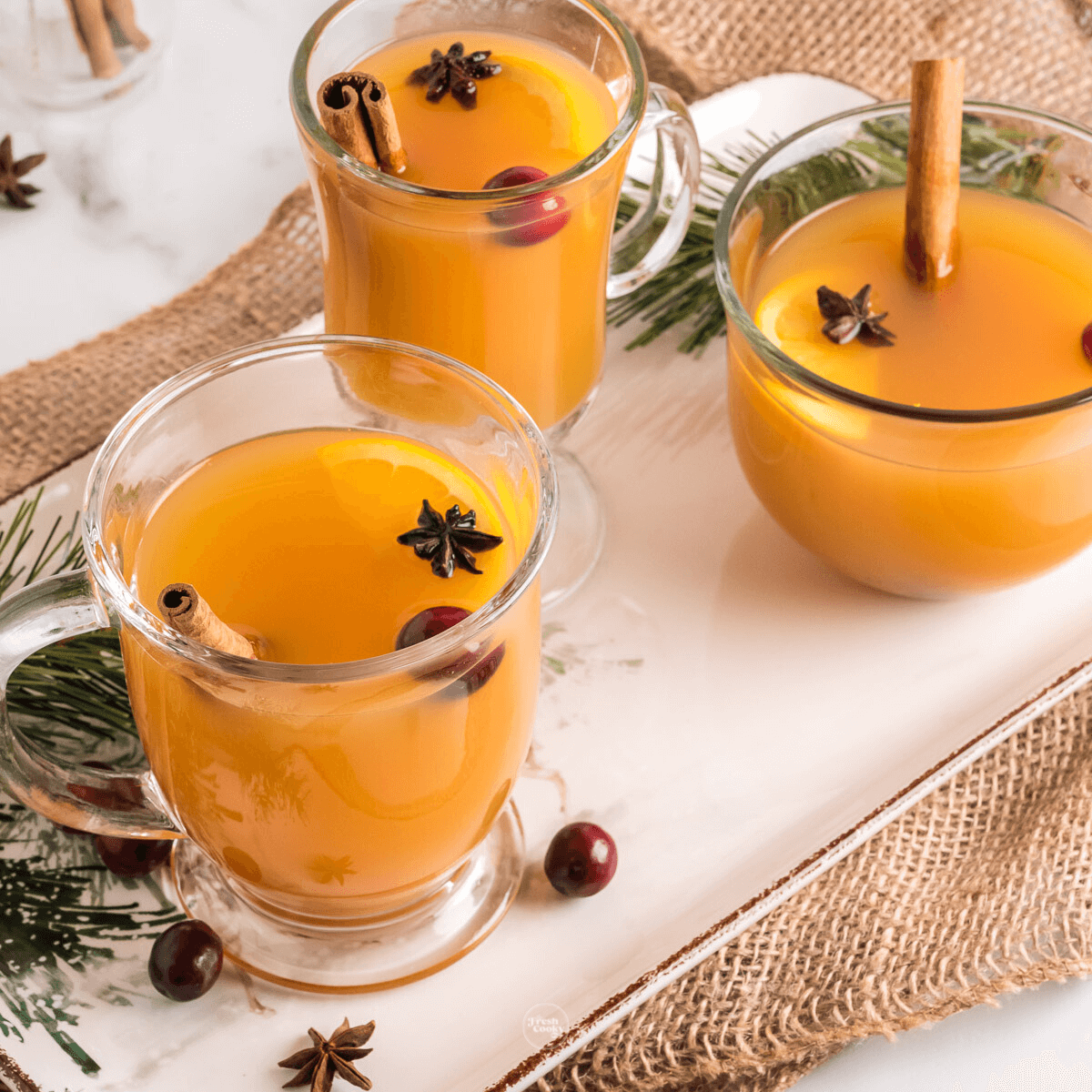 Why You Will Love this Recipe
Three Simple Methods | Depending on your preference, make this tasty cider in the slow cooker, instant pot or on the stovetop. All methods are provided, so you can choose based on which is more convenient.
No-Worries Beverage | It's wise to have some non-alcoholic beverages on your holiday menu. That way, the kids can enjoy the festive drink, too. It's also a nice change to casually sip on a fun non-alcoholic beverage without worrying about having a little too much. If desired, keep a small measuring cup and some brandy for the adults to stir in!
Seasonal Spice and Flavor | This easy wassail recipe is packed with holiday flavors, like cinnamon, allspice, apple cider, and citrus.
What does Wassail mean?
Wassail (WOSS-el) hails from an old Norse phrase "ves heill", literally means "to be in good health". Wassail might sound German, however; it actual dates back to an Anglo-Saxon tradition celebrated on Christmas Eve, Christmas day, New Years Eve and Twelfth Night (January 5th).
Merrymakers would go from house to house singing Christmas carols (called Wassailing) and the homes they visited would have Wassail bowl filled with warming punch to ladle up for the revelers. So start your easy wassail recipe and maybe even hum a few bars of Here We Come A Wassailing to get you in the mood.
Simple Ingredients
Ingredients, directions and nutritional information in the printable recipe card at the end of the post.
Fruit juices | Add orange, pineapple, and fresh lemon juice to the drink for more tart and citrusy notes complementing the sugary apple cider. Fresher juices are best, see if you can find juices not from concentrate.
Apple cider | The base of this wassail recipe is classic hot apple cider, not to be confused with apple juice.
Brown sugar | Use light or dark brown sugar (or a brown sugar substitute) to add a touch of rich sweetness to the recipe, added sugar optional.
Cinnamon sticks | Cinnamon sticks lend an authentic cinnamon spice taste to the hot beverage of hot mulled cider.
Spices | Spice up the recipe by adding in some ground nutmeg, cloves, and allspice. I recommend using freshly ground nutmeg for the best flavor. Additionally, you can either use whole or ground cloves and allspice, depending on your preference.
Star anise | This unique ingredient is optional. It can be challenging to locate at your local grocery store, but most should sell them during the holiday months. Try it in my Chai Tea!
Fresh fruit | Bring a fruity flavor to the wassail by adding in fresh apple slices and orange slices, and a handful of cranberries. Not all the fresh fruits are necessary. However, I suggest using them all in this warm drink for the fullest flavor.
This recipe makes about 10 to 14 servings. If you'd like to serve just two people, you can make the entire recipe and freeze or refrigerate the leftovers to enjoy on another day. You can also use the quantity changer function on my recipe card or just halve the recipe to make four to five servings by cutting all the measurements in half.
How to Make a Delicious Beverage of Hot Mulled Cider
Step 1 | Mixing the Juice Base
The first step of this easy wassail recipe is to decide how you'd like to make it—either choose the stovetop method, the slow cooker method (or the instant pot).
Begin by combining the cider, orange juice, pineapple juice, lemon juice, and brown sugar in a large pot, 6-quart crockpot or slow cooker or 6 qt or larger Instant Pot. Then, stir to mix the ingredients well.
Step 2 | Spice it Up
Next, place the nutmeg, cloves, allspice, star anise, and cinnamon sticks in a piece of cheesecloth, tie them up, and drop them into the pot or slow cooker. If you don't have cheese cloth to work with, toss the spices directly into the pot. The cheesecloth is not necessary, but it's the perfect way to make the cleanup easier.
Step 3 | Add Fresh Fruit and Heat
Then, slice up the apple and orange and add them to the mixture. Now it is time to get that wassail all warm and toasty. You will absolutely love the fragrance coming from your kitchen when simmering this delightful beverage.
Stovetop Hot Wassail Recipe
Cover bring the steeping beverage to a simmer over medium-low heat. Next, reduce the heat to low and simmer for 30-45 minutes. Then, ladle the mulled cider into mugs and serve garnished with a cinnamon stick and a slice of fresh apple and orange.
How to Make Crockpot Wassail
After adding all the ingredients to the crockpot, stir well then heat as follows:
Set the slow cooker on LOW for 4-6 hour or
Place the crockpot on HIGH 3-4 hours
Or preheat the wassail on the stovetop, then transfer to crockpot on low to warm.
Set up a wassail station with a ladle, cinnamon sticks, orange and apple slices and maybe even some sugared cranberries on cocktail picks.
Alcoholic Choice | Provide a mini measuring cup and a bottle of your favorite alcoholic mix-in so that teetotaler's and kids can still enjoy this delicious easy wassail recipe non-alocholic.
Instant Pot Hot Mulled Cider
Super easy! Place all ingredients in the Instant Pot, seal vent and set manual mode for 10 minutes. Allow pressure to naturally release for 10 minutes, then carefully release any remaining steam. Serve piping hot for your holiday party!
Fresh Tips
Make it pretty! Place whole cloves into a whole apple and/or orange and place in a pot while simmering or in a crockpot. Use about 15-20 cloves to stud your apple and/or orange.
Make Ahead | For one less thing to do on the day you are hosting, combine all ingredients and store the batch in the refrigerator until ready to heat in the crock pot and serve. This would be great for a Favorite Thing's Party, New Years Eve party.
Fresh Toppings
Garnish the beverage of hot mulled cider with a cinnamon stick for stirring. Or try rimming the glass with a mixture of sugar and ground cinnamon.
To rim; run a slice of lemon around the rim of the glass, then spread a cinnamon sugar mixture onto a shallow bowl or plate and dip the rims in the sugar. You might also enjoy this Christmas Margarita!
If the pot or slow cooker of mulled cider will be on display, you'll want to make it delectably presentable! Float wedges of apple or slices of orange in a punch bowl topped with star anise to serve.
Variations & Substitutions
Swap Out the Juices | Switch the pineapple, lemon, or orange juice for your favorite juice, like cranberry juice, pomegranate juice, apricot nectar, or even lemonade for the perfect holiday drink.
What alcohol goes in wassail? Try adding up to 2 cups hard cider and/or ½ cup of brandy to make it an adult alcoholic wassail. However, whiskey, rum and bourbon are also delicious.
Make it Pretty | Press whole cloves into a whole apple and/or orange and place in pot while simmering or in crockpot. Use about 15-25 cloves to stud your apple or orange. This method will fill the entire house with winter warm scents!
Make it Pink | Some American recipes for Wassail add 2-3 ounces of red hot candies, giving the beverage of hot mulled cider a pretty pink hue.
Caramel Apple Wassail | Caramel and apples just go together, try a little spoonful or drizzle of your favorite caramel sauce.
Storage Tips
Refrigerate Leftovers | If you have leftovers from this cider wassail recipe, you can store the cooled wassail in the refrigerator in an airtight container (<< I like this one with a spout for pouring) up to 5 days.
I prefer warm apple cider, but this can also be served chilled, you could even add a splash of club soda or ginger beer, like in this Apple Cider Cocktail.
Reheat the cozy drink in a saucepan over medium-low heat, in a microwave safe mug or in the slow cooker until the desired temperature is reached.
Can I freeze the wassail? Yes, it may also be frozen for a longer storage time. Make sure it's cooled completely, store in baggies or jars and leave about an inch of head space to allow for expansion during freezing. When you're ready to heat it back up, let it thaw overnight in the fridge.
Frequently Asked Questions
What is Wassail?
Wassail is a warm holiday drink made of mulled apple cider. It's a traditional drink served in the winter months, especially on Christmas Eve, Christmas Day, and New Year's Eve, as a toast to good health. Start your own holiday traditions by adding this easy wassail recipe non alcoholic.
What alcohol goes in Wassail?
You can go traditional and use brandy; but rum, bourbon, whiskey or even vodka will work. You can also add some hard cider along with the brandy. It is delicious with or without alcohol though.
What is the difference between mulled cider and homemade wassail?
They are pretty much the same thing, both are warm apple cider drinks with spices. Some mulled drinks have cranberry and other juices, or use wine, but that would not be homemade wassail. Wassail goes back to a unique tradition and has a rich history. This traditional Wassail recipe beverage of hot mulled cider is the best part of the holidays!
What to serve with non-alcoholic wassail
Slippers and a roaring fireplace would be my first choice! Then add a slice of one of the following, and you have the perfect way to begin or end a winter's day.
I hope you loved this easy Wassail recipe non-alcoholic — if you did, would you share your creation on Instagram, Facebook and Pinterest? And be sure to comment below!
Like this recipe?
Don't forget to give it a ⭐️⭐️⭐️⭐️⭐️ star rating and comment below the recipe!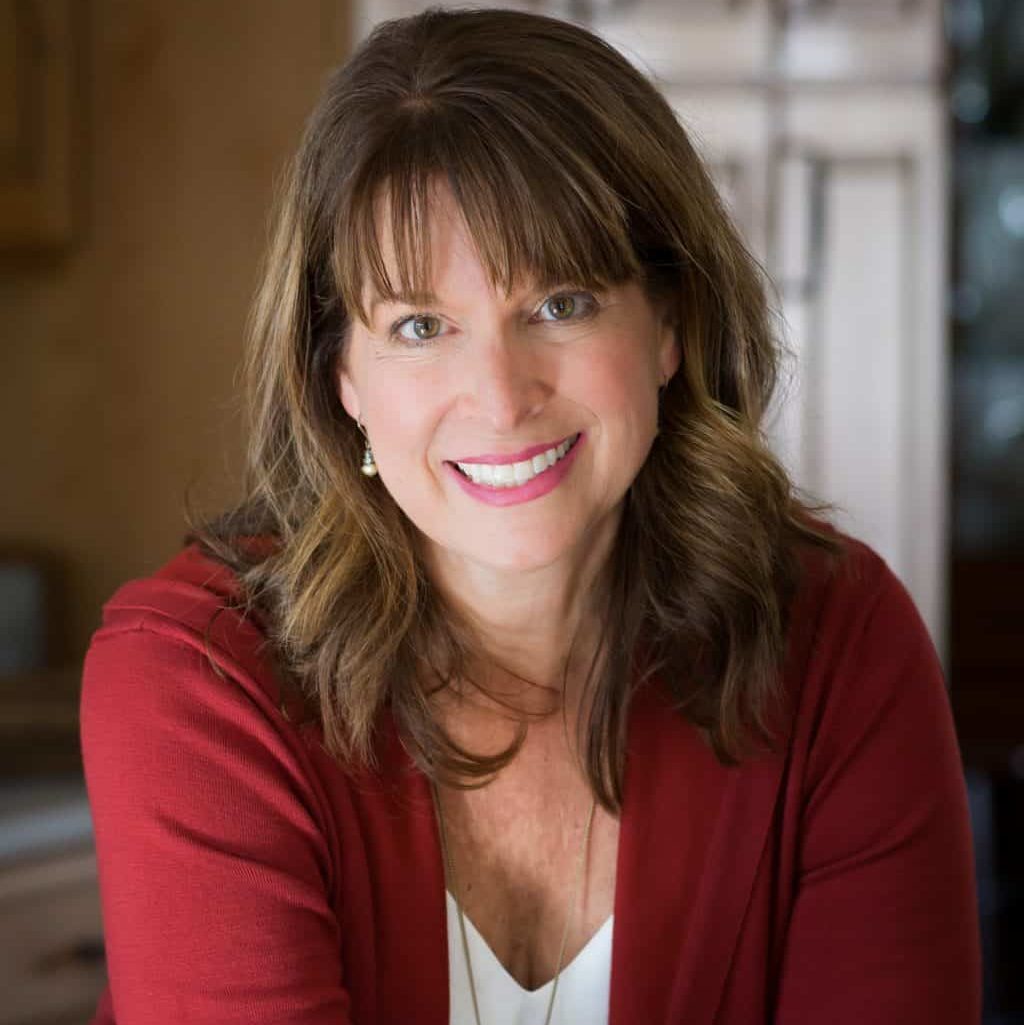 About Kathleen Pope
Recipe Innovator | Food Photographer | Food Writer
Hi, I'm Kathleen Pope. Here at The Fresh Cooky you will find easy, mostly from-scratch, trusted recipes for all occasions. From speedy dinners to tasty desserts, with easy step-by-step instructions. I am here to help teach you how to make mouthwatering recipes without spending hours in the kitchen. Read more about Kathleen here.