As an Amazon Associate, I earn from qualifying purchases. Please read my disclosure policy.
This mouthwatering Crockpot Ranch Chicken recipe is just too good to be just an appetizer! It's absolutely overloaded with flavor, is so dreamy and creamy, and is a bit addictive, keeping you coming back for bite after bite. Just 4 main ingredients makes it truly a dump and go main dish or appetizer. And I've made this small batch, but it easily doubles for a crowd.
Slow cooker ranch chicken is a staple on potluck and game day menus. Why? Because it's so easy and so delicious! I don't think I've met anyone who didn't absolutely love this dish, kind of like this Cowboy crack dip! When garnished with bacon, melty cheddar cheese and green onions, it takes it from ho-hum to ho-YUM!
Plus it's super versatile, be sure to read to the bottom for ways to enjoy this addictive, low-carb slow cooker recipe.
The crockpot version of this recipe is great because the chicken slow cooks in bold and tangy flavors for hours. It's just so much more flavorful than the stovetop version, and it's honestly even easier to make since the crockpot does all of the work for you.
If you are wanting a lower calorie version of this crockpot ranch chicken, you can also check out my healthy version of the same dish!
My sausage dip is another low-effort, high-reward appetizer that is almost deceptively delicious. It has only three ingredients and really proves the saying that sometimes less is more!
January is National Slow Cooker Month! I have joined other bloggers to bring you fresh new recipes this week, be sure to check out all the great recipes at the end of this post.
These three slow cooker recipes are on repeat in our house! Be sure to try them all, Olive Garden Crock Pot Chicken and Crockpot London Broil.
Ingredients
For the full recipe and measurements, see the printable recipe at the bottom of this post.
Chicken | Boneless, skinless breasts (either frozen* or thawed) are easy to shred and stay moist and flavorful. The star of our dish!
Ranch Dressing Mix | I recommend using a package of organic dressing mix, it doesn't have any MSG or other unwanted ingredients.
Cream Cheese | This ingredient is what makes this slow cooker ranch chicken recipe so creamy. No need to soften before adding! Neufchatel cheese (lower in fat) is always a great replacement.
Green Chiles | Don't drain the can of chiles for this recipe! The juice adds some moisture and helps the meat absorb the flavor.
Bacon | I used about 6-8 slices, but feel free to cook extra for garnish!
Cheddar Cheese | This melts into a deliciously gooey topping. Always buy a fresh block and grate it by hand to get the best results.
Instructions
Place the chicken breasts on the bottom of the crockpot. Sprinkle the dry ranch seasoning mix, add the green chilies, and then finally place a block of cream cheese right on top of the meat.
Cover and cook on Low for 4-6* hours or on High for 3-4 hours, though I don't recommend high for chicken — low and slow is ideal to avoid dry, rubbery chicken.
Cooking chicken in a slow cooker longer than 4 hours typically results in dry, rubbery chicken – yuck! Nobody wants dry chicken. I have found the sweet spot is around 4 hours!
Once cooked, shred your crockpot ranch chicken with two forks. Return the shreds to the crockpot, give it all a god stir, then top with your bacon crumbles and cheese as desired.
Cover everything again so that it melts, and then you're done! If you need to keep it warm, set the crockpot on the warm setting it will be ready to go when your guests arrive.
Variations
Customize slow cooker ranch chicken with your favorite hot sauce or spicy ingredients. Jalapeños are also delicious, and banana peppers are great if you like a little less heat.
Make a healthier version of this recipe with Neufchâtel cheese, greek yogurt, cottage cheese, or sour cream instead of cream cheese. Use 1 cup as a replacement.
You can also customize your cheese topping. For a little extra heat, use pepper jack or even blue cheese or as an opportunity to get rid of all those bits and bops of cheese in your fridge!
Fresh Tips
This delicious crockpot ranch chicken can be served on buns, in tacos, over rice, with pasta, in enchiladas, in quesadillas… anyway you like, really! Be creative and "make it yours".
You can make this recipe with either frozen or thawed boneless breasts. Actually, cooking frozen keeps the meat from getting tough from overcooking, so I recommend it! See my tips below in FAQ.
Get perfect bacon crumbles by freezing the bacon beforehand and cutting with a sharp knife, then crisping on the stove. Easy peasy and so much tastier than pre-made, store-bought crumbles!
Frequently Asked Questions
How Long to Cook Frozen Chicken in the Crock Pot?
I typically use frozen boneless, skinless chicken breasts when making crock pot dinners. If you are around, frozen chicken will be ready when cooked on low in the crockpot for 5-6 hours, but read on if you need it to hang out a bit longer.

Start with frozen chicken when you know you are going to be gone for 8 or more hours. You are less likely to have dry chicken by starting with frozen chicken in the slow cooker. Heading out to work, or errands, or just don't want to be bothered with babysitting your crock pot all day? This slow cooker ranch chicken recipe is for you! After-all, that is the beauty of the crock pot isn't it!?

My recommendation is to start with frozen chicken, add your ingredients and set on low for 6-8 hours with it defaulting to warm after it's done. Then all you need to do when you get home is shred the chicken, add the cheese bacon and EAT!
What is the best way to reheat slow cooker ranch chicken?
My preference is to place in saucepan on the stove, add a tablespoon of water, cover and allow to warm over the lowest setting, stirring occasionally.

Microwave in short 30-second bursts and stir each time to be sure it heats evenly.
Place into baking dish, cover with foil and heat in 300-325 F degree oven for 30 minutes.
How hot are green chilies?
Green chilies can be anywhere from hot to mild, and the can will usually specify which. I can't really recommend one or the other, since heat is all a matter of preference! I typically use mild.
Can I double this recipe for a crowd?
Yes! I actually reduced amounts for our family, and while this still makes plenty you might want enough to feed a crowd. It freezes beautifully too, so if you want, go ahead, make a big batch, simply double the ingredients, the time should remain roughly the same.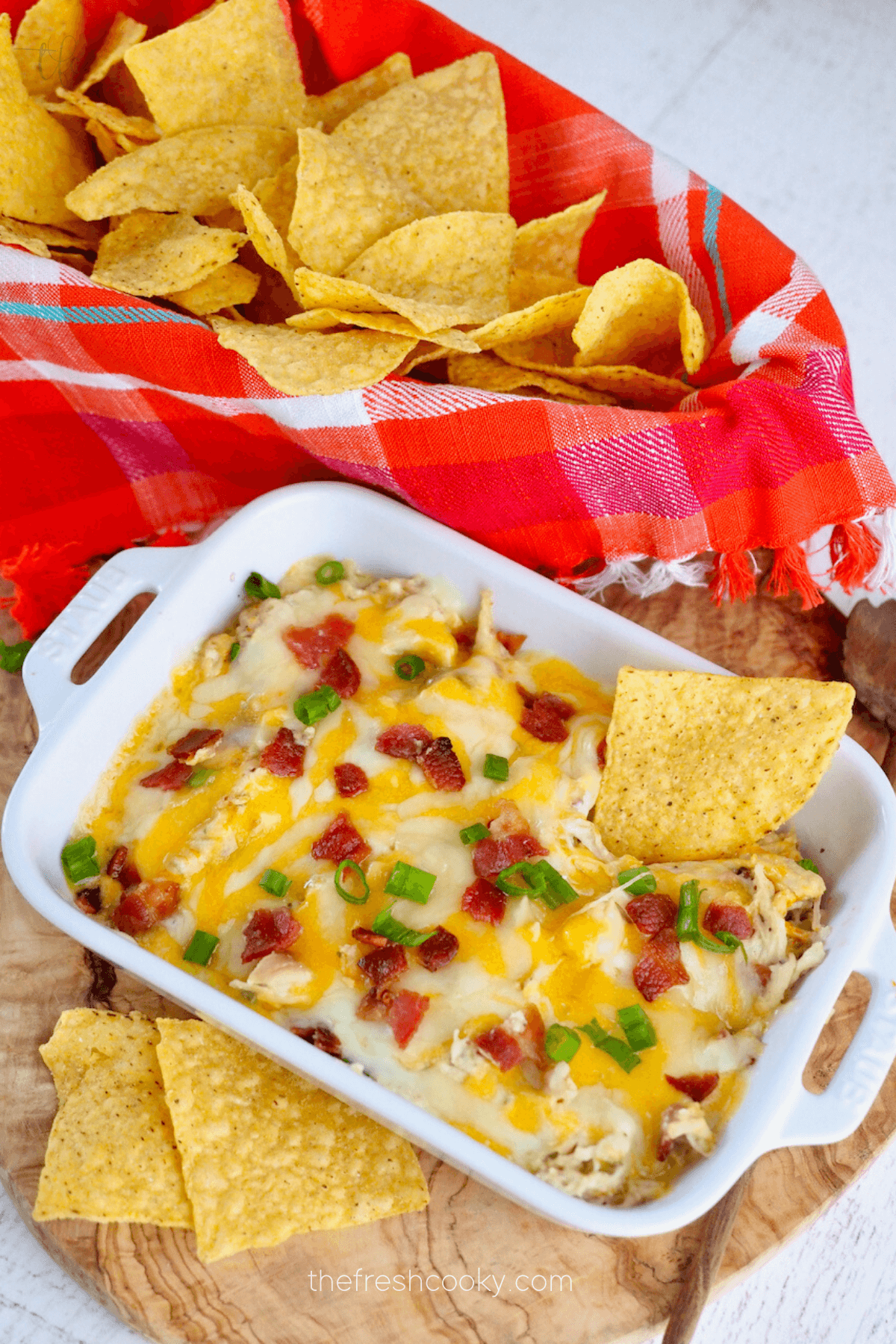 What Do You Eat Crack Chicken With?
This delicious slow cooker ranch chicken is also known as Crock Pot Crack Chicken, why you ask? I have never tried crack, but the general term implies that you cannot stop eating this delicious chicken dinner.
Here are some serving suggestions:
As a hearty appetizer or dip | keep this crack chicken in the crockpot on warm, serve with lots of melty cheese, and your favorite dipping "tools". Sturdy tortilla chips, pita chips, Fritos are all great choices.
Sandwich | Scoop this slow cooker ranch chicken onto a Brioche bun, Hawaiian rolls, or a pretzel roll. See my serving suggestion in the box below!
Over a Baked Potato | wouldn't that be amazing! I love stuffing baked potatoes with something, like my Pot Roast stuffed spud!
Mashed Potatoes, Rice or Pasta | Go ahead, take it to the limit!
Taco Style | Delicious as a lettuce wrap or go all out with flour or corn tortillas, this is a winner!
Enchiladas | Stuff your favorite enchiladas with this delicious crack chicken mixture.
Lighter Fare | Naturally a low-carb recipe, get more greens and toss the mixture into your salad, like a taco salad, or simply eat by itself, with carrot chips, cucumbers and jicama!
SERVING SUGGESTION FOR A CROWD
Place generous amount of ranch chicken on Hawaiian roll sliders or similar, wrap sandwiches individually in foil and return to clean crockpot.
Cover and and place on warm! Portable sandwiches!!
Recommended Tools
4 qt or larger crockpot | My favorite slow cooker is this one from All-Clad as it's aluminum liner can go from stovetop to slow cooker, this is especially handy for recipes that need browned meat, like my Slow Cooker Beer Beef Stew or Firecracker Chili. But it's pricey, I also recommend this more budget friendly Cuisinart.
Flexible Cutting Boards | These flexible cutting boards are super handy when prepping ingredients to slide into a pot. I like them because they are BPA Free.
Storage
Store leftovers in an airtight container for up to 4 days. But this dish is so delicious that it won't last that long!
Freeze leftovers up to 3 months in an airtight container. Thaw overnight in the fridge.
REHEATING
My preference is to place in saucepan on the stove, add a tablespoon or two of water, cover and allow to warm over the lowest setting, stirring occasionally.
Microwave in short 30-second bursts and stir each time to be sure it heats evenly.
Place into baking dish, cover with foil and heat in 300-325 F degree oven for 30 minutes.
More Great Chicken Recipes
LOVE IT? PIN IT!
Welcome to our #NationalSlowCookerMonth Celebration!
January is National Slow Cooker Month and this week we are celebrating all things slow cooker! We have delicious recipes from across the country to fill your meal plans with delicious slow cooker recipes!
Like this recipe?
Don't forget to give it a ⭐️⭐️⭐️⭐️⭐️ star rating and comment below the recipe!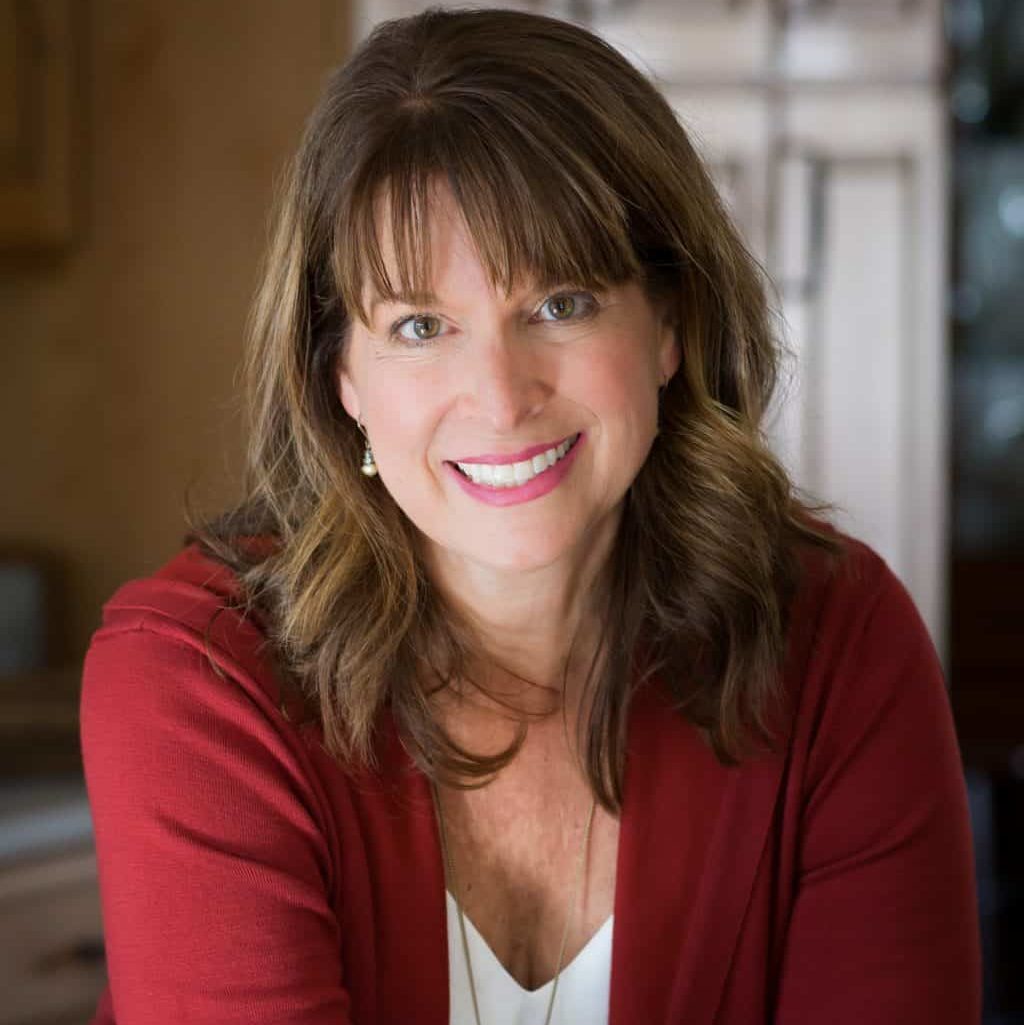 About Kathleen Pope
Recipe Innovator | Food Photographer | Food Writer
Hi, I'm Kathleen Pope. Here at The Fresh Cooky you will find easy, mostly from-scratch, trusted recipes for all occasions. From speedy dinners to tasty desserts, with easy step-by-step instructions. I am here to help teach you how to make mouthwatering recipes without spending hours in the kitchen. Read more about Kathleen here.