3 Ingredient Chili Cheese Dip Recipe (Crock pot)
As an Amazon Associate, I earn from qualifying purchases. Please read my disclosure policy.
My 3-Ingredient Chili Cheese Dip Recipe is gooey, salty, savory, and perfect for dipping because it's made in the crock pot. Use leftover chili or canned chili and make this chili cream cheese dip even easier.
Crock pot chili cheese dip is the quickest, easiest, and BEST party appetizer. Low-Carb too! Similar to my 3 Ingredient Sausage dip, these easy, throw together in a second dips are the best.
A football season, crowd-pleasing appetizer, perfect for tailgating and the big game on Super Bowl Sunday. Looking for more game day hits? Try these Philly Cheesesteak Sliders, Roast Beef Sliders, my easy Air Fryer Ravioli, or my Cowboy Crack Dip — all big game day hits!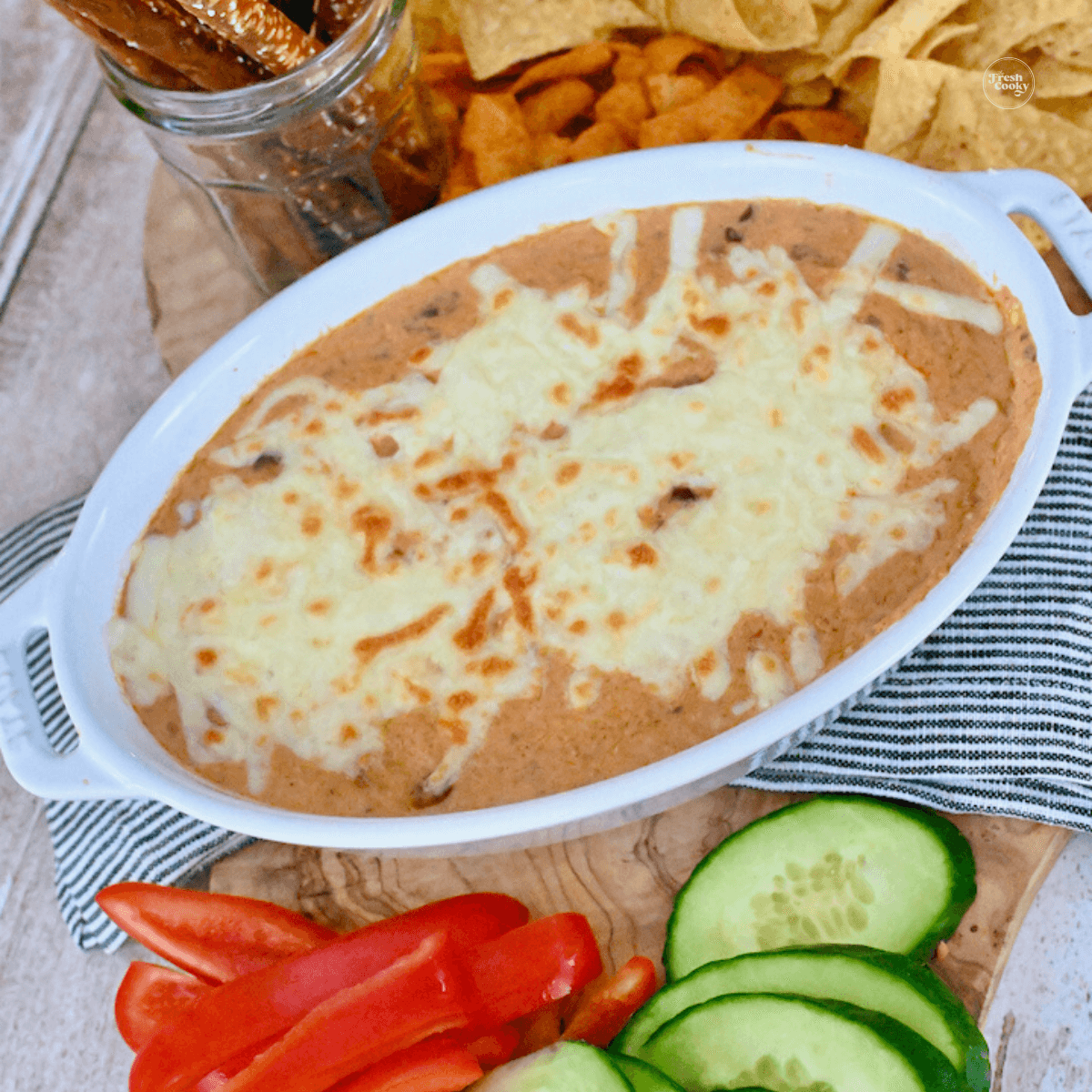 With the Super Bowl coming AND to celebrate National Slow Cooker Month, I know you will also love this Slow Cooker Jalapeno Popper Dip and this Slow Cooker Pulled Beef recipe.
Why You Will Love this Recipe for Leftover Chili Cheese Dip
Two Easy Cooking Methods | For your convenience, I provide two different cooking methods for my chili cheese dip. You can bake the recipe or make it in a crock pot. Either way, it's super easy!
Minimal Ingredient List | This recipe requires only three basic ingredients! It'll cost nearly nothing at the store, but you will likely have most of the ingredients at home.
Perfect for Large Crowds | One of my favorite things about this perfect appetizer is that it serves up to 16 people! And if that's not enough to feed your crowd, the recipe is easily doubled.
Low-Carb | 3 ingredient chili cheese dip crock pot is a low-carb, keto appetizer that when served with low-carb veggies or crackers is a satisfying and easy appetizer.
Simple Ingredients for 3 Ingredient Chili Cheese Dip
Ingredients, directions and nutritional information in the printable recipe card at the end of the post.
Chili | Use leftover homemade chili or two cans of your favorite chili. Use whichever type of chili you like, spicy or regular.
Cream cheese | To give the dip creamier notes, add regular cream cheese or Neufchatel to the recipe—YUM!
Cheddar cheese | Grab a block of cheddar cheese from the grocery store and shred it yourself. Use pre-shredded cheese if preferred. However, freshly grated cheese always has a better flavor and melts much better since it doesn't have anti-caking agents. I used sharp white cheddar, but feel free to try mild cheddar, Colby Jack, or even Pepper Jack. But no Velveeta cheese in this dip! No fake cheese here!
Mozzarella cheese | This final ingredient is optional. After the easy chili dip is done cooking, sprinkle it with freshly shredded mozzarella cheese and bake it in the oven for a few minutes for some extra cheesy, stringy goodness!
How to Make Chili Cream Cheese Dip
3 Ingredient Chili Cheese Dip Crock Pot
Whichever way you make this easy appetizer – in the slow cooker or oven – it'll surely be delicious! Here's how you make it in the crock pot.
First, slice the blocks of cream cheese into 1-inch cubes. Place the cubes in the bottom of a small crockpot. For this recipe, I recommend using a 6-quart or smaller slow cooker. Next, carefully pour the chili over the top. Cover and cook on LOW for one hour. So everything cooks evenly and thoroughly, stirring halfway through the process.
During the final 15 minutes of cooking, mix the freshly shredded cheddar cheese and cover until it's melted and gooey.
Then, serve this homemade chili cheese dip immediately. You can serve it right out of the crock pot by turning the temperature to the WARM setting and providing a serving spoon for your party guests, this is a great way to keep it warm for the entire game.
If you want to take the cheesiness to the next level, transfer the chili dip to a baking dish or cast iron skillet. Next, sprinkle a little mozzarella cheese on top and broil. Watch closely as the cheese melts for just a couple of minutes. Once the top is golden and bubbly, it's ready to serve!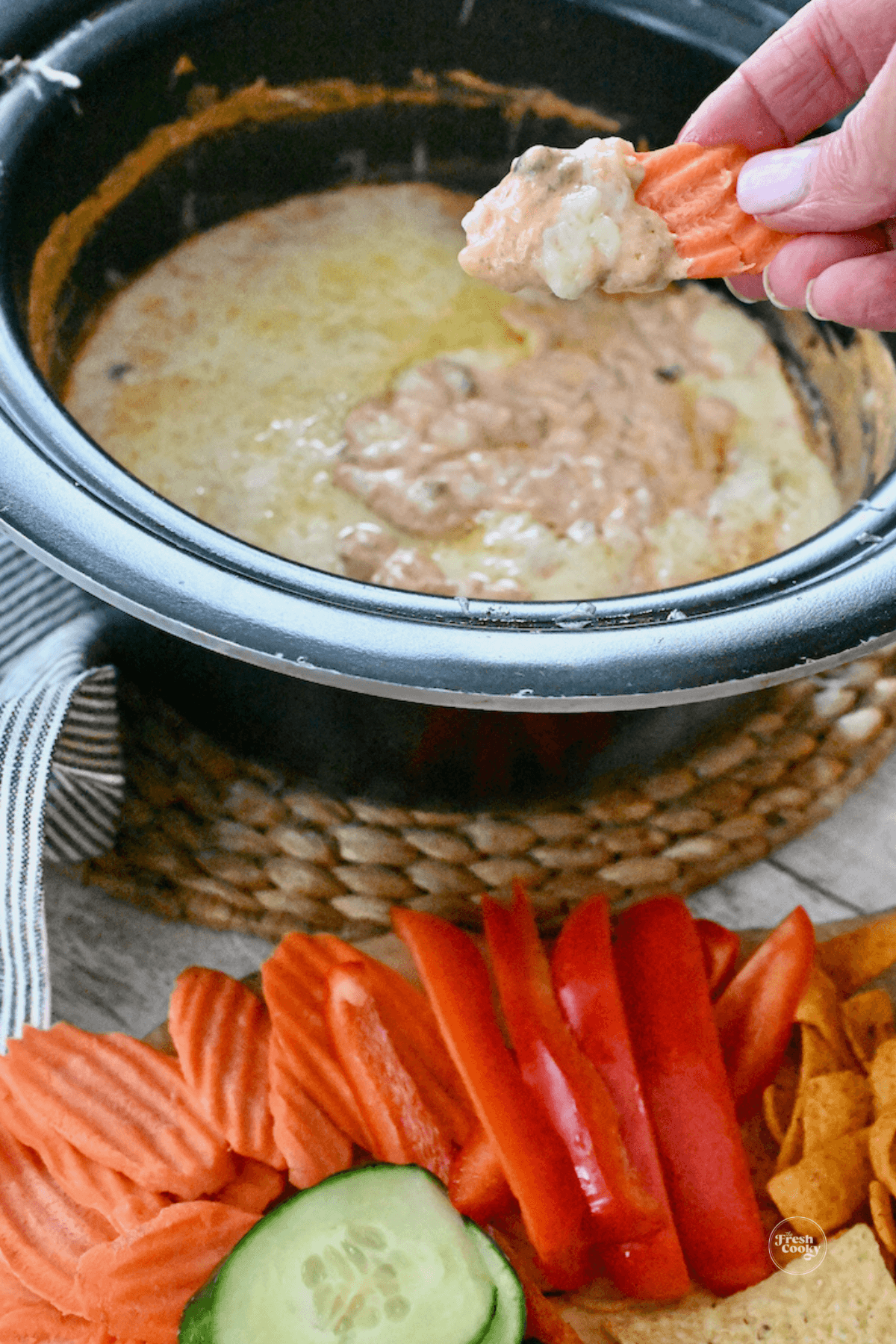 Oven Baked Chili Cheese Dip
Can you make chili cheese dip in the oven? Of course! And it takes less time!
Start by preheating the oven to 350 degrees and softening the cream cheese. Use the back of a spoon to spread the cream cheese in a deep dish pie plate. If preferred, it also works in a 2-quart casserole dish.
Next, pour the chili over the top to cover the cream cheese evenly. Then, top it with the shredded cheddar cheese and bake for 20 to 25 minutes. Once the dip is hot, golden, and bubbly, it's ready to serve!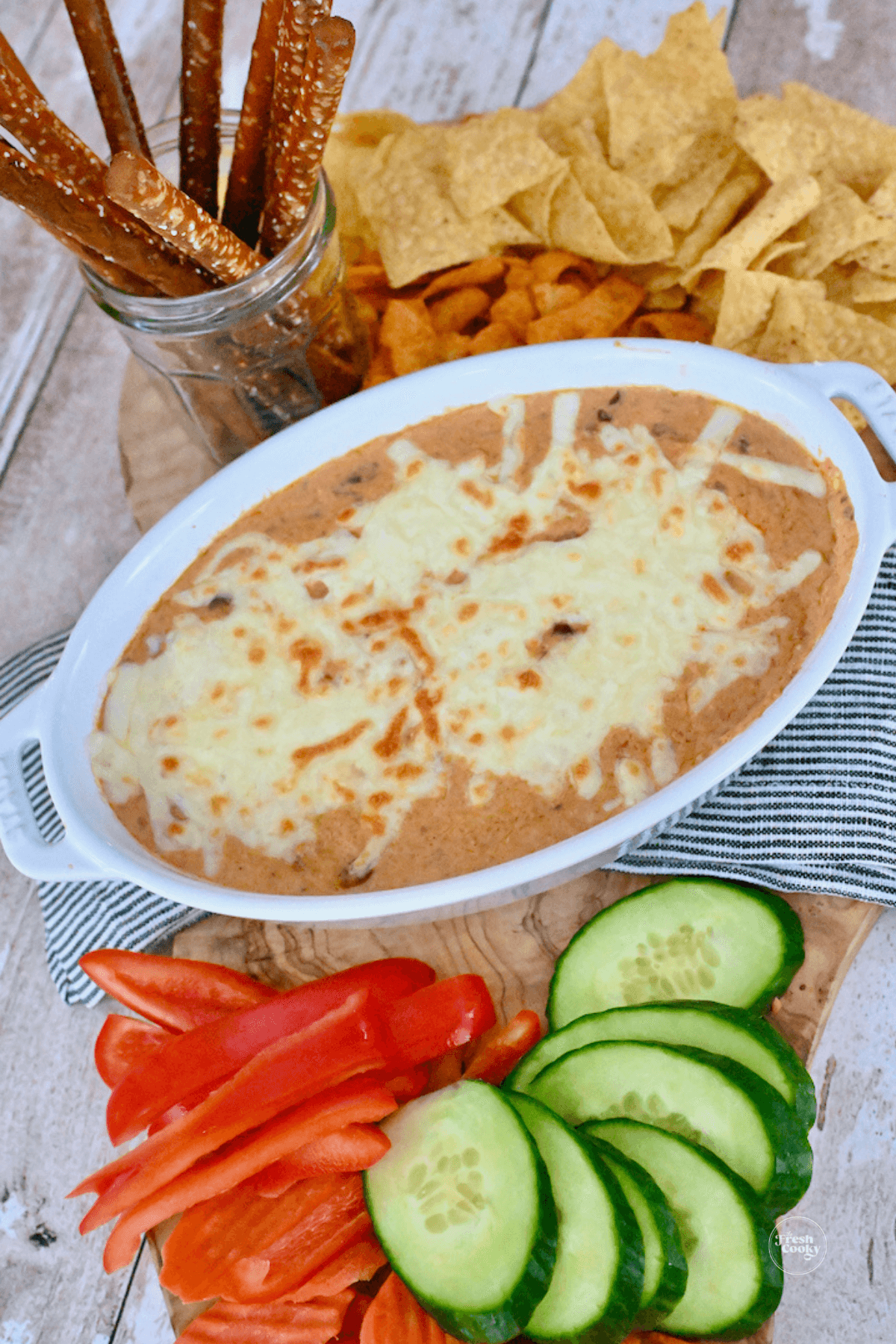 Stove Top Chili Cheese Dip
Technically you can even make this on the stovetop. Add your chili to a medium saucepan and warm over medium-low heat, add cubes of cream cheese to the mixture, stirring to combine. Stir in cheddar cheese. Spoon mixture into an oil sprayed pie plate or 2 quart casserole dish and top with a little extra cheese. Place under broiler if available or just dig in!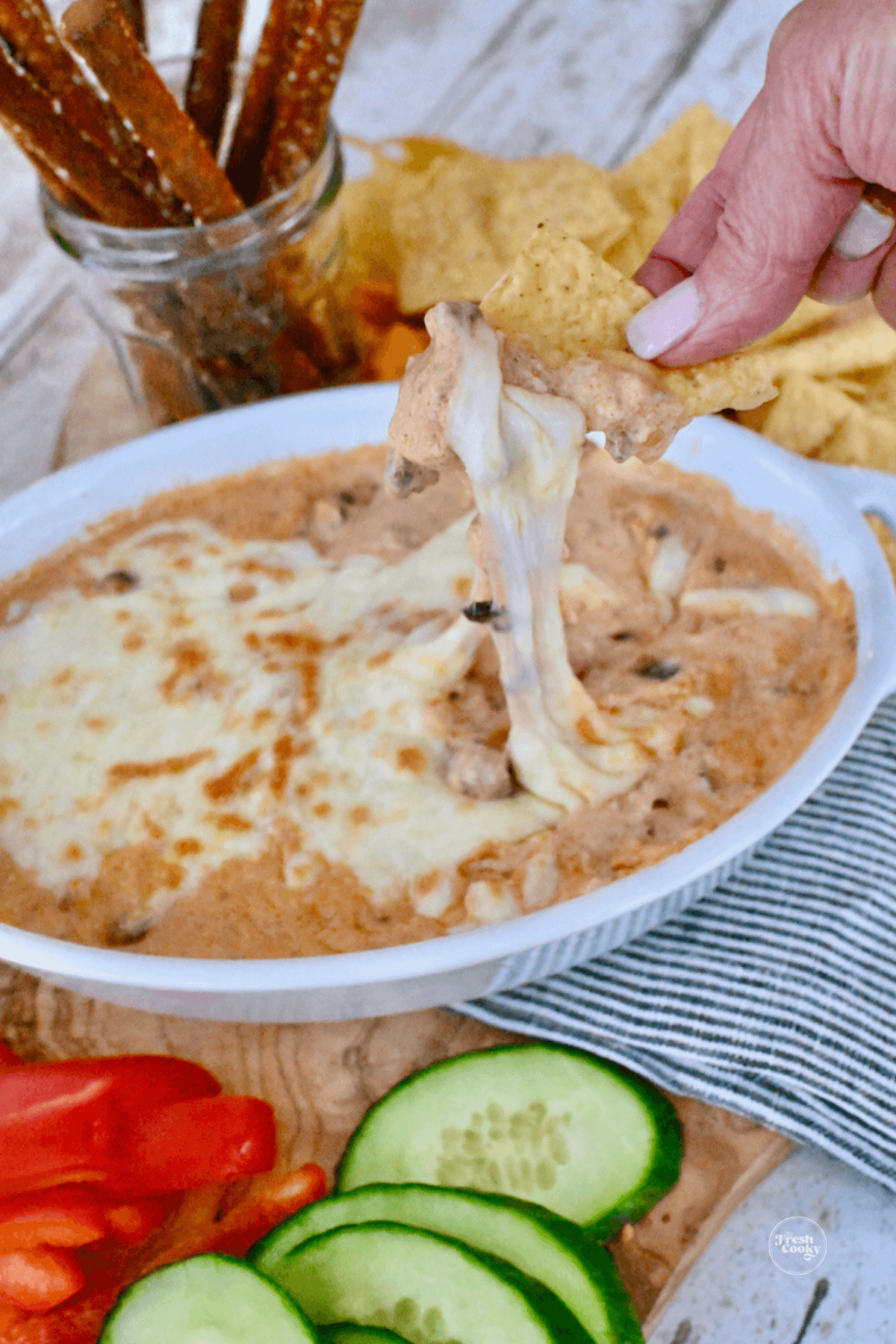 Ways to Serve Your Chili Queso Dip
There are many ways to enjoy your hot chili cheese dip. Keep it classic by surrounding the dip with various dipping foods, like:
Crackers | your favorite kind, the sturdier the better!
Tortilla chips | Sturdy tortilla chips would work best with this dip!
Fritos Scoops | These are what I consider ideal for scooping up all this deliciousness.
Veggies | Think scooping sized slices like cucumber wheels, zucchini, carrot chips, strips of peppers, perfect for your low-carb or Keto conscious guests.
Pour it over hot dogs to make gooey chili cheese dogs.
Try sturdy pretzel rods.
You could even serve it in a round bread bowl or use it as a poutine and serve it over crispy baked French fries.
Toast up some french bread crostini or just slice pieces of a baguette.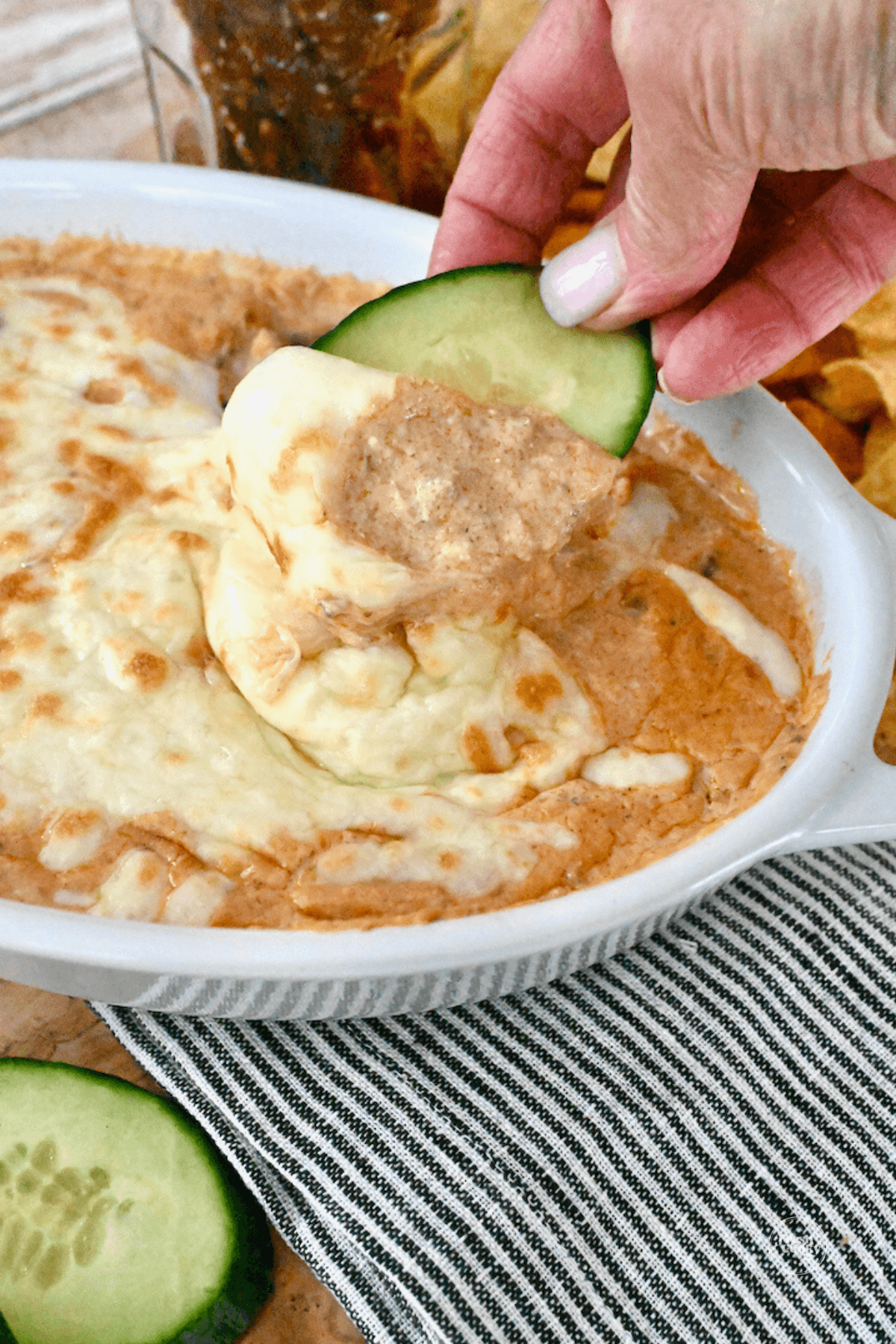 Fresh Tips
You may cut the recipe in half for smaller crowds.
The oven method asks you to soften the cream cheese before adding it to the dish. To do this, set the cream cheese block on the countertop an hour or two before beginning the easy recipe. Or warm it in the microwave, unwrapped, for 15 seconds or less.
If you're doubling this chip dip recipe, use at least a 6 quart or larger crockpot.
Toppings
If desired, top this slow cooker chili cheese dip like you would dress a chili cheese dog or fries. Try jalapeños, chopped red or green onions, bacon bits, cilantro, pico de gallo, sour cream, a drizzle of hot sauce, or diced bell peppers.
Variations & Substitutions
Mix-ins | Add pickled jalapeños, roasted red peppers, or green chiles to this dip recipe. You can add them to the cream cheese, sprinkle them on top, or incorporate them throughout the entire mixture.
Add More Flavor | Add taco seasoning or chili powder to the cream cheese or use flavored cream cheese, like jalapeño or onions and chives.
Turn Up the Heat | Use your favorite brand of spicy chili for a little kick!
Add Protein | Add browned and drained ground beef to boost the protein and make the dip heartier.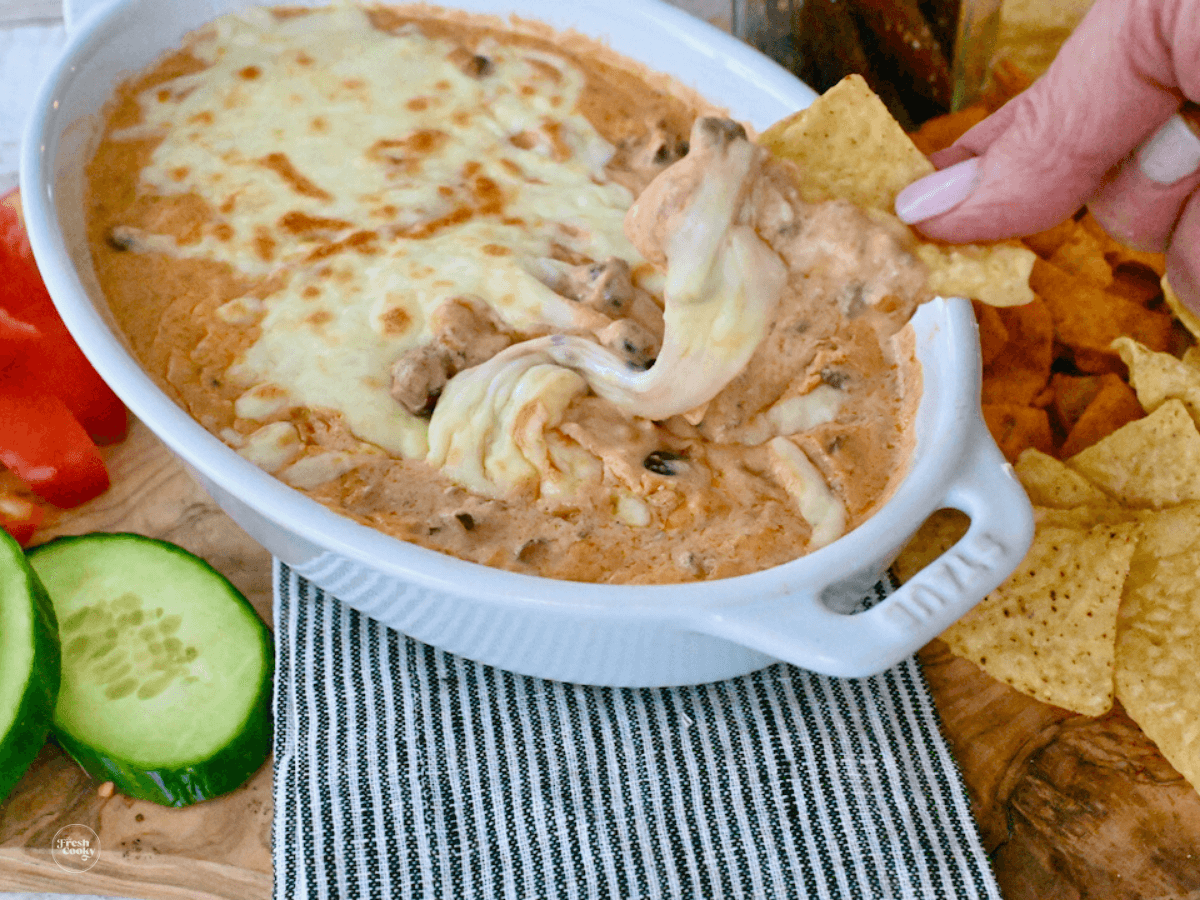 Storage Tips
Refrigerator | Tightly sealed, your chili cheese dip will keep in the fridge for about three to five days.
Freezer | Yes, you can freeze chili cheese dip. Just make sure the dip is completely cooled, and seal it in an air-tight freezer container. Then thaw, heat, stir well and serve!
Make Ahead- To make this easy recipe even more effortless before a big event, prep a couple of days before. After the prep is complete, add it to an airtight container and store it in the refrigerator until you're ready to cook it. Consider adding about five to ten more minutes to the cooking time due to its time chilling in the fridge.
Reheating Leftover Chili Cheese Dip | You can reheat this dip easily in the microwave, start with 45 second bursts until it's hot and bubbly. Or place in a 300 degree oven, covered with foil for 20 minutes removing the foil for the last 5 minutes or so.
Frequently Asked Questions
What do you serve with chili cheese dip?
The options are practically endless. So many tasty foods are perfect for dipping into the savory and cheesy chili dip. A fan-favorite dipper is a bag of freshly opened Fritos, tortilla chips, or other corn chips. It also goes great with potato chips, sliced cucumbers, peppers, carrot sticks, and radishes.

Hot French bread or other homemade bread recipes are also worth a try with your chili cream cheese dip.
Do I have to use canned chili?
Not at all! I like to plan this recipe when I know I'll have leftover homemade chili from other meals. It's one of the best ways to use chili night leftovers! Or your favorite chili con carne.
However, just because you don't have extra chili from another day doesn't mean you must use cans of chili to make this incredibly cheesy dip. Feel free to freshly make homemade chili for your dip—You'll need about 3 cups for this recipe.
Can you make a low-calorie chili cheese dip?
Sure! Use fat-free cream cheese, fat-free turkey chili, and low-fat cheese. Even better, save even more calories by swapping the shredded cheese for your favorite salsa!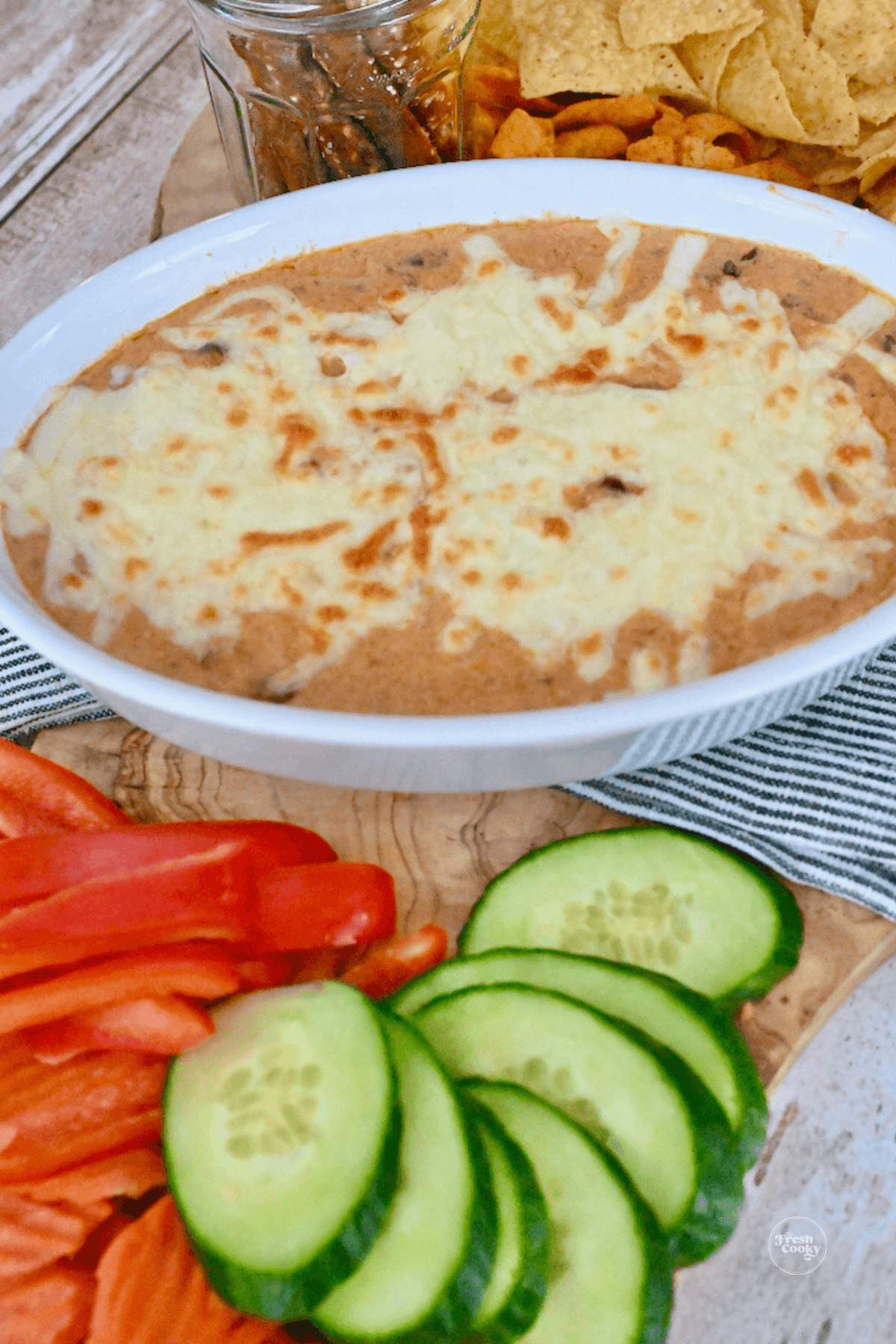 Great Game Day Appetizers & Recipes
Amazing Dips to Please Everyone!
More Crock Pot Recipes You'll Love
I hope you loved this 3 Ingredient Chili Cheese Dip Crock Pot Recipe — if you did, would you share your creation on Instagram, Facebook and Pinterest? And be sure to comment below!
Like this recipe?
Don't forget to give it a ⭐️⭐️⭐️⭐️⭐️ star rating and comment below the recipe!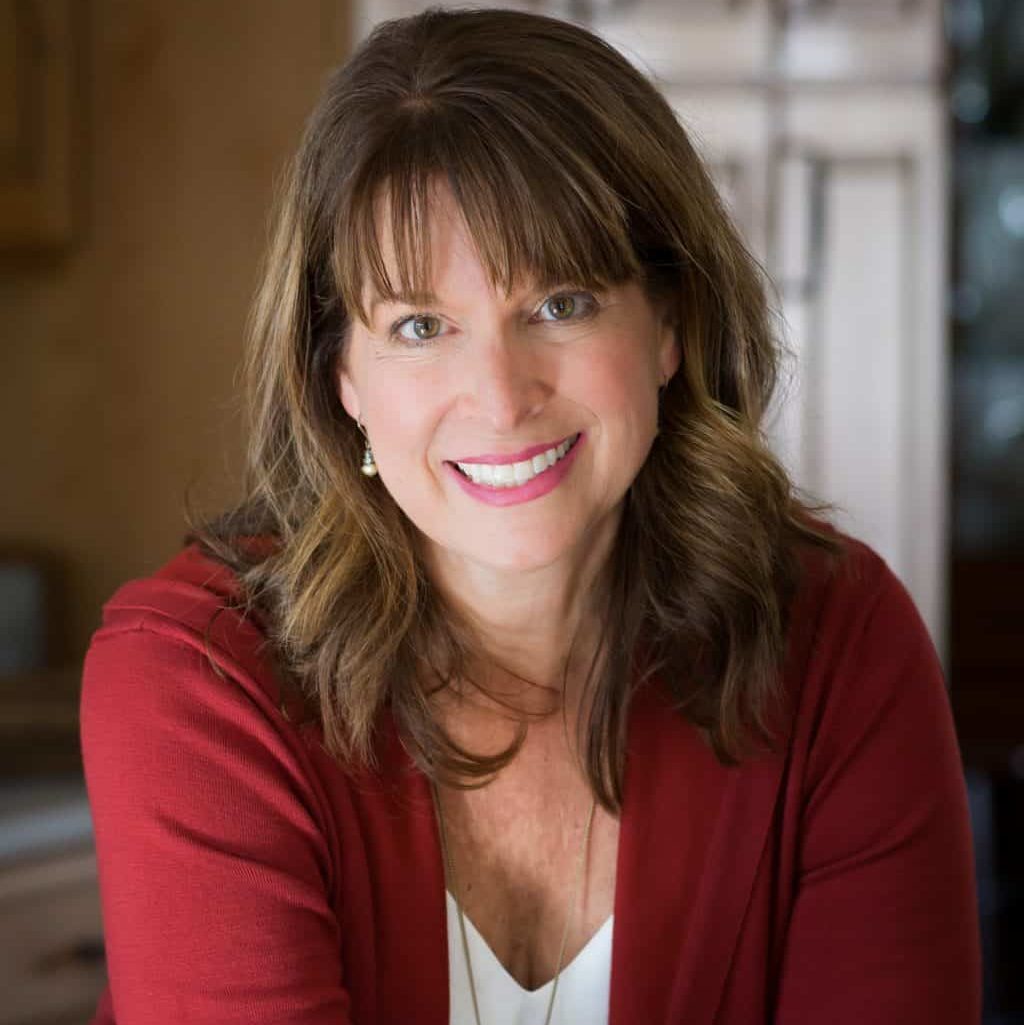 About Kathleen Pope
Recipe Innovator | Food Photographer | Food Writer
Hi, I'm Kathleen Pope. Here at The Fresh Cooky you will find easy, mostly from-scratch, trusted recipes for all occasions. From speedy dinners to tasty desserts, with easy step-by-step instructions. I am here to help teach you how to make mouthwatering recipes without spending hours in the kitchen. Read more about Kathleen here.