As an Amazon Associate, I earn commissions from qualifying purchases (
disclosure policy
).
Get ready to fall in love with salad! Our Italian chopped salad recipe is packed with crisp veggies, savory salami, provolone, and kalamata olives, all drizzled with a homemade Italian vinaigrette bursting with flavor. It's the perfect fresh and vibrant meal that satisfies your taste buds while keeping it light and healthy.
Did I mention there are marinated chickpeas in this Chop Chop Salad? That's right! You can make your very own batch of marinated garbanzo beans with simple ingredients to spruce up the flavor.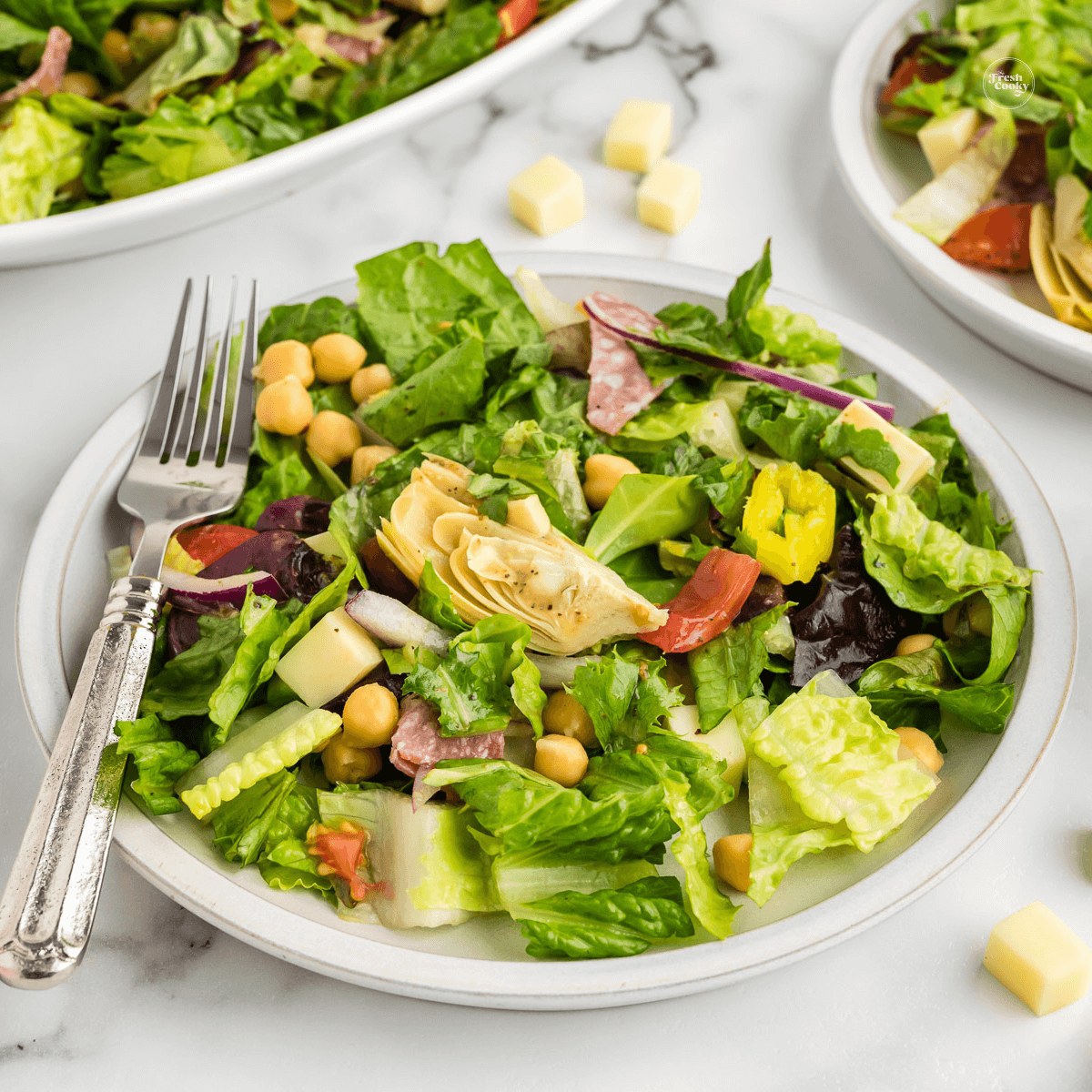 I enjoy giving precise details in my recipe posts to lead my readers through any questions. If you're just here for the printable recipe, you can Jump to Recipe to head straight there!
As a young girl, my family made a jar of marinated chickpeas every few weeks for our nightly salads. It may not be the typical childhood comfort food, but it's the ultimate nostalgic dish for me, and this recipe is a throwback to those fond memories.
Why You Will Love this Recipe
Packed with Flavor – Far from a basic Caesar salad, this hearty salad is full of delicious veggies and drizzled in a divine dressing!
Easy Homemade Dressing – Skip the preservatives and lack of authentic flavor and make your own easy olive oil and vinegar dressing.
Bonus Recipe – I include a bonus recipe for making home-marinated chickpeas. So, if you have the time, try it out to taste just how delicious this salad topping is!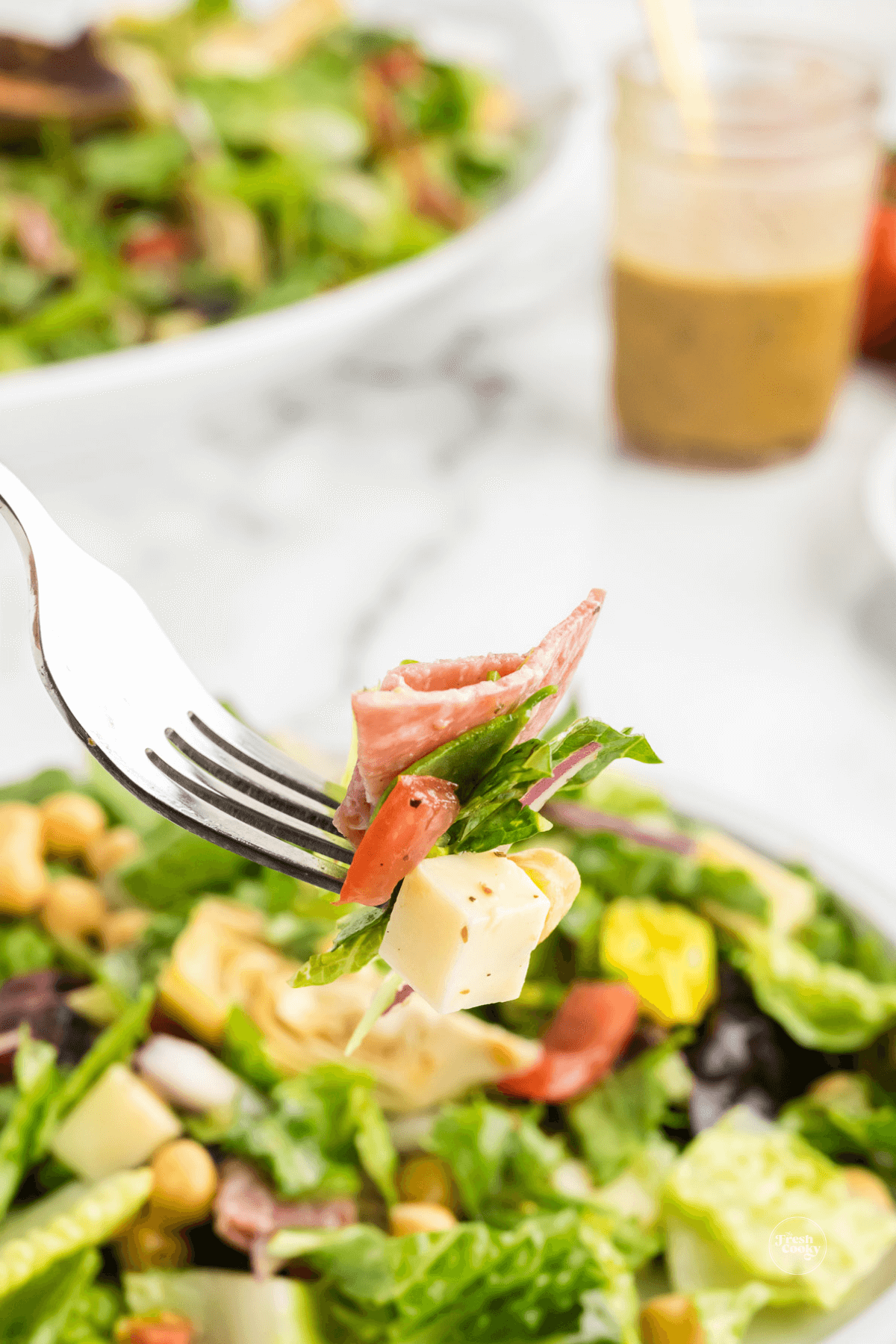 Simple Ingredients Italian Chopped Salad Recipe
Chopped Salad Recipe
Mixed greens | Combine three romaine hearts and baby greens like a Spring Mix. If preferred, add iceberg lettuce to the mix or create a combination of your own.
Tomatoes & Cucumber | Use Roma or Campari tomatoes, finely diced or grape and cherry tomatoes halved, plus the crisp crunch of cucumber.
Red onion | Add a slight tanginess by thinly slicing half of a red onion using a mandolin. Then, set the onions in ice water while preparing the rest of the salad.
Garbanzo beans | Also called chickpeas, or in our house, we simply call them 'banzo beans. Add to your Italian chopped salad recipe for protein, taste, and texture. Or check out the instructions for how to make your own marinated chickpeas – YUM! Be sure they are rinsed and drained.
Artichoke hearts | Sprinkle in some quartered artichoke hearts, brined or marinated.
Salami | Use high-quality salami, either diced or sliced.
Provolone | For cheese, I prefer using diced provolone or fresh mozzarella cheese– Or both!
Olives | I like to roughly chop Kalamata olives for this tasty salad, but black olives or sliced green olives work just as well.
Pepperoncini rings | For more tanginess that compliments the dressing, add some pepperoncini peppers.
Fresh basil | Freshly chop fragrant basil leaves, this adds little bursts of flavor and smell!
Salt and pepper | And, of course, sprinkle with a dash of kosher salt and freshly ground black pepper.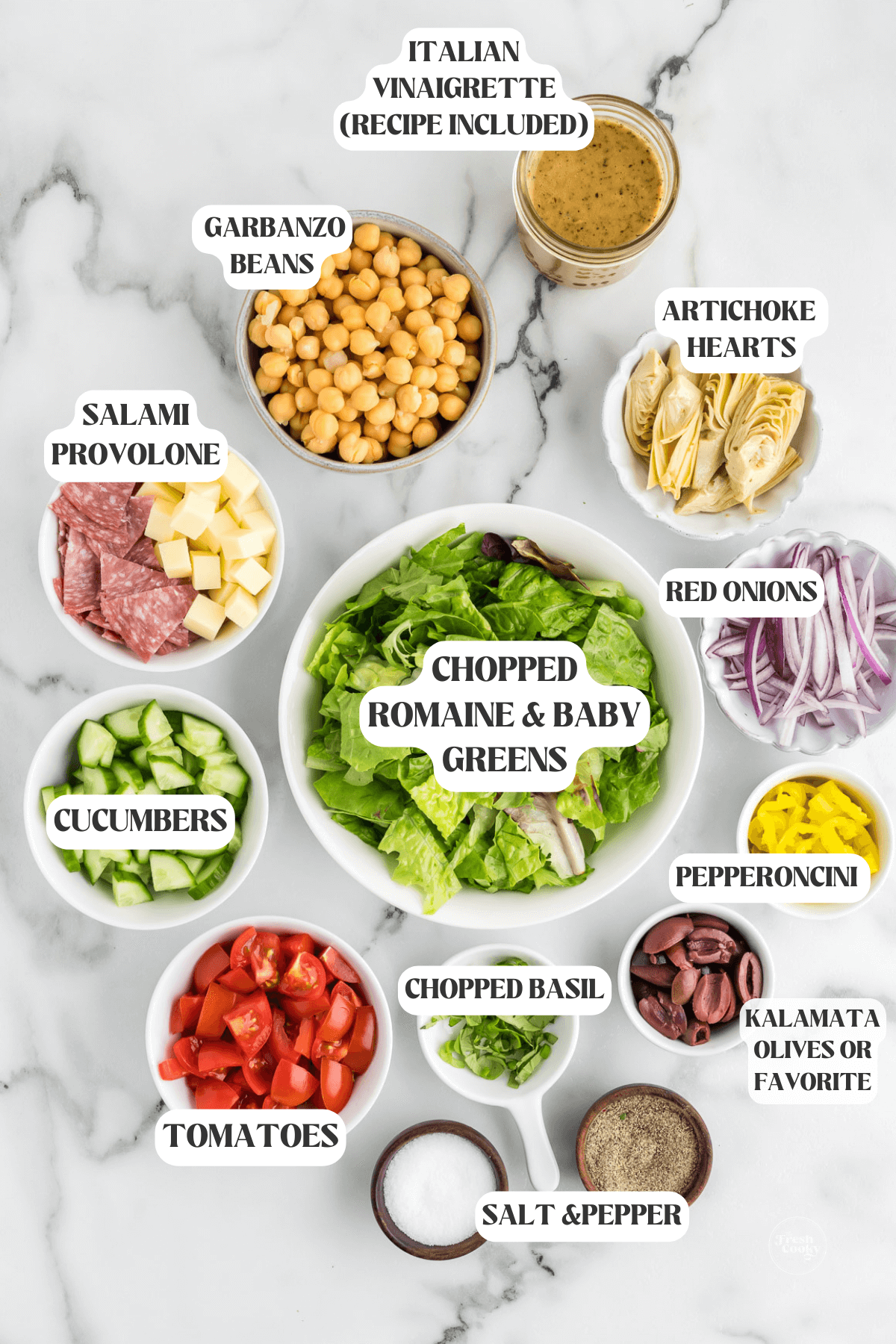 Zesty Italian Dressing Recipe
Oil | For the best flavor, use extra virgin olive oil.
Vinegar | I like red wine vinegar but white wine vinegar also works. Then, add tangy and rich balsamic vinegar, or increase the wine vinegar by two tablespoons and omit the balsamic.
Lemon | Freshly squeezed lemon juice brings the dressing recipe to the next level! Use the pre-squeezed bottle alternative if necessary.
Garlic & Dried Herbs | Minced cloves and some basil and oregano, pops the flavor!
Dijon mustard | Make the dressing more complex by including creamy and zesty Dijon mustard.
How to Make the Best Chopped Salad with Italian Dressing
How to Make Homemade Italian Dressing
Are you ready to make a homemade zesty Italian dressing recipe? Let's get started!
First, place all the yummy dressing ingredients in a jar or small bowl. Cover tightly and shake until they are thoroughly combined. If preferred, as I do, emulsify the dressing by using an immersion blender or standard blender and pulse to mix.
Quick Marinated Chickpeas (Garbanzo Beans)
Garbanzo beans | Chickpeas, drained and rinsed.
Oil & Vinegar | Olive oil and red or white wine vinegar deepens the flavor.
Seasoning | Sprinkle in some Italian seasoning blend, kosher salt, and black pepper to taste.
Garlic and onion | Complete the marinade with minced shallot, red onion, or white onion. And minced or pressed garlic clove.
In a small jar or airtight container, add the marinade ingredients, including red wine vinegar, onions, and Italian seasoning. Then, cover and shake the jar to combine.
Next, add garbanzo beans to the container or jar(s) and pour the marinade evenly over. Refrigerate for one hour or longer for the best results. These are great to keep in the fridge and toss in salads throughout the week! Enjoy!
Note If using olive oil in the marinade and the dressing when you refrigerate it, it might solidify. Simply remove from fridge 20-30 minutes before using, it will liquify again.
Assembling the Salad
In a large bowl, begin chopping the romaine lettuce and baby greens (don't forget to wash and spin dry the lettuce if needed). Next, add all the vegetables and tasty chickpeas. Slice or chop the salami and provolone, and add them to the salad.
Drain and chop pepperoncini, olives, and artichoke hearts. Add fresh basil and toss to mix. Serve with homemade dressing or dress the salad as a whole.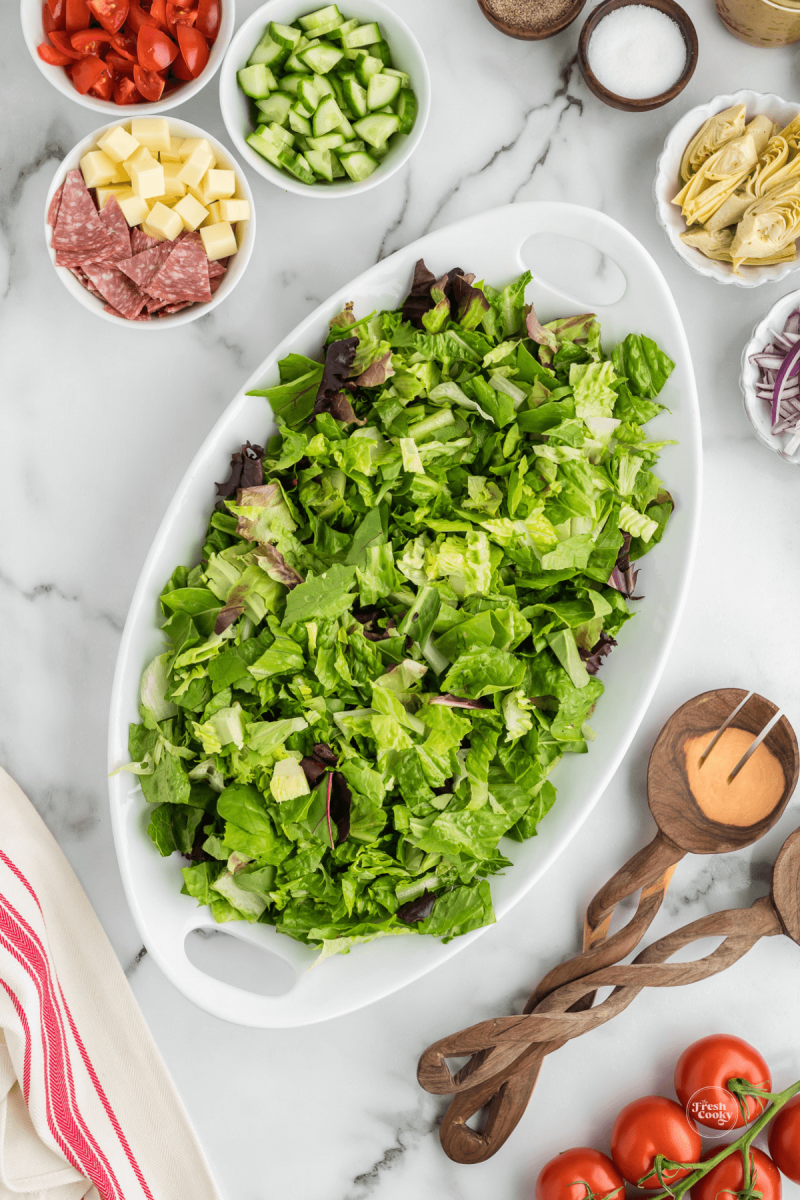 Fresh Tips
Mix and store the salad dressing before adding it to the greens and veggies. That way, the flavor has plenty of time to develop.
Make the delicious marinated chickpeas up to four days in advance. Just be sure to store them in a tightly sealed container in the refrigerator.
I'll admit it. I'm a sucker for a refreshing salad with tons of veggies and a light, flavorful dressing! Don't get me wrong – I love a simple Cobb Salad with creamy buttermilk ranch dressing.
But there's just something special about a unique combination of fresh vegetables and a tasty homemade dressing.
For more salads, check out my Blackberry Grilled Chicken Salad with fried goat cheese or this Panera Copycat Green Goddess Salad with chicken.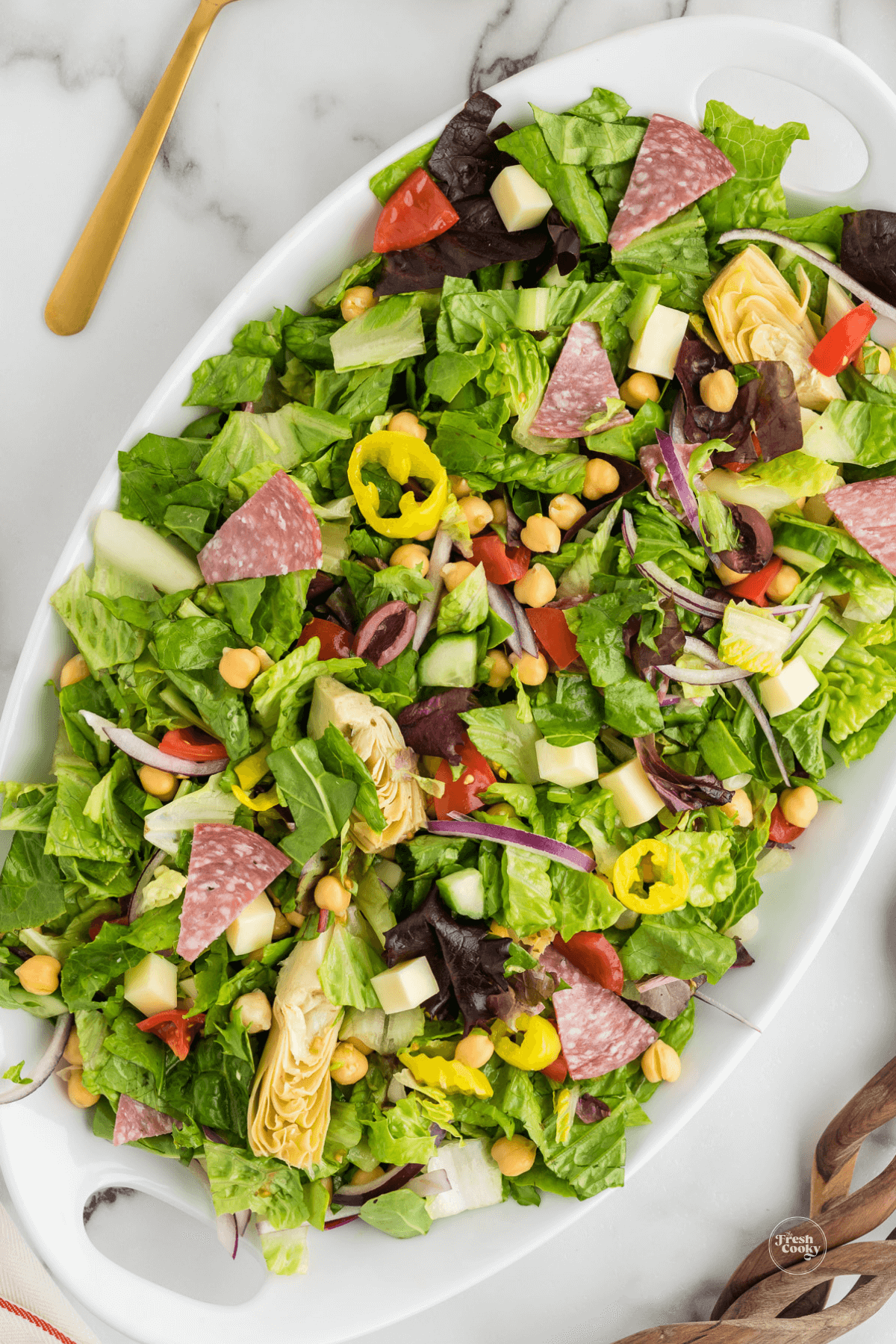 Variations & Substitutions
Italian Seasoning Dressing: If preferred, use 1 ½ – 2 teaspoons of Italian seasoning to substitute the basil and oregano the dressing recipe calls for.
Vegan Italian Chop Salad: For a vegetarian version of this classic Italian salad, simply omit the salami. To make it vegan, use a vegan cheese alternative or leave out the cheese altogether. With all the flavor from the fresh veggies, this salad is just as satisfying without the meat and cheese.
Change the Dressing: If desired, switch the dressing for something more to your taste, like homemade buttermilk Ranch or tangy blue cheese dressing, or combine the two (Italian and Ranch or Blue Cheese).
Additional Toppings: More fantastic toppings for this salad include freshly grated parmesan cheese, baby mozzarella, sun-dried tomatoes, bell peppers, green onions, and other Italian meats and cheeses.
Fresh Tips
Make this simple salad even easier by using pre-chopped veggies, lettuce, garlic, and other key elements.
A mason jar is the perfect storage container for marinating the chickpeas or storing the dressing.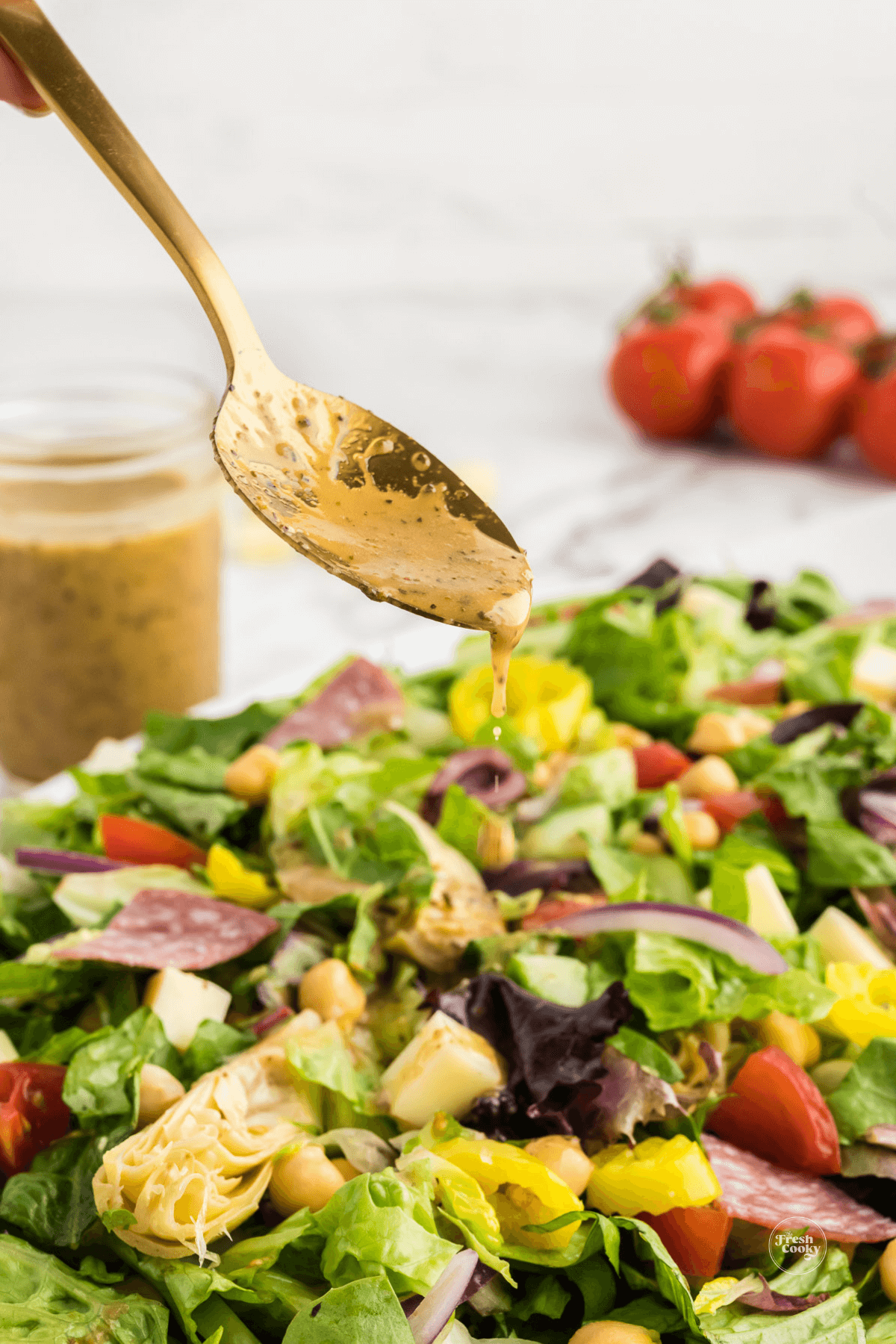 Tips for Two
Use the handy-dandy button on the recipe card to reduce the recipe ingredients to serve just two or make this main dish into a side! You'll find it under 'Servings.' Or, if preferred, cut each measurement in half to serve two. Or prep it to eat all week!
Storage Tips
Refrigerate for Later – One of my favorite things about this salad is that you can prep it ahead of time for a quick and healthy meal the next day! Just assemble the ingredients as directed and keep the dressing stored separately in airtight containers until you're ready to serve this delicious meal. Store up to 2-3 days if not dressed.
Take Your Salad To-Go – This salad is perfect for busy people on-the-go! Packed with nutritious ingredients, it's a great meal to power through the workday or a chaotic weekend. Simply assemble the salad ingredients and dressing in separate containers, then keep them in an insulated lunch box or bag until you're ready to eat. Easy meal prep at its finest!
It's also a terrific salad for busy people on the go! Packed with nutritious ingredients, it's a great meal to get you through the workday or a chaotic weekend. Just assemble the salad ingredients, mix the dressing, and keep them in separate containers. Place them in an insulated lunch box or bag to keep them fresh until you're ready to dig in! Now you are rocking the meal prep.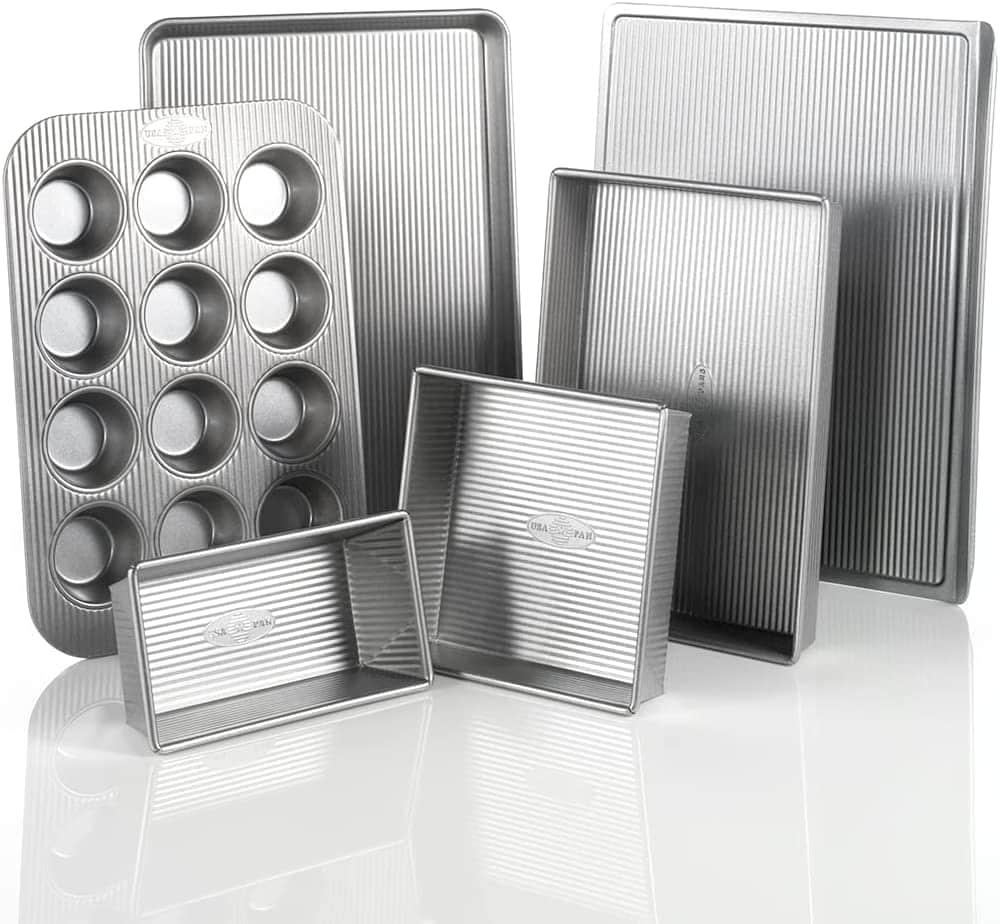 How Best to Store Leftover Chopped Salad
Undressed | Store in an airtight container in the crisper drawer of your fridge, up 2-3 days.
Salad with Dressing | I do not like dressed leftover salads unless it's Asian coleslaw! They get all goopy and wilty, send it to my step-dad, he loves them! If you don't mind them, store max 1-2 days in an airtight container.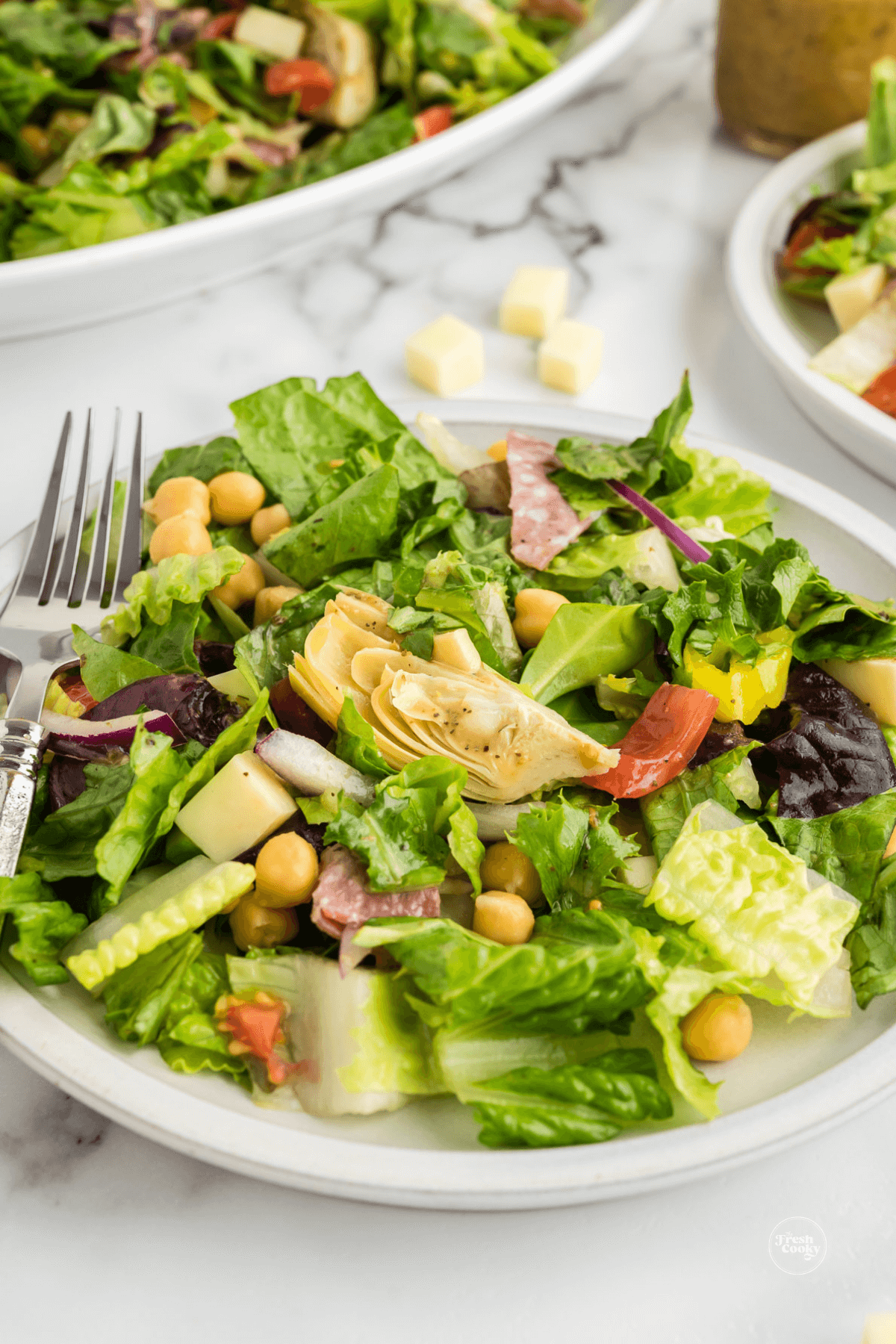 Frequently Asked Questions
What's the difference between salad and chopped salad?
Chopped salads are a type of salad where all the ingredients are diced and sliced into similar-sized pieces, all tossed together to make each bite packed with delicious and fresh flavor. On the other hand, typical salads may include the same ingredients, but they are chopped in different sizes and not often thoroughly mixed together.
Why do chopped salads taste better?
Preferences vary, but chopped salads are generally considered to be tastier than standard salads because each bite incorporates multiple ingredients and flavors, whereas ordinary salads have more scattered components.
What's the difference between Italian vinaigrette and Italian dressing?
While they both contain olive oil and vinegar, Italian vinaigrette contains olive oil, vinegar, salt, and pepper, and may have added seasonings, while Italian dressing includes additional components like sugar, onion, and sometimes mayonnaise or tomato paste, resulting in a creamier texture.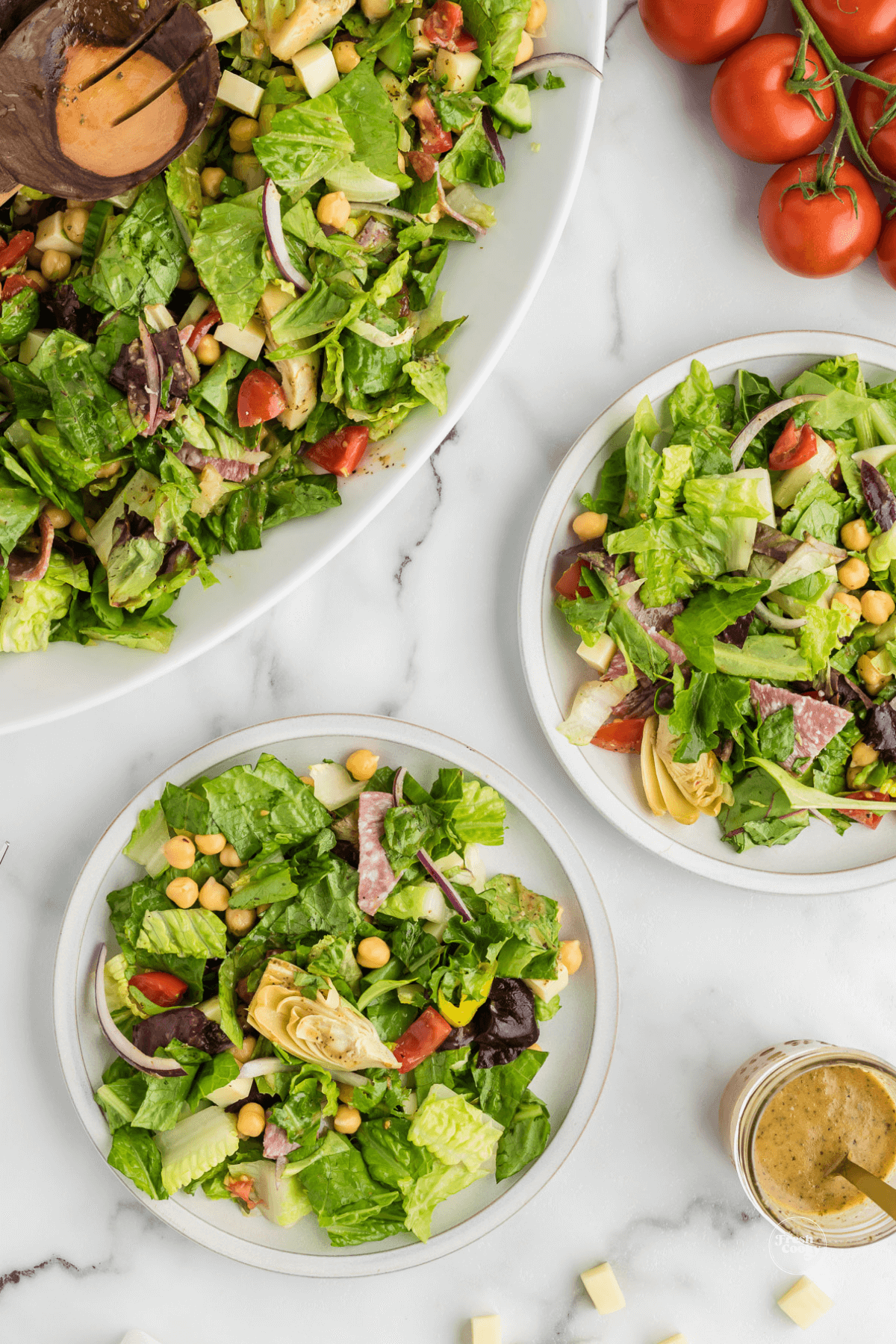 What to serve with Italian Chopped Salad
Enjoying a hearty, Italian salad works so great with so many recipes, I typically think of Italian recipes, like this One-pot Creamy Italian Sausage or my Olive Garden Copycat Crock Pot Chicken, or delish with pizza!
Giant Cheese Stuffed Shells Recipe (Olive Garden)
Giant Cheese Stuffed Shells Recipe are filled with Italian cheeses, in marinara sauce and topped with Alfredo and crunchy breadcrumbs! A copycat Olive Garden stuffed shells recipe.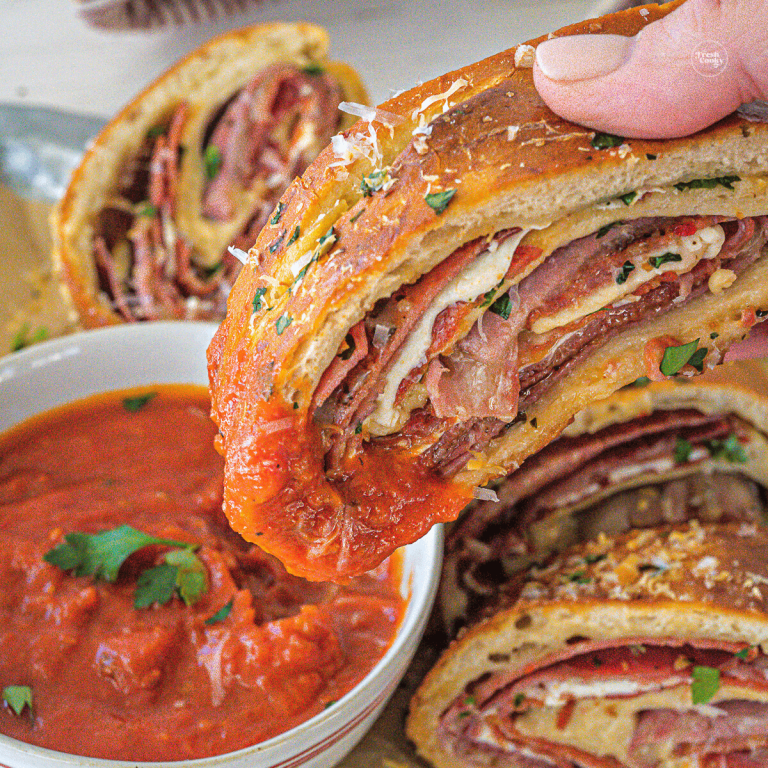 Easy Homemade Authentic Italian Stromboli Recipe
A fun and easy authentic Italian Stromboli recipe! This recipe has yummy ingredients like thinly sliced salami, pepperoni, capicola, and a blend of Italian cheeses. It's a family favorite and will remind you of your favorite local pizzeria.
Be sure to check out all of my Italian recipes for some great ideas!
I highly recommend marinating the chickpeas to take them to the next level! They're the perfect boost of flavor for this veggie-packed salad.
Best Main Dishes for Chopped Italian Salad
Since we had a salad every night growing up, there are so many main dishes that would great with this Italian chopped salad as a side dish.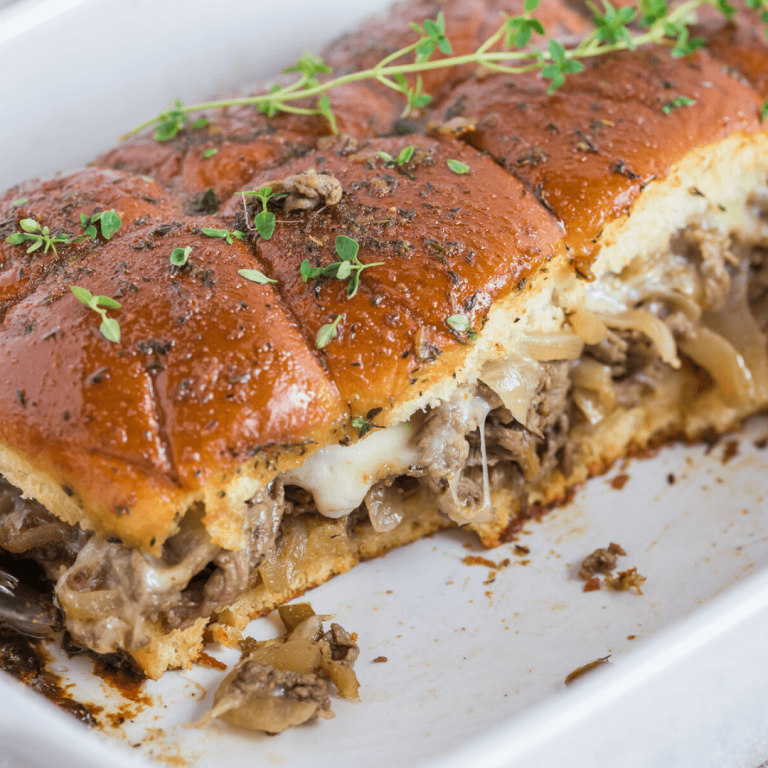 Philly Cheesesteak Sliders Recipe
A sensational twist on a much-loved classic, this Philly Cheesesteak Sliders recipe packs all the savory and cheesy flavors of a traditional Philly sandwich into just a couple of bites! Kick up your game day menu with these easy shaved steak sliders.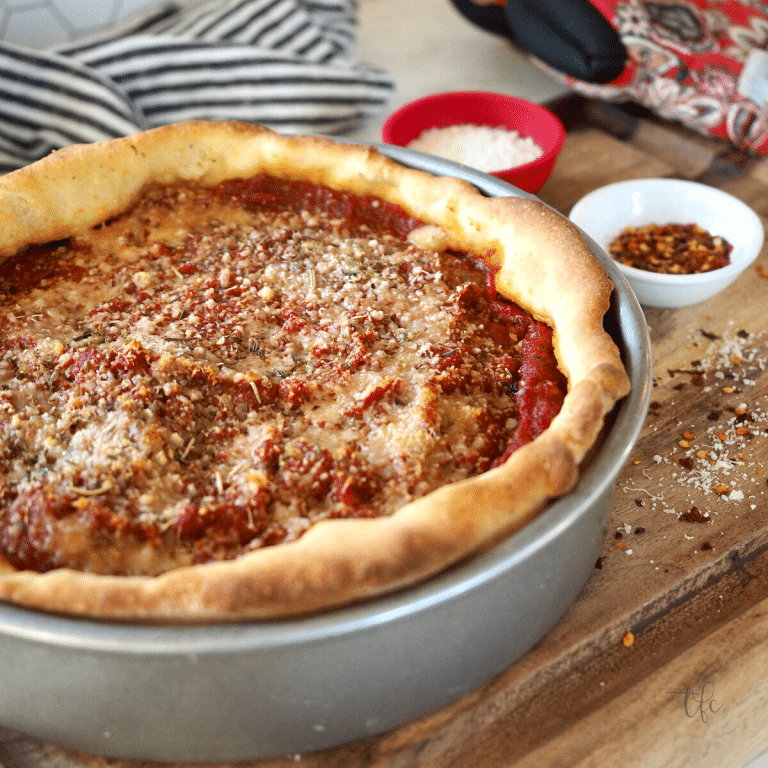 Chicago-Style Deep-Dish Pizza Recipe
The best Chicago-style deep-dish pizza recipe! An incredible and easy butter crust pizza is filled with cheese, your favorite toppings, and a rich, zesty chunky tomato sauce, and can even be frozen for later!
Desserts to Serve with Hearty Italian Chopped Salad
There's no better treat to accompany this flavorful Italian salad than a classic Italian dessert, like creamy and bright Lemon Ricotta Cake, traditional Tiramisu, or this silky smooth Cream Puff Cake. Or try a couple of reader favorites!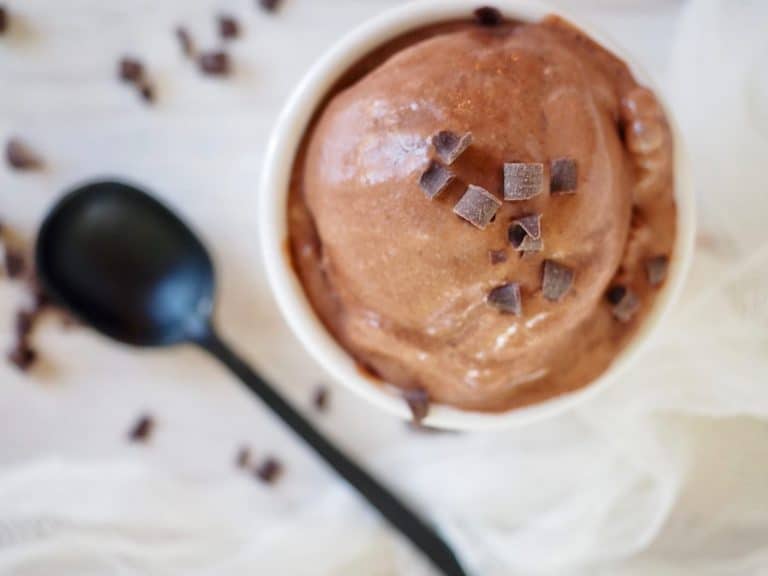 Easy Homemade Chocolate Ice Cream Recipe (no eggs)
Five ingredients — that's it, just five simple and basic ingredients to this AMAZING, creamy, no-cook, old-fashioned homemade chocolate ice cream, no eggs! Keep it basic or get creative with your mix-ins, regardless this is an amazing ice cream.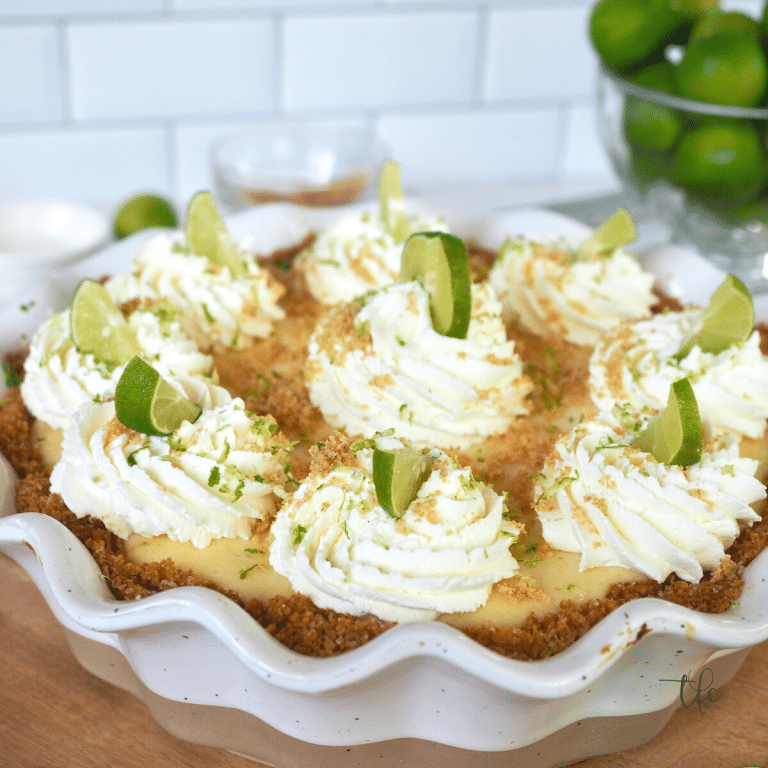 The Best Key Lime Pie | A Traditional Key Lime Pie Recipe
This is the BEST Key Lime Pie, so easy too! A traditional Key Lime pie recipe that is, citrusy, sweet-tart — the perfect sweet to-pucker ratio; light and bright with a crisp not-to-sweet graham cracker crust! Award winning!
More Easy Homemade Dressing Recipes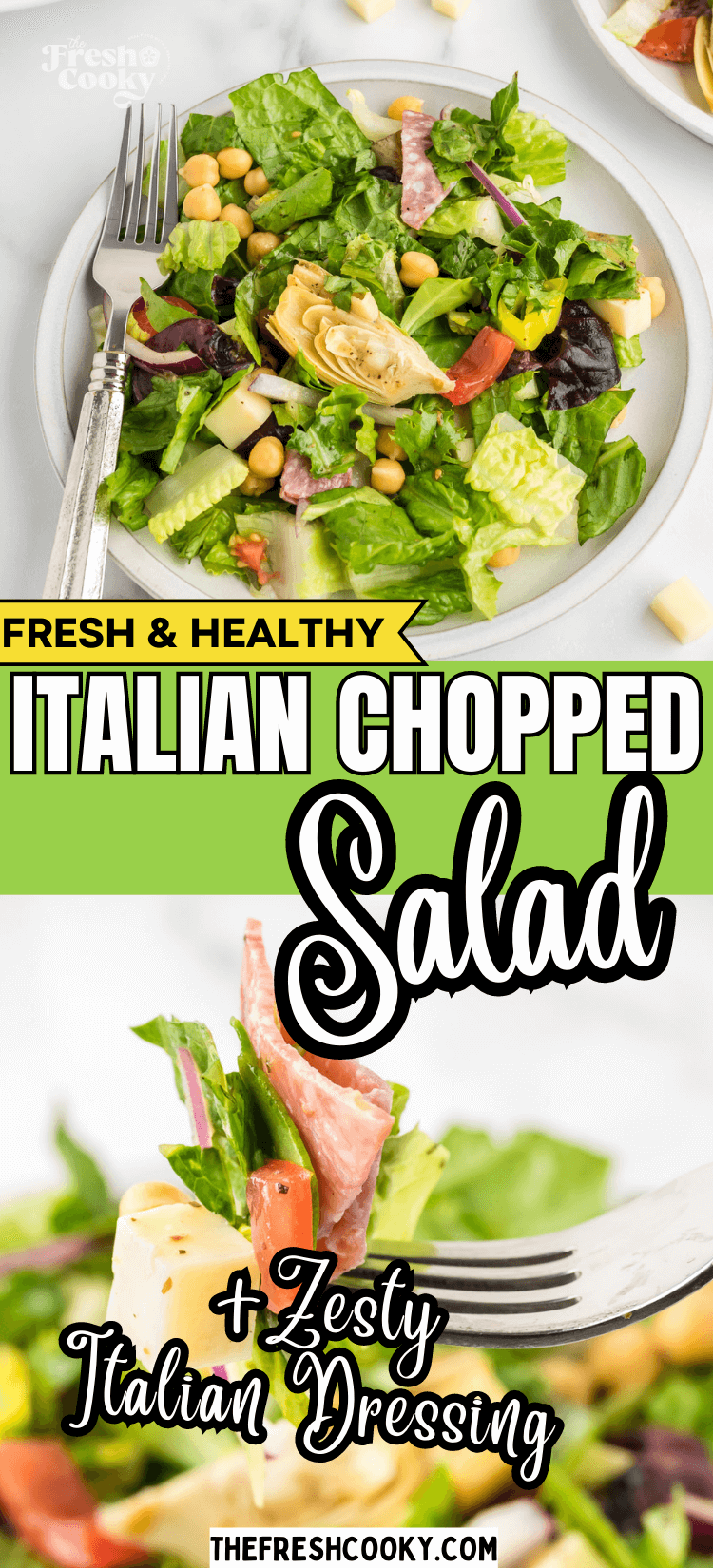 I hope you loved this Italian Chop Chop Salad with Homemade Dressing — if you did, would you share your creation on Instagram, Facebook, and Pinterest? And be sure to comment below!
Like this recipe?
Don't forget to give it a ⭐️⭐️⭐️⭐️⭐️ star rating and leave a comment below the recipe!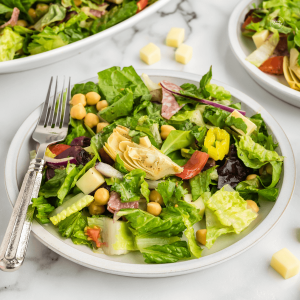 Italian Chopped Salad Recipe
This Italian chopped salad is full of fresh veggies, salami, diced provolone, and kalamata olives, with a homemade Italian vinaigrette featuring red wine vinegar, Dijon mustard, and Italian seasoning. A delicious and light meal that will turn you into a salad lover!
Click stars to rate now!
Print
Pin
Save
Saved!
Rate
Ingredients
3

medium

romaine hearts

chopped

2-3

cups

baby spring greens

I like spring mix, or baby romaine

2-3

Roma tomatoes

diced, or use Compari, Grape or Cherry tomatoes (halved)

1

small

cucumber

diced, or half English cucumber

½

medium

red onion

sliced thin, place in ice water while preparing the rest of the salad

½-1

can

garbanzo beans

rinsed and drained, see notes for easy garbanzo bean marinade

1

can

artichoke hearts

quartered, brined or marinated

6-8

ounces

salami

quality, diced or sliced

6-8

ounces

provolone

diced, or use mozzarella if preferred

½

cup

pepperoncini rings

or slice whole pepperoncinis

⅓

cup

kalamata olives

rough chopped, or use your favorite olives, black or green

1

tablespoon

fresh basil

chopped

Kosher salt and Pepper

to taste
Zesty Italian Vinaigrette
¼

cup

extra virgin olive oil

+ 2 tablespoons

¼

cup

red wine vinegar

1

tablespoon

balsamic vinegar

(if prefer not to use, increase red wine vinegar + 2 tablespoons)

2

tablespoons

lemon juice

fresh squeezed, about ½ large lemon

3

cloves

garlic

minced or pressed

1

teaspoon

dried basil

1

teaspoon

dried oregano

1

tablespoon

Dijon mustard

1 ½

teaspoon

kosher salt

¼-½

teaspoon

black pepper
Instructions
Place all ingredients in a jar, cover, and shake until combined. If preferred, as I do, emulsify by using an immersion blender or blender, and pulse to combine. Variation: Use 1 ½ – 2 teaspoons of Italian seasoning in place of basil and oregano.

Start by chopping the romaine hearts into bite-size pieces, rough chop the baby greens, and add all vegetables and chickpeas.

Slice or chop salami and provolone, and add to salad. Rough chop pepperoncini, olives, and artichoke hearts. Finish with chopped basil and toss salad.

Dress salad as a whole or serve with dressing on the side.
Notes
Quick Chickpea (Garbanzo bean) Marinade
2 cans garbanzo beans, rinsed and drained

½ cup olive oil

6 tablespoons red wine vinegar (or white wine vinegar)

1 teaspoon Italian Seasoning

1 garlic clove, minced

1 tablespoon minced red or white onion (or shallot)

½ teaspoon kosher salt

Black pepper to taste
To a small jar add marinade ingredients, cover, and shake well to combine.
Add garbanzo beans to a container or jar(s) and pour the marinade evenly over. Refrigerate for one hour, longer for best results. These are great to keep in the fridge and toss in salads throughout the week.
Nutrition
Serving:
1
salad with dressing
|
Calories:
350
kcal
|
Carbohydrates:
10
g
|
Protein:
16
g
|
Fat:
28
g
|
Saturated Fat:
10
g
|
Polyunsaturated Fat:
2
g
|
Monounsaturated Fat:
14
g
|
Cholesterol:
42
mg
|
Sodium:
1734
mg
|
Potassium:
469
mg
|
Fiber:
3
g
|
Sugar:
3
g
|
Vitamin A:
5605
IU
|
Vitamin C:
21
mg
|
Calcium:
268
mg
|
Iron:
2
mg