Sugared Cranberries | 3 Sugar Varieties
As an Amazon Associate, I earn from qualifying purchases. Please read my disclosure policy.
Sugared Cranberries are a fabulous, simple and beautiful holiday garnish and snack!! Fresh cranberries bathed in a quick hot simple syrup bath, then rolled into a variety of sugars.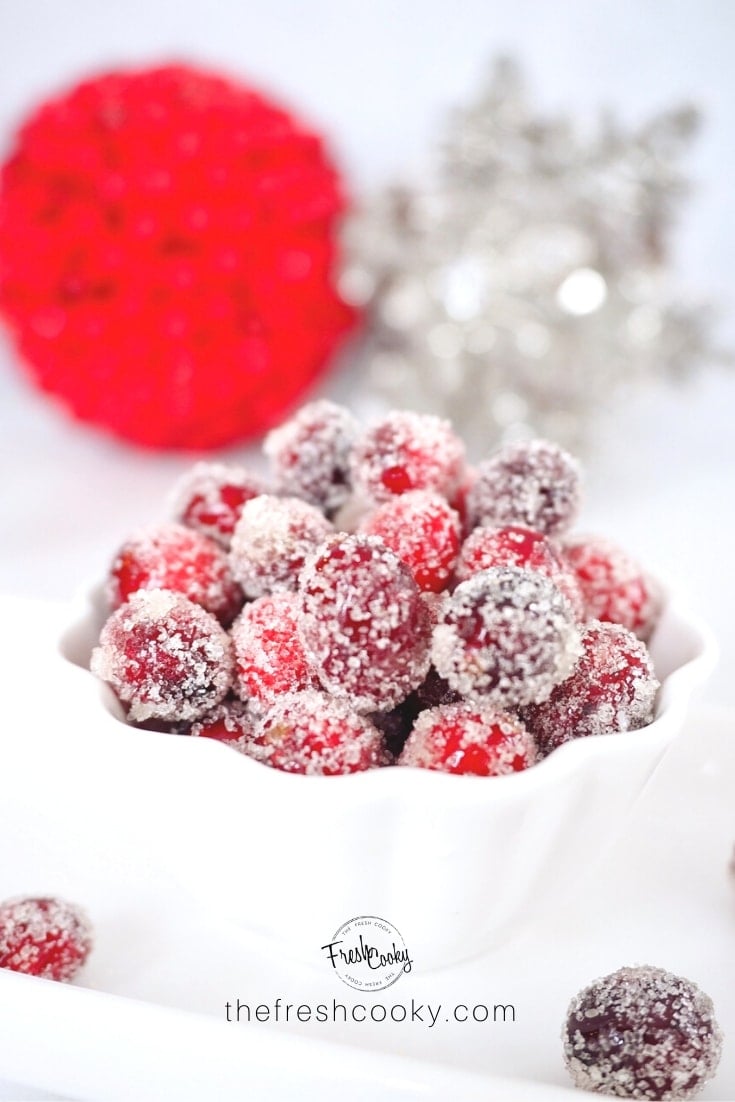 Add a pop of sparkle, color and taste by using sugared cranberries as garnishes in drinks, cakes, pastries, and around the turkey.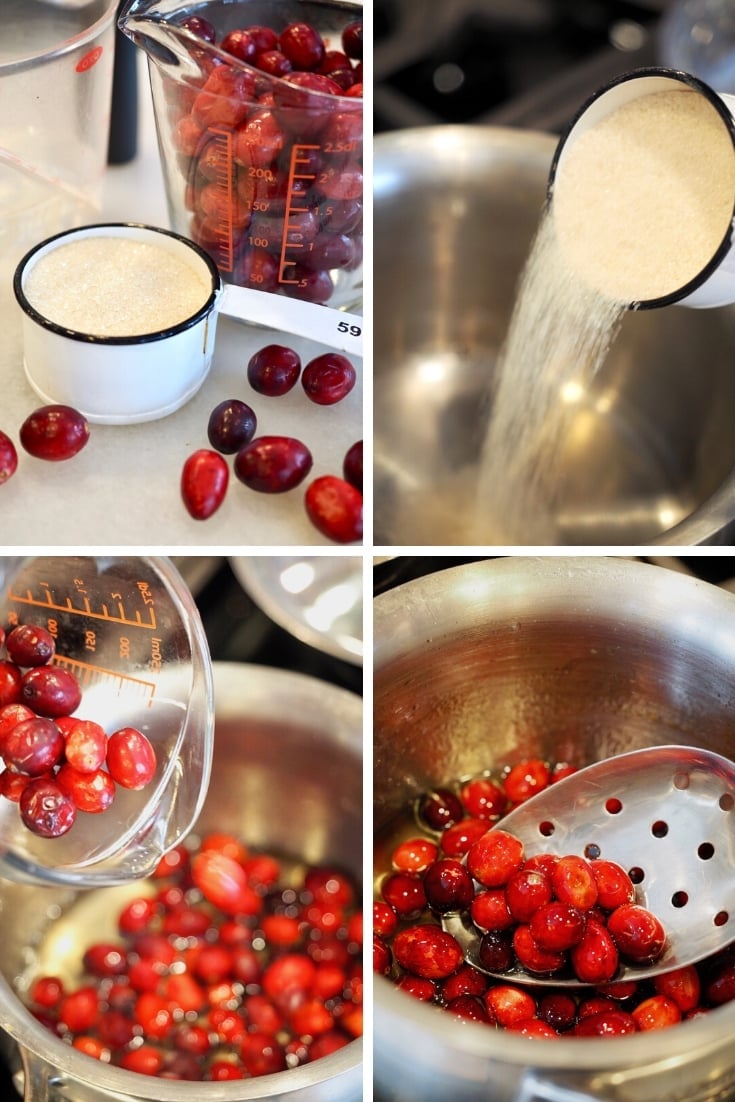 I did the testing for you, using three different types of sugar's — each of them yielding a different, yet beautiful result.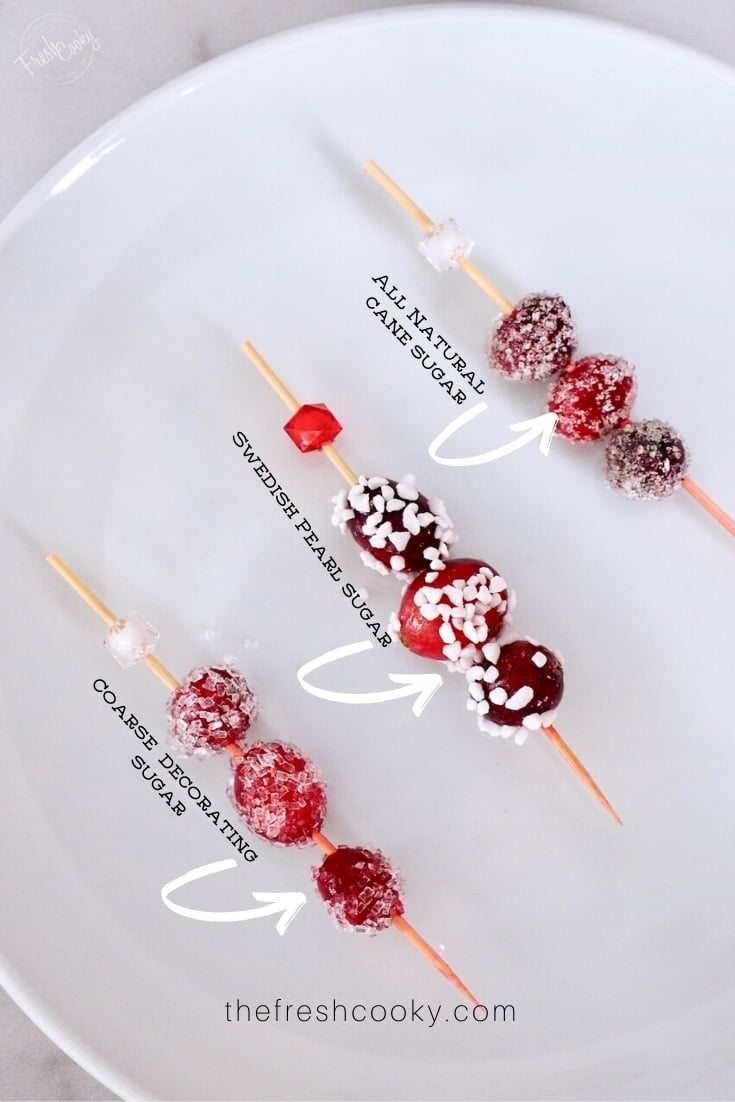 Sugared Cranberries | 3 Sugar Varieties
Natural Cane Sugar
All Natural Cane Sugar is my personal favorite, primarily because the sugar covers the most real estate of the cranberry.
Sparkling Decor Sugar
This sugar came in a close second, it is a bit more "blingy" and crunchy if you eat them, however; the sugar comes off easier when handling.
Swedish Pearl Sugar
If you have never decorated with Swedish Sugar you are missing out; for us American's it fools people, we see this sugar and think "pretzel salt?" but instead of salt, they are little teensy bursts of sweetness. I love using these on my rolled sugar cookies and sugar cookie bites and even cinnamon rolls.
Oops, back to how it works on the cranberries. I liked it, brighter white against the deep dark cranberry color, but like the sparkling sugar, it does not stay on as easily.
Can you Freeze Cranberries?
I froze a sampling of these sparkly pops of color over night. The sugar did not melt into the cranberries as I suspected they might and they held their shape for about an hour or two before they began to soften, but they still looked pretty. So I would say yes! Try and freeze in a single layer.
How Long Will They Last in the Fridge
I used two sample groups, one covered in a container, the other open to the fridge.
Those in a covered container started to "melt" a smidge (not much) after about 4 days, these still tasted great and held their shape pretty well.
Uncovered, they lasted and held their crispness and sparkle longer, about 10 days.
Uncovered they will last 7-10 in the fridge.
Covered 3-4 days, but anyway you try them, I was surprised at how well they lasted!
Can you Eat Sugared Cranberries?
Absolutely! They are delicious! I was a bit dubious that they would be WAY too tart for consumption, but was so pleasantly surprised to discover that while tart, they had a little burst of sweetness to them. So put some in a pretty crystal glass on your drink table, encourage others to take a taste!
3 ingredients to Sugared Cranberries
Step-by-Step Instructions for Sugared Cranberries
Combine sugar and water in a small saucepan and heat over medium heat until sugar dissolves and the mixture JUST starts to boil.
Remove from heat immediately, stirring in 1 cup fresh cranberries.
Allow cranberries to hang out in syrup for 5 minutes, stirring occasionally.
Set out a sheet of waxed or parchment paper on the counter or in a sheet pan, then place a cooling rack on top.
Remove cranberries using a slotted spoon or drain in strainer and spread onto cooling rack, using a spoon to separate them as much as possible.
Allow them to dry for 5-10 minutes, then toss a couple at a time into a small bowl filled with sugar of choice (all natural cane sugar, white sugar, clear sparkling decorative sugar or swedish pearl sugar.
Let sugared cranberries dry on clean rack at room temperature at least 1 hour, refrigerate or freeze until ready to use. (See notes)
Tips for Coating
Use fresh, firm cranberries for this recipe
Try and not over-handle the sticky dipped cranberries, I used a spoon to transfer them to the sugar.
Using the tips of your fingers, roll the cranberries in the sugar, pressing the sugar into the cranberry.
Uses for Sugared Cranberries
Decorate apple, cranberry, or pumpkin pies
Garnish holiday cocktails and drinks
Along with sprigs of fresh rosemary, these are beautiful sprinkled around your turkey platter
Also gorgeous and delicious by themselves in a pretty crystal glass or dish for nibbling
How would you use sugared cranberries? Leave a comment below!
Like this recipe?
Don't forget to give it a ⭐️⭐️⭐️⭐️⭐️ star rating and comment below the recipe!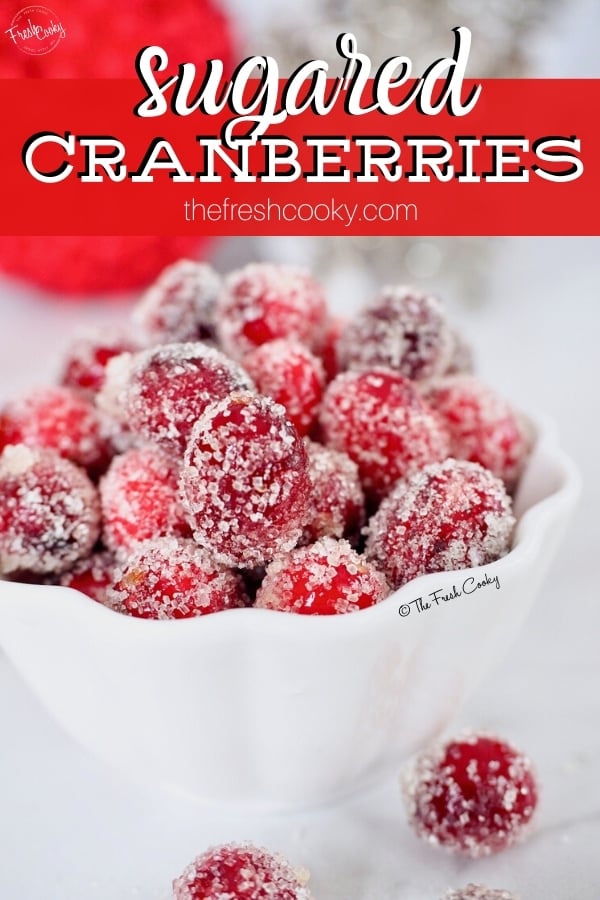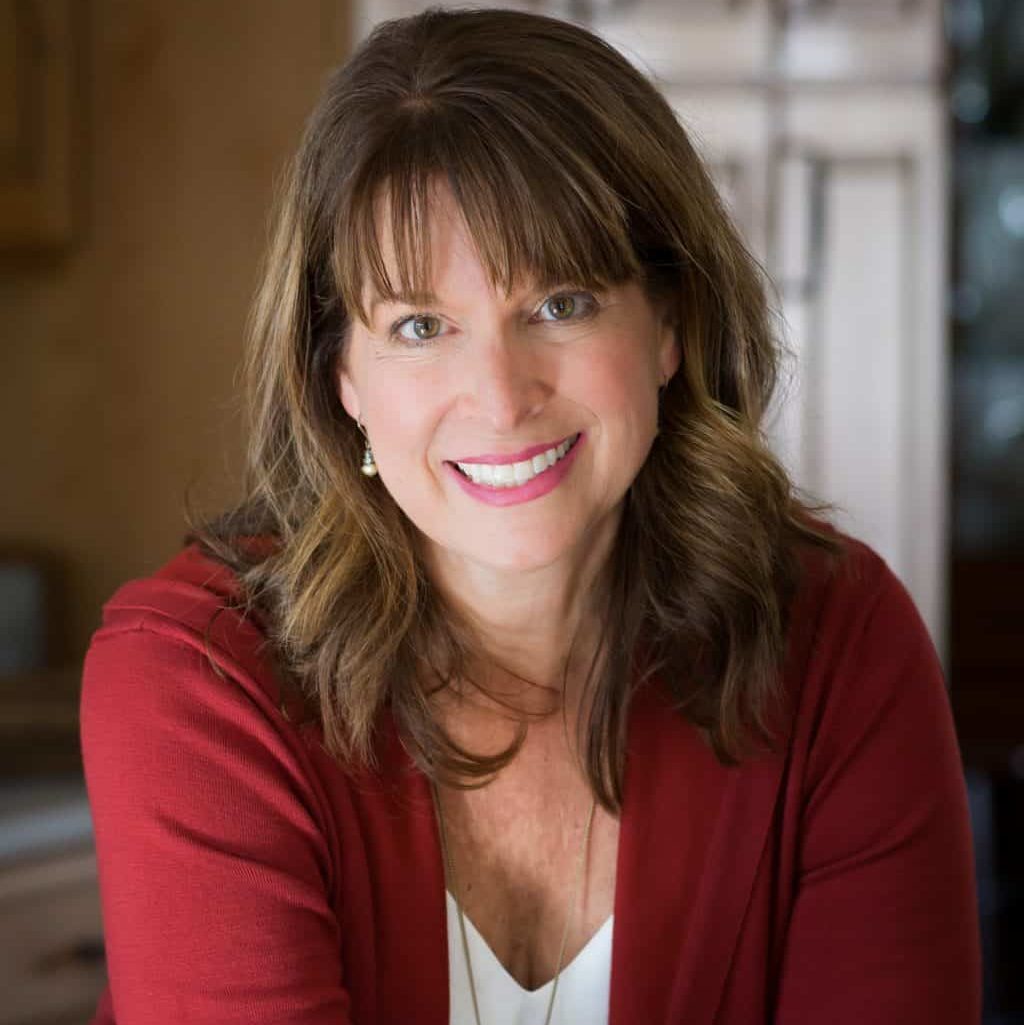 About Kathleen Pope
Recipe Innovator | Food Photographer | Food Writer
Hi, I'm Kathleen Pope. Here at The Fresh Cooky you will find easy, mostly from-scratch, trusted recipes for all occasions. From speedy dinners to tasty desserts, with easy step-by-step instructions. I am here to help teach you how to make mouthwatering recipes without spending hours in the kitchen. Read more about Kathleen here.