Easy Creamy Tomato Basil Bisque Recipe (or Dill)
As an Amazon Associate, I earn from qualifying purchases. Please read my disclosure policy.
In 30 minutes you can have this, creamy tomato basil bisque recipe to warm you from the inside out for those chilly days. You can use fresh or canned tomatoes, roasted or regular.
A delicious creamy soup that is even better when served with croutons or a grilled cheese sandwich! Equally delicious with basil or with dill.
Check out this great post on the best bread recipes for soup!
I enjoy giving precise details in my recipe posts to lead my readers through any questions. If you're just here for the printable recipe, feel free to click "Jump to Recipe" right under the title of this post, and you'll head straight there!
Soup Season is the Best
This homemade tomato soup is from my mother-in-law's recipe box and it is a great recipe. She served this creamy tomato bisque recipe, blend at her European Tea House, and it was a customer favorite. Come find out why!
I love curling up in front of the fire with a big bowl of tomato bisque soup or having it for game night with the family and this tomato bisque recipe is a family favorite.
Love soup? Try these other reader favorites: Creamy Poblano Chicken Soup, 10-Vegetable Soup (Panera Copycat) and this Colorado Green Chile recipe — all so good!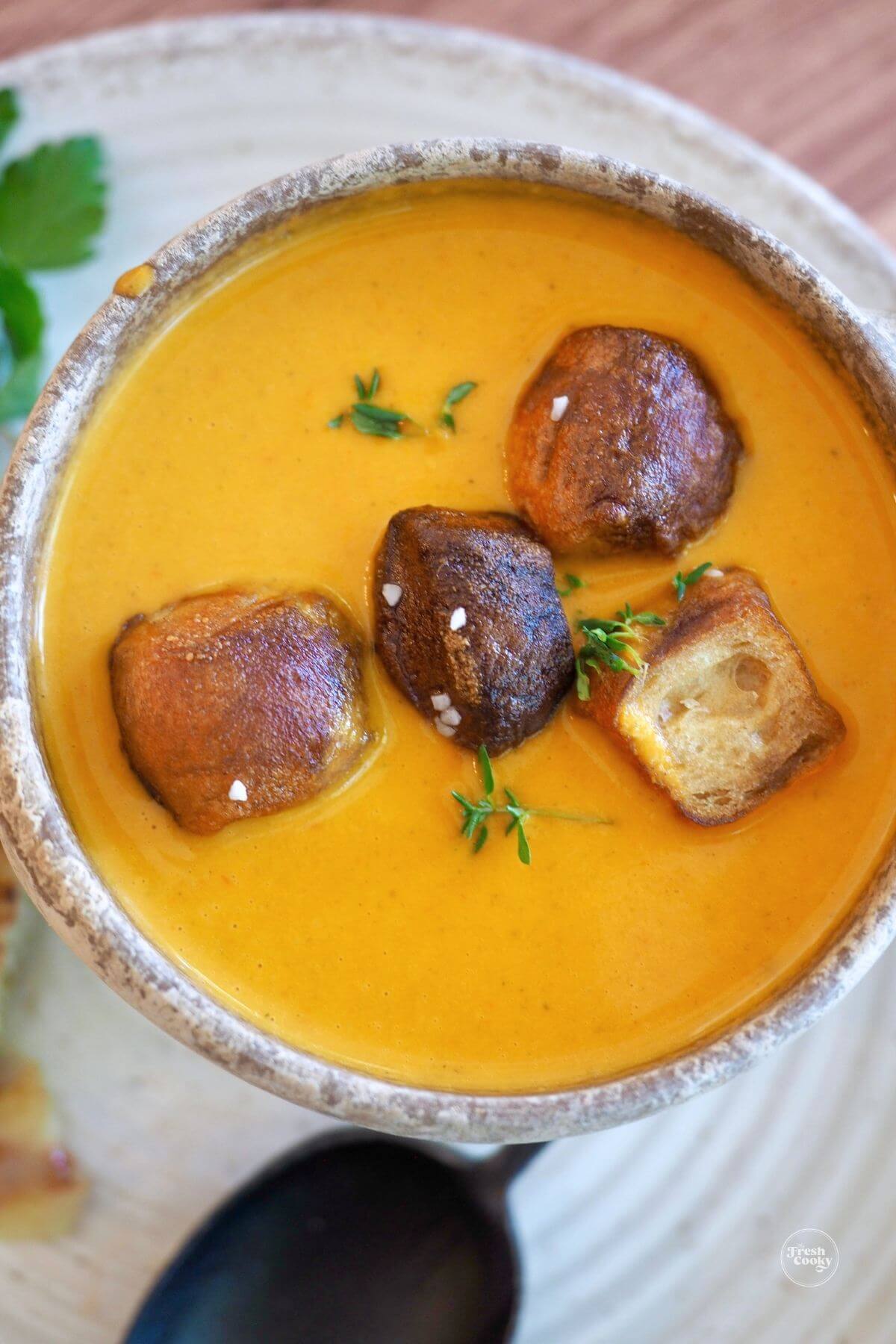 Why You Will Love This Creamy Tomato Bisque Recipe
EASY | Ready in 30 minutes or less.
Use Fresh or Canned Tomatoes | Got some tomatoes past their prime; this is a great way to use them up! No fresh? No worries use canned tomatoes, I love San Marzano Tomatoes for this recipe.
Tastes Fancy | Make this restaurant-quality soup right at home!
Simple Ingredients
Tomatoes | If you don't have fresh tomatoes, substitute canned tomatoes, whole, diced, and roasted tomatoes — use your favorite. This is a great use for bruised or beyond prime garden tomatoes, Roma tomatoes and cherry tomatoes are especially great.
Chicken Broth (or Chicken stock) | Better Than Bouillon is an easy way to keep this on hand, vegetable broth is a great vegetarian option.
Heavy Whipping Cream and Half-and-Half | This makes this tomato dill soup thick and rich and tones down the acidity of the tomatoes.
Onion | Finely mince or grate and your kids won't even know it's there, but you'll still get great flavor!
Butter | This helps to enrich the flavor of the onion and contributes to a velvety texture.
Flour | I use King Arthur's Organic Flour for thickening. Use GF Flour for gluten-free tomato bisque soup!
Honey | The sweetness balances the acidity in this tomato bisque soup. You may also use a touch of brown sugar if preferred.
Herbs | If available, use fresh basil leaves or dill; we'll also add some oregano, thyme and fresh parsley, kosher salt and pepper. Use fresh or dried.
Croutons | I have two great options: my crunchy Homemade Croutons that are chewy on the inside or my Pretzel Bites that you can make in the air fryer or oven. Both are delicious!
How to Make Tomato Bisque without roasting tomatoes
Step 1 | Caramelize Onions & Make Roux
Melt butter over medium heat in a large pot and saute chopped onions. Once they begin caramelizing (become translucent and caramel in color), add flour (regular or gluten-free) and cook for another few minutes. This removes the flour taste, leaving behind a great thickener.
Stir in kosher salt, pepper, and dried herbs until their aroma becomes fragrant. Watch carefully so they don't brown or burn.
Step 2 | Add Tomatoes
Add the tomatoes (canned or fresh) and chicken stock and bring to a low boil. Reduce the heat and simmer on low for 15 minutes.
Step 3 | Finish the Bisque
Stir in the fresh basil (or dill) and honey, then slowly whisk in the cream and half-and-half.
For an extra creamy tomato soup recipe, blend the soup to the desired creamy texture. Use an immersion blender for a chunkier soup or a high-speed blender for a silky smooth tomato soup. A regular blender or food processor may also be used.
Fresh Tip
When adding hot liquids in a traditional blender or similar device, add only a few cups at a time, vent it and place a paper towel over the top to catch any splatters. Pour pureed soup into large saucepan or soup pot and proceed with the balance of the soup in batches.
For the best flavor, do a taste test, adding a little black pepper and kosher salt to taste if needed. Stir in fresh basil (or dill)
Top with croutons and fresh herbs and if desired, a drizzle of sour cream, creme fraiche or plain Greek yogurt. Ahh the perfect comfort food.
How to Make Roasted Tomato Bisque
Preheat the oven to 400° F (205° C) and cut the tomatoes in half; if desired, remove the seeds – I do not. Place tomatoes on a parchment-lined baking sheet and drizzle with 2-3 tablespoons olive oil and a generous sprinkle of kosher salt and pepper.
Optional: Add a couple of peeled garlic cloves with the tomatoes. Roast tomatoes for 25-45 minutes until fragrant and darker in color. Cool for 10 minutes before adding to the recipe. Hint: You can start your onions caramelizing while the tomatoes are roasting.
Variations & Substitutions
Gluten-free Tomato Bisque
This tomato basil soup recipe is so easy to make gluten-free, swap your favorite all-purpose gluten-free flour for the regular flour, or leave it out all together!
How to Make Vegan Tomato Basil Bisque
Use vegetable stock instead of chicken broth. Combine ¾ cup of plant-based heavy cream and ¼ cup unsweetened soy or almond milk to replace the cream and half-and-half. Or, use a can of full fat coconut milk. Use agave or maple syrup in place of the honey.
Slow Cooker Creamy Tomato Basil Bisque Recipe
To make it in a slow cooker (crockpot), add all the ingredients (except basil, and cream) to the slow cooker. Cover and cook on high for 3-4 hours. Add basil leaves and blend the soup using an immersion blender or in batches in a blender. Stir in heavy cream and half and half and cook on low for an hour.
Frequently Asked Questions
What's the difference between bisque and soup?
The main differences between tomato bisque and tomato soup are their richness, texture, and intended use. Tomato bisque is a creamier, more elaborate dish with a velvety texture and a complex flavor, often served in more formal settings. Tomato soup is a simpler, lighter dish enjoyed for its comforting and straightforward taste, commonly served in casual settings.
How can I keep the cream from curdling?
Always start with room-temperature ingredients! If you're in a rush, mix a little bit of the hot stock mixture into the cream to temper it first. Then, stir it into the pot and keep the heat low so it doesn't boil. So how to freeze below if it does curdle.
How can I flash-freeze herbs to use later in this recipe?
After rinsing and patting your herbs dry, spread them on a sheet pan in a single layer. Put the pan in the freezer for about an hour, then transfer the herbs to an airtight container. They last for about 12 months!
Storage Tips
Store leftover soup in an airtight container in the fridge for up to 5 days. Even better for meal prep, place soup in 1 cup portions in airtight containers in the fridge up to 5 days.
Can I freeze tomato bisque soup?
Soups with cream or milk in them do not typically freeze well; you will get some curdling when reheating. This won't hurt you though, so freeze your cream soup if it comes to throwing out or freezing! Check out this post about fixing curdled soups! If you are planning on freezing, then wait to add the cream until you reheat.
How to best rewarm tomato basil bisque
My Favorite Way | Pour soup into a small saucepan and reheat over low heat, stirring occasionally until warm, if it starts curdling, stir in a little extra heavy cream or half and half.
To microwave, place soup in microwave safe bowl, cover with a paper towel and heat soup for 45 seconds, stir and reheat until hot in 30-second bursts, stirring in between.
What to serve with Creamy Tomato Bisque Soup
Now we are talking! Of course, we all love tomato soup with a grilled cheese sandwich, but you can change it up too!
Grilled Cheese Recipes for your Tomato Soup
Nothing says comfort food like grilled cheese and tomato soup! Try these fun grilled cheese recipes.
More Soup Recipes to Enjoy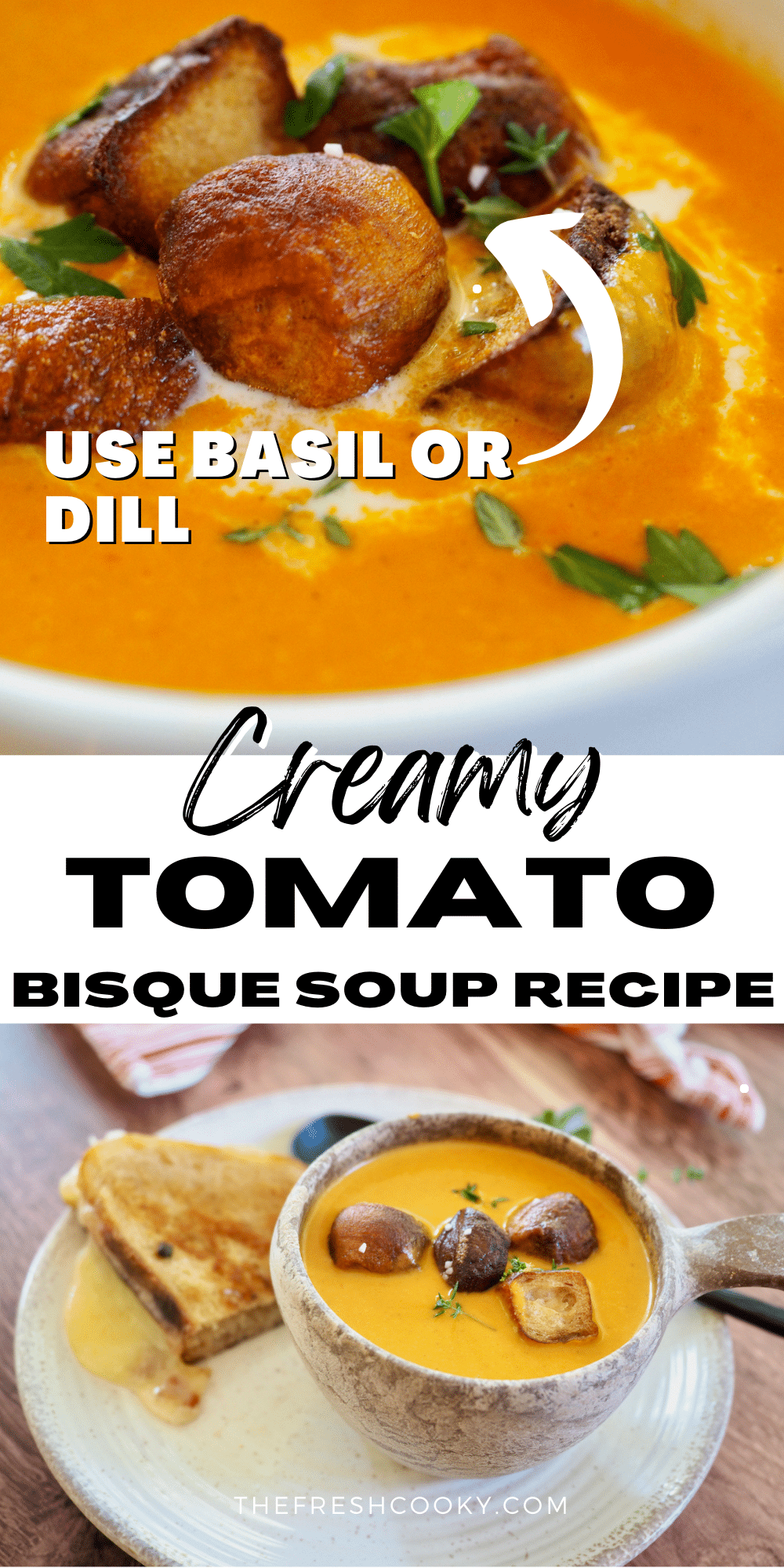 I hope you loved this Tomato Basil Bisque Recipe — if you did, would you share your creation on Instagram, Facebook and Pinterest? And be sure to comment below!
Like this recipe?
Don't forget to give it a ⭐️⭐️⭐️⭐️⭐️ star rating and comment below the recipe!
Easy Creamy Tomato Basil Bisque Recipe (or Dill)
In 30 minutes, you can have this, creamy tomato basil bisque recipe to warm you from the inside out for those chilly days. You can use fresh or canned tomatoes, roasted or regular.
Ingredients
¾

cup

onion

,

chopped or grated, about half a medium onion

½

cup

butter

,

1 stick

¼

cup

flour

,

or use GF Flour

3-4

cups

tomatoes

,

fresh, diced or sub with 28-32 ounce canned tomatoes

3

cups

chicken stock

,

or broth

½

cup

heavy cream

½

cup

half-and-half

¼

cup

honey

,

or maple syrup or agave

¼

cup

fresh parsley

,

finely chopped (sub with 2 tablespoons dried parsley)

1 ½

teaspoons

kosher salt

½

teaspoon

white or black pepper

2

tablespoons

fresh basil

,

chopped, or chopped dill weed (or use 2 teaspoons dried basil or dill)

1

teaspoon

dried oregano

½

teaspoon

dried thyme
Garnish Options
Chopped Fresh basil or dill

,

fresh basil, fresh parsley or fresh thyme

Croutons or replace bread in crouton recipe with day old pretzel bites

Creme Fraiche

,

sour cream, coconut milk or plain Greek Yogurt

Spoonful of cheese; try gorgonzola

,

blue cheese, sharp cheddar, Gruyere, etc.
Instructions
In a medium-large soup pot, saute onion in melted butter over medium heat. Once translucent and starting to brown, stir in flour, cooking until golden, about 1-2 minutes. Stir in salt, pepper, dill*, oregano, and thyme, stirring for a minute to bloom the herbs.

Add tomatoes and chicken stock. Bring to a boil, then reduce heat and simmer for 15 minutes.

Add fresh parsley (and fresh basil or dill if using instead of dried) and honey, stirring until combined, then slowly whisk in cream and half and half until smooth.

For chunkier tomato bisque, use an immersion blender or blender and only blend a portion of the soup. For a silky, smooth tomato soup, blend in a high speed blender until silky smooth.

Delicious served with croutons and a garnish of dill, parsley or thyme and a swirl of creme fraiche, sour cream, plain Greek yogurt or coconut cream. And of course grilled cheese!
✱ Kathleen's Tips
Vegetarian or Vegan Option | Use olive oil in place of butter, substitute vegetable broth for chicken broth, use coconut cream or plant-based heavy cream in place of half and half and cream. Use maple syrup or agave in place of honey. Gluten-Free Option | Replace flour with a good all-purpose gluten-free flour. Storage | Portion into serving sized containers in store in fridge up to 5 days. If freezing, I recommend that you wait to add the cream if possible. If after, the soup might curdle when reheated, but it is still edible. Reheating | Pour into small saucepan and reheat over low heat, stirring occasionally until warm. You may also microwave until warm. Serving Suggestions (Besides a grilled cheese sandwich of course)
Nutrition
Serving:
1
serving
Calories:
358
kcal
Carbohydrates:
27
g
Protein:
6
g
Fat:
27
g
Saturated Fat:
16
g
Polyunsaturated Fat:
1
g
Monounsaturated Fat:
7
g
Trans Fat:
1
g
Cholesterol:
74
mg
Sodium:
899
mg
Potassium:
416
mg
Fiber:
2
g
Sugar:
18
g
Vitamin A:
1715
IU
Vitamin C:
16
mg
Calcium:
68
mg
Iron:
1
mg
Nutrition Disclaimer
The Fresh Cooky is not a dietician or nutritionist, and any nutritional information shared is only an estimate. We recommend running the ingredients through an online nutritional calculator if you need to verify any information.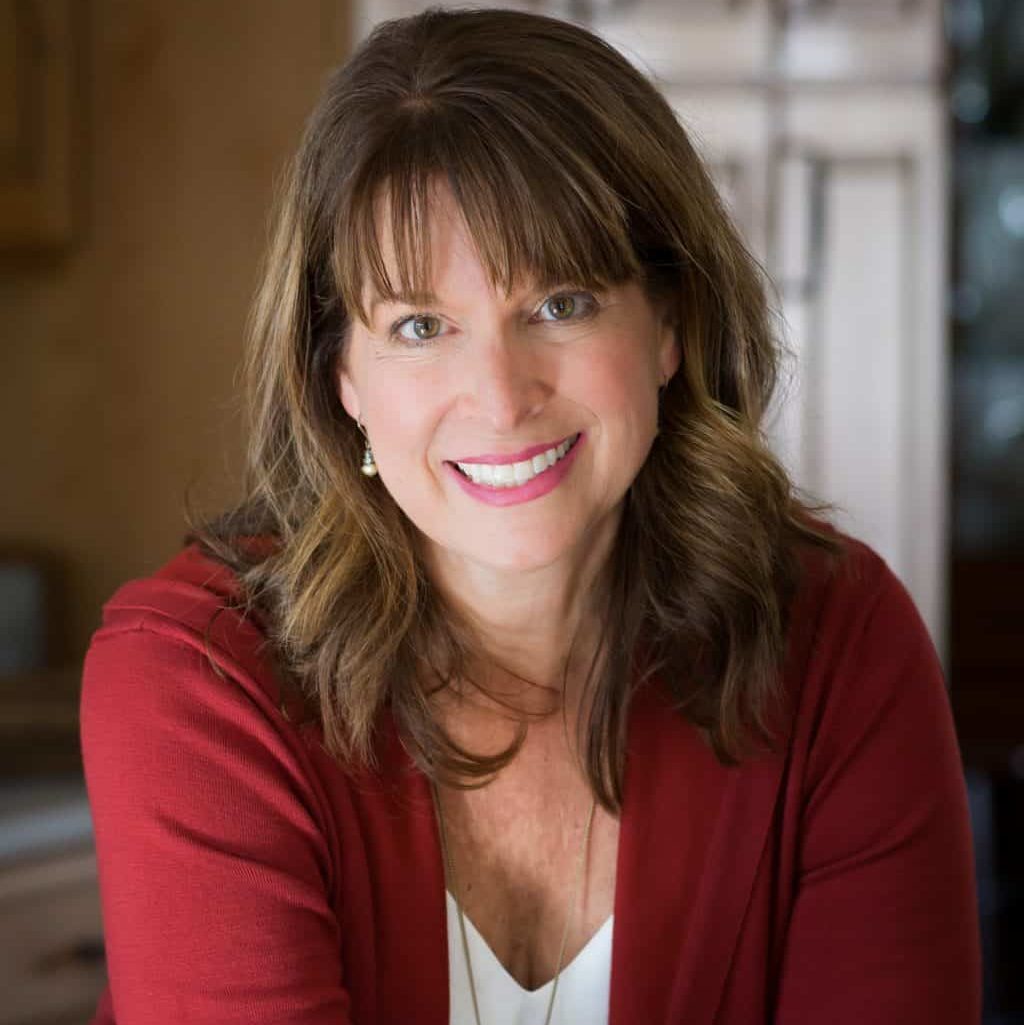 About Kathleen Pope
Recipe Innovator | Food Photographer | Food Writer
Hi, I'm Kathleen Pope. Here at The Fresh Cooky you will find easy, mostly from-scratch, trusted recipes for all occasions. From speedy dinners to tasty desserts, with easy step-by-step instructions. I am here to help teach you how to make mouthwatering recipes without spending hours in the kitchen. Read more about Kathleen here.