As an Amazon Associate, I earn from qualifying purchases. Please read my disclosure policy.
With 4 simple ingredients, this rich, buttery vanilla sauce is ready in less than 10 minutes. While it might seem basic and simple, the flavor is out of this world. Use this vanilla sauce for bread pudding, bundt cakes, regular cakes and it's rather dreamy over ice cream.
Sauces can add so much moisture and flavor to baked goods; this vanilla sauce recipe is one you will want to keep handy; drizzle over pear bundt cake, Kentucky Butter cake, or this fan favorite Cinnamon Swirl cake.
I have had a love affair with this sauce for over a decade. Back when my boys were toddlers, I was part of MOPS (Mother's of Preschoolers) and one evening, during a meeting, our hostess served us amazing pear cake slathered with vanilla sauce.
If I am honest, most of us thought, "uh, pear cake, how boring" but as the plates were handed out, this cake and sauce became legendary.
You could hear a pin drop as each woman, gracefully (or not) gobbled up this cake and vanilla sauce. Finally, one of the gals, said, "would it be rude if I licked my plate?" We all laughed and I am pretty sure each and every one of us ladies, licked our plates clean. THIS VANILLA SAUCE IS AMAZING!
I have been making it ever since, if you need a slam dunk dessert sauce, this is vanilla sauce is your recipe!
Ingredients for Vanilla Sauce
Only 4 ingredients! Love this type of recipe, don't forget the printable recipe card at the end of the post has all the measurements and details.
BUTTER | Use real butter, remember if it's soft coming out of the fridge it's a blend, the results won't be the same results.
HEAVY WHIPPING CREAM | Another must here, no fat-free stuff in this decadent vanilla sauce, uh-uh!
SUGAR | I use all-natural cane sugar in all of my baking, but regular refined white sugar is fine too.
VANILLA | The good stuff, in fact, I encourage you to make your own homemade vanilla extract, try this bourbon vanilla too!
Instructions
In a small heavy-bottomed sauce pan (I like this one), over medium-low heat, melt the butter, sugar, heavy whipping cream and vanilla. Stirring constantly, until the sugar is dissolved and has a syrup consistency.
HINT | It should coat the back of a wooden spoon.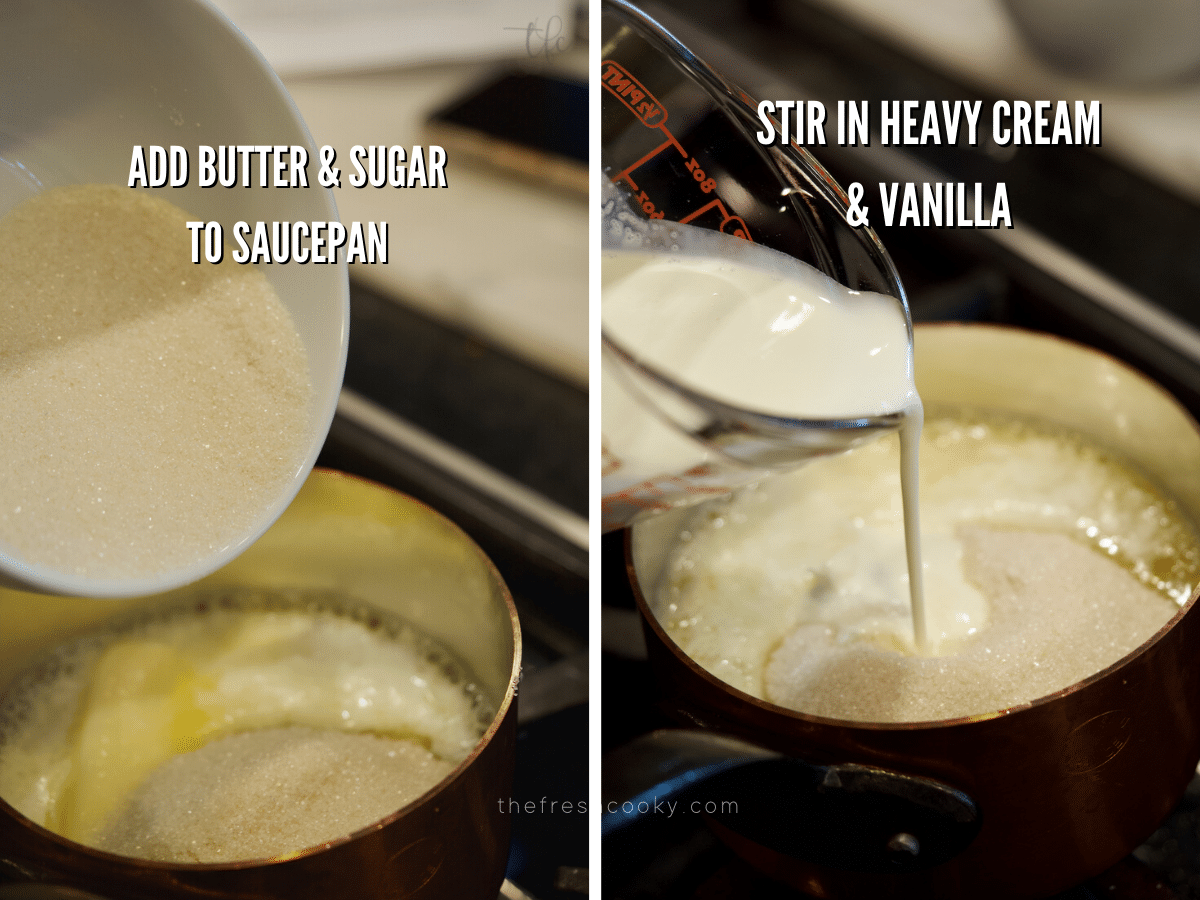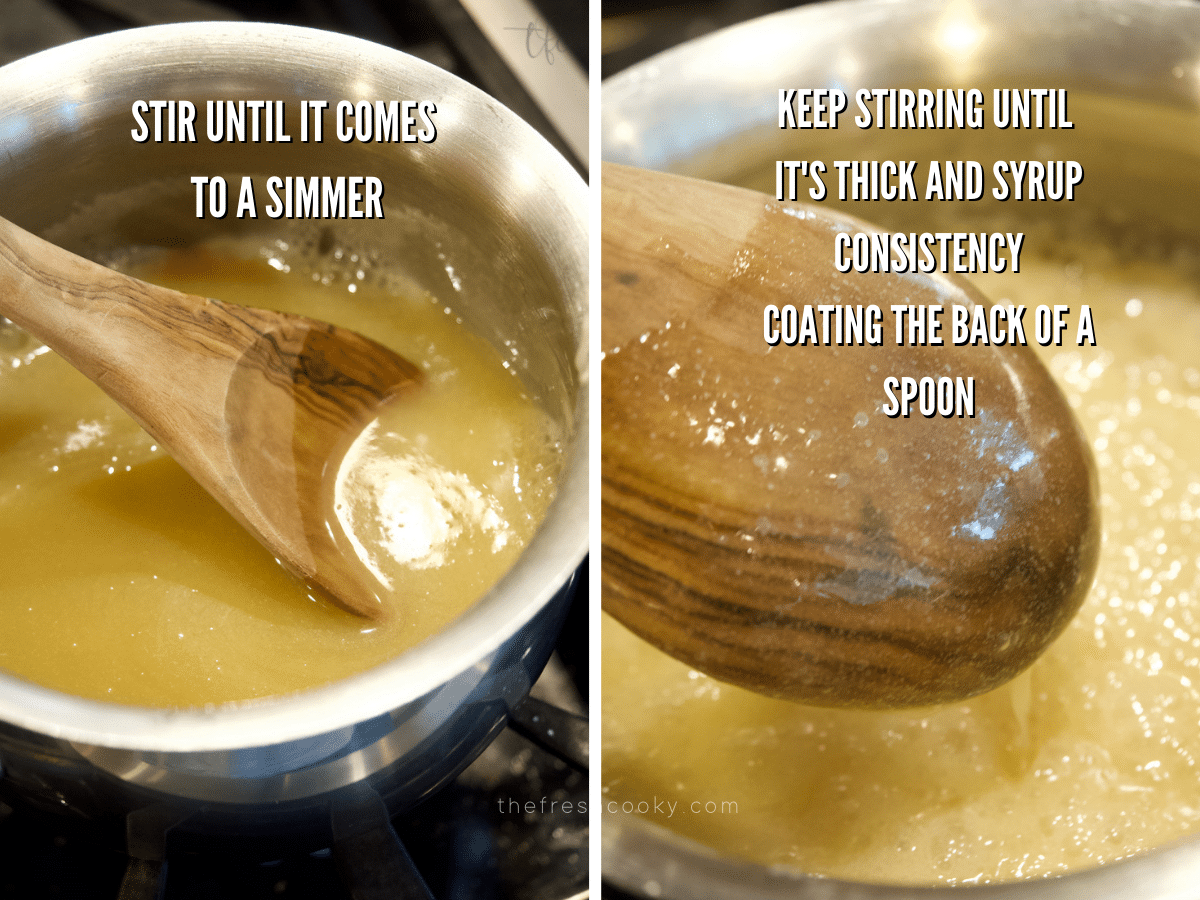 Sauce is best served warm, it will thicken as it cools, so if you need it thicker, allow it to cool until desired consistency.
What are the types of dessert sauces?
Here are 9 sauces you need to have the recipes for, these will serve you well to make a dessert a bit more fancy.
Hot Fudge Sauce | A classic sauce! My favorite of favorites, over ice cream there is nothing better! Use on Mud Pie, drizzle over half baked chocolate chip cookies or on this easy Fried Ice Cream cake and of course for the class Hot Fudge Sundae!
Salted Caramel Sauce | I've taken this one a step beyond and added a splash of bourbon, however; feel free to omit! Drizzle over Dutch Apple Pie, even in place of frosting these carrot cupcakes.
Crème Anglaise | A classic dessert sauce, it will elevate any dessert! I love it on this Chocolate Bread Pudding.
Easy Chocolate Ganache | An essential recipe in every bakers kitchen, keep it runny and use as a glaze on cakes or let it thicken up and slather between cookies, the sky is the limit with this amazing sauce.
Butterscotch Sauce | A sticky, sweet sauce with that classic butterscotch flavor.
Strawberry Sauce | Make this fresh strawberry syrup, in minutes! Pour over strawberry shortcake for wow!
Blueberry Sauce | Made with fresh blueberries, this sauce is amazing, if you are looking for a syrup, try this one!
Chocolate Shell | Yes, you can make this super simple chocolate shell, using a little coconut oil to help it firm up as soon as it hits the cold ice cream.
Praline Sauce | Pour over pumpkin pie, any vanilla based bundt cake or snack cake, or over vanilla ice cream.
Frequently Asked Questions
Can you freeze vanilla sauce?
Yes, but honestly it will last in your fridge in a well-sealed jar for several months. Simply reheat when ready to use.
Why is sauce important in dessert?
The right sauce will enhance a dessert in both appearance of course added flavor. A sauce such as this vanilla butter sauce, can also add moisture to cakes and other baked goods.
How long will vanilla sauce last in the fridge?
Since this sauce has cream in it, I store it in the fridge. It will last in a well-sealed container for over a month, if not longer.
Best Containers for Storing Sauce
I love WeckJars, I get asked about these jars all the time. These heavy glass jars are sturdy enough to stand up to high-pressure canning, yet pretty enough to give as a gift, like this DIY Sugar Scrub. Here are a few of my favorites, I might have a bit of a fetish with jars!
Variations
For a simple way to change up this sauce, you can use different types of vanilla or extracts, try these:
Almond extract | try this one by Rodelle, so pure and good.
Use Vanilla Bean Paste for those gorgeous little flecks of vanilla.
Try using a teaspoon of rum, whiskey or brandy, yum!
Try a teaspoon or two of your favorite liqueur or cordial.
How to use Vanilla Sauce:
Pour over any cake, like the pear cake above; especially delicious on vanilla based cakes, you can pour on hot, for a glaze that will sink in making the cake incredibly moist, or wait and drizzle it on for serving.
This vanilla sauce is incredible for bread pudding, or try over my friend Amy's Sticky Toffee Pudding.
A little drizzle over this pumpkin spice cake would be dreamy!
Definitely over ice cream! Any and all kinds, it will harden slightly and get chewy, so delicious!
Fruit | Keep it simple, vanilla sauce is amazing over fresh fruit.
Drizzle generously over this Chocolate Croissant bake for more of a dessert than a breakfast!
Like this recipe?
Don't forget to give it a ⭐️⭐️⭐️⭐️⭐️ star rating and comment below the recipe!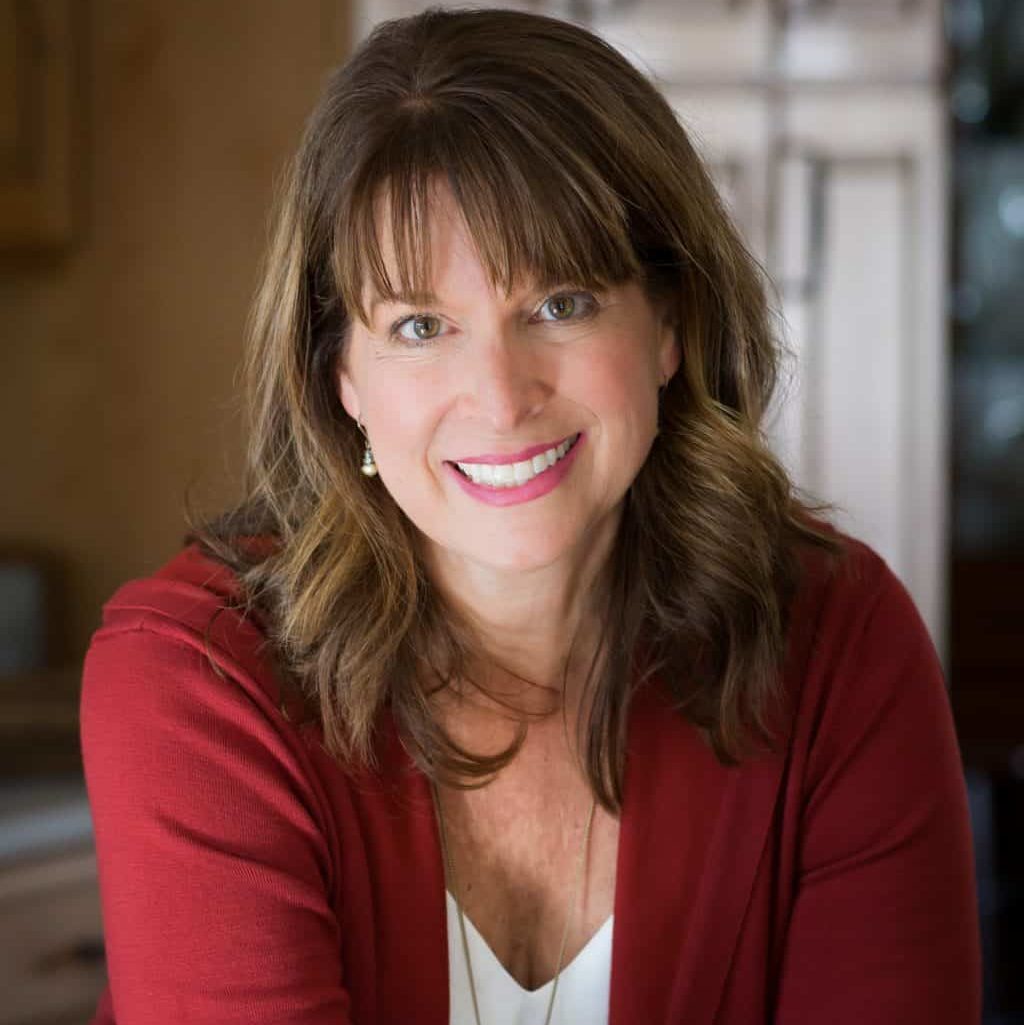 About Kathleen Pope
Recipe Innovator | Food Photographer | Food Writer
Hi, I'm Kathleen Pope. Here at The Fresh Cooky you will find easy, mostly from-scratch, trusted recipes for all occasions. From speedy dinners to tasty desserts, with easy step-by-step instructions. I am here to help teach you how to make mouthwatering recipes without spending hours in the kitchen. Read more about Kathleen here.