Easy Homemade Chocolate Ice Cream Recipe (no eggs)
As an Amazon Associate, I earn from qualifying purchases. Please read my disclosure policy.
Five ingredients to this AMAZING, creamy, no-cook, old-fashioned homemade chocolate ice cream! The best part, this chocolate ice cream recipe has no eggs! Keep it basic or get creative with your mix-ins, regardless this is an amazing ice cream. This chocolate ice cream has become one of our favorite ice cream recipes.
This eggless chocolate ice cream is the perfect frozen treat any time of year, homemade chocolate ice cream is not just reserved for the hot months in our house. I love eating ice cream by itself, with hot fudge or a good chocolate syrup or even Magic shell (try my homemade version).
You will find this Mile High Mud Pie in our freezer anytime of year or a tub of this creamy Vanilla Ice Cream and you definitely have to try my new Ferrero Rocher Ice Cream recipe!
And if you are into chocolate, try this Texas Sheet Cake or Copycat Nothing Bundt Cake Chocolate Chip Cake or my famous Chocolate Chip Cookies!
Everyone needs a couple of basic ice cream recipes, this one uses a traditional ice cream maker vs. the no-churn type. I'm torn between the ease of no-churn ice cream and the amazing creaminess of a churned ice cream.
Both are scrumptious, both have their advantages — maybe you could host an ice cream block party! Everyone bring their favorite ice cream! Wouldn't that be fun!
Did I mention I'm not a fan of chocolate ice cream? Yes, it IS true; never been a fan, just don't like the flavor for some reason, BUT this creamy chocolate ice cream is a different story!
My people had to hide it from me! Just kidding….kind of. 🙂
Why You Will Love this Easy Homemade Ice Cream
No raw eggs and no cooking required!
Creamy, amazing chocolate flavor with just 5 ingredients, perfect for a hot summer day
All natural ingredients, no sweetened condensed milk
The key to decadent and rich chocolate ice cream is in the cocoa powder, splurge a bit and go for a high end baking cocoa. Rodelle Cocoa powder is my favorite!
Simple Ingredients for homemade chocolate ice cream
Be sure to print the recipe at the end of the post for full measurements and easy instructions.
Heavy Cream | aka Whipping cream, or heavy whipping cream, just don't use actual "whipped cream". I used organic heavy cream, this is the star ingredient besides the cocoa powder, don't skim!
Whole milk | Again, you can use lesser percentages of milk, but you will sacrifice creaminess
Unsweetened cocoa powder | Truly, splurge and use the good stuff here! This is my favorite!
Granulated sugar | I use all natural organic cane sugar, which has a bit of a molasses flavor
Vanilla extract | Go for the good stuff, the quality will shine, Rodelle Vanilla is my go-to brand.
Sea Salt | A pinch of salt actually brings out the chocolate flavor in the chocolate base
That's it, were you expecting more? And you will notice, there are no egg yolks, this is not a custard base chocolate ice cream recipe, dreamy for sure, but this one gets it on the table faster!
RECOMMENDED TOOLS
Easy steps to making Chocolate Ice Cream
Step 1 | Make the Chocolate Mixture
Grab your batter bowl and whisk (or use a hand mixer) together milk, cocoa powder, vanilla extract until cocoa powder and sugar are dissolved and combined, about 2 minutes.
Pour in heavy cream, whip or whisk well, another 2-3 minutes until thickened and no sugar granules can be seen.
Step 2 | Let it sit
Refrigerate ice cream base for 30 minutes or longer, prior to placing it in the ice cream freezer.
By allowing it to hang out in the fridge, it will help it freeze faster, greatly improve the creamy texture AND allows the cocoa powder to get to know the milk and the cream.
Step 3 | Freeze in Cuisinart Ice Cream Machine
Before pouring the ice cream base into the bowl of your ice cream maker, stir it again one last time — a nice gentle stir to ensure everything is mixed well.
Then pour mixture into your Cuisinart ice cream maker freezer bowl, add the ice cream paddle and follow the directions on your ice cream machine. Mine takes about 20 minutes.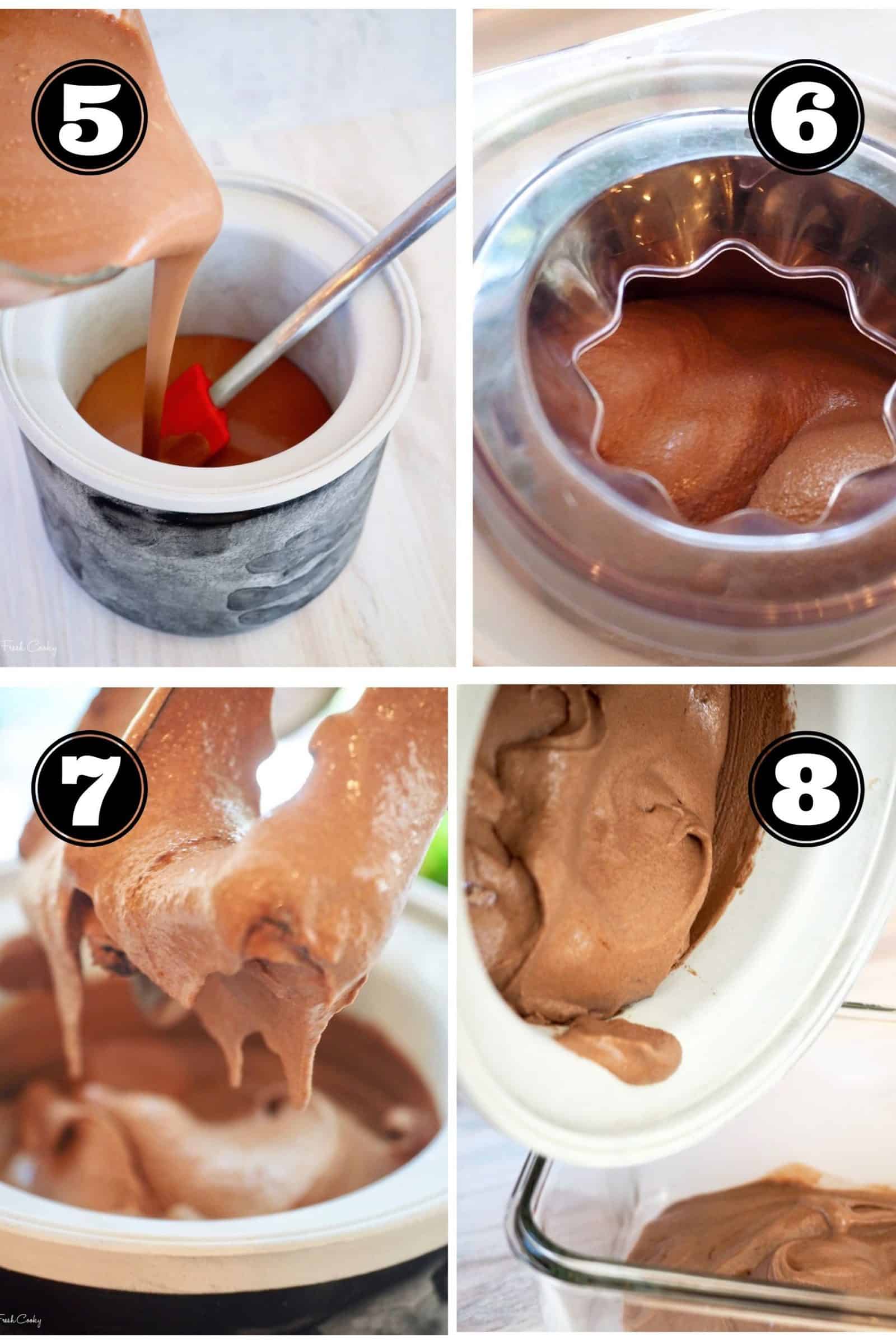 Step 4 | Add mix-ins and freeze
If adding mix-ins (see below for ideas), stir them in now, before freezing.
Transfer the ice cream mixture to an airtight container (see tips) and freeze for 6 hours to overnight for best results.
Fresh Tips
This delicious homemade chocolate ice cream will be soft serve consistency straight out of the ice cream maker, freeze overnight for scoopable ice cream.
I put my container in the freezer while the ice cream maker is churning, Use a loaf pan or freezer safe container. Cover and tuck in the back of your freezer.
The longer you let it hang out, the harder it will be, a couple of hours will yield firm on the edges, soft in the center.
Overnight or longer, firm, scoopable ice cream. But who's kidding who, this stuff is fabulous straight from the machine or days later!
Frequently Asked Questions
Why is my homemade ice cream so soft?
Ice cream straight from the machine is a soft serve texture. However; if it's super soft, it probably means your ice cream freezer wasn't frozen solid before starting your churning.
What Came First Chocolate or Vanilla Ice Cream?
Chocolate was one of the first ice cream flavors, created before vanilla.
In 1775, Italian doctor Filippo Baldini wrote a treatise entitled De sorbetti, in which he recommended chocolate ice cream as a remedy for various medical conditions, including gout and scurvy. (Source) Gee, I wonder where we got the word Sorbet from!?
Can I use brown sugar in place of granulated sugar in ice cream?
The simple answer is yes! You will need to let it sit in the fridge at least 30-40 minutes and make sure that the brown sugar is completely dissolved. It will also lend a bit of a different flavor to the classic chocolate ice cream recipe, a bit more of a molasses flavor.
Can I use 2% milk when making ice cream?
Yes, it will not be as creamy, but other percentages of milk may be used in making ice cream.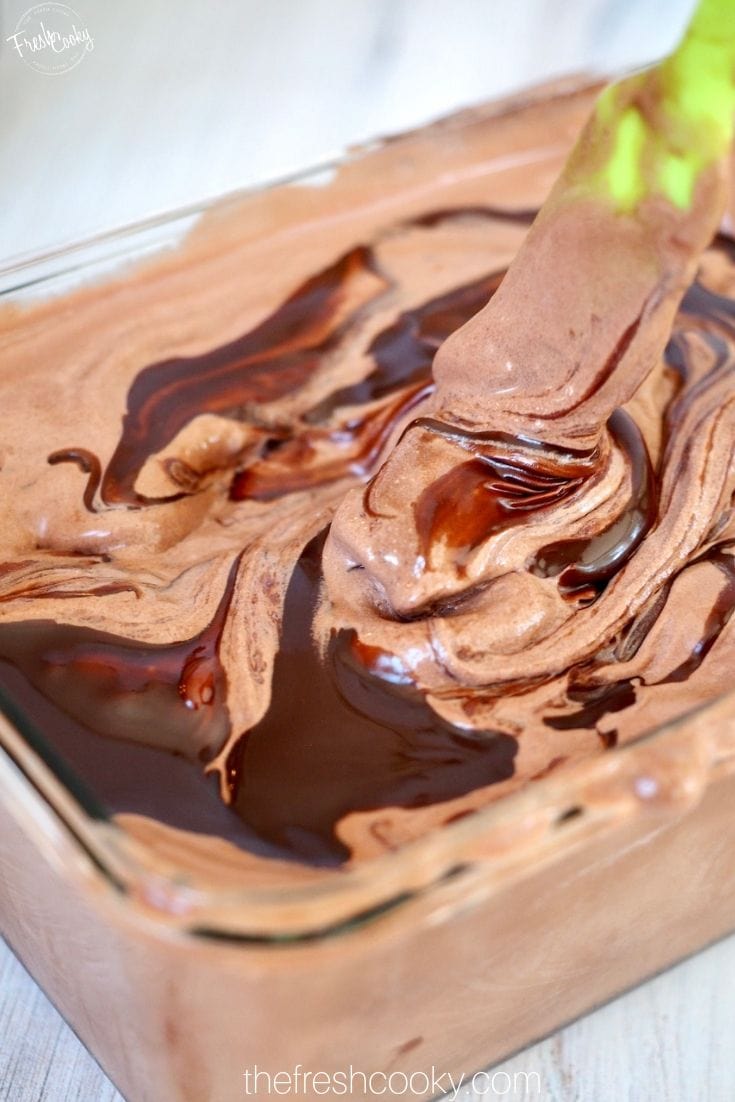 Variations, Substitutions & Mix-In Ideas
Chocolate Fudge Brownie Ice Cream <== click for the recipe!
Mocha Ice Cream | Add 1 teaspoon Espresso Powder during mixing.
Mocha Almond Fudge | add 1 teaspoon instant coffee or espresso powder, plus chopped toasted almonds and some swirls of chocolate fudge.
Mint Chocolate Ice Cream | mix in 1 teaspoon pure mint extract and maybe a handful of chopped Andes mints or chocolate chips.
Dark Chocolate Ice Cream | Instead of regular cocoa powder use dark cocoa powder, or try this black cocoa powder for intense cocoa flavor.
Fudge Swirl or Caramel Swirl | During the last few minutes in the machine, pour in about 1/2 a cup of your favorite fudge, caramel or other topping.
Rocky Road Ice Cream | Add 1 cup mini marshmallows, ½ cup chopped sliced or whole toasted almonds and ½ cup regular or mini chocolate chips
Hand mix in some of the following: Toasted, chopped almonds, marshmallows, crushed Oreos, peanut butter cups (mini or chopped up), toss in some hunks of edible cookie dough, mini or regular chocolate chips, butterscotch chips, or even malted milk powder (my favorite to sprinkle over the top of my ice cream!!!!)
Top Tips
Be sure your freezer container is frozen solid, I usually put mine in the freezer for at least 24 hours before making this easy chocolate ice cream recipe.
When mixing, make sure your cocoa powder and sugar dissolves completely, if not you will have gritty ice cream
To avoid ice crystals from forming on your ice cream, place a piece of wax paper and press it down on the top of the ice cream, then seal well. Airtight containers will be best, but you also do this on store bought ice cream containers as well.
I sure hope you loved this chocolate ice cream recipe with no eggs! Someday soon I will get a recipe with a chocolate custard based ice cream, but in the meantime, you will love this easy old fashioned chocolate ice cream!
Try all of my ice cream recipes
Let me know what you mix in to your old fashioned homemade chocolate ice cream!?
Love It? Pin it!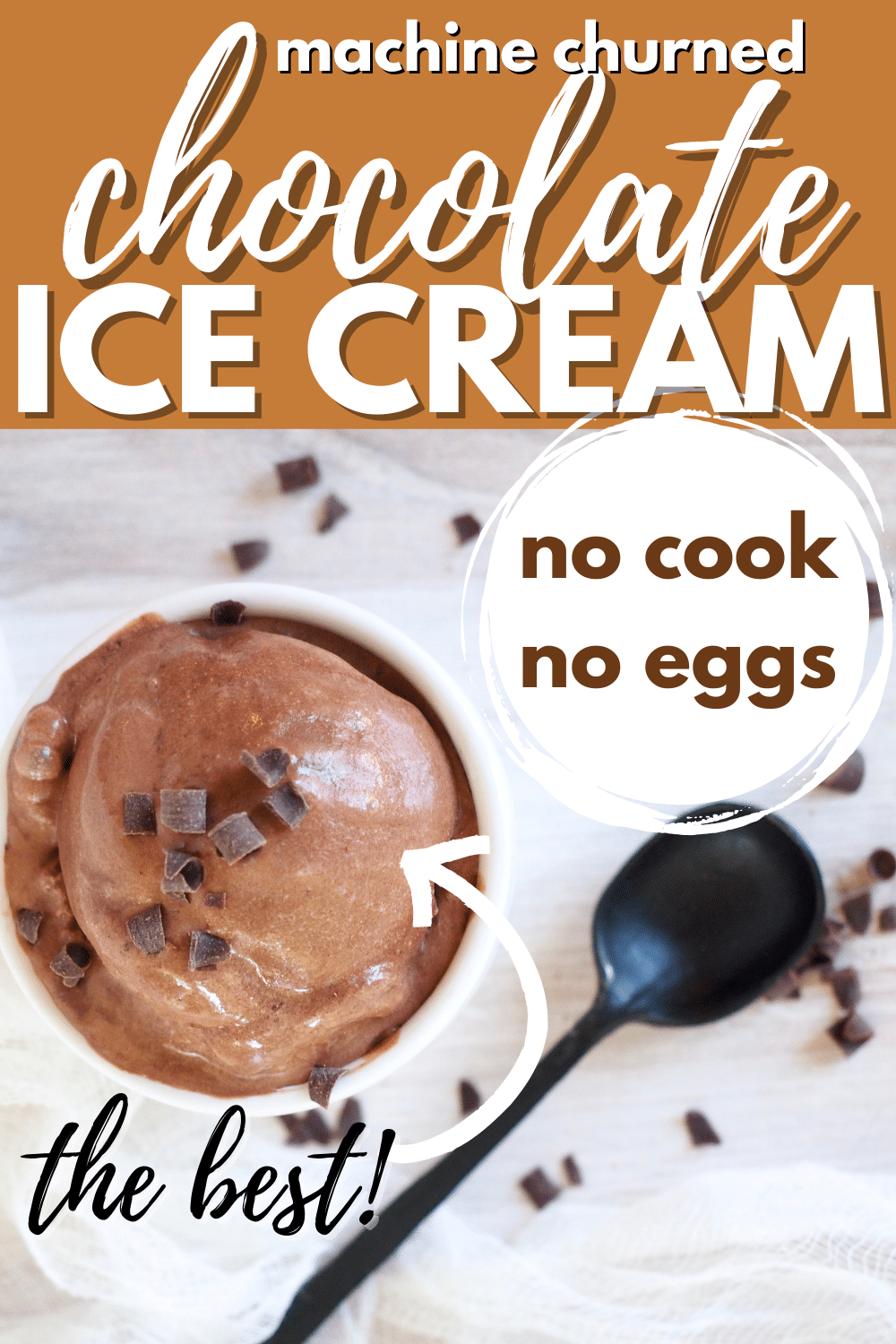 Like this recipe?
Don't forget to give it a ⭐️⭐️⭐️⭐️⭐️ star rating and comment below the recipe!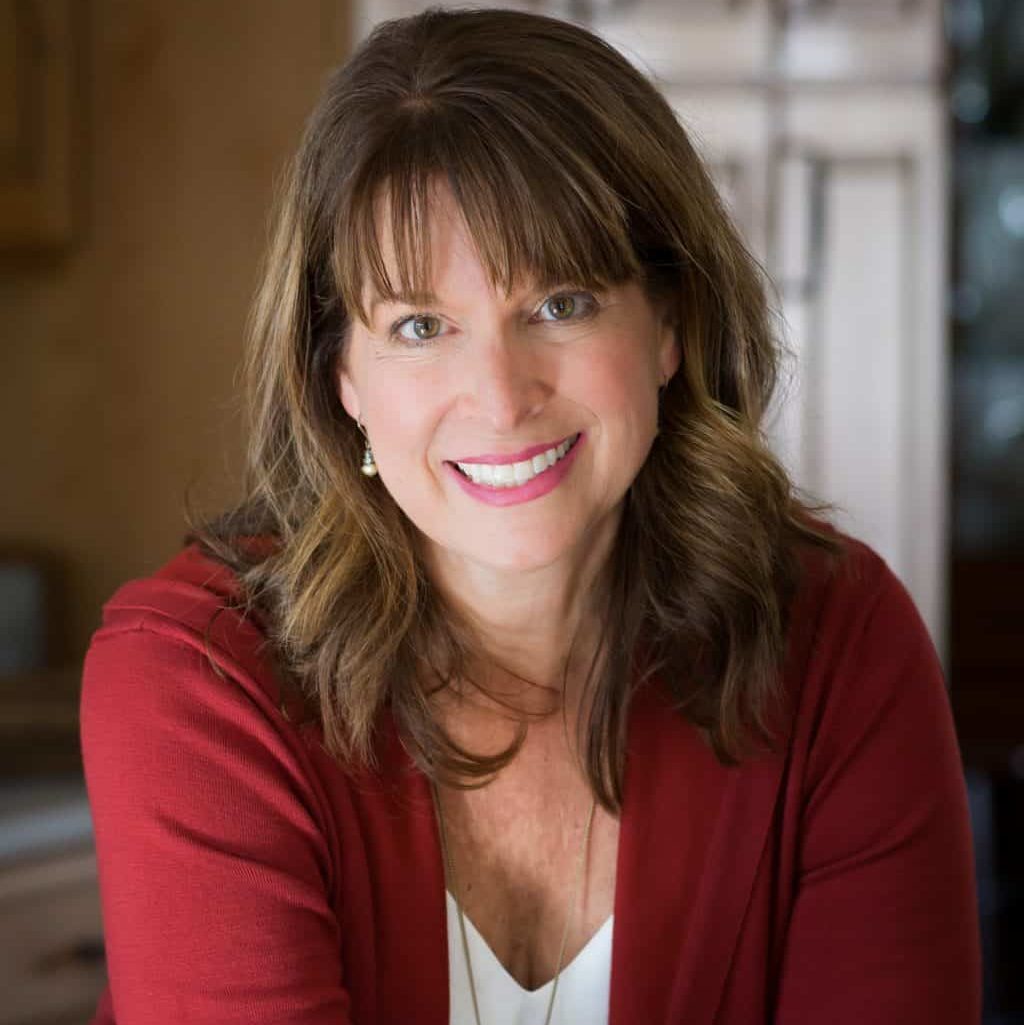 About Kathleen Pope
Recipe Innovator | Food Photographer | Food Writer
Hi, I'm Kathleen Pope. Here at The Fresh Cooky you will find easy, mostly from-scratch, trusted recipes for all occasions. From speedy dinners to tasty desserts, with easy step-by-step instructions. I am here to help teach you how to make mouthwatering recipes without spending hours in the kitchen. Read more about Kathleen here.