As an Amazon Associate, I earn from qualifying purchases. Please read my disclosure policy.
These triple chocolate cookies are incredibly chewy, soft, fudgy and chocolatey! A super simple chocolate cookie recipe using cocoa powder; no chilling required. Plus high altitude adjustments.
I have been on a mission to develop the best chewy, fudgy bakery-style chocolate cookies, that are simple, didn't require melting chocolate and used cocoa powder and I have found it!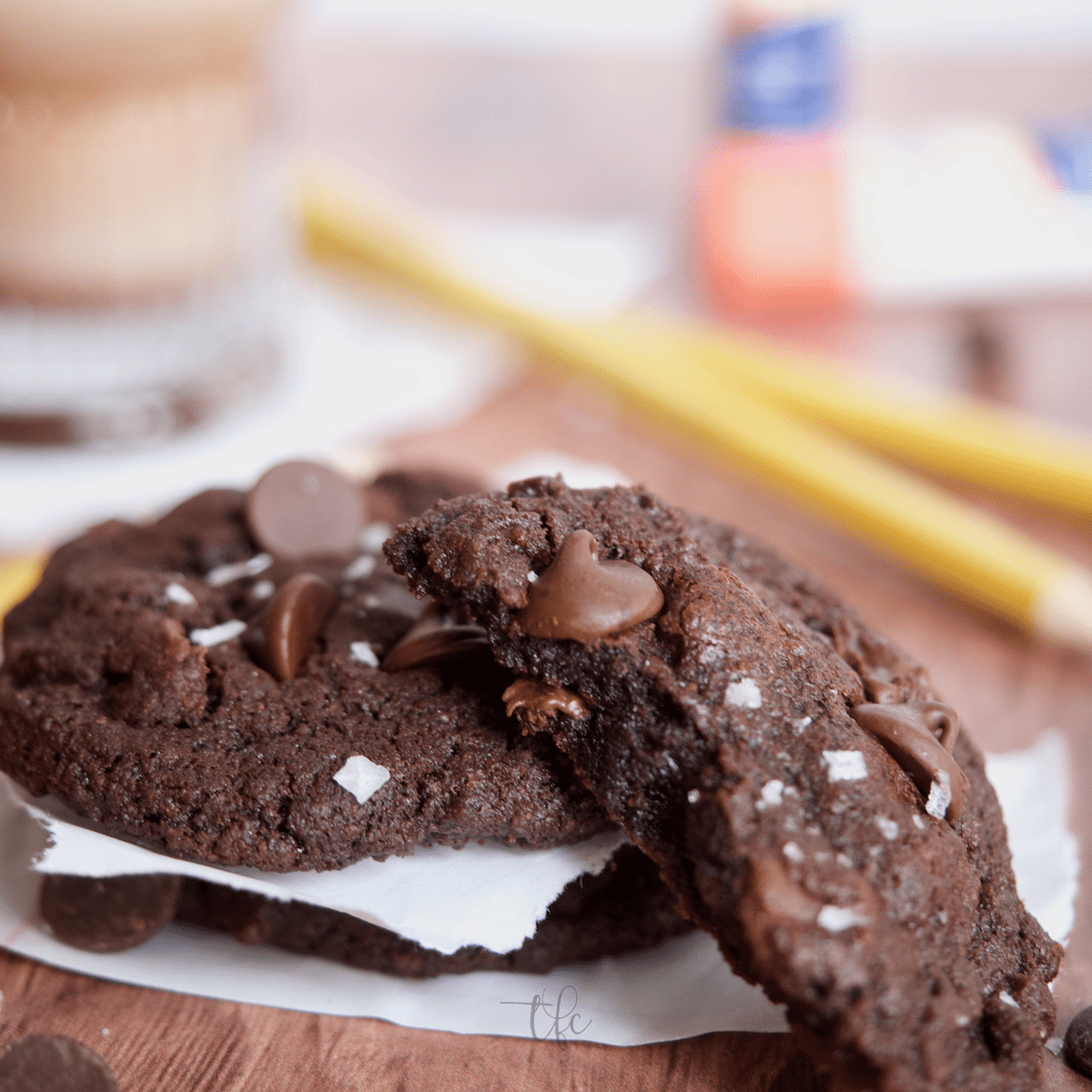 As Rodelle Brand Ambassador I was provided free products, however; the opinions expressed are completely my own delicious thoughts!
If you are a fan of soft, chewy cookies, you will also love these recipes; Best Chewy Chocolate Chip Cookies, Soft Sugar Cookie Bars, and Oatmeal Sandwich Cookies.
Every year when my kids go back to school, I make a couple dozen cookies, wrap them individually and keep them in the freezer. Then I can easily pop them into lunch boxes or serve as an after school snack. And this triple chocolate cookies recipe is a favorite.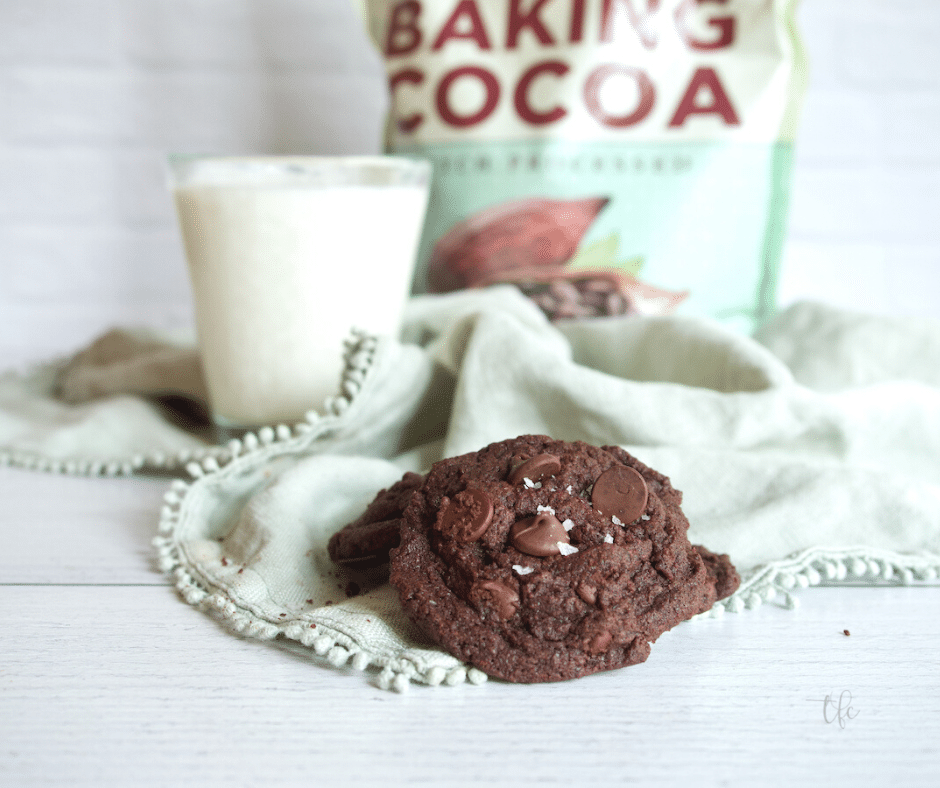 Ingredients
Using ingredients you probably already have in your pantry, these cookies come together quicky! All measurements in the recipe card.
All Purpose Flour | I use organic, unbleached all purpose flour, but regular flour may be used.
Cocoa Powder | I used my favorite Organic Rodelle Baking Cocoa, rich, clean, delicious!
Butter | use real butter in cookies, if it's soft coming out of the fridge, it's a butter blend and your cookies will not turn out the same. Make sure it's room temperature soft.
Sugar | I use organic all natural cane sugar in all of my baking, it's a bit more coarse than white sugar (which you may still use) and requires a little longer to cream.
Egg | I use large eggs in all of my baking, take the egg out when you take your butter out.
Vanilla Extract | I used Rodelle Pure Vanilla Extract, so flavorful, with an amazing aroma!
Chocolate Extract | this is optional, if you don't use chocolate extract increase your vanilla extract. But it does give the extra rich chocolate boost!
Chocolate Chips | Use your favorite, these cookies aren't overly sweet, I used semi-sweet chocolate chips, or mix and match using a couple different types.
Flaky Sea Salt | Now is the time to try flaky sea salt on cookies! The sweet salty bursts in each bite, adds incredible flavor
Instructions for Triple Chocolate Cookies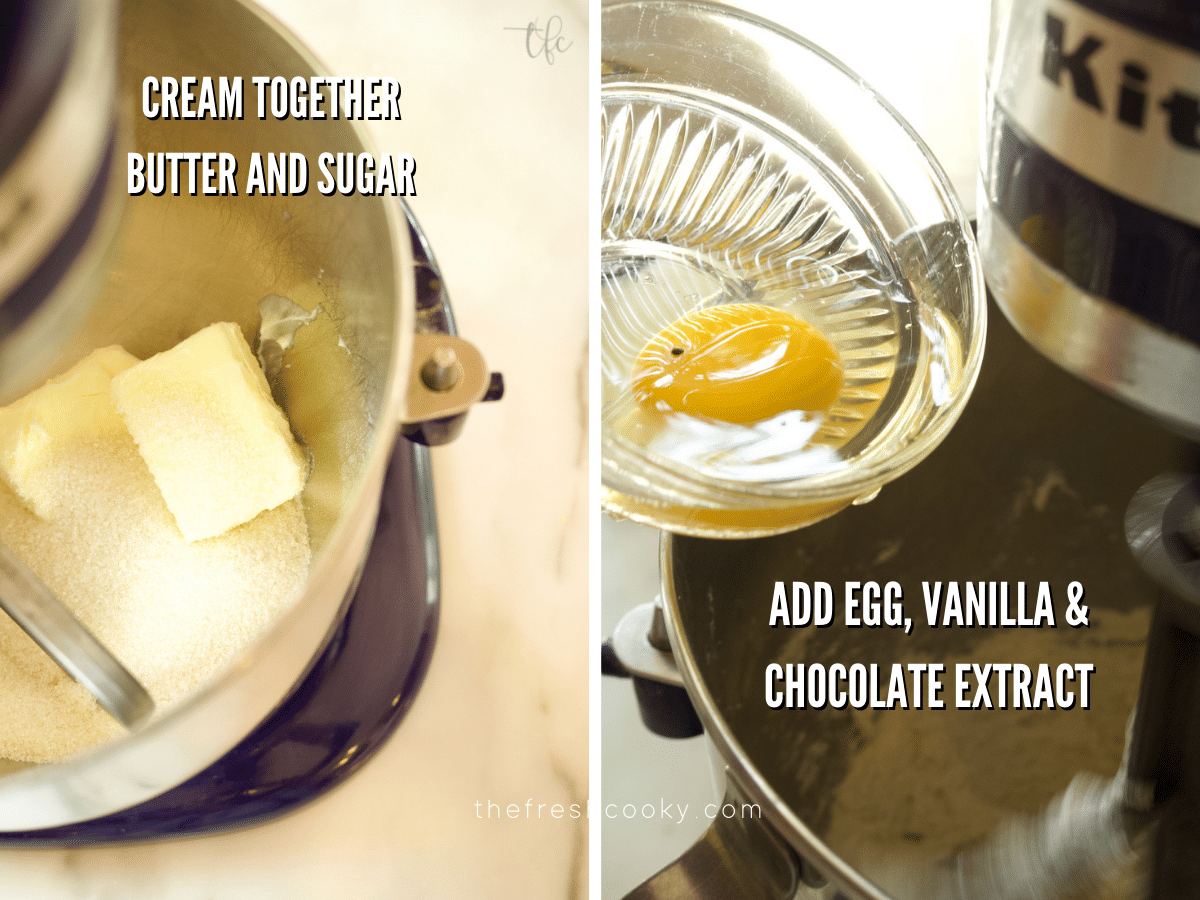 In a medium bowl stir together flour, cocoa powder, baking soda and salt. In the bowl of a stand mixer or hand mixer, cream together the butter and sugar until light and fluffy. About 2-4 minutes on medium-high speed, longer if using all natural cane sugar.
Add egg, vanilla and chocolate extract (if using); beat another minute, scraping down sides.
HINT: Scrape down the sides of your bowl occasionally in order to incorporate and cream all of the ingredients.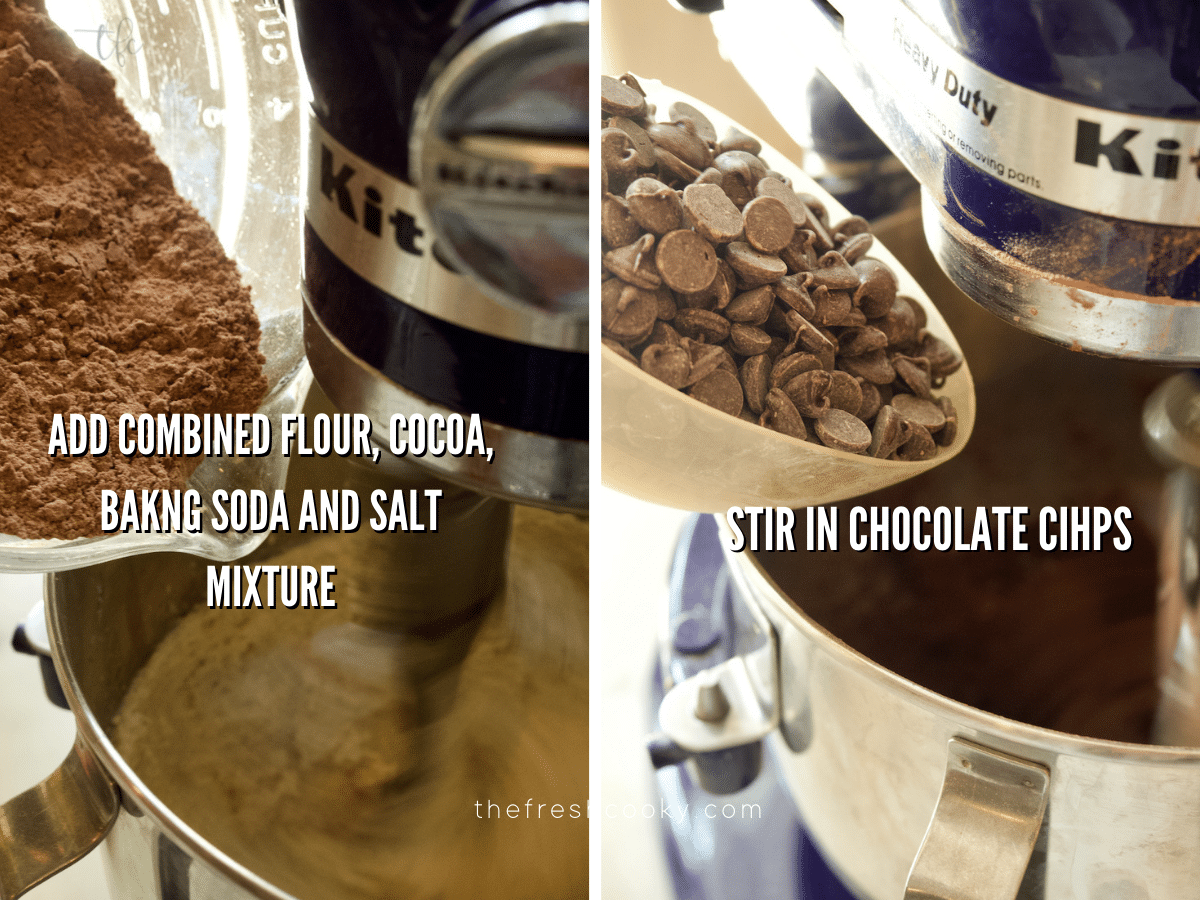 Gradually stir in flour mixture, beating on low until combined, adding milk if high altitude or if mixture seems too thick or dry. Stir in chocolate chips.
Using a medium cookie scoop, scoop dough onto parchment lined cookie sheet, if a flatter cookie is desired, using your hand, press down lightly to slightly flatten. If you skip this step, your cookies will just be a little more mounded.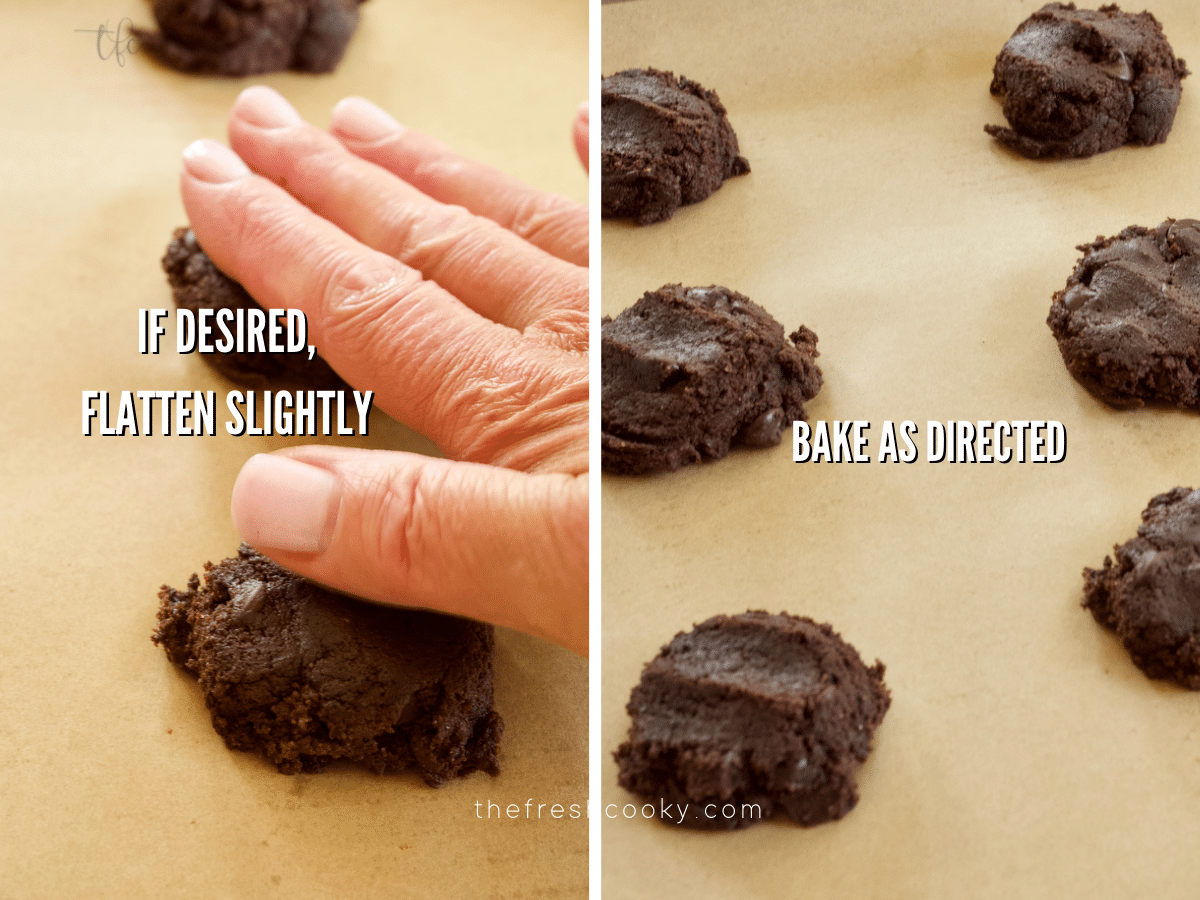 Bake 8-9 minutes until edges are dry, but tops are still soft and a bit glossy. Cookies will be soft, do not over bake. Sprinkle with flaky sea salt while cooling.
Cool 2 minutes on a cookie sheet, then transfer to a wire rack and cool completely. Makes 24 cookies. If smaller cookies are desired, use a teaspoon or a small cookie scoop and bake for 6-7 minutes.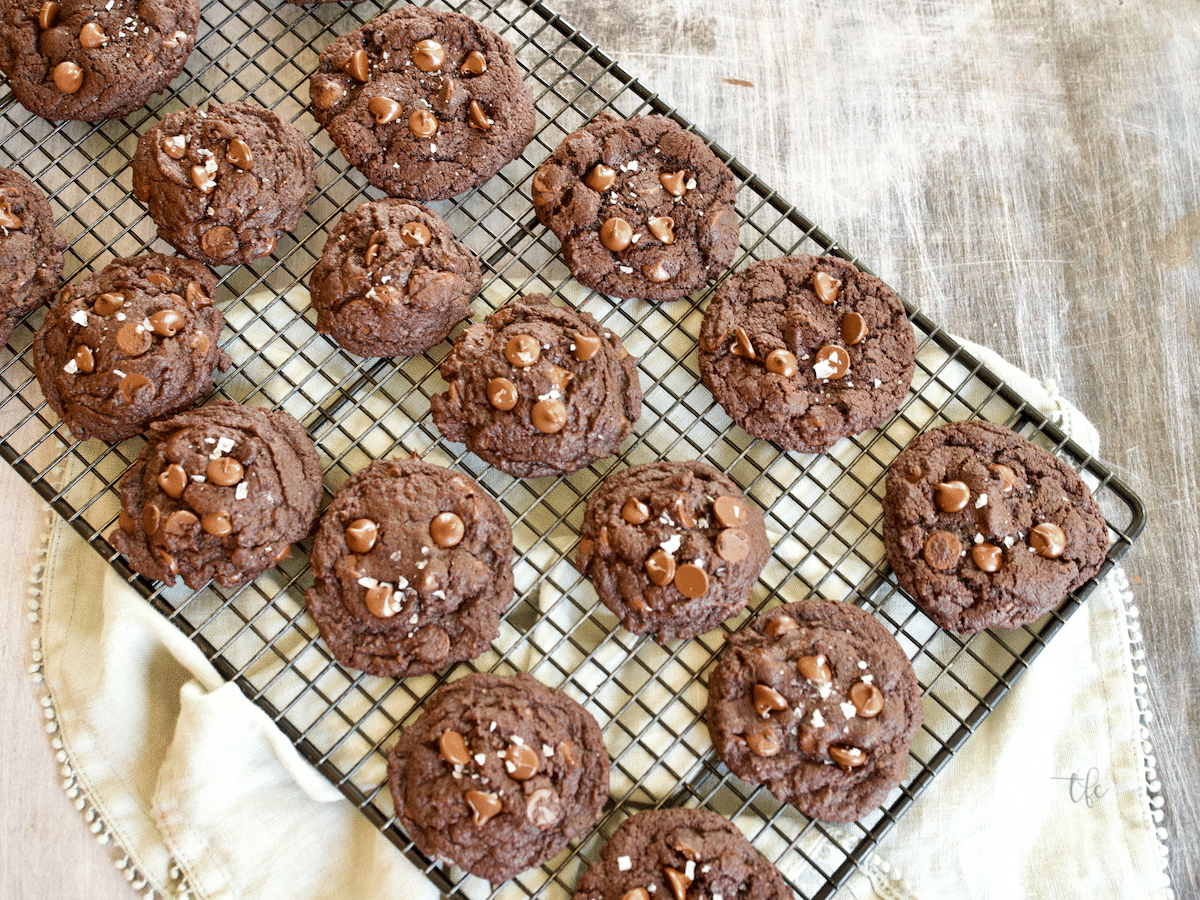 High Altitude Cookies
As mentioned on my About page, I live and bake at high altitude, 5280 feet. To adjust for high altitude for triple chocolate cookies recipe do the following:
Add additional 2 tablespoons flour
Add 1-3 teaspoons milk (or water) to batter right before the chocolate chips (I used 2)
Watch your baking time, typically you bake cookies at altitude for less time.
Variations
Add 1 teaspoon espresso powder for a slightly coffee flavored chocolate cookie
Change the chips | use butterscotch, white chocolate chips, milk chocolate chips, peanut butter, bittersweet!
GLUTEN FREE TRIPLE CHOCOLATE COOKIES | I have had great luck substituting the all purpose flour for AP Gluten Free Flour, let me know if you give it a try.
Try my Gluten Free Chocolate chip Cookies or these delicious Gluten Free Protein Cookies.
Equipment
A good hand mixer or stand mixer works great for this recipe, but you can always do by hand, it will just be a workout!
Cookie Scoop | I used a medium cookie scoop for these cookies, yields an average sized cookie, makes it easier and keeps your cookies all uniform in size.
Parchment Paper & Cookie Sheet these make cookies so much easier to bake!
Cooling Rack | Cookies will actually continue baking on the baking sheet, which is why after a few minutes it's important to remove them (unless otherwise instructed) from the baking sheet to the wire cooling rack.
Storage & Freezing Tips
Here are my best tips for the freshest and best chocolate cookies with cocoa powder!
Bake only what you will eat in the next 2 days, (refrigerate or freeze the rest) and keep in an airtight container.
Freeze the pre-scooped cookie dough in airtight container or freezer baggie, allow to soften while preheating the oven when ready to bake.
Cookies will stay somewhat fresh in an airtight container on the counter for 2-4 days.
Bake the entire batch, cool and wrap cookies individually in plastic wrap, then freeze in an airtight container.
To re-warm cookies, place on baking sheet in preheated 300 degree oven for about 3 minutes.
Frequently Asked Questions
What is double and triple chocolate?
Double chocolate means the cookie batter itself is a chocolate batter, triple chocolate implies that there is another type of chocolate in addition to the chocolate chips. For this recipe, I used the chocolate extract as my triple. Try using two different types of chocolate chips in this recipe too.
What is the secret to chewy cookies?
Typically the secret is in allowing the cookie batter to rest in the fridge for 10 minutes up to an hour, this allows some of the liquid to evaporate and the sugar to blend with the other ingredients. I tested this recipe with room temperature batter and chilling for 10 and 20 minutes, I preferred the room temperature cookies to the chilled cookies.
Why are my cookies dry?
The usual culprit is that you baked them too long, soft cookies should be baked just until the edges are golden (somewhat dry looking) and the centers are soft, but slightly glossy. The cookies will continue baking and setting as they cool.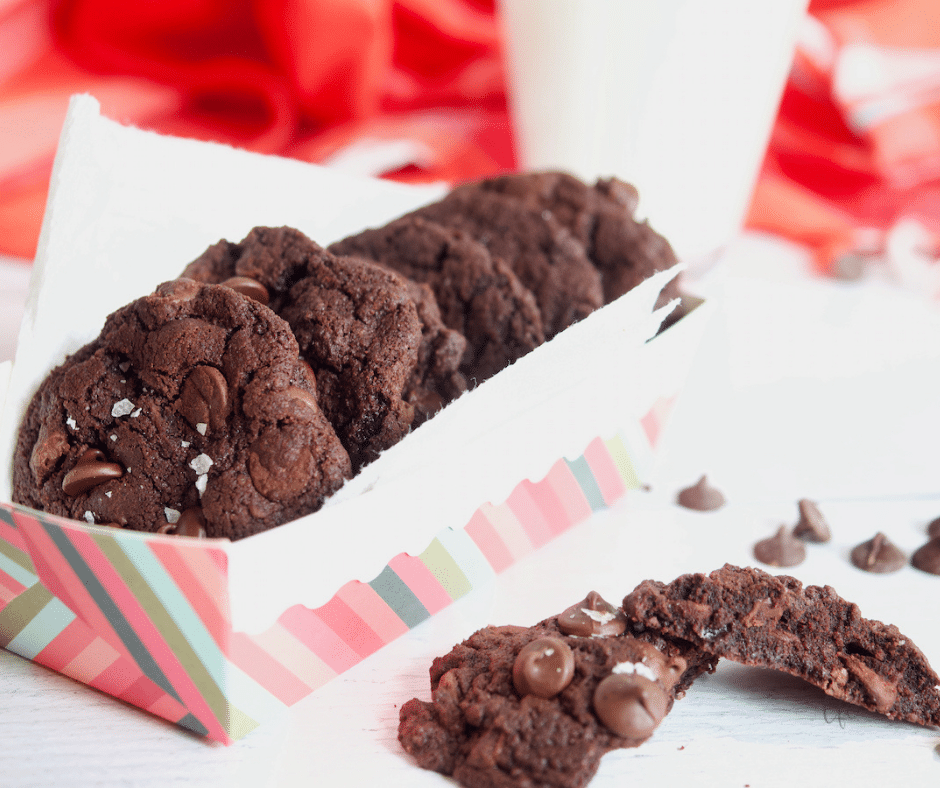 Our favorite cookie recipes
TOP TIP
In all of your cookie baking, but especially in these triple chocolate cookies, do not over bake cookies! Err on the side of underbaking.
Like this recipe?
Don't forget to give it a ⭐️⭐️⭐️⭐️⭐️ star rating and comment below the recipe!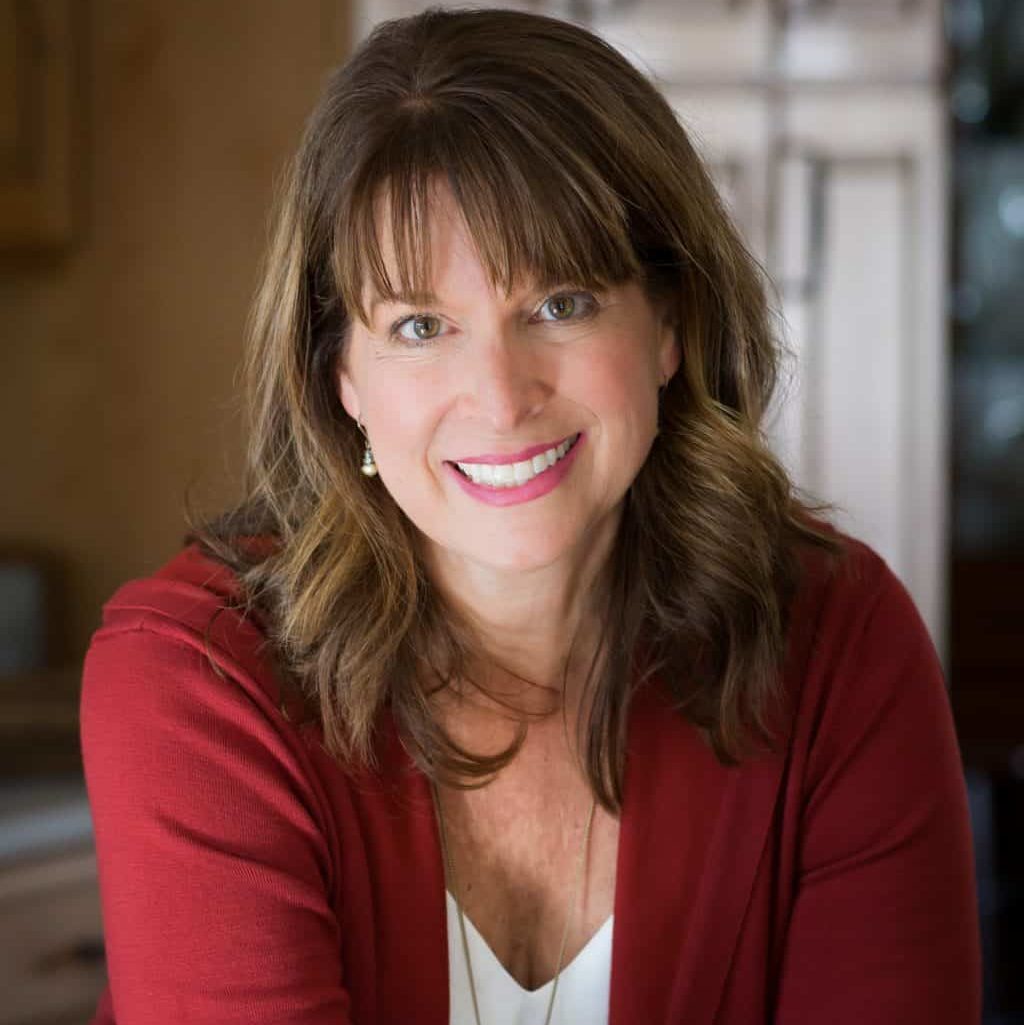 About Kathleen Pope
Recipe Innovator | Food Photographer | Food Writer
Hi, I'm Kathleen Pope. Here at The Fresh Cooky you will find easy, mostly from-scratch, trusted recipes for all occasions. From speedy dinners to tasty desserts, with easy step-by-step instructions. I am here to help teach you how to make mouthwatering recipes without spending hours in the kitchen. Read more about Kathleen here.