Bourbon Caramel Vanilla Sauce
This simple dessert will WOW your guests! Bourbon Caramel Vanilla Sauce is rich and creamy, with a hint of salt that brings out the rich caramel flavor and sweetness of the bourbon, an elegant sauce that comes together in a matter of minutes.
BOURBON VANILLA CARAMEL SAUCE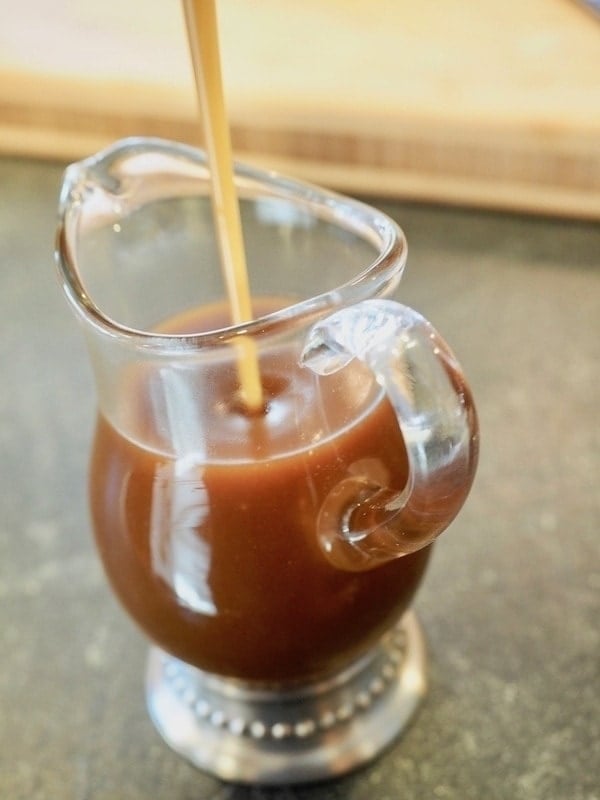 You may use all light brown sugar, but I love the deeper flavor using both dark and light brown. Add the packed brown sugars and cubed cold butter into a medium heavy-bottomed saucepan.
Over medium-low heat, stir the sugars and butter until melted, it'll start pretty grainy, but stir away and the sugars will begin to melt into the butter.
Stir for about 7 minutes, stirring the whole time. It'll get nice and thick, but it might still be a bit grainy.
Very slowly, add in your heavy cream while whisking/stirring steadily.
Next add your vanilla and bourbon*, whisking until it's smooth. You gotta get one of these mini measuring cups!!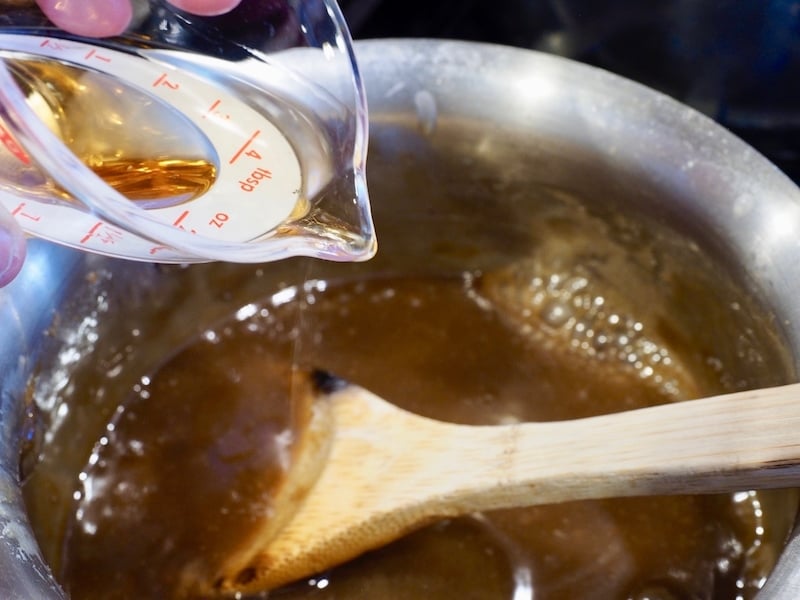 Raise the heat to medium and bring the mixture to a boil. Boil for 60 seconds, the mixture will get tiny bubbles and start to rise in the pan.
Remove from the heat and whisk in the salt.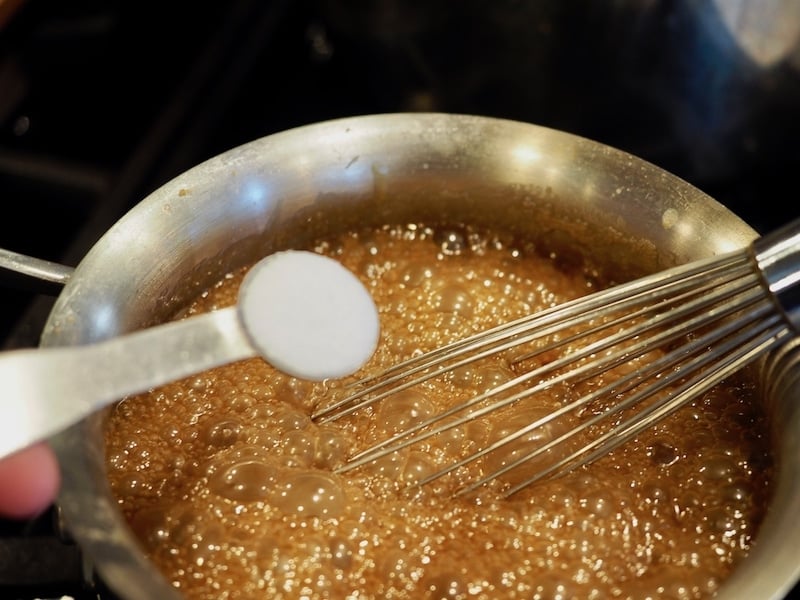 If it gets clumpy just whisk it until it's smooth again.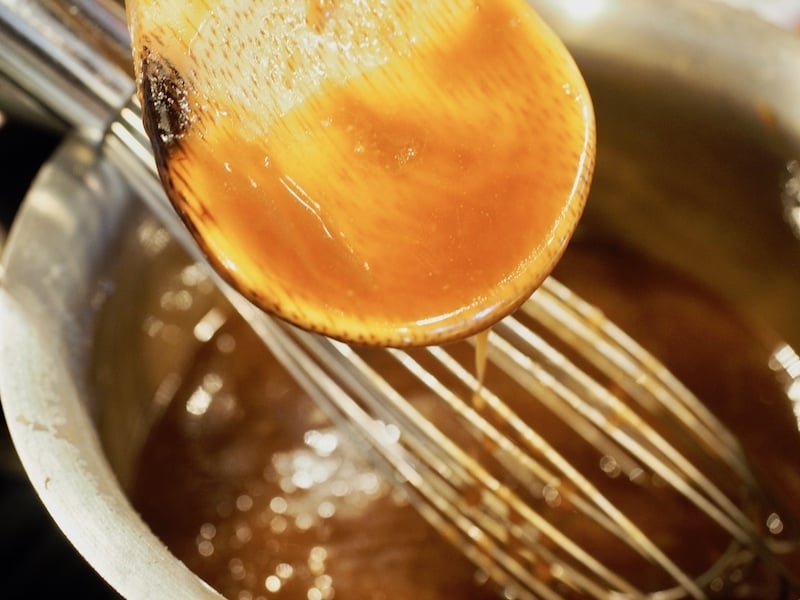 Cool for 10 minutes in the pan, then pour into a jar for serving or storing.
Suggested Uses for Bourbon Vanilla Caramel Sauce
Pour over ice cream
On any fruit pie or crisp
Use as a dip for apples and other fruits
In a Caramel Coffee
On this easy, ice cream cake
Look at that beautiful caramel; a rich, thick, golden sauce!
GET FREE RECIPES FROM THE FRESH COOKY DELIVERED RIGHT TO YOUR INBOX!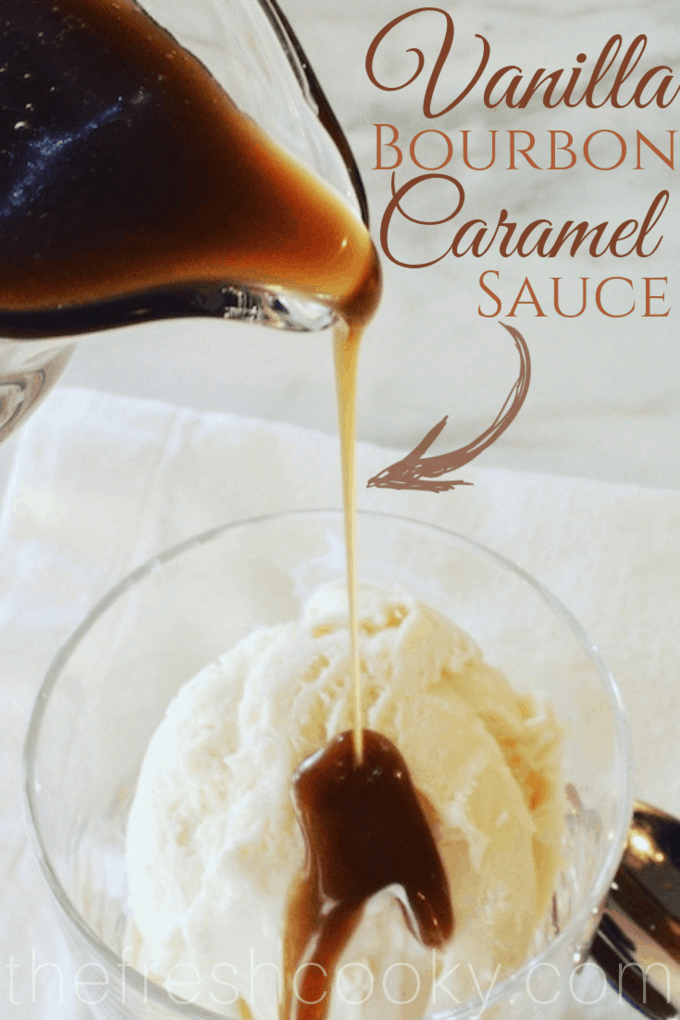 If not using immediately, allow to cool to room temperature completely before refrigerating in a sealed jar, like a mason jar or clean and dry jelly jar.
To serve, if desired, warm up in microwave for 20-30 seconds.
*If making this for kids or those who are gluten free, replace the bourbon with vanilla extract.
If you enjoy this sauce, try these other rich and elegant recipes!
Enjoy this recipe for? Please leave a comment and rate the recipe in the recipe card.
Hashtag any recipes you make from The Fresh Cooky #thefreshcooky or tag me @thefreshcooky on Instagram to be featured on our stories!
LOVE WHOLESOME DELICIOUS RECIPES? COME FOLLOW ALONG!
Share a picture and tag it #TheFreshCooky so we can see it.
GET FREE RECIPES FROM THE FRESH COOKY DELIVERED RIGHT TO YOUR INBOX!